Bitbuy Review 2023: Is This Canadian Crypto Exchange Worth It?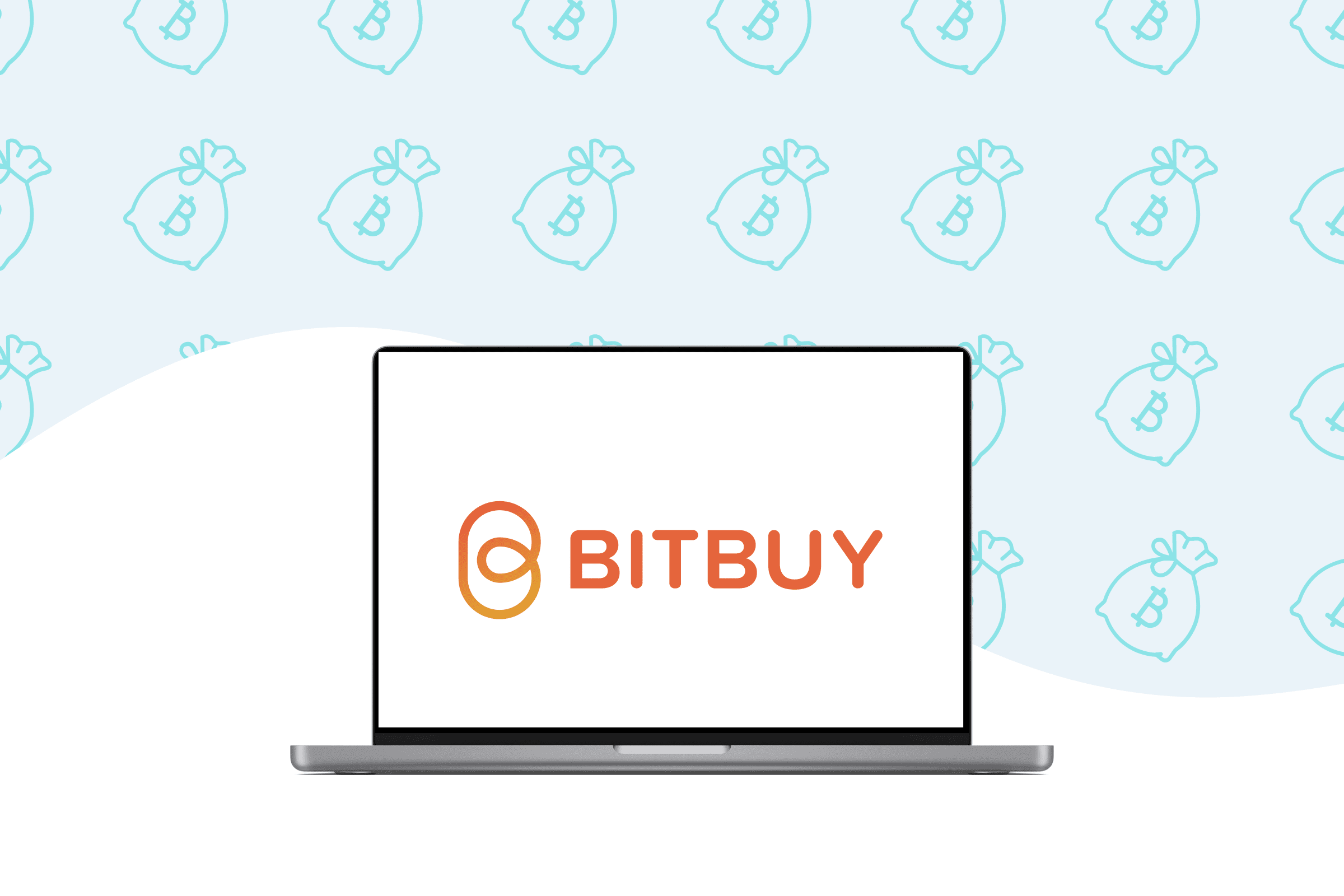 Bitbuy is one of the most popular crypto exchanges in Canada, so I tested the platform to find out why. Not only does this platform stand out for its clean, user-friendly design, but it offers several easy ways to fund your account with fiat, and some of them are free. But what really caught my attention was the Express Trade experience. While Bitbuy does not offer the lowest trading fees in Canada, it did give me one of the lowest markups above Bitcoin's live market price as well as a higher selling price. If you're thinking of opening a Bitbuy account, here's what to know.
Bitbuy Pros & Cons
| Pros | Cons |
| --- | --- |
| ✅User-Friendly Interface: Bitbuy's clean and intuitive design makes navigation and trading easy, especially for beginners. | ❌Higher Trading Fees: The 2% fee on Express Trade is relatively high, although Pro Trade offers lower fees based on a 90-day rolling volume. |
| ✅Multiple Funding Options: Offers various free deposit methods, including eTransfer and Wire Transfer. Funding by Debit and Credit Card is available, but it's the most expensive funding option. | ❌Limited Withdrawal Options: Withdrawal methods are limited, and all incur fees. |
| ✅Competitive Markup: While not the lowest, Bitbuy offers one of the lowest markups above Bitcoin's live market price. | ❌Limited Accessibility for Beginners: Some trading features and fee structures may be less intuitive for beginners, especially the disclosure of fees in units of crypto. |
| ✅Diverse Cryptocurrency Selection: Hosts 41 cryptocurrencies, including some less commonly available on Canadian exchanges like ApeCoin and Pepe Coin. | ❌Geographical Restriction: Services are exclusively available to Canadian users, limiting its accessibility to a broader audience. |
| ✅Flexible Trading Platforms: Provides both Express and Pro Trade platforms, catering to different trading styles and experience levels. | |
Trading Fees on Bitbuy
Markup/down: 0.1% (approx)
Trading Fee: 2%
As with most crypto exchanges, you will pay two fees on Bitbuy. The first is a markup on buys and a markdown on sells. That means you'll always pay a little more or get a little less than the live market price when you buy and sell, respectively.
Next, Bitbuy charges a 2% fee on every trade made through the Express Trade platform. More experienced traders will get better trading fees through the Pro Trade platform. These fees are based on a 90-day rolling trade volume ranging from 0-2% for makers, and 0.1-2% for takers.
Deposit Methods & Fees
eTransfer: Free
Wire Transfer: Free
Apply Pay: Free
Crypto: Free + network fees
Debit Card: 1.95%
Credit Card: 2.95%
I was pleasantly surprised to see how many different funding options there are, and most of them are free. While Debit and Credit Cards are the quickest and most convenient, they are the most expensive way to fund your account, so I advise against using this method. The minimum deposit by card is $50.
While you can purchase crypto via Apple Pay, it is only free during the month of November 2023. After that, a fee will apply but the amount was not disclosed at the time of writing.
Interac eTransfer is free and relatively quick. While it can take up to 24 hours to fund your account this way, the money was deposited into my account in less than 5 minutes. The minimum deposit by eTransfer is $50.
Wire transfers are also free, have higher deposit minimums at $10,000, and can take up to 3 business days to reach your account. You can also transfer in crypto from an external crypto wallet for free and there is no deposit limit. However, crypto transactions are subject to blockchain network fees that vary by coin and how busy the network is.
Withdrawal Methods & Fees
eTransfer: 1.5%
Wire Transfer: 1.5%
Crypto: Fee varies by coin
Withdrawal options are limited and none of them are free. I was also disappointed to find that you can have your funds deposited directly to your account by Electronic Funds Transfer. The only options eTransfer, Wire Transfer, or transfering your crypto to an extern wallet.
There is a $10,000 daily maximum to withdraw by eTransfer, and no maximum by wire transfer. There are limits on crypto withdrawals, but there is a Bitbuy withdrawal fee that varies by coin, plus the blockchain network fee. If you want to send your crypto off the Bitbuy platform, below is an example of fees on the top 5 coins: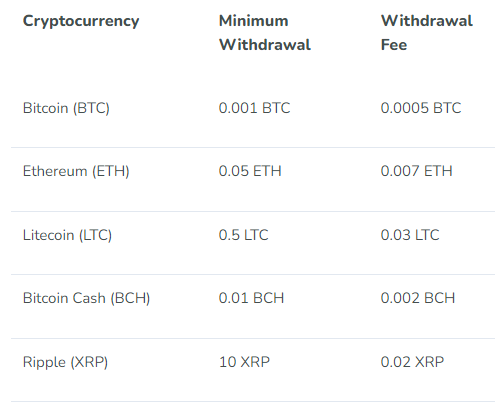 What Cryptocurrencies Are Available on Bitbuy?
One of the major downsides of the Bitbuy platform is the limited coin selection, offering just 41 cryptocurrencies to choose from. However, the most popular ones are available, which is great for beginners and anyone wanting to stick to established blue-chip coins. Some of top coins available on Bitbuy include, but are not limited to: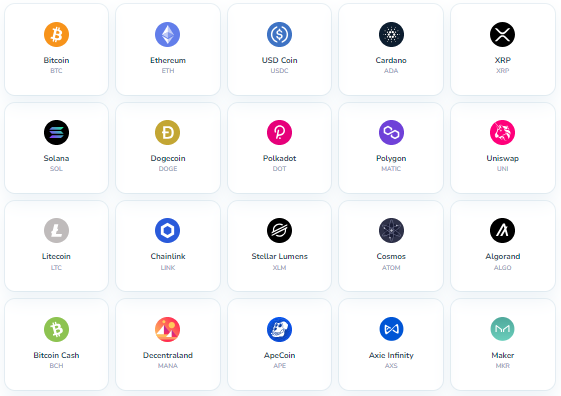 Bitcoin (BTC)
Bitcoin Cash (BCH)
Ethereum (ETH)
Litecoin (LTC)
Ripple (XRP)
Stellar (Lumen)
You'll also find a solid selection of popular altcoins such as Dogecoin, Shiba Inu, ApeCoin, and Pepe Coin. In fact, ApeCoin and Pepe Coin are hard to find on other majpr exchanges in Canada, so I was happy to see them listed on Bitbuy.
How to Buy Crypto on Bitbuy
While buying crypto on Bitbuy is very easy and intuitive, I don't like that the trading fee is disclosed in units of Bitcoin. That makes it hard for beginners to ensure they're being charged correctly. For example, NDAX discloses their fees in units of Bitcoin. When I converted them in to Canadian dollars, I found a major discrepency. Luckily, the math checked out on Bitbuy – there were no mysterious ghost fees like what I experienced on NDAX.
There are two ways to buy crypto quickly on Bitbuy. From the main dashboard, you can either click the orange Buy button, or you can click on Express Trade from the menu at the top of your dashboard.
Whichever route you take, enter the amount of crypto you want to buy and Bitbuy will automatically disclose their price of the coin plus the fees. If everything looks good, click the Buy button. The transaction will settle almost instantly.
I prefunded my account with $50 CAD by eTransfer, which arrived in less than 5 minutes. The I decided to buy $20 worth of Bitcoin (BTC). The markup was quite low at just 0.16% above BTC's live market price. Then I calculated the trading fee at 2%.
When you add the markup to the trading fee, this trade cost me a total of 2.16% to execuute on Bitbuy. While that's certainly not the lowest in Canada, it's pretty close. This same trade cost me just 1.7% on NDAX.
My buying experience was inredibly easy and fast. The fees were exactly as advertised with no hidden costs. My only complaint is that the fee is disclosed in units of BTC, which is annoying if you're not familiar the CAD conversion.
How to Sell Crypto on Bitbuy
Selling is just as quick and painless as buying. You can access the Express Trade feature directly from your dashboard by click on the orange Sell button, or by clicking Express Trade from the menu at the top of your dashboard.
Enter the units of crypto you want to sell, then review the order and double check the fees. I wanted to sell $20 worth of BTC. I estimated that to be about 0.00038 units, which came out to $19.17. I was pleasantly happy to see that selling price of Bitcoin was 0.1% higher on Bitbuy than the live market price. That means there was no markdown.
Next, I calculated the trading fee, which came out to just 1.98% instead of the advertised 2% fee. Another win! In total, this trade cost me net 1.88% thanks to the higher selling price.
Unfortunately, another downside to Bitbuy is that you cannot enter the CAD value you want to sell. You have to enter the units of crypto. Again, this can be a hangup for beginners who may not be familiar with conversion values or dealing in fractions of coins. It's not a deal breaker, it just means you'll need a caculator handy to figure how many units you need to sell to get the value of CAD you want.
Express Trade vs Pro Trade
Express Trade offers the quickest and easiest way to trade, but you pay for that convenience with higher fees. If you're an active trader or plan to make large transactions, you can access the free Pro Trade platfrom which offers lower fees and advanced tolls.
Express Trade
When you go to the Express Trade page, choose a cryptocurrency from the dropdown menu. There is a minimum and maximum limit for CAD deposits so that traders can buy and sell at the best price. You'll notice an option for Limit Orders from the drop down menu, but at the time of writing that feature is not yet functional from Express Trade.
Pro Trade
The Pro Trade is accessible from the menu at the top of your dashboard. This platform allows you to place market or limit orders for buying/selling cryptocurrency. From the Pro Trade dashboard, click on List and choose a crypto-crypto or crypto-Canadian dollar pairing. You can also use the search box for this. 
Next, enter the amount you want to buy or sell. Bitbuy will display its value in Canadian dollars. You may also place a limit order, meaning that the transfer will execute only when the price falls to your specified number. Alternatively, you can execute traded using the Best Ask or Best Bid options.
Pro Trade also offers tools for technical analysis. It displays interactive charts with candlesticks and volumes. You can look at data in specific time frames and through particular indicators. There are many customizable charting indicators available, though not as many compared to Coinbase or Kraken.
Also worth noting, I found the Pro Trade platform to be less intuitive and more clunky than advanced platforms on other exchanges. While this isn't a deal breaker for me, its more confusing and will take longer to get use to if you're new to advanced trading techniques.
Additional Features of Bitbuy
If you plan to make very large trades or want to earn passive income on your digital assets, Bitbuy offers an Over the Counter trading desk and staking options.
OTC
OTC, or over-the-counter, transactions are private deals that are not registered on a public order book. That's important if you plan to make very large trades. Bitbuy is a relatively small exchange compared to the international players like Coinbase and Kraken. That means there's less liquidity so very large trades can cause siginificant price swings.
The OTC desk facilitates transactions of over $50,000 CAD to prevent volatility and minimize feeds. Trading OTC requires a sign-up and verification. Once you register, you need to email the OTC desk for a Bitbuy account manager to get in touch with you.
Staking
Staking is the process of locking away certain digital assets in order to validate transactions on a blockchain and earn rewards, usually in the form of more crypto. People like to stake their holdings as a way to earn passive income without trading. On Bitbuy, you can earn up to 12.26% APY by staking: Solana, Ethereum, Polygon, Polkadot, Cardano, Near, Cosmos.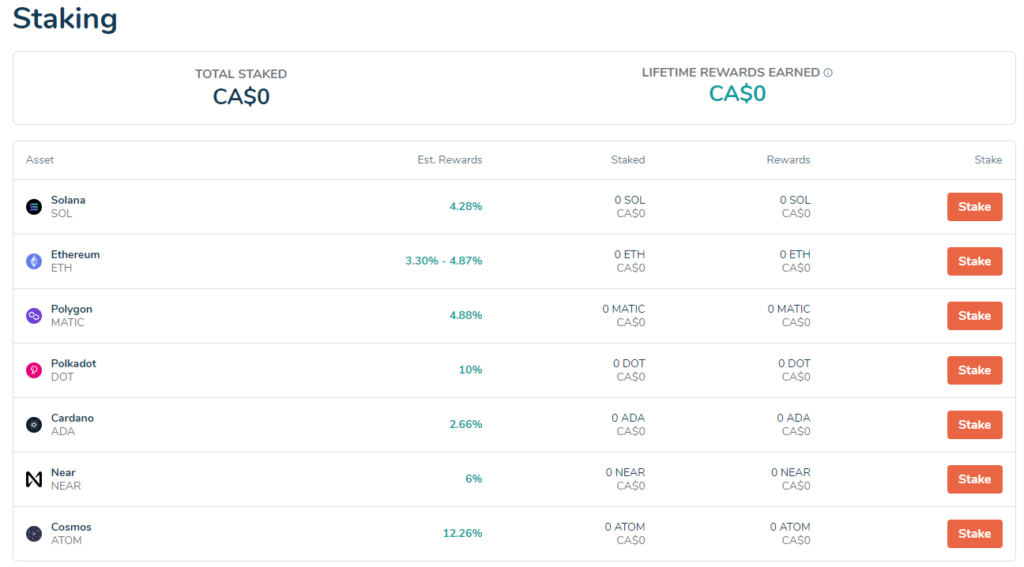 How to Open a Bitbuy Account
I've heard that the process is just as quick and easy as most other platforms in Canada, but I cannot speak to this myself. Orginally, I was a CoinSmart user. WonderFi, Bitbuy's parent company, bought CoinSmart and user accounts were automatically transferred to the Bitbuy platform. I just signed into Bitbuy with my CoinSmart credentials and all my assets were there.
If you're a new user signing up for the first time, you'll need to provide personal and financial information about yourself and verify your account. This is normal and Bitbuy needs to collect this information in order to comply with Canadian financial regulations.
From what I hear, verification is typically near-instant. Be prepared to provide government-issued photo ID, a selfie, proof of residence, and proof of income.
Is Bitbuy Safe to Use?
No matter what platform you choose, there is always an element of risk involved, even with traditional brokerages. Having said that, Bitbuy is a registered and regulated crypto exchange platform subject to Canadian legal compliance standards. They've also taken several security measures to protect your identity and assets, such as:
Two-factor authentication (2FA): Actions like logging into one's account or making a purchase require two forms of authentication- a password and a smartphone. 2FA is in place for both users and employees to prevent unauthorized access.
Network security: Bitbuy servers are secured by ISO, SOC and FIPS 140-2 compliant cloud providers with multiple disaster recovery locations.
Third-Party Auditing: Quarterly financial audits and monthly security audits are conducted across all departments by trusted third-party auditors. Moreover, weekly transaction reporting audits and suspicious activity reviews are also part of the system.
Intellectual property: The Bitbuy platform has a codebase that keeps core elements closed source. It means that no one can tamper with the code without getting reported.
Custody of wallets: Hot and cold wallets on the Bitbuy platform are separate from the main network and Bitcoin users can store funds in insured offline wallets.
Who is Bitbuy Best Suited For?
Beginners will love Bitbuy while advanced traders may be frustrated by the limited tools and coin selection. Personally, I love it for CAD-crypto trading pairs, but this is a drawback of you're looking for crypto-crypto swaps. If you're into popular coins like Bitcoin, Ethereum, and Litecoin, Bitbuy has got you covered but lacks in more obscure altcoin listings.
For those of you who appreciate multiple funding options, especially free ones like eTransfer or Wire Transfer, you'll find Bitbuy to be quite accommodating. If you want the speed and convenience of card purchases, Debit and Credit Card fees are much cheaper than Coinbase.
Personally, I find Bitbuy offers the nicest platform for beginners. But if you're an advanced trader looking for robust tools and an extensive coin list, this may not be the platform for you.
[Offer productType="CryptoExchange" api_id="61a0001c149d52071313dfba"]