Crypto.com: the Pros and Cons for Canadians in 2023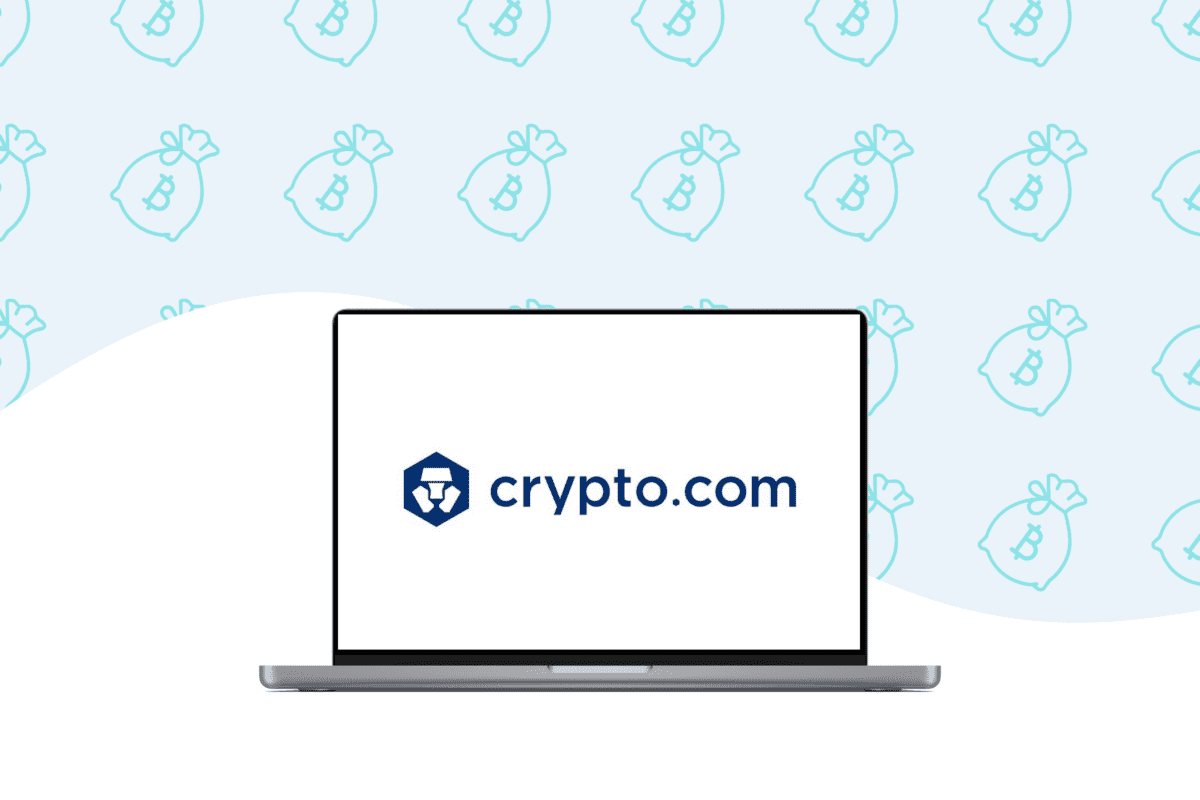 Their name is on the Los Angeles Arena, home of the Los Angeles Lakers. That is power. So who is Crypto.com?
Crypto.com is an all-inclusive crypto trading platform that is different from all the other cryptocurrency exchanges. You could almost call Crypto.com a cryptocurrency bank, as not only can you buy and sell tokens on the exchange but you can buy non-fungible tokens (NFT) and spend your coins using their prepaid Visa card. You can even set up your account to receive payments in crypto, put your funds into a savings account that earns interest and take out crypto loans.
The range of services available through Crypto.com makes the exchange an attractive option for serious traders looking to move the majority of their financial assets to cryptocurrency. It is no wonder that crypto.com ranks as one of the best cryptocurrency platforms in Canada. In terms of services, it is ahead of the game.
Navigating crypto.com
However, the website is a bit hard to navigate, and at first glance, it's hard to figure out how to even buy crypto. Moreover, it has so many services and products, you have to do a bit of digging to get to the exchange section of their website. Once you do, you'll realize that you cannot deposit or top-up fiat currencies on the Crypto.com exchange. You can only do so on the app.
If you want to trade via the Crypto.com exchange then your only option is crypto-to-crypto trading. You'll first need to transfer cryptocurrency in from another exchange such as the Crypto.com app. If you want to purchase crypto using fiat currency, you'll have to use the Crypto.com app, available on both Apple and Google Play.
How to open an account on Crypto.com
You can either open an account with Crypto.com on desktop, on the app, or both. To open your account on desktop, first go to Products and under Advanced Trading choose Exchange Home. This will take you to the main hub for trading crypto. Click on Sign Up and enter all your details, including your name, birthday, and nationality. Where you're from will dictate the range of features you can access since regulations vary in different countries.
If you were referred to the platform by a friend, make sure that you enter their referral code so you can both access the referral benefits. Referral bonuses are based on the referee's first CRO-staked amount. CRO is Crypto.com's own crypto token. On top of that, the person who referred you will receive 50% of your trading fees for 12 months, and the same goes for you if you refer someone else.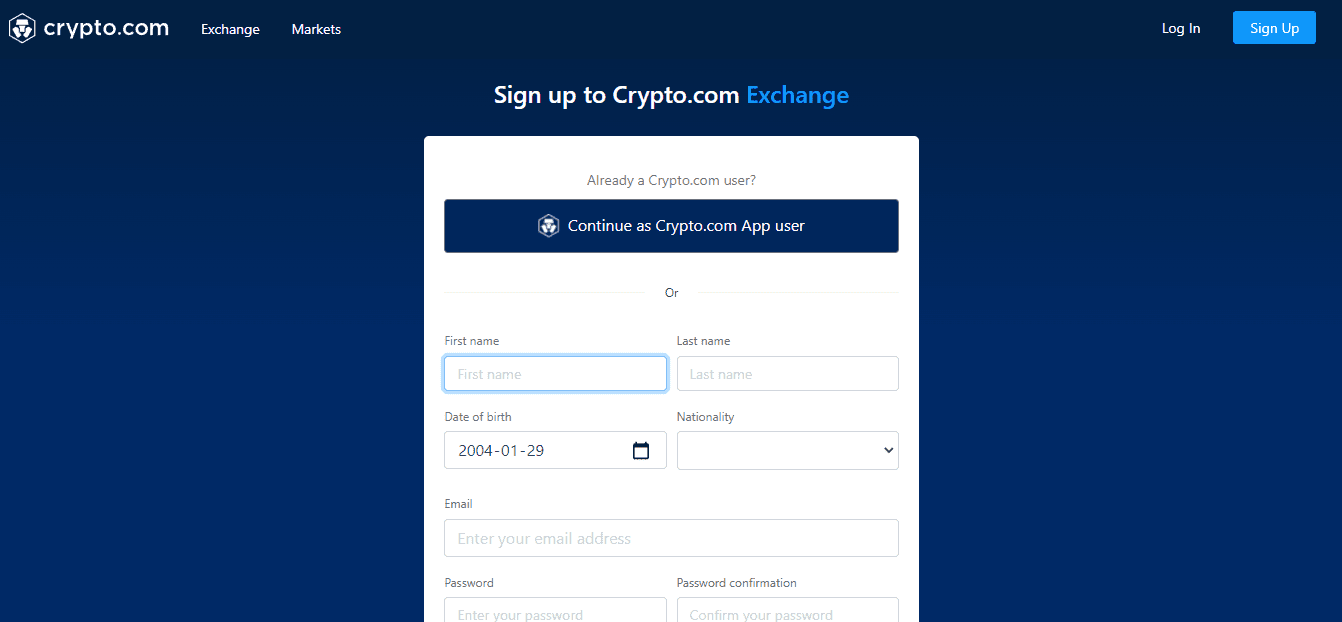 Once you've entered your details, you will receive a one-time verification code to your email and then to your phone number to confirm and secure your account. Before you can start trading, Crypto.com will need to validate your identity. You'll need to submit a photo of your chosen identification which can be either your passport, driver's license, or identity card.
Next, there are two methods of submitting your identity document, either via webcam or mobile. You have to take a photo of your documentation live. You cannot upload a previously taken image, use a photocopy or take a photo of your document on an electronic device. It has to be the original, or it won't work.
Once you take the photo of your document, you will then need to take a live selfie. You can do both these steps on your desktop or mobile. Lastly, you will need to take a picture of yourself holding up your verification document and a piece of paper containing a phrase that Crypto.com provides you with. Upon completion, all you can do is wait for approval, which can take up to seven business days.
Crypto.com app
You will have to complete the same steps to set up your account on the Crypto.com app. Both the app and exchange are different platforms and are not in sync. That means you'll have to set up each account separately. Crypto.com App says it can take up to three days to verify your account, but it is usually much less than that. It only took me ten minutes. After your account is verified, you will need to set up a 6-digit passcode which you can use to access your account and then choose your fiat currency. You'll then be taken to your homepage, where you can fund your account and start trading.
How to transfer money to your Crypto.com account
You will not be able to transfer any money into the Crypto.com exchange as it doesn't support deposits or withdrawals of fiat. You can only transfer cryptocurrencies from another exchange into your Crypto.com account and make trades using them. If you're trying to compare cryptocurrency exchanges to decide which is best for you, then this could be a slight deterent. One loophole is to fund your account with fiat via the Crypto.com app, purchase one of the base cryptocurrencies like USDT, CRO or BTC, and then transfer it to your Crypto.com exchange account.
You can fund your Crypto.com app account using Canadian Dollars by e-Transfer. To deposit into your Crypto.com app account, click on Transfer and then Deposit. Then choose between crypto and fiat. Once you click Fiat, it will prompt you to set up a new currency. Choose CAD and enter the details required, including your social insurance number and address.
Crypto.com will provide you with the payment email to send the transfer to, along with an identification number you will need to enter into the message field of your deposit. If you don't include the identification number, you could lose your funds. You'll need to make sure that the name on your bank account matches the legal name associated with your Crypto.com account.
Next, ou will also need to deposit a minimum of $100 CAD, and you can transfer a maximum of $10,000 CAD per day. After you transfer, it can take up to two business days for the funds to appear in your account, but it doesn't usually take that long. The funds can appear in your account in less than thirty minutes.
All that said, you don't need to fund your account before purchasing crypto. You can purchase it directly using a credit card or debit card. However, there will be a transaction fee attached to it if you go that route.
How to make a trade on Crypto.com
Crypto.com exchange is a dedicated crypto-to-crypto exchange that enables users to trade USDT, CRO, and BTC base pairs. If you're a beginner trader, then this trading platform can be slightly intimidating, but to put it simply, it's just purchasing cryptocurrencies using the above currencies. Find the pair you want to trade and then choose the amount you want to buy. It will only take minutes for the trade to take place. To complete a trade on the Crypto.com exchange, you will need to have cryptocurrency already in your account to do so, which you can transfer from your Crypto.com App account or another exchange.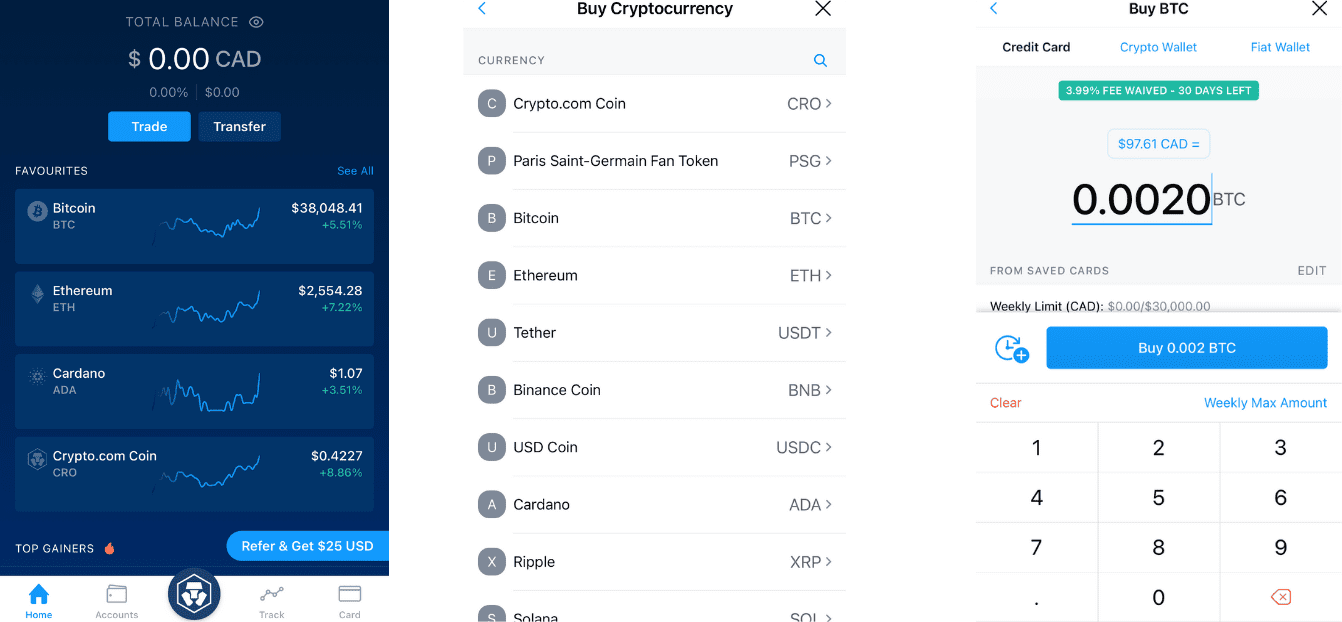 To purchase cryptocurrency via Crypto.com App, you can use your credit card, crypto wallet or fiat wallet. This is a very easy process, as all you have to do is click 'trade' then click 'buy.' You will see a list of all the available crypto assets and choose the one you'd like to purchase. When you click on your chosen token, you will see the cost in Canadian Dollars and how much of that cryptocurrency you will get. When you click on the cryptocurrency and change the amount, the price in CAD will automatically update.
You will see three purchase options at the top of your screen: credit card, crypto wallet and fiat wallet. Here you can choose what you would like to use to purchase your crypto. If you select credit card, you will first need to link a credit or debit card to your account. Also, be aware that purchasing cryptocurrency direct with credit card will charge you a transaction fee.
After you've purchased your cryptocurrencies, they will appear in your account almost immediately. You can then choose whether to leave them in your Crypto.com App account or transfer them to your Crypto.com exchange account.
What are the crypto assets supported on Crypto.com?
Crypto.com supports 100s of different cryptocurrencies, and although some tokens aren't available for users in the US, Canadians have access to the full range of options. They have an impressive lineup of currencies available, supporting more than almost any other exchange in Canada. For experienced traders wanting access to a large range of alt-coins, Crypto.com is a great option. Although, if you want to get your feet wet, it can be slightly overwhelming.
Some of the most popular coins on the platform are BTC, ETH, CRO (which is Crypto.com Coin), SOL, SHIB and DOT. But they also support up-and-comers like API3, UNI, EGLD, AXS and THETA.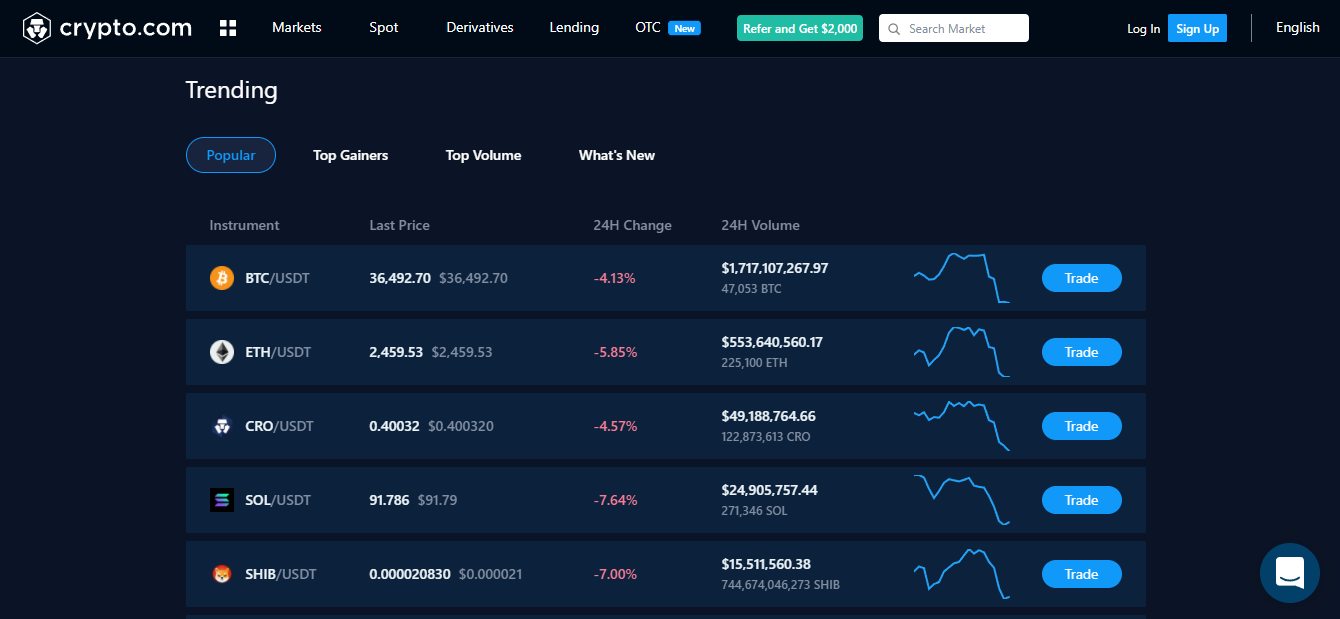 On the main exchange page, you can see a live update of the most popular coins, top gainers, top volume and new coins. Each token will show the latest price, the price change in the last 24 hours (in percentage) and a handy graph line showing how it's gone up and down. This is a perfect overview for new traders. For experienced traders who want more information, you can click on the token to see in-depth, interactive charts and order books.
What are the fees?
Compared to other cryptocurrency exchanges, the trading fees of Crypto.com exchange are competitive with the industry standard. Trading fees are set at 0.4% if you're trading less than the equivalent of $25,000 USD a month. If you're trading over $50,000 USD, they drop to 0.35%. Additionally, you can reduce your trading fees even more by staking CRO tokens or paying your trading fees in CRO. You'll receive all trading fee discounts in the form of CRO rebates.
There are no trading fees on the Crypto.com app nor is there a transaction fee for topping up your account via e-Transfer. For credit card or debit purchases, you'll pay between 2.99% and 3.99% in fees. It is also free to deposit cryptocurrencies into your Crypto.com account or to do crypto-to-crypto exchanges.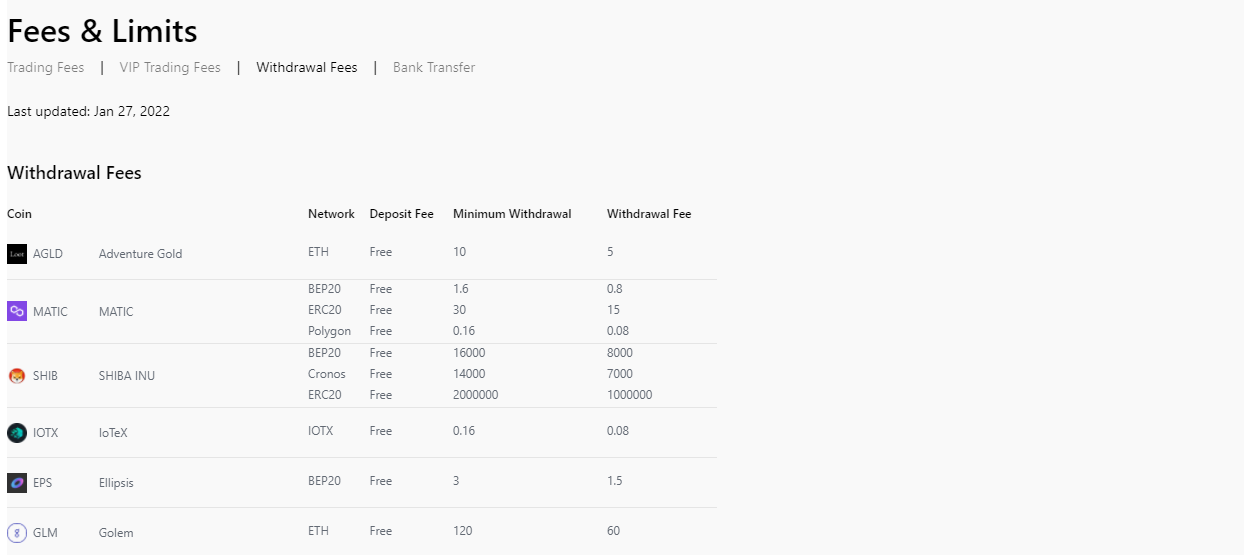 Although Crypto.com exchange and Crypto.com app are two separate platforms, they allow free transfers from the app to the exchange. This is great because although you cannot fund your Crypto.com exchange account with fiat, you can fund your Crypto.com app account and then transfer then to your exchange account. For withdrawals on both Crypto.com exchange and app, you will have to pay a fee, which will vary based on the crypto you're trying to withdraw. Each token has a minimum withdrawal amount as well.
The Crypto.com prepaid Visa card

Crypto.com has recently released prepaid Visa cards for Canadians which vary in rewards based on the amount of CRO that you stake. CRO is Crypto.com coin, the platform's own crypto token. There are five types of cards available, and they have no monthly or annual fees. The most basic card is the Midnight Blue, which has no CRO staking requirement, with the top-level card, Obsidian, requiring a $500,000 CRO stake.
Each card has a limit, and as long as you keep within those, you won't be charged any administrative fees on foreign withdrawals. As it's the case with most Canadian prepaid credit cards, you can fund your prepaid Crypto.com Visa card with Canadian dollars through a bank transfer. However, you can also fund it with cryptocurrencies. When you make a purchase with your Visa, the card will automatically convert your cryptocurrency into the local currency.
Is Crypto.com safe?
While many cryptocurrency exchanges hold a portion of cryptocurrency assets offline in cold storage, there are few that store it all offline. Crypto.com has a partnership with Ledger, storing assets in the institutional-grade Ledger Vault. They also have 750 million USD of cold storage insurance, so you can have peace of mind that your assets are protected. For the fiat currencies in your account, Crypto.com uses highly regulated custodian bank accounts, and you retain ownership of your funds, not Crypto.com.
When it comes to account security, Crypto.com protects each transaction with multi-factor authentication. You'll need your password, biometrics, email, phone and authenticator verification to perform transactions with your account. On top of that, you can only withdraw to whitelisted external addresses.
Crypto.com frequently has reputable security consulting firms audit and stress test their security and blockchain systems, so you can trust that they are operating within the highest security standards. Plus, they are registered as a Money Service Business by the Financial Transactions and Reports Analysis Centre of Canada (FINTRAC).
Pros

Cons

Tons of cryptocurrency products and services

Huge list of available cryptocurrencies

Prepaid Visa cards available

Crypto.com app is user-friendly

Overly complex for beginner investors

Can't access trading fee discounts unless you hold and use CRO

Can't purchase crypto using fiat on the Crypto.com exchange

Customer support takes a really long time to respond