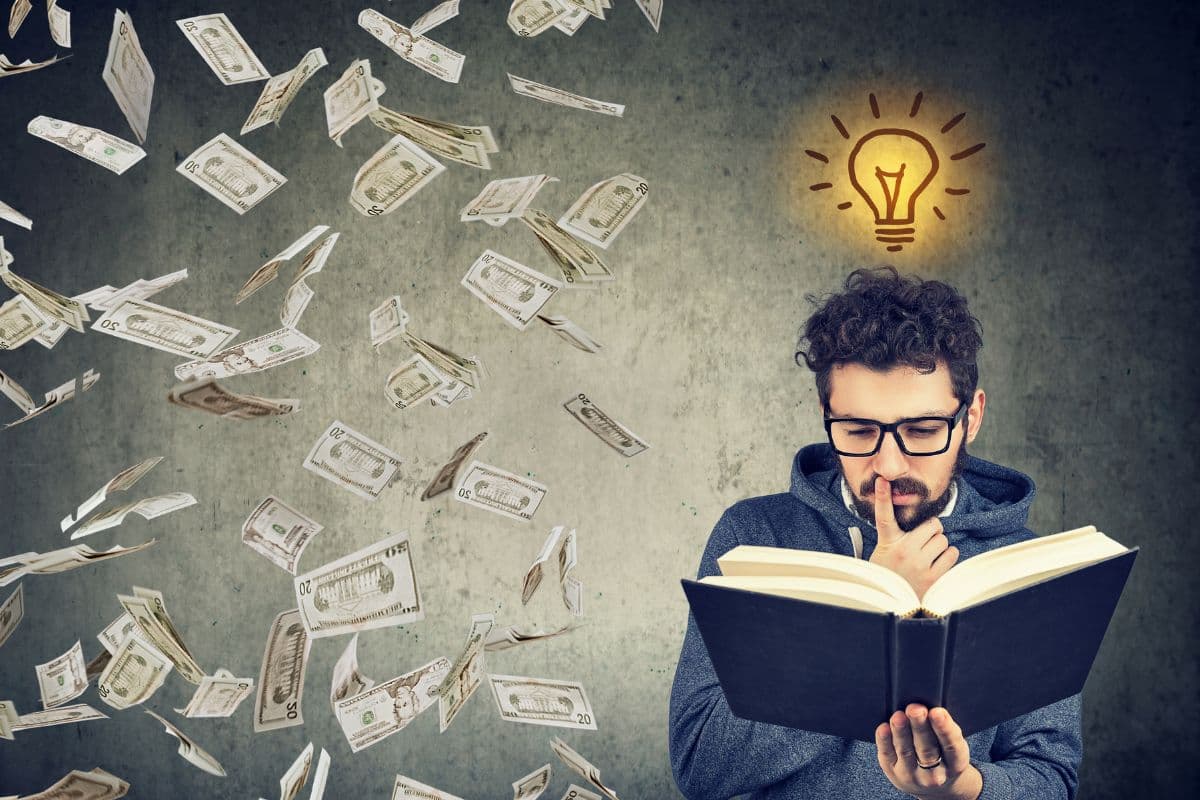 Do you know the difference between successful people and unsuccessful people? Successful people read books. Reading ranks as one of the most popular hobbies in Canada with more than 80 percent of Canadians claiming to have read at least one book in the last 12 months. This figure pales in comparison to how many successful people read the best personal finance books for Canadians.
According to reports, Microsoft founder Bill Gates reads about 50 books a year. Meanwhile, Warren Buffet, one of the world's most successful investors, reads about 500 pages a day. Even controversial personalities like Elon Musk and Mark Cuban identify as avid readers.
Books can teach you so much from how to manage your personal finances to where to invest money. Some are written for experts, some for new investors and others for people who just want to gain knowledge. Most importantly, pick the right book so that you can enjoy all the benefits its contents have to offer. 
Books impart knowledge but they can also help improve focus, memory and retention. Moreover, reading can relax you and change your perspective based on new insights. You only need to find a book that's tailor-made for you.
In this article, we'll have a look at the best personal finance books in Canada based on factors such as knowledge and ease of reading. We have only included books where at least one of the authors is Canadian to ensure they suit the Canadian market. While personal finance laws don't change based on your location, examples and investment tips provided by foreign authors may not work for Canadian investors.
So, without much ado, let's look at our 31 best Canadian personal finance books in no particular order.
1. Quit Like a Millionaire: No Gimmicks, Luck, or Trust Fund Required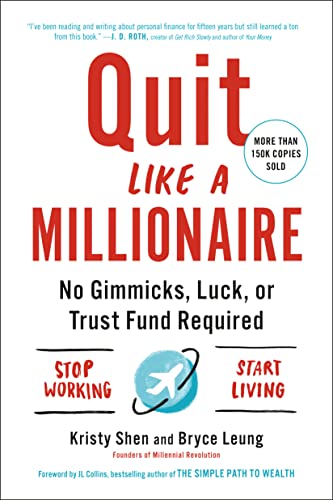 Quit Like a Millionaire, penned by Canada's youngest retirees, Kristy Shen and Bryce Leung, is hands down the best personal finance book in Canada. It speaks in particular to Millennials and younger generations. Much more than a sassy page-turner, this memoir serves as a practical guidebook with a step-by-step. As such, it gives a no-BS approach to managing money, building wealth and achieving financial independence.
Kristy and Bryce dig into Canada's tax, retirement and investment system. They frame their lessons around RRSPs, TFSAs and financial tools that give you simple, actionable strategies to use right now. In short, you cannot afford to skip this must-read.
Its witty and thought-provoking take on a financial counter-culture called FIRE (Financial Independence, Retire Early) sets it apart. Chronicling their journeys from childhood poverty to self-made millionaires in their 30s, Quit Like a Millionaire hits home. It speaks to the power of frugality and intelligent investing. Further, it delves into the importance of understanding your financial habits and mindsets.
2. Stop Over-Thinking Your Money!: The Five Simple Rules of Financial Success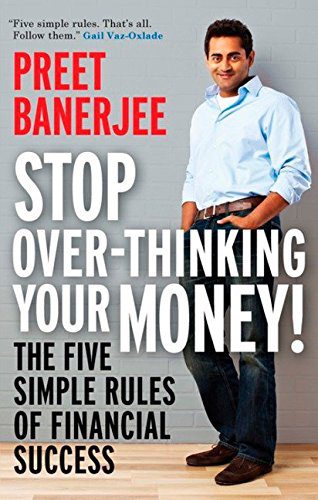 Written by Preet Banerjee, Stop Over-Thinking Your Money! scored 3.8 on Goodreads with some very good reviews. As one of the hottest-selling personal finance books in Canada, it suits readers who don't know much about personal finance. For instance, it skips over different buzzwords and concepts for clear comprehension.
Founder of MoneyGaps.com, Banerjee has experience working as a columnist and wealth management consultant. He understands the types of issues new investors face and has done a good job of covering concepts in simple words. His conversational tone makes it easy to complete this 224-page book that was originally published in 2014.
Banerjee provides some concrete advice in the book and we also liked the use of his personal stories. However, remember that this book wouldn't fit someone who already understands personal finance and complex investing. This can serve as a stepping stone before moving to more detailed books.
3. Millionaire Teacher: The Nine Rules of Wealth You Should Have Learned in School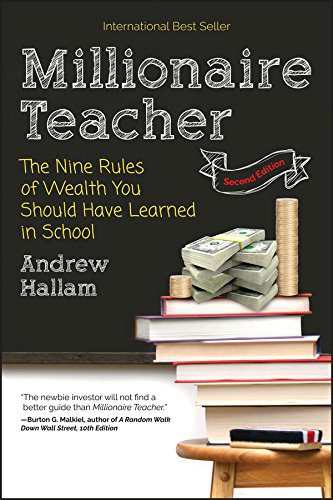 Andrew Hallam believes that schools today don't teach enough about personal finance and he appears to be right. Once you go through Millionaire Teacher: The Nine Rules of Wealth You Should Have Learned in School, you will realise how much you've missed. This 256-page book might not weight as much as some other top personal finance books. However, it gets the job done as Hallam wastes no time getting to the point.
This book flows very well with simple yet crisp language. Just like our previous pick, this one also serves as an introduction to investing yet has some very detailed portions.
Published in 2017, the book has key anecdotes and some extreme examples, such as biking 70 miles a day. Above all, this book is specifically written for Canadians, linking to organizations and tools designed for Canada. The book also highlights the benefits of investing in Canada.
Unlike some other personal finance books, this one isn't just address the good things. Hallam fearlessly speaks the truth about why Canadian mutual funds do not make the best option and why it takes a while to learn the art of investing.
4. Money Like You Mean It: Personal Finance Tactics for the Real World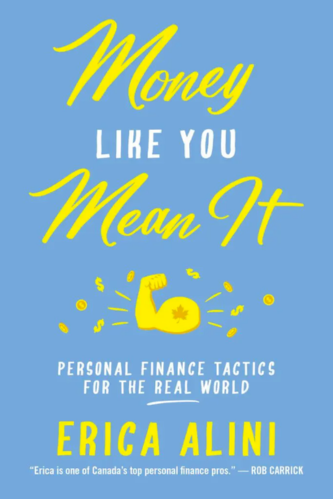 Going through Erica Alini's Money Like You Mean It: Personal Finance Tactics for the Real World will not make you rich overnight. However, it can help you understand how personal finance works and what you can do differently to achieve your goals. While not the most famous personal finance book out there, it deserves more attention.
A journalist by profession, Alini understands personal finance well and has covered a wide variety of topics in this 256-page book. Released in 2017, it provides actionable tips on achieving financial independence through smart investing. The book teaches investors to make money in less time. That makes it a great option for people who are too busy to spend hours keeping an eye on their investments.
In one interesting and very relevant section, Alini talks about buying versus renting. She looks at everything from a critical perspective and informs people so they can make their own decisions. She also covers common terms, tips on finding the right financial advisor and insights on avoiding scams. Overall, Alini has done a good job of preparing people to take their first step towards investing. 
5. The Wealthy Barber Returns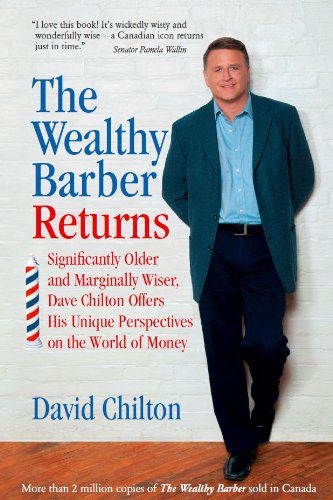 Don't let the title fool you, The Wealthy Barber Returns by David Chilton remains one of the best Canadian personal finance books. It even has a 3.9-rating on Goodreads. Originally published in 2011, the book seems old but not dated. Plus, you can buy it as an audio CD.
Consider this as a book written for people who already understand personal finance and know the language. If you are new, then start with one or more of the three books covered above. Once you've gone through those, you can better comprehend this narrative. 
We liked the flow of the book and how Chilton has organized the chapters. While short, they contain excellent examples and actionable advice. You will also find some calculations that clearly explain complicated concepts.
Unlike some other books, you won't describe this as dry or verbose. Rather, it entertains as it reads like a suspense novel. Chilton does a good job of highlighting the importance of savings, Similarly, he answers questions the common person may have including a comparison of different account types.
Note: This sequel builds on lessons from Chilton's original book entitled The Wealthy Barber: The Common Sense Guide to Financial Planning.
6. Wealthing Like Rabbits: An Original and Occasionally Hilarious Introduction to the World of Personal Finance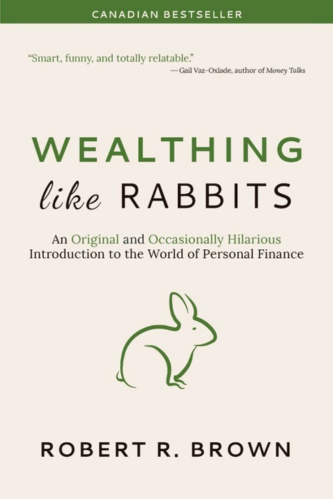 Robert R Brown gave us Wealthing Like Rabbits: An Original and Occasionally Hilarious Introduction to the World of Personal Finance. He wrote this 216-page book for Millennials. In it, the author use pop culture and relevant anecdotes to help readers understand different personal finance concepts.
The book covers a wide range of topics, including debt repayment, opportunity cost, credit cards, investment accounts and mortgages. A personal finance speaker and author, Brown seems to have a good understanding of what his readers want. However, we wish the book had more concrete examples. 
The author wrote this for people under 30 but we think that anyone can benefit from it. You'll find this book a little blunt. After all, the author talks directly to the reader and doesn't sugarcoat things. As a result, he can help you identify the mistakes you've made so you can correct them.
7. The Wealthy Barber: Everyone's Common-Sense Guide to Becoming Financially Independent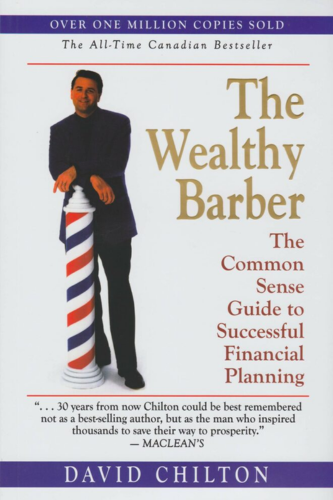 We mentioned The Wealthy Barber Returns by David Chilton earlier and now we'll look at the original – The Wealthy Barber. Chilton published this book in 1995, yet it's still in demand. Between this one and the sequel, you will find more calculations and charts.
Those who enjoy looking at numbers and examples would appreciate this edition. Also, he wrote this one more as a novel compared to the sequel. If you love storytelling then you'll have a great time reading this guide. Chilton takes a no-nonsense approach and gets directly to the point. 
The book has sold more than two million copies. Generally, it covers a variety of topics including tips on how to use credit and creating the right investment mindset. Finally, he offers techniques that help you earn more than save.
8. Cold Hard Truth on Family, Kids and Money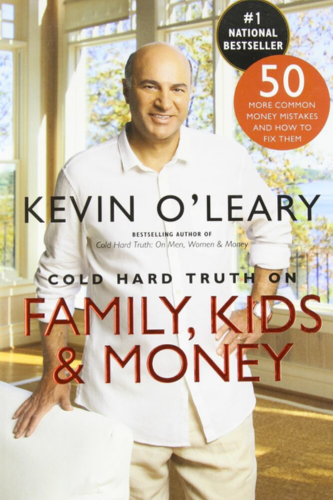 The name says it all. Kevin O'Leary's Cold Hard Truth on Family, Kids and Money hits hard as he talks about kids, family, and, of course, money. If you know O'Leary's work, you'll remember he doesn't mince his words and sticks to his points. Therefore, this book follows the same pattern.
As expected, O'Leary talks about how you can secure your family's future by eliminating debt and achieving freedom. This 288-page book addresses different aspects of managing a family, right from selecting a spouse to managing your finances. For instance, very few people look at the financial repercussions of getting into a relationship or tying the knot.
Naturally, O'Leary cuts straight to the point. We loved how he pointed out different facts, such as the cost of raising a child – around $250,000 until the child goes to college. This book can change your life. However, it might take you a little while to get used to the author's style but the material makes it worthwhile.
9. Debt Free Forever: Take Control of Your Money and Your Life
The title tells the story here. Debt Free Forever: Take Control of Your Money and Your Life addresses debt management and covers some great tips on how to avoid falling behind on payments. It doesn't only highlight the importance your credit score, but also some great ways to improve your financial standing.
Author, Gail Vaz-Oxlade, talks about updating your habits, automating your savings, building a budget and planning for the future. The book works as a great guide for people who know they have to save but can't find the motivation needed to get started. You will find some great tips in this book, including step-by-step guides on understanding your expenses and debt.
Gail aims to help you become debt-free in three years or less. Released in 2012, the book still feels very fresh and easy to comprehend. Moreover, you can also go for an audio version of the book that runs for eight hours and 14 minutes.
10. Worry-Free Money: The Guilt-free Approach to Managing Your Money and Your Life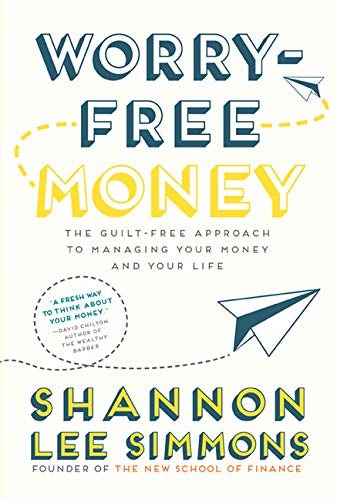 We finally move into books that offer deep insights into personal finance. Worry-Free Money by Shannon Lee Simmons takes a unique approach to this field. She covers a variety of topics in this 328-page book, including savings, budgeting, and spending. Shannon wants you to stop feeling sorry and to take control of your finances.
The book has proven to be a great read and has a 4.3 rating on Goodreads. Her practical approach speaks to the limitations of her audiences as she creates a doable approach to improving one's finances. You will find a lot of real-world examples in the book.
Worry-Free Money does a great job of helping people realize the impact of their day-to-day decisions and how to change. The tone remains friendly yet stringent.
11. Beat The Bank: The Canadian Guide to Simply Successful Investing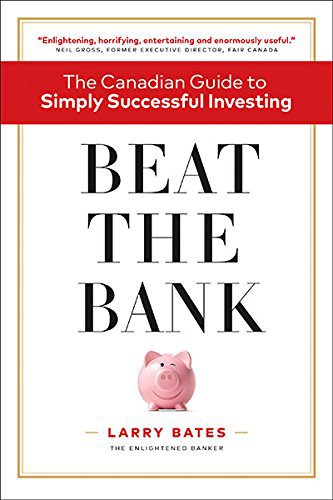 Find it hard to invest your money? Larry Bates's Beat the Bank can help you understand investments better . This 208-page book came out in 2018 and is already one of the most popular personal finance books in Canada with a score of 4.4 on Goodreads. The book discusses some technical topics but without using technical or complicated language.
Larry has done a good job of explaining the concept of indexing, its benefits and why some investments may not suit Canadians due to high investment fees. He provides great tips on simplifying and optimizing investment portfolios, increasing wealth and maximizing tax-sheltered accounts.
Larry focuses on long-term growth for readers who serious about investing from big shots to small investors. You don't need a lot of money to follow Larry's instructions. He has even included tools like T-Rex Score, so investors know exactly how much they have to pay in fees.
12. Moolala: Why Smart People Do Dumb Things With Their Money – And What You Can Do About It
Written by Bruce Sellery, the Moolala personal finance book has a 3.5-score on Goodreads. Divided into five sections, this 2011 book is written in an inspirational manner. At 342 pages, the author makes it funny and interesting to read.
It will help you look at money management from a new perspective thanks to practical examples and simple language. For instance, short activities at the end of each chapter help you gauge what you've learned. This section can also help readers understand the mistakes they make and what they can do to improve. 
Take your time and don't just glance over this personal finance guide for Canadians. It has excellent material that you should grasp fully before turning the page.
13. Victory Lap Retirement: Work While You Play, Play While You Work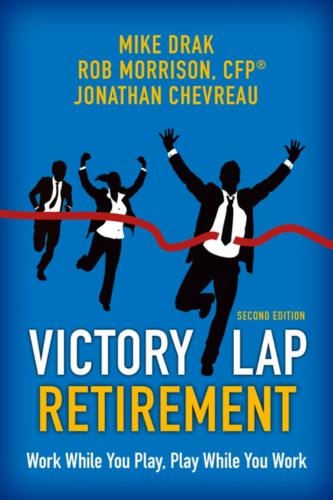 Victory Lap Retirement by Mike Drak et al speaks to people who want to retire peacefully. Published in 2019, this 232-page book has a score of 3.7 on Goodreads and a growing fan base. Drak's name has made this book popular.
The author has some other titles under his belt and has contributed to popular publications like Yahoo Finance and MoneySense. He understands the issues people face and wants to solve them with this book. You will find it very light to read and full of real-life examples.
While the text gets a little repetitive in places, it does a good job of highlighting how one can retire without any burden. It's written for people close to retiring. Afterward, we feel you should start planning for retirement as early as possible so get your hands on this one now.
14. The Year of Less: How I Stopped Shopping, Gave Away My Belongings, and Discovered Life is Worth More Than Anything You Can Buy in a Store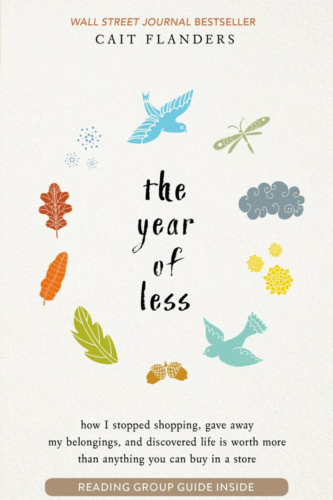 Cait Flanders wrote The Year of Less to share her experiences with readers and help them understand the true meaning of life. More than a personal finance book, this guide can give your life a new meaning. The book does a good job of highlighting the importance of appreciating the small things.
Written as a self-help memoir, the book chronicles the life of Cait and how a 12-month break from routine life helped her discover the beauty of life. Basically, her story covers the struggles of a 20-something-year-old girl dealing with alcoholism, weight gain, career, family, etc. We must mention that you will enjoy this only if you like to read memoirs. 
Published in 2019, this 216-page book has a rating of 3.5 on Goodreads and some very positive feedback from readers. Most seem to enjoy the tone and we also fell in love with the way Flanders presents her story.
15. House Poor No More: 9 Steps That Grow the Value of Your Home and Net Worth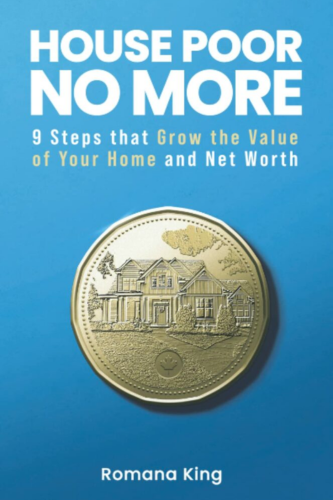 House Poor No More by Romana King might not stand out as the most popular book out there but it is still worth a read. Published in 2021, the book is quickly gaining momentum. This 440-page guide talks about different aspects of buying, selling or investing in real estate in a clever manner.
Above all, we liked how it doesn't only talk only about homeownership but also how it links to retirement planning and money management. It has some great tips on what you can do to boost your home's value and maintain it. You'll find information on reducing monthly expenses and taking advantage of debt.
Further, Romana makes some very new and interesting points in this book. She explains each point in detail, especially the eye-opening managing chapter. Finally, she does a good job of explaining the cost of owning a house and how small changes can help you save money.
16. The Rule of 30: A Better Way to Save for Retirement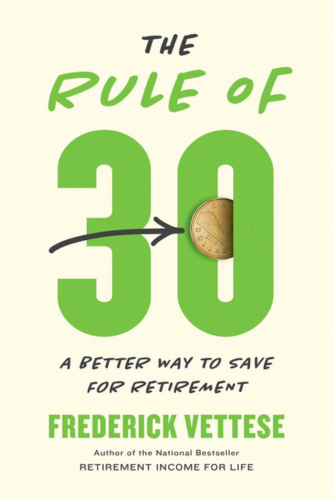 Written by award-winning columnist Frederick Vettes, The Rule of 30 offers some great and new ways to save money for retirement. This 224-page book calls out the mindset that our demands change and saving strategies need to adapt as well. Written for Canadians under 45, the book emphasises the importance of saving throughout life so that we can have decent savings when we decide to hang our boots.
Vettes' formula states you should save different amounts throughout the years instead of a constant and arbitrary amount. He gives a simple rule – save 30 percent of your gross income, minus rent or mortgage and short-term expenses, such as daycare. With this formula, you'll save less in the beginning and more as years pass.
Just like The Wealthy Barber, this reads in a novelistic manner and in the form of conversations between a number of people. While not everyone appreciates this approach, it works in this context.
17. The Money Master: Inside Secrets on How to Make Your Money Grow and Stay Safe: What They Don't Teach You about Wealth and Investing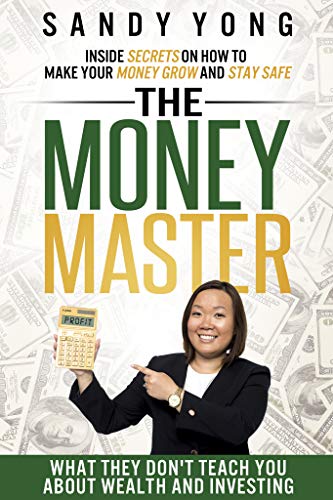 Sandy Yong's award-winning The Money Master targets people who get anxious just thinking about money. If you let emotions control you, then get your hands on this book. It has a great section on how to keep your sentiments in check.
Reviews of the book positively glow and most readers seem to have found the tips in the book quite easy to follow. Published in 2020, it only has 161 pages. Described as crisp, the author seems to have made every word count. However, we liked its clear presentation most .
Yong has done a good job of presenting the book in workbook form. However, it remains full of wise advice as the author gets straight to the point without mincing words, especially during the rich-versus-poor people section. We suggest that you concentrate on this valuable information.
18. Happy Go Money: Spend Smart, Save Right and Enjoy Life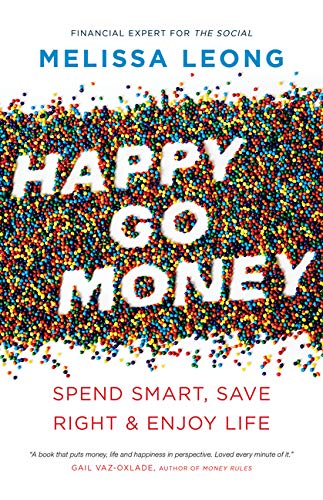 Published in 2019, you can consider Happy Go Money by Melissa Leong a complete personal finance guide as it talks about everything from saving to investing. Leong works as a personal finance writer, on-air personality and keynote speaker with a good understanding of the Canadian market. Unlike some other personal finance books in Canada for a specific age group, anyone can benefit from its material.
The book contains some brilliant one liners and anecdotes. Leong doesn't hesitate about sharing some jarring details of her life. Most importantly, she encourages self-evaluation without getting dry.
Spend some time thinking about your financial situation and what you can change to improve your life. Next, look at things from Leong's perspective. You don't have to follow everything given in the book, but try to concentrate on points that apply to you.
19. Personal Finance for Canadians for Dummies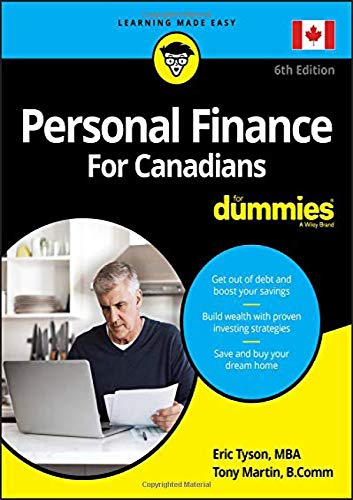 Published in 2018, Personal Finance for Canadians for Dummies authored by Tony Martin and Eric Tyson remains one of the most popular personal finance books in Canada. Some books written by two authors can offer two different styles, but we loved how this book came together.
Both Martin and Tyson share the same aim – to educate people – with an interesing result. This 400-plus page book will give you interesting perspectives and make you think about your financial situation. The duo recently updated it to cover the latest trends, including robo-advisors.
While the book has much detail, remember it only suits self-proclaimed dummies. If you already understand personal finance in Canada then this book might not be for you. However, you can choose any other book from this list.
20. Easy Tax Tips For Canadians: Book One of the Piggy Bank Financial Series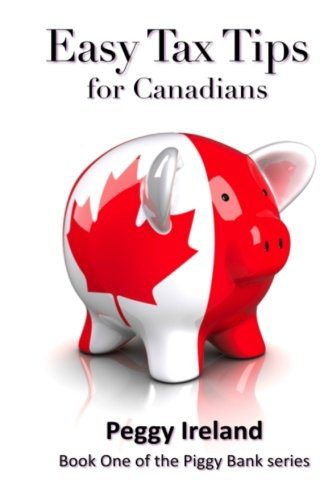 Easy Tax Tips For Canadians by Peggy Ireland makes a great pick for anyone wanting to know more about the Canadian tax system and how you can save money. Everyone pays taxes, from the rich to the poor, and this book speaks to all kinds of readers. You'll enjoy Peggy's real examples and creative tips.
This book will help you determine what to buy, when to buy, how to buy and how much to buy to ensure you don't end up overpaying taxes. After all, taxes in Canada can even go above 40 percent in some cases.
Rather than focusing on tax stealing, it helps find loopholes by acting smart, just like chartered accountants do. However, we suggest that you read some other books in this list before moving to this one. It can become a little complicated to understand. Also, not all situations may apply to you, so look for sections that relate to your case.
21. A Wealth of Common Sense: Why Simplicity Trumps Complexity in Any Investment Plan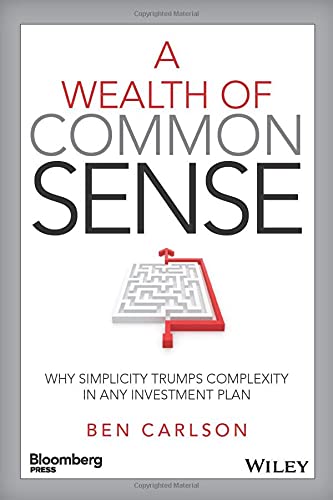 Those who want something simple but interesting can get their hands on A Wealth of Common Sense by Ben Carlson. With a Goodreads score of 4, we think this book makes a good pick for anyone wanting to know more about saving money. It will not make you rich overnight as this book doessn't focus on quick cash. Instead, it delves into smart investing in the right scheme.
It can be a little hard to follow all the principles given in this book, but give it a try. The tone gets a little stiff in parts but it works. Carlson has used complex language in some places that we found a little unnerving but he uses some nice examples throughout the book to make his point.
22. RICH GIRL, BROKE GIRL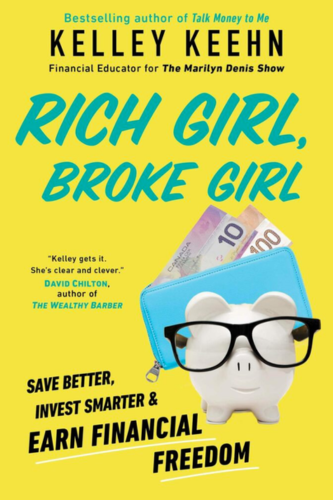 Rich Girl, Broke Girl stands out as attractive and interesting as the title. Author Kelley Keehn has done a good job of explaining how to pay your debt and start saving in this narrative-style book. The book resonates with parents who want to teach their kids financial independence.
It covers issues we face in our day-to-day life, such as negotiating salaries, gaining control of our finances, etc. The author stays sympathetic and supportive. We loved the anecdotes in this book as they hit the bull's eye every time.
Keehn appears observant and has layered the book with Canadian examples that make it even more relevant. Consider showing it to growing children. It can help them start their life on the right note.
23. The RESP Book: The Simple Guide to Registered Education Savings Plans for Canadians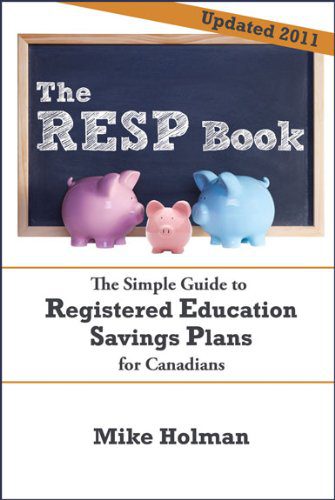 Mike Holman's top-rated The RESP Book originally came out in 2012 and explains Registered Education Savings Plan (RESP) in just 155 pages. It's speaks to Canadian parents with a whip-smart approach. We loved the chapter where he talks about RESP accounts and how to get started.
Holman was already famous before the book came out as he runs one of Canada's most popular personal finance websites MoneySmartsBlog.com. However, this book has proven to be a turning point in his career as it became a massive success.
Most people love the tone and how easily they grasp the material. Ideally, get a copy for people who just had kids or plan to have kids. It covers everything one needs to know from how to fund their education to what kinds of expenses to expect. Getting prepared will help you, so give this a read.
24. The Snowman's Guide to Personal Finance: A simple approach to managing your money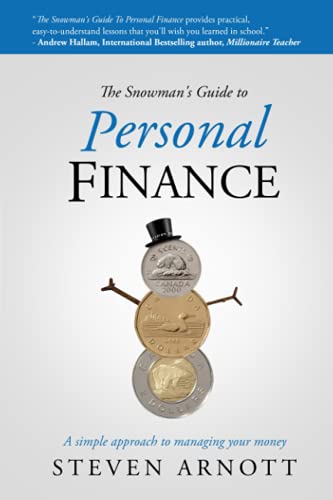 The Snowman's Guide to Personal Finance by Steven Arnott is a fairly new option but already very popular. This 184-page book came out with its practical approach in 2019. It suits anyone interested in developing a baseline knowledge across different personal finance topics, including home ownership, debt settlement and retirement.
Arnott has done a clever job of using the snowman to explain different personal finance concepts in this book. This makes the presentation interesting and keeps readers glued. Of course, this helps since personal finance can end up boring some readers. Arnott has kept the tone educational but simple.
In addition, the layout is excellent. It starts from the basics and goes deeper as you continue to read. Arnott has used some interesting analogies and the concrete examples throughout the book. However, it might not offer insights to people who already understand the basics.
25. Financial Freedom With Real Estate: Start Making Money Today Because Everyone Else Is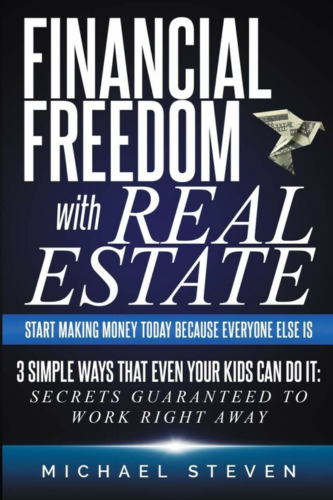 Real estate is one of the most important parts of financial freedom and Michael Steven does a good job of explaining its importance in Financial Freedom with Real Estate. Steven knows the industry very well and boldly shares his experiences. He makes some very important points, including the need to start today.
We loved how the book busts several myths about real estate and encourages readers to start investing. It makes real estate looks easy and provides step-by-step guides on how to get started. He has very clearly selected chapters' topics so they flow smoothly.
Written during the COVID era, this 128-page book takes into consideration the ongoing issues that we face today. But, the tips contained in this book will help you in the future as well.
26. Do You Really Need It?: One Question to Free You Financially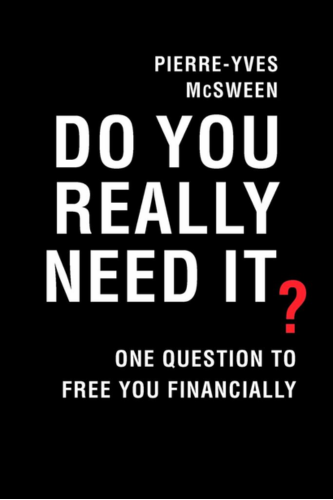 Written by Pierre-Yves McSween, this 336-page personal finance book highlights the value of saving. Do You Really Need It? does a very good job of helping users realize the importance of saying no and thinking before making a purchase. McSween understands that many of us end up making unnecessary purchases and stopping at the right time ultimately saves money.
Many books on this topic but this one apart stands out for how positively it makes the point. It holds up a mirror to one's life choices and their consequences. Further, it looks at things from the perspective of a common man and paints an encouraging picture.
You will even find real-life examples in the book that come across as both interesting and relevant. We suggest picking important pointers from each chapter and making a list so you have it handy. Overall, the book tells readers to start out as slowly as they can since saving something is better than saving nothing.
27. Simple Money: Turn your dreams into reality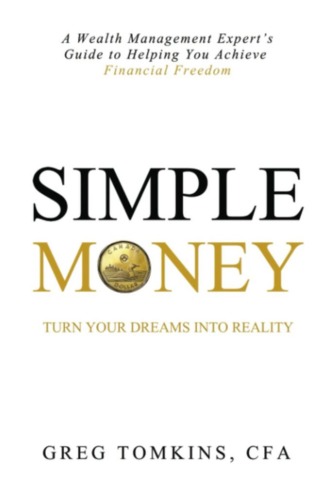 Greg Tomkins wrote Simple Money with one goal – to help people manage money. Published in 2021, this new addition to the long growing list of personal finance books in Canada does a fine job of connecting with the readers. At 321 pages long, the book details and highlights how one can move forward in life.
Tomkins has created a formula that he has used to find success and believes that it can help others as well. The trick lies in working today for tomorrow. The language comes out straightforward and clear, as the writer hits all the points from retirement to debt to ways to earn money.
The book contains dozens of case studies, including Greg's stories of failures and triumphs. We loved the section where he talks about financial jargon and gets deep into stocks and portfolio management. We feel this book perfectly suits all types of readers, including new and experienced investors.
28. Investing For Canadians All-in-One For Dummies
Investing For Canadians All-in-One For Dummies by Tony Martin ranks as one of the best personal finance books. It talks about some new concepts that feel pretty fresh and written for tomorrow's investors. You'll find topics such as cryptocurrencies, precious metals and taxes.
The book gets marketed as a seven-in-one series that covers some other topics as well, including day trading, real estate and mutual funds. Hence, it doesn't come as a surprise that it's pretty long at 592 pages. But, don't worry. The book flows well and you will not get tired of it.
While some portions get pretty detailed, some are only introductory. We loved the section where the writer highlights the importance of finding investments according to your income and following time-tested strategies.
29. The Value of Simple: A Practical Guide to Taking the Complexity Out of Investing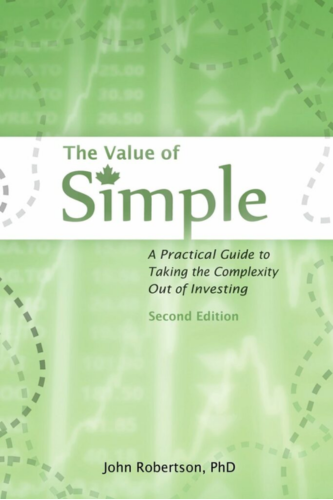 John A Robertson has created a number of books and enjoys an excellent reputation today. However, if we had to pick his best, we'd choose The Value of Simple. After all, he wrote it for people who find investing too complex and made the topic interesting.
Robertson understands the issues investors face and lays out a clear plan on how to grasp the evolving market. He explains different concepts in simple words within 220 pages. You'll even find some information on real estate and retirement.
You'll love this book if you're busy since Robertson doesn't expect you to spend hours in front of your phone or computer. The book helps you invest while you concentrate on other things. You'll find a detailed step-by-step guide on how to create and manage a portfolio. We loved how complete the book is. Once you're through this, you can confidently strengthen your finances.
30. Reboot Your Portfolio: 9 Steps to Successful Investing with ETFs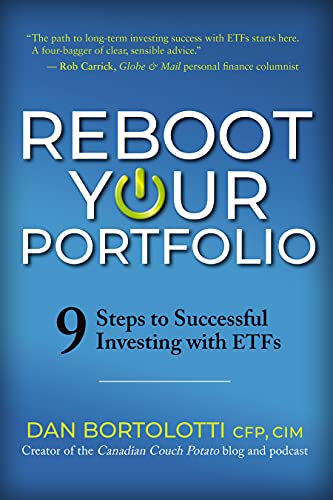 EFTs became quite popular in Canada and can help you make a lot of money. Thankfully, Dan Bortolotti does a fine job of explaining their complexity in Reboot Your Portfolio. It starts by highlighting the benefits of ETFs. Dan explains their benefits and why you should concentrate on exchange-traded fund (ETFs) and not beating the market.
If you are already understand ETFs then you can move to the second step where the author explains their portfolios and how you can allocate assets, select funds, etc. We loved the language he has used. It makes concepts easy to understand.
Dan has included some great examples here. We think the book can guide existing ETF investors as well. It has some great tips on how to avoid mistakes and you can use these tips to improve your current portfolio.
31. The Canadian Real Estate Investing Blueprint: The Exact Strategies Canadians Have Used to Buy and Profit From Billions in Income Property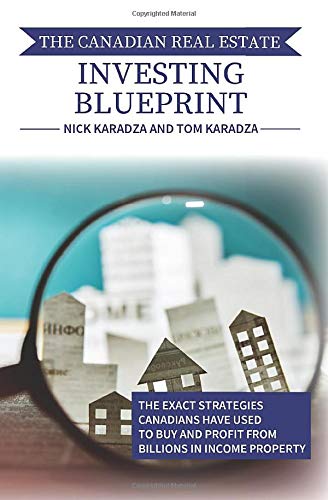 Written by Tom and Nick Karadza, The Canadian Real Estate Investing Blueprint remains one of the best personal finance books. It mainly focuses on real estate investment in a series as you meet the authors and how they have achieved great results.
You will find the duo's investing secrets in the book. We liked how specific they got here with real examples. In our favourite chapter, they talk about different real estate investment options and the benefits of each.
This 338-page book goes in-depth and provides some great ways to compare different options. Once you get through this, you will be in a position to call the shots and identify the best real estate investment by comparing potential returns.
Qtrade Direct Investing
- Get up to $2,000 cash back to new clients who open a qualifying account(s) by March 4, 2024, and deposit/transfer assets to Qtrade Direct Investing by March 31, 2024.
- An Early Bird bonus: receive a 20% discount on trading fees (if the client maintains $50K in Assets Under Administration and makes at least 20 trades each year). Offer ends in December 31, 2023
- A $50 Sign Up bonus (low-hurdle and quick-pay) to new clients who open a Qtrade account by March 4, 2024 and deposit at least $1,000 by March 31, 2024.
Get up to $2,000 cashback