I Tried Opinion Outpost and Here's How It Went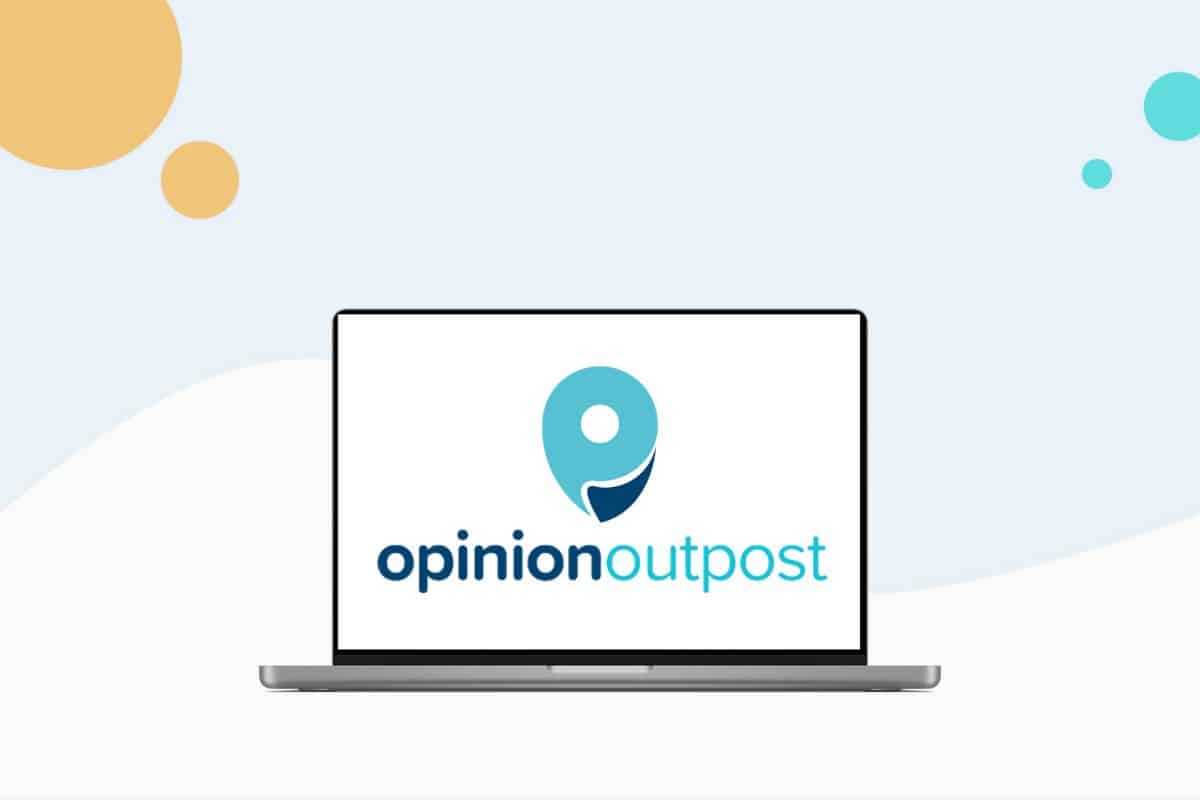 Are designer lattes the reason you can't afford a house? Just kidding, we all know that's not true. But there is a way to bankroll your guilty pleasures, and those small wins add up over time. Opinion Outpost is an online survey company that pays for a piece of your mind.
You won't make enough money to buy a house, but it's enough to finance a little joy in your life. So if you love to share your unsolicited opinion – monetize it. Then buy the coffee, eat the cake, or invest your gains! Here's how Opinion Outpost works, what to expect, and my two cents after testing it out.
Is Opinion Outpost legit?
In a word – yes. Opinion Outpost has been around since 2004, but the company that owns it has been around much longer. Established in 1977, Dynata is a market research company (formerly Survey Sampling International) that owns Opinion Outpost and several other legitimate paid survey sites.
Dynata works with major household names like Starbucks, Amazon, and Nestle – to name a few. As a market research company, Dynata's job is to find out what consumers think about various products, services, and topics relevant to their client's business.
This information helps those businesses better align their products and services with our needs and preferences. To date, Dynata has delivered over 100 million completed surveys to 6,000 clients across all major industries.
Since 2004, the Opinion Outpost platform has amassed roughly 2 million users worldwide and pays out over $500,000 in rewards each month. It has a mediocre score of 3.3 on Trustpilot, which isn't terrible, and most complaints have to do with customer support.
How does Opinion Outpost work?
It's pretty straightforward – you earn points for completing surveys. Once you've earned enough points you can cash them out through Pay Pal, or redeem them for gift cards to your favourite stores, prepaid credit cards you can use almost anywhere, and more.
Available rewards might vary by region. For example, I live in Winnipeg and these are the rewards available to me: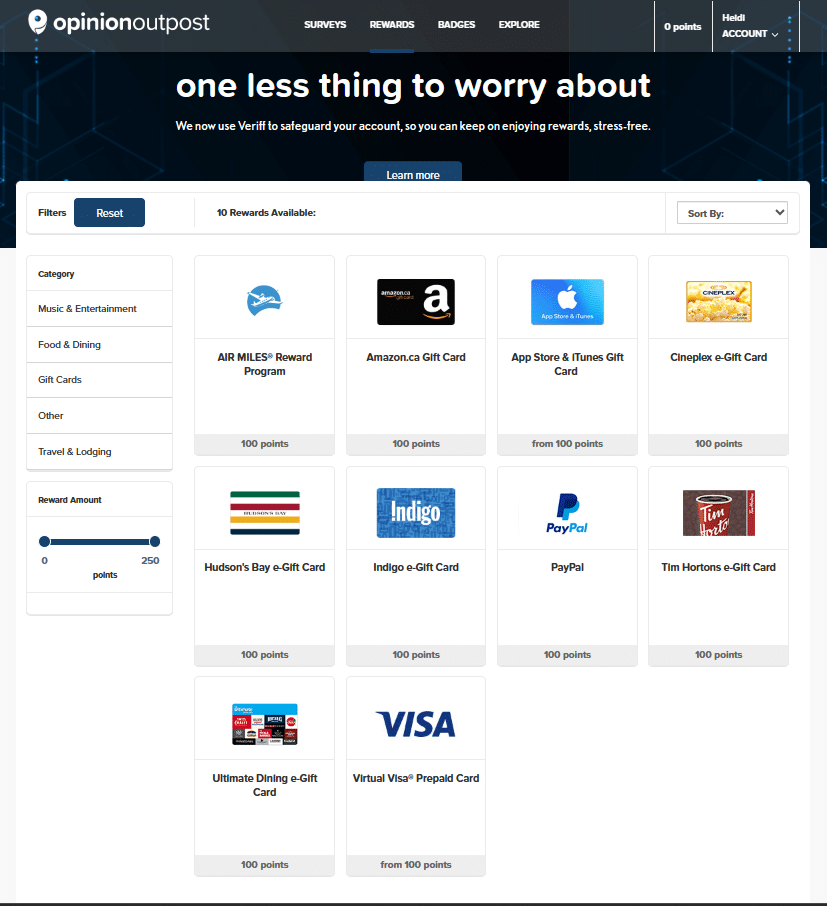 As you can see, no Starbucks cards. #SadTrombone.
How do I earn points on Opinion Outpost?
You earn points by successfully completing surveys. Most surveys take anywhere from 10-25 minutes to complete and you can earn up to 15 points for each one.
You need to earn at least 100 points before you can redeem them for anything. So that means you need to complete at least 7 full surveys before your efforts start to pay off.
The shorter surveys or worth fewer points while the longer surveys are worth more. How much you actually earn, and how much time it takes, depends entirely on the luck of the draw.
What are bonus offers?
Once in a while, there are bonus offers that give you the opportunity to earn more points. For example, there is a 'New Member Challenge' that gives you the chance to earn 20 bonus points if you complete 3 surveys within 7 days of signing up. The more active you are on the platform, the more likely you are to snag these opportunities to make more money.
How much are points worth?
Ah, the million-dollar question. 100 points are worth $10, and you need at least 100 points before you can redeem them for cash and other rewards. That means a single point is worth $0.10.
Is it worth my time?
That's up to you. Say you choose a lengthy survey that takes half an hour to complete, the most you'll earn is 15 points. So you're looking at a max pay rate of $1.50 per survey. But not every survey is going to be that long. In fact, when I signed up, most of the surveys available to me were 5 minutes long.
Be prepared to invest at least 4 hours of your time and complete at least 7 surveys before you can earn enough points to redeem. It's not a great payout, but it's an easy way to make money online if you have some extra time to kill.
This would have been a great hack for me while I was in university. I spent a lot of time commuting on the bus and could have made enough to treat myself to lunch or a fancy coffee. Sadly, Opinion Outpost did not exist back then.
But in order to take a survey, there's a catch. You have to qualify for it.
Before the main survey: the qualification questions
Just because a survey piques your interest doesn't mean you can participate and make money. Companies want to hear from very specific groups of people. So every survey requires you to answer a series of qualification questions to determine if you're the target demographic.
These questions are not part of the main survey. It's like a mini-application to see if you're the right person the company wants to hear from.
And this is where things can get really frustrating. You might spend a fair bit of time answering the qualification questions only to find out you don't qualify for the survey. You have the option to pick another one, but you could end up wasting more time than it's worth. Especially since you have to go through the qualification process for every single survey you want to take.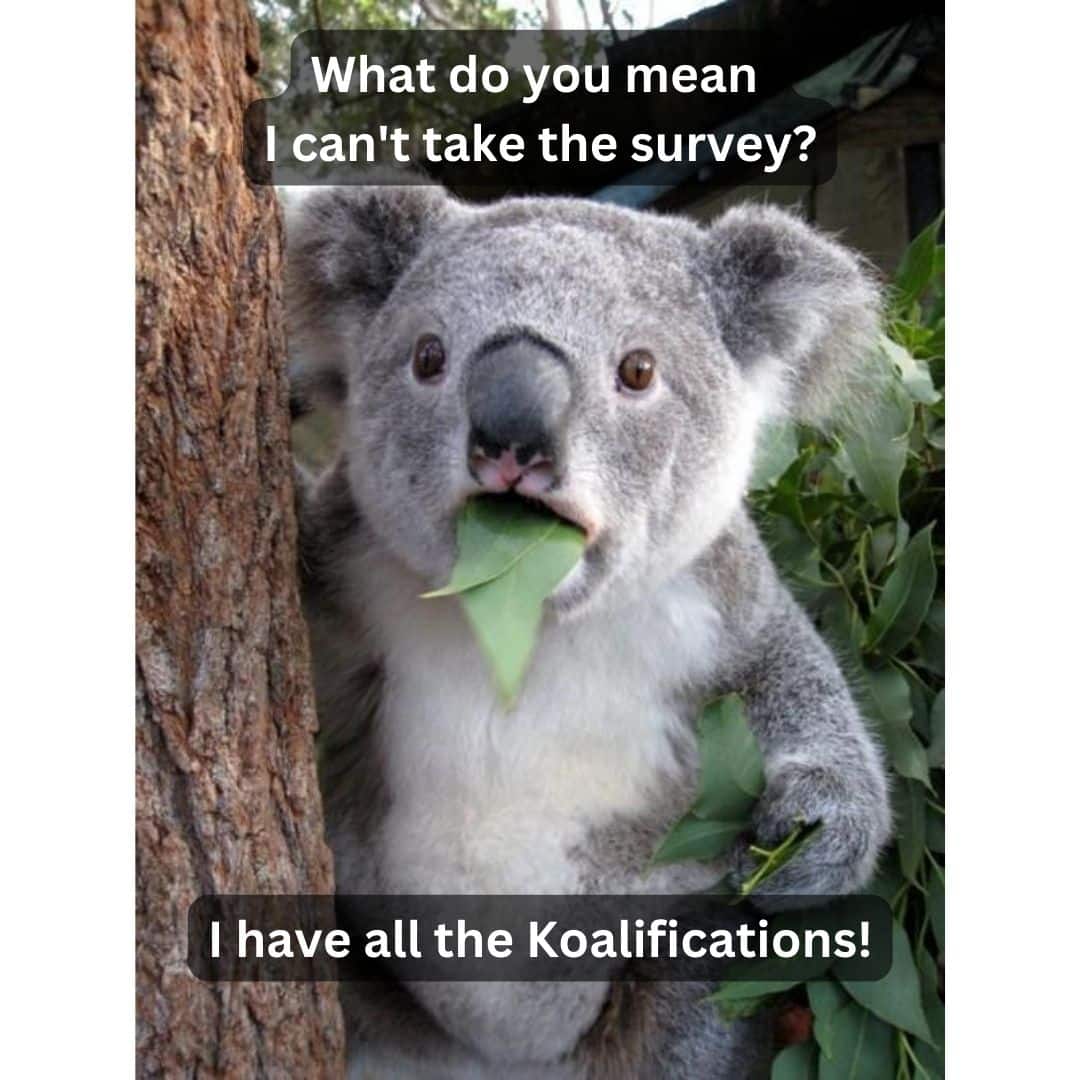 Other times, you could totally be the target demographic and still not be able to take the main survey. If enough people complete it before you finish the qualification questions, the survey will be considered 'full' and won't accept any more takers. You'll be given 1 point for your trouble but you can only earn a max of 5 points in 24 hours for surveys that close early.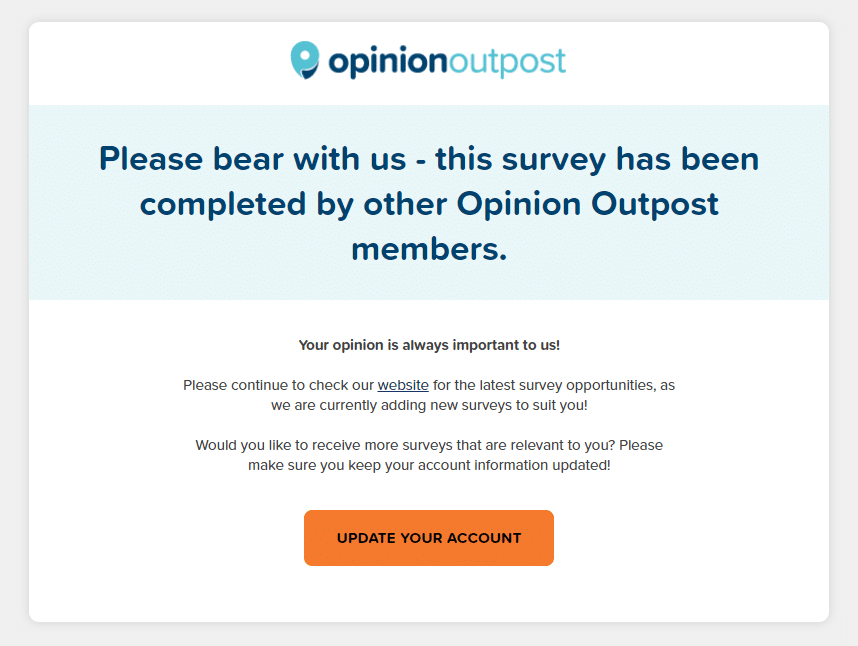 The main survey: after the qualification questions
If you pass the qualification questions you'll automatically be taken to the main survey. This is where you get to be brutally honest and spill as much piping-hot tea as you want.
In order to complete the survey and collect your points, you have to answer every single question all the way to the end. No skipping! Once you've successfully completed a survey the points are credited to your account right away.
How to sign up for Opinion Outpost paid surveys
Signing up is quick and should only take about five minutes. Follow these steps to create your account:
Visit the Opinion Outpost website. Fill out this form and click the blue "Join Now" button at the bottom.
Follow the prompts and provide your information. You'll be asked to provide your name, email address, and demographic information like your age, gender, location, employment status, income, etc. This information helps Opinion Outpost match you with relevant surveys you're likely to qualify for.
Confirm your email. Once you've completed the sign-up form, Opinion Outpost will send a confirmation email to the address you provided. Open this email and click on the confirmation link to verify your email address and activate your account.
Complete your profile. After you've confirmed your email, log in to your Opinion Outpost account and complete your profile. The more information you provide, the better your chances of being matched with surveys that fit your interests and demographics.
A word about your profile
Creating your account is the quick and easy part, but I found completing my profile to be tedious and time-consuming. There are an overwhelming amount of questions that will take a lot more than 5 minutes to complete.
Having said that, it's probably worth your time so you can access as many different types of surveys as possible based on your user profile. Obviously, the more surveys that are available to you, the more points you can earn and the more money you can make.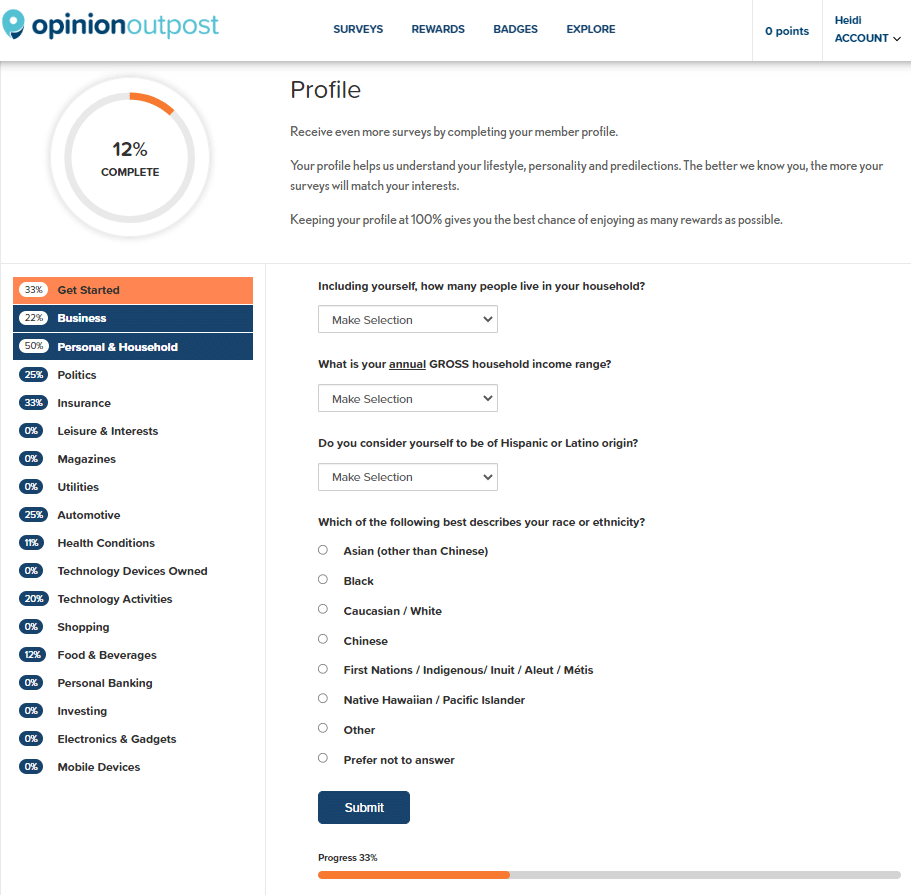 The 'Welcome Survey'
Once your account is activated you'll be asked to fill out a Welcome Survey worth 5 points. These are more in-depth questions specifically designed to help Opinion Outpost match you with as many relevant survey opportunities as possible.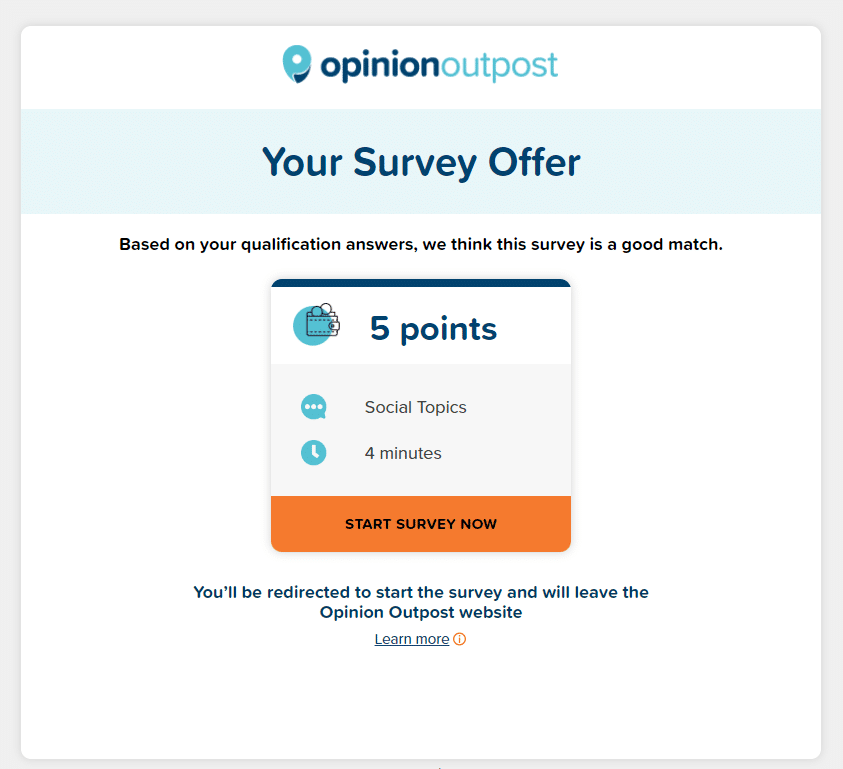 However, after completing my Welcome Survey, I received an error message that did not make sense. Because of that, I didn't receive any points. This felt like a frustrating waste of time.

Understanding your dashboard
From here, you can see available surveys and pick the ones you want to take. Each one tells you what the topic is, how many points you'll earn, and how long it will take to complete. Topics range from popular products and services to current socio-political issues.
Don't forget that the estimated time to complete a survey does not include the qualification questions. I chose a 10-minute survey and the qualification questions alone took almost 5 minutes to complete. So keep that in mind when making your selection.
Email notifications
Once the registration process is complete, you'll start receiving daily survey invitations via email based on your profile. For some people, daily emails might be annoying and can easily overwhelm your inbox.
The emails are also very vague so you don't know what the topics are, how many points they're worth, or how long it takes. To find out if a survey is worth your time, or even interests you, you'll need to sign into your account and check the dashboard.
How to redeem your points
On the upside, once you start racking up points they are super easy to redeem. From the dashboard, go to the 'Rewards' section. Check your balance to make sure you have at least 100 points to redeem, then click on the reward you want.
A box will pop up asking you to confirm how many points you want to redeem. Say your points balance is 500 and you want a $20 Tim Horton's card, you'll need to redeem 200 points.
Click on the 'Redeem' button to complete the process. After you've confirmed the redemption, Opinion Outpost will process your reward. The processing time can vary depending on the reward option. E-gift cards and cash payments to your PayPal account are typically pretty fast, sometimes within minutes.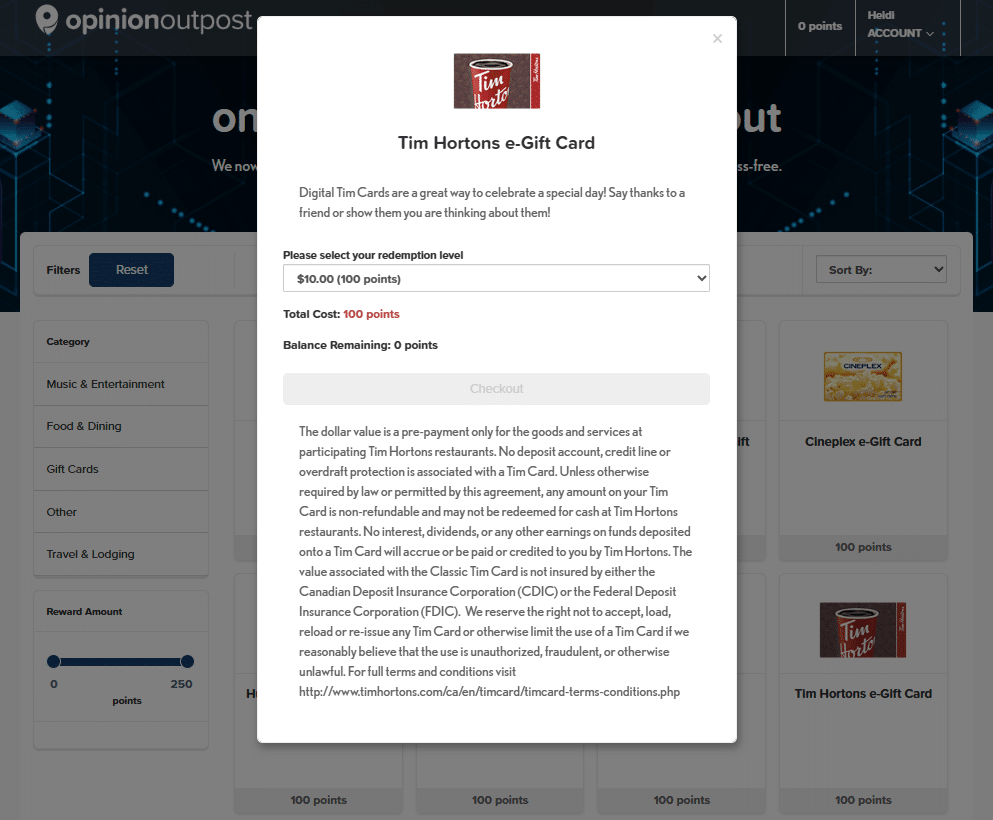 My experience with Opinion Outpost
Overall, I found the initial signup process to be incredibly easy. The website is simple, straightforward, and well-organized. However, I was disappointed that I didn't get any points for the Welcome Survey.
The error message didn't make sense because I filled in my personal information accurately and did everything from my home computer. I didn't feel like contacting Customer Support was worth my time for a meagre $0.50 worth of points.
I also found the profile questions overwhelming. There are just so many categories and a ton of questions in each one. That's a good thing for people who want to invest the time in order to match with as many relevant surveys as possible, but it was just too much friction for me.
Because I haven't completed my profile, I don't have any available surveys on my dashboard – despite the information Opinion Outpost gathered during the sign-up process and the Welcome Survey.
I was also disappointed by the rewards selection. I would beg, borrow, and steal for some free Starbucks, but there aren't any gift cards offered. Bummer. I do love Amazon, but other than that, I'm not interested in the other merchants.
I could redeem for a prepaid Visa, but not all transactions are supported and not all merchants accept them. The other option is to cash out through PayPal, but I don't have an account.
The verdict
While I didn't have a stellar experience, most of the issues are specific to me and the time I am willing (or not willing) to invest. Opinion Outpost is a legitimate company that rewards users as agreed. The signup process is super easy and the dashboard is well-designed.
Making money is refreshingly uncomplicated. Complete surveys, earn points and redeem them for cash and gift cards. No muss no fuss. The payout won't replace your income, but it's enough to treat yourself.
Opinion Outpost is best suited for someone with the time and patience it takes to optimize your profile for the best results. I'm not that person.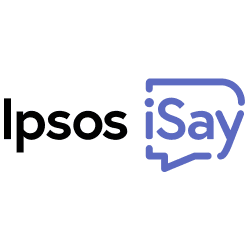 Ipsos iSay
Discover the difference you will make. Ipsos iSay offers exciting and exclusive offers for Canadians who join and participate in surveys. Earn rewards with Ipsos iSay! JOIN NOW!