81% of Quebecers consider that $500 is not nearly enough to compensate for inflation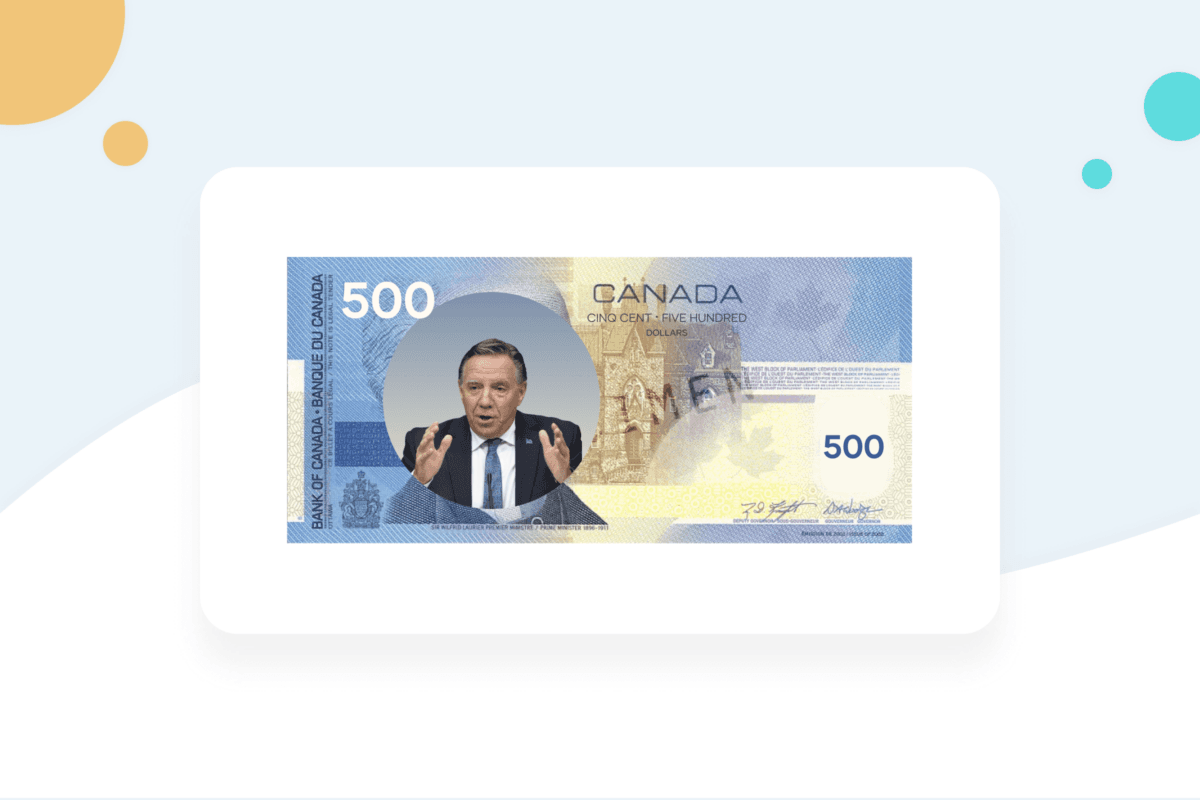 Is the CAQ government's $500 cheque enough to cover the cost of inflation? No it's not. According to Hardbacon's survey, 80.8% of Quebecers consider it too little. Not only is it inadequate, but a majority of Quebecers think it's unfair but don't agree on why.
Not enough money to make a real difference
Since 81% of Quebecers think that $500 is not enough, what do they think is the right number? 24.1% think the government should pay $1000, 18.2% think it is $1500. 17.9% think the figure is $2000 and 17.4% think $3000 is right. 7.2% of people think $1250 is enough while 2.2% want $750. When you average all responses, the amount comes out to $1778.28 to compensate for inflation. The government's $500 is off by a lot.
Is the plan fair?
19.5% of the people agree that the plan is fair because everyone gets the same amount. That leaves 80.5% saying that the project is unfair. Digging deeper into the numbers, you find that the reasoning comes down to two ideas. 64.2% think that it is unfair because the poorest are most affected by inflation, so they should get the money. 16.3% think that since those earning over $100,000 pay more in taxes, they should also get access to the payout.
Does income matter when it comes to opinions on fairness?
People earning more than $110,000 a year will not get the $500 cheque, but 59.1% of them think that the plan is unfair because it is the poorest in Quebec who are hardest hit by inflation. It is not a unique perspective. In fact, there is a lot of support for this idea at various income levels. 72.7% of people earning less than $25,000 a year think that the plan should favour the poorest in Quebec.
There are Quebecers, however, who think that those earning more than $100,000 should also get a cheque. It is just not in such high numbers. 15.3% of people earning less than $25,000 a year think that high-income earners deserve the $500 compensation. You might expect an explosive jump in support among people who earn $100,000 to $110,000, but it just doesn't happen. They partially missed the cutoff and still only 28.6% think that they deserve the $500 because they pay more tax. The big increase is among those earning more than $110,000 a year, which will not get a cent from the scheme: 40.9% want access to the money since they pay more in taxes than the other brackets.
What people plan to do with their $500 from the government
The responses show that 39.3% of people plan to pay off their debt. 20.4% want to invest the $500, and 20.4% want to save it. Only 19.8% plan to spend their $500 on products or services.
Paying off debt with the money
What kind of debt do people want to pay off? Credit card debt leads the list (35.9%), followed by past-due bills (24.7%), bank line of credit (12.1%), loans from friends or family (5.1%), credit installment loans (5.1%), private loans (3.5%) and finally, mortgage (3%). 10.6% of people plan to pay off another form of debt.
Quebecers want to invest the money in exchange-traded funds
While 20.4% of people plan to invest their $500, where and how they want to invest is more fragmented. 43.7% plan to buy into exchange-traded funds, while 22.3% want to buy Canadian stocks. Only 4.9% want to own American equities. 7% of people want to buy mutual funds. A full 3.9% want the safety of bonds. Despite gaining ground in mainstream media, only 4.9% plan to invest in cryptocurrency. Gold might have lost some of its shine since only 1.9% of people want to invest in it. 
Young, beautiful and investing for the future
Quebecers between the ages of 18 and 44 – call them Generation Z and Millenials if you want – are investors. The most eager are the 18 to 24 year olds: 56.3% are going to invest their $500 when they get it. Time only slightly diminishes the enthusiasm: by age 44, a full 30.1% still plan to invest their $500.
What does saving money mean?
It is good news for banks since 41.7% of people plan to put it in a savings account. 29.1% will leave it in a chequing account, and 4.9% will buy a guaranteed investment certificate. 
Interestingly, 1.9% want to convert their $500 into cryptocurrency as a means of saving. 1.9% will cash in the money and put it under their mattress! That leaves a full 20.4% of people who have other savings plans in mind.
Where do people want to spend their $500?
A majority of people (53%) plan to buy food with their $500, not to be confused with the 3% that will go to a bar or restaurant, or the 2% that want to buy alcohol. Cars will also get some attention, since 15% of people plan to use the money on fuel and car maintenance. Only 6% plan to go shopping, and another 2% want to buy clothes. After a long winter, 4% want to put the money toward a vacation.
Hardbacon surveyed 501 people in Quebec between March 25 and 28, 2022.

Qtrade Direct Investing
- Get up to $2,000 cash back to new clients who open a qualifying account(s) by March 4, 2024, and deposit/transfer assets to Qtrade Direct Investing by March 31, 2024.
- An Early Bird bonus: receive a 20% discount on trading fees (if the client maintains $50K in Assets Under Administration and makes at least 20 trades each year). Offer ends in December 31, 2023
- A $50 Sign Up bonus (low-hurdle and quick-pay) to new clients who open a Qtrade account by March 4, 2024 and deposit at least $1,000 by March 31, 2024.
Get up to $2,000 cashback