The Ultimate Guide To Camper Trailer Insurance In Canada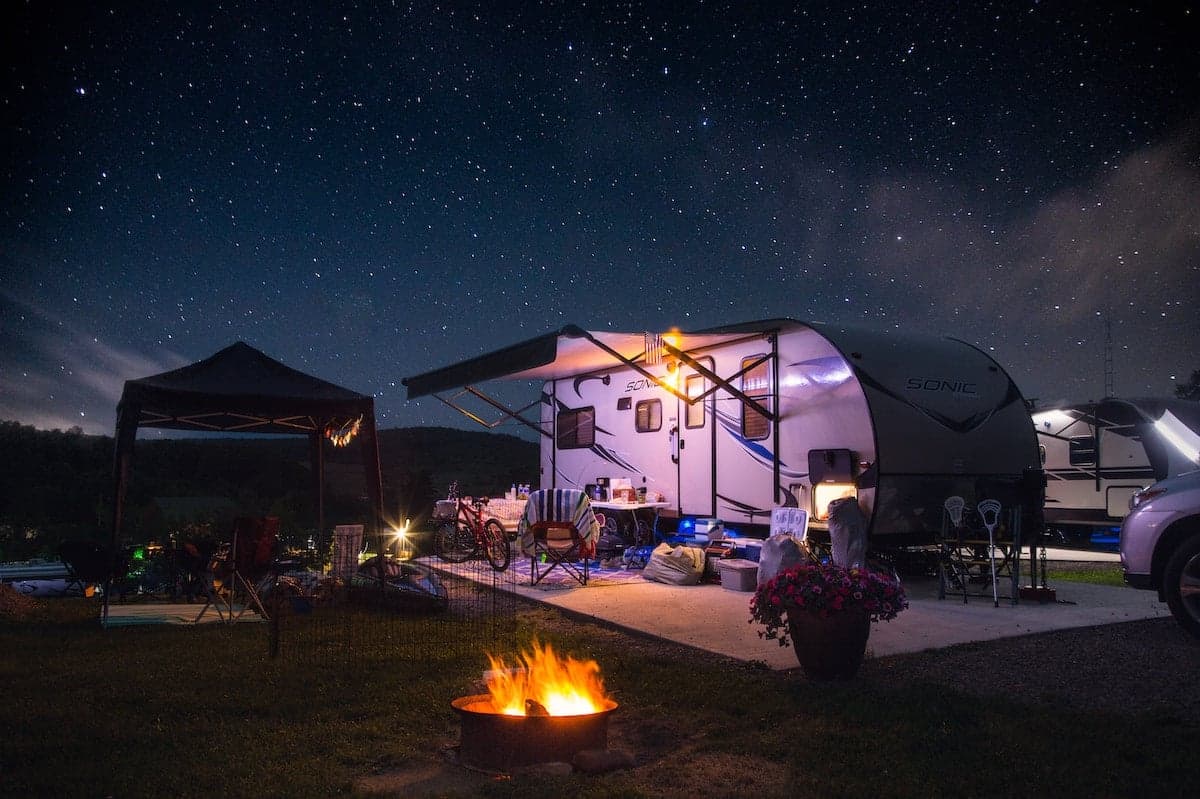 Canada offers endless opportunities to get out and enjoy the great outdoors. Approximately 15% of Canadians own some type of recreational vehicle (RV), so it's safe to say many Canadians enjoy vacationing with an RV. Of course, if your RV is motorized, you need insurance. But do you need camper trailer insurance if your trailer doesn't have a motor? Keep reading to find out if you need camper trailer insurance, what your existing auto and home insurances cover and why you might want additional insurance for your trailer.
Trailers vs. motorized RVs
Taking your camper trailer out of storage is one of the rites of spring. The type of trailer you have depends on how you like to spend your time outdoors. Some trailers are very rugged and designed to allow you to go off-grid, while others are more like rolling hotel rooms.
Camper trailers that are not motorized are not required to have insurance. Motorized RVs, on the other hand, must have insurance.
Regardless of the type of camper trailer you have, you'll want to make sure that you protect your investment from any mishaps. Your trailer will have some insurance coverage with your auto and home policy, but it will be limited. So, you might want to fill in the gaps with additional insurance.
Types of travel trailers
When you attach a travel trailer to your vehicle, you are essentially towing your living quarters. People use travel trailers because they feel far more comfortable than camping in a tent. Travel trailers can be classified as almost any trailer you pull or haul with your vehicle that typically has living quarters. However, the ones considered here are those we use for camping and outdoor adventures. There are several types, including:
Camper trailers;
Toy haulers;
Fifth wheels;
Expandable trailers;
Lightweight trailers.
These are the most common types of travel trailers. While they have many similar features, they can differ in size, weight, and function. A toy hauler, for example, usually has space for things like motorcycles, ATVs, and canoes with a ramp to unload them.
An expandable trailer collapses to make hauling and storing the trailer easy. Expandable trailers are sometimes called tent or pop-up trailers because some sides are made of soft materials.
Camper trailers that are not motorized need to be towed. The type of vehicle required to haul a camper trailer will depend on the size and weight of the trailer. Some are light enough to be towed by a sedan, while others must be attached to a pickup truck.
Is separate camper trailer insurance required?
The answer to this question is no, but extra coverage is a good idea. You are not legally obligated to have separate camper trailer insurance in Canada. Your car and home insurance may partly cover your trailer, but the coverage is minimal.
Understanding what is and isn't covered by your insurance policies is essential. Policy requirements and coverage can vary depending on your province or territory. Check the rules of your province or territory and your policies to understand how your home and auto insurance covers your trailer.
In Ontario, for example, your auto insurance considers your vehicle and trailer as one vehicle when they are attached. As a result, your auto policy could cover your car and camper for accident benefits, third-party liability and uninsured automobile coverage, but it usually doesn't cover anything else. So read your policies carefully and contact your agent or broker if you have questions to avoid surprises if you need to make a claim.
How your car insurance covers your camper trailer
When you tow your trailer, your trailer has some coverage from your automobile policy. When attached to your vehicle, your auto insurance may cover the camper for third-party liability. Once you unhook the trailer, the coverage from your auto insurance no longer applies.
Since you'll spend most of your time with your trailer unhitched from your vehicle and parked, additional insurance could be very beneficial. If someone is injured or experiences damages due to your camper, the injured party could sue you. You'll have no liability insurance coverage if the trailer is not attached to your vehicle.
Comprehensive and collision insurance
If your trailer is damaged, it could cost a small fortune to repair or replace it. But, unfortunately, your auto policy's comprehensive and collision don't extend to your trailer.
Auto insurance typically does not cover your trailer in the event of a collision, even when the trailer is attached to your vehicle. However, a separate trailer insurance policy will cover your vehicle for a collision which will pay for most damages to your trailer.
Comprehensive coverage on your auto policy rarely extends to your camper trailer, even if your trailer is attached to your vehicle. Unexpected damage can occur at the campsite, in storage, while driving, or in your driveway. The costs to repair your trailer could be significant, so travel trailer insurance is a good idea to protect your investment.
Comprehensive coverage for your trailer will insure you for damages. A camper trailer insurance policy will insure your trailer from damages resulting from unexpected circumstances. Some examples are damage from fire, weather-related damage, vandalism and theft.
Does your home insurance cover your camper trailer?
Your home insurance may extend some coverage to your camper. As with auto insurance, it's essential to carefully review your policy to see if your home insurance extends coverage for your trailer.
Your homeowner's insurance may cover the contents of your camper from theft, loss or damage. It may also cover damage to the trailer itself. For your camper to be eligible for coverage, the loss or damage may need to have occurred while your camper is parked in your driveway. If it's in storage or at a campsite, it's possible your trailer will have no coverage from your homeowner's policy.
Making a claim under your homeowner's insurance for your camper could count as a claim against your policy and increase your premiums.
Why do I need camper trailer insurance?
Buying a camper can easily set you back $10,000 or more. It's a big investment for many people; you don't want to lose all that money if your trailer is damaged or destroyed. While your home and auto insurance can offer some coverage, these policies typically only pay claims in minimal circumstances.
Your auto policy only covers your trailer if it's attached to your vehicle. Truth be told, your trailer probably spends very little time hitched to your car or truck. It will usually be parked at a campsite, in your driveway or storage. Additionally, your auto insurance doesn't cover physical damage to your trailer. So, if it's damaged in an accident, stolen, vandalized or experiences some other misfortune, you'll pay out of pocket.
If your home insurance covers your camper, many policies state that the camper has to be parked in your driveway. So, when it's at a campsite or stored elsewhere, your home insurance might not apply. In addition, some home insurance policies exclude coverage for trailers, so you must thoroughly review your policy to see if your camper has coverage under your homeowner's insurance.
Something else to consider is if your camper is a toy hauler or if you have expensive items in your trailer. A separate policy can cover theft, loss or damage of these items. Your auto and home insurance is unlikely to offer any coverage, which is why a separate policy can be beneficial.
What does camper trailer insurance cover?
A separate camper trailer insurance policy offers more extensive coverage for you, your camper, and the contents of your trailer. In most cases, you'll have coverage for damages to your trailer, protection against loss or damage to any contents stored in your trailer, and personal liability insurance. You can purchase add-ons, also known as endorsements, to the policy if you want additional coverage, such as roadside assistance.
Having proper camper insurance can:
Protect your investment in the event of loss or damage.
Offer coverage for many risks subject to the policy's exclusions.
Provide coverage for loss or damage to your belongings.
Offer additional liability insurance to protect you.
Offer coverage for alternative living arrangements if you can't use your trailer.
Depending on the circumstances, eliminate the need to make a claim under your homeowner's or auto insurance policy.
How much does camper trailer insurance cost?
Like any insurance policy, the price will vary depending on the options and the insurance company you choose. Other factors that will impact the cost of your policy are the value of the trailer you're insuring, how much insurance you want, any endorsements you add to the policy and your deductible.
Generally, a camper trailer insurance policy averages between $25-$40 per month annually. This works out to $300-$480 per year.
What's the best way to buy camper trailer insurance?
Before purchasing insurance for your camper, check your auto and home insurance policies. Your agent or broker will let you know what coverage you have regarding your camper. The insurance you have with your existing policies may be enough. On the other hand, some home insurance policies will exclude trailers, so you may not have any insurance for your camper with your home insurance.
Deciding what you need is important if you want additional insurance coverage for your trailer. Once you know how your existing auto and home policies will cover you for loss and liability, you can determine how much extra insurance your trailer insurance should provide.
One way to do this is to calculate the replacement cost of your camper and its contents. In addition, you'll want to ensure that the liability insurance is sufficient to protect you if someone sues you.
It's wise to compare RV insurance policies for features, benefits and price. Your policy should offer you the protection you need at a price that is affordable for you.
Is Camper Trailer Insurance Worth it?
Because you are not required to have camper trailer insurance, the question of whether it's worth it is up to you. Things to consider before deciding to get insurance or not are:
The value of your camper.
The value items you carry in your trailer.
The amount of liability you need.
If you want financial protection from damages like collision, fire, and vandalism.
If there are endorsements a camper trailer insurance policy provides, like pet insurance or loss of use, that could benefit you.
It's important to remember that insurance provides peace of mind too. Knowing that you are protected from potential misadventures as you explore the great outdoors can be worth the cost of the premium.
Researching the coverage you may already have and exploring options for camper insurance will help you decide if a policy for your camper will benefit you.
FAQs About Camper Trailer Insurance
How much does it cost to insure a camper trailer?
The cost of your camper trailer insurance will vary. Factors that affect your premium are the amount of your insurance, your deductible, the company you deal with and any endorsements you choose. People pay between $25-$40 on average per month for camper trailer insurance or $300-$480 per year. If you do some comparison shopping, you'll be able to find the right policy for you at the best price.
Do you need insurance on a camper trailer in Ontario?
You don't need to insure your camper if it's not motorized. Your auto and home insurance policies may provide minimal insurance for your camper trailer. If you want collision, comprehensive and additional liability insurance, you'll need to have a separate camper trailer insurance package.
Is a camper trailer covered by car insurance in Canada?
If your camper trailer is attached to your car, it will have some insurance. Typically, the trailer will be insured for third-party liability. Car insurance usually doesn't cover your trailer for collision or offer comprehensive insurance for your camper although it may in rare circumstances. Review your policy with your broker or agent to know exactly what coverage your auto insurance provides for your camper. Additionally, once you disconnect your trailer from your vehicle, the trailer will not be covered by your car insurance.