Compare
RV insurance
You could save hundreds of dollars a year by getting multiple RV insurance quotes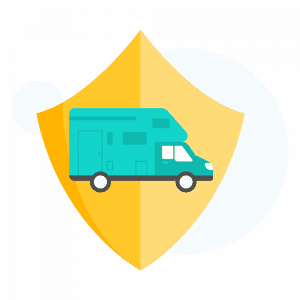 How to shop for your next RV insurance policy on Hardbacon
Comparing prices from several insurers before selecting an RV insurance policy can usually save you hundreds of dollars a year. Follow these 4 steps to do so.
Tell us where you're located
The first step is to enter your province of residence in the box on the left, and click on the "Compare prices" button. Your province will help us redirect you to the appropriate partner.
Tell us more about you
The second step is to complete our partner's form, which will begin by asking for your contact details as well as other personal information that is required to obtain RV insurance quotes.
Tell us more about the type of driver you are
The third step is to answer questions about your record as a driver, and about other drivers who will be using the RV you wish to insure. Here you'll indicate if you're traveling outside the country with your RV, if your driver's license has ever been suspended, etc.
Tell us more about the RV you wish to insure
The fourth and final step before you can submit your application is to answer questions about the recreational vehicle (RV) you want to insure. Here you'll indicate the vehicle's make, model, year and mileage.
A few tips to save on your next RV insurance policy
Combine your insurance products
Most insurers will offer you considerable discounts on your insurance premiums if you insure several recreational vehicles, your car and/or your home all with them. Take inventory of your insurance needs and try to combine them to save.
Analyze your needs
Do you drive your RV on Canadian or US roads during the summer period, or does it remain parked in a campground? This question will help you identify your needs and thus determine whether you should consider additional coverage or stick to the basics.
Compare prices
Your insurance premium can vary significantly from one insurer to another, especially due to factors such as the crime rate in your neighbourhood. Each insurer has its own risk tolerance, which is why it can be beneficial for you to shop around for your insurance and compare prices.
Focus on maintenance
A well-maintained RV will definitely save you some claims. Be sure to follow your maintenance guide to the letter to travel safely all summer long. Other breakdowns can occur when your RV is stored during the winter, such as its water system freezing if not properly winterized. An ounce of prevention is worth a pound of cure!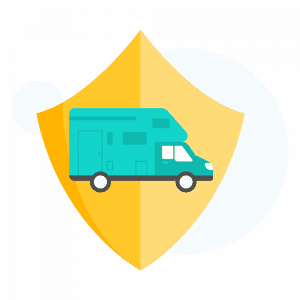 Frequently asked questions about RV insurance
How do I choose RV insurance?
There are several factors to consider when shopping for your RV insurance. In particular: the use you plan to make of it depending on whether you use it occasionally or throughout the year, the class of RV you wish to insure (A, B, or C) and of course the cost of insurance that will best suit your needs and your wallet.
How does replacement cost insurance for RVs work?
Is it mandatory to insure my RV in Canada?
What does RV insurance cover?
Does auto insurance cover RV rental?
Does RV insurance cover delamination?
Does RV insurance cover water damage?
How much does it cost to insure an RV?
Is RV insurance expensive?
How does RV insurance work?
Does RV insurance cover awning damage?
What is the best RV insurance in Canada?
Hardbacon users are 100% satisfied
Trustindex rating score: 4.9 of 5, based on 107 reviews