These Canadian companies have more women in their leadership ranks
In its latest annual report, Deloitte points out that women hold only 16.9% of board seats worldwide. This represents an increase of 1.9% compared to 2018 figures.
Women are largely underrepresented
Canada ranks 14th in the world with 21.4% women in business leadership (compared to 18% for North America). Efforts to promote diversity in corporate leadership have intensified in recent years, more than ever before. The representation of women has doubled in the past decade.
Despite efforts in recent years, women remain largely underrepresented on Boards of Directors. However, studies show that greater diversity in teams leads to better decision-making. Thomson Reuters' gender diversity report shows that companies with a mixed board outperform companies with no women on their boards.
This general trend to promote diversity in organizations is an attractive investment opportunity. This is why we have compiled a list of companies that give more places to women within their senior management ranks.
An investment opportunity
The companies were chosen based on the representation of women on their boards. The list includes the 20 companies on the TSX 60 that have the greatest diversity of genres among their directors and managers.
Hardbacon has designed a diversity score. We gave each company a score ranging from 0 to 1.
70% of the score is determined by the percentage of leaders who are women. The remaining 30% is based on whether the CEO is a woman or not (1 if it is a woman, or 0 if it is a man). The idea is to get a rating representative of women's involvement in the company's decision-making processes.
On average, 30% of the directors and managers of the companies on this list are women, compared to only 21% for TSX 60 companies. Also, 20% of these companies have a female CEO, compared to 10% for the TSX 60.
If we simulate this list as a market capitalization weighted index, the index has outperformed the TSX60 in terms of annualized return in recent years:

Below are presented the first 5 constituents of our list: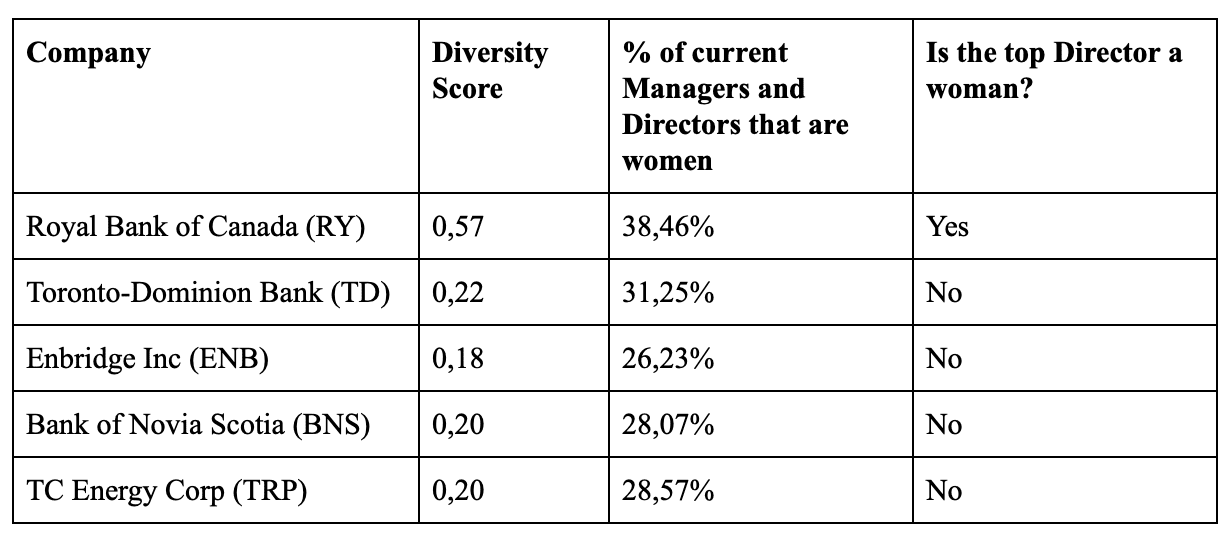 Data extracted from the Orbis database
To see the complete list, download Harbacon and take advantage of the free 14-day trial!
Investing in women
Financial products for investing in companies that provide more places for women have multiplied.
The SPDR SSGA Gender Diversity Index (SHE) measures the performance of American companies with gender diversity. Compared to its benchmark, the S&P 500 (SPY), based on 500 large companies listed on the stock exchanges in the United States, the SHE underperformed by -2.61%.
The Pax Ellevate Global Women's Leadership Fund (PXWEX) provides an opportunity to invest in companies that are world leaders in the advancement of women. This index outperformed its benchmark index by 0.36%, which is the
MSCI World (URTH), a broad index of global stocks.
To date, gender diversity funds have had mixed results. This doesn't mean that their future prospects are bad. On the contrary, investor interest in gender diversity within organizations is growing. Large financial institutions have also increased initiatives to promote the place of women in businesses.
Goldman Sachs, famous for its involvement in the IPOs of many companies like Twitter and more recently WeWork, took a drastic step in November. The investment bank has pledged to refuse to help a company go public if it does not have a mixed board, according to a recent Forbes article.
BlackRock, the world's largest asset management company, has also announced that it will stop investing in companies that do not take gender into account within their Boards of Directors.
If you liked this article, you'll like the Hardbacon application even more. It links to your investment accounts, analyzes your portfolio and helps you make better financial decisions. As a loyal reader of our blog, get a 10% discount off a Hardbacon subscription. To take advantage of this promotion, use the promo code BLOG10 when subscribing through our website.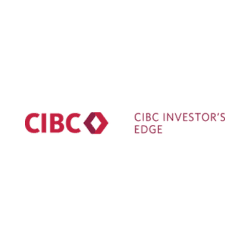 CIBC Investor's Edge
common.offerSelectedFields.transactionFeesPromotion:
$5.95 for students
$4.95 if more than 150 trades/quarter
Free online trading for young investors 18-24, $0 per online stock and ETF trade. No annual fees. No minimum balance required.
Get cash back when you open a new Investor's Edge account by applying at your local Banking Centre and transfer funds from outside CIBC to your new account to get cash back. Terms and conditions apply.
100 free trades and up to $4,500 cash back