Smarter Loans Review: Is Borrowing Outside the Box a Good Idea?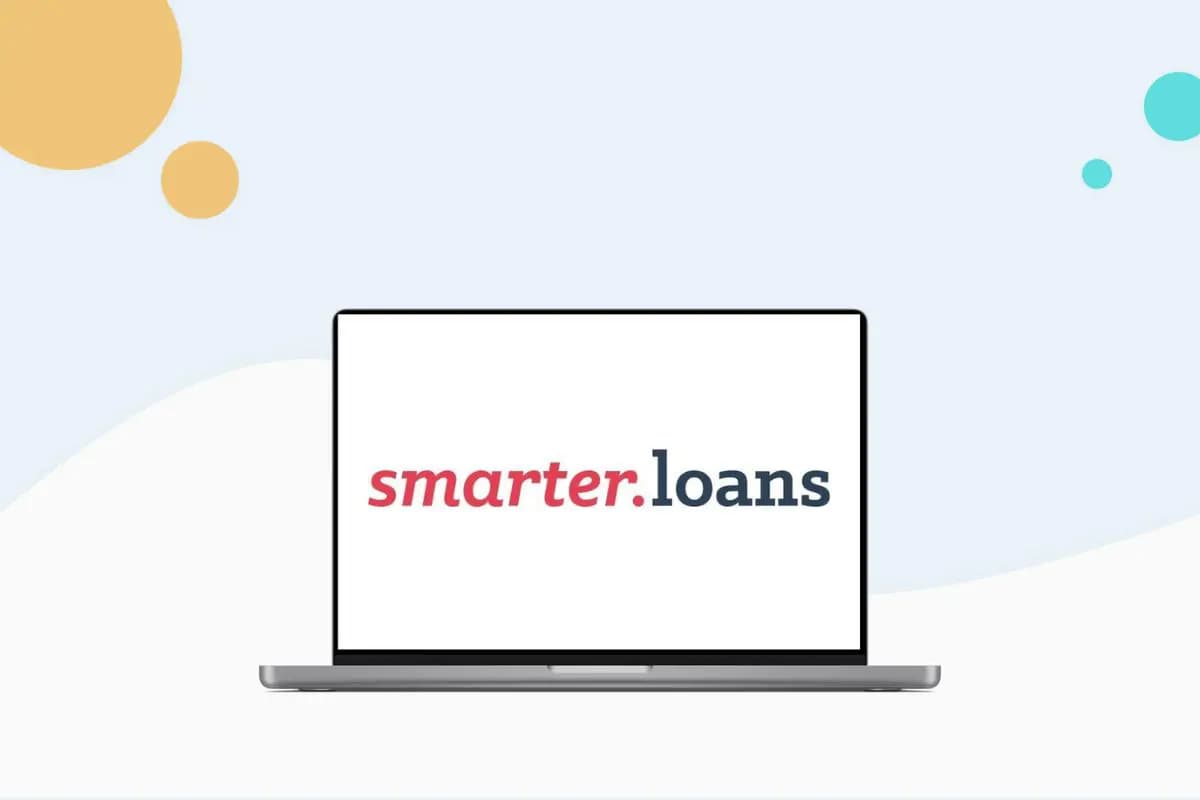 In Collaboration with Smarter Loans
It's about to get a lot harder to borrow money and pay it back. I don't know about you, but I'm still not on the Forbes Richest list. As a regular person making regular money, there are times when I need a personal loan. But with the Bank of Canada on a rate hike frenzy, debt is getting hella expensive and banks are bracing for a recession – which means they're not lending as much. Smarter Loans can help you find and compare lending solutions beyond your bank, especially when the bank says no. Here's how to use the Smarter Loans online comparison tool to save time, stress, and sometimes even money.
About Smarter Loans
Smarter Loans is a Toronto-based fintech company that lets you search for almost any type of loan and other financial products too. It's completely free to use and you can quickly and easily compare lending options based on your needs and financial profile.
Since launching in 2016, Smarter Loans has become the go-to destination for Canadians looking for better borrowing options. Right now, they're partnered with over 50 lenders across the country. On one site, you have access to alternative and reputable lending institutions in Canada.
The truth about alternative lenders
But wait a second, aren't "alternative lenders" kind of sketchy? Not anymore, but the stereotype persists. They get a bad rap for charging higher interest rates and fees than traditional lenders. But that's only part of the story and it isn't true of all private lenders. Times have changed and the alternative lending market in Canada is booming.
Between 2016 and 2017, market volume jumped by 159%. Canadians are wising up and realizing that there are better and more flexible loan options out there besides the big banks and that the "loan shark" narrative doesn't hold water anymore.
But those crazy rates!
It's true that alternative lenders tend to charge higher rates, but do you know why? They lend to people who the big banks turn down. Since they take on riskier borrowers, they charge higher interest rates to offset the higher risk of loss.
And they provide an essential service. Bad things happen to good people. Without alternative lenders, well-intentioned people have exceedingly few options to recover from financial trauma and rebuild their credit. 
Second, alternative lenders don't have depositor accounts to lend from like the big banks do. Instead, many of them borrow funds from the money market in order to provide loans, which comes with a higher cost of business compared to traditional lenders. Those elevated costs are also factored into the interest rate so they can be profitable and stay in business.
But not all alternative lenders charge higher rates all the time. More and more alternative lenders are able to offer competitive rates, flexible terms, and quicker access to credit. Many even offer highly customizable loan options tailored to your individual needs.
Need a loan? 5 things that can make life easier
If you're on the market for a loan, or will be soon, here are the top 5 features that make Smarter Loans a good place to start:
1. Wide range of loan options
The website offers a wide range of loan options, including personal loans, business loans, mortgage loans, and more. This makes it easy for you to find a loan that meets your specific needs and financial situation.
2. It's easy to use
The website allows you to compare different loan options side by side, making it easy to see the key features and terms of each loan. This ensures you can make informed decisions about which loan is right for you.
3. Pre-qualification
Stop guessing who might approve you and who won't. Smarter Loans allows you to pre-qualify for loans, which means you can see which lenders are willing to lend to you and at what terms, without impacting your credit score. This can help you narrow down your borrowing options and avoid rejections that can hurt your credit score.
4. Personalized recommendations
The website uses the information you provide to offer personalized recommendations for loans based on your specific financial situation and needs. This makes it a lot easier to find loans that are more likely to be a good fit for you.
5. Educational resources
Smarter Loans also offers a variety of educational resources, including articles and guides on topics such as how to choose a loan, how to improve your credit score, loan calculators, and more. These resources can help you make informed decisions that keep more of your hard-earned bacon where it belongs – in your pocket!
How do you use the Smarter Loans comparison tool?
To use Smarter Loans, you can start by searching for the type of loan you're looking for on the marketplace and then selecting the provider with the terms that interest you. But a quicker and easier way to find what you need is to let Smarter Loans do all the leg work.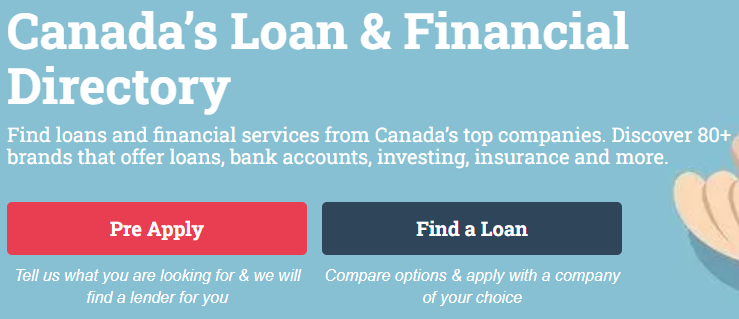 You can Pre Apply by telling Smarter Loans what type of loan you're looking for and answering a few questions about your financial situation like income, employment status, credit score, etc. Smarter Loans will display a list of loan options that are best suited to your needs and borrower profile – helping you choose the right loan with the best chance of approval. Don't worry, there's no credit check to pre-apply.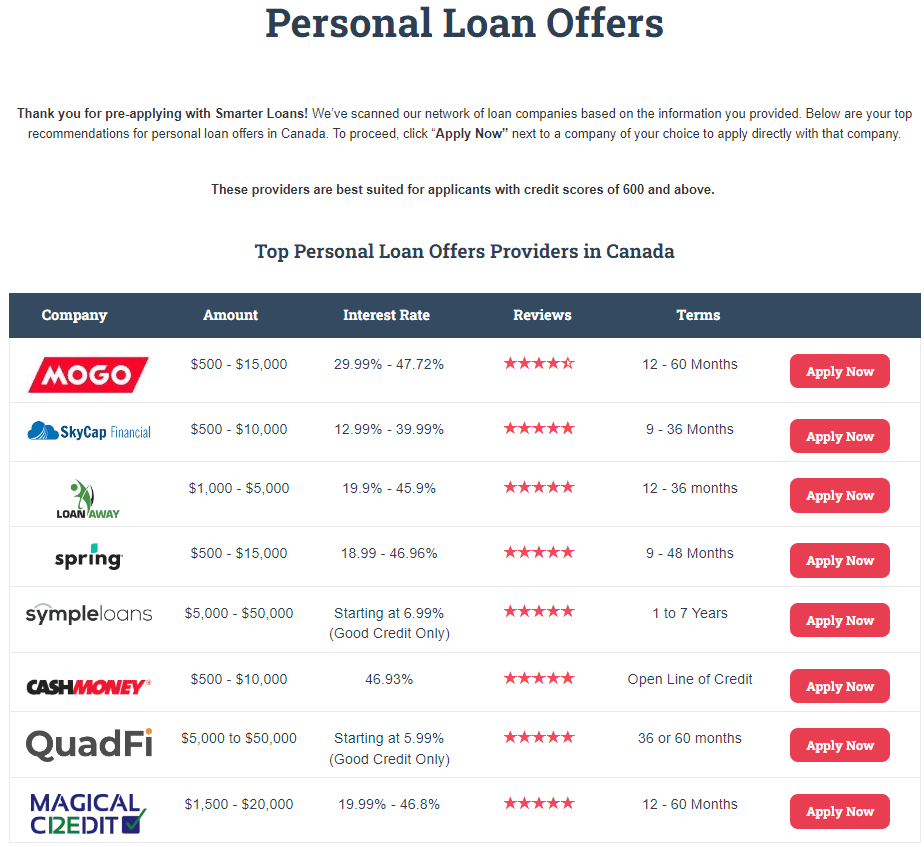 No matter how you go about it, you can compare the different loan options based on things like the interest rate, fees, and repayment terms, and choose the one that suits you best. Once you have selected a loan, Smarter Loans will connect you directly to the lender so you can apply online. At this point, you will likely need to consent to a credit check during the application process.
What types of loans are available through Smarter Loans?
There are about as many different types of loans out there as there are individual needs for a loan. Smarter Loans can connect you with lenders who finance specific loan types, such as but not limited to:

Mortgages 
Credit Building
Car Loans
Boats & Yachts
Farming & Agriculture
And more

Why use Smarter Loans?
As the Bank of Canada increases rates, the cost of borrowing takes more of your hard-earned money. Coupled with a looming recession, traditional lenders are tightening their belts with stricter eligibility requirements. What does that mean for you?
It means you might find it more difficult to borrow money from your own bank, even if you're gainfully employed, have a good credit score, and have been a long-time loyal customer. No matter your situation, it's important to know what options are available to you so you can make better choices.
Before you sign on the dotted line, make sure you're getting the best loan for your needs. Smarter Loans is a solid comparison site to help you find loans from lenders you wouldn't have otherwise known about. They can also offer some peace of mind with:
Expertise
Smarter Loans has a team of industry professionals who can help you understand the different types of personal loans available and assist you in making an informed decision. Also, each lender listed on the site must first pass a strict research and review process by a team of financial experts.
Legitimacy
Smarter Loans is a member of the Canadian Lenders Association (CLA), the Canadian Chamber of Commerce, and has been covered in major media outlets like the National Post. 
Security
The site uses industry-standard SSL encryption to protect your personal information, such as when you apply for a loan through the website.
But use common sense, too
Overall, using Smarter Loans to find a personal loan can be a convenient and effective way to find the right loan for your needs. However, it is always important to carefully consider the terms and conditions of any loan before borrowing. Do your research, compare reputable lenders, and make sure you fully understand the fees and interest rates involved and how they impact the total payback amount.
Luckily, all the lenders listed on Smarter Loans have gone through an in-depth vetting process. The platform also provides you with essential tools like loan calculators, ratings, and reviews to help you make informed decisions.