VIPorter: Porter Airline Rewards Program Explained!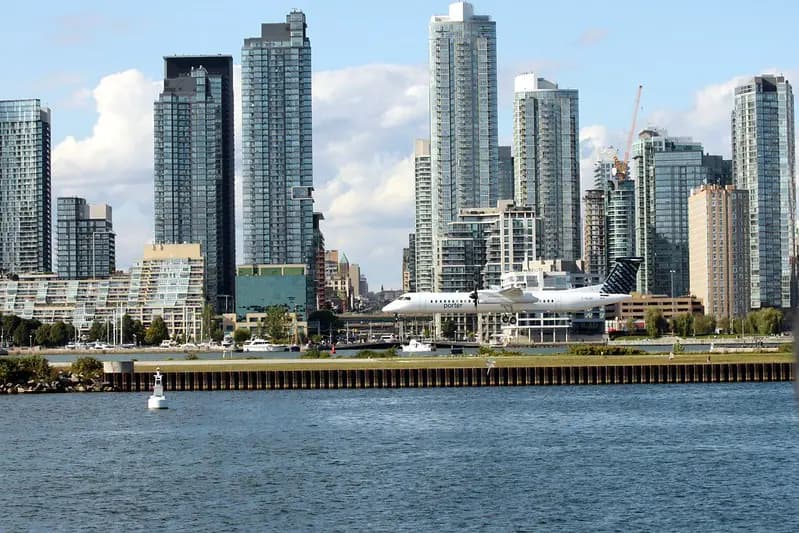 A free flight, anyone? That's one of the many benefits you could get by joining Porter Airline's VIPorter loyalty program. Signing up only takes a few minutes. You'll receive a membership number to use when making a reservation to start earning points.
Keep in mind, you won't receive a physical card, but you can add your membership number to your digital wallet or print it out. Before deciding whether or not to sign up, here's everything you need to know about the VIPorter loyalty program.
How does the VIPorter program work?
With the VIPorter program, you earn points for every dollar spent on qualifying purchases. Qualifying purchases include all items except taxes and fees from third-party vendors.
The program is individual and points are non-transferable. That means you can't accumulate points for flights taken by other family members, even if you paid for it with your credit card, for example. Therefore, it's worth creating an account for each person.
How do you earn points?
It's quite simple: with the basic membership, you'll earn 5 points for every dollar you spend. After your trip, you'll see the credits added to your VIPorter account for expenses like:
Base fare
Seats
Checked baggage fees
Change fees
Taxes and fees are not included in the eligible expenses, so you will not earn points on those.  The number of points you accumulate will determine your membership status and the different benefits associated with each level: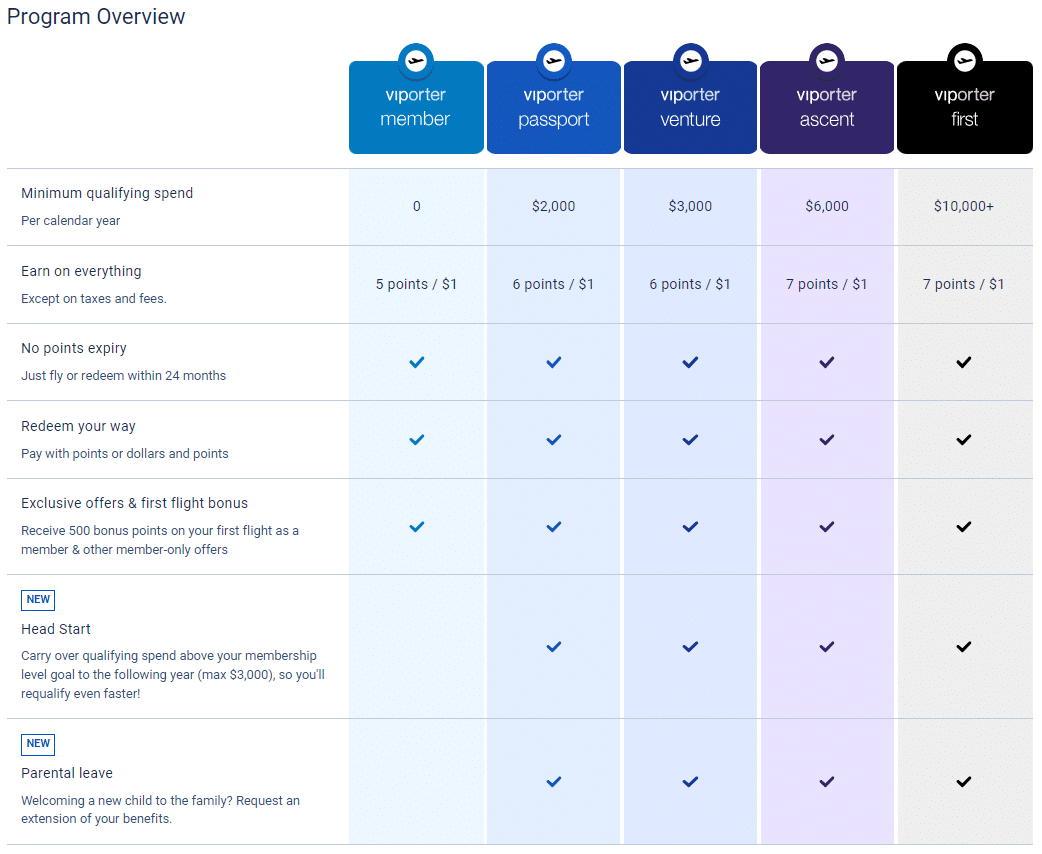 As you can see in the above table,  the more you travel with Porter Airlines, the faster your points accumulate. And as you progress through the membership levels, you also earn more points per $1. 
Are there additional benefits with the higher membership levels?
Of course! The more you spend with Porter Airlines, the quicker you can access premium perks. Each membership status is automatically unlocked and active once you hit the qualifying spend amount.
VIPorter Passport: $2,000 min spend
If you become a VIPorter Passport member, you'll enjoy access to premium perks like priority check-in, security screening, and boarding. You'll also have priority for rebooking in case of delays and priority access when calling the customer service center.
New to the VIPorter program is the Head Start and Parental Leave benefit, which you can access once reaching the VIPorter Passport status and higher. Headstart allows avid travellers to carry over their excess spend amount to next year's membership goal.
Parental Leave gives parents with new additions to the family the ability to request an extension to maintain their membership benefits during leave. The minimum annual spend required for this membership level is $2,000 and you will earn 6 points per $1 on eligible expenses.
VIPorter Venture: $3,000 min spend
If you reach VIPorter Venture status, you'll have all the same benefits as the lower membership status, plus the ability to change your flight on the same day without fees, but some conditions apply. You also get a free checked bag and free carry one bag, which is awesome because – and let's be honest – baggage fees are an expense that no one appreciates while travelling!
At this level, you can access PorterReserve certificates. These are earned when you reach $3,000 in qualifying spend, with additional certificates earned for every $2,000 spent in the same calendar year. PorterReserve certificates provide confirmed seats with premium snacks, beverages, 2 checked bags, and more legroom.
This membership status requires a minimum $3,000 annual spend and you will earn 6 points per $1 on eligible expenses.
VIPorter Ascent: $6,000 min spend
VIPorter Ascent includes all the benefits of the lower levels, plus you can select a PorterClassic Stretch seat for free, when available. You also get 2 free checked bags and can make changes to your booking on the same day as your flight without additional fees, except for PorterClassic Basic fares. This membership status requires a minimum $6,000 annual spend and you earn 7 points per $1.
VIPorter First: $10,000 min spend
This is the highest membership and comes with all the benefits of the lower levels, plus two more benefits. Porter Airlines will guarantee re-accommodation on the next flight if yours is cancelled. You are also guaranteed to get a seat on a flight that is sold out if you purchase PorterClassic Freedom fare. This membership status requires a minimum $10,000 annual spend and you earn 7 points per $1.
How long is my VIPorter membership status in effect?
Your status is valid until December 31 of the following year and takes effect as soon as you've reached the necessary expenses. Therefore, you don't have to wait until the following year to enjoy the benefits. And all travellers on the same reservation are entitled to the benefits of the highest-level member in the group, except for group bookings of 10 or more.
Do my points ever expire?
Yes, your points will expire and disappear if you don't make any transactions (purchases or exchanges) for 24 consecutive months. Essentially, if you take at least one trip every two years with Porter Airlines, your points will never expire. Don't worry though, if your points are about to expire you'll receive an email notification.
You can check your points and track spending at any time on your account, the balance is indicated at the top right of the website. You'll also receive a statement of your account by email in April, July, and October.
What can I use my points for?
You can redeem your points for flights, plain and simple! The number of points required for the chosen flight will be specified at the time of booking. You can book a flight online or by calling 1-888-619-8622.
Your points can be used to pay for part or all of the flight, but they cannot be used to cover taxes and fees. This amount will need to be paid using a credit card.
For example, a round-trip flight from Montreal to Toronto would cost $67 plus 15,000 points for the flexible fare if you use your points to cover the entire transaction. It would be $239 plus 7,500 points if you pay for part of it with points and part in cash, while the price of the flight without using any points would be $469. Of course, these fares are not fixed and are just an example. Prices depend on your destination and travel dates.
This program is very convenient for frequent travellers. Business people who often go to Toronto or Calgary, for example, have everything to gain by joining the VIPorter loyalty program!
Bon voyage!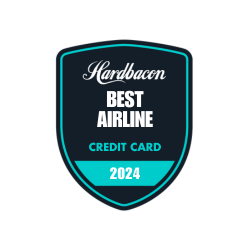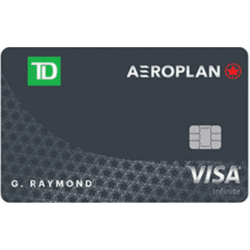 TD® Aeroplan® Visa Infinite* Card
22.99% (20.99% for Quebec residents)
Special offer: Earn up to $1,400 in value† including up to 50,000 Aeroplan points† and no Annual Fee for the first year†. Conditions Apply. Account must be approved by January 3, 2024.
†Terms and conditions apply;
The Toronto-Dominion Bank (TD) is not responsible for the contents of this site including any editorials or reviews that may appear on this site;
For complete and current information on any TD product, please click the Apply now button.