10 Air Travel Hacks to Get More Bang for Your Buck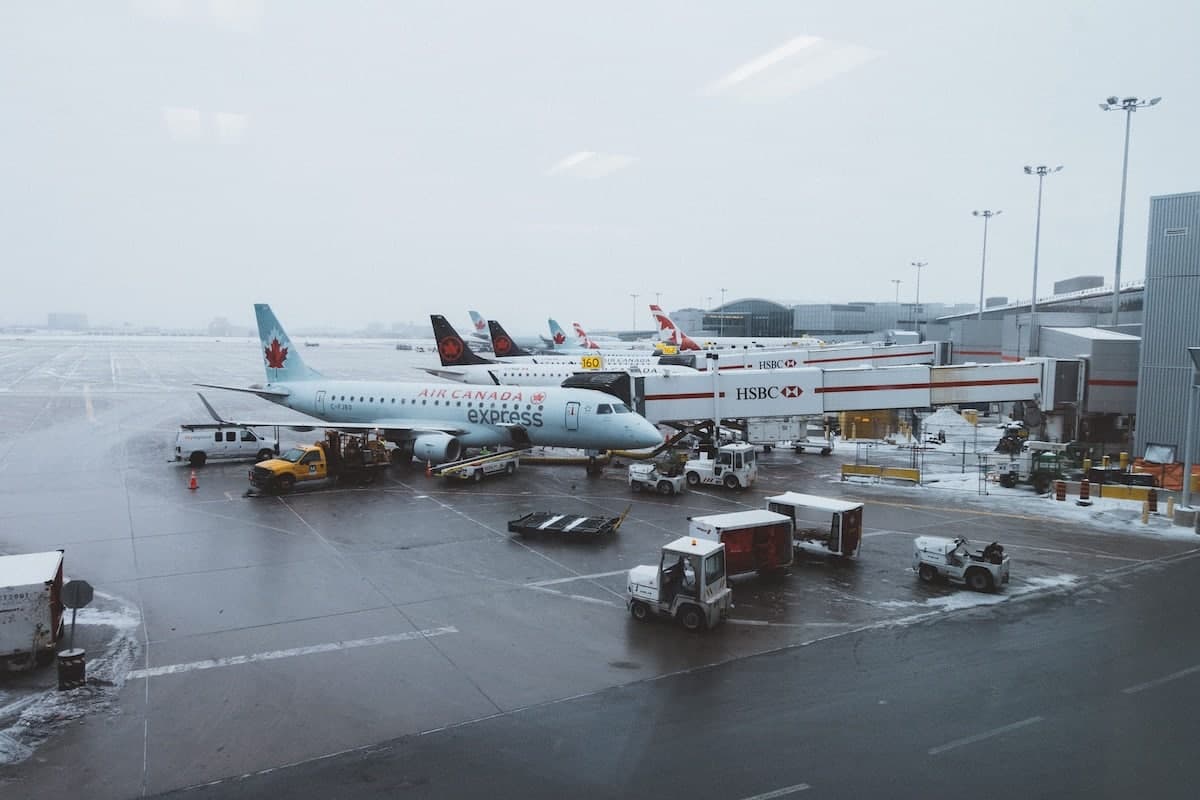 Having trouble travelling because of the rising cost of airfare? The price of airline tickets is not likely to drop any time soon, so use our 10 air travel hacks to find out how to take 2 vacations for the cost of 1, score free plane tickets, and sit in better seats for less money.
1. Use credit cards rewards to travel for free
Travel credit cards reward cardholders with points that can be redeemed for things like plane tickets, seat upgrades, club memberships and lounge access. Compare credit cards and find one that works for your spending habits to travel the world in luxury and comfort. For example, the Scotiabank Gold American Express card gets you Priority Pass and access to over 1200 different lounges. Others, like the RBC British Airways Visa Infinite card, can save you money just by using your card to book flights.
Credit cards with generous welcome offers can help you earn reward points faster. The Scotiabank Passport Visa Infinite Card's current promotion offers 35,000 bonus Scene+ points if you spend $1000 within the first 3 months and the TD Aeroplan Visa Infinite card rewards you with up to 70,000 Aeroplan points after you make your first purchase.
One way to take advantage of as many rewards as possible is by credit card churning. Credit card churning is signing up for a credit card just to take advantage of its welcome offer, then cancelling it when the promotional period is over. This practice can be frowned upon by credit card companies and may backfire if you don't manage your multiple credit cards properly. As a result, it's not for everyone. However, if you're interested, do your homework on the topic. You can read our credit card churning guide and join Canadian credit card churning online communities such as Churning and Welcome Bonus for Canadians on Reddit and Credit Card Churning Canada on Facebook.
2. Use a VPN to shop for your flights
Airfare websites employ sophisticated technologies that track your online activity and customize flight prices based on various factors. This includes how frequently you search for a particular flight and your browsing location. If the algorithms notice repeated searches from the same IP address, prices may artificially increase due to perceived higher demand. This is where using a Canadian Virtual Private Network (VPN), like NordVPN, McAfee, or PureVPN, becomes invaluable. A VPN shields your location, preventing airlines and booking platforms from pinpointing where you're browsing from, which they often use to alter prices.
Furthermore, a VPN allows you to select a server in a different country. This feature is particularly handy because flight prices can vary based on the perceived economic status of the browsing location. By browsing from a server in a different country, you can potentially unlock lower fares.
However, remember to compare prices and then finalize the purchase using the VPN server from the country showing the lowest price. This ensures that the price won't adjust based on your real location during the purchase process.
In conjunction with a VPN, using your browser in incognito or private mode can provide an extra layer of price protection. Incognito mode prevents your browser from saving your search history and cookies, which websites often use to track your activity and potentially inflate prices. By combining these two methods – a VPN and incognito browsing – you can protect your online privacy and potentially score cheaper flights.
3. Buy a ticket for a different destination that has a layover in your final destination
Hidden city ticketing involves buying a flight to a different city that has a layover where you need to go and not boarding your connecting flight. For example, say a ticket from Vancouver to Winnipeg is $390, but a ticket from Vancouver to Toronto with a layover in Winnipeg is $230, you would buy the ticket to Toronto, get off the plane in Winnipeg and not get on your connecting flight to Toronto.
Hidden city ticketing is also known as skip-lagging and while it's legal, it technically violates the airlines' contract of carriage. There is a slight chance that you could face legal ramifications or have your frequent flyer account drained, but this has rarely happened and attempts by airlines to sue passengers who use hidden city ticketing have been unsuccessful. Still, it's best not to do this too often, and to be mindful of people who might be waiting on you to take off.
If you try it, remember to only bring carry-on luggage and be sure you don't need to provide proof of a return ticket.
4. Make sure you are the last one to enter a plane
Boarding last saves you the discomfort of being in a hot airplane while bags, boxes and people are being crammed in seats and overhead storage compartments. Plus, there's always the chance that you'll be offered an incentive (like a free night in a hotel) to take a different flight if the plane is overbooked. If the coach section is oversold, you might even score a free upgrade to first class.
Just be sure that you don't board late and are at your gate, ready to board when they do the final boarding call.
5. Use a stop-over instead of a layover to visit two destinations for the price of one
A layover is typically less than 24 hours, but it can sometimes last longer. Stopovers last at least 24 hours and can last for several days, so booking a flight with a stopover is a great way to travel hack your way into having two vacations in one. Stopovers are not built into the price of the ticket (as layovers are) so they are slightly more expensive, however, they are cheaper than booking two separate flights.
If you want a flight with a stopover, you have to book it in the same way you would book a multi-city flight itinerary. To get the most bang for your buck, research connecting cities on popular flight paths and compare the cost of a direct ticket to that of a flight with a stopover. Several airlines also offer stopover programs that let you book multi-day stopovers at no extra cost and some stopover programs even include accommodations and meals.
6. Use multiple search and flight booking engines
Several online platforms offer valuable tools to assist you in finding the best flight at the lowest price. Google Flights, Kayak, Skyscanner, and Hotwire each provide unique features that cater to proactive travelers. For instance, you could use Google Flights' price graph, which showcases trends in ticket pricing, assisting you in determining the optimal time to purchase your ticket. Google Flights, Skyscanner and Kayak also offer a price alert service. You can subscribe to these alerts for your preferred destinations and receive an email whenever the price of a flight you're interested in increases or decreases.
7. Consider landing at a different airport
If your destination has more than one airport, compare the price of landing at each one and book a flight that lands at the cheapest airport. For example, of New York's three airports, La Guardia is the cheapest. It's not always possible to choose which airport you land in (La Guardia is also the smallest airport in New York and handles mainly domestic flights and some international flights from Canada). Still, if you're taking a domestic flight, it's worth having a look.
8. Consolidate loyalty points
Several airlines including British Airways, Qatar Airways, and Air France have loyalty programs that allow family members to consolidate points into one account. Air Canada's Aeroplan Family Sharing program is the most flexible, allowing up to 8 members to be added to a group regardless of relationship, and they don't require all members to have the same address.
Consolidating points makes booking flights together much easier if you're travelling as a family, and a family of 4 consolidating their points means rewards can be earned 4 times faster.
9. Ask for an upgrade
Instead of checking in online, check-in at the counter and ask the ticket agent if any seats are available in first class. You should never expect a free upgrade, but if you're travelling alone, have packed light and are polite (and if the ticket agent is in a good mood) you might get lucky and get one if you ask, especially if you're celebrating a honeymoon or anniversary.
If you ask the ticket agent and they say no, you can try again with the boarding agent before you get on the plane. Boarding last or near the end gives you a better chance, and they will be more likely to say yes if you're travelling light.
10. Plan ahead
Spontaneous trips are fun and it's exciting when you find a great last-minute deal on a flight, but if you want to save on flights it's best to book ahead. You may have heard that the cheapest day to fly is Tuesday. There's no guarantee that in the future some days will be cheaper to book than others, but according to Kayak's 2023 trend report, flights taking off on Thursdays and Fridays have been seeing lower prices in 2023.
Kayak also suggests booking between 2-4 weeks in advance for domestic travel and flights to Central and South America and the Caribbean; 3 months in advance for flights to the South Pacific; 5 months in advance for tickets to Africa; and 8 months in advance for air travel to Asia and Europe.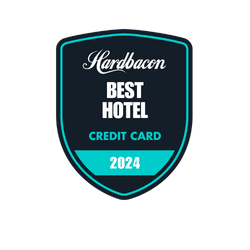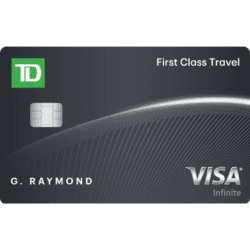 TD First Class Travel® Visa Infinite* Card
22.99% (20.99% for Quebec Residents)
22.99% (20.99% for Quebec Residents)
Special Offer: Earn up to $1,000 in value†, including up to 115,000 TD Rewards Points† and no Annual Fee for the first year†. Conditions Apply. Account must be approved by January 3, 2024.
†Terms and conditions apply.
The Toronto-Dominion Bank (TD) is not responsible for the contents of this site including any editorials or reviews that may appear on this site.
For complete and current information on any TD product, please click the Apply now button..