Redtag Vacations: How to Save on Your Next Trip with Redtag.ca
Redtag Vacations offer Canadians yet another way to travel better. Travelling to new destinations or to old familiar ones can be fun and exciting. However, it can also be expensive. When you are making travel arrangements, it is always a good idea to shop around and see where you can save money. Using Redtag.ca can save you time and money when booking some time away from home.
What can I book through Redtag Vacations?
Redtag Vacations is a site that is tailored to suit your needs. If you are just going on a trip to visit family, you can choose to book just a flight. If you wish to stay elsewhere, you can also book a hotel. Do you need a rental vehicle to get around? You can book that, too. Are you travelling a little farther and longer? It also offers all-inclusive packages and cruises.
How can Redtag Vacations save me money?
Redtag Vacations will find the best deal for you by searching several different airline options and vacation packages. All you have to do is select what kind of vacation or travel you are looking for, and they will do the rest.
Sometimes they even have special deals on last-minute bookings. They also feature deals and discounts for top travel destinations such as Las Vegas.
Can Redtag Vacations help me decide where to go?
If you want to take a trip but do not have a particular travel destination in mind, Redtag Vacations can also help you with that. There are many search options on the site to help narrow your choices.
If you would like to know what is the best vacation destination in the fall or in the winter, you can even search by season. You can also search by price point. Set a budget and let Redtag help find the right trip within your budget.
If you are looking for a nice relaxing vacation that is a bit more upscale, you can search for luxury hotels and resorts. There are searchable categories for European vacations, all-inclusive vacations, last-minute vacations, and for deals up to 60% off.
Read More: The 20 best places to visit in Canada for 2022
What are the trending destinations featured on Redtag Vacations?
Everyone seems to love a good beach vacation. Current popular destinations include Cancun, Varadero, Punta Cana, Cayo Coco, and Santa Clara.
Other features of Redtag Vacations
Lowest price calendar
Redtag Vacations has a lowest price calendar. Once you have selected a destination and travel dates, you can look at the calendar to see when the best prices are available and which flights suit you.
AIR MILES®
Redtag Vacations shows you how many AIR MILES® you will earn when you book your trip.
Payment options
Are you ready to travel but don't quite have the funds? Select the vacation of your dreams and make monthly payments. Just remember that if you select the monthly payment option, you will be charged interest just as you would on a credit card. The other option is to pay for your trip using a travel credit card.
Newsletter
As a bonus, if you sign up for the Redtag Vacations newsletter, you will receive a $50 promo code. On top of receiving the code, you will receive the newsletter giving you access to exclusive discounts, sales, previews, and voucher giveaways.
Do I need travel insurance?
Anytime you travel, purchasing travel insurance is a good idea. You can compare prices from different providers and choose the insurance that best suits the trip you are booking. You may want to consider cancellation insurance, baggage insurance, and health and medical insurance. The latter is particularly important if you are leaving the country.
Read More: The 10 Best Travel Credit Cards for 2022
Can I use AIR MILES® to book my trip through Redtag Vacations?
As well as earning AIR MILES® when you book through Redtag Vacations, you can also use them to pay for all or a portion of your vacation. You earn one AIR MILES® point for every $20 you spend on a credit card when booking a vacation or cruise package. When you use Dream Miles, you earn $100 towards your vacation for every 909 Dream Miles you use.
Give the gift of travel with Redtag Vacations
Redtag Vacations also offers gift cards on their site. These can be purchased in denominations of $50, $100, $250, and $500. You can choose to have the gift card shipped to you, directly to the recipient, or sent as an e-gift card.
These gift cards can be used to purchase any travel product on redtag.ca, and make a great gift for any occasion.
Do I need a computer to book through Redtag Vacations?
You can visit the Redtag Vacations website on the computer or your phone or tablet. Redtag Vacations also has an app that you can download to your iPhone.
FAQs about Redtag Vacations
Can I use a visa debit card to book a trip on Redtag Vacations?
Redtag Vacations will accept visa debit cards and credit cards to book vacations.
What is the cancellation policy when using Redtag Vacations?
Once you book a vacation through Redtag Vacations, you are subject to the terms and conditions to which you agreed. These terms and conditions clearly state that cancellations or changes may result in a 100% penalty, plus an additional redtag.ca cancellation fee. Some changes may be allowed depending on the policy of the supplier.
How can I get the most value when using Redtag Vacations?
Sometimes, booking a vacation and finding the best value can be daunting. It can seem like the options are endless, and you are continually clicking on links. If you want to be sure you have found the best deal, you can always use the site's chat function or call the toll-free number that is provided. A travel specialist can help you find the best deal for your trip.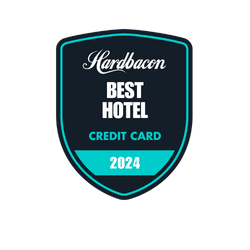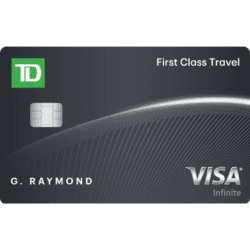 TD First Class Travel® Visa Infinite* Card
22.99% (20.99% for Quebec Residents)
22.99% (20.99% for Quebec Residents)
Special Offer: Earn up to $1,000 in value†, including up to 115,000 TD Rewards Points† and no Annual Fee for the first year†. Conditions Apply. Account must be approved by January 3, 2024.
†Terms and conditions apply.
The Toronto-Dominion Bank (TD) is not responsible for the contents of this site including any editorials or reviews that may appear on this site.
For complete and current information on any TD product, please click the Apply now button..