How to Go Through Airport Security Faster With YYZ Express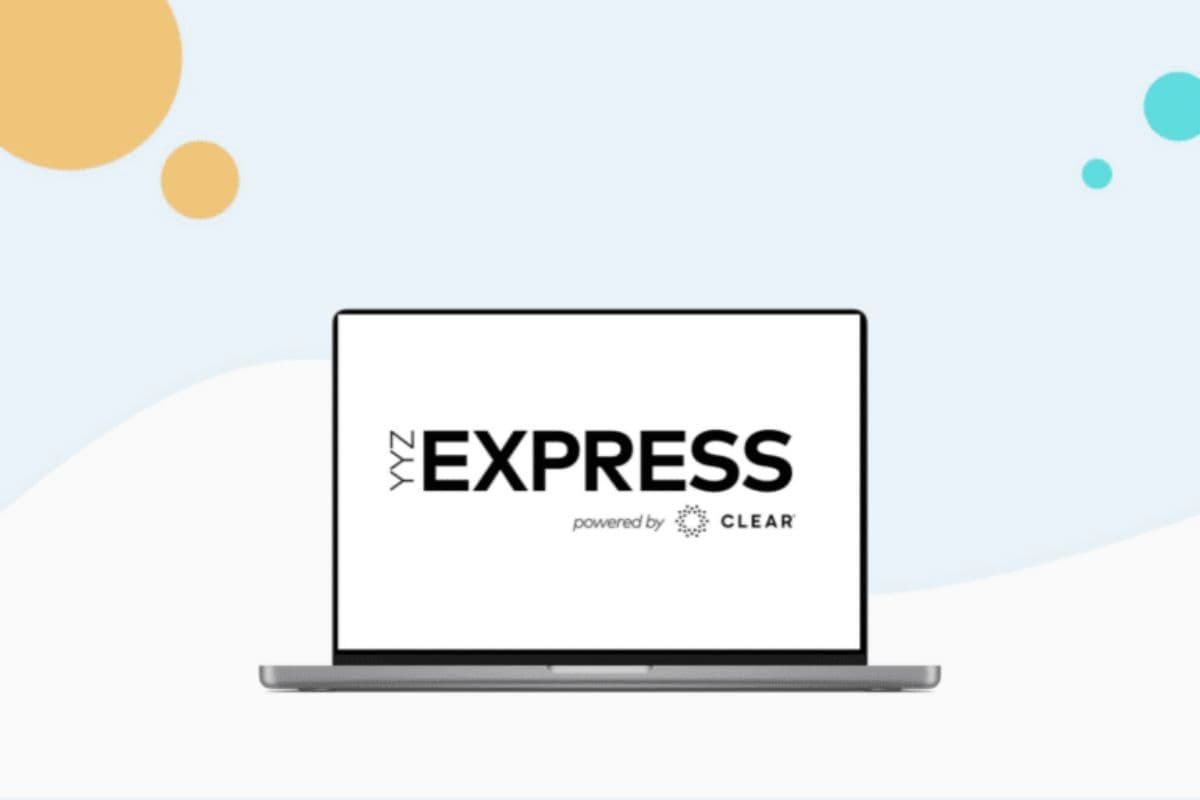 You've packed your bags and can't wait to board your airplane. However, your enthusiasm wanes once you arrive at Toronto Pearson Airport and start the security protocol. It seemingly takes forever to complete your check and receive a green light, so is there a way to speed up the process?
Salvation comes in the form of YYZ Express. This online reservation solution is the light at the end of the security tunnel, allowing you to breeze through your check. Let's see how this system works and how you can use it to board your plane faster.
The Guide to YYZ Express
YYZ Express is a revolutionary technology that drastically reduces queue times at Pearson Airport. This reservation system enables you to board your flight faster by entering the Pearson priority security lane. This way, you avoid all the hassle associated with traditional security checks.
Expediting security checks sounds fantastic, right? So, the only question is: How does this system work? Here's our step-by-step guide to YYZ Express:
1. Head to the YYZ Express reservation website.
2. Go to the "Find your trip" menu if it's not already opened.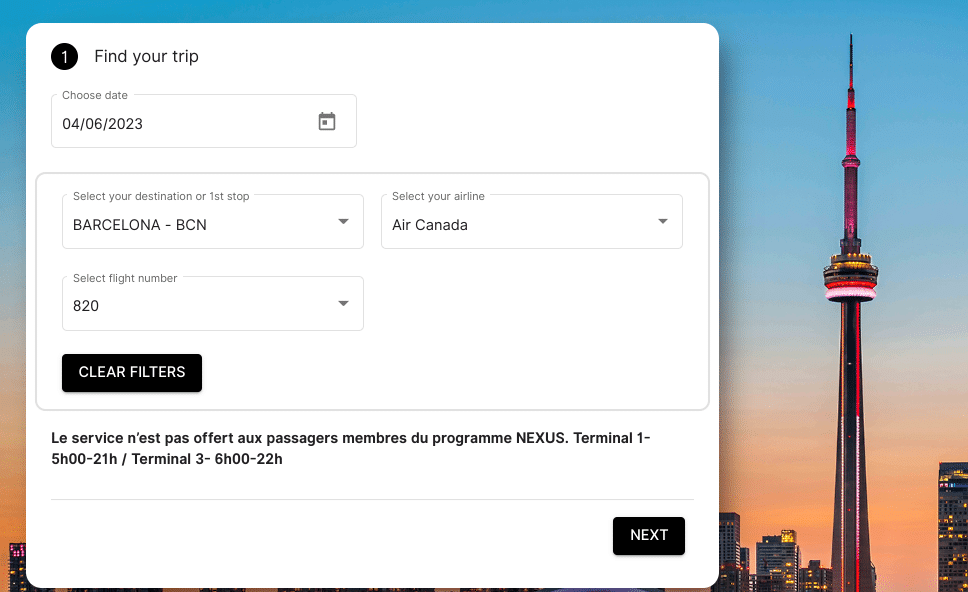 3. Choose the date of your flight. We'll use June 04, 2023, as an example.

4. Select your destination using the dropdown menu. Do the same for your airline. The below picture shows what your YYZ Express menu should look like if you want to visit Barcelona via Air Canada.

5. Pick your flight number. In this case, the only available option is flight 820.

6. Hit the "Next" button and wait for the system to process your request. You'll now arrive at the "Party size" customization screen. Tell the tool how many people you want to include in your trip. The maximum number is 10.

7. Choose an appointment time. We've selected 5 p.m. to illustrate this step. You should also see a notification that says the app will hold your slot for 15 minutes before or after the appointment.

8. Click "Next" and move on to the "Passenger information" screen. Enter your email address in the "Reservation information" tab.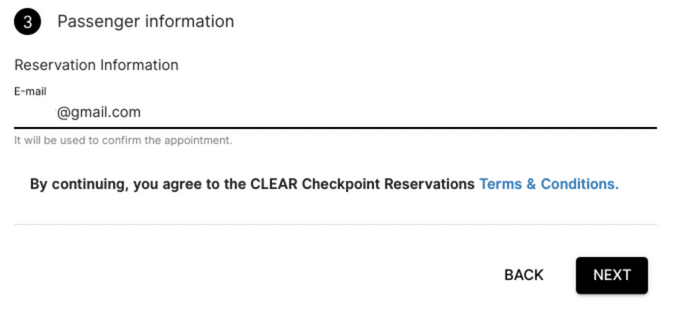 9. Tap "Next" and review your information. You can easily change details by returning to one of the previous menus.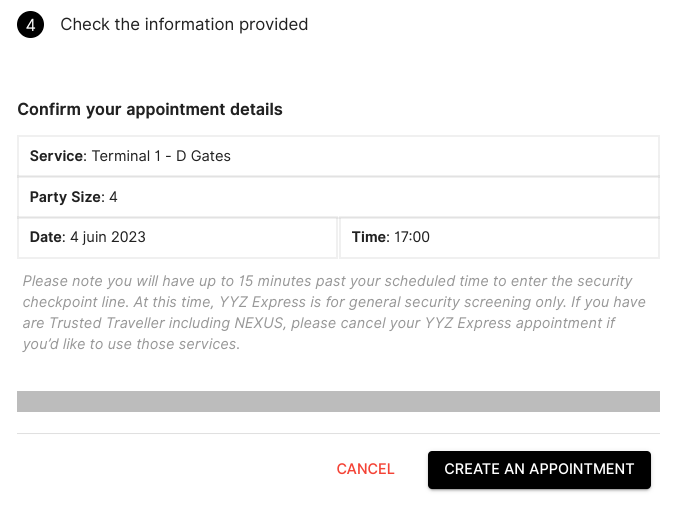 10. Press "Create an appointment," and you're good to go. The system will email a QR code that contains your flight and security data. Once you're at the airport, show it to the security personnel to waltz through your screening and get your adventure underway.
With YYZ Express, your trip will start on the right foot because of quick security checks. You need only complete your registration and present your QR code. However, you may wonder about the window for making appointments.
You can schedule your YYZ Express security pass no sooner than three days before your flight. Don't forget that you have 15 minutes to perform your security check after your reservation expires. If you arrive at Pearson Airport later than that, you'll need to choose a different slot, depending on availability.
And yes – the 10-person limit is inconvenient, but there's a simple workaround. Suppose you're travelling as a group of 15 tourists. You could book a YYZ Express trip for you and nine others. Another individual can make the reservation for the rest of the pack, allowing you to go through security terminals without waiting hours.
Is YYZ Express Available at All Terminals?
Pearson Airport booking has come a long way, largely thanks to YYZ Express. The system has taken the travel experience to a whole new level, but this doesn't mean it's perfect. There are a few drawbacks you should be aware of.
Primarily, YYZ Express isn't available at all terminals. Here are the two areas where you can utilize your YYZ Express-provided QR code:
Terminal 1, Gate D screening area
Terminal 3, Gates C and B (near the entrance for passengers with NEXUS cards)
Also, keep in mind that you can't enter the Pearson priority security lane with a YYZ Express pass if you're a Trusted Traveller (more on that later). Each program provides distinct benefits, which is why they don't go hand in hand.
Are There Any Other Ways to Go Through Airport Security Faster?
Pearson Airport goes to great lengths to ensure a seamless experience for all travellers. Besides rolling out the YYZ Express program, they also provide another program to help expedite your security check: Trusted Travellers.
You must complete an in-depth background check to determine if you're a Trusted Traveller. Pearson Airport deems you a low-risk passenger after getting a green light on your check. This eliminates the need for comprehensive scans on your future arrivals at the airport.
There are two common ways to qualify for the Trusted Travellers program:
Receive Your NEXUS Card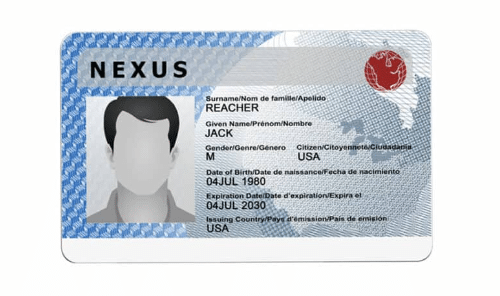 If you frequently travel back and forth between Canada and the U.S., the NEXUS card is a match made in heaven. It qualifies you for faster security clearance and border crossings, making the entire process hassle-free.
But first, you'll need to determine if you're eligible for this program. Here are the criteria:
You haven't broken immigration, agriculture, or customs laws.
You can freely enter the U.S. and Canada under the immigration laws of these two nations.
You've submitted your application correctly.
If you meet the first two requirements, all that remains is applying for your NEXUS card:
Select the NEXUS program on the Homeland Security web page. It should be the third option from the left, preceded by the TSA Pre and Global Entry programs.
Enter your login credentials.
Follow the on-screen instructions to finalize the process.
Submit your application and wait up to a month for the system to process the application. You'll also need to do an interview, where you'll be able to present your case as to why the government should grant your request.
Global Entry
Global Entry is similar to the NEXUS program, offering expedited security clearance and trouble-free security checks. The biggest difference and the reason why many find NEXUS superior is that it speeds up an entry from the U.S. into Canada and vice versa. With Global Entry, you can only accelerate your entry from Canada into the U.S. and not the other way around.
That's not to say that Global Entry isn't beneficial. Far from it – you can gain a lot from this program. For instance, it enables you to enter the U.S. from other countries faster. If this program sounds good, here's how to apply for it:
Submit a Global Entry application with the United States Customs and Border Protection. The submission is subject to a $100 fee.
Complete your background check.
Go to your interview, where the authorities will take your photo and capture fingerprints.
Long Security Wait Times Are History With YYZ Express
All the concerns surrounding YYZ Express are dispelled. So, what are you waiting for? Schedule your appointment and head to Pearson Airport for a seamless experience. Coupled with your travel credit card, YYZ Express will make your journeys much more effortless.
[Offer productType="CreditCard" api_id="5f35592c92ec22115033b30c" id="201582″]
FAQs About YYZ Express
What is YYZ Express?
YYZ Express is an online scheduling program that lets you reserve your security check ahead of time for faster boarding.
Is YYZ Express worth it?
Absolutely. YYZ Express is a simple way to minimize airport wait times.
What are the limitations of YYZ Express?
The only major limitation of YYZ Express is that it's unavailable for all flights. You can only use it for international and domestic flights at Terminal 3, B, and C Gates (not Gate A) and Terminal 1 Gate. Flying to the U.S. isn't an option, either, with this program. Also, you can only schedule a screening for 10 people at a time.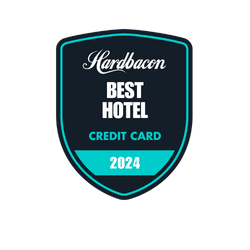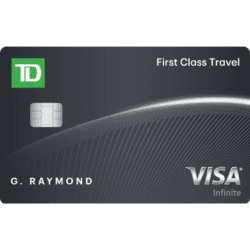 TD First Class Travel® Visa Infinite* Card
22.99% (20.99% for Quebec Residents)
22.99% (20.99% for Quebec Residents)
Special Offer: Earn up to $1,000 in value†, including up to 115,000 TD Rewards Points† and no Annual Fee for the first year†. Conditions Apply. Account must be approved by January 3, 2024.
†Terms and conditions apply.
The Toronto-Dominion Bank (TD) is not responsible for the contents of this site including any editorials or reviews that may appear on this site.
For complete and current information on any TD product, please click the Apply now button..