BMO vs RBC: The Ultimate Showdown 
Table of Contents
[ Show ]
In Canada, the Big 5 banks own a vast majority of the personal banking market. Even though there has been an influx of online-based, newer banks in recent years, most Canadians still do business with one of RBC, TD, BMO, Scotiabank, or CIBC. This ultimate showdown article compares Canada's oldest bank to its largest one: BMO vs RBC. We will look into each bank's personal bank accounts, credit cards, online brokerages, and account options for newcomers to Canada. If you are looking at joining some of the millions of Canadians that use either BMO or RBC, this article is for you. 
BMO Overview
BMO, or the Bank of Montreal, was established in 1817, making it the oldest bank in Canada. Despite its name, BMO operates across the country with over 800 branches that help to serve some of BMO's 13 million customers. As of July 2023, BMO is the third-largest bank in Canada by market capitalization and one of the ten-largest in North America.  
RBC Overview
RBC, or the Royal Bank of Canada, was founded back in 1864 in Nova Scotia. Originally, RBC was called the Merchants Bank of Halifax and was created for the Canadian fishing and timber industries. While RBC provides financial services to many markets around the world, Canada is its only market for retail banking services. As of July 2023, RBC has over 1,200 branches in Canada with over 17 million clients. RBC is the largest bank and company in Canada by market capitalization and is the tenth-largest bank in the world.  
BMO vs RBC: Chequing Accounts
BMO: Chequing Accounts
When it comes to choosing a chequing account, BMO has plenty of options for customers. In total, BMO offers five different chequing accounts. All of them come with features like unlimited free Interac eTransfers, free credit score analysis, and BMO Insights. In terms of interest rates, BMO chequing accounts can earn up to 4.0% on every dollar you deposit. 
BMO's Practical Chequing Account is a bare-bones option that provides just 12 transactions per month with a monthly fee of $4.00. With the BMO Airmiles Chequing Account, Canadians can earn points from the popular rewards program with every dollar they spend on their BMO debit card. For most Canadians, the choice will come down to either the Performance, Premium, or Plus chequing account. Here is a detailed comparison of these three BMO chequing accounts:
| | | | |
| --- | --- | --- | --- |
| | BMO Plus Chequing Account | BMO Performance Chequing Account | BMO Premium Chequing Account |
| Monthly Fees | $11.95 per month | $16.95 per month | $30.00 per month |
| Minimum Balance for $0 Monthly Fees | $3,000 | $4,000 | $6,000 |
| Other Perks | 25 transactions per month with unlimited Interac eTransfers | Unlimited transactions | Unlimited transactions |
| | Non-BMO ATM Withdrawals cost $2.00 in Canada and $5.00 outside of Canada | 1 Non-BMO ATM Withdrawal in Canada per month. After that, it is $2.00 in Canada and $5.00 outside of Canada | Unlimited Worldwide with no BMO fees |
| | $5.00 per Global Money Transfer | $5.00 per Global Money Transfer | Free Global Money Transfer |
| | $5.00 per month overdraft protection | $5.00 per month overdraft protection | No Monthly Fee |
| | Canadian and US Dollar Savings at no cost  | Canadian and US Dollar Savings at no cost  | Canadian and US Dollar Savings at no cost  |
RBC Chequing Accounts
For RBC, the personal and commercial banking division is the single largest revenue source for the company. In 2022, this segment accounted for more than 20% of RBC's total annual revenues. If there is one thing RBC takes seriously, it is its personal bank accounts. RBC provides four different choices of chequing accounts, all of which offer unlimited free Interac eTransfers, no minimum balances, and Avion Rewards with an RBC debit card. 
| | | | | |
| --- | --- | --- | --- | --- |
| | RBC Day to Day Banking | RBC Advantage Banking | RBC Signature No Limit Banking | RBC VIP Banking |
| Monthly Fee | $4.00 | $11.95 | $16.95 | $30.00 |
| Monthly Fee After Senior Rebate | FREE | $7.95 | $12.95 | $22.50 |
| Debit Transactions | 12 per month + free debits for eligible public transit purchases | Unlimited in Canada | Unlimited in Canada  | Unlimited Worldwide |
| Fee to Use Non-RBC Interac ATM in Canada | $2.00 for each transaction | No Fee | 3 Free per Month and $2.00 each thereafter | No Fee |
| Cross-Border Debits | $1.00 each | $1.00 each | 5 Free per Month and $1.00 each thereafter | FREE |
The Winner: BMO
When comparing these chequing accounts, BMO just has a bit more when it comes to optionality. The ability to waive any fees with a minimum balance is helpful, especially considering these balances are not too large. BMO has more variety and a more customer-friendly approach to personal banking. 
BMO vs RBC: Savings Accounts
BMO Savings Accounts
BMO offers four different savings accounts to customers, each with a different way to earn interest on your savings. The BMO Savings Amplifier account provides you with unlimited transactions at no cost and the ability to earn an interest rate of up to 1.8%. The BMO Savings Builder Account allows you to earn an interest rate of up to 2.00% if you can add at least $200 to your account each month. 
With the BMO Premium Rate Savings account, you can combine it with the BMO chequing account of your choice to share transaction limits and fees. Finally, BMO also offers the US Dollar Premium Rate Savings Account which allows you to earn 0.05% interest on your US dollars. All BMO savings accounts come without a monthly fee attached. 
RBC Savings Accounts
RBC also has four different types of savings accounts available, none of which come with any monthly fees. The RBC Day to Day Savings Account comes with 1 free monthly debit transaction and an interest rate of up to 0.01% for balances over $1,000. 
If that interest rate is too low for you, consider the RBC High-Interest Savings Account which pays out up to 1.6% on every dollar. RBC also has a US Dollar High-Interest Savings Account which pays out 0.50% on your US dollars. Finally, the NOMI Find & Save Automatic Savings Account uses predictive technology to track your spending and saving patterns. 
All RBC and BMO personal banking accounts are regulated and insured by CDIC Coverage. This means that in the unlikely event of bankruptcy for either of these banks, your savings of up to $100,000 will be protected by the CDIC. 
The Winner: RBC
There are just fewer stipulations with RBC savings accounts. While it is certainly important to compare savings accounts to ensure the one you select is meeting your needs, keeping it simple is a great thing and RBC certainly provides that with their different accounts. No minimum balances or minimum monthly deposits and you can earn steady interest at reasonable interest rates on every dollar you save.
BMO vs RBC: Credit Cards
BMO Credit Cards
For BMO's Canadian customers, it offers 13 different Visa and Mastercard credit cards. Consumers can earn both BMO Rewards Points and the ever-popular Airmiles through various BMO credit cards. 
In terms of specialty credit cards, BMO offers two student cards with lower interest rates and no annual fees. BMO also has a US Dollar Mastercard that comes with lower foreign exchange rates. One new feature for BMO customers is the BMO PaySmart program which allows you to split the cost over 3, 6, and 12 months with monthly interest-free payments.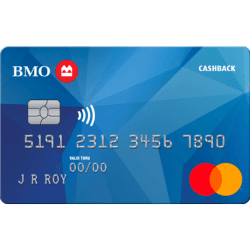 BMO CashBack® Mastercard®*
3% : Groceries;
1% : Recurring bill payments;
0.5% : Other purchases
Get a cashback rate of up to 5% on all your purchases for the first three months. Conditions apply.
Get 0.99% interest rate on balance transfers for 9 months
RBC Credit Cards
RBC offers an impressive 21 different credits for Canadian consumers from both Mastercard and Visa. When it comes to RBC cards, the focus is on travel rewards with its Avion Rewards program. RBC also has exclusive credit card partnerships with the likes of WestJet, Cathay Pacific, and British Airways. 
Included in RBC's selection of credit cards are five student cards with lower interest rates and minimal fees. There are also five business credit cards and three cards that offer lower interest rates for those who are working to rebuild their credit scores.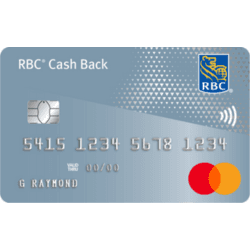 RBC Cash Back Mastercard
3 ¢ off per litre on gas at Petro-Canada;
Earn 20% more Petro- Points;
Get $0 delivery fees for 3 months from DoorDash, a value of $30. Also,enjoy unlimited deliveries with $0 delivery fees on orders of $15 or more when you pay with your eligible RBC credit card. Conditions apply.
The Winner: RBC
With nearly double the number of cards as BMO, this credit card comparison isn't particularly close. RBC has great partnerships and the industry-leading Avion Rewards program. Credit cards are one area where RBC truly excels.
BMO vs RBC: Online Brokerages
BMO InvestorLine 
BMO customers who are looking to grow their wealth through investing will be interested in using BMO InvestorLine. This online brokerage offers self-directed investing with flat commission fees of $9.95 per month. These commissions are set in stone and there is no discounted rate for active traders or students. 
The exception to these commission fees is a list of over 80 different Canadian ETFs for which BMO offers zero-commission investing. Normally, zero commissions are reserved for discount brokerages but BMO is looking to disrupt the big bank brokerage market in Canada. Investing in free Canadian ETFs is one of the best ways to build a long-term, diversified investment portfolio. 
For Canadians who want to invest but do not have the time to dedicate themselves to the markets can use BMO's SmartFolio robo-advisor service. Advisory fees are just 0.4% to 0.7% which are relatively low for a robo-advisor. These allow you to build a professionally managed portfolio with full access to assets like stocks, ETFs, mutual funds, options, and GICs. 
RBC Direct Investing
Like BMO, RBC Direct Investing charges commission fees of $9.95 per trade with an additional $1.25 per option contract when trading options. Active traders do get a discount when they hit 150 or more trades in a quarter. This program charges $6.95 per trade and provides Active Traders with real-time Level 2 stock quotes and exclusive research from Morningstar and RBC Capital Markets. 
There is no free ETF trading on RBC Direct Investing although it does offer a full range of assets to trade. These include stocks, mutual funds, ETFs, bonds, GICs, options, and futures that can be traded in all registered and non-registered accounts including the brand-new FHSA or First Home Savings Account. 
Finally, traders on RBC Direct Investing benefit from a wide range of market tools including full options chains, real-time and historical charts, technical analysis and live market news. 
The Winner: RBC Direct Investing
While free ETF trading is a nice bonus, RBC just has a more complete range of products and tools for investors. The comparison between these two online brokerages is a close one, but RBC's Active Trader program and availability of all accounts including the FHSA gave it a slight edge.
BMO vs RBC: Best Offers for Newcomers to Canada
BMO Best Offers for Newcomers 
For newcomers to Canada, BMO has the NewStart Program which helps them transition to a new banking system. This program offers unlimited free BMO Global Money Transfers for their first year as Canadians as well as access to a safety deposit box. For any purchases that need to be made, NewStart members can also add on a BMO cash-back credit card which is helpful for those without a credit history in Canada. Overall, the NewStart Program from BMO is one of the best ways for newcomers to get settled and financially situated when arriving in Canada.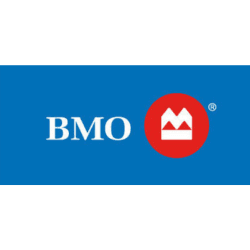 Performance Chequing Account - BMO NewStart® Program
Free during the first year*,
Then free with a $4,000 balance.
Earn up to $450* Welcome Bonus. No monthly plan fees for one year, send Unlimited BMO Global Money Transfers with no fee for one year, and get $60 cash bonus with rental of a safety deposit box*. Offer ends in October 31,2023. *Conditions apply.

RBC Best Offers for Newcomers
Canada's largest bank has its own program for newcomers to Canada that offers no monthly banking fees for the first year and customer service help in over 200 languages. RBC offers these services for foreign workers, permanent residents, and international students. Along with no-fee banking, newcomers can also get easily approved for the RBC Cash Back Mastercard with no credit history required. 
The Winner: BMO
The NewStart Program is widely known and for good reason. While low-fee bank accounts are an important tool for newcomers to Canada, the ability to have those unlimited BMO Global Money Transfers can be a life saver for transferring wealth to and from Canada. When you add in no monthly banking fees and the cash-back BMO credit card, NewStart is the best way for newcomers to settle into their new home. 
The Results: BMO vs RBC
| | |
| --- | --- |
| Results | Winner |
| Chequing Accounts  | BMO |
| Savings Accounts | RBC |
| Credit Cards | RBC |
| Online Brokerages | RBC |
| Best Offer to Newcomers | BMO |
Overall, RBC came out on top for 3 of the 5 categories that we compared in this ultimate showdown. A larger selection of credit cards and a more flexible online brokerage were the difference here. If you are only looking for a new everyday bank account or are a newcomer to Canada, then BMO is still a great choice to bank with.