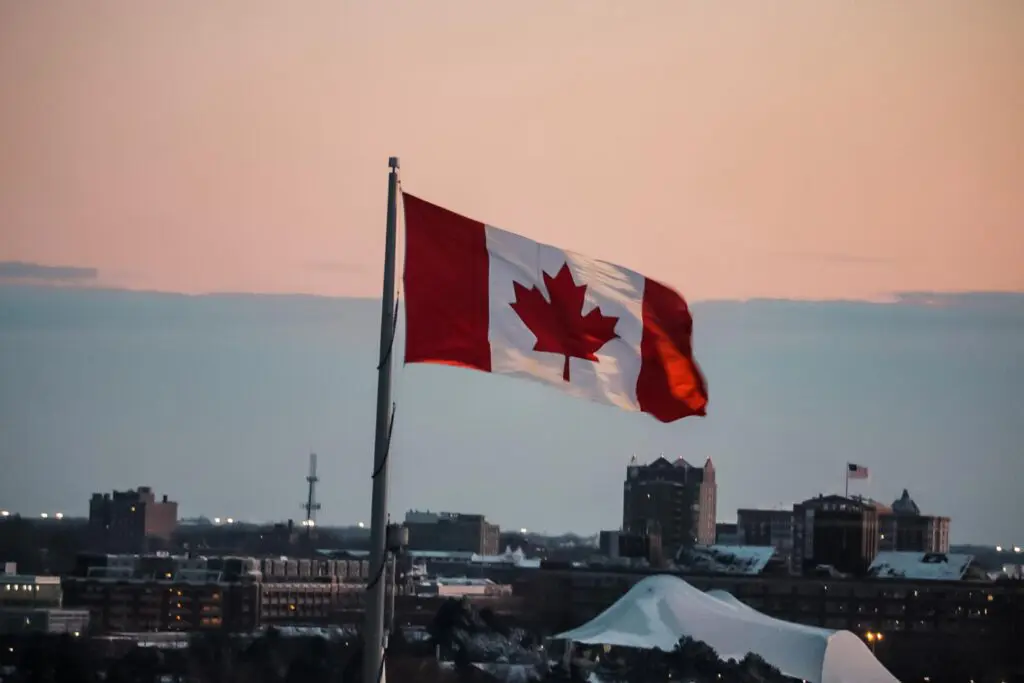 It can be difficult for a newcomer to navigate financial services in an entirely new banking system. Not only can the procedures be different, information can also be difficult to find. That's one of the reasons why we published a guide to personal finance for Canadian immigrants.
In this article you will find information about major banks. But your financial life doesn't end there. It also includes establishing a credit score, getting credit cards, investing, converting currencies and sending money abroad. Unless you only use a prepaid card linked to an all-in-one account, like KOHO's, you need a bank account in order to run your financial life successfully.
So what is the best bank in Canada for newcomers? We have compiled a list of the biggest banks in the country. To go further and compare other options, our checking account comparison tool is essential.
A NewStart with BMO
[Offer productType="CheckingAccount" api_id="6374252e4296bf656c803f8a"]
BMO offers the NewStart program. It is aimed at permanent residents and foreign workers during their first five years in Canada.
You can begin by opening a Performance chequing account with no monthly fees for one year. You also get unlimited free BMO Global Money Transfers for one year, and a $60 cash bonus with the rental of a safety deposit box to keep your valuables safe.
BMO complements its offering for newcomers with several adapted financial products. For example, you can apply for the BMO CashBack Mastercard. This no annual fee credit card offers an enhanced cash back rate during the first months, based on the promotional offer in effect at the time of your application.
In Canada, you have the right to open a bank account at any institution if you show identification. That is, you can open a bank account even if you have no job or no money to deposit immediately. If you wish to open an account from your home country, contact the bank or check their website to see if you can open your account entirely online.
National Bank of Canada's Newcomers Account
If you are arriving in Canada or have settled here for less than 60 months, the National Bank's Newcomers Account is very interesting. It is aimed at permanent residents, foreign workers and international students.
In addition to offering 3 years at reduced fees for your checking account, instead of one year like most other banks, they also offer telephone support during your first year in the country. This is meant to help you get answers to your questions regarding work visas, health services and housing, for instance. When you discover a new culture, it's a real advantage to have someone on the phone to help you when you need it.
During the first year, you get a banking package with no fixed fees which includes a checking account with unlimited electronic transactions, access to financing and borrowing under certain conditions (auto, mortgage, credit card), a free checkbook and a small safety deposit box. For the second and third year, there will be fixed monthly fees, but you benefit from a discount: $7.98/month and $11.96/month instead of the regular rate of $15.95/month.
Newcomer Advantage from Royal Bank of Canada
This is the most ubiquitous bank in Canada. No matter the city where you'll live, the Royal Bank of Canada (RBC) probably has a branch there. Thanks to RBC, many financial services like credit cards, mortgages and car loans don't require newcomers to have a credit history. This is an undeniable advantage when you have just arrived in the country.
With the RBC Newcomer Advantage, you have a no-fee checking account for one year. The monthly fee will be $11.95/month after the first year. This package also comes with a free security deposit box for 2 years and 2 free international transfers per month for 12 months. You can easily send funds to more than 120 countries and protect your documents and small valuables.
[Offer productType="CreditCard" api_id="63249f0357179a4644cb8b41″]
To take advantage of their offer, start by opening an RBC Advantage Banking Plan. Then, pick a credit card from the choices offered, even if you have no credit history, such as the RBC ION credit card. This card is free and allows you to collect 1.5 Avion points for your essential expenses: groceries, transport and gasoline as well as subscriptions.
Scotiabank's StartRight Program
Scotiabank allows you to open an account online and transfer money to Canada before you arrive. Scotiabank's StartRight program can help you get started on the right foot, giving you access to credit, savings, free international money transfers, and advice. It's no coincidence that it is one of the best bank accounts in Canada for newcomers!
Their Scotia chequing accounts offer several benefits. There are no monthly fees for the Preferred chequing account for the first year and unlimited transactions and Interac e-transfers. You can also get a loan for a new vehicle with only 10% cash down or a mortgage to buy a house.
Upon acceptance to the Preferred package, you will be entitled to a waiver of annual fees on a credit card for the first year only, if you request the card on or after the account opening date. For example, you could get the Scotiabank Visa Infinite Passport credit card. It allows you to accumulate Scene+ rewards when you shop for groceries, entertainment or buy public transportation tickets. The absence of currency conversion fees for purchases made online or in a business located outside of Canada is another major advantage of this card.
[Offer productType="CreditCard" api_id="5f31a9ab92ec22115033b2c2″]
The Scotia Visa Infinite Passport card is also a great travel credit card because it comes with complimentary membership to the Visa Airport Companion program. You are therefore entitled to six free visits to airport lounges per year, for yourself and the people traveling with you. The program gives you access to more than 1,200 lounges around the world.
Desjardins Credit Union's Offer
In Quebec, you will see the green hexagon of the Desjardins logo everywhere. Unlike other institutions, Desjardins is a credit union, but it offers essentially the same services as a bank. Therefore, it belongs to its members and not stockholders. A member at Desjardins is the same as a customer in a bank. But when there are surpluses, they are distributed to members in the form of a dividend. Credit unions are committed to and invest in their communities and members.
The Desjardins welcome offer for newcomers includes several products. It targets people who have permanent residence and have lived in Canada for 3 years or less, or foreign workers who hold a work permit for more than 8 months.
First, you get a bank account including a free transaction plan and unlimited transactions for two years. Then you get a no annual fee credit card that doesn't require a credit history. If you plan to drive in Canada, you will need insurance. It is good to know that for an auto insurance quote, Desjardins takes into account your years of driving experience in your country of origin.