Tangerine Bank: The Ultimate Review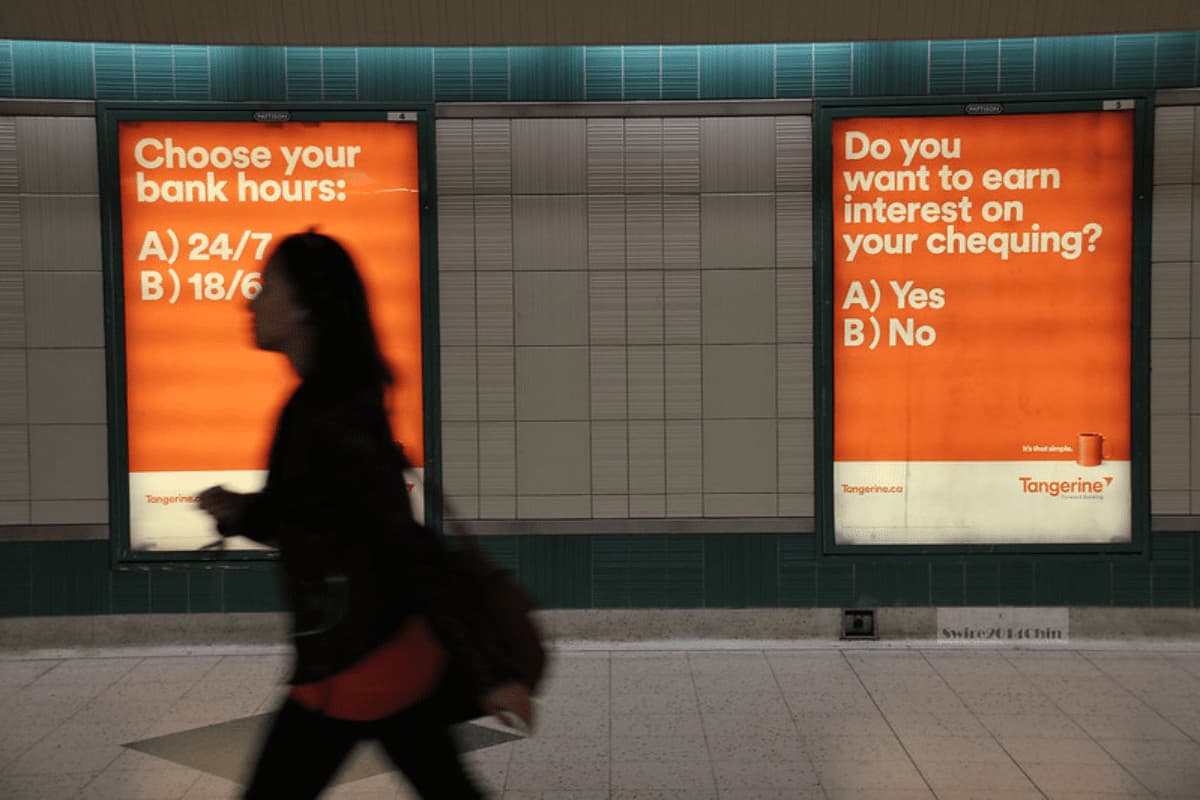 Tangerine Bank is known for having no branches. Prior to being purchased by Scotiabank in 2012, Tangerine had existed since 1997 under the name ING DIRECT Canada. This online bank offers several financial services, including s, savings accounts, credit cards, and more. In this article, we're going to discuss Tangerine's different products.
How Tangerine came to be the bank we love
Tangerine is not only known for its original color. It was one of the first online banks. Its slogan reflects its commitment to "forward banking". As an online bank, its activities are mainly done through its website and application, which allows the bank to avoid many of the costs associated with physical branches.
Founded in 1997 by Nederlanden Groep as ING Direct Canada, it was purchased by Scotiabank for $3.13 billion in 2012. Following the acquisition, ING Direct Canada announced its name change to Tangerine. Today, Tangerine is a wholly owned subsidiary of Scotiabank and a full member of the Canada Deposit Insurance Corporation (CDIC). This means that your eligible deposits are protected up to $100,000 per category.
To date, Tangerine has over two million customers. Tangerine has been awarded the 2022 Best Customer Satisfaction Rating for Mid-Size Banks and the 2020 Ipsos Best Banking Award.
Free chequing account
For the Tangerine no-fee chequing account, you get an interest rate of up to 0.10%. However, you have to deposit $100,000 or more to get it. From $50,000 to $99,999, you get 0.05% and below that amount, only 0.01%. This checking account offers unlimited transactions including debit card purchases, bill payments, pre-authorized payments and electronic transfers. Online banking and the first chequebook are also free. Subsequent chequebooks are available for $50. A bank draft costs $10.
[Offer productType="SavingsAccount" api_id="5f0ede06d87b2e4502530013″ id="173710″]
When you withdraw money from another bank's ATM in Canada with your Tangerine debit card, there is a $1.50 fee. However, since the acquisition by Scotia, you have free access to its 3,500 ATMs across the country, as well as 44,000 other ATMs worldwide through the Global ATM Alliance. Withdrawals at other ATMs (not part of the Global ATM Alliance) cost $3. Your first stop payment will be free, but subsequent stop payments will cost $12.50 each. Tangerine also charges $45 for insufficient funds.
The Tangerine Visa Debit card allows you to shop online and in person with your checking account. An Interac and Visa Zero Liability policy protects you from unauthorized purchases. Lost your card? Tangerine will replace it for free. With Cheque-In on the mobile app, you can deposit checks instantly. Tangerine also helps you organize your transactions and see how much you have left to spend each month. To put its many benefits into perspective, compare Tangerine to other checking accounts.
Tangerine Savings Accounts
Savings Account
This Savings account has no monthly fees and you earn 1.00% interest per year. No minimum balance is required to open your account. By opening a savings account, you will be able to set your goal (major purchase, vacation, etc.) and customize your account to see how much time is left to reach your goal.
Tax-Free Savings Account (TFSA)
With the Tax-Free Savings Account (TFSA), you can earn interest without the government dipping into your earnings. In fact, the TFSA gives you the same interest rate as the previous savings account, which is 1.00% and all transactions made by this account are free of charge. You pay no taxes on this interest or from your withdrawals as long as you respect the TFSA rules.
Registered Retirement Savings Plan (RRSP)
With this account, you can reduce your tax footprint. Thus, the savings deposited into your RRSP savings account will help you to pay less tax at the end of the year. Of course, you must respect the RRSP contribution limit. This account has an interest rate of 1.00%. The interest generated is not taxable as long as it remains in your RRSP.
In fact, the amount you contribute gives you a tax return and the gains you make on your investments are only taxed when you withdraw them. For example, you can use your tax deduction to contribute to your RRSP again the following year or to pay down debt.
Retirement Income Fund (RIF) Savings Account
Retired? When RRSP rules require you to convert to a RRIF (around age 71), choosing Tangerine will give you an interest rate of 1.05%. Interest earned in a RIF is tax-sheltered. However, you will pay tax on mandatory withdrawals, as well as on other withdrawals from your RRIF.
US $ Savings Account
If you have US money and want to save it, the US $ Tangerine savings account is for you. You pay no monthly fee and no minimum balance is required. However, your interest rate will be lower than with other Tangerine savings accounts, at 0.10%. You can also transfer Canadian dollars to your account (or vice versa). Tangerine exchange rates are 1.362 (buy) and 1.317 (sell).
[Offer productType="SavingsAccount" api_id="5f0ede06d87b2e4502530013″ id="173710″]
Until July 17, 2023, when you become a Tangerine customer, checking and savings accounts give you the chance to earn up to $400 in cash back and a 5.00% savings rate. Comparing savings accounts from several banks will help you make the right choice.
Tangerine credit cards
Tangerine Money-Back Credit Card
The Tangerine Money-Back Credit Card earns cashback rewards. If you apply for this card by May 2, 2023 and are approved, you will make an extra 10% cashback on up to $1000 in everyday purchases made within your first 2 months. The card also has a welcome offer of 1.95% interest on balance transfers for 6 months, after which it increases to 19.95%.
A 2% cashback is available in two of the following categories of your choosing: grocery, entertainment, transportation and parking, home furnishing, restaurants, hotels and motels, fuel, recurring bills, drugstore purchases. All other purchases earn 0.5% back on every dollar spent. You are eligible for an unlimited amount of cashback rewards with the Tangerine Money-Back Credit Card. You are allowed to pick a third category at 2% if the cashback rewards are deposited in a Tangerine savings account. Whether the cashback is deposited to your credit card or to your Tangerine savings account, they are automatically paid every month.
The Tangerine Money-back card is one of the best in the market. It is backed by Mastercard's Zero Liability policy, which protects you if unauthorized purchases are charged to your account. Purchase protection and extended warranty are included. Insurance provides 90-day protection on all items that have been stolen, lost or damaged. The warranty doubles the retailer's product warranty for up to one year.
The Tangerine Money-Back Credit Card requires an annual income of $12,000 to qualify. All additional cards are free, but priority shipping costs $25. Tangerine also charges a 2.50% conversion fee, a $25 overlimit fee, and $3.50 to $5.00 for cash advances. Carefully analyze the pros and cons of Tangerine's Money-back card by setting it side by side with other credit cards.
Tangerine World Mastercard
Like the Money-Back card, Tangerine World Mastercard offers a 10% cashback on up to $1,000 in everyday purchases for the first two months, as well as the balance transfer offer. Normally, this card gives you 2% back in two of the following categories: grocery, entertainment, transportation and parking, home furnishing, restaurants, hotels and motels, gas, recurring bills, drugstore purchases. It also offers a third category at 2% when you put your cash back into a Tangerine savings account. All other purchases earn a 0.5% cashback. Your rewards are deposited monthly on the Tangerine credit card or in your savings account. This card is only available to people with a minimum annual income of $60,000 or $100,000 per household. However, if you have $250,000 or more in Tangerine funds and accounts, your annual income will no longer be considered.
The Tangerine World Mastercard comes with several benefits. First, you have $1,000 in insurance in case of theft or loss of a mobile device as well as damage and collision insurance covering short-term rental vehicles. You can also request a block on your card with a few clicks if you've lost it. You get free access to Boingo Wi-Fi hotspots around the world, purchase protection and extended warranties, as well as benefits and special offers from a growing range of on-demand apps and subscription services. If you love to travel, you can get rewards and benefits at airports that offer cashback and discounts at select merchants.
Recently, Tangerine added a Braille card identifier, so everyone can recognize it more easily. Both cards are made of recycled plastic, which reduces their carbon footprint by 61%. The Tangerine World Mastercard also has the same fees as the Money-back card from cash advances to currency conversion.
How does Tangerine compare to EQ Bank?
A pioneer in online services, Tangerine has expanded its products over the years. But new banks offer competitive services, including EQ Bank. EQ offers a narrower range of services than Tangerine, but its interest rates are more attractive. EQ's Savings Plus account offers a 2.5% interest rate. Beat that, Tangerine!
| | | |
| --- | --- | --- |
| | Tangerine | EQ Bank |
| Chequing account | Yes | No |
| Visa Debit | Yes | Yes |
| Savings Account | Yes | Yes |
| TFSA | Yes | Yes |
| RRSP | Yes | Yes |
| US $ account | Yes | Yes |
| Mortgage | Yes | Yes |
| Credit card | Yes | No |
| GIC | Yes | Yes |
| Investment Funds | Yes | No |
| Line of credit | Yes | No |
Tangerine VS EQ Bank
Investing with Tangerine: GICs and Investment Funds
Guaranteed Investment Certificates (GIC)
Tangerine's guaranteed investments offer a rate of 4.85% for an 18-month term. Your savings can't go down, they're guaranteed! This makes it an attractive investment for those who are concerned about stock market fluctuations. It is important to know that the rates vary according to the chosen term and that you cannot withdraw your funds before that date. For example, the annual rate for a two-year term is 4.30%.
Investment Funds
With just $25, you can start investing with Tangerine. Tangerine's core portfolios include well-known and well-diversified Canadian and international companies. They are also tailored to different stages of your life. For example, you can choose a portfolio that focuses on dividends, growth, etc. Tangerine's exchange-traded fund (ETF) portfolios help you save on management fees, which are less than 1%. Its socially responsible funds also allow you to invest in line with your values. Both GICs and fund investments are suitable for TFSAs, RRSPs and other accounts.
Tangerine Mortgages and Lines of Credit
When you apply for a mortgage pre-qualification to shop for your home, Tangerine offers you a guaranteed rate for 120 days. Its interest rates are competitive. Currently, they range from 5.74% to 6.65%. Tangerine is also a champion of flexibility! It offers you the opportunity to make lump sum prepayments up to 25% of your initial loan. Such payments reduce your debt (and total interest paid).
The home equity line of credit will allow you to borrow at an interesting rate in the future, thanks to the accumulated equity in your property. You can reuse the money from your loan, so to speak, without having to re-apply. A personal line of credit allows you to access funds at any time. In both cases, you pay back at your own pace with minimum payments at a lower rate than most personal loans or credit cards.
FAQ about Tangerine
Who owns Tangerine Bank?
Tangerine is owned by the Bank of Nova Scotia, better known as Scotiabank, which is a major Canadian bank.
Is Tangerine Bank safe?
Tangerine meets the same standards as other Canadian banks. For example, some deposits are CDIC insured. However, investments in funds are riskier, but this is the case regardless of the bank.
How do I activate my Tangerine debit card?
There are three ways to activate your card. Once you log in to the site, you should see a message at the top of the screen asking you to activate your card, then click on "Activate my card". If you don't see it, click on your name at the top of the screen and go to your settings, then click on "Customer Card" and "Activate". You can also activate your card by calling the number on the sticker.
What is Tangerine branch number?
As an online bank, Tangerine has only one branch. Thus, the transit or branch number of Tangerine is always the same: 00152.