The 15 Best Grocery Delivery Services in Canada for 2023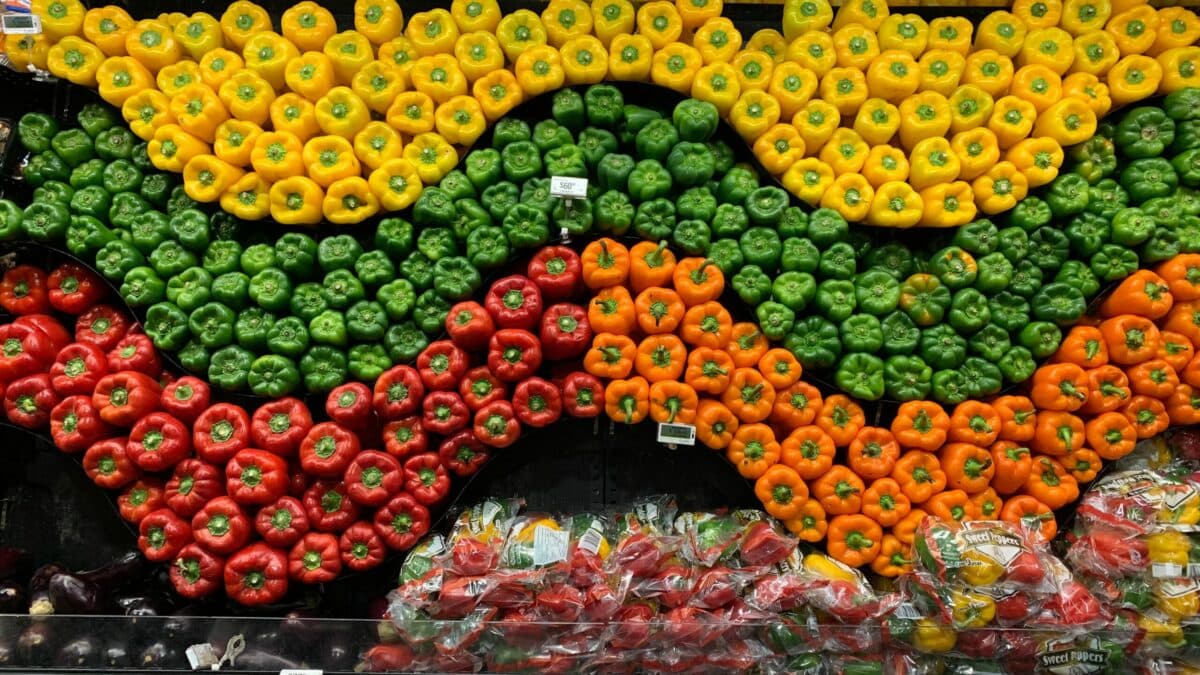 In recent years, the grocery delivery service industry has thrived. With so many options, many Canadians have learned to appreciate the simplicity and convenience of having their groceries delivered. Life is busy and it's not always possible to get the necessary groceries you need.
While it is more expensive to use a grocery delivery service, it's going to save you time. If this means that you have more time to do work and make money, great. You could even save some money by ordering groceries, especially if you tend to make impulse purchases when you're shopping in person. You can also use a credit card to order groceries, so if you're collecting points or earning cashback rewards, this is still available.
In order to help you save time and money, we researched Canadian grocery delivery services for you, in order to let you know their true costs. In our extensive list, we also included some meal kits and restaurants delivery companies that are also selling groceries.
What's the best grocery delivery service in Canada?
Since the pandemic, the grocery delivery service has grown in popularity. More and more companies throughout the provinces have started offering these services. Some are directly through grocery stores while others are third parties. You can even have meal services sent right to your door with fresh produce.
Voilà by Sobeys
Pickup fee: varies based on time slots
Pickup timeline: same day to 6 days in advance
Delivery fee: varies based on time slots
Delivery timeline: next day to 6 days in advance
How to order: online through Voila.ca
Best for: Scene+ users, grocery shoppers in Ontario and Quebec
Sobeys first launched Voilà in Ontario in 2020, a grocery pickup and delivery service for both their Sobeys stores and Safeway. Voilà is available in Quebec as well where the Sobeys store is called IGA (Voilà par IGA). Voilà is set to open another fulfillment centre in the Alberta region mid to late 2023.
Voilà offers a fresh or it's free guarante as well as 1-hour delivery/pick-up windows. Their pickup fee is usually $3.99 but varies based on time slots. Their delivery fee is usually $7.99 but it also varies based on time slots. Not every store is currently offering delivery and pickup but you can check by going to the site and punching in your postal code.
Sobeys and Safeway recently ditched Air Miles in favour of Scene+ Points, allowing you to earn points and redeem them for things like free travel, entertainment, merchandise, and more.
Instacart
Delivery fee: $3.99
Delivery timeline: within 2 hours/5 hours.
How to order: online through Instacart.ca
Best for: low fee delivery in many parts of Canada
Instacart is a trusted third-party grocery delivery service in Canada. They're very convenient with low delivery fees. You can choose when you want your groceries to be delivered and this is anywhere from a 2 hour bookable window and up to 5 days in advance. You can go through their app or directly through a participating grocery store they're partnered with.
Instacart isn't available in every area of Canada quite yet but there are a lot of locations where it's quite popular. Instacart can be accessed in big cities or small towns, excluding the territories. Participating stores in your location will dictate where you can order from. You can check the site to see what's available in your area. You'll usually see the larger grocery stores that are able to afford the Instacart fees as well as some smaller specialty shops.
HelloFresh
Delivery fee: $7.99 shipping fee per order
Delivery timeline: the time you scheduled
How to order: download HelloFresh app and register
Best for: Canadian cities like Toronto, Ottawa, Vancouver, Calgary and Montreal
HelloFresh is a rolling meal kit delivery service that you sign up for to receive every week. There aren't any minimum terms or commitments though. You choose what you want in your box, when you'd like to get it, and they deliver it all to your home. You can skip a week, cancel, and change so you're getting a lot of flexibility.
There are many different plans to pick from and ingredients are locally sourced. You can easily manage meals and deliveries through HelloFresh's user-friendly mobile app. You can choose the plan you want baked on your lifestyle so it's good for meat eaters or vegetarians. You then choose how many people you will be feeding. You cook up the meal yourself with all the ingredients and a recipe card that's easy to follow. Meals start as low as $7.49 per serving.
Goodfood
Delivery fee: Says $5.99 on the invoice but they always discount it to 0.
Delivery timeline: 4 days
How to order: online at Goodfood
Best for: delivery across Quebec, Ontario, Manitoba, Saskatchewan, Alberta, British Columbia, and the Maritimes
Goodfood is a popular meal kit delivery company that also allows you to order select grocery products. delivers pretty much everywhere except for Newfoundland. They offer quick to make foods that are healthy for you with a variety of plans. Delivery is free despite the fact they say there's a $5.99 fee, which they always waive. Plans range from $9 to $14 per serving and the more you purchase, the less you pay.
You can choose your meals for up to 4 weeks at a time and add additional meals or services. The deadline for order are Wednesdays before 11:59pm (EST). This will get you a Sunday delivery. If you purchase on Saturdays before 11:59pm (EST) your deliveries arrive on Thursdays and Fridays. It's considered the meal kit service in Canada due to consistent service, fresh foods, and on time delivery. You can also do a lot of add-ons including drinks, pastries, cereals and coffee.
Amazon
Delivery fee: varies, often free if you have Amazon Prime
Delivery timeline: 1 to 7 days (depending on your location)
How to order: online at Amazon.ca
Best for: obscure snack foods and unusual ingredients
Amazon Canada offers a grocery delivery service for the Whole Foods grocery store. There's not much at the moment but if successful, the type of products will likely grow. Currently, you can get some food staples, non-perishables, and dry goods. Purchase your baking supplies, snack foods, herbs, and spices. It's not really a one-stop shop though and the time it takes to get to you isn't as convenient as going with a grocery delivery service locally. If you have Amazon Prime, it's usually free though. They offer services in the greater Toronto and Vancouver area.
Cornershop
Delivery fee: $6.90 – $9.90
Delivery timeline: 45 to 90 minutes
How to order: online at CornershopApp.com
Best for: fast same day delivery
Cornershop, which is owned by Uber, is available in the bigger cities in Canada including Toronto and the GTA, Montreal, Vancouver, Quebec City, Gatineau, Calgary, Edmonton, and Ottawa. It's a new service but quickly growing thanks to the convenience it offers. The stores you can order from will depend where you are and what stores have partnered with Cornershop.
If you're in a larger city, you'll have a lot more options like big chains and smaller local stores. In smaller towns, there will be limitations on the services with just a few to choose from. While it's still growing in popularity, you're going to get the fast, same-day grocery delivery service you'd expect in the bigger Canadian cities.
Costco Canada
Delivery fee: varies
Delivery timeline: same day and up to 10 days
How to order: online at Costco.ca
Best for: bulk goods in areas that have a Costco store.
Costco Canada offers two different grocery delivery service options. This includes their own in-house service or ordering through a third party company like Instacart. The minimum order for your groceries are $75. You can order less but you'll pay a delivery surcharge. If you're ordering through Costco, you can only order non-perishable food and household supplies when you order directly and it can take anywhere from 2 to 10 days.
Costco isn't in every town and this service is only available in areas where there is a Costco brick-and-mortar store when you order through Instacart. You'll see this service in every province but it's not available in the Yukon, the Northwest Territories or Nunavut.
You can order any of your Costco groceries through Instacart, including fresh vegetables, bread, and household supplies. The minimum order for this service is $35. Delivery fees will depend on how many groceries your purchasing and where you live. Instacart fees are built into the prices you see on the Costco website. When you order through Instacart, the prices are a bit higher to cover their fees.
Metro
Pickup fee: free
Delivery fee: $8.00
Delivery timeline: 1 to 13 days in advance
How to order: online at Metro.ca
Best for: grocery shopping in Quebec and Ontario
Metro is a grocery store chain that was founded in the province of Quebec and Ontario. For those living in Quebec though, they offer one of the best grocery delivery services. You can check to see if their services are available in your are by putting in your postal code on their site.
Metro delivery allows you to pick up as well, which is free even though someone else does your shopping. It's a great way to save time from picking out your own groceries and waiting in line to pay for them.
PC Express
Delivery fee: $9.95
Delivery timeline: same day to 13 days in advance
How to order: online through PCExpress.ca
Best for: collecting PC Optimum Rewards
PC Express is designed for grocery store pick up and delivery service for the Loblaws grocery stores. If you're picking up, there's a $3 charge unless you're a member, in which case it's free. Not every Loblaws store offers this delivery service. In this case, you'll often be able to order from Loblaws stores at Instacart.
This is a massive brand in Canada so it does reach to most parts of the country. You can add your PC Optimum card to your account and earn points just like as if you did traditional grocery shopping. They may even boost your points if you're a member and shop online. Grocery delivery service options will vary depending on where you live.
Different provinces and territories are home to different stores. Not all of them offer grocery delivery services. And even the stores that do offer delivery in your province may not deliver to your specific postal area. Still, PC Express does reach a vast amount of areas all throughout Canada.
Save On Foods
Pickup fee: free
Pickup timeline: 1 to 12 days in advance
Delivery fee: $4.95 – $9.95
Delivery timeline: same day and up to 12 days in advance
How to order: online at SaveOnFoods.com
Best for: grocery shopping in Western Canada
Save On Foods is Western Canada's Loblaws. You can find Save On Foods locations in even the smallest towns in BC, Alberta, and Saskatchewan. They have a rewards program, More Rewards, that you can use in the store or while online shopping. The rewards can be used for purchasing groceries or redeeming flights, hotels, and gift cards.
The whole grocery store is accessible online and it's easy to add items to your cart. Once you've completed your order, you can opt to pick up for free or have it delivered at a time convenient for you.
Walmart Canada
Pickup fee: free
Pickup timeline: same day up to 21 days in advance
Delivery fee: $9.97 – $14.97
Delivery timeline: within 2 hours/5 hours/same day and up to 5 days in advance
How to order: online at Walmart.ca
Best for: discount groceries
Walmart is massive in Canada and if you have one in your area, they offer delivery or pick up services. To find out for sure if the Walmart in your town offers it, just go to the Walmart site and put your postal code in the "store finder" area. This popular discount store that also happens to offer groceries can save you a lot of money even if you're paying for delivery.
There are a lot of products available but with some limitations. You may not get a lot of organic produce here. However, for many of your daily items, it's a great place to get things for a reasonable price. They have a full spectrum online store where you can easily do your shopping and place your order.
Grocery Gateway
Delivery fee: $9.99 + EcoFee ($14.95 + EcoFee for same day delivery)
Delivery timeline: same day and up to 7 days
How to order: online at GroceryGateway.com
Best for: grocery delivery in Toronto and surrounding area
This is Longos grocery delivery services available for Canadians. There isn't a lot of availability at the moment. Currently, grocery delivery services are available to businesses and residences in Toronto and GTA. They offer a set flat fee for their deliveries no matter how much you order.
The nice thing is there is no minimum. They offer their wide variety of grocery products online with an intuitive website that makes it easy. They include the EcoFee to customers, which works towards many of their environment initiatives.
DoorDash
Delivery fee: says $1.99 to $5.99
Delivery timeline: 30 minutes to 1 hour
How to order: through the app
Best for: meal delivery anywhere in Canada.
DoorDash is a household name that began in the US and launched in Canada in 2015. It is now one of the most popular apps for meal delivery. Small towns and big cities will have plenty of restaurants as long as the restaurant signs up for it. You won't have to wait long for your meals to be prepared and delivered as restaurants on the app are rated so they step up their game. 
You can order from restaurants, convenience stores, and grocery stores as well so it truly is a one-stop shop for all your food delivery needs. The first month you sign up, you don't pay any delivery fees but after that, you'll pay between $1.99 – $5.99. There is also a tip option for the driver as they don't get paid a lot.
Inabuggy
Delivery fee: $5.99 plus a personal shopper Picking fee depending on the size of the order
Delivery timeline: about an hour
How to order: through the Buggy app
Best for: Toronto (as well as the Greater Toronto Area), Ottawa, Vancouver, Calgary and Montreal
When you go to the app, you can choose what you want from a variety of stores, including Costco, Freshco, Walmart and more. Someone will personally choose your products, pack them up, and deliver them to your door. For every $1 you spend, you earn a cent towards purchases later on. They deliver from 9am to 10pm Monday through Friday, and 9am to 7pm on Saturday and Sunday, depending on local store hours.
SPUD.ca Grocery Delivery
Delivery fee: free when you spend over $150 per order. Otherwise, they're 4.95 to $6.25 depending on your location
Delivery timeline: the time you schedule
How to order: download the Spud.ca app
Best for: grocery delivery services of local products to your door
If you're looking for fresh, local, sustainable products, Spud.ca is one of the best grocery delivery services. They bring the products you order with reusable packaging and offer next-day delivery service wherever they're available. You have to order a minimum of $30 and if you spend over $150, delivery is free. Every box is recyclable or reusable and they contain cold packs to keep food fresh.
Grocery delivery services in Canada are available in every town, city, and province. There are some places where it's very limited like Newfoundland, PEI and Labrador, and the territories. Some services will specifically target the west coast or the eastern provinces but there truly is an option for all Canadians. You can get your groceries delivered and even get in on convenient meal delivery services.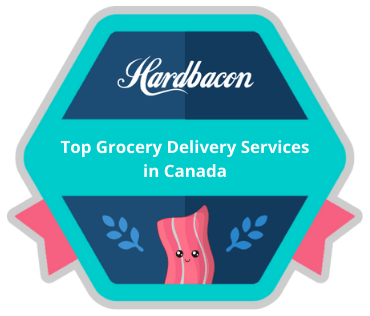 EQ Bank Card
Benefit from 0.5% cash back on purchases
This 100% free prepaid Mastercard also offers free ATM withdrawals in Canada, no FX fees, and up to 3% interest on deposits.
Get 3.00%* on everyday banking with EQ Bank