Why a Costco Canada Membership is Worth Your Money in 2023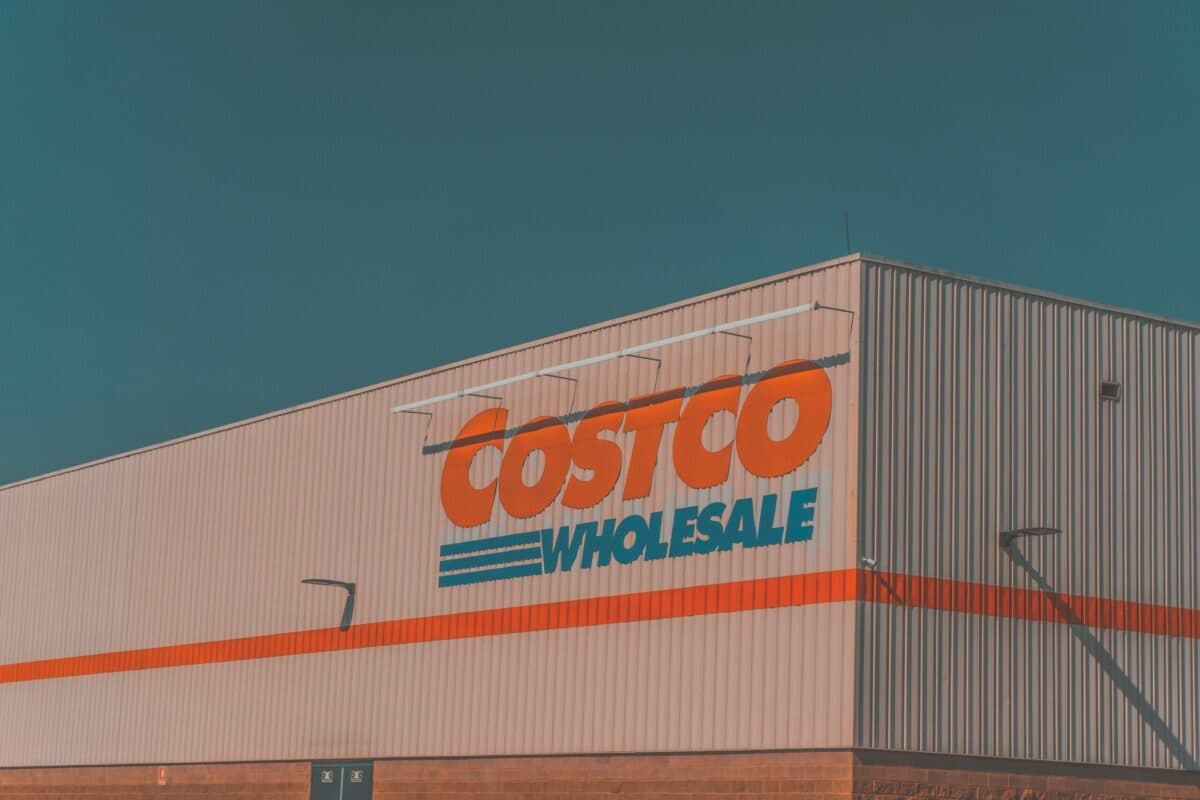 Table of Contents
[ Show ]
You may not love your grainy photo on your Costco Canada membership card but you still love shopping there. Costco has become a major retailer in Canada generating over 25 billion CAD in yearly revenue. The store is going all-out to attract Canadians and has special membership plans that come with some great perks.
There are more than 10 million Costco members in Canada and the number is fast growing thanks to great customer services and prices. If you don't already have a Costco Canada Membership then consider being a member as it comes with some great benefits. We'll have a critical look at Costco Canada membership in this article and answer all questions you may have about it. Let's get started!
What is Costco?
The company operates an international chain of membership-only retail stores and is the fifth largest retailer in the world. Canada is one of Costco's major markets with 107 stores. It's fast growing and already has stores in Canada, the UK, Mexico, Japan, South Korea, Australia, Iceland, China, Taiwan, Spain, France, with plans to enter New Zealand and Sweden.
What can I find at Costco?
What can't you find at Costco! I mean, they are branching out into new services and products all the time. It can be hard to answer this question because Costco is a large retailer that offers a variety of products like the following:
Groceries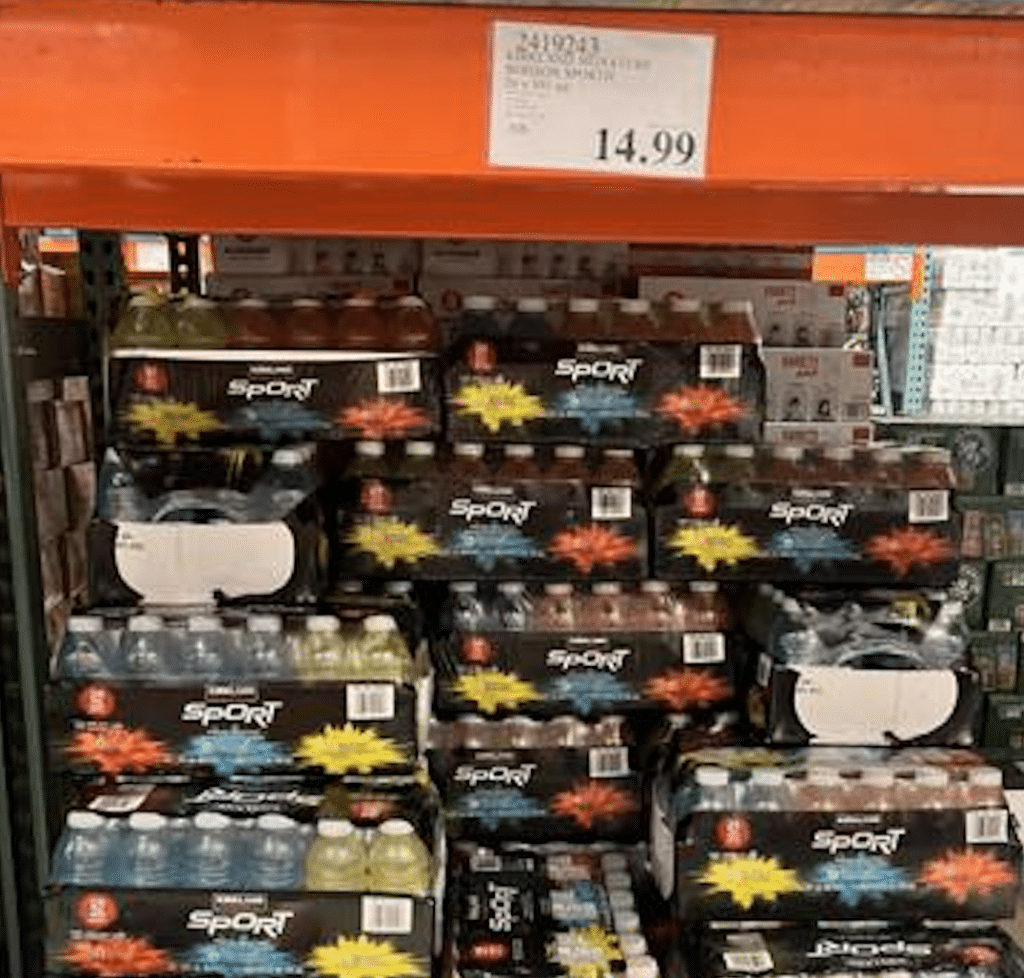 You will find all kinds of grocery items including meats, poultry, seafood, cheese & dairy, candy, snacks, and even gourmet food. There are also ethnic and speciality foods like kosher and halal in some stores.There are also breakfast items, beverages & water, and appetizers from around the world, in addition to coffee & sweeteners, and organic food. The generally low prices on fruit, vegetables, meat and snacks make it an ideal choice for families with children. The Kirkland brand offers products comparable to popular brands at a lower cost, such as a Gatorade-type sports drink.
A lot of people turn to Costco as it offers healthy food options. You can use Instacart to have your groceries delivered quickly.
Appliances
Costco has an appliances section where you will find all kinds of home appliances. You have a choice kitchen appliances including dishwashers, freezers, ice makers, microwaves, refrigerators, as well as vacuums, washers, beverage coolers, and heaters. Here you will not only find popular Canadian brands but several international labels as well.
Baby products
Parents will have a great time at Costco as it houses all kinds of baby products. This is the place for cheap diapers, wipes, training pants, baby formula, baby furniture, and baby safety items. Babies are expensive but Costco tries to make it less budget busting.
Beauty products and fashion accessories
Whether it's L'Oréal makeup or Huda Beauty lashes, you'll find it all at Costco. The store has beauty tools & accessories, nail care, makeup, fragrances, premium haircare, skincare, and bath & body products. Don't forget to have a look at the watch section where there are watches from various brands. Plus, you'll find other fashion accessories as well.
Computers
Costco is one of the few stores where you will not only find computer hardware including hard drives but software as well. In addition, you'll find iPads, tablets, laptops, and PCs from all major brands. It's a one-stop solution that provides all that a consumer may need including printers, scanners, cartridges, power cables, etc.
Electronics
You will find all kinds of batteries, TV sets, audio and video accessories, cameras, cell phones, musical instruments, and gaming consoles here. This is one of the largest sections as the company even houses digital goods including gaming codes. Moreover, you'll find Allstate Protection plans, security cameras, and smartwatches as well.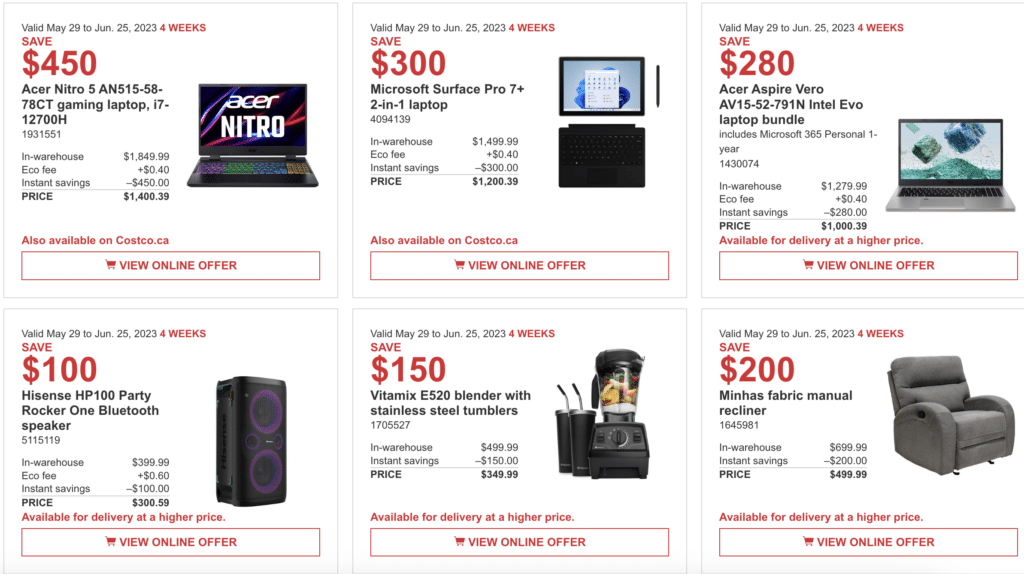 Gifts and gift cards
Want to buy a gift for your loved ones? Head to the floral or basket section where you will find a variety of gift items for all occasions. In addition, you can find gift cards too, ususally in the centre section near outdoor goods and toys. You will not only find Costco gift cards but some other popular brands as well. Plus, the company is now also offering tickets to events including movies.
Furniture
Furniture doesn't come to mind when one thinks of Costco but the store even offers large items including living room furniture, bedroom furniture, fireplaces, kids' furniture, and kitchen furniture. In addition, you will also find office furniture including a variety of tables and chairs. Moreover, the company has a mattresses section where you will find even orthopedic mattresses.
Clothing
You'll find clothes for everyone including men, women, and children. There are also accessories including handbags, wallets, and luggage. Moreover, work gear is also available.
Books and toys
Two more sections deserve a special mention here: books and toys. You will find all kinds of toys including dolls, action figures, water toys, remote control vehicles, and stuffed toys. Additionally, all kinds of books including adult novels and children's stories are available.
Auto & tires
Want to keep your car in good condition? Costco has a automotive section where you will find motor oil, wheels, batteries, garage flooring, tires and more. It is all easy to find.
Sports & fitness
Whether you're looking for sportswear, accessories, or sets, you will find some great deals at Costco. The company offers exercise machines, bikes, boards, golf clubs, and more. The selection might not be the same year-round.
Home improvement
A large number of people turn to Costco to buy home improvement products as it houses fire safety tools, safes, generators, flooring, building supplies, bathroom remodelling tools, and more. The store can be a great pick for do-it-yourself enthusiasts who want everything under a single roof. In addition, the company even offers home and installation services including HVAC installation, bath remodelling, gutter installation, etc. It is perfect for people who want professional help and don't want to take the matter into their own hands.
Personal care & hygiene
Costco has an ever-expanding personal care section where you will find massage equipment, reading glasses, travel immunisation, vitamins, wheelchairs, etc. It isn't as extensive as a retail pharmacy. However some stores will fill prescriptions, which we talk about later.
Travel
Here you will be able to book vacation packages, cruises, rental cars, hotels, and theme park tickets to make your next trip memorable. Costco Travel has proven to be quite a success and the company caters to all kinds of buyers including luxury and budget travellers. If you visit the official Costco website or check a nearby store, you will find that the company offers many more services and products. It aims to be a one-stop solution and offer everything an individual or business may need.
Pharmacy
You will find a full-service pharmacy at almost all Costco locations in Canada. They offer a wide variety of health-related services and products. Costco pharmacy is said to be one of the most affordable options in the country, making it a good option for people who need to purchase medicines and health-related products.
If you are a Costco member, you will even be able to order prescriptions online and have them delivered to your address. However, this service is presently not available in Quebec and Prince Edward Island. In those provinces you must go to a physical store with your prescription to get the required drugs or services.
Optical
You cannot just buy eyewear from Costco but also complete an eye examination at optical departments available at most Costco locations in Canada. On the plus side, you don't need an in-house prescription to purchase eyewear from Costco.
Costco gasoline
Costco gasoline is quite popular as it's usually priced about 7 cents below the regular price. You will find gasoline at most Costco locations in Canada but some stores still don't have this feature. This discount in price can be great if you refuel frequently. It will help cover the cost of your membership in no time
Other products
As a one-stop shop for all your purchases, Costco now offers caskets for just over $1,000. The warehouse site also has a section dedicated to businesses, featuring products such as office and catering supplies. In addition, Costco offers a discounted photo service.
Costco membership tiers
Now that you know about Costco and what the company offers; it is a lot. Let's find out more about Costco Canada membership tiers. Each tier comes with specific features and pricing.
Gold Star
Gold Star is the basic Costco Canada membership plan that costs only $60 per year and comes with up to two cards. One card is for the main member and the other for a household member above the age of 18. It is important that the other person shares the same residence.
This is the most popular Costco Canada Membership plan as it is also the cheapest. With this Costco Canada Membership, you will be able to shop at any Costco location. The price is low and worth a try.
Business
This one has a lot in common with the Star plan as it also costs $60 per month. With this card, you will be able to make resale, business-related, or personal purchases at any Costco store. A lot of people choose this option as it comes with some additional benefits including:
Neo Credit
None with the standard Neo plan
You can earn 2% cashback at the pump or convenience store locations and 4% cashback on transactions made through the Shell App. This offer is only available in British Colombia, Alberta, Saskatchewan, Manitoba and Ontario.
Add up to 6 affiliate cardholders
Request a free household card
Buy with the intent to resale
While the resale option is quite attractive as it can help you make some good money on the side, remember that you will have to submit resale information to the company in order to utilise the purchase-for-resale feature. If you need to supply a resale side-hussle, this is a good place to start.
This option is said to be more suitable for business owners including of companies of any size. It will not take you a lot of time to break even with this option since businesses are used to buying in bulk and you'll probably cover the cost in only a few months.
Executive
The most expensive Costco Canada Membership comes with some additional perks and costs $120 per year. The cost includes $60 for the basic plan and $60 for upgrades. This membership plan comes with the following:
A free household card
Special discounts on Costco Travel products
Special discounts on services including dental plans, insurance, and identity protection
Annual 2 percent reward on qualified purchases 
Of the three Costco membership tiers, the Executive level clearly provides the most benefits but it's important to determine whether the $120 annual membership fee is worth the investment for your personal needs or business before subscribing. You will be able to cover the cost in only a few trips to the store. You will only have to spend about $500 a month or $6,000 a year to break even if you choose this plan.
Executive business
At a cost of $120 per year, this card combines the benefits of the Executive and Business memberships. In addition, you receive an annual 2% discount on eligible warehouse purchases made on Costco.ca and Costco Travel, plus exclusive offers. You also retain the ability to resell merchandise and add up to 6 business account holders.
| | | | |
| --- | --- | --- | --- |
| Gold Star | Executive | Business | Executive business |
| 60$/year | 120$/year | 60$/year | 120$/year |
Costco membership fees
Costco Gold versus Costco Executive: which one is better?
Now that you know about available membership plans, let's compare the two to identify the right option. After all, why should you pay double for a package? What more does it offer?
First, the similarities. Both Costco Canada membership plans will give you access to the store's warehouses. Plus, you will be able to shop online without having to worry about any additional charges that non-members have to pay. In addition, as a member you will get to use Costco's services including discounts.
While expensive is not always better, this doesn't hold true when it comes to Costco Canada membership plans. The Executive plan indeed comes with some great benefits that the Gold Star plan doesn't offer. Read on to understand the big differences.
For starters, Executive Costco members can enjoy greater discounts and perks on services such as identity theft protection and cheque printing. You also get free roadside assistance for members covered through the company's auto insurance offering. According to the company, Executive members can enjoy great travel benefits including free breakfasts at some top hotels and tour credits. That is a lot of benefit for the price
The best way to identify the right option is to determine how much you will spend at Costco in a month or on every single visit. The Executive plan can be a great option if you spend at least $6,000 a year. Why? It will allow you to cover the cost of the standard plan thanks to the company's two percent reward feature.
The reward feature is money back in your pocket. This is the main difference between the two plans. Rewards are paid in the form of annual rewards certificates that are mailed out at the time of membership renewal. 
Costco or Amazon Prime?
If you don't mind doing all your shopping online, Amazon Prime is a sound alternative to Costco. Amazon Prime Canada costs $9.99/month or $99.99/year. Savings on express shipping fees will more than makeup for the cost of the membership. You will get free express Amazon Prime delivery, which is 1-2 day shipping, and other products like Prime Video, music streaming, and Prime Books. However, Amazon does not offer as many grocery products as Costco.
Executive two percent reward: how it works
As explained earlier, only Executive members get to enjoy this perk. The reward is based on qualified Costco Travel, Costco.com, and Costco purchases, and the amount is capped at $750. Remember that not all purchases qualify.
However, there are exceptions including gasoline, gift cards, food court meals, and alcohol. Most people will not have much of difficulty to break-even but maxing out the potential reward of $750 can be difficult as it requires spending at least $37,000 at the store. That's a lot of money but if you choose Costco for most of your purchases then we believe it will not be much of an issue.
Costco Canada membership pros
Here are some of the main benefits of Costco and some reasons why you should opt for a Costco Canada membership plan:
The store offers a wide variety of products and services making it a good option for all kinds of buyers.
You will find a large number of brands at the store including local and international names. 
Costco has free sample tasting kiosks that make food shopping a great option. Plus, the quality of food offered at the store is very good.
The company has an excellent refund policy. 
Costco puts customers first and offers exceptional customer service.
Costco Canada membership cons
Costco sounds great but it does have some cons as well:
The store can be very crowded and lines are often very long.
Perks such as gift cards are only for new users.
Some prices are on the higher side.
How to sign up for a new Costco Canada membership
It is very easy to sign up for a new Costco Canada membership. You can do so by visiting your nearest Costco location or signing up for an account online. You don't have to book appointments in advance.
If applying in-person, go to the Membership area, which is usually near the exit door, near the restaurant. You might be asked to provide an identification document when you request a card. Similarly, resale certificates and business licences may also be requested based on our membership type.
It might be a good idea to get in touch with the company beforehand so that you don't forget requried documents. If you are signing up for a business account with the intention to resale as certain goods, like tobacco products, you may require additional licences or certificates. Once you provide all the documents, you will be asked to take a photo for the card and pay.
They will give you your card right away. There's no waiting period. You will be allowed to shop right away.
Another option is to sign up to Costco online. In the Membership page, provide the required information including the type of Costco Canada Membership you're interested in. You will not be able to start shopping right away.
It can take up to two business days to receive a membership number. You will only need this number to shop online. You will not be mailed a physical card. The best thing is that you don't need a physical card to shop online and you can pick one whenever you visit a Costco store to shop.
Setting up Costco online shopping is easy. Choose what you need, add it to your cart go through the terms and conditions. When you choose 'Accept', you can proceed to make the payment.
How to renew Costco Canada membership 
Renewing your Costco Canada Membership is as easy as signing up for a new one. Again, you can do it online or by visiting your nearest location. Visit your nearest store with your membership card and request renewal when you check out. The process will take only a few minutes.
If you wish to do it online, simply login to your account and choose "Renew Membership". It will take only a few minutes; however, your online account must be verified before you can renew your membership. 
This can be done by heading over to your nearest Costco location and requesting renewal. You will receive a verification email at your registered email address. This email is only valid for 48 hours, so make sure to be quick. You will receive an email once the process is complete. All cards including secondary cards will be renewed.
What else does Costco offer?
Don't make the mistake of assuming Costco is just an online store offering home and office products. Best known for offering gracious discounts on products and services, the company covers a wide range of services discussed earlier. However, there's still more to discuss.
Traditional shopping experience
Costco offers a traditional shopping experience where you can visit your nearest Costco store and shop your favourite products and services. Stores are large and neatly designed. They are easy to navigate and you will have no difficulty in finding your desired section. The company doesn't currently offer free Costco Canada membership, shopping passes, day passes, trial passes, guest passes, trial memberships, or other trial period offers. On the positive side, you don't have to be a member to enter the store.
Online shopping
Costco understands that people love to shop online and not everyone has the time or willingness to go to a physical store. This is why the company has made it possible to browse and buy all kinds of products and services online.The online shopping experience is pretty easy and you will have no difficulty navigating the site.
It works like most major platforms. You must sign up in order to purchase and guest checkouts are not available for most products and services. Signing up will link your account to your Costco membership provided that you enter the required details.
The payment process is seamless and you will be able to choose from a variety of payment methods. Costco offers quick delivery including same-day delivery in some places but only a few purchases qualify for the same-day offer. In most cases, you will receive your purchases in under 48 hours.
Costco credit card
This feature deserves special mentions as it comes with some great perks and could be a great option for users who already have a Costco Canada membership. Otherwise, you can use Mastercard or Visa branded credit cards at Costco locations. If you are a regular consumer, then you should compare available credit cards or consider signing up for a CIBC Costco Mastercard.
With the CIBC card, you will also get to enjoy insurance protection including mobile device insurance coverage that comes with traditional CIBC cards. The card can make it easier to shop at Costco as you will be able to enjoy flexible payment plans.
New members who join the Executive membership and apply for a CIBC Costco MasterCard on the same day will receive a $60 statement credit. Upon receipt of your new CIBC Costco card, you must make a purchase of at least $60 within 120 days. Once these two steps have been completed, the credit will be applied to your account within 12 to 16 weeks. This card offers you :
3% cash back at Costco restaurants and gas stations
2% cash back at other gas stations and on Costco.ca
1% on all other purchases, including at Costco
Alternatives to the Costco credit card
Walmart credit cards are among the best store credit cards that help you save money. The Walmart Rewards Card offers 1.25% cash back on every dollar you spend at Walmart and 1% on your other purchases. The best thing about Walmart credit cards, compared to Costco, is that you don't have to wait a year to cash in your rebates. As soon as a $5 rebate is available, you can apply it directly at the cash register to your purchases of the day.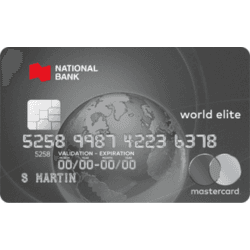 With the National Bank's World Elite Mastercard, you earn up to 5 points per dollar on grocery and restaurant purchases, 2 points per dollar on gas and electric recharge purchases, recurring bills and À la carte Travel, as well as 1 point per dollar on all other purchases. You also have access to a $150 annuel travel credit.
The BMO CashBack credit card is also free. With 3% cash back on groceries, you can store wherever you want and save. You'll also get 1% off regular bill payments and 0.5% off all other purchases. A welcome offer even gives you 5% back for the first three months. It's a great way to take advantage of cash back to use as you see fit.
Costco doesn't always mean saving money
There are two reasons why most buyers choose a Costco Canada Membership:
They can get all kinds of products under a single roof
They can get great discounts
However, we must mention that just because Costco offers exciting discounts, doesn't mean you will always save money. Not everyone reaches the break even point and some people may end up losing money. The good thing is that the basic membership only costs $60 so you will not be losing a lot of money.
Most Costco buyers buy in bulk, which may not be suitable for everyone. While this might mean a good unit price, buyers often end up buying things they do not need, only for goods to stay on the shelves and expire unused. This means a loss of money that rarely gets accounted for. Some users also agree that it can be hard to come out of a Costco store without some unnecessary purchases such as candies or toys. 
"Warehouse clubs rarely help buyers save money," warns Billie Blair, CEO of Change Strategists, Inc., and an organisational psychologist by qualification. According to her, membership fees, spoilage from overbuying, and the habit of purchasing in bulk are some of the main reasons why this happens. Also, don't go to Costco assuming it's the cheapest place to get your desired products or services.
While some products are indeed cheap, you may find other stores that offer the same product at a discounted rate. As a shopper, it is your responsibility to compare available options and pick the store that fits you the best. In the end, it is possible to save money with a Costco Canada Membership if you shop wisely. The key lies in only buying what you need and comparing prices before making a purchase.
How much should I spend at Costco?
This is an important question since a large number of people end up overspending when they go out to shop. First thing first, there's no specific figure one has to spend as you should always buy according to your budget. If you go out to spend $100 then make sure to only send $100 and not a penny more.
However, we can give you a specific figure to spend every month to cover your initial cost of a Costco Canada Executive plan. According to our calculations, you must spend at least $500 per month to cover these costs. Since it's a yearly plan, you can also choose to spend $6,000 in total and you will still cover your membership costs through the two percent rewards offer the Executive plan comes with.
It is easy to calculate rewards. Since you'll be earning two percent, every $100 you spend at the store will earn you $2. Anyone who spends more than $6,000 a year will be in the black.
Again, there are incentives to spend more, especially if you have a Costco Mastercard. It comes with more rewards and will help you cover membership costs even quicker. Still, remember that not all purchases qualify.
How to use Costco membership
Your Costco Canada membership card will work at any Costco location worldwide and not just in Canada. You'll be required to show your card when entering any Costco warehouse and also when checking out. That can be useful when you have a home in the United States and you want to shop at Costco there.
For a card to be valid, it must contain both your photo and a card number. Visit your nearest Costco store if your membership card doesn't have a photo. This is important because pictures prevent unauthorized use and will keep you protected if your card even gets lost or stolen.
You can contact the company by visiting your nearest store or calling 1-800-774-2678 in case your card gets stolen. Remember that all membership cards are non-transferable and a single household or business can only have one Executive Membership. For online shopping, simply enter your card details and the system will match it and authorize you to shop online.
How to quickly pay off your membership cost
Costco memberships are not free. You might be wondering if the cost of the membership can be covered through what you save by shopping there. Here are some quick ways to offset membership costs:
Costco guarantees
The company offers a 100% satisfaction guarantee and will refund the amount if you are not satisfied with your purchase of Costco membership. You will have the option to request a refund at any time during your membership. The company offers a no questions asked policy. 
This is a great option for people who still aren't sure if they should go for a Costco Canada Membership. You can sign up and choose to get a refund if you are not happy with your purchase. It is a risk-free opportunity.
Tires
Costco can be a great pick for car owners since the company offers major discounts on tires. The savings can be up to $80. This means you can offset membership costs with a single purchase.
Gas
As mentioned earlier, Costco is one of the best places to buy gas in Canada since its prices are cheaper. You can save about 7 cents per litre. Considering the average fuel efficiency in Canada is 8.9 litres of gasoline per 100 kilometres, and the average mileage is 15,200 kilometres, it can be said that you will be able to save about $94 per year.
Wine
Enjoying partying with your friends and sipping your favourite wine? Costco can be a great place to buy wine as it offers high savings. It can be up to $5 per bottle.
Costco Canada Membership: Frequently Asked Questions
Still have queries about a Costco Canada membership? That is ok. Here are some of the most commonly asked questions.
How much is a Costco membership in Canada?
Costco offers two membership tiers in Canada. The cheapest memberships (Gold Star and Business) costs $60 per year and the more expensive packages (Business Executive and Executive), which comes with additional perks, costs $120 per year.
Both membership plans can be used to purchase online or offline at physical stores. They are applicable at all Costco locations including international stores.
How much is Costco Executive Membership in Canada? 
The Executive plan is a top tier plan that costs $120 per year including $60 for the standard plan and $60 for the added perks. 
You can cover the cost of an Executive plan in a year if you spend $500 per month or $6,000 per year through the 2% cashback offer that rewards consumers for choosing Costco. Moreover, you can boost savings by choosing a credit card that comes with additional saving opportunities.
How to get a Costco membership in Canada?
It is very easy to get a Costco Membership Canada. You can do it online or by visiting your nearby Costco location.
Go to any store and request a membership. You will be asked to show proof of ID such as your driver's licence and will be issued a membership card on the spot after you pay the required fee, either $60 or $120 based on your plan). 
Alternatively, you can choose to sign up for a new account online through Costco.ca.
Can you shop at Costco Canada without a membership? 
Yes, it is possible for non-members to shop at Costco. You can use the Costco Cash Card, which is basically a gift card, to shop at Costco stores or online stores. However, these cards can only be bought by members and come with a limit of $1,000 per card.

Another option is to go with a member but remember that guests don't have purchasing privileges and you will have to ask your friend to buy on your behalf.

Also, you don't need a membership to purchase certain products including alcohol, which anyone can buy in Alberta. Also, you don't need a membership to buy alcohol online in Canada. The same goes for Costco pharmacy. Once you enter the store, indicate that you intend to go to Costco pharmacy and you will be allowed to shop without having a membership. Moreover, in some states, non-members may also be allowed to receive specific medical services.

Also, non-members can check the food court and enjoy delicious meals without any issues. This, however, only applies to outdoor and seasonal food courts and interior food courts are only for members.
Is Costco membership worth it in Canada?
Costco Canada Membership is definitely worth it for anyone who spends at least $6,000 a year on eligible purchases. This includes groceries, gas, travel services, and more. 

The cheaper plan, which costs $60 a year, might not be the best option as it doesn't offer great discounts and only comes with the ability to shop at any Costco store without any issue. If you are serious about saving money then consider the $120 Executive plan that will make you eligible for greater discounts and help you break even in no time as it offers two percent rewards on eligible purchases.
Will a Canadian Costco membership card work in the US?
Yes, your Canadian Costco membership works anywhere in the world, including the United States.
Is shipping free with a Costco Executive membership?
No, the Executive membership does not include free delivery. Its main advantage over the Privilege membership is the 2% discount.
Is the Costco Executive membership worth it?
Yes, the Executive plan, at $120 a year, is worth it. It makes you eligible for bigger discounts and you will break even quickly, thanks to the 2% rebates on eligible purchases. We've calculated that annual purchases of $6,000 or more cover the cost of membership. If you do your grocery shopping and major household purchases at Costco, you'll get to that amount in no time.
Does Costco do passport photos?
No, Costco does not take passport photos. However, their photo printing service still works. You can use an application on your phone to take your photo yourself, in the correct format, and then have it printed at Costco.
At what time does Costco close?
Closing time varies from one warehouse to another. You'll need to check your store's opening hours directly on the Costco website.
Are dogs allowed at Costco in Canada?
Costco only allows service animals. Employees are allowed to verify if the animal is a service animal.
Is the Apple watch cheaper at Costco?
It is a little bit cheaper for now, but we recommend that you always compare with the price offered by Apple. Currently, Apple's price is $529 and Costco's is about $15 less.
EQ Bank Card
Benefit from 0.5% cash back on purchases
This 100% free prepaid Mastercard also offers free ATM withdrawals in Canada, no FX fees, and up to 3% interest on deposits.
Get 3.00%* on everyday banking with EQ Bank