Costco Vs. Walmart: Which one is best for Canadian shoppers?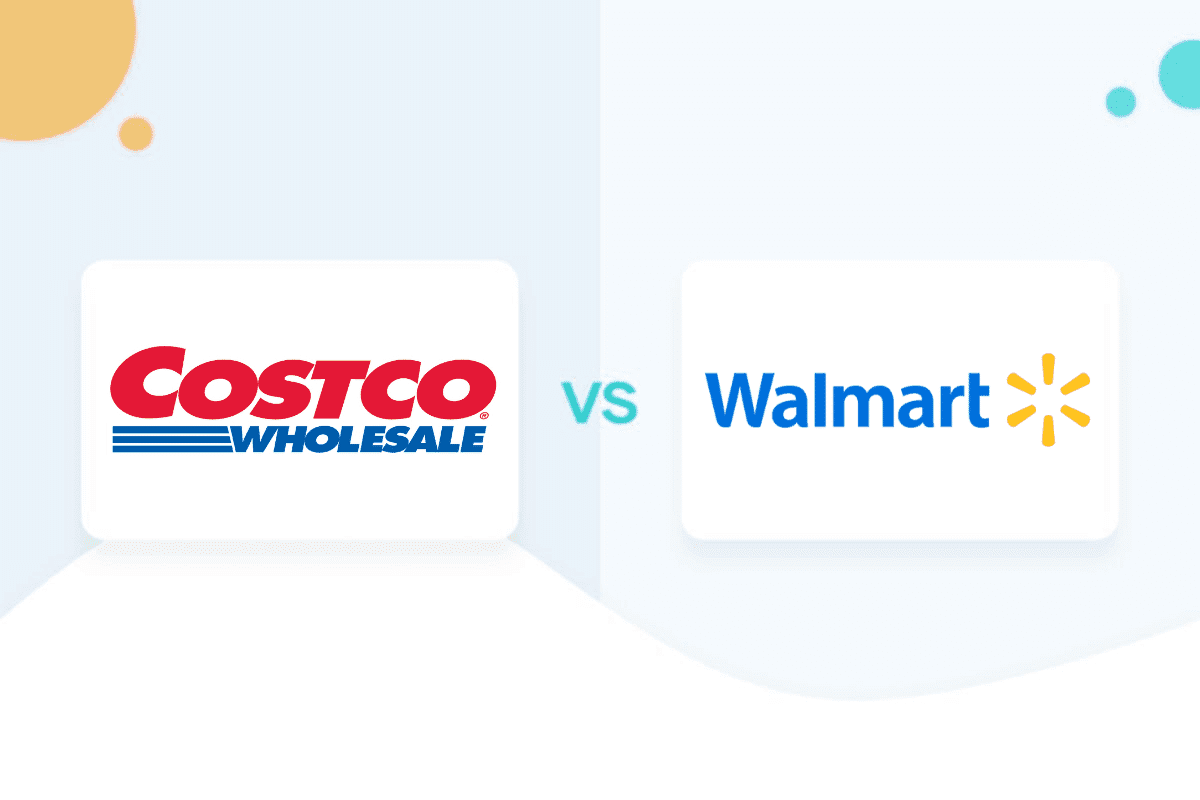 When it comes to retail shopping, Canadians often find themselves comparing the two top options — Costco and Walmart. Both stores boast an extensive selection of products at competitive prices. They also provide various customer retention incentives, including membership programs and discounts on specific products. More than that, Canadian banks such as Fairstone and CIBC issue supermarket credit cards for each retailer, allowing customers to earn cash back and save even more.
In this article, we will compare Costco vs. Walmart prices across different categories, including groceries, electronics, apparel, and home & garden, credit cards and online shopping. For the sake of objectivity, we will also compare prices for products sold online by each store in some categories to find which store provides better value.
Costco Vs. Walmart: Groceries
Costco's bulk-buying model is ideal for larger families or those who prefer to do grocery shopping less frequently, enabling them to do their grocery shopping less frequently while saving money. What's more, the Kirkland Signature in-house brand offers high-quality products that are often comparable, if not better, than name brands at a lower cost. However, you won't be able to buy anything in-store without a paid Costco membership, starting from $60 per year.
On the other hand, Walmart caters more towards traditional shoppers who don't want to buy in bulk, offering competitive prices and boasting an impressive array of large and small packages from multiple well-known brands, including its own Great Value label providing budget-conscious customers with even greater savings. Unlike Costco, you don't need any membership to shop at Walmart.
The current price inflation for certain food products caused by the Russian-Ukrainian war has considerably affected family budgets. So, let's take a closer look and compare Costco Vs. Walmart grocery prices and find out which store is more cost-efficient in terms of grocery purchases.
Product
Costco Product/Price
Walmart Product/Price
Winner
Canned Tuna (In water)
Kirkland Signature Solid Light Tuna in Water, 8 × 184 g

$18,99 ($1,29 per 100g)
Clover LEAF® Chunk Light Tuna in Water

$1,87 ($1,10 per 100g)
Walmart
Chicken breast
Kirkland Signature Chicken Breast Canned, 6 × 354 g

$21,99 ($10.36 per kg)
Mina Halal Boneless Skinless Chicken Breast

$23 ($14,4 per kg)
Costco
Kraft Dinner Mac and Cheese
Kraft Dinner Original Macaroni and Cheese, 12 x 340 g

$18,49 ($0,45 per 100g)
Kraft Dinner Original Macaroni & Cheese, 4 x 250 g

$5 ($0,56 per 100g)
Costco
Twinings Tea Earl Grey
Twinings Tea Earl Grey, 2 × 288 g

$31,99 ($5.56 per 100g)
Twinings Earl Grey Tea (200g)

$13.97 ($6.98 per 100g)
Costco
Pork Bacon
Kirkland Signature Crumbled Bacon, 567 g

$13,49 ($2,38 per 100g)
Great Value Real Bacon Crumble

$4,47 ($5,96 per 100g)
Costco
Quinoa
Clic Quinoa Seeds, 5 Kg

$22,99 ($4,59 per kg)
Great Value White Quinoa, 800g

$5,97 ($7,1 per kg)
Costco
Olive Oil
Kirkland Signature Olive Oil, 3 L

$33,99 ($11 per liter)
Great Value Extra Virgin Olive Oil, 1L

$8,97
Walmart
Spaghetti
Griss Pasta Giardino Spaghetti, 4 kg

$12,99 ($3 per kg)
Great Value Spaghetti

$0,97 ($2,4 per kg)
Walmart
Flour
Creative Baker All Purpose Flour, 10 Kg

$14,99 ($1,5 per kg)
Great Value Original All-Purpose Flour 10kg

$11,97 ($1,2 per kg)
Walmart
Long Grain Brown Rice
NuPak Long Grain Brown Rice, 8 kg

$18,49 ($2.31 per kg)
Great Value Long Grain Brown Rice, 2kg

$6.47 ($3,2 per kg)

Costco
Cereal
General Mills Cheerios, 1kg

$14,49
Original Cheerios Breakfast Cereal, Family Size, Whole Grains, 570 g

$6,97 ($12.23 per kg)
Walmart
Lean Ground Beef
Kirkland Signature Lean Ground Beef 3.250 Kg

$39,99 ($12,3 per kg)
Your Fresh Market Lean Ground Beef, 450g

$6,97 ($15,5 per kg)
Costco
The Winner: Costco
When it comes to groceries, a comparison of Costco and Walmart reveals that the former's bulk-buying approach is typically more cost-effective for clients. Although Walmart doesn't require you to have a membership and offers a lower price than Costco on items such as canned tuna, olive oil, spaghetti, flour and Cheerios cereal, their prices are higher for other products.
We've also carefully reviewed prices for products not included in our list and found out that Costco has better prices in general for vegetables, berries, meat and poultry. Plus, Costco has a great bakery section boasting an array of delicious treats, from cakes to breads — all at wallet-friendly prices. Many Canadians also note that Costco has a far better quality of food products compared to Walmart.
Costco Vs. Walmart: Electronics
When purchasing electronics, Costco and Walmart offer a great selection of products ranging from computers to cameras. Both stores have competitive prices and solid return policies, making the decision between them rather difficult. Costco has more high-end devices with bonuses such as extended warranties. However, these deals are usually exclusive for members or in-store only.
Conversely, Walmart offers an extensive array of electronic items at various prices. Additionally, their expansive online presence offers customers shipping options or in-store pickup. To get an idea of which store provides better value, let's compare the cost of certain gadgets offered by both retailers!
Product
Costco Product/Price
Walmart Product/Price
Winner
PlayStation 5
PlayStation 5 Console with Red Controller (2 dual sense controllers)

$742,99
PlayStation 5 Digital Console plus PlayStation5 DualSense wireless controller

$779,99
Costco
AirPods 3
Apple Airpods 3rd Generation with MagSafe Charging Case

$187,99
AirPods (3rd generation with MagSafe charging case)

$239
Costco
Apple 10.9″ iPad (10th generation)
Apple iPad 10, 10.9 in. 256 GB, Wi-Fi, A14 Bionic Chip with Neural Engine

$798.99
Apple 10.9″ iPad (10th generation) 256GB Wi-fi

$799.98
Costco ($1 difference)
Apple iPhone 14 Pro MAX
Apple iPhone 14 Pro Max Unlocked 128gb

$1,539,99
APPLE IPHONE 14 PRO MAX 128GB SILVER

$1,942,77
Costco
Google Nest Audio Smart Speaker
$129.00
$129.99
Costco ($1 difference)
Google Pixel Watch
$449.00
$449.98
Costco ($1 difference)
Insta360 X3 Action Camera
Insta360 X3 Action Camera Creator Kit

$699,99
Insta360 ONE X2 360 Degree Waterproof Action Camera, 5.7K 360, Stabilization, Touch Screen, Live Streaming, Webcam, Voice Control + 50-in-1 Accessory Kit + 64GB Card + Card Reader + Cleaning Kit

$619,95 (special offer)
Walmart
Duracell CopperTop AA Batteries
Duracell CopperTop AA Batteries with Power Boost Ingredients, 40 count

$25,99 ($0,65 per piece)
Duracell CopperTop AA Batteries, 48 ct.

$59,99 ($1,25 per piece)
Costco
Yamaha PSRE360 B Portable Keyboard
$239,99
$368,99 (special offer)
Costco
Anker PowerCore III Sense 10K Wireless Portable Charger
$49,99
$103,99 (special offer)

Costco
Motorola G Stylus 5G
$409,99
$219.99 (special offer)
Walmart
Beats Studio Buds
$199,99
$199,98 (special offer)
Walmart ($0,01 difference)
The Winner: Costco
When it comes to electronic shopping, Costco is the clear winner over Walmart in most product prices — even if there are only minor differences. You can expect competitive rates from Costco on pricey items such as the PlayStation 5, Apple iPhone 14 Pro Max and AirPods 3rd Generation. Plus, they often offer accessories or extended warranties with these products.
Even with discounts, Walmart electronics are usually more expensive in most cases. Also, note that Walmart may have newer models of certain electronic devices, while Costco doesn't, and vice versa. So make sure you check both websites before making a purchase.
Costco Vs. Walmart: Apparel
When it comes to apparel, both Costco and Walmart in Canada have a vast selection of options — from designer labels to budget-friendly finds. It's worth noting that the two stores source their wares from multiple suppliers. Consequently, there can be considerable differences in quality, style and cost.
Costco's apparel section may not offer the same selection as a traditional store or Walmart, but their quality and prices are highly valued by customers — especially those from their Kirkland Signature line. Occasionally, they even have some designer brands in stock though availability can be somewhat unpredictable.
Walmart is the go-to for those seeking a wide range of clothing styles and sizes. With an array of both affordable private labels and popular brands, it caters to all budgets. Visiting Walmart for apparel is usually more reliable than Costco. You're much likelier to find what you need. We won't compare apparel prices, as the two stores' selection is quite different, so it is almost impossible to find the same items.
The Winner: Walmart
The screenshot below clearly shows why Walmart is a winner, especially when you order apparel online. While more than 100 items are in the men's clothing category at Costco, thousands are available at Walmart. In other categories, Costco is also far behind Walmart in clothing selection.
Walmart's selection of apparel is vast, ranging from everyday and formal clothing to nightwear and sportswear. They've got something for everyone and all shapes, with an array of plus sizes and maternity clothes.
And don't forget about the in-store shopping experience, which is much better in Walmart, with clothing organized by category and dressing rooms available for customers. At Costco, clothing is usually displayed on pallets or tables in stacks, which can sometimes make it harder to find your size without going through the piles does not provide dressing rooms, so you'll need to be sure of your size before purchasing.
Costco Vs. Walmart: Home and Garden
Costco and Walmart have an impressive selection of Home and Garden products, making them a great go-to for everything from furniture to appliances, outdoor items, tools, or home decor. Walmart generally boasts a far wider range of products than Costco in the Home and Garden Category. Walmart offers multiple private labels, including Mainstays, Better Homes & Gardens, and Hyper Tough.
Regarding quality, Costco tends to provide consistently above-average quality across different categories, including Home and Garden. On the other hand, Walmart offers an expansive variety when it comes to product quality — from budget options to more premium items.
For instance, let's try to search for a BBQ Grill. At Costco, we got only 28 results for this product, while at Walmart, there were more than 25 pages with various grill models for every budget! When we searched for patio chairs, we got only 37 results on Costco's website and more than 1,000 on Walmart's website. If you try to search for any other product in the Home and Garden category, the results will be the same. So, the winner is obvious.
The Winner: Walmart
Thanks to its immense selection of products, Walmart is a winner in the Home and Garden category. The wide range of products available at Walmart offers shoppers plenty of options so they can easily compare different items side by side before making their decision — an invaluable advantage, especially when looking for unique choices or simply wanting as many alternatives as possible.
Costco Vs. Walmart: Online Shopping
In the digital age, online shopping is extremely important, and both Costco and Walmart offer impressive eCommerce platforms. Let's take a look at what both platforms offer their customers.
Walmart: Online Shopping
With its vast selection of products that almost mirror what you'd find in its physical stores, it's no surprise why Walmart stands out for its exceptional online experience. They have great features like free home delivery on orders over $35, excluding online grocery orders, and free pickup at your local store. Thanks to an intuitively organized layout, customers can quickly search for items or compare them easily on the Walmart website.
With a Walmart Delivery pass, available in-app only, you will get free next-day delivery on orders over $35, including online grocery orders, for just $8.97 monthly or $89 per year. Plus, you will enjoy additional discounts on groceries.
Costco: Online Shopping
Shopping at Costco online is just also quite easy and user-friendly. They provide plenty of bulk items for purchase that you may only find online and special deals exclusive to their website. Furthermore, they offer delivery services ranging from regular shipments to same-day groceries delivery for orders over $35 via Instacart. It's worth noting, however, that many high-end electronics or appliances are available exclusively through the website. Plus, if you are not a member, you won't be able to buy certain products online, and you will also have to pay a $3 Costco Grocery Surcharge fee for each item tagged "Costco Grocery."

You won't pay this fee if your total order for Costco Grocery items is less than $75. So, you may pay more for some grocery products than if you don't order them in bulk.
The Winner: Walmart
Walmart is a clear winner, thanks to its vast selection of products. You can literally find everything you need in one place. Plus, free delivery for all orders over $35, excluding groceries, beats Costco's delivery unless you only shop online to buy groceries. But with a Walmart Delivery pass subscription, Walmart will also deliver groceries for free. Moreover, their interface has been designed with users' needs in mind, making it more user-friendly than Costco's.
Costco Vs. Walmart: Credit Cards
Costco and Walmart are both offering exclusive credit cards in Canada that offer various benefits for loyal customers. Let's take a look at each credit card's benefits.
CIBC Costco Mastercard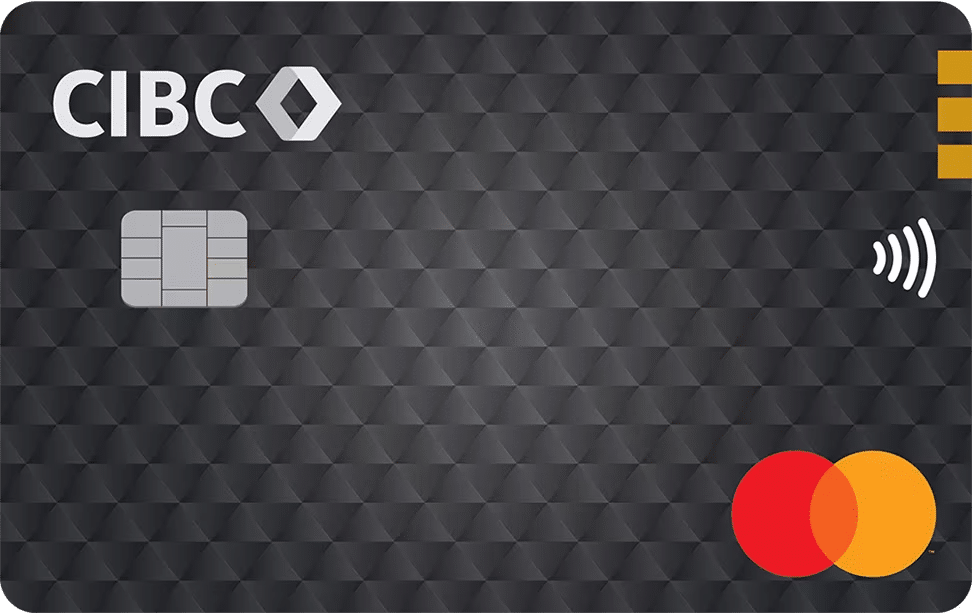 Annual Fee: No fee (up to 3 additional cardholders at $0 fee)
Interest rate: Purchases – 19,75%, Cash Advances – 21,49%
Required annual income: $15,000
The CIBC Costco Mastercard is a credit card that offers cash-back rewards for purchases made at Costco and other retailers. You can earn up to 3% on all of your favourite stores, from dining out and gassing up at Costco Gas. And when you buy gas at other gas stations and shop online with Costco, you will get 2% off all your purchases. For all other purchases, you will earn 1% cash-back. This credit card is available for Costco members only. You can redeem your cash-back once a year as The Cash Back Gift Certificate. This certificate can use this certificate only for purchases at Costco.
If your minimum individual annual income is at least $60,000 or your household income is at least $100,000, you can apply for the CIBC Costco®† World Mastercard®. In addition to the aforementioned benefits, it comes with additional insurance coverage and unique offers from Mastercard partners.
Walmart Rewards Mastercard
[Offer productType="CreditCard" api_id="5f71f34736a168616a45e125″]
The Walmart Rewards Mastercard is a credit card that allows you to earn cash-back rewards for purchases made at Walmart and other retailers. With this credit card, you can reap up to 1.25% cash back on items purchased from both Walmart stores and its website (Walmart.ca) and 1% when shopping anywhere else. Upon signing up, you can even receive a $50 bonus in Walmart Rewards Dollars. This card is great for Apple fans, as you will get 5% cash-back for all Apple products you buy either online or in-store at Walmart. You can redeem your cash-back dollars at offline Walmart stores and online as well once your cash-back reaches at least $5.
You can apply for Walmart Rewards World Mastercard if your annual household income is higher than $100,000. This card has higher cash-back rates of 3% on Walmart.ca purchases and 1,25% when you buy gas at any gas station in Canada. Plus, you will get additional insurance coverage and benefit from Mastercard World offers.
The Winner: Tie
Choosing between the CIBC Costco Mastercard and Walmart Rewards Mastercard is a subjective matter, as it really depends on one's spending habits and preferences. The former offers lower interest rates and higher cash-back for dining and gas purchases at Costco. On the other hand, the latter has a more flexible redemption option. While its interest rate might be slightly higher than that of CIBC Costco Mastercard, it could still prove attractive to frequent shoppers Walmart shoppers. Plus, with Walmart Rewards World Mastercard, the cash-back for purchases online at Walmart increases to 3%. So, in conclusion, both cards offer distinct benefits, making either an appealing choice depending on individual needs.
Costco Vs. Walmart: The Verdict
Walmart came out on top in three categories out of six examined here: Apparel, Home & Garden and Online Shopping. Furthermore, their credit cards tied with those from Costco when it comes to rewards and benefits offered. This is not to suggest that shopping at Costco isn't a great choice for certain shoppers, particularly families who prefer buying groceries in bulk. However, Walmart seems to be better for most Canadian customers due to a better online shopping experience, a significantly broader selection of products, and a broader network of stores across Canada.
EQ Bank Card
Benefit from 0.5% cash back on purchases
This 100% free prepaid Mastercard also offers free ATM withdrawals in Canada, no FX fees, and up to 3% interest on deposits.
Get 3.00%* on everyday banking with EQ Bank