The Ultimate Guide to Telehealth for Canadian Employers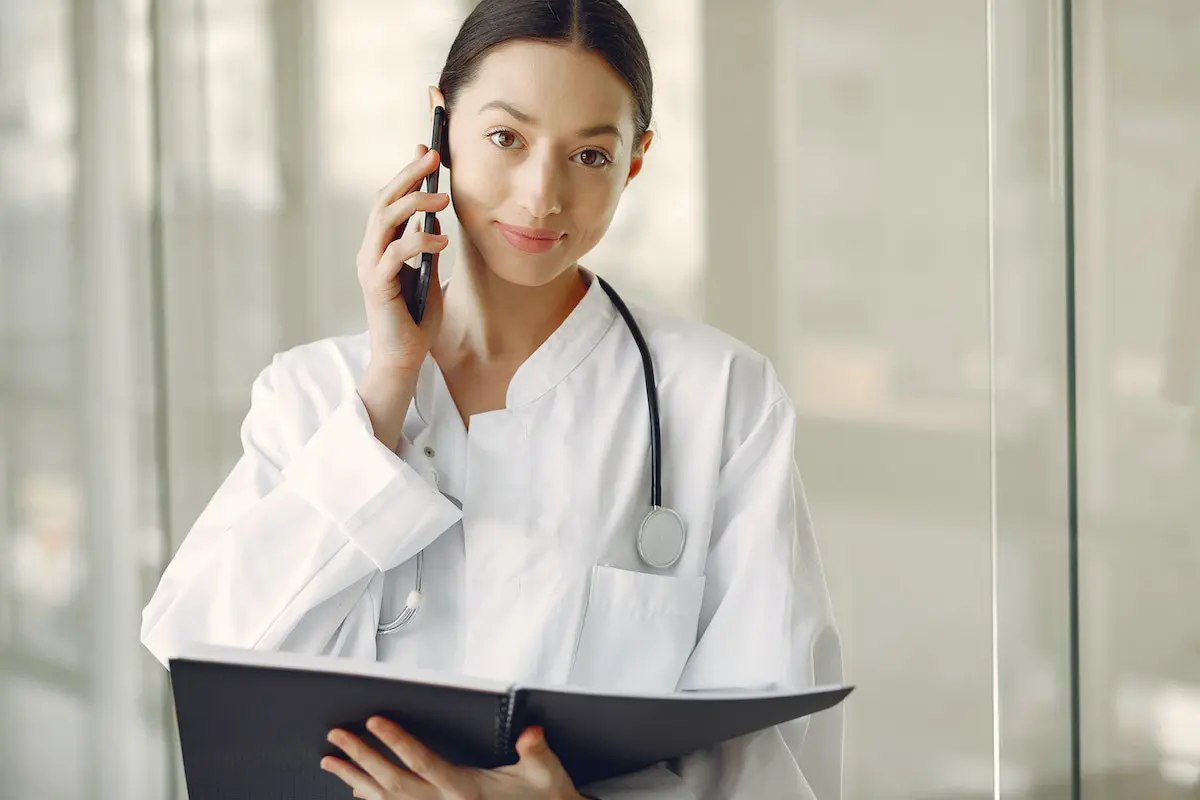 Telehealth offers clients an opportunity to meet with their healthcare provider over a phone call, video chat, or text messaging system. Telehealth appointments make it possible for you to visit with a doctor and discuss your concerns from the comfort of your home, and on your own schedule.
This is especially helpful for people without reliable means of transportation or who are caring for children or loved ones who cannot be left home alone. Telehealth covers a broad range of conditions and ailments.
Benefits of telehealth for employers
With free healthcare available to anyone who needs it, employers may not see the benefit of signing up for a telehealth service. Rather than seeing telehealth plans as an extra expense, it is important to consider the benefits to employees and long term savings that good health can provide a company.
Using telehealth services can save a business with 30 employees up to $57,600 per year in lost productivity due to sick days.
Employees are less likely to seek preventive care if it is inconvenient, and they may even come to work sick-spreading illness to other employees and being unable to focus during working hours. The alternative is to take several days off sick waiting for an appointment, or needing an entire day for a routine doctor visit.
Some reports have shown that employee mental health has seriously declined since the COVID-19 pandemic. This has consequences for both home and work efficiency and productivity.
Most telehealth services offer easy access to mental healthcare providers and 70% of users state that mental health services are effective for improving their outlook on their career and family life.
General benefits of telehealth
Convenience
One of the best things about using telehealth services is that it is extremely convenient. Telehealth allows patients to see a healthcare provider without having to travel to and from an office, sit in a waiting room, take an entire day off work, or find childcare.
Most telehealth services allow you to schedule a same day appointment or request a call back when a provider is available.
Cost
Telehealth services are also more cost effective than in office visits. Even with universal healthcare, high healthcare costs put a strain on the entire system.
Using more cost effective healthcare strategies leaves more public funds available for things like better preventative care services and research. You can pay for a telehealth visit with your business credit card to earn points or cash back.
Emergency prevention
Many people choose not to see a provider due to inconvenience or because it can take several months to get in to see a specialist. Being able to address a concern before it becomes an emergency decreases time off work, healthcare spending, and potential long-term issues.
Conditions covered by telehealth
While some tests cannot be done over the phone or online, many conditions are easily treatable via telehealth visits. Many providers will provide prescriptions, discuss test results, and can give you diagnosis over the phone.
Reproductive health
If you have general reproductive health questions, need a refill on birth control, or would like to try a different birth control method, you can discuss these concerns with your provider over the phone or by video chat. Expectant mothers frequently used telehealth to ask questions about their pregnancy and address their concerns right away.
Mental health
Video mental health visits are becoming one of the most commonly used telehealth services. Talking with a psychotherapist, licensed clinical social worker, or psychiatrist over the phone can be just as effective as seeing them in office.
Most providers can write prescriptions and make mental health diagnoses through telehealth services.
Mild illness
Few things are more frustrating than having a mild illness and having to wait for days or weeks to make an appointment with your primary care provider. This is especially true if you were worried about a sick child at home.
Telehealth providers can assess mild illness and give recommendations based on the symptoms you describe and through a visual assessment of you or your child on video. Doctors can use video chat to look at sores, rashes, or mild injuries and recommend best treatment for them.
Urinary tract infections
Urinary tract infections are common, and if caught early they are easily treatable. A doctor can diagnose and prescribe antibiotics for a mild urinary tract infection over the phone.
This is especially true for people who have experienced urinary tract infections in the past, and are familiar with the signs and symptoms.
The best telehealth providers for employers in Canada
Maple
Maple is one of the most highly rated telehealth services with over 350,000 five-star reviews from their Canadian customers. The service offers 24/7 video and phone visits and can connect you with a healthcare provider in just a few minutes.
If you need a specialist, you'll simply fill out an intake form and you will be connected to a specialist in your area within 12 to 72 hours.
Maple specializes in mental health, dermatology, endocrinology, and gynecology. They also offer special oncology services including mole mapping, where they can complete an entire body scan to assess skin changes.
They also have 24/7 consultants available that can help you navigate cancer care. Maple is able to resolve 91% of issues within one visit, and each of their telehealth visits saves employees about 3.5 hours in travel and office time. 70% of employees included in Maple employee service plans utilize the service at least once per year.
Maple has an easy to use interface that protects their clients privacy and security. They include educational materials for both employers and employees on how to improve individual health, reduce stress, and create a positive workplace environment.
Price for Maple
Individual pricing:
$69 per visit
$30 per month family membership (30 visits per year)
Employer pricing
Available upon request
Dialogue Health Tech
Dialogue Health Tech promises to reduce disability, absenteeism, and presenteeism costs for your company. Using their telehealth services can drive employee engagement, encourage work-life balance, build a healthier workforce, attract and retain top talent.
Dialogue appointments can handle up to 70% of issues addressed by in person visits and includes care for:
Minor colds,
Allergies
Urinary infections
Sexually transmitted infections,
Dermatological issues
Muscular and joint pain
Anxiety and depression
Insomni
Nutritional health
Family, financial and legal counselling.
The company offers an Integrated Health Platform that combines primary care, mental health, and employee assistance programs into one easy to use system for employers.
Their services meet all regulatory requirements for providing healthcare and protecting the privacy of their customers. They also include a follow up appointment for each scheduled appointment to ensure that clients have their needs met and concerns resolved.
One of Dialogue's unique features is a wellness program that provides education to your employees about how to care for and improve their own health. Thus preventing sick days that can cost companies thousands of dollars each year in lost productivity.
Price for Dialogue
$500 per month total for up to 50 employees
Tia Health
Tia Health offers both individual and family plans for phone and video visits. They can help with minor illnesses and injuries, doctors' notes for work or school absences, and specialty providers.
Furthermore, they have male and female providers if one makes your employees more comfortable, and have providers that speak multiple languages including English, French, and Spanish.
In addition to general healthcare, Tia health has providers specializing in:
Dermatology
Pediatrics
Psychiatry
Physiotherapist
Podiatry
Osteopathy
Chiropractic medicine
Gynecology
Medical cannabis authorization.
Tia health providers can write for new prescriptions and refills, they can send a prescription to the nearest Canadian pharmacy, and offer free delivery to your home if you choose.
Price for Tia Health
Individual pricing:
Free with a British Columbia Medical Services Plan, Alberta Health Care Insurance Plan, Quebec, or Ontario Health Insurance Plan
$30 per visit for Canadians without BC MSP, Alberta AHCIP, Quebec RAMQ, or Ontario OHIP coverage.
Employer pricing
Available upon request
CloudMD
CloudMD is a telehealth service boasting a 92% client satisfaction rate. With over 5,700 clinicians available, they can connect you with a provider that you feel comfortable with and that can meet your individual needs.
You can choose a male or female provider, and services are available in English and French. CloudMD offers services in primary care, vision, mental health, health navigation, rehabilitation, and medical assessments. Accessing a doctor through CloudMD is a simple process. Simply download the app, connect with a doctor, and complete your medical consultation.
A unique feature of CloudMD is that they provide employers with guidance on disability management, occupational health, and educational resources for employees. They have consultants available to help employers manage and create policies regarding sick leave, activity restrictions, and long term disability management.
Price for CloudMD
Individual pricing:
Free for residents of Ontario and BC.
Unavailable for residents of other provinces.
Employer pricing:
Available upon request
GOeVisit
GOeVisit is a telehealth platform that can be accessed using their app. GoeVisit covers
Acne
Allergies
Birth control
Bladder infection
Burn or sunburn
Cold or flu
Constipation
Ear pain
Erectile dysfunction
Headache
Heartburn
Mastitis
Mouth sores
Rashes
Sexually transmitted infection exposure
Sore throat
Yeast infections.
After filling out a health questionnaire, you will be connected to a healthcare provider to help you with your concerns. Most problems can be resolved within a 10 minute phone call or video visit. After your consultation, prescriptions can be automatically sent to your pharmacy of choice and you will receive a detailed visit note with instructions about how to manage your symptoms.
Moreover, GOeVisit operates during normal business hours, and can connect you to a provider within 15 minutes. They meet all safety and privacy regulatory requirements and promise to deliver high quality healthcare through the use of their services.
Price
Individual pricing:
$10 per month or $99 per year for individual unlimited visits
$15 per month or $149 per year for family unlimited visits
$49.50 per individual visit
Employer pricing:
Available upon request
Frequently asked questions about telehealth
What is telehealth?
Telehealth provides a way for you to see a healthcare provider without going into the office. Visits can be done over the phone, through text message, or over video chat.
What is a telehealth appointment?
A telehealth appointment is usually a phone call or video chat with a licensed healthcare provider. During your appointment you will describe your symptoms and receive guidance about what to do next. Some problems may require you to come to the office, but many can be resolved over the phone.
What is telehealth used for?
Telehealth is used for many common problems including prescription refills, mild illnesses, and mental health services. Many telehealth providers also offer vision, reproductive health, dermatology, and weight management services. Telehealth can be used in place of an office visit or to get a sick note for school or work absences. Several telehealth services offer consultations for employers about how to handle things like extended sick leave, light-duty restrictions, and disability services for their employees. 
Can you get a prescription through a telehealth appointment in Canada?
You can get many prescriptions through telehealth services in Canada. Prescriptions for antidepressants, antibiotics, skincare creams, and special supplements can all be obtained using telemedicine in Canada. There are some limits on prescription pain medicines like narcotic or opiod medications.
How to book a telehealth appointment?
Most telehealth appointments can be made online or through an app. Generally, you will create an account and log in to the telehealth service, then fill out a short questionnaire about your symptoms. You will then be connected to a general practice provider or a specialist to address your concerns. Most general appointments can be made within 15 minutes.
Is telehealth effective for mental health?
Telehealth is very effective for mental health. CloudMD reports that 70% of their clients that use mental health services saw a significant improvement in their symptoms.
What are the advantages of telehealth?
Telehealth is more convenient than an office visit, saving time on travel and avoiding crowded waiting rooms. Most telehealth services can connect you with a primary care provider in just a few minutes, and can get you in to speak with a specialist in under 72 hours. Telehealth services are cost-effective, bringing down community healthcare costs and reducing costs due to lost productivity. 
How much does it cost to implement a telehealth program at my company?
For a moderate-sized company, telehealth programs cost around $500 per month, or around $30 per month per employee. This may seem expensive, however some telehealth services state that a company with 30 employees can save over $50,000 in lost productivity costs and sick days by using telehealth services.
Compare Business Credit Cards