When it comes to a family vehicle, you need space – lots of it. After all, you've got a spouse, several kids and the family pet. Obviously, you'll seek out the best 7-seater SUV in Canada to move everyone around.. Or as an off-road traveller, you want as much room as possible to pack your gear. However, you don't want to go the full hog and get a recreational vehicle just yet.
Either way, you've made a decision.
You need to get a 7-seater SUV. This class of vehicles offers plenty of seats for the family. Even better, in most cases, you can lower those seats to pack more gear if not filled with people and pets. Now, you just need to figure out which of the best 7-seater SUV Canada offers you.
Read on to discover 13 great options.
A Word on Insurance and Prices
Before moving into the list, let's highlight the insurance and price figures quoted for each of these vehicles.
Pricing comes directly from the manufacturers (where available) and assumes the buyer lives in Toronto. Note that the prices quoted may change based on your location and even the specific dealer from whom you buy. Therefore, consider them more as guidelines (based on manufacturer RRPs) than a guaranteed price.
Similarly, with insurance quotes, the price you actually pay depends on an array of circumstances. They can range from your age, driving experience and even factors, such as where you park the car. For the quotes in this list, we've created the following driver profile:
They live in the Scarborough area and bought their car brand-new at full retail price. They use the SUV primarily for pleasure and drive a distance of 15,200 kilometres per year. Naturally, they use winter tires when necessary and park the car in a private driveway when it's not in use.
As for the main driver, this person of an unspecified gender was born in 1986. Now married, they have a steady job and have held a driving license (and insurance) since 2006. Based on those criteria, each of these entries has the lowest possible car insurance quote as provided by Surex.
But again, unless you happen to perfectly match this hypothetical driver, your specific quote may vary. Further, these quotes don't account for any vehicle and policy add-ons, which would ramp up your monthly insurance payments.
The Best 7-Seater SUVs Canada Offers – 13 Great Options
Now that you understand the criteria, let's get to the list. It categories 13 of the best 7-seater SUVs in Canada, so you can see if they fit your needs.
1. 2023 Subaru Ascent – Best 7-Seater SUV for Safety and Reliability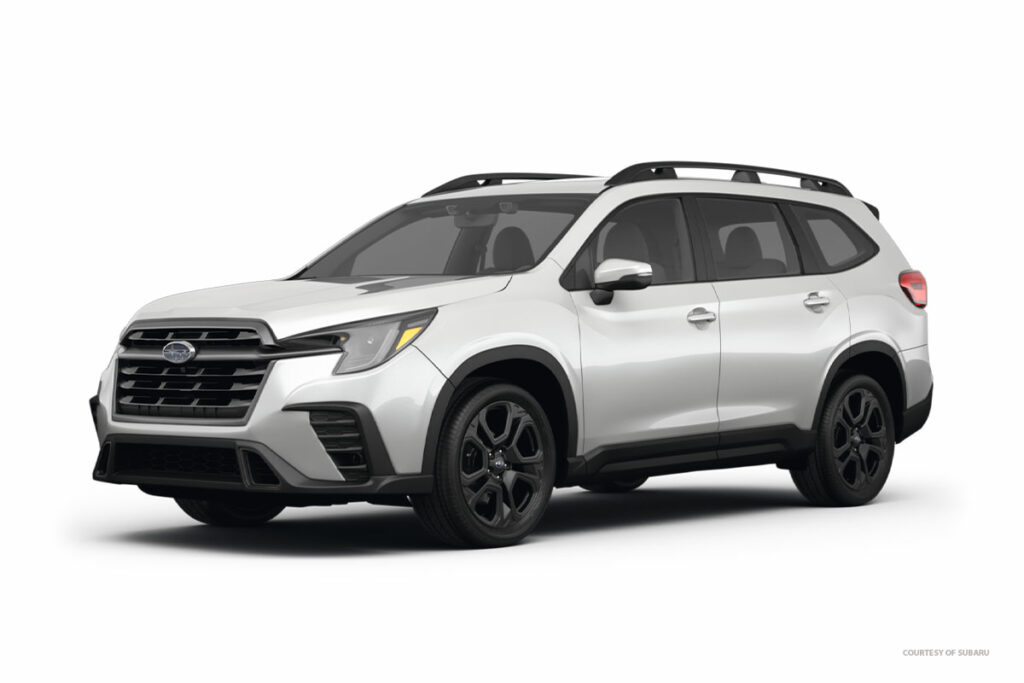 The Subaru Ascent has a lot going for it on the safety front. Five-star rated by the NHTSA, its only has one knock against it as a four-star rating for rollover risk. Named a Top Safety Pick by the IIHS, it stands out for its car seat compatibility. The excellent build quality gets enhanced by Subaru's EyeSight technology. This feature comes standard in all models of the Ascent. As a result, you enjoy driving assistance – that alerts you to nearby vehicles – and pre-collision braking.
So, this super safe car also happens to offer a comfortable ride and very reasonable insurance. Yet, adults may find the third row a tight fit due to its pretty compact design for a 7-seater. With its 260-brake horespower (bhp) engine, it's hardly the most powerful SUV in the world.
Price: $43,372
Surex Insurance Quote: $214 per month
2. 2023 Toyota Highlander Hybrid – Best 7-Seater Hybrid SUV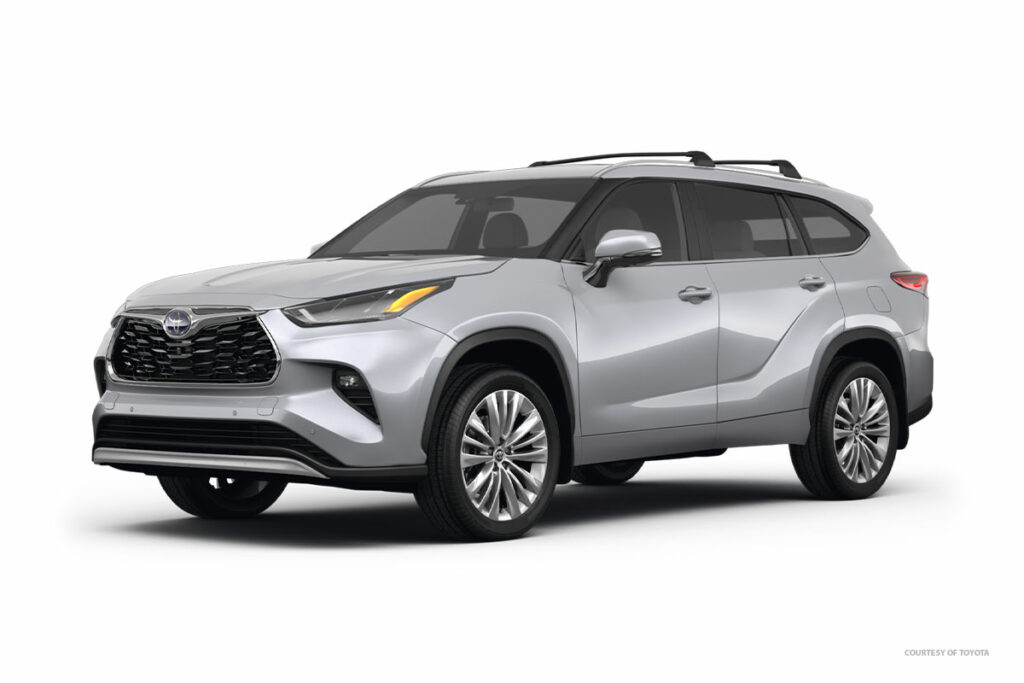 As you'd expect, excellent fuel economy shines with the Toyota Highlander Hybrid. It offers 6.75 l/100km so you don't have to worry about spending stacks of money on fuel to keep it running. It packs a decent amount of power for a hybrid, too, thanks to its 284bhp engine. While far from the top of its class as far as power goes, it performs solidly for a hybrid.
Cargo space behind the third row of seats only offers about 450 litres whereas most 7-seaters crack the 500-litre mark. And let's face it, the Highlander doesn't offer the most intriguing drive in the world. But it stands up as solid, dependable and with less cost to run than most in its class.
Price: $51,434.50
Surex Insurance Quote: $267 per month
3. 2024 Lexus LX 600 – Best Luxury 7-Seater SUV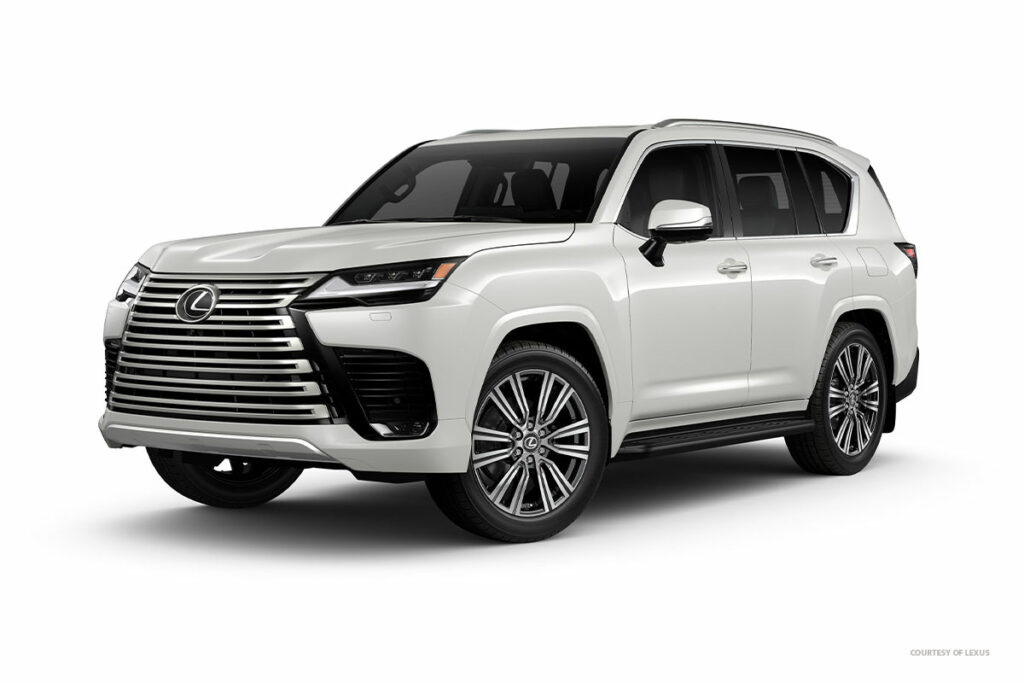 A few manufacturers have entries into the luxury end of the 7-seater SUV market, including Mercedes and Lincoln. Of course, the Lexus LX 600 stands out. This beautiful car's gorgeous curvy exterior gets complemented by a glow-up in the cockpit thanks to a new center console. Next, check out the sleek leather dashboard with wood trim.
Add some cool rear-seat entertainment displays and this SUV feels equally comfortable with city drives as it does with off-roading. Granted, it costs more to insure but it makes up for that with comfort and solid fuel economy of 12.7l/100km.
Price: $116,68.50
Surex Insurance Quote: $279 per month
4. 2023 Kia Sorento – Best 7-Seater SUV for People on a Budget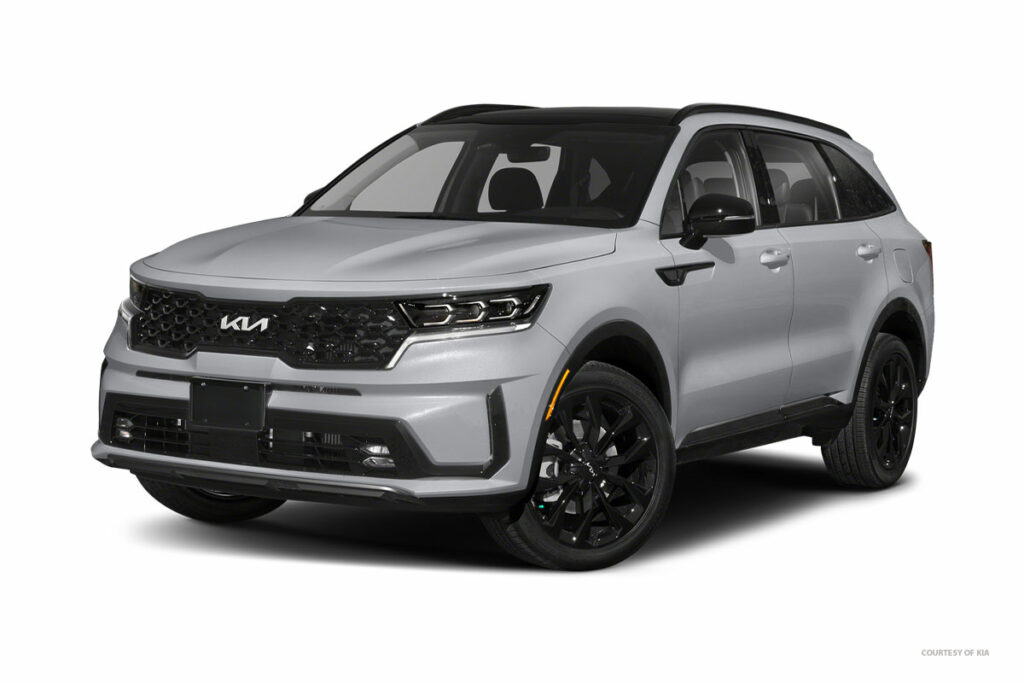 Obviously, the Kia Sorento ranks far from the best 7-seater SUV Canada offers in terms of power or performance. It has a weak 191bhp engine and fairly limited cargo space. But the Sorento doesn't try to compete with the power players in the class. It focuses more on providing a budget option for people who need seven seats without breaking the bank.
Combine its low upfront cost, reasonable insurance and superb mileage to get a car that's cheap to own and run. As compact, it could create problems for adults who want to sit in the third row. Regardless, it also offers a solid ride. Just don't expect exceptional towing or off-road capabilities.
Price: $38,483
Surex Insurance Quote: $219 per month
5. 2023 Mazda CX-90 Hybrid GS-L – Best Compact 7-Seater SUV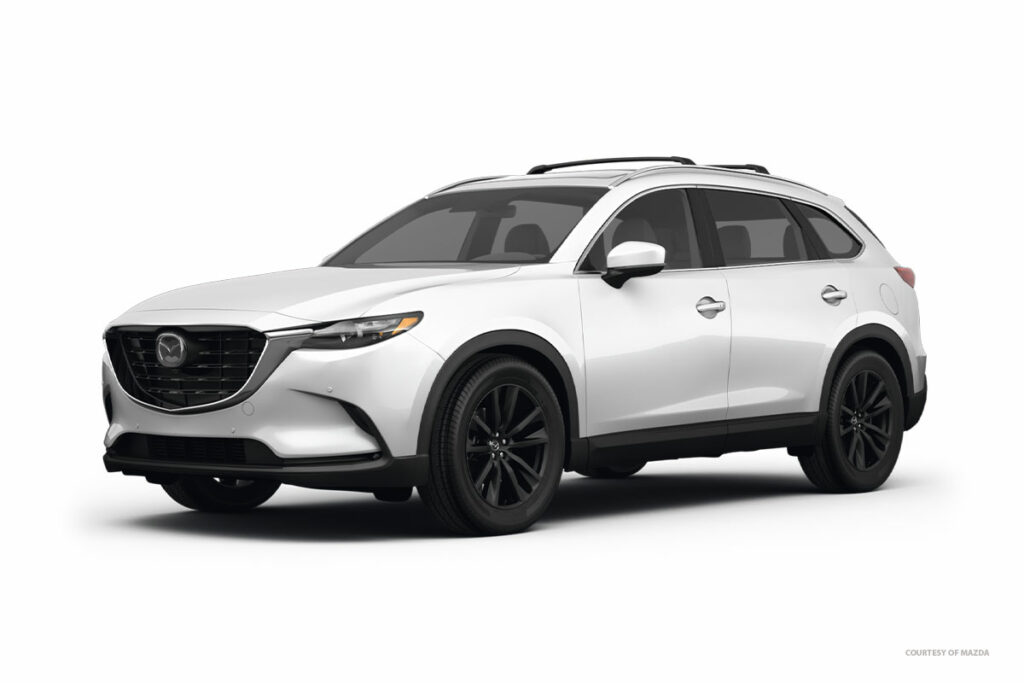 The word "compact" may not seem to mesh well with the concept of a 7-seater SUV. However, a few vehicles manage to pull the combination off well. The previously mentioned Kia Sorento gets outpaced by the Mazda CX-90 Hybrid GS-L in this category. It's snug. So snug, in fact, that you only get about 424 litres of cargo space behind the rear seats. But it makes up for that lack of space with a sleek design that's as stylish as it is versatile.
Its upscale look gets complemented by a nice driving action, with a smooth ride as the order of the day. Its 250bhp engine might feel inadequate in its larger rivals. However, it gives the CX-90 the oomph it needs while offering a 7-seater for those seeking something a touch sportier.
Price: $62,669
Surex Insurance Quote: $267 per month
6. 2023 Jeep Grand Wagoneer – Best for Pure Power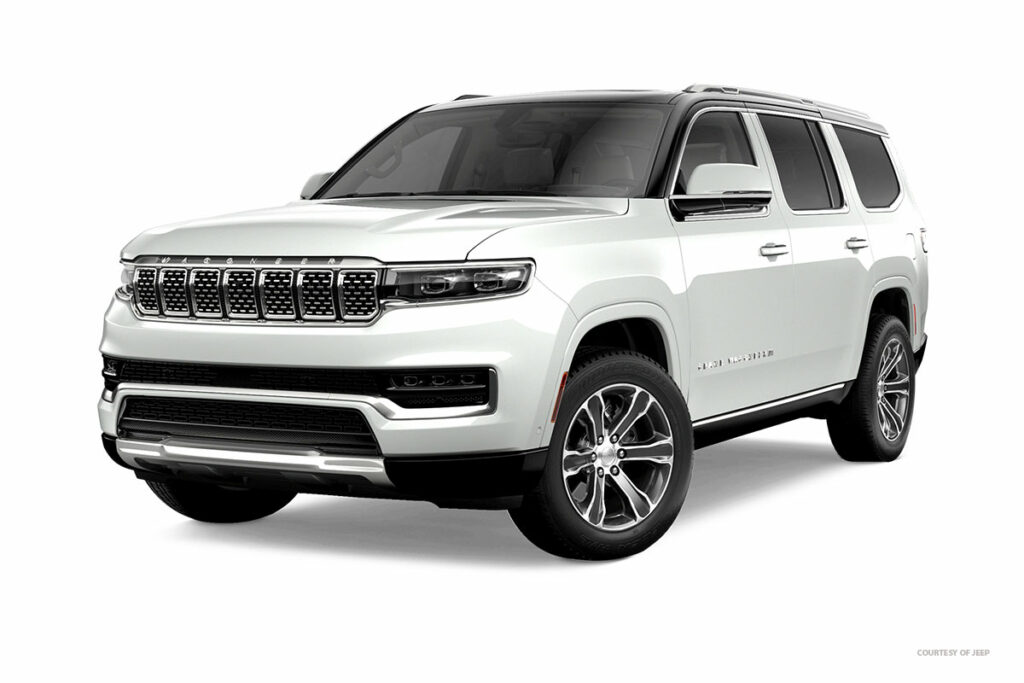 Unadulterated power roars in with the Grand Wagoneer. After all, the SUV boasts an impressive 471bhp engine that helps it to shift despite its large size. Speaking of size, your passengers will delight at the third-row seats in this SUV. Ultimately, they offer close to a metre of space so everyone can stretch their legs a little.
That spaciousness does come at a cost since you'll break into six figures to buy this car. Yet, the size of the Grand Wagoneer means its fuel efficiency ranks as so-so 12.8l/100km. But if roominess and relaxation match your priorities (and you have the money to afford it), the Wagoneer fits the bill.
Price: $107,290
Surex Insurance Quote: $251 per month
7. 2024 Chevrolet Traverse – Best for Pure Cargo Space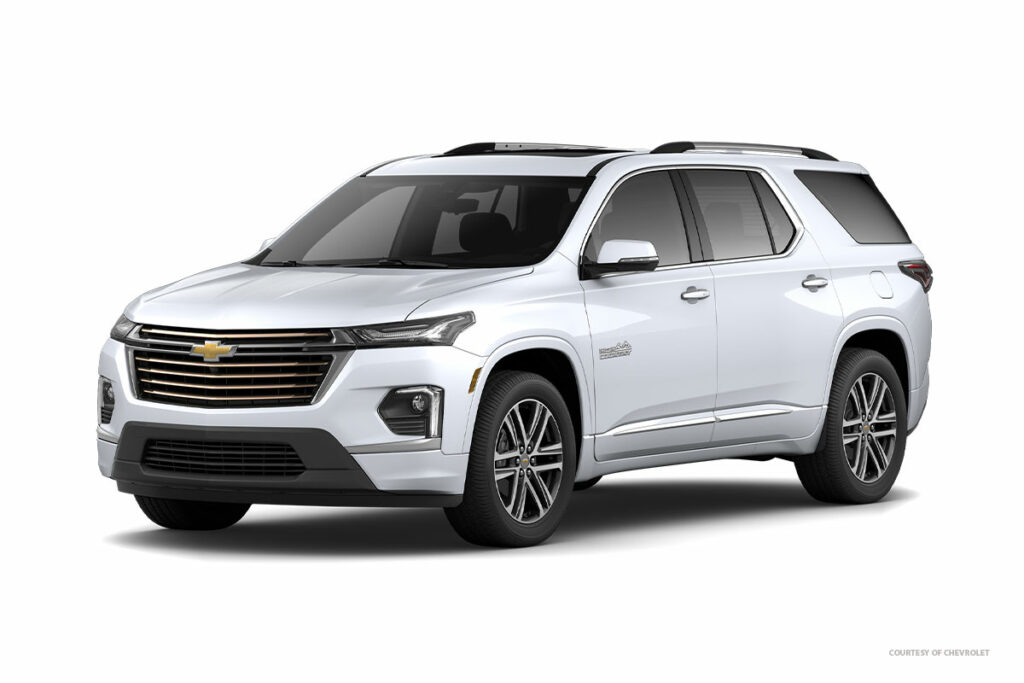 Though the Grand Wagoneer offers plenty of legroom in the third row, the Chevrolet Traverse beats it for overall cargo space. In total, it offers a staggering 651 litres of space behind the third row of seaters. That alone makes it the best 7-seater SUV Canada has for families that go on regular trips. Certainly, you'll find plenty more to love about the car.
Surprisingly affordable, its tab comes in at less than $50,000 with a solid combined fuel economy of 11.6l/100km. While these help your ongoing running costs, it makes sacrifices in the interior. With some clear cost-cutting going on with the materials used, this model doesn't match up to many others in the 7-seater class.
Price: $49,479
Surex Insurance Quote: No offers provided
8. 2024 Acura MDX – Best for Fuel Economy (Non-Hybrid 7-Seater)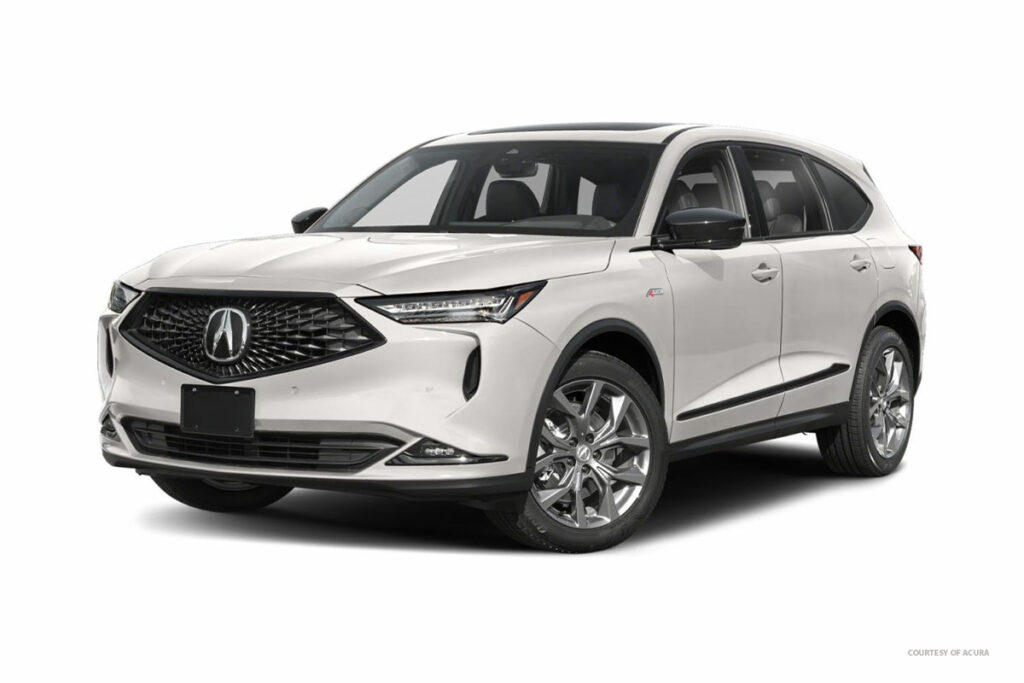 First, we'll make a little confession. The Kia Sorento just barely squeaks past the Acura MDX for fuel economy. However, as the best in class for overall affordability, the Acura MDX takes the gold here. With little difference between the two, with the Acura MDX's combined 9.9l/100km stacking up well against the Sorento's 9.65l/100km.
You also get much more car with the Acura. Chiefly, it offers considerably more space and cargo room than the Sorento, despite maintaining a low mileage. Thanks to impressive handling, you won't feel like you're in a 7-seater. Alas, you might expect a touch more luxury from the interior given the steep pricing.
Price: $67,909
Surex Insurance Quote: $248 per month
9. 2024 Volkswagen Atlas – Best for Insurance Costs
The headline for the Volkswagen Atlas states that it only costs $210 per month to insure (using our previously mentioned criteria). That makes it the cheapest option of the 7-seater SUVs in this list. But this SUV also achieves a five-star NHTSA rating and manages to deliver a solid, if unspectacular, 11.9l/100km.
Spacious, it can also tow about 2,260kg, enough to haul small trailers. Still, it deserves a little more care taken with the interior. For lack of a better word, it's just a little bland, though not the worst you'll see for the reasonable price. The engine lacks a bit of power too, weighing in at just 235bhp.
Price: $52,678
Surex Insurance Quote: $210 per month
10. 2024 Nissan Pathfinder – Best for a Quiet Drive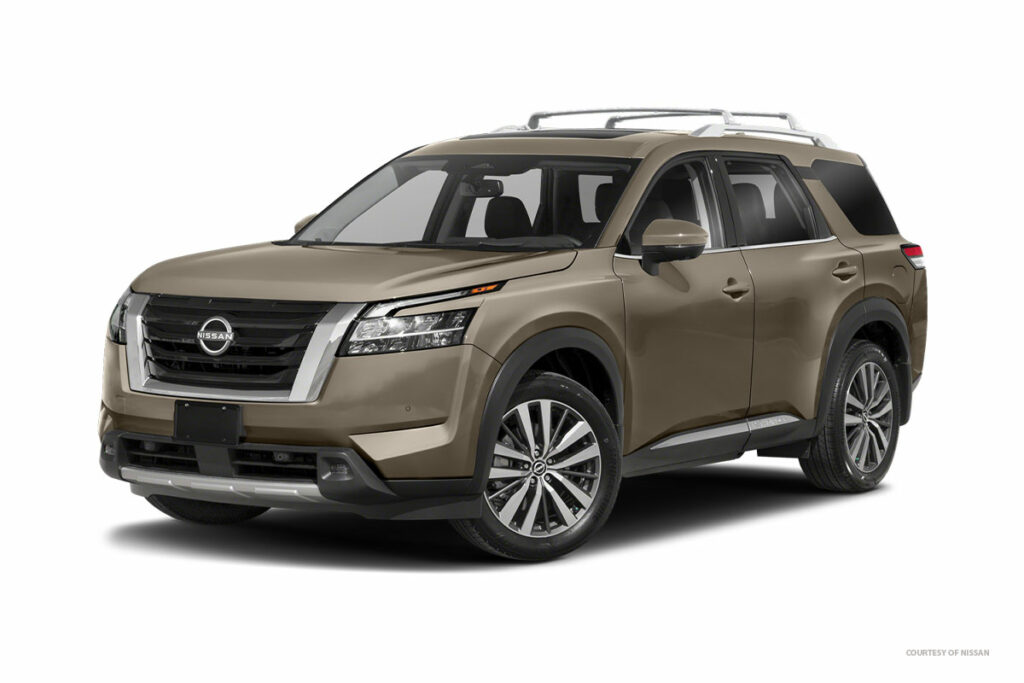 The Nissan Pathfinder does a lot of things well without really excelling. It has a 284bhp engine, solid enough to offer decent power and just over 1,587kg of towing strength. The SUV also delivers 10.6l/100km, putting it somewhere in the mid-range for fuel efficiency. And frankly, it may feel a touch boring when compared to some of the sportier options in its price range.
But all of that gets forgiven when you take a moment to listen to what you hear during a drive – almost complete silence. At least, you won't hear too much from the road surrounding you as you drive. With the smart console positioned at the cabin's centre, along with some cleverly placed storage cubbies, you enjoy an extremely comfortable driving experience.
Price: $49,683
Surex Insurance Quote: $267 per month
11. 2024 Hyundai Palisade – Best for Family Driving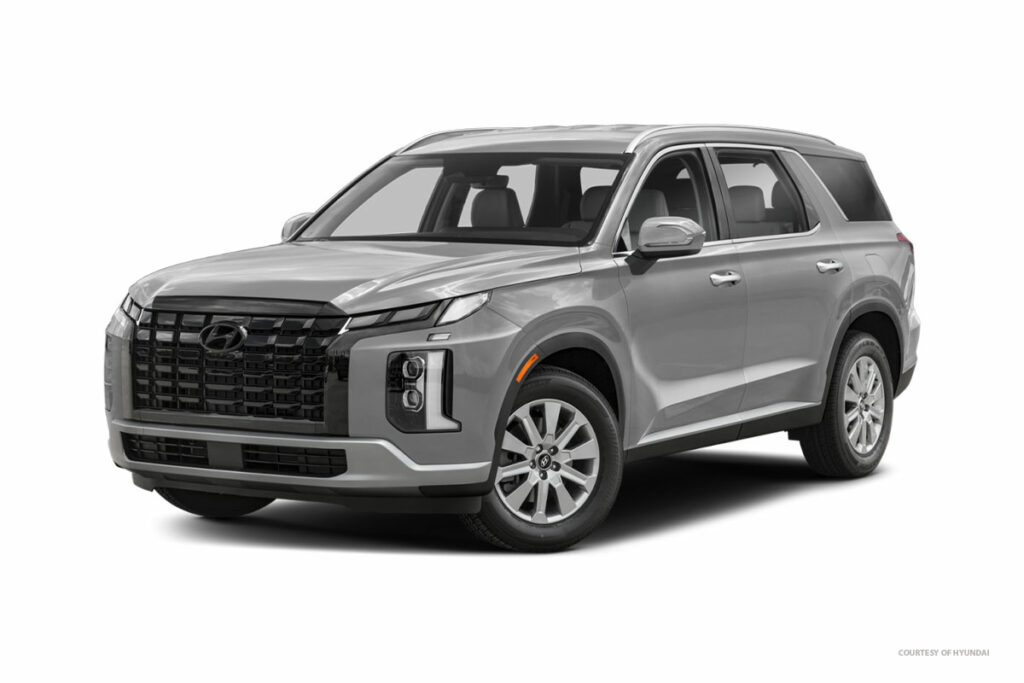 With the 2024 model of the Hyundai Palisade, you get a solid mid-range 7-seater that blends attractive pricing with a handful of luxurious elements. That luxury starts with the exterior design, which is big, bold, and built for off-road driving – attractive, though probably not for everybody's tastes. The infotainment setup is great, too, as the car comes loaded with seven USB ports, a 12-inch infotainment screen, and compatibility with Apple CarPlay and Android Auto.
As for performance, it delivers solidly across the board. The 291bhp engine isn't spectacular, although it suits city and highway driving, offering decent fuel efficiency of 11.2l/100km. It provides a generally quiet ride, minus the wind you might hear bouncing off the side mirrors along the highway.
Price: $52,206
Surex Insurance Quote: $233 per month
12. 2023 Ford Explorer – Best for the Off-Road Look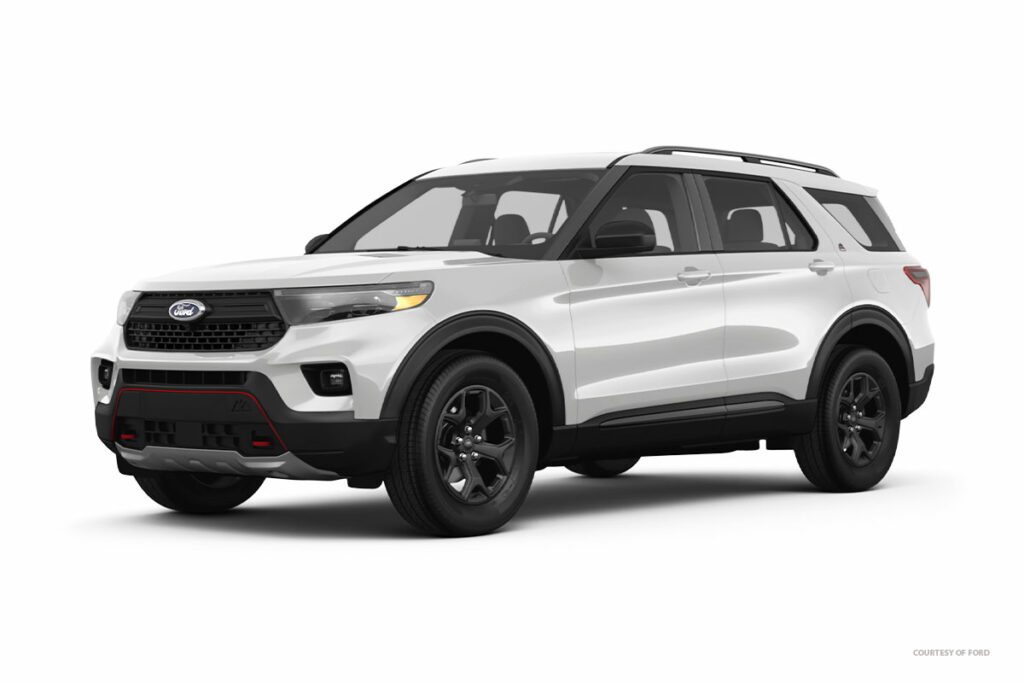 In a class that seems to focus as much on style as practicality, the Ford Explorer serves as something of an outlier. This unashamedly positions itself as an SUV designed for off-road trekking. You'll see that from the broad design, which lends a powerful aesthetic, bulky tires, and a powerful roof rack. Above all, it can tow up to 2,400 kg.
Surprisingly, the car doesn't sacrifice much performance for that bulk, with its 300-bhp engine capable of achieving 11.6/100km. That's pretty good, efficiency-wise, though not quite matching the best in its class. Unfortunately, the focus on practicality detracts from its comfort, especially when you get to the small third row. If only the interior matched the unique qualities of the exterior, but you can't have everything for a sub-$50,000 price.
Price: $48,340
Surex Insurance Quote: $248 per month
13. 2024 Honda Pilot – Best All-Rounder 7-Seater SUV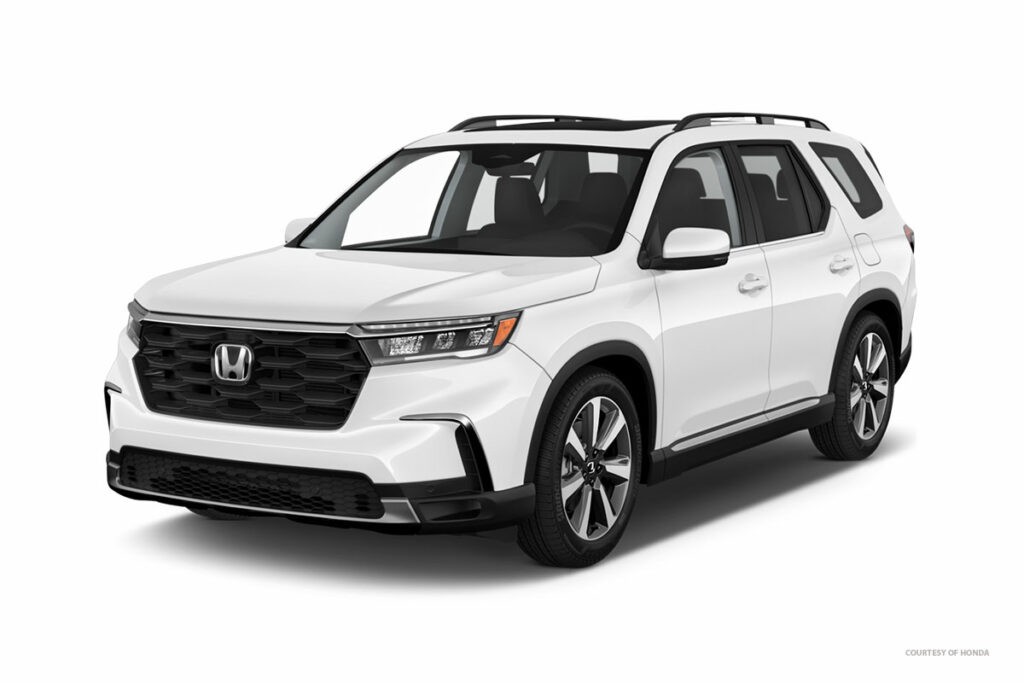 Honda's latest entry into the competition for the best 7-seater SUV Canada does a lot of things well. It has solid fuel efficiency of 11l/100km, a fairly strong 285-bhp engine and a reasonably price in the $50,000 range. You get a decent amount of cargo space and, if you upgrade to the TrailSport model, it even showcases some surprisingly adept off-roading capabilities.
But that all-rounder status is also its biggest downfall – it's not spectacular in any specific area. You'll find more cost-effective SUVs in its class, for instance, as well as more powerful cars. Still, few combine solid performance across the board as well as the Pilot. Ultimately,  that makes it a good choice for those new to 7-seaters. It also speaks to those who simply want something reliable that's able to pull the lead out when they need a touch of power.
Price: $53,783
Surex Insurance Quote: $261 per month
Find the Best 7-Seater SUV Canada Offers for Your Requirements
There you have it – 13 7-seater (and, in some cases 8-seater) SUVs that are all great for Canadian drivers. But you can't look at these options in such general terms. The key to picking the best of this bunch lies with you.
What do you need from your SUV?
For instance, what if size matters because you have a big family, and you don't plan to go off-road? In that case, the mid-range options like the Kia Sorento and Volkswagen Atlas can keep your costs down and offer comfortable drives. However, if you prefer the lap of luxury, and you have money to spend, Lexus's offering into the 7-seater arena goes right up your alley.
Those varying purposes determined how we listed these 13 SUVs. No single best 7-seater SUV Canada offers every option for every drive. But if you already have an idea of what you want, you can use this list to whittle down your options. That way, you can ensure you get that perfect combination of comfort, power, affordability and ongoing efficiency.
FAQs about the Best 7-Seater SUVs in Canada
Which 7-seater SUV has the most room in the third row?
The 2023 Jeep Grand Wagoneer earns best-in-class distinction for its third-row legroom. The car offers 92.96cm of space (almost a full metre) so passengers can stretch out a little more than they might in other 7-seaters.
What 7-seater SUV should I buy?
Several vehicles can build a case as the best SUV, so which you choose depends on your needs. Those who want to keep their running costs low might for the 2023 Subaru Ascent or 2023 Volkswagen Atlas. After all, they offer the lowest insurance quotes and solid mileage without breaking the bank with their upfront costs. If you seek power and performance ahead of efficiency, the 2024 Lincoln Navigator's 440-bhp engine, and the 2023 Grand Wagoneer's even more impressive 510-bhp engine, serve you well there. Ultimately, the best 7-seater SUV Canada offers comes down to the answer to one question: What do you need out of your SUV?
What is the biggest 7-seater SUV in Canada?
The 2023 Chevrolet Suburban and the GMC Yukon XL both stand out as the biggest 7-seater SUVs in Canada, as each offers 4,097 litres of interior space. Note that this doesn't mean storage space since these SUVs have to fit in their seats and dashboards.
Which 7-seater SUV is the most reliable?
If safety and reliability are your key concerns, the 2024 Subaru Ascent makes an excellent choice. It has a five-star NHTSA rating, along with "G" (standing for "Good") ratings practically across the board from the IIHS. The latter named it a Top Safety Pick for 2023 because of its superior safety features. Its only slight drawback equals the same drawback that most SUVs have – it's a touch more prone to rolling over than smaller vehicles.
What is the best luxury 7-seater SUV?
As you've seen from the list, the Lexus LX 600 is our pick for the best 7-seater SUV Canada has in terms of pure luxury. It'll set you back – expect to pay over $100,000 for the car – but it comes loaded with features and is simply a joy to both drive and simply inhabit.
Does Audi have a 7-seater SUV?
It does – The Audi Q7. Though it hasn't made the list of the best 7-seater SUV Canada offers, it's a solid choice that offers an impressive 11.4 l/100km fuel consumption and can tow up to 3,500kg – ideal for small trailers. It's a decent mid-range SUV and has the sleek look for which Audi is well-known.
Does Lexus have a 7-seater SUV?
It does, and it made the list. The Lexus LX 600 is our pick for the best luxury 7-seater SUV available in Canada. But more than one Lexus model delivers seven seats. Both the Lexus RX and Lexus GX have third rows to fit more passengers.
Does Mercedes have a 7-seater SUV?
The Mercedes GLS SUV marks the company's entry into the 7-seater market with a pretty solid alternative to the Lexus LX 600 if you're looking for a luxury model. Spacious, it has a cool digital cockpit and even ambient lighting. But oddly, the car offers heated seats across the first and second rows, but not in the third. This omission made us wonder why.
Does Porsche make a 7-seater SUV?
Porsche doesn't currently make a 7-seater SUV, though that looks set to change in the coming years with the introduction of the Porsche K1. The car remains still in its conceptual phase with no guarantee of an impending release. If it does, expect a combination of coupe styling and 7-seater SUV spaciousness.