The 10 Best Car Covers Strong Enough for Canadian Winters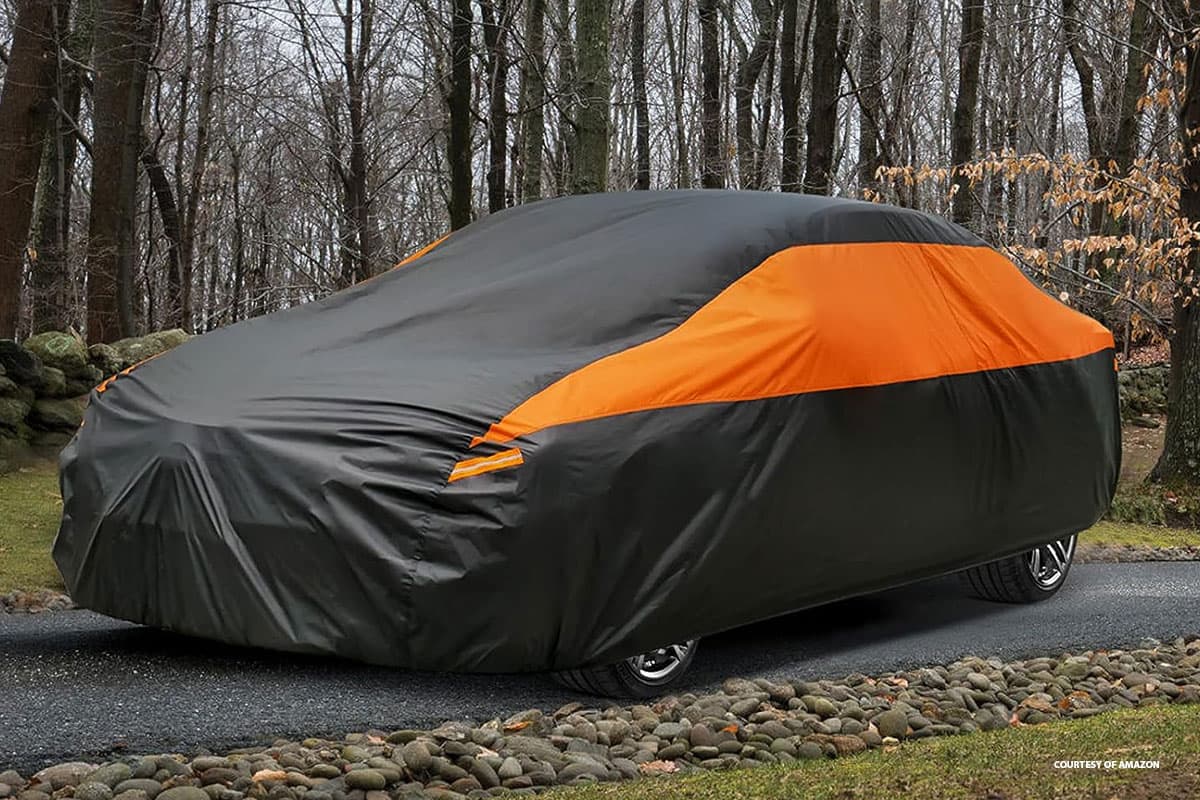 Table of Contents
[ Show ]
Canadian winters are notoriously chilly. Such cold weather can take a toll on any car, whether it's built for winter or not. That's where the winter car covers come in. The 10 covers featured in this list ensure your car remains shielded from the severe Canadian winter conditions. This not only aids in maintenance but also helps in keeping your car insurance premiums low.
Coverado Zipper Door Cover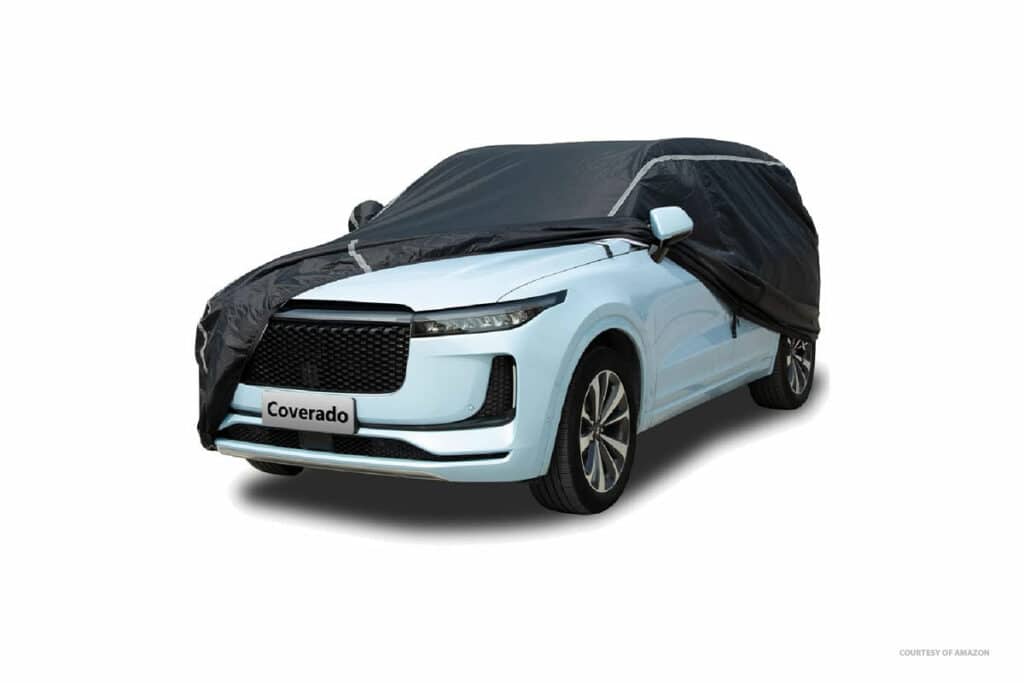 Given that pulling a cover off your car can lead to scratches if you're not careful, it's always nice to see a manufacturer take account of and get ahead of that potential issue. That's what Coverado does with its cover, which has a clever zipper door built in so you can access your vehicle without removing the entire cover.
As for winter protection, it's made using 190T polyester with a soft cotton backing. Your car stays warm and the cover's waterproofing means snow and rain won't be problems.
Amazon Rating: 4.5/5
Price: $124.75
Holthly 10-Layer Cover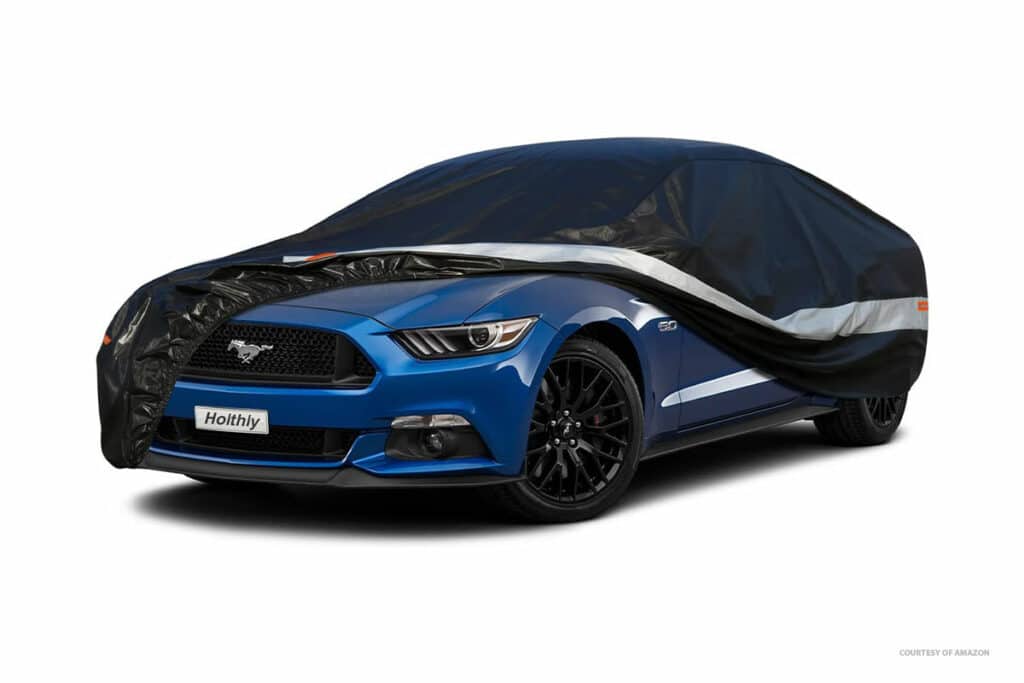 Available for every type of car, from hatchbacks to trucks, Holthly's 10-layer cover comes from a company with over 20 years of experience in making car covers. Its 10 layers include thick PE (ideal for waterproofing) and thickened cotton on the interior to prevent scratches when you slide the cover on and off your vehicle.
Dust, falling leaves, and snow are all repelled with the cover's built-in insulation, ensuring you don't face a frosty welcome when you unfurl it at the end of winter.
Amazon Rating: 4.4/5
Price: $89.26
GUNHYI All-Weather Car Cover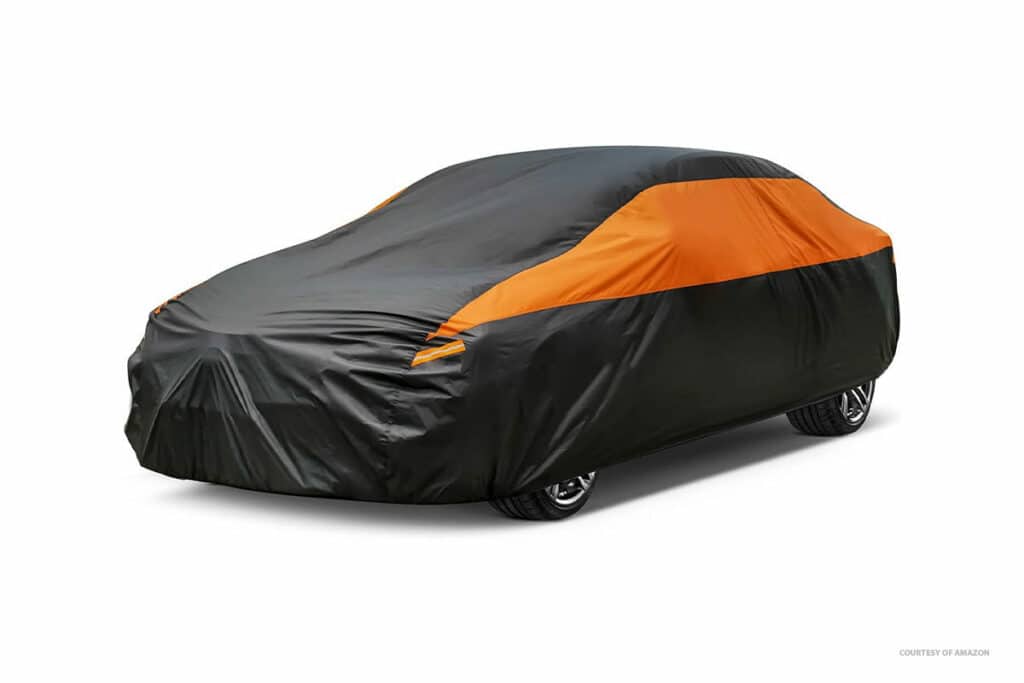 All-weather protection is the claim that GUNHYI's cover comes with, and it's a claim that it more than lives up to. UV rays, frost, rain, and snow have no chance of penetrating, with extra protection ensuring that even pollen and dust have a hard time getting through.
Coupes, sedans, SUVs, and even the four-door Jeep Wrangler all have variants of the cover available. Still, it would be nice to see a touch more tear resistance, as this is a slightly thinner cover compared to others on this list.
Amazon Rating: 4.3/5
Price: $72.25
Ezyshade 10-Layer Car Cover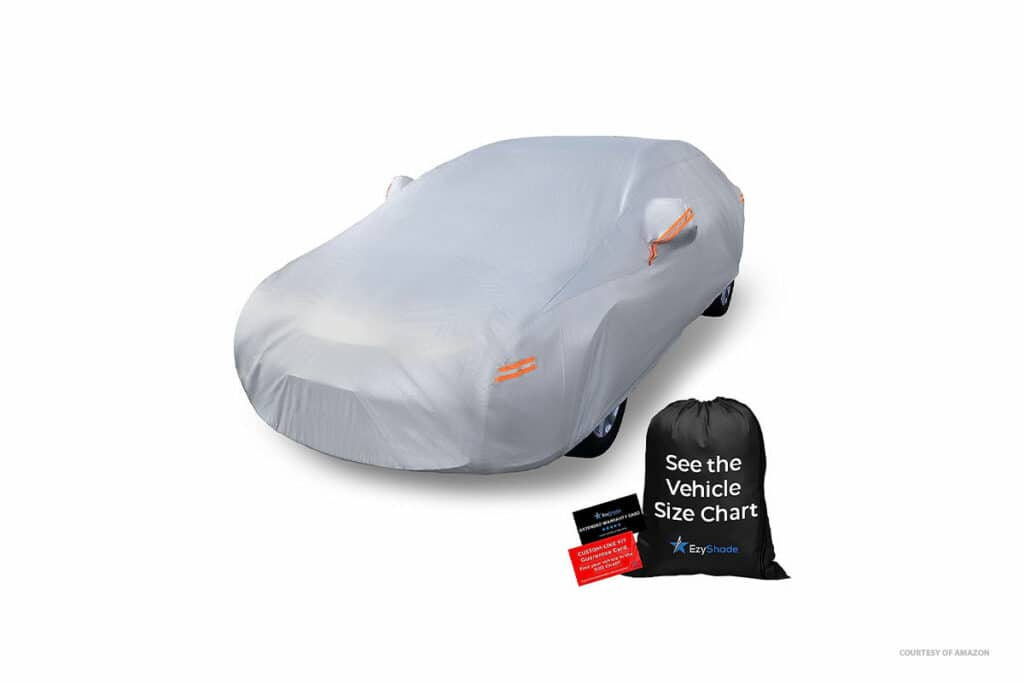 Available in many sizes (you can choose your specific vehicle size from a handy chart before ordering), Ezyshade's cover uses machine-cut materials to achieve a perfect fit. And when we say materials, we mean that in the plural sense. Among the ten layers built into this cover are cotton, aluminum, PEVA, EVA, and Taffeta, which combine to resist ultraviolet (UV) rays and keep water at bay.
So, it's a cover that's just as effective for summer storage as it is for winter storage.
Amazon Rating: 4.3/5
Price: $103.85
Oziral Six-Layer Car Cover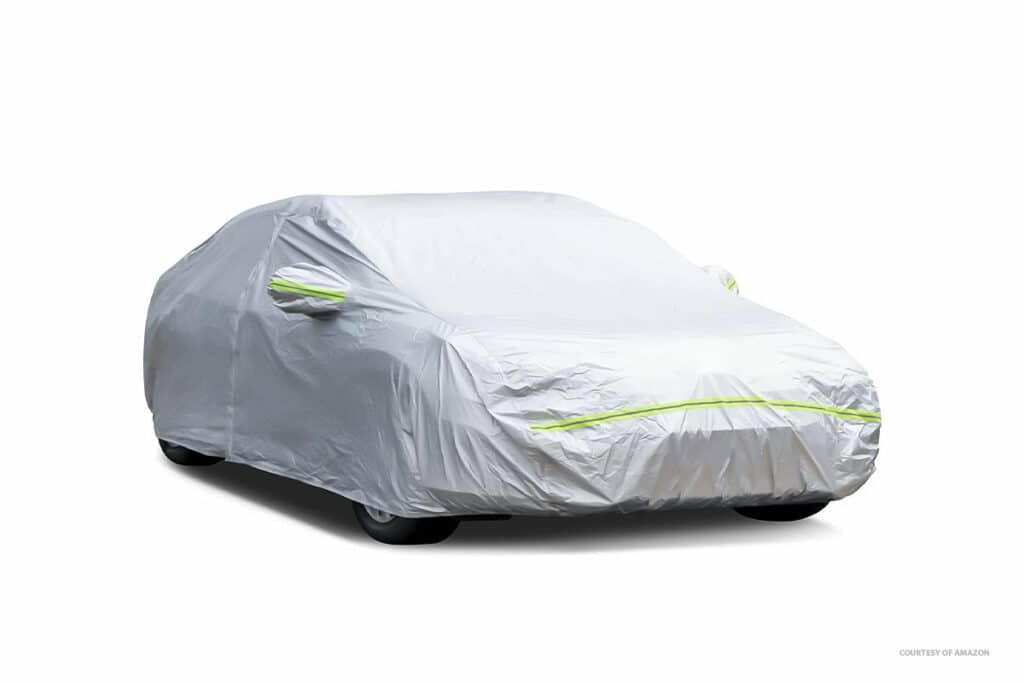 It may not have quite as many layers as Ezyshade's cover (six versus 10), but there are few better options than the Oziral Siz-Layer Car Cover if you need cost-effective protection for your sedan. Dust, water, and UV rays are all kept out thanks to a combination of PEVA and cotton layers. Smartly, the cotton is on the cover's inside, reducing the possibility of scratching when removed.
The inclusion of a storage bag is also a nice touch, though you might find it a touch on the small side.
Amazon Rating: 4.3/5
Price: $63.99
NUOMAN 6-Layers Cover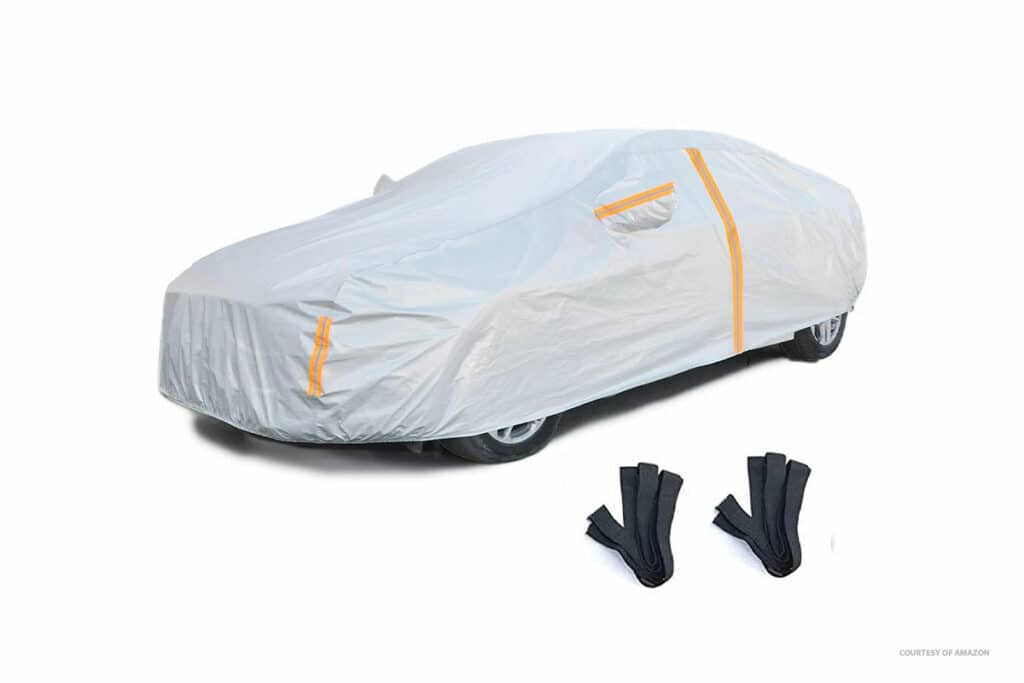 Sedans, SUVs, and trucks are on the menu for the NUOMAN cover, as you get to choose between different shapes and fittings based on your vehicle type. Beyond that, it's a simple cover that's waterproof and UV-resistant thanks to its combo of cotton, acetate, polyethylene, vinyl, and aluminum layers.
Plus, it has a nice safety touch – reflective strips make the cover more visible at night.
Amazon Rating: 4.2/5
Price: $72.99
Kayme Seven-Layer Ford Mustang Cover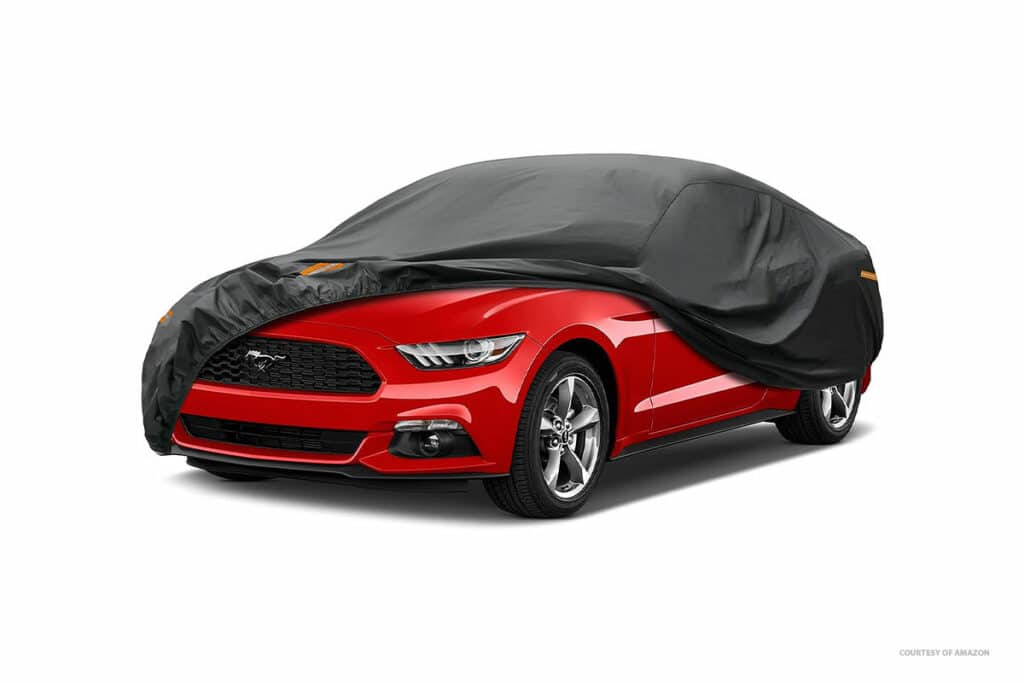 Muscle up with Kayme's Ford Mustang cover, which is designed for the specific curvature of the iconic vehicle with which it shares its name. Frost, snow, water, and UV rays have no chance thanks to its seven-layer construction, which incorporates vinyl and cotton to ensure full protection.
A 12-month warranty on the cover is a nice touch, even if this is a niche cover that only fits a specific type of vehicle. Plus, Kayme has several other covers (you can choose between them on its Amazon listing) for other vehicles.
Amazon Rating: 4.2/5
Price: $91.76
Titan Universal Cover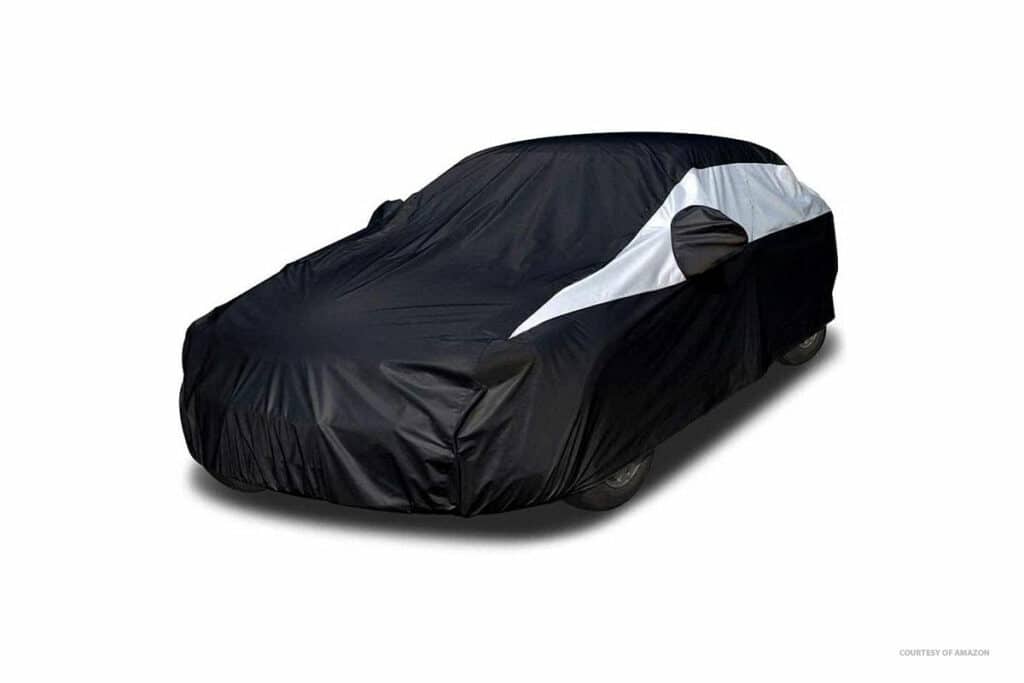 Variety is the spice of life with Titan's cover, both in terms of colour and vehicle compatibility. Though the cover itself isn't universal in the sense that one cover is good for all cars, you can select from a range of covers for everything from hatchbacks to large SUVs.
Colour options are varied, too, with silver, black, and blue (often with reflective stripes) in the lineup. UV protection and insulation come thanks to an aluminum layer, and a polyurethane layer keeps water at bay.
Amazon Rating: 4.2/5
Price: $80.99
Budge B-4 Budge Lite Cover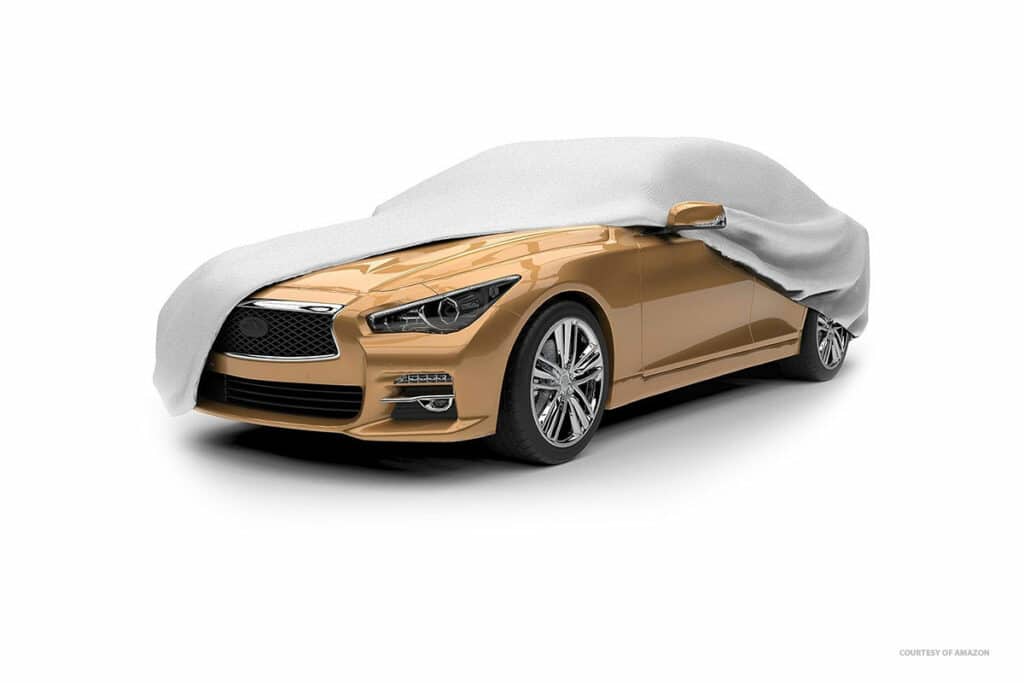 At 19 feet long, Budge's near-universal cover is great for most compact cars and sedans, though it may struggle to fit over an SUV. Double stitching along the seams guarantees wind and winter weather won't cause damage, and the elastic hem ensures a snug fit around the base.
The warranty is a major upside, too. You get three years of protection, which is exceptional given this is one of the cheapest car covers Canada offers.
Amazon Rating: 4.2/5
Price: $31.47
Amazon Basics Silver Sedan Car Cover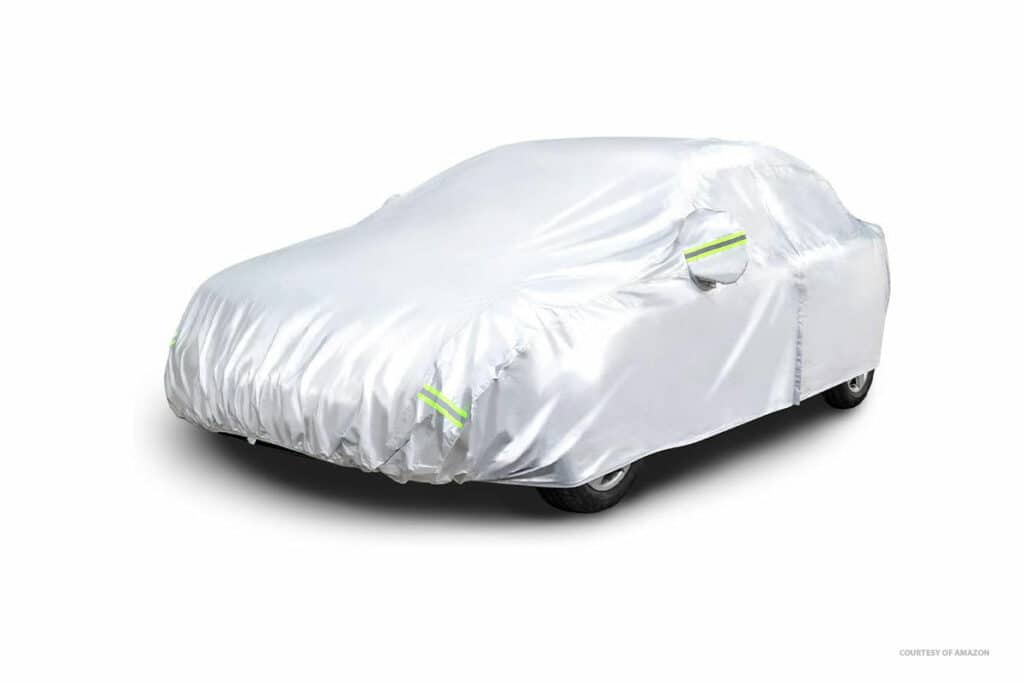 It may be "Basic" by name, but Amazon's sleek silver car cover has a lot going for it. That starts with a budget price and extends to a range of size options (160 to 225 inches). A combination of PEVA and waterproof cotton creates the weather resistance you need from a winter car cover. And thanks to the fitted design, it's easy to install and remove.
That fitting comes with an obvious downside – this cover is only for sedans. Hatchback, SUV, and van owners must look elsewhere.
Amazon Rating: 4.1/5
Price: $70.07
Cover Up for Winter
Whether you intend to keep your car parked for an extended period over winter and want to ensure your insurance company won't have a problem, or you just want some cold weather protection, the 10 covers in this list provide. They're collectively the best car covers Canada offers, so check them against your needs (budgetary and otherwise) to get the cover that suits you.
FAQs About the Best Car Covers in Canada
Are car covers worth it?
They are if you live in any area where the weather can cause maintenance issues (think rust and icy windscreens) for your car. They're also a good idea if you intend to park your car for extended periods. Beyond covering the car, keeping it safe from prying eyes, they prevent the accumulation of grime and muck.
Are car covers bad for your car?
Only if you don't use them properly. Car covers can scratch your paintwork when you slide them on or off, so you have to take care when using them.
Are car covers good for winter?
Think of the car covers Canada offers as suits of armour that wrap around your car. That armour protects the car and its metal components from the effects of cold weather, which include rust, corrosion, and similar damage.
Can car covers be washed?
Many car covers are machine-washable, making cleaning them a case of shaking off the dust and throwing them into a washing machine. In the rare case that your cover isn't machine-washable, warm water and a mild detergent are usually enough to wash the cover by hand.
Do car covers cause rust?
They can if used correctly. The same properties that make a car cover so great at keeping moisture out also mean that the cover can trap moisture near the car. So, dry your car before applying the cover, especially if you have a 100% waterproof cover that won't allow the trapped moisture to escape.
What are car covers made of?
It varies. PVC and PVC blends are common, as is polyester. A few manufacturers even build padding into their covers to prevent dings and scratches. Polypropylene is also a common choice.
Are all car covers waterproof?
Almost all car covers Canada offers are water-resistant, but not all are waterproof. What's the difference? The clues are in the names. Water-resistant covers repel water but can't prevent heavy deluges from penetrating the cover. A waterproof cover prevents any water from penetrating. But beware – waterproofing works both ways and can lead to moisture getting trapped next to your car.
Do car covers prevent frost?
They should because car covers are insulators that prevent moisture build-up and retain heat, assuming they're properly sealed.