How to Scrap Your Car in Ontario: A Step-by-Step Guide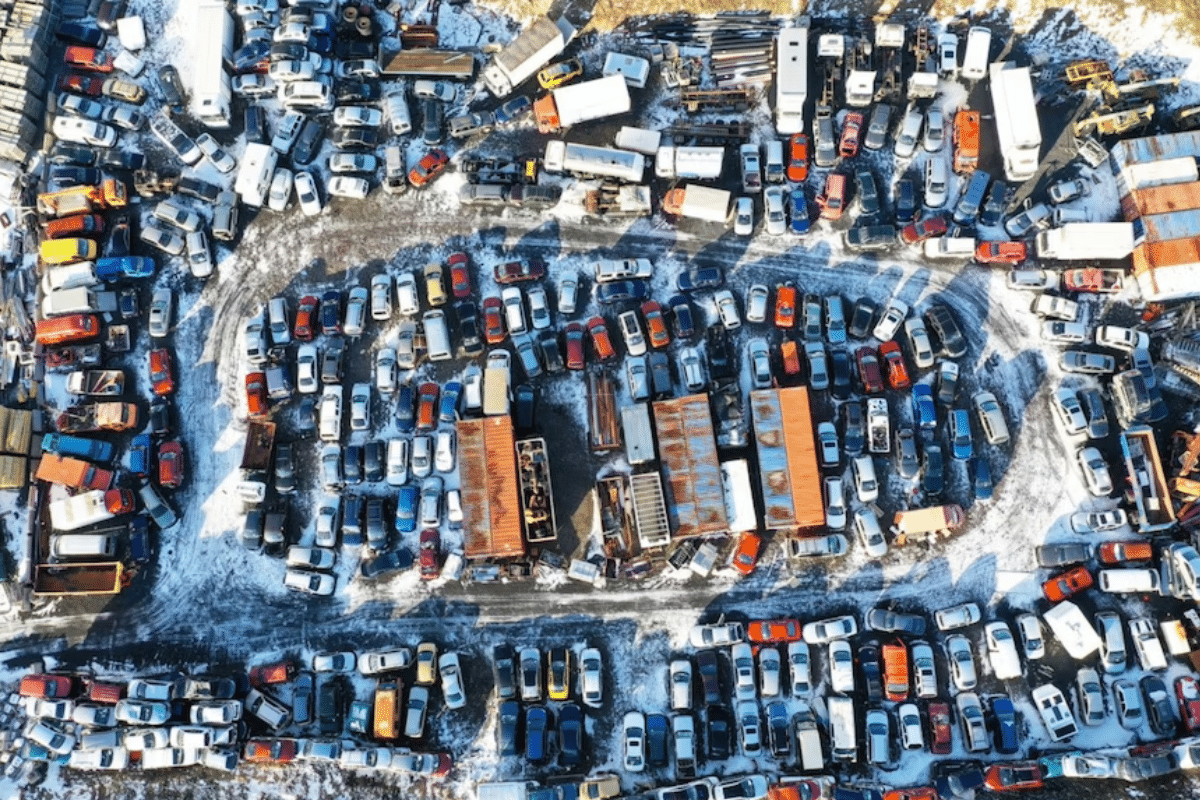 So, you have an old, unwanted car taking up space in your garage or driveway. Why not turn it into cash or a tax receipt that you can use to improve your finances? Let's help you get rid of your former ride to your best advantage. Fortunately, scrapping cars in Ontario makes for a safe and environmentally friendly option. In this step-by-step guide, we'll walk you through everything you need to know about how to scrap your car in Ontario.
Understanding the Car Scrapping Process in Ontario
Before we dive into the details, let's take a look at how to scrap your car in Ontario. Car scrapping involves taking apart a vehicle and separating its parts for reuse or recycling. This process helps to reduce waste and conserve natural resources, such as steel or rare-earth magnets in electric car motors. As a result, this makes disposing of your old car an environmentally responsible choice.
When you decide to scrap your car, the first step is to find a licensed auto recycler in your area. You can search online or check with your local government to find a reputable recycler. Once you have found a recycler, you will need to provide them with some basic information about your vehicle, such as the make, model, and year. The recycler will then provide you with a quote for how much they will pay you for your car.
When should I consider scrapping my car?
Deciding when to scrap your car largely becomes a matter of personal judgment. Often, you will decide when the cost of repairs frequently surpasses the vehicle's market value. Alternatively, when it becomes consistently unreliable, you may have no choice but to scrap it.
However, keep in mind scrapping your car isn't the only way to say goodbye to an old or problematic vehicle. Before sending your car to the scrap heap, consider other options that may yield a better return. One alternative is selling your car to a traditional used car dealership or even an online car dealership such as Clutch. Dealerships often have the resources to refurbish used cars and can offer a better price than scrapyards.
Even if your car gets totaled, selling it for parts could offer another lucrative option. Specialized used car part dealers, car enthusiasts or mechanics often purchase scrap cars to extract and resell valuable parts.
Environmental Benefits of Car Scrapping in Ontario
Car scrapping creates an environmentally friendly way to dispose of your old vehicle. By breaking it down and recycling its individual parts, you lessen the impact on the environment. Instead of taking up space in a landfill, the vehicle gets recycled, reused or repurposed. This process helps to reduce greenhouse gas emissions, save energy and prevent pollution.
Additionally, car scrapping helps to conserve natural resources. When a car gets scrapped, its parts can be reused in other vehicles or in other industries. This reduces the need to mine or manufacture new materials, which can produce significant environmental damage.
The Role of Auto Recyclers in Ontario
Auto recyclers play a crucial role in the car scrapping process in Ontario. These businesses specialize in taking apart old cars and separating their parts for recycling or reuse. Auto recyclers are licensed by the government and must follow strict regulations to ensure they follow proper procedures and handling hazardous materials safely.
First, vehicle recyclers remove hazardous materials, such as engine coolant, oil, transmission fluid, air conditioning refrigerant, mercury, sodium azide (the propellant in airbags) may also be removed and gasoline. Next, they take inventory of what parts still work, taking the wheels and tires, battery and catalytic converter right away. They also value any serviceable electronic modules, alternators, starters, infotainment systems, engines or transmissions for high resale. In short, the more they can reuse, the more they will pay you for your vehicle.
Finally, the car's shell gets stripped of its wiring harnesses, air conditioner evaporator and heater core. A crusher flattens the rest to make it easier to deliver to an industrial shredder or hammer mill. At that point, recyclers remove glass, plastic and rubber and reduce the metal to fist-sized chunks of metal to sell to steel mills.
Overall, car scrapping efficiently disposes of your old vehicle while also helping to protect the environment. By working with a licensed auto recycler, you can ensure that your car gets handled safely and responsibly, putting its parts to good use.
Preparing Your Car for Scrapping
Scrapping your car can get rid of an old or damaged vehicle while also earning some cash. However, before you can scrap your car, you need to take a few important steps to ensure that the process goes smoothly and safely.
Removing Personal Belongings
First, remove any personal belongings from the vehicle. While this may seem like a no-brainer, doing a thorough sweep of the car ensures that you don't leave anything behind.
Start by checking the trunk, glove compartment and other storage areas for CDs, cell phones and other personal items. Remove any valuable parts or accessories that you may want to keep. This will ensure that you don't accidentally leave anything behind, and it will also make the recycling process easier.
Further, hang onto any safety items like booster cables and tow ropes for use in your next vehicle. Don't forget to also remove your license plates, since you need to return them to a Service Ontario centre.
Canceling Insurance and Registration
Before delivering your vehicle to the auto recycler, you'll also need to cancel your car insurance policy and registration. This important step protects you from liability for any collisions or incidents that occur after the car goes to scrap.
When canceling your car insurance policy, let your provider know where the car goes and that you won't need coverage anymore. Of course, you can transfer your policy if you buy another car.
Finding a Reputable Auto Recycler
Now that you have prepared yourself to say good-bye, you need to find a reputable auto recycler in Ontario. Here's how to do it:
Researching Local Options
Start by researching local auto recyclers in your area. You can do this by searching the Automotive Recyclers of Canada website or asking for recommendations from friends or family members. Look for businesses that specialize in scrapping cars in Ontario and have a good reputation in the community.
When researching online, read reviews from previous customers. This will give you an idea of the quality of service that you can expect from each auto recycler. Additionally, you can check the Better Business Bureau website to see if any complaints have been filed against the business.
The 5 Best Auto Recyclers in Ontario
1. Cash for Cars Canada
Under its parent company, Copart Inc., Cash for Cars has grown to be one of the world's leading online global auction companies. It aims to offer the fastest, easiest and safest way to sell your vehicle — running or not. It has an online trust rating of 4.2 out of 5.
To start, enter your car's make, model and year into a quote generator, then add your contact information. After accepting a quote, they pick it up and send you payment. It operates locations in Toronto, Ottawa and London and claims to have seen and bought everything from used to damaged and total-loss vehicles.
2. Auto Heaven
Auto Heaven operates a provincially licensed scrap yard in Toronto. However, it also serves Pickering, Ajax, Whitby, Oshawa, Barrie, Innisfil, Orillia, Midland, Wasaga Beach, Muskokas, Mississauga, Oakville, Burlington, Hamilton, St. Catharines, Niagara Falls and everything in between.
It ranks as an A+ rated member of the Better Business Bureau in Ontario, Circular Innovation Council and Resource Productivity and Recovery Authority. On TrustPilot.com, it rates at 4.8 stars out of five. It also offers very helpful FAQs you may not have considered about how to scrap a car in Ontario.
3. Carcone's
This second-generation, family-run shop began in 1978 under founder Tony Carcone. Based in Aurora, Carcone's strips the parts and runs a robust online search engine for those buying used inventory.
Covering the Greater Toronto Area, it has five stars on YellowPages.ca. You can submit a form online, including use of its damage-location tool to identify your dents. They pride themselves on embracing the green economy before it became popular to do so. By recycling cars, it keeps them out of landfills, creating a chain-reaction of other environmental benefits.
4. Kenny-U-Pull
This business operates out of the Greater Toronto Area, St. Catharines, Hamilton, London, Peterborough, Cornwall, Sudbury, North Bay, Guelph, Windsor, Brantford, Ottawa and Kingston. Since 2008, its staff have recycled more than 1 million vehicles at 25 locations across Quebec, Ontario, New Brunswick, and Nova Scotia. It operates as a division of metal-recycling giant American Iron & Metal.
Kenny-U-Pull buys cars in virtually any condition and bases the price on what components it can reuse. Its drivers will pick up in any weather, whether the car runs or not. It also operates seven days a week. Google reviews give it 4.5 stars out of five.
5. Ontario Auto Recycle
After more than 20 years in business, Ontario Auto Recycle has a vast network. It has locations in the Greater Toronto Area, Durham Region, Burlington, Brampton, Peterborough, Kingston, York Region, Port Hope, Hamilton, Madoc, Lindsay and Niagara Falls.
It promotes itself as the fastest service provider with a professional team that offers a personalized, hassle-free experience. It specializes in "less-than-perfect" cars with body damage, mechanical problems or excessive wear and tear.
Of course, every area has its own reputable places to scrap a car in Ontario. You can call around or submit online forms to see who offers the best price and perks like free towing.
Checking for Proper Licensing and Certifications
Once you've identified a few potential auto recyclers, check to make sure they are properly licensed and certified by the government. This will ensure that they are following proper procedures and handling hazardous materials safely. All businesses that process more than two end-of-life vehicles (ELVs) need to register on the Environmental Activities Sector Registry as an ELV Waste Disposal Site
Auto recyclers in Ontario must have a valid license from the Ontario Ministry of the Environment, Conservation and Parks. This license ensures that the recycler is following all environmental regulations and safety standards. If you encounter an illegal operator, you can report them to the Ministry.
In addition to a license, look for auto recyclers that have certifications from organizations such as the Automotive Recyclers of Canada and the Ontario Automotive Recyclers Association. These certifications demonstrate that the recycler is committed to best practices and continuous improvement.
Comparing Prices and Services
It's crucial to compare prices and services among different auto recyclers. Typically, scrap yards usually pay modest sums for cars, between $150 and $1,000. However, it can still be worthwhile to shop around, especially if you have valuable parts like a price-bumping catalytic convertor. Seek out businesses that offer fair prices and have a straightforward process for scrapping your vehicle.
You can also get more for your car if you have a low-kilometre engine that runs and a functioning transmission. Other desirable assets include a rust-free body, aluminum alloy wheels and intact bumpers, headlights and taillights – which have high demand. Make sure to inquire about any hidden costs, like towing or storage fees, and understand each recycler's approach.
Scrapping a car versus trading it in or reselling it
Typically, drivers send their cars to the scrapyard due to wear and tear that makes it hard to sell. However, given the shortage of used cars in recent years, you could get more for your car than you could pre-2020. If you plan to buy a new car, you can trade yours in to the dealership. Staff there will assess the market, the car's mileage, overall condition, and model popularity before giving you an actual cash value. In other words, they give you slightly less than they can sell your car for on the open market. Since cars depreciate fast, expect a low estimate.
You can check the value using various online appraisal tools, such as the Kelley Blue Book. However, the businesses offering those tools will contact you with an offer if you catch their interest. always be completely honest about the condition of the car when providing details on the online forms.
Remember, dealerships will offer you less than they would get for the car so they can make a profit. However, you can negotiate to try to raise the price you will receive, whether selling it to a dealership or another driver. However, it must still run well enough to entice another driver to put it back on the road.
As a bonus, when trading in a car, it will reduce the amount of retail sales tax you pay on a new purchase. For example, if you buy a vehicle that costs $30,000 and you get a $15,000 trade-in value, you will only pay tax on that $15,000 difference, not on the full $30,000.
Donating your junker to charity
You can also donate your old car to organizations that give you a tax receipt, then profit from the parts stripped off your old ride. They also arrange for a recycler to pick up your car so you don't have to do it. Here are some examples of charities that accept old cars in Ontario:
Kidney Car: The Kidney Foundation of Canada has benefited from used car donations for more than 30 years. After initial contact, your car leaves within two business days. It may get scrapped — paying you $700 — or resold, giving you a higher payout. Based on $700, you would deduct 75 percent ($525) from your income on your taxes.
Car Heaven: This site supports 10 different Ontario charities (and many national ones) via a bidding process for recyclers to offer the highest value for a vehicle. You get the chance to accept or decline the bid offer and choose the charity to support. This service comes with a free tow. Examples of prices obtained range from $3,500 for a 2015 Hyundai Sonata in Burlington, $1,501 for a 2007 Chevrolet Silverado in Amherstburg and a 1993 Toyota Tercel in Mississauga. Again, you get 75 percent of that value when filing your taxes.
Donate a Car Canada: If you want to choose the charity for your car donation, this site offers that flexibility. It has processed millions of dollars in donations since 2003. You can browse its menu or add an organization. It also tries to maximize the donation by trying to sell the car or get a good price for its scrap value.
While a donation generates a tax receipt, you get more cash if you scrap your car on your own. However, this remains an option if you prefer to hand off the keys to someone else to tow the car and take care of the details.
Delivering Your Car to the Auto Recycler
When it comes to disposing of your old car, recycling makes for a great option. While environmentally friendly, it can also provide you with some extra cash. However, before you can reap the benefits of recycling your car, you'll need to deliver it to the auto recycler. Here's what you need to know:
Towing Options and Costs
If you cannot drive your vehicle, you'll need to arrange for towing to the auto recycler. Most auto recyclers provide towing services, while others may recommend a local towing company. Make sure to confirm the cost of towing in advance, so you're not hit with any unexpected fees.
Ontario introduced a provincial towing fee structure in 2017 to ward off scammers. However, don't wait until your car dies to haul it away to a scrapyard. Generally, tow-truck operators charge $50 just to show up or a $75 hook-up fee plus extra for long distances. Costs go up if the vehicle needs to go on a flat-bed truck. So, it's worth asking about this option before you make any towing arrangements.
Preparing Necessary Documentation
Before you drop off your vehicle, you'll need to gather some documentation. This includes your ownership papers and your driver's licence. Make sure to double-check that you have all the necessary documents before heading to the auto recycler.
When you arrive at the auto recycler, you'll need to sign over ownership of the vehicle. This will release you from any liability associated with the car. Make sure to keep a copy of the ownership transfer papers for your records.
Tear off and present the vehicle portion on the left-hand side of the Ontario Vehicle Ownership document. Since scrapping a vehicle counts as a sale, you must sign the back of the document and name the auto recycler as the purchaser. The scrap yard will then transfer the vehicle ownership at Service Ontario.
Removing your licence plates
Finally, use a 10mm socket or a Phillips-head screwdriver to take off your licence plates. In Ontario, plates belong to the driver, not the car. Later, return your old license plates to Service Ontario along with the right-hand plate portion of the vehicle ownership. If you time it right, Service Ontario may give you a credit for the remaining number of prepaid months left.
Overall, delivering your car to the auto recycler takes just a few minutes. By following these steps, you can ensure that the process goes smoothly and you get your payment sooner.
Scrapping a Car in Ontario: The Bottom Line
Scrapping your old car in Ontario is a straightforward process that helps the environment and your bank balance. By following this guide, you can easily get rid of your old vehicle and contribute to a greener, cleaner planet. So go ahead and take that first step towards car scrapping today!
FAQs About Scrapping a Car in Ontario
How to Legally Scrap a Car in Ontario? 
In Ontario, the process of legally scrapping a car involves several steps. You must begin by removing any personal items from the vehicle. Next, find a reputable scrap yard or 'cash for cars' service in your area. The ownership of the vehicle needs to be transferred to the scrap yard, which entails signing the back of your vehicle registration permit. If driving the car to the scrapyard is not an option, organize for a tow. Finally, remove the license plates and turn them in to the Ministry of Transportation with the plate portion of the vehicle permit.
How Much Do You Get for Scrapping a Car in Ontario? 
The compensation you receive for scrapping a car in Ontario depends on various factors such as the weight of the vehicle and the prevailing market prices for scrap metal. A scrap car typically fetches anywhere between $150 and $1,000. You get more if valuable parts, like the catalytic convertor or transmission, still work. Intact bumpers, headlights and taillights also boost the value.
Who Buys Scrap Cars in Ontario? 
A range of businesses buy scrap cars in Ontario, including junkyards, salvage yards, auto recyclers and 'cash for cars' services. Some used car dealerships also purchase scrap cars, either for salvaging parts or reselling them to scrap metal companies.
What Documents Do You Need to Scrap a Car in Ontario? 
To scrap a car in Ontario, you require the vehicle's registration permit. Also known as the vehicle's ownership or title, you must sign this permit to officially transfer ownership. For newer vehicles, a Used Vehicle Information Package may be necessary to ensure the car has no liens against it. It's important to note that any fines or fees associated with the vehicle must be cleared before you can scrap it.
What's a Car Average Worth in Scrap Metal? 
A car's average worth in scrap metal gets influenced by factors such as the weight of the car and the current scrap metal prices. On average, based on the weight alone, a standard vehicle could fetch anywhere between $100 and $600. However, certain parts of the car, like the catalytic converter, may boost the value higher due to its precious metal content.
Can I Scrap My Car If I Still Owe Money on It? 
If you're still owing money on your car, the lender most likely holds a lien on it, so you don't fully own the vehicle. In such circumstances, you cannot scrap the car without the lender's approval. Typically, you would need to settle the loan before you can scrap the car or transfer ownership. If you're contemplating this route, consult with your lender before taking action.