KOHO VS Tangerine: Which One is Best for You?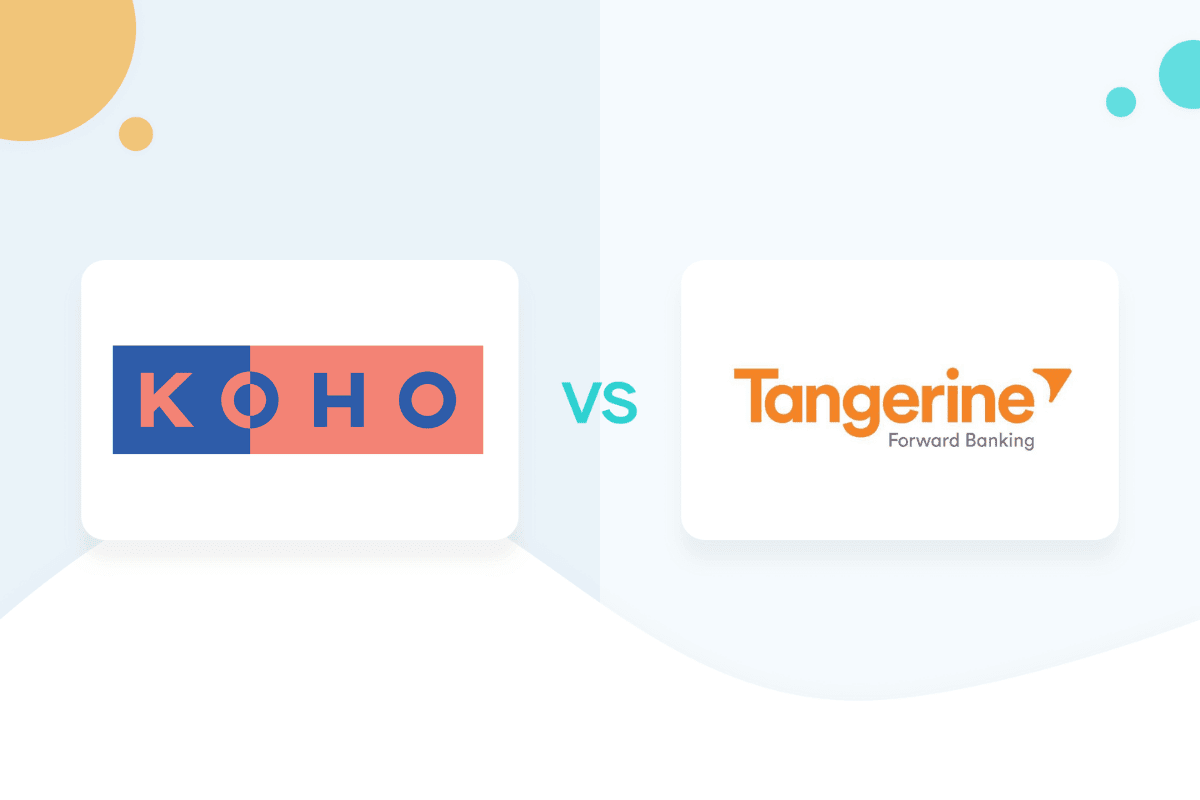 Tangerine isn't usually the first name that comes to mind when one thinks of KOHO competitors. KOHO is mainly known for offering a prepaid card, whereas Tangerine is mostly popular for its high interest savings accounts. However, it does offer a Visa debit card that can be used as a prepaid card.
Moreover, the two companies have a lot more in common. They're both Canadian organizations with thousands of users. But, which is the better option? We'll compare KOHO and Tangerine in this article and help you find the right one.
Introduction to KOHO
Founded in 2014, KOHO is marketed as a banking alternative and offers a variety of banking services. However, since it isn't a bank, the organization has joined hands with Peoples Trust to be able to offer these products and services. The company offers most of its services through a mobile app and has carved a niche due to its affordability and ease.
The main aim of the business is to help users curb overspending and easily manage finances. Its most popular offering is a reloadable KOHO Mastercard® Prepaid card (formerly KOHO prepaid Visa). The easy-to-use card works at both physical and virtual locations.
The card is very easy to get and can help eliminate bank fees. It works internationally and can be managed through the mobile app. In addition to this, KOHO also gives users a chance to earn money as it pays interest on deposits. Moreover, you can improve your credit with KOHO's Credit Building service which costs $5-$10 per month.
Another feature is the Early Payroll option which costs $5 and gives users access to up to $100 of payroll. You also get access to financial coaching with an expert. These experts are highly knowledgeable and can be very helpful.
Introduction to Tangerine
Unlike KOHO, Tangerine is a digital bank that is also a subsidiary of Scotiabank. Being associated with such a big name makes Tangerine reliable. It offers a variety of banking services including mortgages, investment products, no-fee accounts, and debit and credit cards.
The main purpose of the bank is to offer ease to its consumers as everything can be done online. It's a branchless bank that appears to be already giving tough competition to traditional banks due to its affordable rates and a wide array of services. However, it mainly competes with KOHO in two departments – savings accounts and cards. 
Founded in 1997 and originally known as ING Direct Canada, Tangerine was acquired by Scotiabank in 2012. It can fully replace your existing bank. Tangerine today is very popular in Canada despite having no branches but it does offer a face-to-face contact point at its Toronto head office. The company had several more sites before the pandemic that it decided to close permanently in 2021.
Saving with KOHO versus Tangerine Savings Account
Canadians really embraced KOHO's savings feature since very few prepaid card providers pay interest on deposits. On the other hand is Tangerine, which also allows users to earn interest on deposits. So, which is the better option? Let's find out.
Earn Interest with KOHO
Formerly known as KOHO Save, the four KOHO plans include a service that allows account owners to earn interest on their deposits. Spending and saving is done in the same account. Depending on the plan you choose, KOHO pays between 0.5% and 4.5% interest on your balance. This might not sound much but it's higher than what most traditional banks in Canada offer their clients.
You will need to provide your social insurance number to earn interest, in addition to ​​identity documents, such as your driver's licence. These are usual requirements and almost all financial organizations will require similar documents when you open an account. KOHO pays interest on everything that enters or leaves your account.
Types of KOHO plans
The Easy plan gives you 1% cashback on groceries and transportation, as well as 0.5% interest on your entire balance. There is no annual fee, but it does charge a 1.5% conversion fee for foreign currency transactions.
The Essential plan lets you earn 1% cash back on groceries, transportation, eating & drinking and 0.25% back on all other purchases. You also earn 4.5% on your first $500, and 2% on the rest of your balance. The Essential costs $4/month.
For $9/month or $84/year, KOHO Extra gives you 2% cash back on groceries, transportation, eating & drinking, and 0.5% cash back on all other purchases, as well as 4.5% interest on the first $1,000 of your balance, and 3% on the rest. You also get 1 free international withdrawal per month and no foreign exchange fees.
For $19/month, you get Everything, which is great if you plan on saving because you get a 4.5% interest on your entire balance. Everything also includes a 2% cash back on groceries, transportation, eating & drinking, and 0.5% on all other purchases.
Types of KOHO accounts
The company offers two account types: a personal account and a joint account. The personal account is basically a hybrid account that is free to set up with no monthly fees and minimum balance requirements. Interest is calculated on a daily basis and the accumulated amount is paid out every month. You will, however, have to set up a direct deposit to be able to use this feature.
Examples include Stripe and PayPal deposits, all or a portion of the paycheque you receive from your employers, and government cheques including disability benefits, Trillium benefits, childcare, etc. Direct deposits are easy to set up but you may require additional documents during the process. Some options even come with additional perks such as the ability to access your funds before payday.
KOHO also has a joint account that comes with similar features. With this option, multiple account owners can save jointly earning accruing interest. Just like the individual account, this one is also free. You'll be able to access your funds as needed and receive notifications when your partner deposits or withdraws money.
KOHO pays interest on the entire account and not just your savings. Deposit your money without worries as your funds are Canadian Deposit Insurance Corporation (CDIC) insured for up to $100,000. Also, you will be able to access your funds whenever needed. There are no limitations and you aren't required to keep your money in your account for a specific period of time.
Tangerine Savings Account
Just like KOHO, a Tangerine's Savings Account also pays interest on deposits but it works very differently when compared to KOHO. Tangerine gives users a variety of savings accounts to choose from including:
A regular savings account
Retirement Savings Plan (RSP) Savings Account
Tax-Free Savings Account (TFSA)
Retirement Income Fund (RIF) Savings Account
Children's Savings Account
US Dollar (USD) Savings Account
All these accounts are similar yet very different. Before we start, let's be clear that KOHO doesn't offer these many savings accounts as it isn't a bank. It offers a traditional account only and you will have to pay tax on money earned through your KOHO account.
Tangerine's savings account options for adults
Now, let's first talk about the regular savings account. Just like KOHO, Tangerine's Savings Accounts have no fee and minimum balance requirements. However, the interest rate pales in comparison as Tangerine only offers 0.10 % interest. The interest rate for almost all account types is fixed at 0.10%.
Interest is calculated daily and earned profit is available for use or withdrawal at the end of the month. Those who want more can consider pairing this account with Tangerine's chequing account which comes with more benefits including access to free Scotiabank automated teller machines (ATM) throughout the country and unlimited Interac e-Transfers.
Another popular option is the RSP account which is designed for people who wish to save for retirement. This is a tax-deductible account and the profit earned is also tax-free till you start making withdrawals. However, there are some limitations here. The annual contribution limit is 18% of your earnings with a maximum of $29,210.
On the plus side, this account is free to create with no monthly or yearly charges. This account can be combined with a Tangerine Investment Fund, another popular product from the company. Those who want more can look at the Tangerine Tax Free Savings Account (TFSA), another account that offers tax-free returns. However, there are some eligibility requirements.
You must be 18 to qualify for this account type. Also, there are some limitations that are revised every year. For 2022, you can contribute a maximum of $6,000 to your TFSA. You will have the option to withdraw money whenever required and recontribute it as desired.
Next is the Retirement Income Fund (RIF) account which gives account owners a safe option to hold retirement funds. You will watch your money grow as this account pays interest with no monthly fees or minimum balance requirements. You may need this account later on as account holders are required to collapse the RIF account when they turn 71.
A Tangerine Savings Account for Kids
Children's Savings Account is for kids who want to learn to bank. Not many people know of this account type despite it offering a high interest rate of 0.2%. The kid's account is free to open and comes with a unique account number. KOHO, presently, does not have accounts for kids.
What about US dollar accounts?
Last is the USD Savings Account that is suitable for people who want to save in USD. Consider this option if you visit the US a lot or shop at American stores. This will allow you to save conversion charges that are usually between 1.5 and 2.5% of the transaction value.
This is another free account that pays 0.10% interest. KOHO does not offer such an account but it does allow users to shop using USD if they pay a conversion fee or opt for a plan that comes with a 0% foreign conversion fee.
Note: Tangerine is presently running a promotion where you can earn more interest on your deposits for the first five months if you use the code 'EARNMORE' when signing up for a new account.
So, which is the better savings account?
KOHO is the obvious winner here as it pays more money, but there is a drawback since it has fewer account types and your profit will be taxed. Go for Tangerine if you want special accounts such as a USD account or retirement account as KOHO doesn't offer these.
KOHO Prepaid Card versus Tangerine Visa Debit
Now, it is time for the big battle. The KOHO prepaid card needs no introduction as it's the main product of the company. On the other hand is Tangerine, which doesn't have a prepaid card but it offers some excellent choices. Let's compare:
KOHO Prepaid Card
KOHO offers four plans with its KOHO Prepaid Mastercard. They differ in terms of fees and benefits. The chart below explains associated charges and more.
| | | |
| --- | --- | --- |
| | KOHO Easy and Essential | KOHO Extra and Everything |
| Monthly charges | $0-$4 | $9-$19 |
| Foreign exchange fees | 1.5% | 0% |
| ATM fees | – | – |
| Maximum balance | $40,000 | $40,000 |
| Minimum load | – | – |
| Direct load fee | 75¢ for transactions under $300 | – |
| Maximum load per month | $40,000 | $60,000 |
| Maximum deposit | 10 | 40 |
| Maximum transfers per month | 60 | 150 |
| Maximum ATM withdrawal per day | $600 | $800 |
| Maximum point of sale (POS) amount per day | $4,000 | $4,000 |
| Maximum ATM transactions per day | 5 | 5 |
The KOHO Prepaid Mastercard is free to own, but only the Easy plan costs 0$ per month. Don't let the fees scare you off as the three other plans come with additional benefits including a higher cash back rate. You will also be able to withdraw more with some plans.
With KOHO, you also get cash back ranging from 0.25% to 2%. On the plus side, your cash back will be added to your account automatically. No special codes or procedures are required. Also, the company offers free ATM withdrawals but you should expect to spend $2 to $3 per withdrawal since KOHO doesn't have its own ATMs. 
Tangerine Cards
| | | |
| --- | --- | --- |
| | KOHO Card | Tangerine Visa Debit Card |
| Monthly charges | $0-$19 | $0 |
| Foreign exchange fees | 0%-1.5% | 2.5% |
| NSF Fee | n/a | $45 |
| ATM Fee | $3-$5 | $0 when using Scotiabank |
While Tangerine also offers a Money-Back Credit Card, we're mainly going to focus on Tangerine Visa Debit Card in this review as it is the closest to what KOHO offers. Just like KOHO, Tangerine charges no monthly fee. Moreover, it offers unlimited free transactions. But, there may be some other charges such as Non-Sufficient Fund fee that goes as high as $45. This fee can be avoided by activating the overdraft protection feature.
The card works both online and offline and can be used to even pay bills. It can be a great option for users who do not want the hassle of a credit card and wish to enjoy some ease. The card works nationally and internationally at all stores that accept Visa.
Are there any deposit limits to a Tangerine Savings Account?
Technically speaking, there are no limits on how much money your card can hold as it is linked to your chequing account. This makes it a great option for people who wish to spend lavishly as there are no limitations here. Also, since it's linked to your account, you'll continue to earn interest as you spend. Plus, the company keeps coming up with exciting cash back offers paying up to 2%.
Deposits are a piece of cake thanks to the mobile chequing option that costs $0. This can help you avoid trips to the bank and manage deposits through the mobile app. Plus, it even comes with 50 free cheques with subsequent chequebooks costing $50 each.
The card even comes with the ability to enjoy free bank drafts that will be mailed to your address. There may, however, be a small delivery fee. Alternatively, you can collect it from the head office.
Tangerine Savings Account fees
Now, a few things to watch out for. You will have to pay a 2.5% foreign transaction fee when using your card abroad or using any currency other than CAD. This is higher than what KOHO charges.
Since Tangerine is a part of Scotiabank, ATM withdrawals are completely free when using a Scotiabank ATM. Withdrawals at other providers will cost you $1.5 per withdrawal (local) and $3 (international). This is a major benefit as KOHO will still cost you up to $3 per withdrawal in Canada and around $5 internationally. The company itself charges no withdrawal fees but you will have to pay network charges to the ATM provider.
The bank offers a free replacement card. You can get it once a year if you lose your card but be careful because a second request for a replacement card will cost you $15. Be aware of inactivity charges as well. You will be charged $10 if you do not use your account for 12 months. This fee can be avoided by being active. The same goes for the OD fee that's $5 per use and capped at once a month. The interest on an overdraft amount is 19%.
KOHO versus Tangerine: which has the better app?
Both KOHO and Tangerine allow users to manage their accounts through mobile apps that work on both iOS and Android devices. Both mobile apps work well and are easy to use. Also, they take little space. Still, it can be a little hard to compare the two.
KOHO app
First thing first, The KOHO mobile app is very basic but it does what it is supposed to do. The app connects to your KOHO account and allows you to keep a tab on your spending. According to the company, it's designed to help you keep control of your finances and stick to your budget.
The app has some impressive features including the ability to create an emergency fund. KOHO has a RoundUp feature that automatically puts change into your emergency fund that you can use in the future. It works by rounding off the amount. For example, $9.5 to $10. You will pay $9.5 to the merchant and $0.5 will go to your savings account. You can decide on the round off pointer.
Moreover, you can even create Savings Goals through the app and keep a tab on how close you are to your goal. Other than this, the app will help you keep an eye on your transactions and identify issues. Plus, it can even be used to pay bills and manage deposits.
Tangerine app
On the other hand, the Tangerine mobile app is a powerhouse as it offers a lot more than just basic functionalities. With this app, you will be able to locate nearby ATMs, receive notifications, review transactions, transfer money, and manage your account. The app even lets users buy and sell Tangerine Investment Funds and deposit cheques.
Just like KOHO, Tangerine also offers some management tools such as Left to Spend and Goals. There are also exciting insights to help keep an eye on your budgeting. Moreover, both apps support a variety of digital wallets such as Apple Pay and Google Pay. All in all, both these apps are great and work well.
KOHO VS Tangerine: Which one should I choose?
Let's end this KOHO versus Tangerine battle by picking the better option. We believe the right choice depends on factors such as your financial situation and requirements. Tangerine can be a great option for people who want full banking services at affordable rates. It's cheaper than traditional banks and comes with some brilliant features including high security and excellent customer support.
On the other hand, KOHO hits the bull's eye with its prepaid card that makes international payments easier and is very cheap to own. Plus, it will not impact your credit score because there is no hard credit check when you apply. But, it doesn't come with all the features that Tangerine offers and can be great for people who want to be in better control of their finances.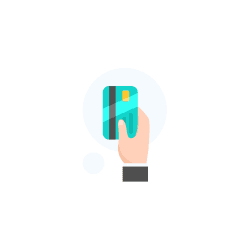 Find the best credit card for your needs