Visa Infinite vs Mastercard World Elite: The Ultimate Showdown
Along with global recognition and a massive network, both Visa and Mastercard offer their clients generous and exciting perks that make vacations and stay-cations better through the Visa Infinite Program and the Mastercard World Elite Program. Both programs are often compared to each other because of the similar benefits they offer travellers, such as exclusive access to events and experiences all around the world, discounts and other offers for culinary experiences and hotels, and 24-hour concierge and customer support.
However, there are some significant differences between the two programs that can prompt customers to choose one over the other. Follow along for a full comparison of the Visa Infinite Program vs Mastercard World Elite to determine which one offers the best perks, rewards, and experiences for Canadian travellers. Plus, we'll take a look at some of Canada's most popular premium credit cards that come with Visa Infinite or Mastercard World Elite benefits.
Before we dive in, note that Visa and Mastercard each have two tiers to their programs. Mastercard World Elite is Mastercard's second level, following the Mastercard World Program. Visa, meanwhile, has a level higher than Visa Infinite called the Visa Infinite Privilege Program. For this article, we will be comparing Mastercard World Elite to Visa Infinite as they are the most similar in terms of price points, accessibility and in what they offer.
Visa Infinite vs Mastercard World Elite: The Basics
Let's start with the basics. Visa Infinite and Mastercard World Elite are designed for premium credit cards. Below is an easy-to-read table that breaks down the eligibility requirements of both programs along with a brief round-up of the benefits each of them offers.
Visa Infinite
Mastercard World Elite
Annual Income Requirement
Personal income: $60,000
Household income: $100,000
Personal income: $80,000
Household income: $150,000
Credit Score
670 or greater
670 or greater
Major Financial Service Providers
BMO, TD, CIBC, Desjardins, Scotiabank, RBC
BMO, Brim, Desjardins, MBNA, Rogers, RBC
Insurance Offered
12 types of comprehensive insurance coverage
15 types of comprehensive insurance coverage
Travel Perks
Visa Infinite Luxury Hotel Collection
Visa Airport Companion powered by DragonPass
Mastercard Travel Pass powered by Dragon Pass
Lounge Access
Free DragonPass membership available to select Visa Infinite cards, free access to lounges for even fewer
Free DragonPass membership available to select World Elite Mastercards, free lounge access for some cards
Experiences
Visa Infinite Dining Series
Visa Infinite Wine Country Program
Periodic invites to private movie screenings or in-home offers through the Visa Infinite Screening series
Mastercard Priceless
Mastercard Priceless Cities
Rewards
Visa RSVP Rewards Benefit
2% rebate at select merchants with Mastercards Preferred Program
Automatic cash-back at select travel retailers
Extra Perks
Intermittent, limited-time discounts at major retailers
Free membership with Troon Rewards and 10% off at select golf courses and pro shops around the world
Exclusive benefits at Cirque de Soleil performances
Free Boingo Wi-Fi at over 1 million hot spots around the world
Visa Infinite vs Mastercard World Elite: Travel Perks
Having a travel credit card with either Mastercard World Elite or Visa Infinite benefits is a great advantage for frequent travellers. Along with global recognition, both programs have a range of benefits that make travelling more comfortable and convenient and save you money on unique, one-of-a-kind experiences abroad and close to home. Let's take a look at Mastercard World Elite and Visa Infinite's travel perks one by one.
Airport Lounge Access
There is no doubt that access to airport lounges is one of the most attractive features of travel credit cards. Along with discounts at select dining and retail spaces in airports around the world, Visa's travel program, called Visa Airport Companion and powered by DragonPass, gives select Visa Infinite cardholders access to over 1200 Plaza Premium airport lounges around the world. However, not all cards that offer free enrollment also offer free lounge access, and the number of free visits varies by card.
For example, the CIBC Aventura Gold Visa Card comes with a Visa Airport Companion membership and 4 free lounge visits that can be used by the primary cardholder or shared with a guest, but the Scotiabank Passport Visa Infinite Card comes with 6 free lounge passes that can only be used by the primary cardholder.
[Offer productType="CreditCard" api_id="5f31a9ab92ec22115033b2c2″ id="202188″]
On the other hand, the Vancity enviro Visa Infinite Card comes with a free Airport Companion membership, but not free visits; cardholders can take advantage of dining and retail discounts but will be required to purchase a lounge pass for $32 USD.
Mastercards travel program is called Mastercard Travel Pass, and it is also powered by Dragon Pass. Like Visa's travel program, Mastercard Travel Pass gives cardholders discounts and offers and select airport restaurants, but also provides things like private airport transfer services, airport security fast track, and exclusive access to discounted hotel and travel offers.
Similar to the Visa Infinite Program, not all Mastercard Travel Pass holders enjoy free lounge access with their membership. The BMO Air Miles World Elite Mastercard comes with complimentary membership but no free visits, unlike the BMO Ascend World Elite Mastercard, which comes with 4 free annual passes, the most available from any World Elite Mastercard.
[Offer productType="CreditCard" api_id="5f316f8592ec22115033b2b9″ id="200798″]
Winner: Visa Infinite. With 6 free passes, The Scotiabank Passport Visa Infinite card offers the highest number of free lounge passes out of both programs.
Hotels
The Mastercard World Elite program doesn't have a detailed hotel rewards program. Instead, Mastercard Priceless provides cardholders with various offers and discounts for travel-related excursions like city tours, events, concerts etc. If you live in a major city, Mastercard Priceless is a great way to find tickets to events at home, as well. Mastercard Priceless features automatic upgrades, free nights, hotel dining vouchers and vacation packages sometimes, but they can be hard to find. The website lets you browse offers by interest or location only, and 'travel' is the most narrow-niche way to find deals that feature accommodation.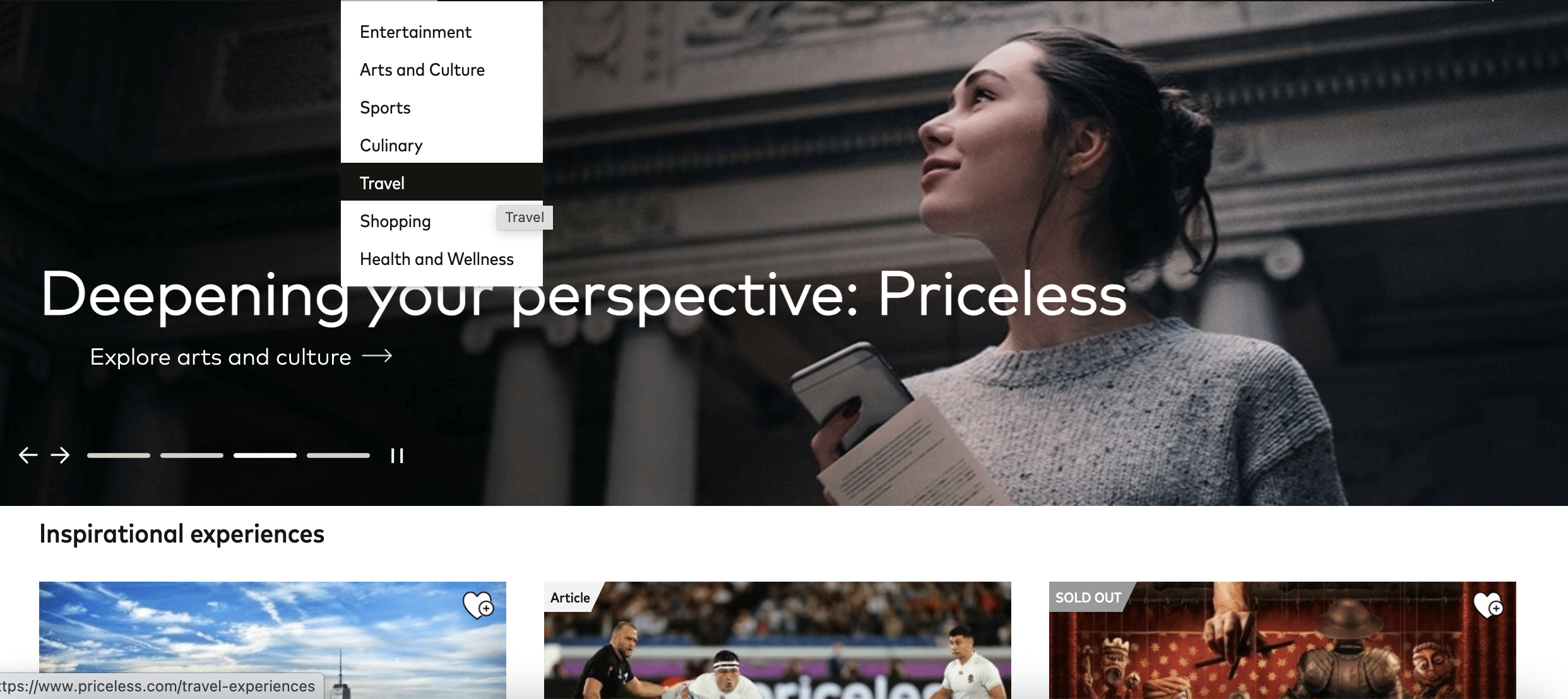 While this can be a fun way to plan a trip, it's not very helpful if you already have the destination in mind, or if you're stranded somewhere and need to book a place to crash for the night.
Visa Infinite cardholders, on the other hand, enjoy luxury accommodation at over 900 properties around the world with the Visa Infinite Luxury Hotel Collection. Standard benefits include
Best rate guarantee
Free room upgrades
VIP Status
Free Wifi
Free breakfast for up to two guests
A late check-out for no additional charge
A USD dining credit worth $25 USD
Plus, the website regularly features exclusive limited-time offers for things like free nights, vacation packages, discounts and more.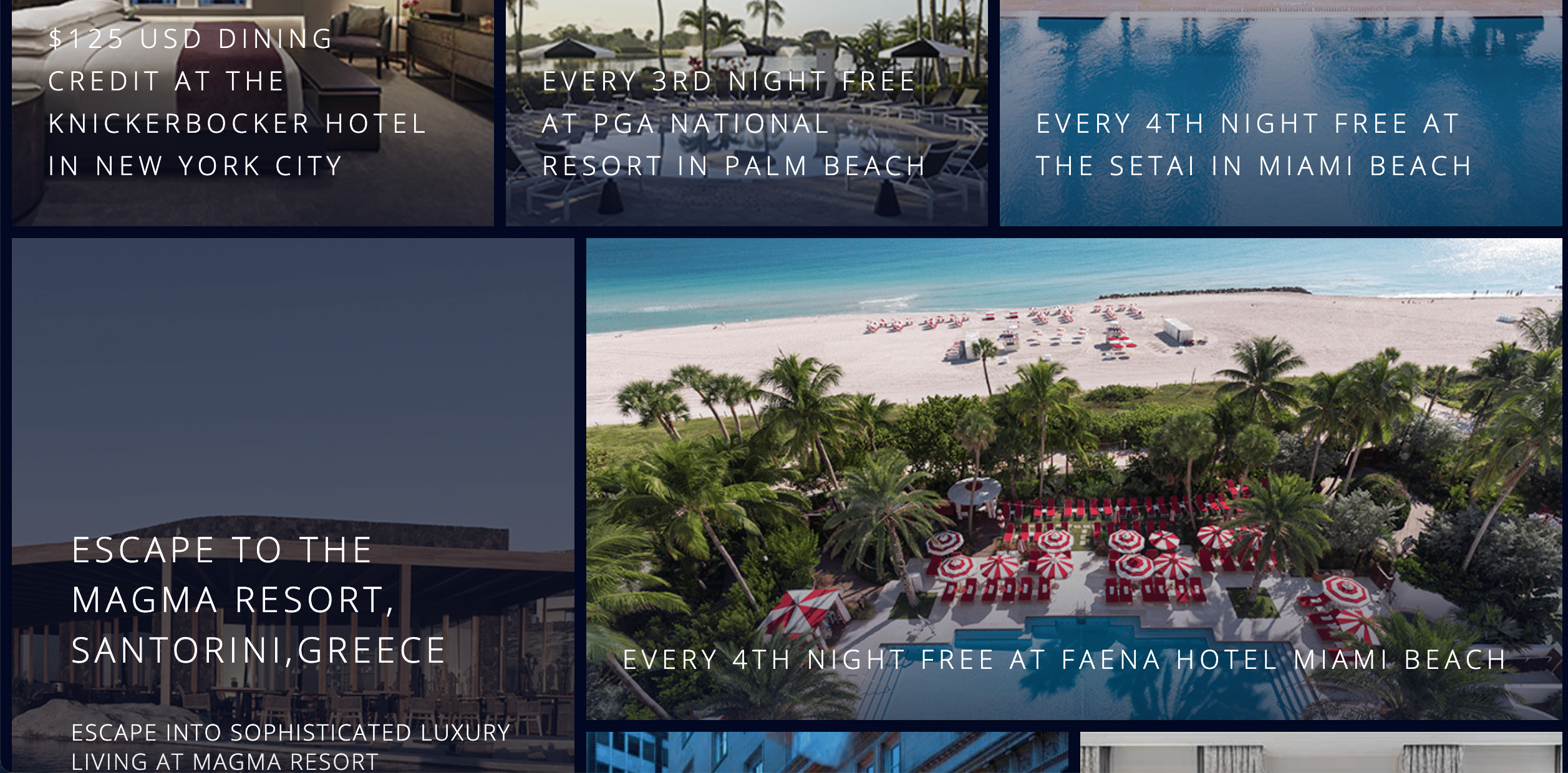 Winner: Visa Infinite. The program has a huge selection of properties to choose from, a set standard of perks that guests can expect, plus exclusive limited-time offers that include vacation packages, bonus free nights, and hotel dining discounts. Plus, the website is easy to navigate, and you can search for individual hotels by name or by location and input your specific dates.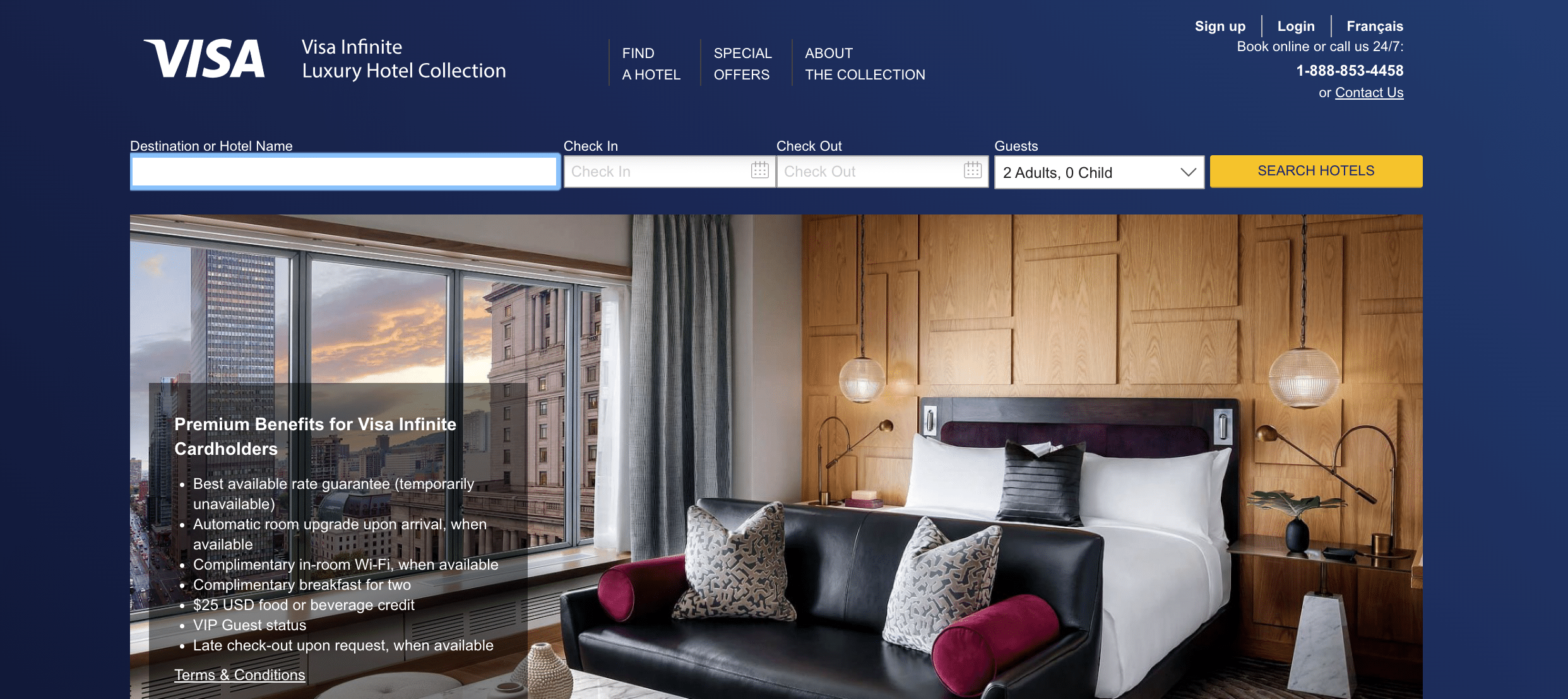 Visa Infinite vs Mastercard World Elite: Experiences
Mastercard World Elite's hotel, dining and experience benefits all come together in one program called Mastercard Priceless. While the dining and hotel perks are not on par with those offered by Visa Infinite, there are quite a few interesting, one-of-a-kind experiences available to choose from, like a private balcony at the opera in Spain, a pottery class with a master potter in Mexico, and a perfume making experience in the Czech Republic. The list is quite extensive and includes walking tours, outdoor adventures, discounted tickets to live shows and sporting events, galleries, helicopter tours, spa packages, gourmet dining experiences, and private tours of historical landmarks and museums. There truly is something for everyone.

There are virtual online experiences to choose from as well, including several Masterclass cooking lessons with world-renowned top chefs and virtual tours of museums and cities.
Visa Infinite has a list of similar offers, but it's nowhere near as long or as varied as Mastercard Priceless. Still, a wide range of experiences includes sporting events like a Ski & Spa package at Hôtel Château-Bromont in Quebec, a wine and dine pack from the Trayvino Wine Company, and early access to tickets to the Toronto International Film Festival.
In terms of culinary experiences, Visa Infinite really shines with its Wine Country Program and Visa Infinite Dining Series offerings. The dining series delivers cardholders exclusive invites to seasonal culinary events around Canada with some international events offered as well. The Wine Country Program earns you benefits like free tastings and tours at select wineries across British Columbia and Ontario, as well as online and in-store offers like free shipping and discounts on wine. The featured wineries change from year to year, but the list is always comprised of 100% Canadian businesses.
Winner: Visa Infinite. Their Dining and Wine Country Programs have something new to offer foodies a few times per year and, unlike Mastercard Priceless, the vast majority of events take place in Canada. Priceless does have some very unique offerings, but almost all of them are abroad or online
Visa Infinite vs Mastercard World Elite: Rewards
The Mastercard Preferred Program rewards customers with 2% cash back at participating retailers, plus World Elite cardholders will earn cash rewards and enjoy online offers from big-name brands like Bloomingdales, Saks Fifth Avenue, Apple, and even some airlines with Mastercard Travel Rewards.
Visa's loyalty program, Visa RSVP Rewards Benefit, rewards customers who stay at over 60 Sandman, Sandman Signature and Sutton Place Hotels in Canada. Spend between $1500 and $3999 annually to enjoy 10% of hotel dining and earn 7 points for every $1 spent, which can be redeemed for free nights.
Winner: Visa Infinite
Visa Infinite vs Mastercard World Elite: Extra Perks
We've already covered quite a few perks so far, but Visa Infinite and Mastercard World Elite still have a few little things to offer their customers.
Visa Infinite cardholders can subscribe to the Canadian streaming service Total Crave for $145 per year, compared to the regular price of $240. They can also get 35% off an entire print order from Fuji Film, and take advantage of a free Troon Rewards subscription, which saves golfers 10% at select golf courses.
Mastercard World Elite members will receive invitations to Cirque de Soleil special events and shows and can take in any performance in Canada or Las Vegas from a preferred seat and at a special discounted rate. Plus, they'll have the convenience of over 1 million Boingo Wifi hotspots around the world without having to worry about roaming charges or hidden fees.
Winner: Mastercard World Elite
Visa Infinite vs Mastercard World Elite: The Bottom Line
The Visa Infinite Program is the clear winner when it comes to travel perks, accessibility, and experiences both close to home and abroad.
Keep in mind, however, that Visa and Mastercard programs work in conjunction with reward programs offered by the banks they partner with. When you compare credit cards, it's a good idea to take a look at the package as a whole, including what the provider (in most cases, the bank) is offering, instead of basing your decision solely on the benefit program.
FAQs About Visa Infinite vs Mastercard World Elite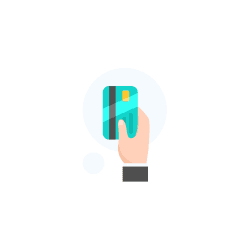 Find the best credit card for your needs