Wealthsimple Cash Account Review 2023: Go or No Go?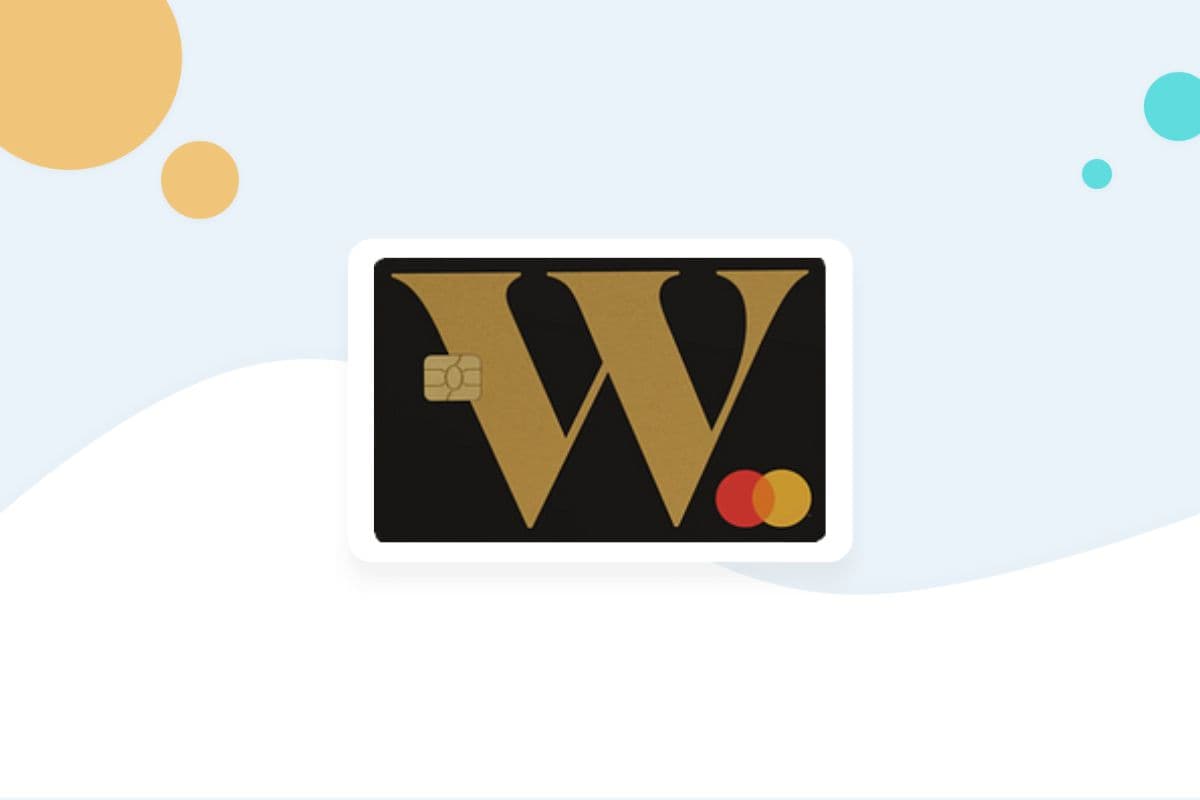 The Wealthsimple Cash account is my new favourite place to park my emergency fund. There, my money earns up to 5% interest. No, that's not a promotional offer with an expiry date. Wealthsimple recently revamped its cash account to offer higher interest and a new prepaid Mastercard with flexible cash back rewards. What began as Canada's favourite robo-advisor has now become a powerful all-in-one money management platform. The Big Six better look out, Wealthsimple is sneaking up on them like Jason Momoa on Henry Cavill. Let's take a look at what the new and improved Wealthsimple Cash account has to offer.
What is Wealthsimple
Wealthsimple is a Canadian fintech unicorn that is disrupting Canadians' banking and investing routines. Currently valued at CAD $5 billion, the company initially provided a low-cost digital investing platform that allowed millions of Canadians to start trading with just a few dollars and no minimum balance requirements. Today, it makes filing taxes, paying bills, and investing more convenient and cost-effective for Canadians.
Its latest product is the updated Wealthsimple Cash account and it is another game changer. Let's dive into the features and benefits this innovative account has to offer.
What is Wealthsimple Cash?
[Offer productType="BrokerageAccount" api_id="5f53d2134d1911503113cafa"]
Nestled inside the Wealthsimple Trade app is Wealthsimple Cash; an alternative bank account that offers all the same essential functions as a traditional chequing account, but better. There are no monthly fees and you get to enjoy free and unlimited daily banking transactions. Plus, every dollar in your Cash account earns an incredible 4%-5% annual interest depending on the total combined assets you have with Wealthsimple.
There are 3 high-interest tiers:
| | | | |
| --- | --- | --- | --- |
| | Core Clients | Premium Clients | Generation Clients |
| Total Assets | $1 + | $100,000 + | $500,000 + |
| Interest on Deposits (annual rate) | 4% | 4.5% | 5% |
Essentially, Wealthsimple Cash is a hybrid account: it earns high interest but it is also a chequing account that lets you access your money anytime online, through the app, and with your Wealthsimple Cash Card – a sleek, black prepaid Mastercard. You can pay your everyday expenses and make purchases with the card. Like other Wealthsimple accounts, you are not required to maintain a minimum balance.
To open a Wealthsimple Cash account, you'll need to open a Wealthsimple Trade account and download the app first. Once that's done, you can open your Cash account from within the app.
How is Wealthsimple Cash Different From a Traditional Chequing Account?
Wealthsimple explains that chequing accounts are generally used to pay for everyday expenses including rent, groceries, utilities, and more. Most banks pay you a nominal interest rate on your chequing account that never comes close to beating the target inflation rate, let alone the crazy inflation we're experiencing post-pandemic.
While inflation goes up, your chequing account balance stays the same, which creates a spending power imbalance. That means your money is losing value, effectively making you poorer as time goes on. Normally, earned interest helps to offset this by adding money to your account without you having to work for it.
With a high enough rate, your money can maintain its value despite inflation, and in some cases even come out ahead of it. High interest is usually reserved for savings accounts, and those usually have restrictions on the number of monthly transactions permitted.
This is where Wealthsimple Cash is different. Here, your chequing account balance grows at a rate that is competitive while the funds remain easily accessible to pay for daily expenses. You gain back some financial power.
What Can I Do With My Wealthsimple Cash Account?
Almost everything you do with your current chequing account, you can do with Wealthsimple Cash. Only this one doesn't charge you any monthly fees or account packages. All your essential transactions are free and unlimited, such as:
Deposits
Direct deposits
Withdrawals
eTransfers
Bill payments (pre-authorized and manual)
Purchases with your prepaid Mastercard
ATM transactions
Instant peer-to-peer money transfers (like Venmo)
Auto-invest your pay
Shop in-store and online, both at home and abroad
Coming soon:
Joint accounts
Scheduled bill payments
Scheduled eTransfers
Cheques
Fund your Wealthsimple Cash account quickly and easily by:
Visa Debit Card: just type in your card details to instantly add up to $3,500
eTransfer: add up to $3,000 within 30 minutes
Linking an External Account: add up to $5,000 instantly by transferring money directly from a linked Canadian bank account at another institution
Transfer: instantly move funds between your Wealthsimple accounts
Direct Deposit: have your paycheque and government benefits directly deposited into your Cash account
All About the Wealthsimple Cash Card
The Wealthsimple Cash card is a sexy, black prepaid Mastercard linked to your account. It acts like a debit card giving you instant access to your money, but with the convenience and perks of a credit card. You can use it everywhere Mastercard is accepted – online, in-store, and abroad.
Unlike a debit card, however, you earn a flat 1% cash back rate on almost all your regular spending. That's not an especially stellar rate, but here's why I still love it: you can choose to automatically invest your cash back rewards in stocks or crypto, or just keep them snug inside your high-interest cash account.
The Wealthsimple Cash card lets you put wealth creation on autopilot by investing your free money where it can make even more free money. On the flip side, they're also giving you a risk-free way to dabble in crypto by investing your passive cash back rewards instead of your own hard-earned money. That way, if the crypto market slumps, you'll have peace of mind knowing you didn't waste hours of your life traded away for a paycheque.
Finally, this card doesn't charge any foreign transaction fees when you use it abroad or to shop online with non-Canadian retailers. Only the standard currency conversion rate applies, just not the icky markups charged by most other credit cards. Plus, they don't charge any ATM transaction fees. But keep in mind, you're still subject to the fees charged by ATM network providers, which are outside Wealthsimple's control.
The Wealthsimple Cash App is Safe and Convenient
In addition to earning higher interest rates, the Wealthsimple Cash app also facilitates peer-to-peer payment transactions. You can now log in to the mobile application and send money instantly to your friends and family.
In order to use the app, you need to download it and set up an account. If you already have a Wealthsimple account you can open a Cash account from inside the Wealthsimple Trade app. Once the account is created, you can add money to Wealthsimple Cash and import your phone contacts which permits you to instantly send and receive money with your contacts who also have Cash accounts.
A Canadian Venmo Alternative
If you're looking for a Venmo alternative, this is it! Wealthsimple Cash is built for convenience above all else. It not only provides a prepaid card like Koho, but it also offers more options for you to manage your cash and move it around instantly. I love how Wealthsimple takes the best features of other fintech platforms and bundles them together with your Cash account. Best of all, it has an integrated peer-to-peer payment feature making it insanely simple to send and receive money from friends and family.
First, it is faster than what you might be used to when using eTransfers. It's similar to an Interac eTransfer but it is instantly credited or debited from your account. You don't have to worry about the time it takes your bank account to record the expense. Nor do you have to worry about adding recipient details or coming up with that annoying security question.
It happens so fast that you always know how much money is left to spend. While several banks have a limit on the amount of cash you can send, Wealthsimple Cash allows you to send $5,000 daily with a monthly limit of $30,000. The recipient gets it instantly, and you can even request money from the people who owe you. Just search for their Wealthsimple Cash handle, which is their username that starts with a dollar sign, like $coinhandluke.
Imagine instantly splitting your restaurant bill or concert ticket expenses with friends. Splitting a bill usually means "I will pay you back." When, where, and how can test a relationship, or even end one. Instead, Wealthsimple Cash lets you pay your portion of the bill instantly from the app at the tap of a button. Just navigate to your Cash account within the app, tap on the paper airplane icon labelled "Send or request", then select "Split a bill." Create a group with everyone's handle and follow the prompts.
Wealthsimple Cash has been integrated with the Wealthsimple Trade app, making it a "one-stop-shop" for almost all your financial needs. However, Wealthsimple Cash offers more than just integrating your account under one financial umbrella.
Wealthsimple Cash Gamifies Saving & Investing
Actually, it's gamification of your financial life. What is gamification? It is the driving principle behind what makes you try to unlock prizes or level up in a game or reward system.
If you have $100,000 in combined balances across all Wealthsimple accounts where you are the primary or sole owner, you are automatically upgraded to Premium status. If you are a secondary owner on a joint account, you also need to have a net deposit of $100,000 – meaning $200,000 in total for both of you. Once you reach Premium status, you benefit from lower management fees that drop from 0.5% to 0.4%, on your investment account. Your Cash account interest rate is also automatically increased from 4% to 4.5%.
Once you cross $500,000 in combined balances, you really hit the motherload. You're automatically upgraded to Generation status. This level gives you all the same perks as Premium, but it knocks your management fees down even lower to 0.2-0.4%. And your Cash account rate gets jacked higher to 5%. Plus, you get access to a dedicated team of financial advisors, custom investment portfolios, custom asset allocation, and more.
Here's an overview of the different status levels and their benefits: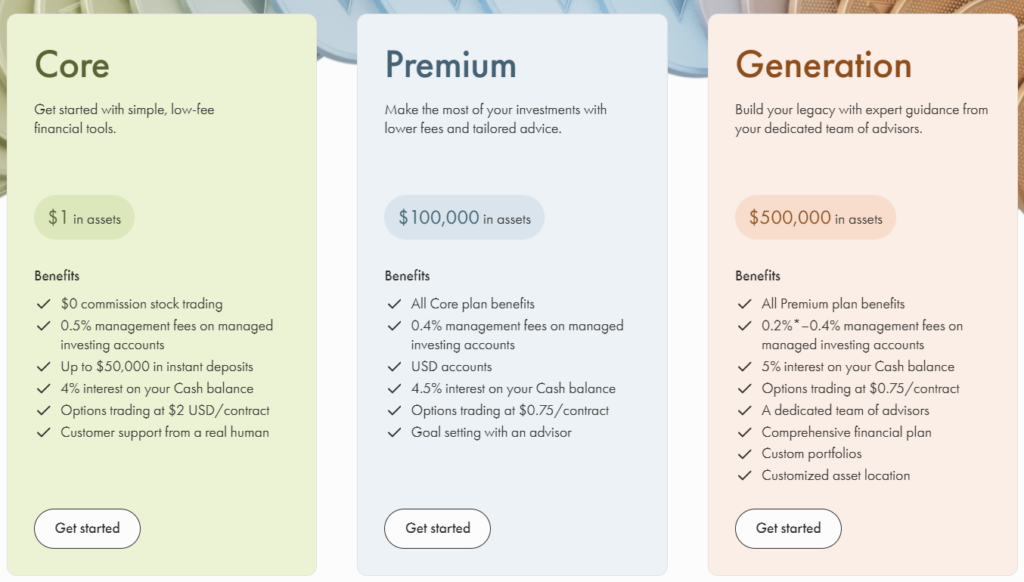 Is Wealthsimple Cash Secure?
There is very little friction between setup and being ready to manage, spend, save, invest and send money. Using biometrics and fingerprint ID, Wealthsimple Cash keeps your identity and your money safe without relying on secret questions. Add to that the benefits of two-factor identification, and you might start liking your banking app for more reasons than before.
Another innovation is the privacy that comes with peer-to-peer cash transfers. You don't have to release your name, email, or phone number to anyone if you don't want to. You assign yourself a handle, much like you would on social media. Wealthsimple Cash app users can find each other by handle, name, or phone number – dealer's choice.
Furthermore, your eligible Wealthsimple Cash deposits are insured by the Canada Deposit Insurance Corporation (CDIC). That's because Wealthsimple is registered with FINTRAC as a money service business and has partnered with major Canadian banks to safely hold your money in trust.
Wealthsimple Cash: The Final Takeaway
Wealthsimple Cash succeeds at disrupting the traditional banking industry by providing a convenient and different way to bank and invest online. It's unique in that it offers a no-fee daily transaction account with no minimum balance requirements while paying you up to 5% on your balance. Wealthsimple Cash is loaded with convenient features, like a 1% cash back prepaid Mastercard, the option to auto-invest your cash back into stocks or crypto, instant peer-to-peer transfers, and more.
But one of the best features is the seamless integration within the Wealthsimple Trade app, where you can quickly and easily access all your Wealthsimple products in one place – the palm of your hand. Paying bills might never go away, but it might make financial sense for you to try Wealthsimple Cash to make the most of every single penny.
[Offer productType="BrokerageAccount" api_id="5f53d2134d1911503113cafa"]
Alternatives to Wealthsimple Cash
If you think Wealthsimple Cash is not for you, here are some alternatives that may be a better fit:
KOHO Prepaid Mastercard
[Offer productType="CreditCard" api_id="604aaa18e770040140f2203e" id="144191″]
The KOHO Prepaid Mastercard has many of the same benefits as traditional credit cards and more. It allows you to pay your bills and make purchases anywhere that accepts Mastercard, both in-store and online. You can earn up to 5% cash back on eligible purchases, as well as up to 4.5% interest on deposits.
In addition to its many options, there is a premium version with even more benefits such as best price refund, no foreign conversion fees, and better cashback offers than other cards of the same type.
Neo Money Card
[Offer productType="SavingsAccount" api_id="60fee79313fd2f260ff90749″ id="173809″]
The Neo Money Card comes with your Neo Money Account to give you quick access to your funds. With this account, you'll enjoy free and unlimited daily banking transactions, no monthly account fees, and tons of rewards opportunities.
With the card, you can earn an average of 5% cash back when you shop from over 10,000 Neo partner merchants. And every first-time purchase you make with a partner can give you up to 15% cash back or more. From the app, you can find tons of cash back opportunities near you so you never miss out. Plus, your account balance earns 2.25% interest until the moment you spend it.
EQ Bank Card
[Offer productType="CreditCard" api_id="63d2cb6a18196b6d2e1928c2″ id="198047″]
The iconic digital bank recently launched the EQ Bank card that allows you to spend the money in your EQ Savings Plus account. Simply load the card by transferring money from your main account to the card account. Every transaction earns 0.5% cash back.
On top of that, there are no foreign transaction fees, and any fees charged by Canadian ATMs are reimbursed to you. This card is a welcome addition to their flagship high-interest savings account that comes with no monthly fees and free, unlimited daily transactions.
Canada Post Cash Passport Mastercard
The Canada Post Cash Passport Mastercard is a prepaid credit card that you can use to withdraw cash, pay bills or make purchases at any business that accepts Mastercard.
The card is available to Canadians over the age of 18 who have a Canadian address and a valid social insurance number. You can apply for the card online, in person at a Canada Post outlet or by phone.
Compare the different prepaid credit cards and choose the one that suits your needs!
FAQs About Wealthsimple Cash
What is Wealthsimple Cash?
Wealthsimple Cash is a daily transaction account offering many of the same features and functions of a traditional chequing account. The major difference is that the account is free with no monthly fees, daily transactions are free and unlimited, your balance earns 4-5% interest, and it comes with a free prepaid Mastercard that earns 1% cash back with no foreign transaction fees and no ATM fees levied by Wealthsimple.
Does Wealthsimple Cash have fees?
No. The Wealthsimple Cash account is virtually feeless. There is no monthly fee and the only transactions you can perform on the account are free. The main fees you will encounter are the standard currency conversion fees when you transact in a foreign currency, which are different from the additional foreign transaction fees charged by most credit card companies. Wealthsimple does not charge these additional foreign transaction fees. And while Wealthsimple does not charge ATM fees, your transactions are subject to the fees charged by ATM network providers which are outside Wealthsimple's control.
How to get a Wealthsimple Cash card?
To get a Wealthsimple Cash card, you first need to open a Wealthsimple Cash account. To do this, you'll need to download the Wealthsimple Trade app and open a Cash account from within the app. Once that's done, tap the card icon at the bottom of your screen. Then tap the card icon at the top right of your screen. Follow the prompts to request your free Wealthsimple Cash card. You'll instantly get a virtual card that you can use while you wait for the physical one to arrive in the mail.
What are the advantages of a reloadable prepaid card? 
A reloadable prepaid card is often a more convenient way to spend money. It's like a debit card  but without the associated bank account. You can combine the benefits of today's most popular payment options – credit cards, debit cards and cash – into one easy-to-use card that lets you reload as often as you like.
How do Mastercard Prepaid cards work?
Mastercard Prepaid cards are an easy, convenient and affordable way to pay. You can use them anywhere Mastercard is accepted, without needing a bank account or credit card. Use them to shop in-store, online, and abroad like you would with a traditional Mastercard. The only difference is that you're spending your own money instead of borrowing money from a credit card issuer that needs to be paid back, often with interest. For that reason, Mastercard prepaid cards do not require a credit check.
Can I withdraw money from a Mastercard Prepaid card?
It depends on where you get it. Prepaid cards issued from banks and fintechs like Wealthsimple, KOHO, Neo, etc. can be used to withdraw money from ATMs, but the transactions are subject to a network fee. Prepaid cards you can buy anonymously from places like grocery stores and convenience stores typically do not allow you to withdraw money from ATMs.
How does a prepaid travel card work? 
Prepaid travel cards are a great way to save money on airline tickets and other travel expenses. They are accepted worldwide depending on the network used, for example, Visa, Mastercard or Amex.
Can I use a prepaid card on Amazon?
Yes, you can use a prepaid card on Amazon and most merchants accept Visa or Mastercard.
Does Uber accept prepaid credit cards?
Yes, Uber accepts prepaid credit/debit cards.