Kraken vs. Bitbuy: Which One Should Canadians Pick?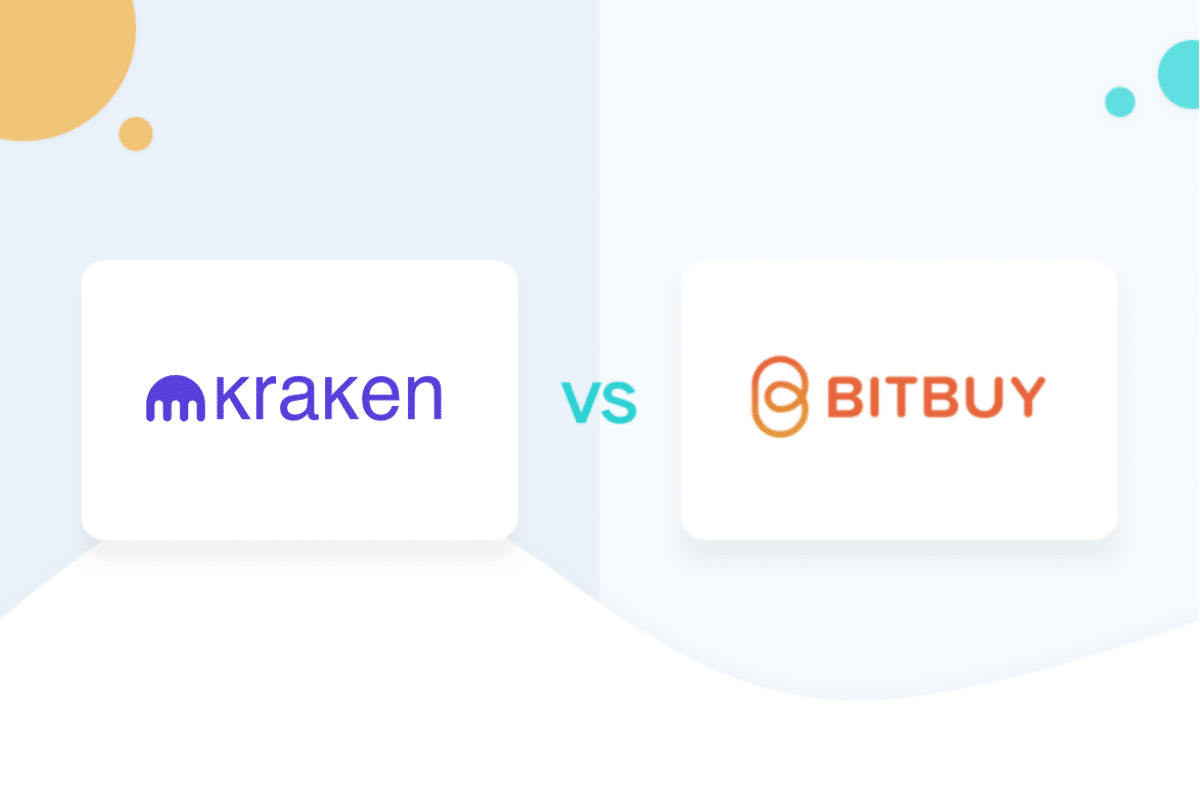 Looking to compare Kraken vs Bitbuy in Canada? We've got you covered! Choosing a cryptocurrency exchange can be as complicated as choosing what digital tokens to invest in. Trading is becoming increasingly more accessible for Canadians, with many exchanges available in the palm of your hand. But not all exchanges are created equal, and the best one to use will depend on the functionalities and features you require and how you intend to use the platform.
You may just want a simple, straightforward app to purchase Bitcoin, or you may want more advanced trading features with more alt-coins. Kraken and Bitbuy are two of the best crypto trading platforms in Canada, and in this guide, we'll break down everything you need to know about Kraken vs Bitbuy so you can pick the right one for you.
What is Kraken?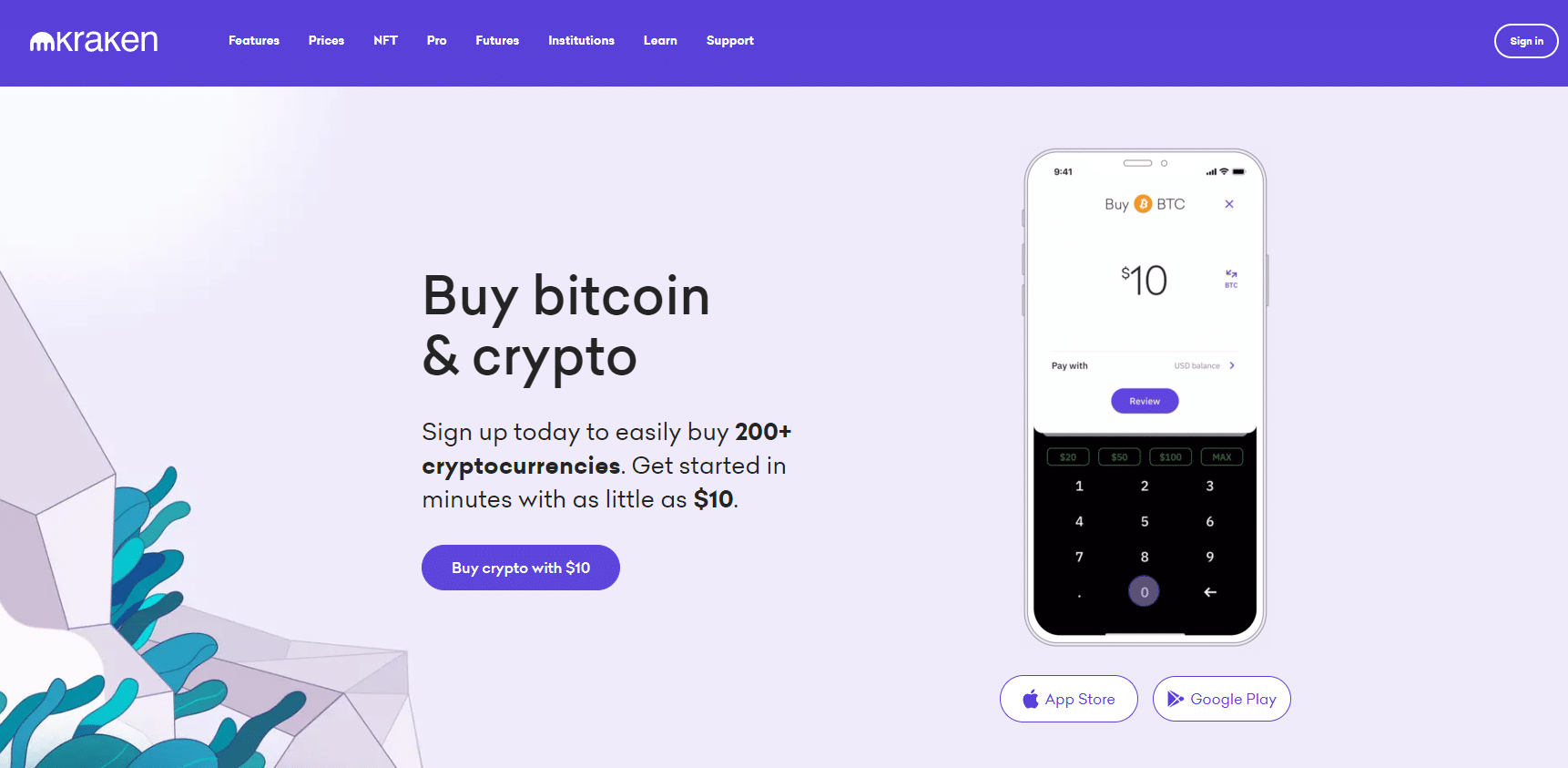 Kraken is a global cryptocurrency exchange that operates in over 200 countries with around 4 million active users. This exchange is based in San Francisco, California, and was founded in 2011, making it one of the oldest cryptocurrency platforms in the world. It's a favourite among experienced traders for its Pro Trading platform and competitive fees. But for new traders, the Instant Buy fees can be pretty steep.
Still, Kraken has a reputation for having some of the highest security standards of any crypto exchange platform and hasn't had any serious hacking events in its over a decade of operation. This is an attractive option for traders who prioritize security. Kraken is one of the most trusted exchanges in the entire world and offers Canadians a secure and comprehensive way to trade a massive volume of digital tokens.
What is Bitbuy?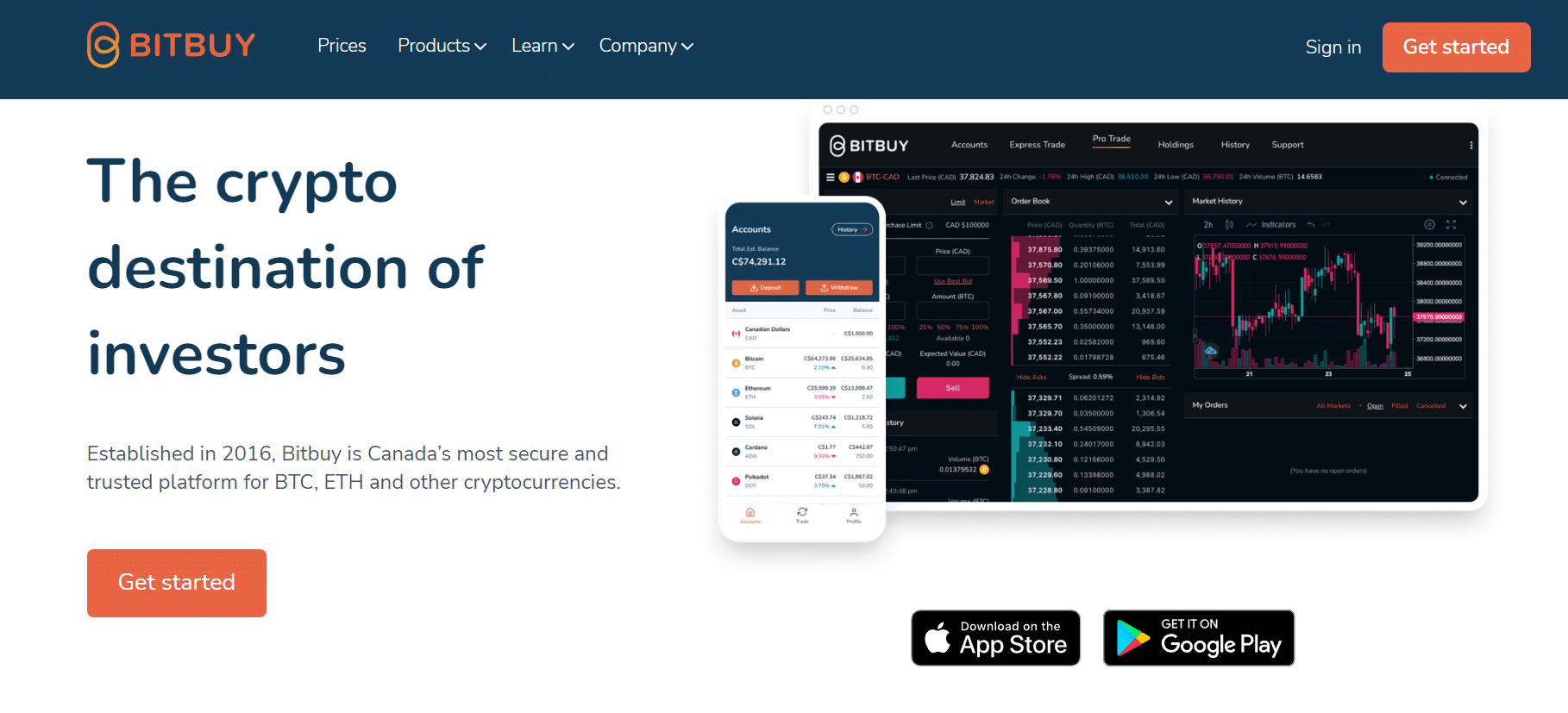 Bitbuy, headquartered in Toronto, is one of Canada's most popular cryptocurrency exchanges. Contrary to Kraken, which is a global exchange, BitBuy is made by Canadians for Canadians. Founded in 2013 as InstaBT, it rebranded as Bitbuy in 2016 and became the first cryptocurrency exchange to receive full approval from the Ontario Securities Commission (OSC).
It's fully registered with FINTRAC, with over 400,000 Canadian users and more than $5 billion in transactions traded on the platform to date. With comprehensive security features, an incredibly simple user interface, a PRO trade platform, and the ability to fund accounts with CAD, Bitbuy is one of Canada's best cryptocurrency platforms.
[Offer productType="CryptoExchange" api_id="61a0001c149d52071313dfba" id="167449″]
Trading options for Canadians on Kraken vs Bitbuy
Both Kraken and Bitbuy offer cryptocurrency trading options for Canadians, but their offerings are slightly varied.
Kraken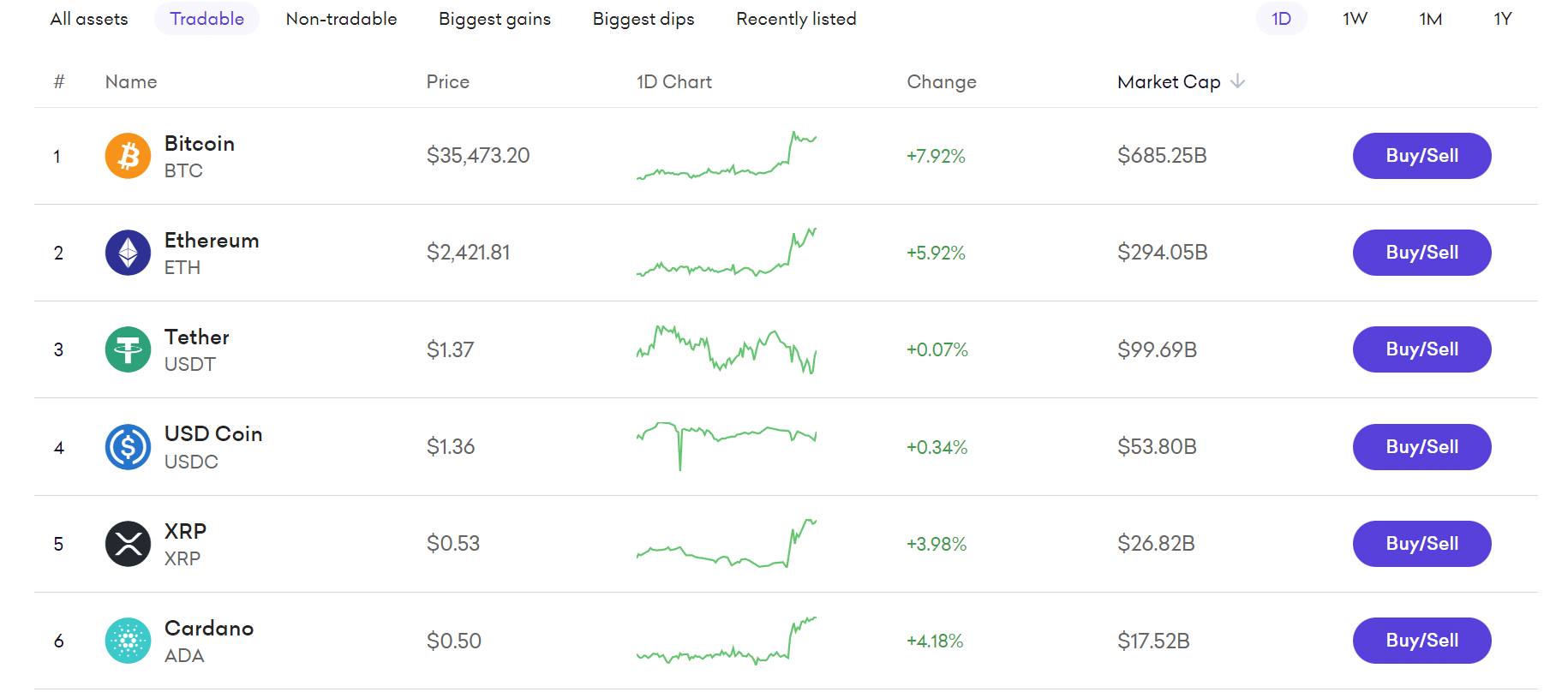 Kraken allows users from around the world to buy and sell a wide variety of cryptocurrencies, but there are a few restrictions for Canadian users to keep in mind. There are many options to fund your Kraken account, including Interac eTransfer, Wire Transfer, Etana Custody or crypto. You can also fund it in person with cash at a Canada Post location. Canadians cannot fund their accounts with debit, credit or PayPal.
The platform offers margin trading, market orders, limit orders and futures trading. But there are specific requirements Canadians must meet to access certain margin and futures trading features based on which province they reside in.
For some residents of Ontario, Québec and Alberta, margin trading may not be available at all, and bonded staking is not available to Canadians either. Kraken also has a Pro Trade for those who want more in-depth trading data.
There are over 150 digital currencies available for trade on Kraken. These include:
Bitcoin (BTC)
Litecoin (LTC)
Binance Coin (BNB)
XRP (XRP)
Polygon (MATIC)
Cosmos (ATOM)
Polkadot (DOT)
And more!
One thing to note is some coins are unavailable to Canadians, including ACA, ORCA, ALICE, STEP, WOO and XRT.
Bitbuy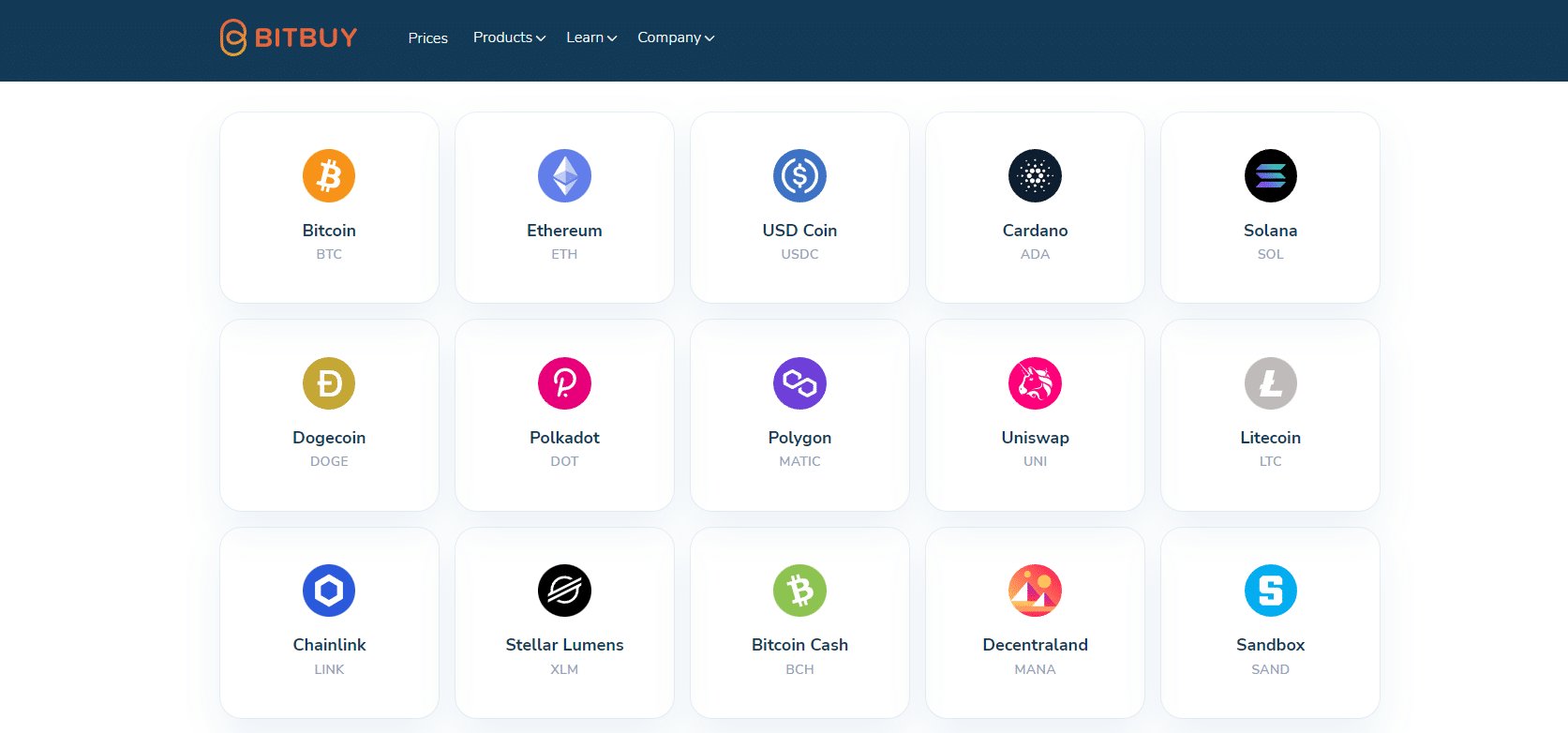 Bitbuy makes it easy for Canadians to buy and sell digital currencies, with options to fund accounts using Interac eTransfer or Wire Transfer. There are two main trading platforms based on how crypto-savvy you are: Express Trade and Pro Trade.
They also have a staking platform that allows you to earn passive income on your crypto holdings. Bitbuy provides a mobile app for users who want to trade on the go.
One of the standout features of Bitbuy for Canadians is the ability to fund fiat wallets with Canadian dollars, making it easy for users to buy digital tokens without having to worry about exchange rates or currency conversions.
Bitbuy supports a variety of the most popular digital currencies, and users can buy and sell them directly on the platform. Although the selection of tokens is currently limited to 25, they support some of the top tokens, including:
Bitcoin (BTC)
Ethereum (ETH)
Cardano (ADA)
Dogecoin (DOGE)
Litecoin (LTC)
Decentraland (MANA)
ApeCoin (APE)
And more!
Bitbuy also offers the option to sell digital tokens for Canadian dollars, which users can then withdraw to their personal bank accounts via Interac eTransfer or Wire Transfer. This is a significant advantage for Canadian users, as most global cryptocurrency platforms do not offer this option.
Fees
Kraken and Bitbuy have varied fee structures based on how you fund your account, buy and sell currencies and withdraw your money. Here's what to expect on Kraken vs Bitbuy:
Kraken
Kraken's fee structure is very complex and will depend on various factors, including how you're depositing funds, your transaction size, what assets you're buying or selling, and the market conditions. It will also depend on whether you're using Krakens Instant Buy platform or their Pro platform.
For a ballpark, you can expect to pay between 0.90% to 1.5% fees when trading with Instant Buy. You'll also have to pay a processing fee of 0.5%.
For the pro version, fees are a bit less and depend on your trade volume. If your trade volume is under $50,000, you can expect a maker fee of 0.16% and a taker fee of 0.26%. And they just go down from there. It's free to deposit CAD via Wire Transfer, and Interac eTransfer has a deposit fee of 1.5%.
Bitbuy
Bitbuy offers free deposits with either Interac eTransfer or Wire Transfer and free cryptocurrency deposits too. To withdraw funds, you'll pay a 1.50% flat fee.
For buying or selling cryptocurrency, you'll pay a fee between 0-2% based on the tiered fee structure you fall into based on your trading volume. For example, if your trading volume is under $250,000, then you'll pay both a maker and taker fee of 2% when buying or selling.
But if your trade volume is between $250,000 – $1,000,000, you'll only pay a maker fee of 0.50% and a taker fee of 0.75%. But regardless, this is substantially more than you'd spend on Kraken's Pro Trade platform.
There is no fee for depositing digital currencies from external wallets or exchanges. The fee for withdrawing crypto from Bitbuy will vary based on the token you're trying to send.
Features
Kraken, being one of the biggest cryptocurrency exchanges in the world, has a comprehensive list of features. But Bitbuy may still offer everything that you need to trade effectively.
Kraken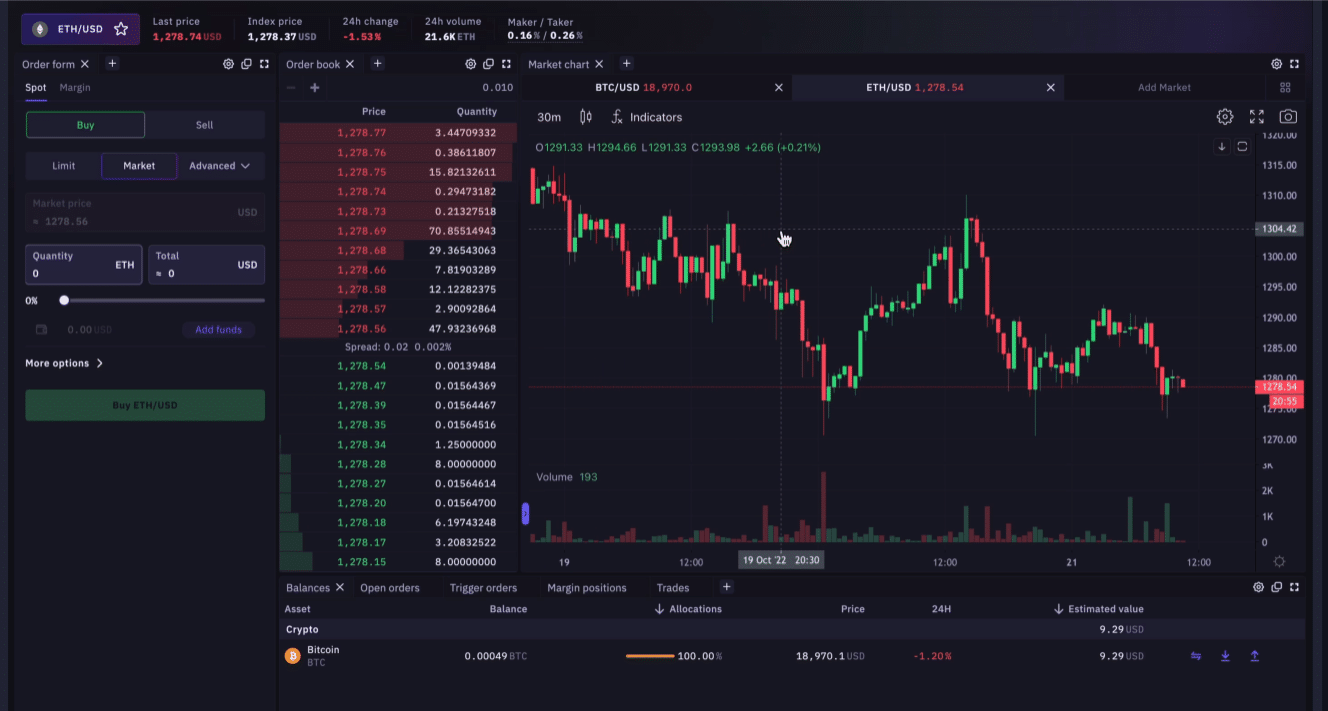 Kraken has a huge list of features, although some are unavailable to Canadian traders. They allow users to Instant Buy, although the fees are pretty high. But they also have a very popular Pro Trade platform for advanced users to analyze and manage trends, track real-time performance and customize interfaces.
Kraken also has two staking options, flexible and bonded, although Canadians can only access flexible staking. They also have a futures trading platform, but it's not available to users in Ontario, and there are limitations to those residing in Alberta.
Margin trading also has some restrictions, and Canadians must obtain certification as a Permitted Client to access this feature. Beyond that, Kraken also has an OTC desk and an NFT marketplace.
Bitbuy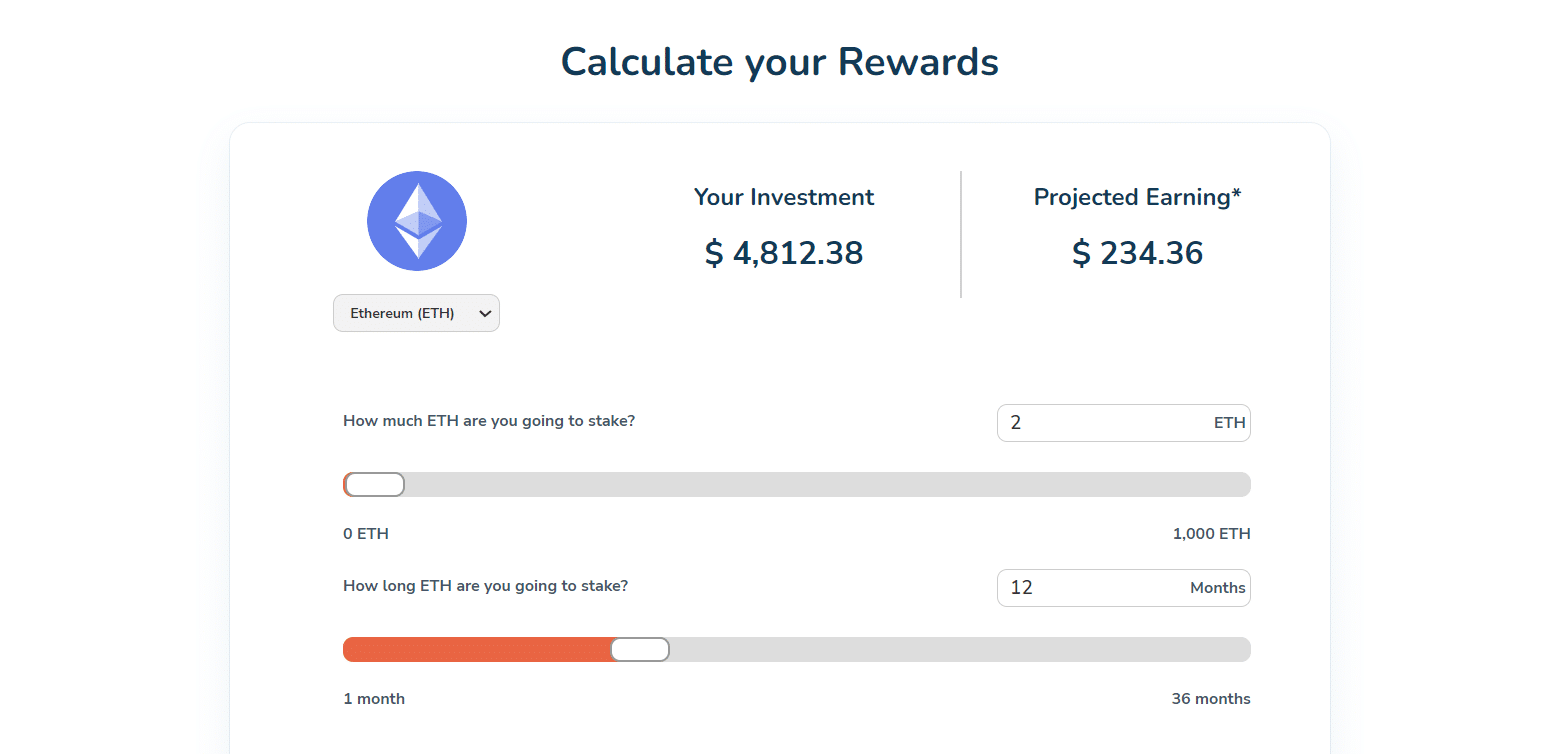 Bitbuy is a simple cryptocurrency exchange best suited to those who want an easy and uncomplicated way to buy and sell popular digital currencies. The platform has both Express Trade and Pro Trade modes. Express Trade is incredibly easy to navigate, making it an excellent option for new traders. And the Pro Trade interface offers more in-depth analysis tools and charts. Bitbuy also allows users to stake eligible coins, and they have an API which enables users to access live exchange rates and automate their trades.
Bitbuy has a referral program where users and their referrals each receive $20 when the referral deposits $250. And they have an OTC desk for traders or investors who deal in large volumes.
Security
Kraken is well-known as one of the most secure cryptocurrency exchanges in the world, but Bitbuy also has some robust security protocols. Let's look at the security features of Kraken vs Bitbuy.
Kraken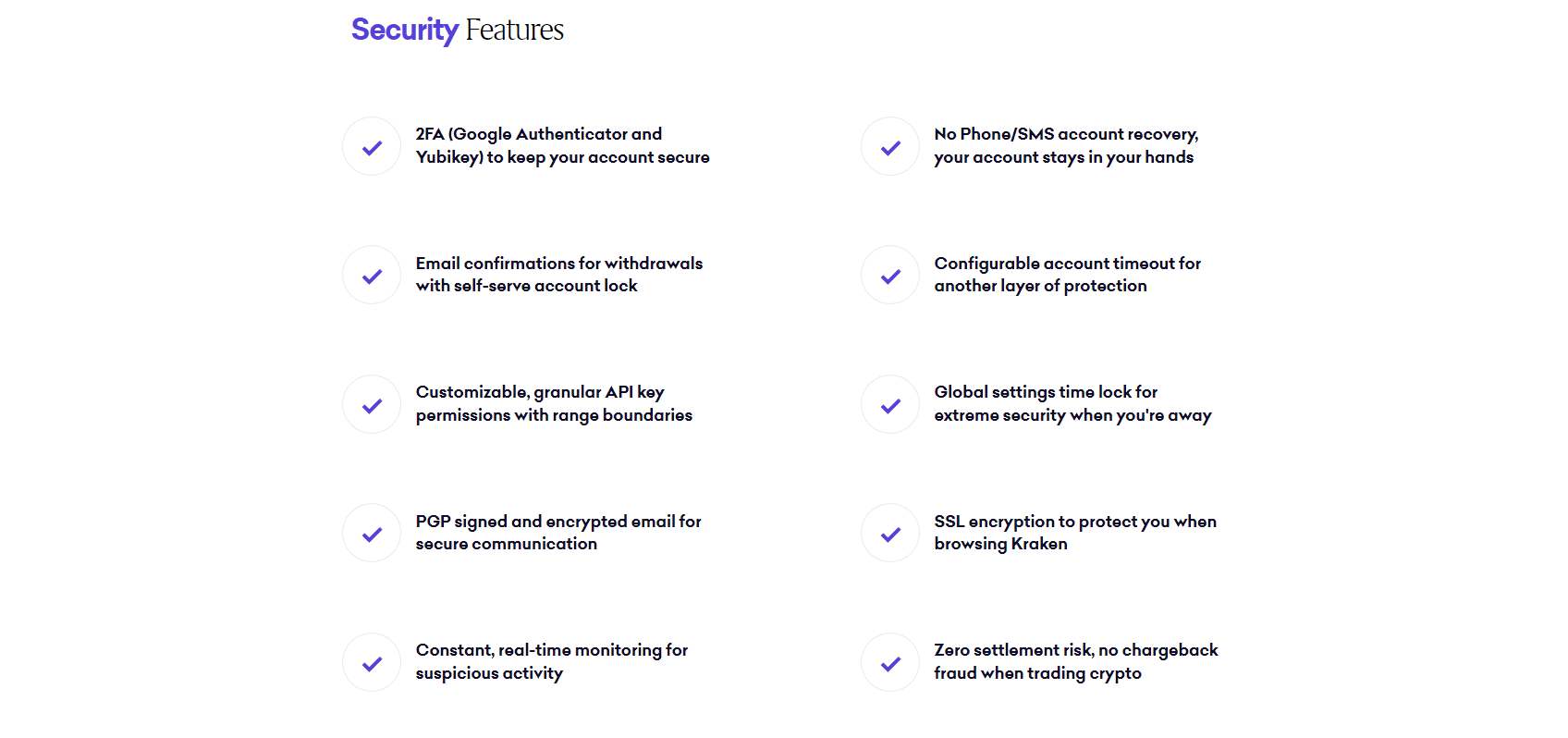 Kraken has earned the ISO/IEC 27001:2013 certification for its high-level security management systems. Users must use 2FA authentication through an authenticator app to access their accounts and email confirmations for withdrawals.
There is no option for SMS account recovery, and they have a global settings time lock for when you're out of the county. Additionally, they use SSL encryption and API key permission control and 95% of assets are stored offline in cold storage.
Bitbuy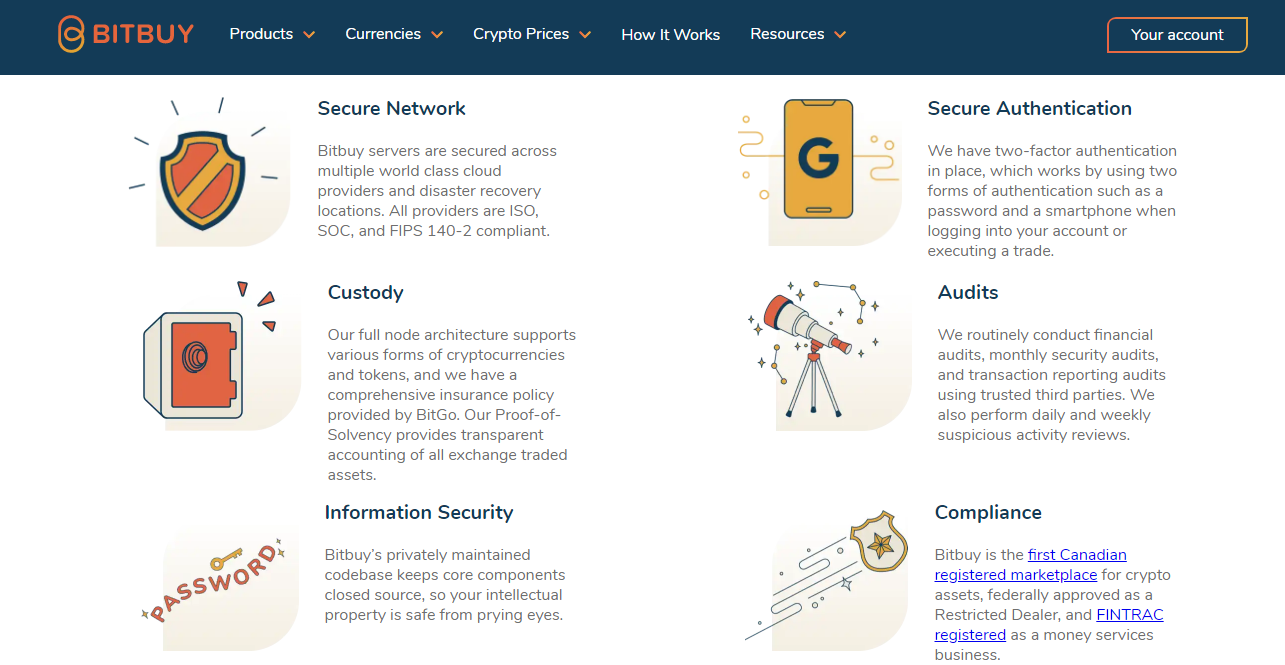 Bitbuy is registered with FINTRAC as a money services business (MSB). They were the first Canadian registered crypto marketplace after receiving approval from both the Ontario Securities Commission (OSC) and the Canadian Securities Administrators (CSA).
Users must use 2FA to access their account and execute a trade, and their server providers are all ISO, SOC, and FIPS 140-2 compliant. They use third parties to conduct regular security audits, and 90% of all assets are stored in cold storage and covered by insurance.
Pros and cons of Kraken for Canadians
Pros
95% of assets stored in cold storage
Mobile app
Huge bank of digital currencies available for trade
24/7 live chat support team available
Competitive fees for Pro Trade
Cons
It can be complicated to use
Trading restrictions for Canadian users
High fees for Instant Buy
Margin trading is not available for Canadians
Pros and cons of Bitbuy for Canadians
Pros
You can link your Bitbuy account directly to your Canadian bank account to withdraw and deposit CAD
Canadian-owned and operated
90% of assets stored in cold storage
Pro Trade mode available for experienced traders
Express Trade mode is easy for beginners
High level of security
The verification process is fast
Referral program
Mobile app
Cons
Limited digital currencies available for trade
Can't fund with debit or credit card
No live chat support
Kraken vs. Bitbuy: which one should Canadians pick?
While Kraken is much more popular and has a broader range of digital tokens available, there are definitely benefits to going with a Canadian exchange like Bitbuy. Bitbuy allows Canadians to link their bank accounts directly to the platform, enabling seamless deposits and withdrawals. Plus, there are no restrictions regarding the features you can access.
If you're only looking for a basic platform to buy and sell popular digital currencies, then Bitbuy is the best option. That said, for those wanting access to more alt-coins that intend to use Pro Trade features, Kraken will be better suited. Compare all the cryptocurrency platforms for Canadians here to see which is the best fit for you.