Newton Crypto Exchange Review for 2023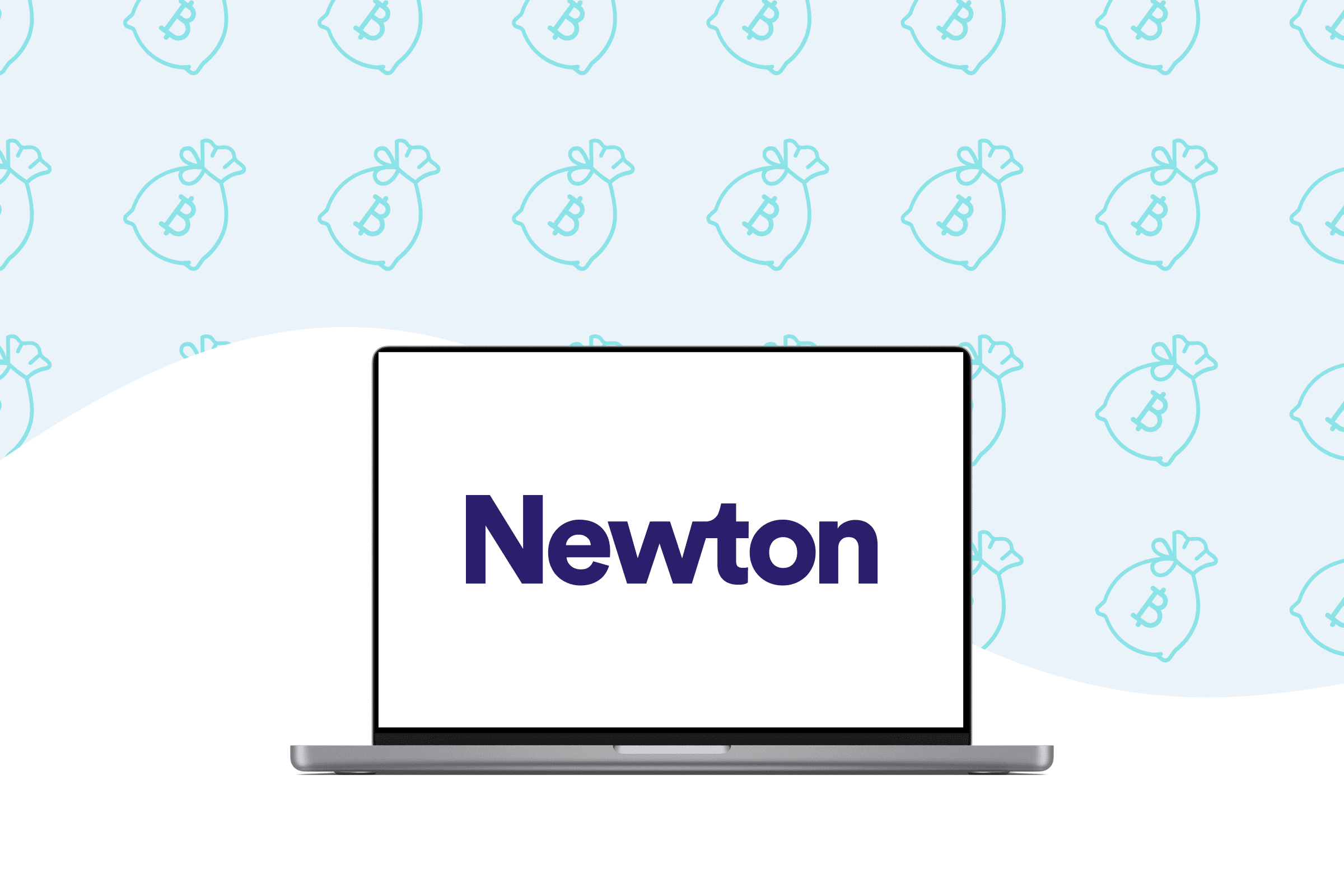 When I hear the name Newton, I always picture an apple falling from the sky, hitting a 17th century Englishman with fabulous hair, and sparking the age of Enlightenment. But Newton didn't just invent calculus. He was also among the first to take action against counterfeit money; an economic scourge of the time. And it's that lesser-known passion project that inspired the name of Canada's first no-fee cryptocurrency exchange brokerage; Newton. But while they boast no-fee crypto trading, is that really true? Let's take a look at the Newton crypto trading platform, what to expect, and how to use it.
What is Newton?
Newton is a Canadian-born cryptocurrency exchange platform established in 2018. Since then, they've seen explosive growth. As of January 2021, their customer base grew by an eye-popping 400%. They achieved a $5 million dollar trading day and moved their bottom line from red to black two months in a row; landing them squarely in profit territory. They now serve over 200,000 users. 
As far as new fintech companies go, it appears that Newton has captured lightning in a bottle. Obviously, they're doing something right. So what sets Newton apart from the other Canadian crypto exchanges? Let's dig in.
How to sign up for the Newton crypto exchange
As far as account creation goes, Newton is exceptionally painless. I opened and verified my account within 5 minutes. I prefer to use my desktop for things like this, and the verification process moved seamlessly from my desktop to my phone for the verification process, then back to my desktop to finalize things. Newton is a registered money service business (MSB) that is fully compliant with the Financial Transactions and Reports Analysis Centre of Canada (FINTRAC), which is our financial intelligence agency. Therefore, Newton is required to collect certain information about you, known as Know Your Customer (KYC) reporting requirements. This is standard practice in the financial services industry. Be prepared to provide:
Full legal name
Full legal address
Email and phone number
Government issued photo ID (driver's license, passport, etc.)
In-app selfie
Pro tip: when you're using the selfie feature to verify your identity, if it says "look slightly to the left," don't just move your eyes. Move your whole head. It took me far too long to figure that out.
Navigating the Newton interface
As far as smaller crypto exchanges go, Newton really has their web design perfected. The user interface is definitely bringing sexy back to the crypto market. If you're familiar with Binance, the aesthetic is very similar but 100 times more intuitive and user-friendly. If you're new to crypto, some exhanges can be complicated and overwhelming, and not at all intuitive. The Newton platform offers the same feeling of sophistication but with functionality accessible for even the greenest crypto convert. Newton's dashboard is crisp and well organized. All your basic functions are available at a glance. You don't have to dig through menu options to find the thing you want to do. You can fund your account, buy coins, and trade all from the dashboard.
How to fund your Newton crypto account
The dashboard will display how much CAD you have in your account, ready to trade. If you have none, simply click on the box to add funds. A menu will open offering you three ways to fund your account:
eTransfer
Wire transfer
Or transfer in crypto from another wallet
eTransfers are free and will arrive in your account anywhere from 5 to 30 minutes. Wire transfers are also free but take significantly longer, clocking in at 3 to 5 days. If you're looking to move quickly on a coin, a wire transfer will foil your plans. If you have crypto in another wallet, you can transfer it almost instantly. For wallet-to-wallet crypto transfers, Newton will cover the first $5 of network fees. Any balance above that will come out of the value of the crypto you're moving.
Withdrawing from your account is just as easy. If you're on a desktop, on the right side of the screen click the arrow pointing up. A menu will open offering you three options to transfer out of your account:
eTransfer
Direct deposit to a bank account
Withdraw to other crypto wallets
There are no fees to withdraw CAD funds from your Newton crypto account to your Canadian bank account by eTransfer or direct deposit. eTransfers will arrive in your account within 2 hours, direct deposits are within 3 to 5 business days. Sending and receiving crypto-to-or-from other wallets is almost instant and will cost whatever the network transaction fee is at the time of transfer, minus Newton's generous $5 discount.
Newton crypto coin selection
Now that your account is funded, you're all set to trade. Again, if you're on a desktop simply click on the "add some coins to your portfolio" icon on the dashboard, or the double arrow button on the right side of the screen. The menu list of coins will populate, simply scroll down and select the coin you want to buy. At the time this article was written, Newton offered the following coins:
Bitcoin (BTC)
Ethereum (ETH)
Ripple (XRP)
Litecoin (LTC)
Cardano (ADA)
Solana (SOL)
Algorand (ALGO)
Dogecoin (DOGE)
Terra (LUNA)
TerraUSD (UST)
USD Coin (USDC)
Tether (USDT)
Stellar (XLM)
Bitcoin Cash (BCH)
Chainlink (LINK)
Aave (AAVE)
Uniswap (UNI)
Polygon (MATIC)
Compound (COMP)
SushiSwap (SUSHI)
Curve DAO (CRV)
Synthetix (SNX)
Dai (DAI)
Yearn Finance (YFI)
Polkadot (DOT)
Maker DAO (MKR)
PAX Gold (PAXG)
Axie Infinity (AXS)
OMG Network (OMG)
Basic Attention (BAT)
Enjin Coin (ENJ)
Balancer (BAL)
0x (ZRX)
Dash (DASH)
Zcash (ZEC)
1inch (1INCH)
EOS (EOS)
Kyber Network (KNC)
Ren (REN)
Fantom (FTM)
Amp (AMP)
Decentraland (MANA)
Tezos (XTZ)
Once you've selected your desired coin, simply type in how much CAD you're willing to spend and the app will show you how many coins you'll get. Alternatively, you can type in how many coins you want to buy and the app will calculate how much it will CAD it will cost you. Then simply review the trade and confirm the transaction. Your holdings will instantly update to the dashboard.
Newton's crypto trading fees
OK, so here's where I raise my eyebrow and lower my tone an octave. Newton heavily markets itself on free trading. But that's not entirely true. It's truth-adjacent, which is annoying for a bean counter like myself. Your crypto trades are not actually free. Here's how it works:
Newton makes their money off the spread of your crypto trades. They buy crypto at a given market price and sell it to you at a markup. For example, you might place a trade to buy $20 worth of Bitcoin, but you end up with $19.90. That $0.10, or 0.5% difference, is called the spread.
Now, this isn't shady practice by any means. Pretty much all major trading platforms, whether crypto or traditional markets, have a spread. The problem lies in the lack of transparency. Traditional trading platforms usually have a spread or charge a commission per trade, or sometimes both. With Newton, there are no commission fees per trade. But there is a spread between the current market value of a coin and how much Newton charges you for that coin.
I scoured their site and buried in the FAQs they talk about the spread. But they don't say how much they charge; just that they cut out the middleman to exchange directly with their users in order to minimize the cost. It's common for spreads to change from trade to trade because the price action in the crypto market is markedly volatile. But unlike other platforms, Newton does not disclose to its customers how it uses the spread to make money.
Still, Newton offers free account funding and withdrawals. But that's hardly original. Wealthsimple Crypto also offers free account funding, withdrawals, and commission-free trades. The Wealthsimple Crypto platform is very transparent about their pricing, telling customers to expect a 1-2% operations fee per trade that they build into the spread. But Newton remains opaque about trading fees and how they really make their money. They only disclose that their spreads are 2-3 times lower than the competition. OK, so prove it. How much do you charge? For an exchange that proclaims to be fair, open, and democratic, this seems incredibly contradictory to their core values
How secure is Newton?
As far as security is concerned, Newton really does cross their t's and dot their i's. They offer 2 factor authentication (2FA), which means you can't just sign into your account with your email and password. You also need to provide a 6 digit numeric code that's texted or emailed to you every time you try to sign in.
Newton seems to offer both custodial and noncustodial crypto storage. That means you can either transfer your crypto to your own wallet, or you can leave it on the exchange. Should you choose to leave your crypto on the exchange, Newton claims to put most of it into cold storage in secure locations. Again, they don't disclose how much crypto is stored off the platform.
What we do know is that Newton has partnered with Balance, a third-party custodian that offers institutional-grade security for digital assets. They store those digital assets, from various multinational companies, in offline hardware devices around the world. Balance provides protection against hacks and theft from outside actors, as well as protection against untoward behaviour from unscrupulous employees.
Newton takes security seriously, which is important. But what I particularly love is the ability to move my crypto off the platform to my own external wallet. This makes Newton a great option for both crypto beginners and veterans alike.
My verdict
Other than my salty feelings about their pricing transparency, or lack thereof, I really can't complain about much else. In the crypto-sphere, it seems that Newton really is one of the cheapest exchanges out there, despite not knowing what to expect from the spread until you execute your trade. But I'm sure with time and therapy I'll come to forgive them.
Newton used to offer only spot trades; the immediate purchase of a coin at the current market price. This was a frustrating limitation for more seasoned crypto traders who wanted more control over their trading. Newton has since rolled out limit orders which allow users to place an order to execute only if the coin in question hits their specific price target. That means your transaction will trigger automatically if a coin hits the price you entered, which could be 2 pm or 2 am. You don't have to watch the market like a hawk, you can buy or sell while you sleep.
Last but not least, despite my contention about the trading fees, Newton really does offer competitive pricing compared to other platforms. Binance is still my platform of choice when it comes to executing more complex trades with obscure coins, but the fees they charge to fund my account with CAD are high. Newton offers a clever workaround. You can fund your Newton account with CAD for free, buy Bitcoin, and transfer it to your Binance wallet. Newton will cover up to $5 of the network fee. Seems like a dirt cheap, if not free, way to fund your Binance wallet. Assuming the network for that particular coin is supported, which you can confirm on their website.
All in all, Newton gets my seal of approval. I just wish they'd spend less time curating waggish website content, and more time giving customers what they really want: transparency. Without all the pertinent information, how can you really make an educated decision about your crypto?