QuadrigaCX: Everything We Know About the Largest Canadian Crypto Scam Following the 2022 Netflix Documentary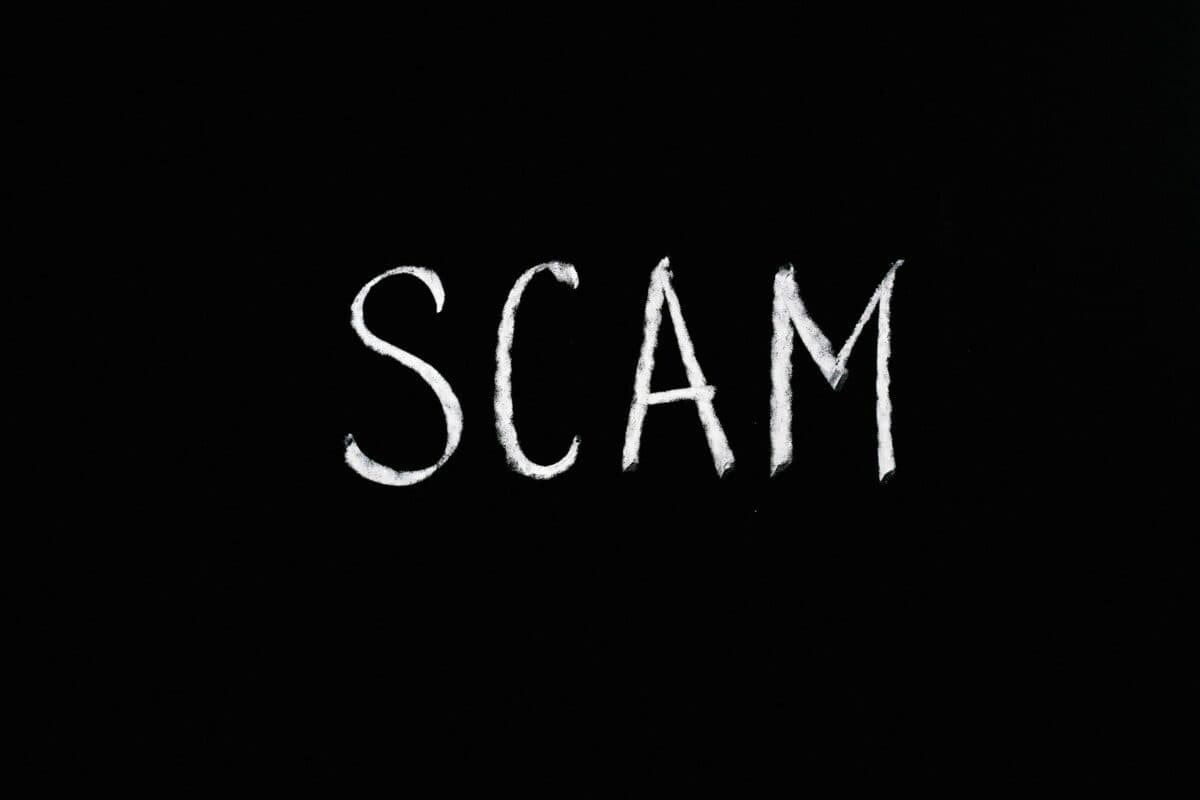 You may have seen the documentary that was recently released on Netflix called Trust No One: The Hunt for the Crypto King and wondered how it impacted those who were invested at the time. In 2017, I was actively investing in Ethereum on QuadrigaCX. I lost about $1,000 but managed to get my money out without any problems. I believed that it was a legitimate cryptocurrency exchange and I just happened to make a bad investment with poor timing that cost me a chunk of the money.
Of course, that was until the entire thing began to fold over on itself. QuadrigaCX was one of the only Canadian cryptocurrency exchanges at the time. Millions of users thought it was legitimate but that couldn't have been further from the truth. We're going to look at how QuadrigaCX was able to trick so many users into believing they were a genuine service, as well as what the repercussions were when the entire ruse began to implode. 
What is QuadrigaCX?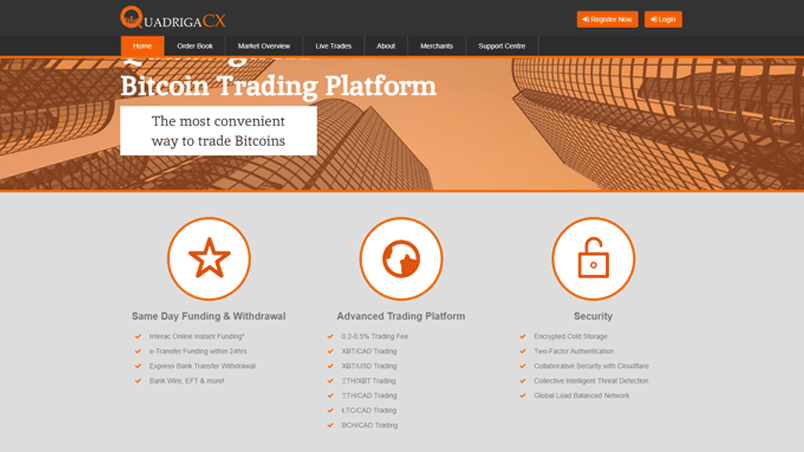 QuadrigaCX was a Canadian cryptocurrency exchange run by Quadriga Fintech Solutions. This company owned and operated QuadrigaCX; at the time it was Canada's largest cryptocurrency exchange. Founded in 2013, there are two owners to look at when it comes to this whole ordeal: Gerald Cotten and Michael Patryn.
Quadriga allowed users to deposit funds and invest in cryptocurrencies regardless of the volatility involved. This is  why most Canadians had a tough time getting into the space in the first place. There weren't any regulations, and the country hadn't decided that making crypto investment easily accessible was a good idea at that point. 
Immediate growth for aspiring QuadrigaCX investors
Quadriga only generated its revenue through the fees associated with purchasing crypto assets on their platform, which ranged from anywhere between 0.2% to 0.5% of the users' trade. There were also additional charges for withdrawals and depositing. Plenty of legitimate cryptocurrency exchanges do this to maintain revenue and still provide people with a place to purchase assets. Unfortunately, Quadriga had other things in mind.
The timing of QuadrigaCX's first year of operation was perfect. Even though the price of Bitcoin was dropping, the exchange's user base was growing exponentially. By the end of 2014, Quadriga had well over 3,600 BTC, CAD 2 million, and USD 400,000 in assets. 
A new era for Canadian cryptocurrency connoisseurs
It was reported that over 95% of QuadrigaCX's user base were Canadian residents. It grew even larger during 2016 and 2017 when the platform experienced a 2,000% surge in clients, all of whom were depositing either Bitcoin or Canadian dollars. This is why most trades would take place between these assets.
Quadriga was taking on a large load of brand new users. Users either had no real experience with cryptocurrency, or others, like me, understood the process and were finally willing to take a risk. Some of the most active clients used Quadriga for millions of dollars in trades over thousands of transactions. Others were comfortable with buying and holding what they could. 
Some users would apply unique trading strategies or use automated bots to automatically analyze the market and make the proper trade. Still, others were simply suffering from Fear of Missing Out (FOMO). The newer customers who didn't understand crypto as a whole relied on Quadriga to answer all of the questions for them. Many others just used the exchange as a way to "cash-out" their BTC into CAD. 
QuadrigaCX: most users had faith in the exchange
Many novice users did not know that cryptocurrency market was an unregulated space, and that anything could happen once your money is in there. They thought that, like other Canadian investment environments, certain safeguards and securities were in place to protect the consumer from the exit scam Gerald Cotten was about to pull off. Blockchain technology makes things transparent, but not 100% safe. Users also felt that a Canadian-based exchange was more trustworthy, especially since they took CAD with ease.
By taking a look at user behaviour on the exchange during its most active years, you see that clients had complete faith in QuadrigaCX. Some people traded and then immediately moved their funds off of the platform. However, around 68% of people who held assets on Quadriga used the exchange as a form of wallet storage, keeping assets on there for over 30 days. On top of that, 53% of the user base kept assets on the platform for at least 90 days, meaning  most Quadriga users believed that their money could be easily withdrawn at any time.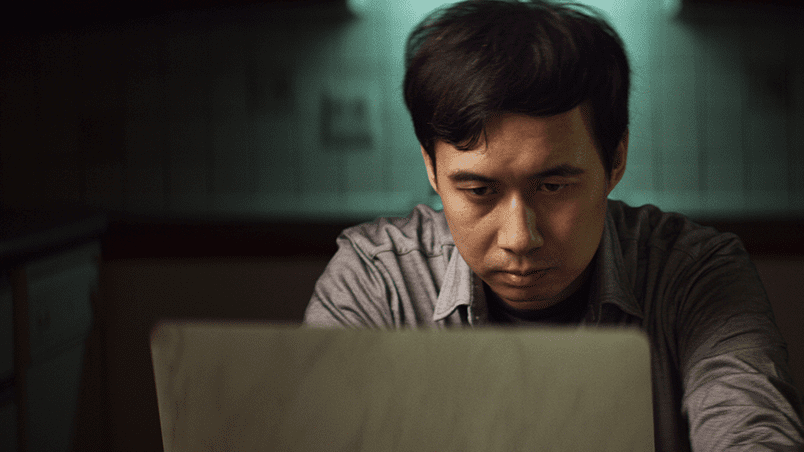 Although blockchain technology tracks all of associated transactions, Quadriga did not record any of its trades on the blockchain. Traditional trades like funding your account with a crypto asset or crypto withdrawals would be tracked because you're using a personal wallet at some point. However, the company did not record client-to-client trades on  the digital ledger. These were tucked away within the company's internal records and only accessible by Quadriga personnel. That is another another shady sign. 
You even had to get verified on QuadrigaCX
I remember vividly that the verification process was a lengthy one, and if there was any sort of shady activity, you were rejected. I was young and didn't have any shady plans myself, so after a few days, I was a verified member of QuadrigaCX. Funding my account was a bit strange though, especially when compared to the cryptocurrency platforms like Coinbase or Kraken that we've grown to trust in modern times.
Funding the account was hard. I wasn't able to purchase assets or even fund my account using a credit card or debit card, and I certainly couldn't eTransfer the money. It may have been because it was in 2017, but thinking back on it, it's probably because the entire thing was a ruse from the beginning.
To fund my account on Quadriga, I had to physically walk into my bank and send them a wire transfer. They gave me the information to use through a support chat, and I took a note of it on my phone. The bank teller asked me "so, what are you sending this money for?" At that time, cryptocurrency was hated by banks, and mentioning it would likely get your account blocked. Nowadays you can find a list of the most reputable cryptocurrency exchanges in Canada and take your pick without any worries.
So, I decided to do what any other person who has FOMO and doesn't want to miss out on those sweet Ethereum gains would do. I told the bank that it was for an international investment opportunity. I suppose I wasn't technically lying, but the fact that I had to beat around the bush to get my money on the platform says a lot. 
The rise (and eventual fall) of the QuadrigaCX empire
Quadriga stated that they had lost access to around USD 14 million worth of Ethereum in 2017 due to nothing more than a smart contract error. In 2018, the price of Bitcoin crashed hard and people began to panic sell their assets in an attempt to pull them off of the exchange. This is where the pressure truly began to build up, as people noticed that transactions took much longer to process. This left a lot of users with money stuck on QuadrigaCX, with some people waiting on millions of dollars in assets.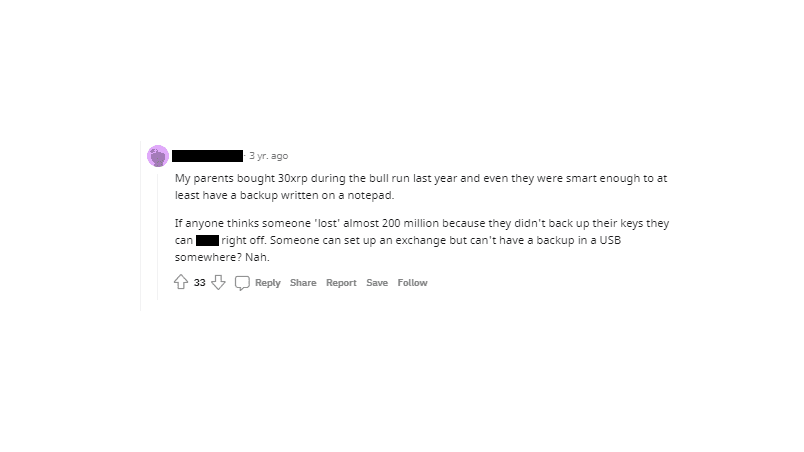 Even the CIBC stepped in during 2018, freezing an account held by Custodian, a Quadriga payment processor, that held CAD 28 million because they could not determine ownership of the money. They also stated that they couldn't make contact with Mr. Cotten or any Quadriga representatives. This is a major red flag. WB21 is another payment processor QuadrigaCX used. In 2019, the US Securities and Exchange Commission (SEC) named the processor's Chief Executive, Michael Gastauer, in a lawsuit for an unrelated penny stock scheme that cost investors $165 million.
More shady companies with a history of lawsuits
Another payment processor, Crypto Capital, was also included in a New York Attorney General's civil suit from April of 2019. That particular case is about $851 million that has been entrusted to Crypto Capital. Quiting verbatim from the lawsuit, Crypto Capital claimed that the money had been "lost, stolen, or absconded with."
When customer wanted their final withdrawals, they had to go to an unmarked building located in Laval, Quebec to pick up their funds. Not only was the office empty, there was also no money. It seems that Quadriga never had a bank account, and that they would store the funds using third-party processors like Crypto Capital, WB21, and Custodian. It looks like Cotten ran this multi-million dollar cryptocurrency exchange from his encrypted laptop and without any formal accounting system. 
Cotten's wife at the time of his death was also a prime suspect, as there was a lot of money on the line. She recently released a book called "Bitcoin Widow" that explains her side of the story, and the negative impact on her life this entire ordeal has had. Most people believe that she's innocent. However, some former QuadrigaCX users say she bears some responsibility. 
QuadrigaCX: how much money is missing?
Things start to get interesting when you look at how they were probing Mr. Cotten's death, as well as all of the variables surrounding the exchange itself. The most dominant theory is that Cotten faked his death and ran off with the funds, with the second most common being that his wife murdered him to take them for herself. The company officially filed for bankruptcy in 2019 and claimed $215.7 million CA in liabilities, as well as an additional $8 million CA in assets.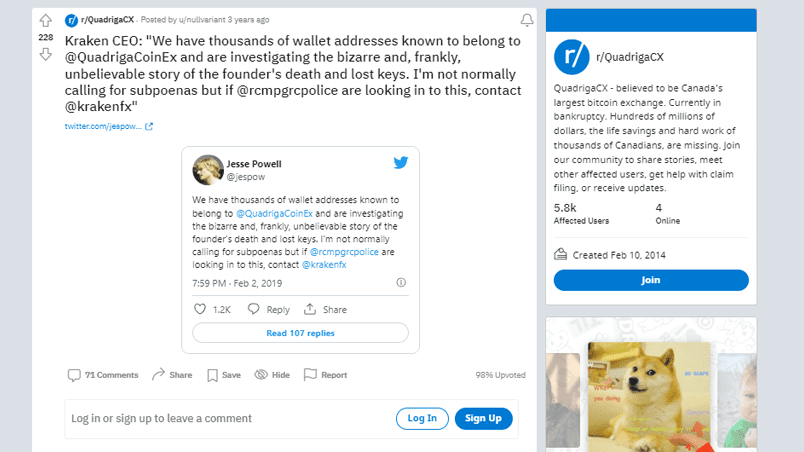 Of course, this is all the work of self-proposed internet detectives who might be QuadrigaCX victims. In my personal opinion, I genuinely feel like the Netflix documentary could have looked more into Cotten faking his death than anything else. 
Who owned QuadrigaCX?
There were two owners of QuadrigaCX in Michael Patryn and Geral Cotten. Everything went through Cotten. He incorporated Quadriga Fintech Solutions in 2013 after graduating from business school. He named himself the sole Director. In the official corporate documents, Cotten described himself as having 11 years of experience in the so-called alternative payment space. He had immense experience with digital currencies.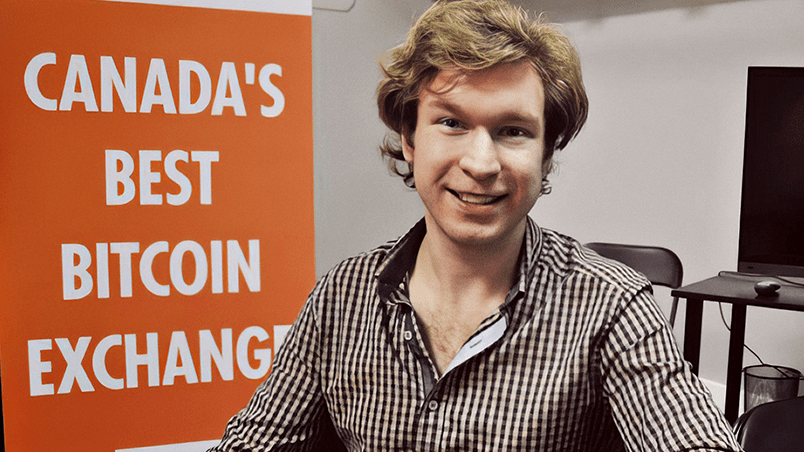 Gerald Cotten co-founded this company with a partner named Michael Patryn. Patryn was involved with Quadriga when it initially opened up in 2013 until his departure in 2016. That is just the beginning of his story. 
Sceptre and Patryn: friends from the beginning
Both Cotten and Patryn used a website called "TalkGold". It is essentially a place where scammers and con artists  gather to share their tips/tricks. They were talking with each other as early as 2003, and it's probably where they first met. There are signs that they actively engaged in conversations on BlackHatWorld, another site dedicated to hacking and dubious marketing. 
Gerald Cotten promoted high-yield interest programs (HYIP). These essentially created cryptocurrency Ponzi schemes before they became a thing. Remember how Cotten said he was an expert in digital currency? Well, turns out he was just an expert at developing two different, and ironically successful, high-yield investment Ponzi schemes.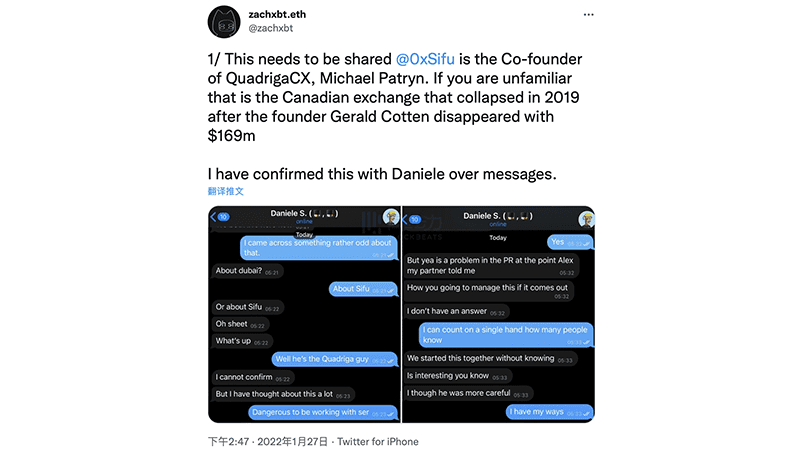 Michael Patryn's real name is Omar Dhanani. He served 18 months in US federal prison for identity theft. The US deported him to Canada after he pled guilty to both burglary and grand theft. If that weren't enough, he was recently outed as being the Founder of a very successful DAO project called "Wonderland". Wonderland was also recently hit with a form of exit scam that crypto investors call a "rug pull". 
My own QuadrigaCX story
In 2017 I was getting more interested in cryptocurrencies and decided to make a bold investment. If I remember correctly, I purchased around $5,000 worth of Ethereum on QuadrigaCX and had no worries at all. My friends were telling me that it was going to blow up at some point and that I would be rich if I just held onto it and never let go.
Thankfully, I'm an emotional investor and somebody who watches the charts like a hawk. I've learned not to do that now, but that's something that comes with experience. When you've got $5,000 on the line, you're going to want to know how the investment is doing. 
I ended up losing about $1,000 in value and not liking it one bit. Then I pulled my money off of the platform. I sold my Ethereum at a $1,000 loss and put in a withdrawal for the remaining funds. Not only did I get my money, but I don't remember it taking that long; then again, I wasn't asking them for hundreds of thousands of dollars. Maybe it's because I had already sold at a loss. It was chump change when compared to some of the other portfolios involved. 
Hindsight is 20/20: QuadrigaCX was a scam from the beginning
Nobody likes to admit that they've been scammed. The website seemed so professional and all of the promises seemed to be real, but none of it was true. People believed that they were purchasing cryptocurrency assets.
Cotten scammed people and used the funds to make even riskier investments, and that's precisely what happened with QuadrigaCX. He made plenty of trades using alias accounts with fake money and crypto assets. About 97% of his trades went through an account under the name "Chris Markay". Cotten had access to a lot of alias accounts, and it seems to only dig this rabbit hole deeper.
All of the QuadrigaCX money is gone. Five of the six cold wallets that Quadriga used to store its assets sit empty since April 2018. Where did it all go?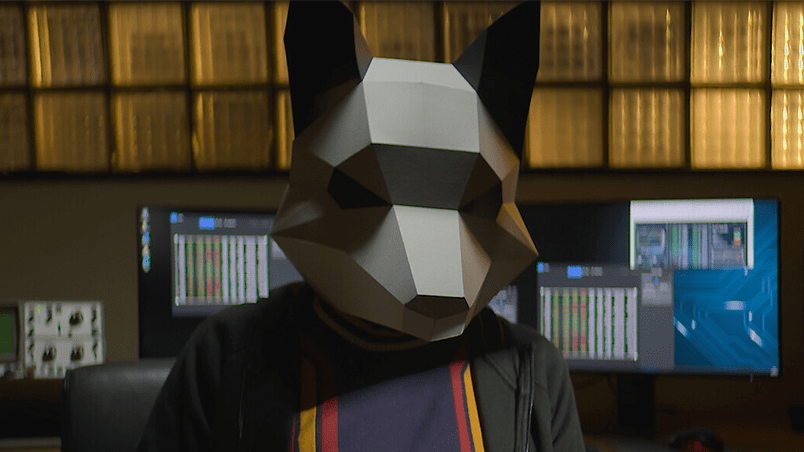 Are you like me and you purchased Ethereum or Bitcoin on QuadrigaCX and had remorse for not holding until 2022? Turns out you weren't purchasing cryptocurrencies at all. Gerald Cotten gave everybody fake assets. He took their money and paid them back once he made a successful trade. We are all unintentional creditors for his trading exploits. He was prolific, managing to lose $115 million over the lifespan of QuadrigaCX. 
There's no hard evidence to back up any of these conspiracy theories. One thing is for certain: Gerald Cotten was not a good investor and had a history of scamming. If he did fake his death and happens to be reading this, shame on you Gerald. Arguably, the worst part is that we'll never get any definitive answers.