The Ultimate Guide to Opensea.io for Canadians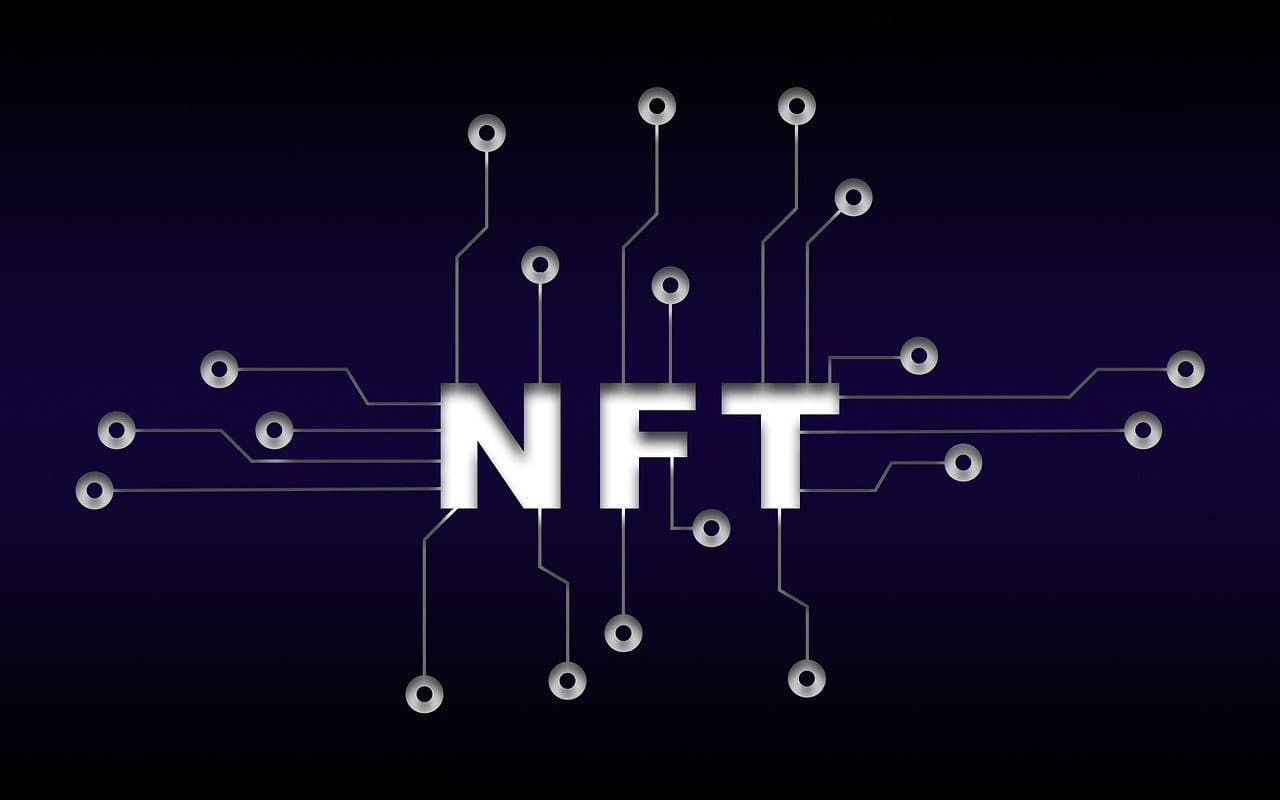 Getting started with NFTs, aka non-fungible tokens, both buying, selling, and creating, can be a challenge for even the most advanced internet gurus, so we have created the Ultimate Guide to Opensea for Canadians. In this article, we will look at Opensea as an NFT marketplace, how to navigate it, how to choose a wallet, and some of the technical features of the NFT website. By the end of this article, you will have the skills, knowledge, and abilities to begin your NFT journey and start collecting NFTs. Enjoy!
What is an NFT?
An NFT, or non-fungible token, is a blockchain asset that is minted on the blockchain. In Opensea, these assets are on the Ethereum blockchain, which is one of the most popular, and earliest blockchain to develop this type of token. There are also assets listed on the Polygon and Klaytn blockchains, which are extensible assets from the Ethereum blockchain.
The NFT itself is a combination of formats including .png, .gif, .jpg and others, that are stored on the blockchain so ownership can be proven, and transaction records can be verified. The NFT is usually an image of art, video, or music, and is a digital creation for sale by artists and creators. Many of them follow themes such as pixel art, 3D art, animated video art, and other themes which are presented on the Opensea website.
NFTs are a popular way to store art and digital creations and prove ownership via the blockchain, which is immutable, tamper-proof, and decentralized, meaning anyone can access any transaction via the blockchain explorer. NFTs can be generative in nature, or non-generative, meaning they are original and unique without any computer generation involved. Computer generated NFTs, known as generative NFTs are also unique, but have similarities across their attributes.
In the generative creation sequence, there are predefined attributes that are assigned to the NFT during creation so that there are never the same NFTs created twice. This means that in the case of the most popular collection, Bored Apes Yacht Club, users can choose between a variety of attributes, some of which are more rare than others. Opensea offers an attribute filter on their page that allows users to search for specific attributes within a collection of NFTs. For example, in the Bored Ape Yacht Club, there are generative attributes in the following categories: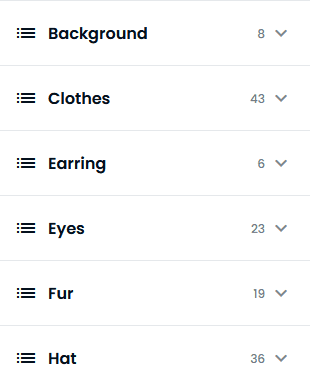 Background Colour
Clothes Colour
Earring Type
Eye Type
Fur Type
Hat Type
In this image from Opensea under the Bored Ape Yacht Club, you can see the number of generative attributes for each of the attributes, giving you an indication of how the uniqueness is created. For example, there are 8 background types, 43 clothing types, 6 earrings, 23 eyes, 19 fur, and 36 hat types. Each of the attributes is created through artistic rendering, and then applied to the generative sequence so that each NFT is unique.
What is a NFT marketplace?
There is no shortage of NFT marketplaces where Canadians can buy and sell NFT. Just like any other online marketplace, artists and collectors find each other and transact. Some notable sites are Opensea, Crypto.com, and Canada's own VirgoCX. You need crypto and crypto wallets to buy and store your NFT.
What is Opensea?
Opensea is the world's first and largest NFT marketplace in the world, and a great starting point for Canadians who want to begin their NFT collection or create an NFT. Selling NFTs in a variety of styles and formats, the marketplace can be accessed and browsed freely. For purchasing you will need to login to the site using a Web3 wallet like Metamask or Walletconnect wallet. These crypto wallets are where your NFTs are stored, and how you pay for the NFTs themselves.
You will need to have some funds in your wallet to cover the cost of the NFT, as well as the gas fees, which are transaction fees for using the Ethereum network. The gas fees are subject to the current market conditions and usually range around an average of $10 per transaction, but can be much higher if the network is experiencing higher traffic volumes. The collections are organized by theme for easier browsing, and buyers can learn alot about the site just by looking around. The NFTs themselves are for sale as fixed price items, or on auction, so you can view the different formats as well, giving you an idea of how things are priced, and how they are sold.
Opensea: a decentralized NFT marketplace
Opensea is open to Canadians and people from around the world because it is decentralized, meaning that it can be accessed by anyone from anywhere as long as they have an internet connection. This makes it more accessible and open for creators and buyers as there are no restrictions on access, and no verification or registration procedures. It is estimated that there are over 1,000,000 wallets on Opensea as of January 12, 2022, and it continues to grow.
While the NFT markets are valued in the billions, Opensea is still the leading marketplace for NFTs, with millions of dollars in sales revenue generated each day. All users need for access to begin buying NFTs on the Opensea website is a Web3 wallet like Metamask, Walletconnect, or Coinbase wallet. You need a wallet that accepts the blockhain token that your NFT is minted with.
Choosing a Web3 wallet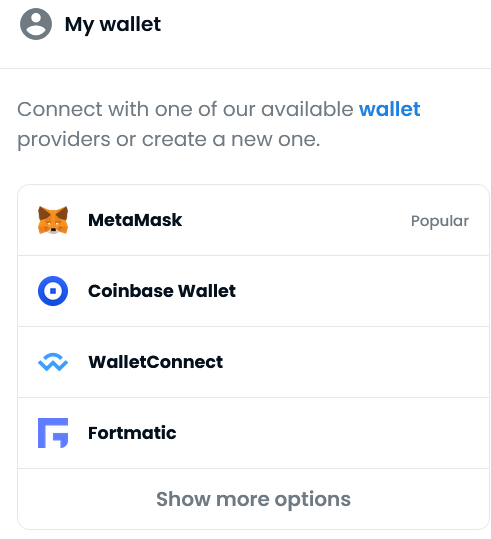 To begin buying on the site you will need a Web3 wallet, as mentioned previously, and these are browser based wallets that connect you to the Opensea interface by logging in. You can easily google search and install any of the compatible wallets and then copy your address from your wallet and send funds from a crypto exchange to fund it. Some of the compatible wallets are Walletconnect, Metamask, Coinbase Wallet, and Fortmatic. There are also other wallets that are compatible, you just need to click on the button "Show more options" to see all the wallets available.
Choosing a wallet like Metamask may be a good choice because it is popular and widely accepted, being one of the first invented, and it has over a million users. The Metamask wallet is a Firefox browser extension and is easily installed into your browser. When installing your Metamask wallet you will need to have a pen and paper nearby to write down your backup codes so you can import your wallet should you ever lose access to you computer. You can use this backup code as a restoration phrase and install your wallet on any other computer should you not have access to Firefox.
Once you buy an NFT, it will be stored in your wallet and displayed on the Opensea site as a purchased NFT in your collection as the Opensea site has access to all your assets in your wallet, making it a seamless experience. To fund your wallet you will need to send some of the funds from an exchange or use the on-platform Moonpay app with a credit card. Creating an account on an exchange and sending funds is easy for Canadians and we have compiled a list of crypto exchanges where you can buy Ethereum so you can fund your wallet.
Canadian Crypto Exchanges Where You Can Buy Ether
As part of the buying process on Opensea, you will need to buy some Ethereum, or Ether. There is a third party option within the site called Moonpay where you can buy some Ether with your credit card, or you can fund your Web3 wallet by picking a crypto exchange that fits your need. You can do that by comparing crypto exchanges.
Most exchanges will allow you to buy Ether, as it is one of the most popular cryptocurrencies and sold on most exchanges. Choosing an exchange can be difficult as there are 100s of exchanges that sell Ether, so we have compiled a list of Canadian-based crypto exchanges where you can buy Ether to make your search a little easier. Simply register an account at any of the exchanges and then send your Ether coin to your Web3 wallet address.
BitBuy
BitBuy is a cryptocurrency exchange designed with low fees and high security in mind, and offers Canadians an excellent resource for purchasing Ethereum which they can send to the Opensea Web3 wallet. They have a 95% cold storage policy meaning your funds cannot be accessed by hackers, and allows for greater flexibility in fund management. Compliant with regulators, and offering a seamless and transparent experience, they have top-rated customer service and fast transaction times.
Click the link above to open a new account with Bitbuy and get $20 back when you fund your account with $250 or more.
NDAX
NDAX is a Canadian crypto exchange that offers Ethereum at market prices so you can fund your Metamask wallet. The deposits and withdrawals are quick and processed within a fast time frame. Offering a range of currencies to buy and sell, you have lots of options for investing in crypto, and can enjoy a safe and secure experience. Claiming to have a simple buy and sell interface, you can instantly buy, sell, and trade Bitcoin, Ethereum, and other cryptocurrencies.
Open a new account with NDAX by clicking the link above and get $10 to trade crypto when you deposit at least $100 in your account.
VirgoCX
VirgoCX is a safe, affordable, and easy to use cryptocurrency exchange based in Canada. Offering a range of currencies, including Ethereum so you can fund your Opensea account, as well as other trading options like over-the-counter NFTs, there are plenty of options for beginning, or continuing, your exploration of cryptocurrency.
Open a new account with VirgoCX by clicking the link above and get $30 back once you verify your account and deposit $100 or more.
Newton
Newton is Canada's low-fee trading platform that offers a variety of cryptocurrencies for sale. Create an account by simply entering an email and password and clicking the verification link to get started. There are a range of cryptocurrencies available, and Ethereum is one of the top volume trading coins on the exchange.
Navigating Opensea
You can start out your exploration on Opensea by clicking the explore button. As mentioned previously, click the wallet icon in the upper right hand corner to connect your funds so you can shop and buy with ease. If you do not have enough funds, you will need to add funds through the Moonpay app using a credit card or by registering on a Canadian crypto exchange like one of the sites listed above and send funds that way. Once you have your funds in your wallet, anything is fair game if you have enough credit. Exploring the collections can be done in a variety of ways, navigating by collection type or by those on the auction. You can view NFTs individually, or by collection, or view the various headings provided such as those that are Trending, Top, Art, Collectibles, Domain Names, Music, Photography, Sports, Trading Cards, Utility, and Virtual Worlds. Each of the tabs will give you plenty of options to navigate.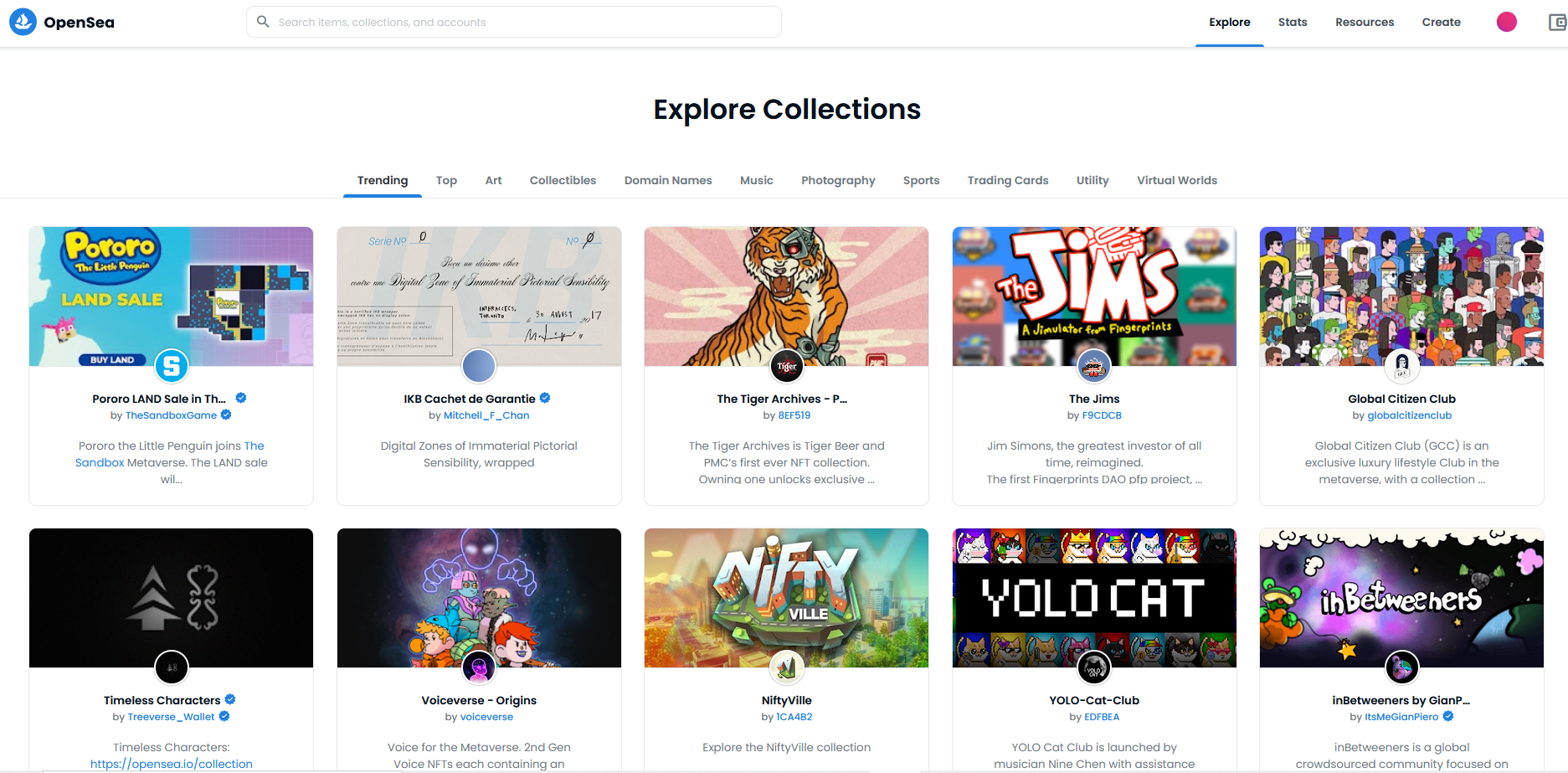 Besides exploring the Collections, you can also navigate to other areas of the site by clicking on the tab in the upper right hand corner. This includes the "Stats" tab, which includes the "Ranking and Activity" menu items so you can see the recent activity as well as the Top NFTs. Once you click on a collection you are able to filter the collection using a series of tabs on the left side including "Buy Now, On Auction, New, Has Offers" as well as the option to select a price range. You can also select which chains the NFT is offered on including the Polygon and Klaytn chains, as well as select certain attributes relative to each NFT. Using the Opensea filter helps you find an NFT that you want to buy because it gives you more options on how to refine your search and explore the massive amount of collections faster and more efficiently.
Top NFTs on Opensea
There are some collections on Opensea that are not available elsewhere, and are considered the top collections worldwide, according to the sales figures. These collections include Cryptopunks, Bored Ape Yacht Club, Decentraland, Mutant Ape Yacht Club, Art Blocks Curated, The Sandbox, Rarible, CloneX, and Meebits.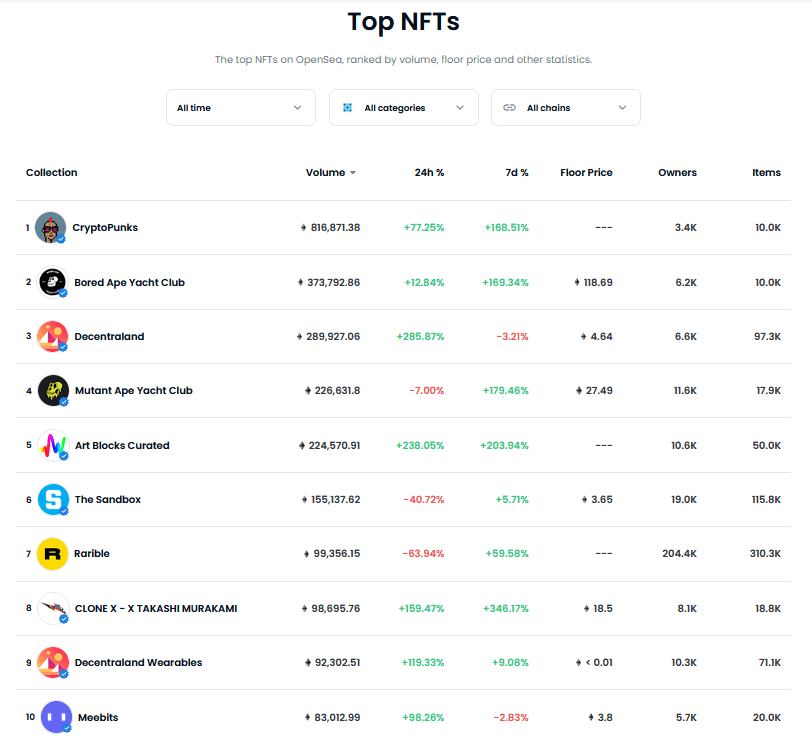 You can see in the Top NFTs area a range of stats including the sales volume in Ethereum, the 24-h % change and 7d % change, as well as the floor price, number of owners, and total number of items for sale in each collection. The "Floor Price" is also known as the "starting price" at which the item begins in an auction or fixed price scenario.
Tracking NFT Collections On Coinmarketcap
Opensea is an excellent marketplace for browsing a diverse range of collections, but how do you know what is trending around the world in the NFT space? Since NFTs have grown in popularity and continue to trend as a blockchain industry item, some of the top resources in the industry have started providing coverage of NFT related tokens, coins, blockchains, and projects. So before you make your purchase, you may want to do some additional research and head over to Coingecko, or Coinmarketcap NFT and see some of the top movers and shakers in the industry: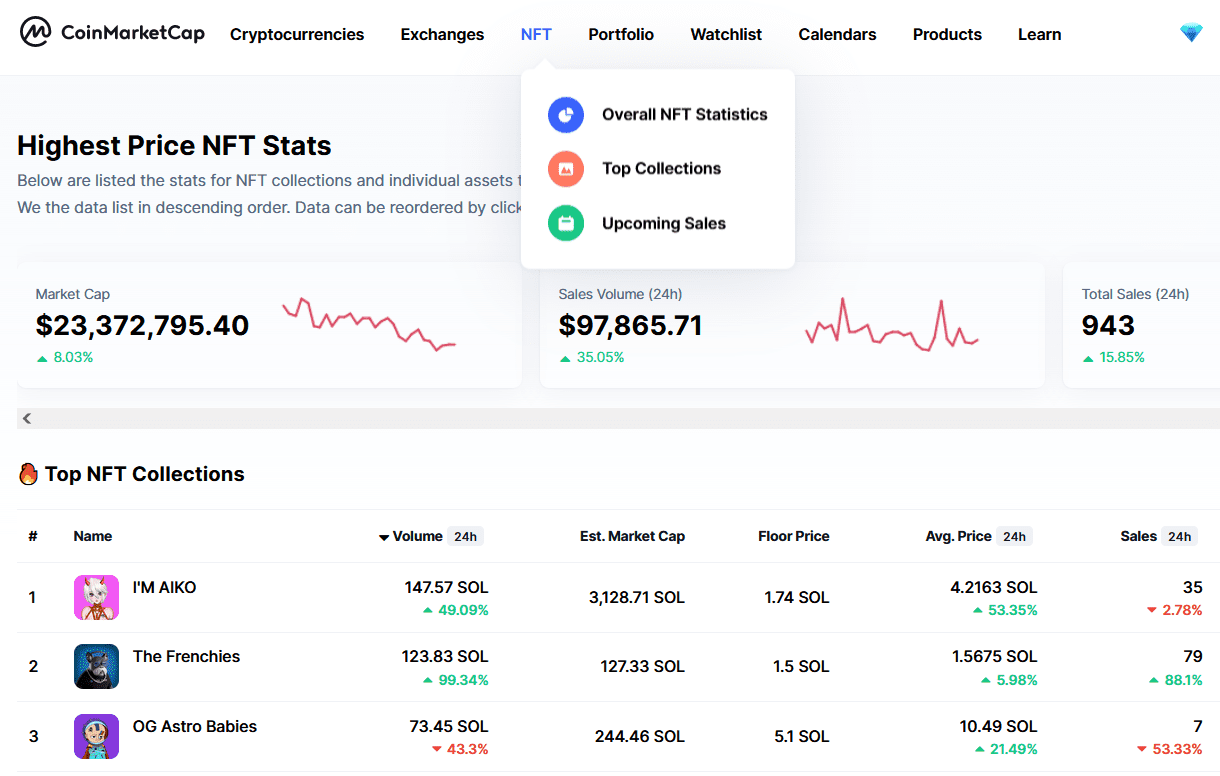 You can also click on the NFT menu tab and get access to the Top Collections, Overall NFT statistics, and Upcoming Sales. The information will show you where the collections are sold, including Opensea, and other marketplaces that are available for buying NFTs at.
Buying an NFT on Opensea
Now that you understand how to navigate the Opensea site by browsing the collections, and using the filter to access specific NFTs including the price range and attributes, you are now ready to make a purchase. This is done quite easily as you can simply click on the buy now button, or make an offer button.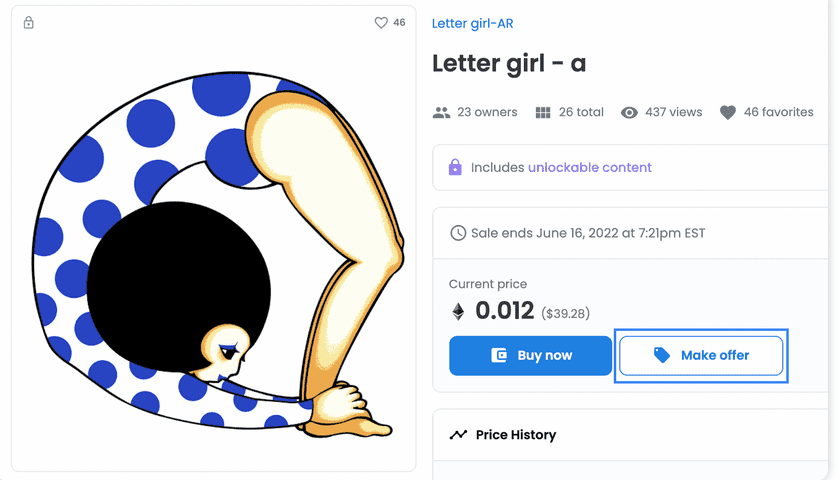 Simply click on the Buy Now button, and you will see a pop-up window appear with the total price including the gas fee. There is a 2% commission on buying an NFT on Opensea, and the regular gas fees that are subject to the current market prices on Ethereum. Opensea has also introduced a gas-free marketplace which can be found under the resources tab in the upper right hand area of the site. Let's take a closer look at the Resources, as this is one of the final steps in mastering your journey on the Opensea website.
Opensea Resources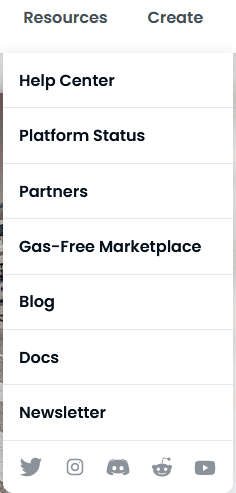 There are a variety of resources available for the Opensea users including:
Help Center
Platform Status
Partners
Gas-Free Marketplace
Blog
Docs
Newsletter
Social Media Links
Each of the respective menu items will bring you to a different area of the site where you can learn more about the functionality and offerings of Opensea.
Create an NFT
Lastly, you can also create an NFT on Opensea quite easily and begin selling some of your own digital creations. Again, simply connect your Metamask wallet and sign in to Opensea and then click Create NFT in the upper right hand corner of the site. You will be directed to an upload area where you can upload an NFT, which looks something like this: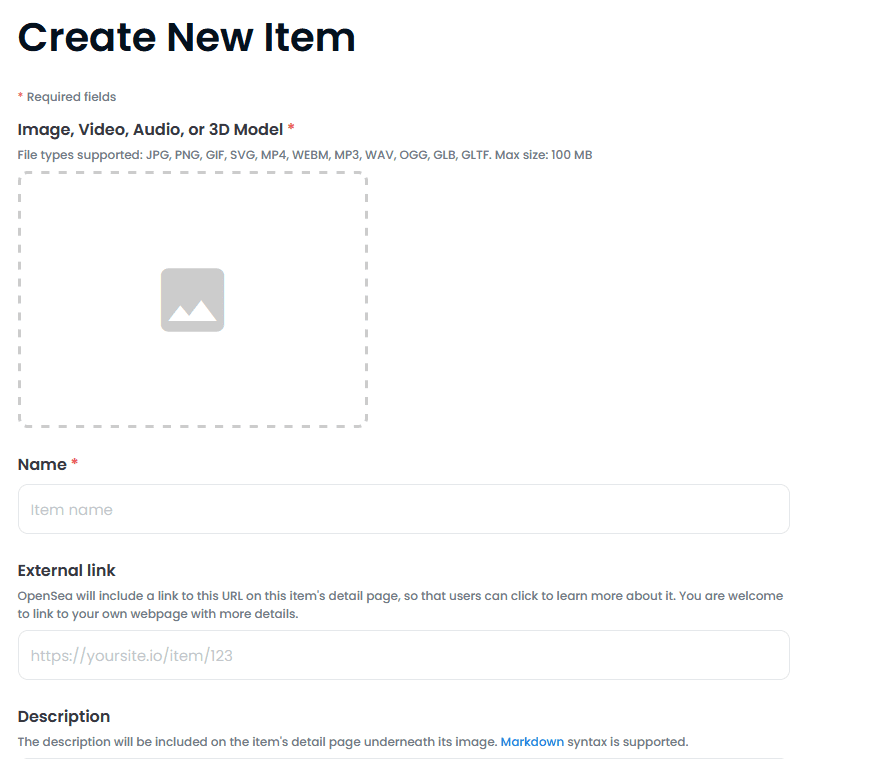 You will have to enter a few fields of information about your NFT including the name of the NFT, an external link, and description, as well as what collection it belongs to, what blockchain, and any sensitive information, if any.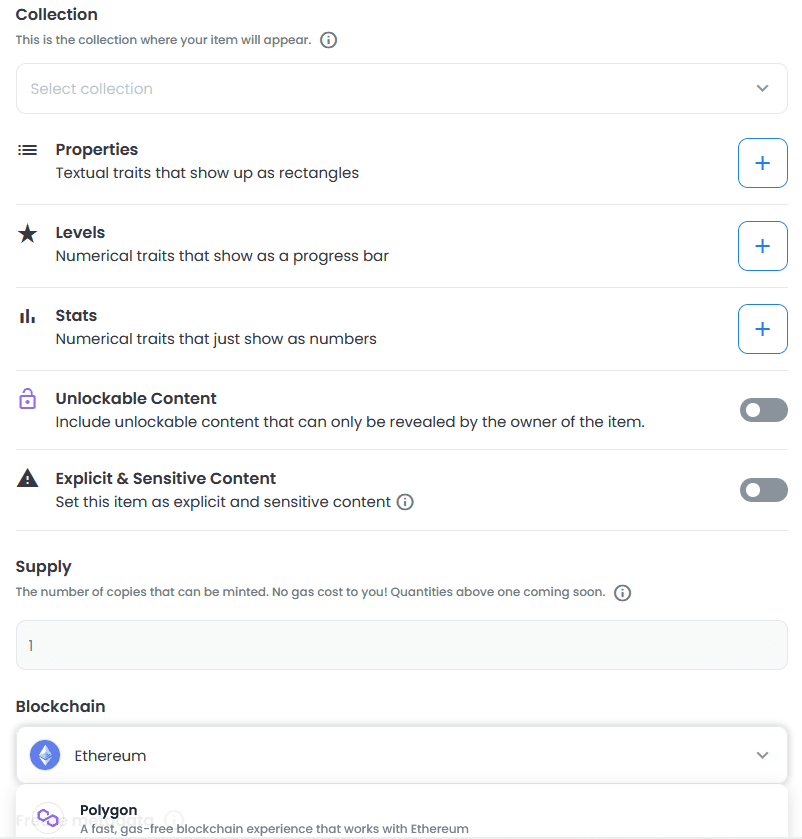 Creating an NFT can be fun and enjoyable, and are free to create, however, selling your NFT costs a 2.5% service fee charged by Opensea, as well as a 10% creator's fee.
Opeansea: get started today
Get started today by heading over to Opensea.io and checking out the marketplace and see if anything catches your eye. View some of the top collections and filter them by price to find a price range that is suitable for you. Are there any attributes that interest you in particular? Use the filter to find an attribute that caters to your preference and see if it is in your price range. Fund your wallet and click the buy now button, or place a bid if it is on the auction. Check your wallet to view your collections and share your collection on social media or through a blog post and prove to the world your ownership of a verified blockchain NFT.
Opensea is one of the world's first and largest NFT marketplaces on the internet. Operating as a decentralized platform for NFTs on Ethereum, Polygon, and Klaytn blockchains, users can easily sign on using a Web3 wallet like Metamask. Fund your wallet from a Canadian crypto platform, or use the Moonpay app on the platform. Choose an NFT that looks like a suitable option for your collection and make a purchase. Put your NFT back on the market for sale at a higher price and make a profit, or save your NFT as part of a growing collection. NFTs continue to grow in value and popularity and more and more people become engaged in blockchain technology and see the value of digital art creations. Grow your artistic merit and create your own NFT on Opensea and list it for sale as part of your user experience with NFTs and Opensea. We hope you enjoyed our Opensea ultimate guide and wish you success on your NFT journey!