The Ultimate Guide to Autoplan Car Insurance Policies in 2022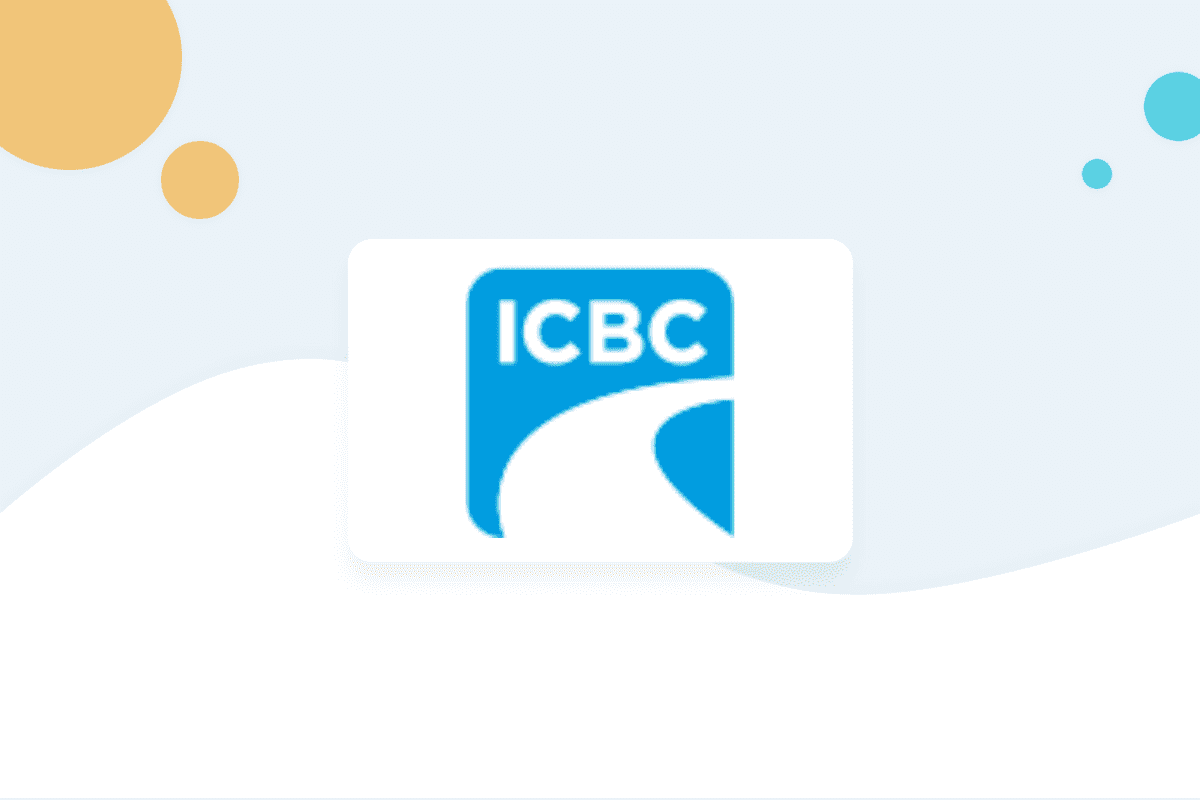 If you live in British Columbia (BC) and drive a car, you need an Autoplan car insurance plan. This guide gives you a review of Autoplan car insurance policies.
We'll cover everything you need to know about Autoplan's basic coverage and optional packages and the process of insuring your car for the first time. Let's check under the hood together.
Read more about car insurance in Canada
What is the ICBC Autoplan, and what does it cover?
All motorized vehicles in BC must have at least basic insurance coverage. the Insurance Corporation of British Columbia (ICBC) provides basic insurance coverage for all vehicles licensed and insured in the province.
The basic insurance package covers medical and other recovery expenses resulting from a crash, regardless of who's responsible for it. When another driver crashes into your car in BC, the basic plan will help you repair or replace your vehicle.
Drivers who want additional protection can upgrade their basic Autoplan to optional coverage. Including extended third-party liability, collision, and comprehensive protections. With extended third-party liability, you have extra protection over what the primary third-party liability provides in contexts where lawsuits can occur.
The collision option will cover car repair or replacement, even if you are responsible for the crash. This is not the case with the basic plan. The comprehensive insurance provides coverage for loss or damage to the car, regardless of the cause, save for loss or damage covered by collision insurance.
Let's take a closer look at each of these plans to better understand which option is best for your needs.
The basic plan
With the basic plan, you have coverage for medical and recovery expenses. When the other driver is at fault and the crash occurs in BC, the plan also covers repair and replacement expenses. The primary auto insurance plan provides:
Third-party liability coverage.
Basic vehicle damage coverage.
Enhanced accident benefits.
Inverse liability coverage.
Underinsured motorist protection.
In most cases, the basic plan protects you from a lawsuit for injuries and vehicle damage. In circumstances of a lawsuit, the basic plan gives you third-party liability worth $200,000 if you are responsible for a crash that causes property damage or injuries. If desired, there's the option to increase third-party liability to more than $1 million.
The enhanced accident benefits will also provide income benefits in case you're unable to work due to your injuries. In case of fatality, this plan will pay for funeral expenses up to a certain amount and death benefits to family members.
ICBC provides enhanced accident benefits with no limit to all BC residents injured in a crash. Regardless of whether they are the occupants of a vehicle, a pedestrian, or a cyclist. Non-residents also receive benefits from ICBC, but access is often conditioned by the extent of crash responsibility.
When a crash occurs outside BC, BC residents have full access to enhanced accident benefits. That is as long as receiving those benefits is following local laws.
The basic insurance also includes underinsured motorist protection. This is in case you are not eligible for enhanced accident benefits and the driver responsible for the crash does not have enough coverage to pay for the damages.
Basic inverse liability coverage provides coverage for vehicle damage to the extent you are not at fault in the case of a crash outside BC, where lawsuits for vehicle damage are not allowed.
Optional insurance plans
Optional Autoplan insurance provides payment to repay your vehicle or a settlement in case a car is unusable due to irreparable damage, theft, or other events. Let's take a look at the benefits of purchasing optional Autoplan insurance in a variety of situations.
Collision
In case of a collision, optional Autoplan will provide payment to either repair or replace your vehicle. This payment is provided regardless of whether the damage results from a collision with another car, an object, or a person. Claims of ICBC collision can affect your premiums if you are more than 25% responsible for a crash.
While the basic vehicle damage will provide damage payments in case of a collision to the extent that you are not responsible for the crash, the optional Autoplan will provide payment regardless of responsibility. If you are partially responsible, you can use basic vehicle damage coverage for a portion of the damage and collision for the remaining of it.
Comprehensive
Loss or damage to your vehicle that is not covered by collision insurance is covered by comprehensive insurance. This option includes coverage for situations such as fire, theft, vandalism, natural phenomena, animal impact, missiles, riots, and other cases. Claims made under comprehensive coverage do not affect ICBC premiums.
Specified perils
You may choose this insurance option for specific coverage against fire, theft, damage caused by natural phenomena, explosion, riots, falling of an aircraft or parts of it, civil unrest, burning, derailment, or collision of a conveyance transporting the vehicle.
Coverages included in specified perils are also included under comprehensive coverage. For this reason, you should only purchase one of the two options. Claims made under specified perils do not affect ICBC premiums.
Hit and run
This type of coverage is accessible if you don't purchase collision coverage but want protection against loss or damage caused by a hit-and-run driver in B.C.. The hit and run insurance option provide a coverage limit of $200,000 and a deductible of $750.
Off-highway third-party liability
This insurance option gives you third-party liability for licensed vehicles, including golf carts, farm tractors, utility vehicles, and industrial vehicles. This option is to be considered when the mentioned vehicles need to be operated off the highway. Autoplan's primary third-party liability is not usable in this situation.
Deductibles
One of the most challenging aspects of buying a collision or comprehensive insurance is deciding on a deductible. You might know the deductible is the money you have to pay for the remaining repairs.
For collision and comprehensive insurance, deductibles range in costs from $300 to $2,500. If you have an expensive vehicle, your deductible can reach as much as $15,000. The higher the deductible, the lower the cost of your insurance premium.
Whether you can buy collision or comprehensive insurance with a low deductible will largely depend on your claims history. For example, suppose you have a history of crashes or have been convicted of motor vehicle-related crimes related to an ICBC claim. In that case, you may not be able to purchase any damage coverage.
New vehicle protection
Suppose you have just purchased a new vehicle and will register it in BC. In that case, you might be happy to know that a range of insurance coverages will provide additional protection for new vehicles.
One of the options you can consider is new vehicle replacement plus coverage. You are eligible for this coverage if you are the owner of a vehicle in model year one or two and purchase coverage for that vehicle annually, regardless of whether you are the first owner of the car.
You can purchase a new vehicle replacement plus coverage in cases where collision and comprehensive or specified perils have already been purchased, and the vehicle is no more than two years old.
Replacement cost
If your vehicle is three model years old or newer, you can consider the replacement cost coverage. This is available to you if you purchase Autoplan collision and comprehensive or collision and specified perils.
Replacement cost coverage is similar in most aspects to new vehicle replacement plus. It is distinct from the former in that it is available for models as old as three years, can be used for motor homes, and can also be used if the vehicle is licensed and insured on a temporary operation permit or under a storage policy.
Limited depreciation
Suppose you do not qualify for a new vehicle replacement or replacement cost. In that case, you may want to purchase limited depreciation coverage to protect yourself against the declining value of a new vehicle. This coverage is available if the car is not more than three models years old, including if you are not the car's first owner.
It is worth mentioning that limited depreciation increases the amount payable to you under the Autoplan collision, comprehensive, or specified perils. Hence, depreciation is not relevant in settling claims for vehicle damage. Certain vehicles such as replicars, replikits, replicas, rebuilt, ubilt, or specialty vehicles are not eligible for this coverage.
Suppose you do not have limited depreciation coverage. In that case, payment of claims for damage to vehicles is based on the cost of repairs or the vehicle's cash value in case the car is a total loss.
Given that the rate of depreciation of new vehicles is usually high, payment for claims can be lower than expected when written off. In case this is a financed vehicle, it's not unlikely that the amount you owe to the financial institution is higher than the amount of the total loss settlement.
RoadStar package
If you purchase an Autoplan comprehensive coverage, you can also acquire a RoadStar package. This insurance option includes rental vehicle coverage, vehicle travel protection and lock re-keying, and vehicle travel protection. Non-residents are not eligible for rental vehicle coverage and vehicle travel protection under this package.
RoadStar package is available for private passengers and commercial vehicles with a gross vehicle weight (GVW) of 5,000 kg or less for school, work, business, pleasure, artisan, farm, fishing, or recreational motor homes. The coverage is available throughout Canada and the US, except for Alaska and Hawaii.
Roadside Plus options
If the RoadStar package is not enough for you, you may opt for Roadside Plus. This package includes loss of use, vehicle travel protection, rental vehicle coverage, lock re-keying, destination assistance, emergency roadside expense payment, and theft deductible waiver.
To purchase this package, you must also purchase Autoplan comprehensive coverage. If your vehicle is part of a fleet with a base rate discount or lower, you may also be able to buy the package in question.
As in the case of RoadStar, the Roadside Plus is only available for private and commercial vehicles with a GVW of 5,000 kg or less that designated for work, school, pleasure, business, artisan, farm, fishing, or recreational motor homes. The package provides coverage within Canada and the U.S.
Other options
Besides Autoplan basic and the main optional insurance packages, ICBC provides products to meet more peculiar needs. The following sections describe some of the most popular options in this category.
Income top-up policy
This option provides coverage to top up the income replacement benefits included in enhanced accident benefits. The coverage is available to BC residents regardless of whether they have ICBC insurance. Non-BC residents license and insure a vehicle in BC can only access this policy.
This plan is available for purchase in tiers of $10,000, up to a maximum of $100,000 above the income replacement limit.
Rental vehicle policy
This insurance option provides protection when you borrow or rent a vehicle. The plan includes:
Third-party liability up to $1 million
Underinsured motorist protection,
Collision with $300 deductible
Comprehensive with $300 deductible
Loss of use up to $25 per day, up to a maximum of $250
Payment for claims made by rental companies in case of rental income loss.
Storage policy
You may consider purchasing a storage policy if your vehicle is meant for storage. With this option, you can access collision, comprehensive, specified perils, and third-party liability insurance. In the case of some newer vehicles, you can also access replacement cost coverage and limited depreciation coverage.
How to get Autoplan insurance?
Vehicles operated in BC must be registered, licensed, and insured. If you are just moving to BC, you must do so within 30 days of arrival. In some cases, a pre-registration vehicle inspection is a requirement.
If the vehicle is for commercial use, it must be registered, licensed, and insured immediately upon moving. Autoplan brokers can guide you throughout the entire process of pre-registering, registering, licensing, and insuring.
During the first 90 days upon your arrival, you can use a valid driver's license issued by another province, state, or country. After this period, you must pass an applicable driver's examination to get a BC driver's license.
When you purchase a vehicle license and insurance, your Autoplan broker will give you a certificate referred to as the Owner's Certificate of Insurance and vehicle license. You will need to carry this certificate in your vehicle as long as you operate it.
Your broker will also give you decals that indicate the expiration date of your licence and insurance. The display of these indicators on the rear licence plate of the majority of vehicles is a requirement.
As you might suspect, you need to renew your insurance before it expires. Otherwise, you risk not having coverage in case of a crash following the expiry date.
ICBC will mail you a renewal reminder to the last known address. You can renew your license and insurance at any Autoplan broker office. It does not have to be at the one where you went for insurance.
Regardless of the ICBC Autoplan you choose, you can spread your insurance premium and license fees evenly over 12 months. You can pay your premium and fees monthly or every three or six months with equal monthly payments.
You don't have to worry about forgetting to pay. As long as you have money in your bank account, it will be automatically deducted.
To apply for an Autoplan payment plan, you must be the vehicle's owner or lessee. You need a bank account that allows automatic withdrawal, and you must provide the broker with a void cheque or a statement from a chequing account has automatic withdrawal privileges.
Suppose you are a new ICBC customer without a BC. driver's license or are ending a two-year option on a cash-only basis due to payment problems. In that case, you can use the ICBC payment plan with a six-month term. After the six months have passed, you are eligible for the 12-month or quarterly payment, as long as you have paid according to the agreement.
You can also pay by cheque, cash, debit card, Visa, Mastercard, or American Express.
[Offer productType="CreditCard" api_id="5f31a9ab92ec22115033b2c2″ id="145739″]
How to find an Autoplan broker?
There are almost 1,000 Autoplan brokers in BC. The easiest way to find an Autoplan broker is by going to the ICBC online broker locator.
How much is ICBC Autoplan?
The base premium for the basic plan is $1,063 per year. The cost of your ICBC Autoplan insurance will vary according to the rate class, the primary location of the vehicle when not in use, and your driving factor. The cost of Autoplan optional insurance premiums will also depend on the vehicle's make, model, and year.
The rate class refers to how your vehicle is used (e.g., for pleasure, for business). If you use the wrong rate class and make a claim, you risk having the claim denied or even paying the penalty.
Under ICBC, BC is divided into several territories based on population and geography. For instance, vehicles driven in areas with a sparse population are unlikely to be involved in a crash. This influences the rating used for them. It's essential to declare the territory correctly, as otherwise, you risk having any claims denied or paying the penalty.
In the case of collision, comprehensive and specified perils coverages, premiums, and payouts are determined according to rate groups. These are based on factors that include repair costs, average claim costs, engine size, safety features and vehicle model.
All drivers in BC have an individual driver factor represented by a three-decimal number. The value of this number depends on your driving experience and crash history. The driver factor baseline is 1.000, with a lower number being better.
The more driving experience you gain while remaining crash-free, your driver factor score will be higher. Your insurance policy's premium will increase or decrease depending on factors about the driver and vehicle categories.
Finally, suppose you are guilty of violating traffic rules or convicted under certain sections of the Canadian criminal code. In that case, you may pay a driver penalty point premium or a driver risk premium. Your premium will vary depending on the number of penalty points or suspensions and the type of convictions on your driving record.
Autoplan: The takeways
ICBC is responsible for providing basic insurance coverage for all vehicles licensed and insured in the province of BC. All people driving a motorized vehicle must have a certain amount of insurance.
The basic package provides enough coverage to meet the needs of a large portion of drivers. In addition to the basic plan, multiple insurance packages can meet the needs of drivers who have more complex needs or want more coverage.
Whether you want to purchase the basic insurance plan or the optional packages, there are several concepts you need to familiarize yourself with. These include rate class, location, and driving factor. It's always best to consult with your Autoplan broker before deciding to go for one plan or the other.
Frequently asked questions about Autoplan Car Insurance
How much is ICBC Basic Autoplan?
The base premium for the basic plan is $1,063 per year. The cost of your ICBC Autoplan insurance will vary according to the rate class, the primary location of the vehicle when not in use (or, in the case of some commercial vehicles, when in use), and your driving factor.
Does basic Autoplan cover not-at-fault collisions?
Yes, the Autoplan basic plan provides coverage for not-at-fault collisions. Even if you are found partly responsible for the collision, you can still get damage payment with the basic plan.
Where can I find an Autoplan broker?
The easiest way to find an Autoplan broker is by going to the ICBC online broker locator, which you can find here.
How to become an ICBC Autoplan broker?
To be an insurance broker in B.C., you must obtain a license through the Insurance Council of B.C.. To qualify for a licence, you must have passed one of the approved pre-licensing exams offered by IBABC. For more information, call 604-688-0321.