The 10 Best Motorcycle Insurance Companies in Canada in 2023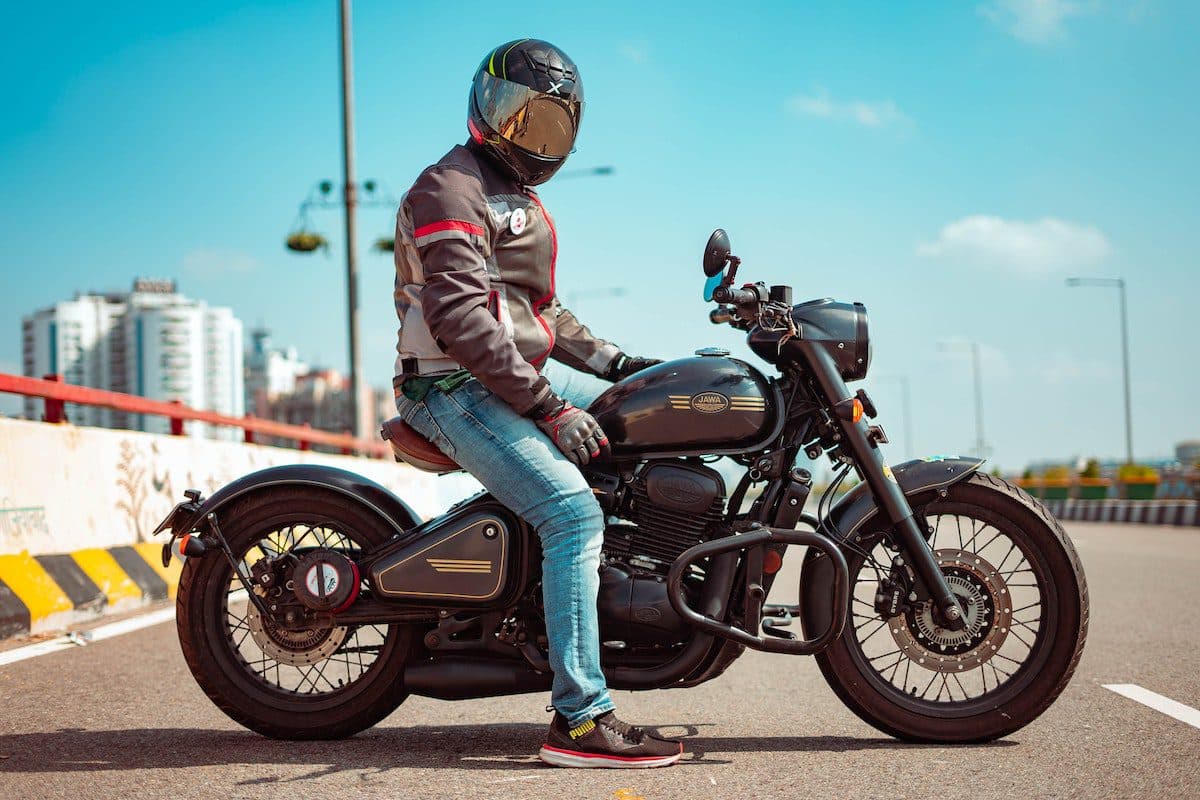 Table of Contents
[ Show ]
Bikes are synonymous with freedom on or off the road. However, in Canada, you must have motorcycle insurance in order to ride. There are plenty of motorcycle companies in Canada, but which rank highest?
We made this list of reliable motorcycle insurance providers to help you make the best decision about your insurance. Here is what we found.
Key points
Consult reliable ratings sites like JD Power for detailed information
Always compare motorcycle insurance policies before you buy
Understand that where you live impacts your premiums and recommended liability coverage
How you ride and what you ride impacts your policy
The Co-Operators, Wawanesa, Economical and The Personal have high ratings
The basics
The minimum coverage you need as a driver is:
Third-party liability
Accident benefits
Direct compensation property damage (DCPC)
Uninsured motorist insurance.
You can purchase additional insurance coverage options depending on what risk events you want to protect against and how much coverage you want to buy.
How to find the best motorcycle insurance companies
In 2019, Statistics Canada found 736,216 motorcycles and mopeds registered in Canada. With so many bikes on the road, you can find many motorcycle insurance choices.
Many of the product offerings among providers are similar because riders must get insurance that meets legal minimum requirements. When considering insurance providers, you may want to consider:
Price
Coverage
Options
Customer service.
JD Power reviews car insurance companies in Canada,. They rate them based on customer satisfaction with their policy/product offerings, price, non-claims interactions, claims, and billing and payments.
While these providers are not specifically motorcycle insurance companies, most of these firms also sell motorcycle insurance. We'll look at some of their findings regarding insurance companies, as well as some companies not mentioned in the study.
TD Insurance
TD is a major financial services provider in Canada, offering travel credit cards, insurance and many other financial products and services. They provide standard motorcycle insurance and the option to upgrade your coverage based on how you want to insure your vehicle.
For example, you can reduce your insurance premiums with TD Insurance by:
Adding your car insurance with the company
Installing an anti-theft device on your bike
Insuring multiple products such as an additional bike, RV, or home.
TD Insurance ranks among Canada's top three auto and personal home insurers. In addition, you can manage much of your insurance policy, questions, and concerns online.
JD Power ranks TD Insurance as fourth in Alberta with 3 stars, third in Atlantic Canada with 4 stars, eigth in Ontario with 3 stars, and tenth in Quebec with 2 stars.
The Co-operators
At the top of JD Powers' list is The Co-operators. This company has been in business since 1945 and offers a full suite of insurance and financial planning products.
The Co-operators has 56 billion in assets under management, with over 6,000 employees in 600 locations across Canada. They are rated 5 stars in Alberta, the Atlantic region, and Ontario.
You'll find multiple insurance products, including car, vehicle, home, life, and group benefits. In addition, discounts are available if you bundle your insurance products.
Another great feature is that you can customize insurance options to suit your needs. Preferred rates may also be available, depending on your needs and qualifications.
Intact
Intact Insurance is another major player in the insurance market in Canada. Currently serving four million customers, Intact is Canada's largest home, auto, and business insurance company.
You can get a standalone motorcycle policy or bundle motorcycle insurance with your existing Intact policies. Intact offers customers up to $2 million in third-party liability coverage, and they insure a wide variety of bikes, including custom-built, off-road, and cruisers.
If your motorcycle is an expensive model, you can insure it for up to $70,000.
JD Power ranked Intact insurance based on customer satisfaction as the seventh best insurance company in Alberta with 2 stars, second in Atlantic Canada with 4 stars, eigth in Ontario with 3 stars, and ninth in Quebec with 3 stars.
Aviva
Aviva is based in the UK, but has a strong presence in Canada. The company has 18 million customers in the UK, Ireland, and Canada. In Canada, they have 2.4 million customers and 4,000 employees.
Aviva offers insurance for homes, automobiles, leisure/lifestyle products, and business insurance. Customers can submit claims 24/7 online.
A motorcycle insurance policy with Aviva covers comprehensive physical damage and offers travel protection and claims forgiveness. Additionally, the policy comes with some optional coverage.
For example, you can insure your motorcycle accessories, riding gear, and equipment, including trailers. Customers can also benefit from a waiver of depreciation and personal effects coverage.
The JD Power survey ranked Aviva eighth in Alberta with 2 stars, seventh in Atlantic Canada with 2 stars, eleventh in Ontario with 2 stars, and tenth in Quebec with 2 stars.
Wawanesa
Wawanesa Insurance has been in business since 1896 and insuring vehicles since 1928. They currently operate across Canada.
The company received an A rating from AM Best Co's for financial strength. This is a significant award because AM Best Co. is considered one of the world's most authoritative insurance rating and information sources.
Wawanesa has strong outstanding claims and underwriting services. In addition, Wawanesa offers a wide range of quality insurance products.
You'll find motorcycle insurance with standard coverage, optional coverage, and the option to bundle your insurance needs. The cost of your policy can vary based on:
Your driving record
How you will use the vehicle
The number of drivers requiring insurance
The type of bike you're insuring.
JD Power ranks Wawanesa sixth in Alberta with 3 stars, fifth in the Atlantic region with 2 stars, and twelfth in Ontario with 2 stars.
Travelers
Travelers Insurance first opened in 1887. They have 1,400 employees in Canada with operations in Canada, the U.S., the UK, and Ireland.
Its focus is on offering high-quality underwriting, risk control, and claims services. The company had $110 billion in assets as of December 31, 2019, and is a leading provider of home, auto, and business insurance.
You can submit a claim 24/7 and a representative will contact you within four hours of getting your submission.
Economical
Economical started operations in 1861. They offer a full suite of insurance products, including car, home, business, group, and farms.
Motorcycle insurance with Economical covers medical expenses, damages to others, accident repairs, theft, vandalism, lost wages, rental car costs, and legal fees. Discounts may be available for bundling and renewals.
If you have a spotty driving record, you might want to check Economical for motorcycle insurance. They are a leader in Canada in providing special risk insurance.
They have a 4 star ranking in Ontario from JD Power.
Echelon
Echelon has been in business since 1998 and is a member of the CAA Club Group. Although they aren't only a motorcycle insurance company, they do offer many options for riders.
They insure a wide variety of bikes like cruisers, touring, and trail bikes. As a rider, you may qualify for premium discounts, especially if you have completed an Advanced Rider Training course.
You can choose from different deductibles. They offer payment plans for your insurance premium.
The Personal
The Personal provides group insurance for home and auto, including motorcycle insurance. The company partners with more than 700 organizations in Canada, so many people will be eligible for group insurance with the company.
You may want to consider motorcycle insurance with the Personal, as they offer competitive pricing, excellent service, and personalized coverage. There are several ways to qualify for rate discounts:
Having multiple vehicles insured
A conviction-free driving record
Student rates
And more.
They have a 5-star rating in Quebec and a 4-star rating in Ontario from the JD Power survey.
Desjardins
Desjardins is a Quebec-based credit union offering a full range of financial services, including motorcycle insurance. They insure various motorcycles and offer standard policies with options you can add for more coverage.
Customers can bundle their insurance with other products and easily access online services.
Desjardins ranked seventh in Quebec with a 3-star rating and second in Ontario with a 2-star rating from JD Power.
Get ready to ride
There are lots of great insurance options to get you on the road. First, you can check with your current insurance provider for details regarding insuring your bike.
If they offer motorcycle insurance, you may benefit from bundling your products, a loyalty discount, or a renewal discount. You can also check motorcycle insurance companies that specialize in covering motorcycles and recreational vehicles. Research your options to make sure you get the coverage that's best for you.
Frequently asked questions about motorcycle insurance companies
Which insurance companies bundle home auto and motorcycle insurance?
Most home and auto insurance companies will bundle the products and often offer discounts. Check with your provider or insurance broker to see if your insurer offers this option.
How can I buy salvage motorcycles from insurance companies?
You can check an online advertisement site like allclassifieds.ca. Salvage motorcycles often end up at auction houses where you can bid online for a bike. Finally, some companies specifically sell salvaged motorcycles where you can also shop.
Which insurance companies cover motorcycles?
Most large insurance companies offer motorcycle insurance and insure other types of recreational vehicles such as snowmobiles. In addition, some insurers specialize in motorcycle insurance. Check with your provider or broker to find the best insurance providers for your needs.
Why do insurance companies total motorcycles with little damage?
Insurance companies total motorcycles with little damage because the cost to fix them can be more than the motorcycle is worth. Another reason is that although the damage may seem minor, it may be more extensive than it appears, increasing the repair cost.
Can you insure motorcycles with companies outside Canada?
Motorcycle insurance from a Canadian motorcycle insurance company is typically valid in Canada and the United States. However, if you are traveling elsewhere, you may need to arrange coverage separately. Check with your insurer if you plan to travel abroad with your motorcycle.