Breaking Down the Co-Insurance Clause in Canada
Co-insurance is a cost-sharing agreement between policyholders and insurance companies. Many home insurance policies have a co-insurance clause within the insurance contract.
This clause requires policyholders to hold a certain amount of insurance equal to the suggested percentage of their property's value. It is a protection for the insurer and the policy holder. We explain it below.
What is a co-insurance clause?
Home insurance policies in Canada often have a co-insurance clause to encourage policyholders to insure their property equivalent for at least a minimum percentage of their property value.
Through the co-insurance clause, policyholders can underinsure their property, as long as they meet the minimum insurance coverage requirements.
On average, policyholders are required to carry minimum coverage of 80% to 90% of their property value. Depending on your insurance company, the percentage recommendations may vary.
Why do people underinsure their property?
Some people decide to underinsure their property up to the co-insurance clause minimum. In exchange, they pay a reduced premium payment. They are saving money today in exchange for a smaller coverage.
Why would you need to cover 80% to 90% of your property's value?
People do not always believe they need insurance. Some might think that the chances of making a claim are low. Others underestimate the replacement or rebuilding costs.
With inflation hitting hard, the cost of everything has gone up. Your coverage might not be enough anymore.
If you don't insure your property up to the amount stated in the co-insurance clause, you take responsibility for a portion of the losses in the event of a claim.
As a result, you won't receive a full claim payment from your insurance provider. Here is an example to provide more clarification:
You get a recommendation to insure at least 90% of your property's replacement value
The property is worth $1,000,000
You carry minimum coverage of $900,000.
If you make a claim for your property, you receive up to 100% of your claim, up to $900,000.
If you insure for less than the recommended 80% to 100% of the value:
You decide to insure your property for only 70% of the value
The property is worth $1,000,000
You carry $700,000 in coverage
You claim damages worth $350,000
You don't get a $350,000 payout
Your 70% doesn't meet the 80% threshold. You are covered for 70/80 or 87.5% of the recommended minimum value
Your payout is 87.5% of $350,000. That equals $306,250
You pay the difference between $350,000 and $306,250
You are out of pocket $43,750.
What happens if I pay below the co-insurance requirement?
As stated previously, if you choose to insure your property for less than the recommended co-insurance amount, you will be responsible for a portion of your losses.
The amount that you are responsible for will fluctuate depending on your co-insurance minimum, the insurance you're carrying, and the total amount of losses.
Check with your insurance company. Insurers like SquareOne can adjust your co-insurance clause requirement depending on your situation: condo owner, homeowner, or tenant.
How to prevent under-insuring your property
Most people don't want to intentionally underinsure their property. However, it's common to underestimate the cost of a full replacement.
For example, if you chose to insure your property for a cash value, you may not be considering the full amount that goes into replacement costs. Usually, your insurance provider will deduct the property's depreciation from your reimbursement if you find yourself in this situation.
The value of your property can change frequently. That is why it's important to keep inflation, renovation, and inventory in mind.
If your property's value increases, you might not meet the coinsurance clause requirement even if it was sufficient five years ago. However if your property's value depreciates, you can end up overpaying on your coverage.
The best thing to do is get your property professionally appraised routinely to make sure you're meeting the correct insurance coverage requirements.
At the end of the day, this is just a good rule of thumb to keep you financially protected in the case of a property claim.
Why does the co-insurance cause exist?
Some people underestimate their risk of loss which leads to properties being underinsured in the case of a full replacement. Insurance companies end up with a smaller amount of money to pay claims. Everyone suffers in this situation.
The co-insurance clause was created to balance the marketplace while making sure policyholders pay a sufficient premium. Simultaneously, it's used to encourage policyholders to insure an adequate amount of their property value to protect themselves.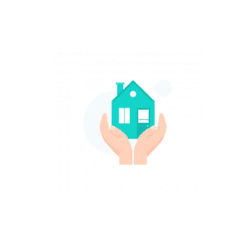 Get multiple home insurance quotes in minutes