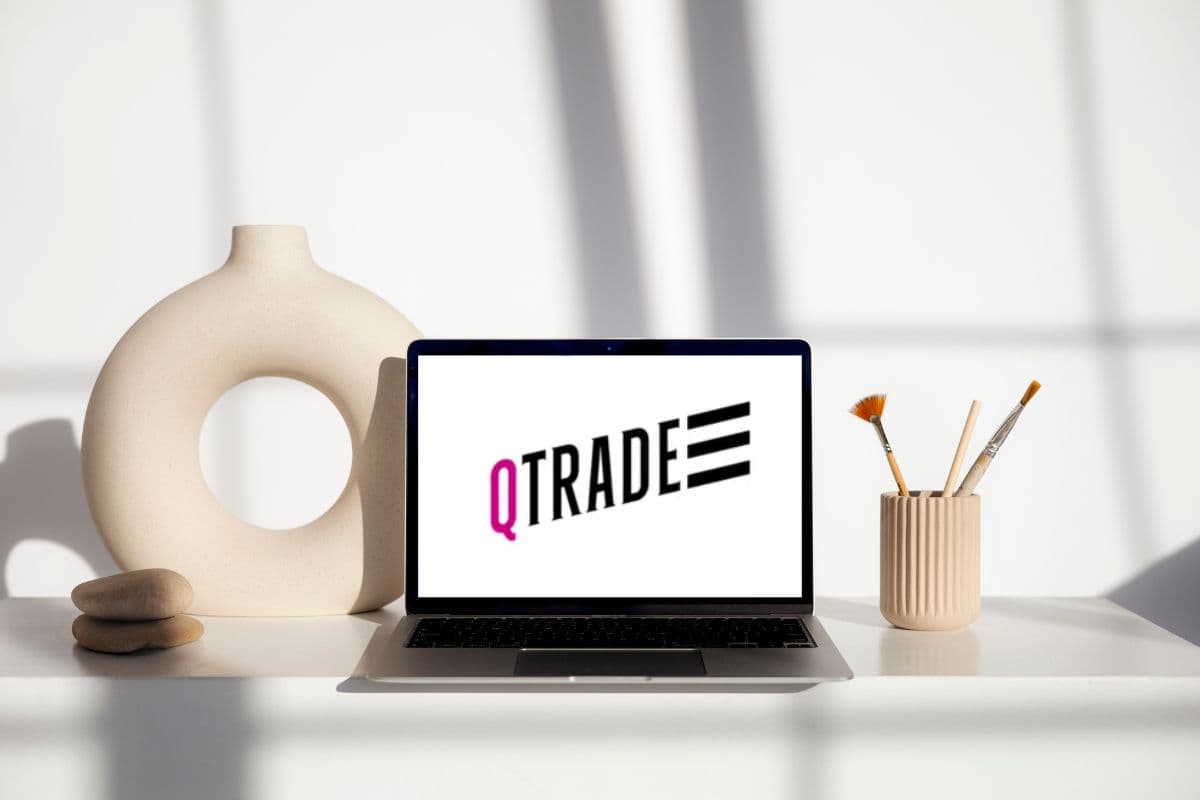 While in line to use the automated teller machine, I overheard two people discussing their most recent investments on the Canadian stock markets. "I don't need to keep my brokerage account with XYZ bank. I'll be transferring my assets to Qtrade," concluded one of them. Why Qtrade? Here's a look at an industry leader.
Qtrade Direct Investing, which is now part of Aviso Wealth, once again seems to have the wind in its sails. The media have repeatedly crowned it as one of the best Canadian online brokers. Over time, the Globe and Mail,  MoneySense and Surviscor have published rather rave reviews, declaring it a major player in the industry. Qtrade remains relevant as this broker still seems to be in "continuous improvement" mode.
How does Qtrade differ from the competition?
[Offer productType="BrokerageAccount" api_id="5f53bcff863fd264d0c38120″ id="176598″]
At first glance, the website is clean and inviting. The home page dashboard is beautiful and modern. It has been redesigned again recently, and its simplified design provides easy navigation. The mobile application (iOS and Android) is comprehensive. You can even keep an eye on your portfolio at all times through your Apple Watch.
Qtrade has built up a reputation for providing fast and efficient customer service over the years, while providing a low-cost experience for the independent investor. You can communicate with agents by phone, email or chat.
Trades are carried out effortlessly, whether on your computer or through the mobile application. It's easy to see your order status and there are documents available – like a trade confirmation, for example. Certain features merit highlighting:
The portfolio rating
This tool gives you a bit of a second opinion on your portfolio. It is awarded a score out of 100, based on five criteria (see below). You can use the information provided to compare your portfolio to your benchmarks. This is convenient to invest with more confidence and manage your risk exposure. Each of the following criteria is evaluated:
Stop-loss protection
Performance
Diversification
Income
Fees
It's very easy to access. From the "My accounts" menu, choose the "Portfolio" sub-menu. The "Portfolio Quote" tab is the ninth screen available, on the far right.
The portfolio simulator
This functionality complements the previous one. The simulator helps investors see how the possible addition of an Exchange Traded Fund (ETF), a stock or a bond would modify not only their portfolio composition but any changes to its associated score.
For example, by manually adding Apple stock (AAPL-Q) to your portfolio currently rated at 85%, you'll need to manually reduce your available cash by the expected purchase amount. The simulator then kicks in and increases your overall portfolio rating to 87%.
The portfolio creator
Based on the answers given to a series of questions, Qtrade can build you a tailor-made portfolio composed exclusively of ETFs. For those budding mathematicians, it will show you the risk-adjusted return of your hypothetical portfolio through the use of advanced ratios.
To access this, choose the sequence: Investment Tools, Portfolio Analysis and Calculators, and then Portfolio Creator. You'll need to take the quiz to build an ETF portfolio that's right for you.
Recently, a direct link was added to the home screen called Portfolio Analysis to give you faster access to the previous three features.
Dividend reinvestment
The dividend reinvestment plan (DRIP) is an option likely to help the shareholder build wealth over time. For each distribution received, the issuing company automatically purchases shares of the security at the current price, sometimes discounted by between 2% and 5%, without commission fees. Some online brokers, including Qtrade, make it easy to register.
To do so, navigate the following sequence: My Accounts menu, then to Service Centre, then Additional Services, and click on Dividend Reinvestment. From the drop-down menu, select the account you want to use. The system automatically gives you a list of available securities, something that not all companies offer, and you only have to check it to complete the registration process.
Does the Qtrade platform have any weak points?
Yes, of course! Nothing is perfect, but the desire to improve, year after year, the user experience makes up for any inconvenience. Here are some points that could be improved or revised.
Few analyst reports
Analyst reports are less common on Qtrade than on platforms offered by major Canadian banks, such as Scotia iTrade. It nevertheless offers free recommendations from analysts at Morningstar, whose reports are updated at the beginning of each month. Remember that the independent investor has access to several other sources of information to turn to when making investment decisions. 
Inactivity costs for less-active investors
The less-active investor should pay attention to the price list in force, in order to avoid incurring quarterly fixed costs, which are easy to avoid.
What are Qtrade's fees?
The base fee schedule is fair, with a base commission of $8.75 per transaction. If you have a nest egg of more than $500,000 in your account or if you make more than 150 transactions per quarter, you will benefit from a reduced commission of $6.95. Account holders between the ages of 18 and 30 can also take advantage of a reduced commission rate of $7.75, with no minimum balance required or quarterly fees, on the sole condition that they set up a recurring deposit of more than $50 per month.
Qtrade gives you the ability to buy or sell 100 ETFs for free. This is a distinct advantage over the competition, since other brokerage firms, such as Questrade, also offer free ETF purchases, but charge a traditional commission when you sell or when you rebalance your portfolio.
You can therefore gain exposure to sought-after markets and to various ETF providers, such as Horizons, iShares, Vanguard, PowerShares and Desjardins, without paying a commission on eligible ETFs.
In contrast, Qtrade charges a fixed account fee of $25 per quarter for investors who don't meet the basic requirements. However, there are many ways to avoid these recurring penalties. By scheduling an electronic transfer of a minimum of $100 per month from your bank account into your investment account, you will avoid paying these recurring charges. It's the same thing if you have at least $25,000 in assets as of the last business day of each quarter, if you make two commissionable trades in the previous quarter or two trades in the previous year.
Qtrade: what's the verdict?
Sometimes people choose an online brokerage platform simply because they hold other assets in that particular institution. However, small firms, including Qtrade, often provide a more comprehensive service offering. Other than the minor inconveniences mentioned above, Qtrade certainly fares well and doesn't present any major weaknesses.
Although the price list is fair and other discount brokers can offer a slightly better offer, Qtrade remains a leader in the industry!
What we love most about Qtrade
The general user experience
The quality of customer service
The desire for continuous improvement
The ease of opening an account
The availability of decision-making tools
The opportunity to buy and sell 100 ETFs free of charge
What we love least about Qtrade
Trading is limited to the Canadian and US market
A price list that is subdivided into different categories
[Offer productType="BrokerageAccount" api_id="5f53bcff863fd264d0c38120″ id="176598″]
Compare dozens of Online Brokers platforms