The 5 Best Home Improvements Before Selling Your House (And 5 You Should Avoid)
Everyone's house could use a little spruce, especially before listing your home on the MLS. Choosing the best home improvements can translate into serious cash at closing time, and as a result, into a smaller mortgage on your next home.
But which home improvements are a good idea and which ones aren't such a good idea? Continue reading to learn about the five best home improvements you should make before selling your house – and which ones you should avoid.
Consider what upgrades buyers want most
Before you go jumping into the daunting world of home renovation, you should take your time to make a list and consider what upgrades buyers want the most.
It's not about you. It's about them.
It's a well-known fact that typically kitchens and bathrooms fetch the most money when selling your home. But if you're hoping to list your home for sale in the next 4 to 6 weeks, it's generally not a good idea to take on any projects that will take several months to complete.
But time isn't the only concern. Money is also usually limited and must be allocated to the right projects to ensure a successful renovation and sale.
Every home is unique so please consider your real estate agent's advice before beginning any home improvements. Your realtor will know what updates will be most profitable for your home specifically, in your local market.
If you're ready to dive in, keep reading to learn about the five best home improvements before selling and the five home improvements you should avoid before selling your home.
The 5 best home improvements to do before selling
1. Re-paint
There's a good reason painting is always on the list of the best home improvements before selling. Fresh paint covers a lot of sins and gives your home a beautiful cohesive look (if you pick the right colours).
Try not to make every room a different colour. Instead, opt for neutral tones in the grey, beige or white family to make your home as buyer-friendly as possible. You want your home to flow. Rooms should not feel disconnected from one to the other.
You also consider painting the exterior of your house. It's a great way to improve your home's curb appeal. The cost to paint a home's exterior can depend on the home's size. Be sure to obtain a few quotes from local painting companies to budget how much painting your home will cost.
Finally, it's a great idea to paint your house before listing it for sale because it's the last thing that homebuyers want to do when they move in. Fresh paint in a home not only looks good but it can help freshen the smell of a home as well. This is a great project to DIY if you're a bit short on your home renovation budget.
2. Update windows
Old windows make your home look older and waste precious heat. This loss of heat translates to higher heating bills, which can discourage buyers from purchasing your house.
Installing new windows will net you an approximate return on investment of 70%. This means if you spend $10,000 installing new windows in your home, you'll increase your home value by $7,000.
Ensure your agent knows you have replaced the windows so they can share that fact with buyers when they list your home for sale. The buyers will love the fact that they'll be saving on electric and gas bills because you chose to install more energy-efficient windows.
If you're finding the costs of installing energy-efficient windows in your home daunting, you might want to look into the Canada Greener Homes Loan. This loan from the government of Canada helps Canadian homeowners by lending them between $5,000 and $40,000 CAN, interest-free for ten years.
The grant can only be applied to eligible products and installations which are part of a retrofit, not a new build. To take advantage of this grant, be aware that an EnerGuide evaluation by a licensed energy advisor is required before your planned renovations begin.
Many retrofit updates are covered by this grant, but not all home improvements are included. For example, windows and doors are covered up to $5,000.
3. Small bathroom remodel
Do you have a small bathroom in your home that could use a facelift? Many of us have dated powder rooms in need of a fresher look. Since a powder room is small and doesn't have a bathtub or shower, updates tend to be more cost-effective and take less time than a full large-scale bathroom renovation.
Add some fresh paint or wallpaper, updated flooring, new vanity with fixtures and a mirror. Boom. You'll be done in no time.
You don't even have to hire a professional! A small bathroom remodel is one of the home improvements that many people are able to complete themselves.
Not sure where to start? Check out YouTube for simple step-by-step tutorials on how to update your washroom, from the plumbing to the flooring. If you take the time to learn, you might be surprised at what you can accomplish!
4. Updating lighting fixtures
Looking for a fast and effective way to update your home? Consider replacing your lighting fixtures.
Many houses still have those ugly builder-grade lighting fixtures. Your home deserves better fixtures before listing for sale on the MLS.
Adding great lighting to your home is important not only because the fixtures look great, but they make the rest of your house look awesome too. For example, you can brighten a dark room by installing modern pot lights that potential buyers will love.
Try to remain consistent with the style of lighting fixtures throughout your home. For example, don't go with a glitzy crystal chandelier in the entryway and industrial chic pendant lights in the kitchen. Consistency is key and will make your home feel more cohesive to buyers, thereby increasing your profit at closing time.
5. New roof
It's a common question, "should I replace my roof before selling my home?" But there are a few things to consider before making your decision.
First, a buyer will likely have a home inspection done. The home inspector will take a good look at the roof using a ladder or a drone. If your roof should be replaced, he'll recommend a new roof to the buyer and the buyer will turn around and use that to negotiate a lower selling price on your property.
Since the roof is one of the most visible parts of your house, replacing the roof before you sell is a great way to improve your home's curb appeal. A new roof can range in cost, depending on the material.
For example, whether you choose asphalt shingles or a metal roof replacement. Even if a new roof isn't in the cards at the moment, at the very least your roof shouldn't have any leaks and any missing shingles should be replaced before selling your house.
[Offer productType="Mortgage" api_id="61b37e15dc2c4f7766a6cfff" id="143095″]
5 home improvements you should avoid before selling
1. Full kitchen remodel
Yes, it's true that updated kitchens are one of the rooms that fetch the most money for home sellers, but there are a few good reasons for that. It's expensive to do a full kitchen remodel.
Securing a great contractor to work with on your kitchen remodel can be a challenge. Not to mention that the actual work can take several months and is subject to supply chain delays, which have worsened since the pandemic.
If you're hoping to sell sooner than later, a full kitchen remodel is a home improvement you should probably avoid unless you're preparing to sell at least a year in advance. If your kitchen is looking dated, consider painting your kitchen cabinets and buying new cabinet hardware. You can also replace any old or broken appliances. Buyers love seeing new appliances in the kitchen when house hunting.
2. Basement remodel
There are pros and cons to renovating your basement. Similar to the kitchen remodel, a basement remodel will take a lot of time, money and a dedicated contractor.
Remodelling a basement also typically requires a permit from your local municipality. This means more hoops to jump through, red tape and money. While a renovated basement will add value to your home, if you're short of time and money it's not a challenge you should undertake before selling.
On the other hand, if you do have the time and cash to invest, a basement remodel can bring you a lot more money when you choose to sell your home. Consider adding an additional bedroom, family room and maybe even a kitchen in the basement as many multi-generational families are beginning to buy homes together. When remodelled this way, a renovated basement is called an in-law suite and can fetch good money these days.
3. Adding additional rooms
Changing the footprint of your home will require a significant investment of both time and funds. You'll be required to obtain construction plans from a contractor and a municipal permit in order to expand your home. Don't forget you'll need to take into account your property's lot lines and required setbacks when planning your addition.
Adding additional rooms to your home is not a home improvement project for the faint of heart. Basically speaking, any major construction isn't a great idea to undertake if you're trying to make it to the market in less than a year or two.
4. Installing a pool
Since the pandemic pools have been all the rage with homebuyers. This is because buyers see an opportunity to stay at home and enjoy their backyards instead of travelling to exotic destinations on vacation.
A pool could seem like a great idea, but it could backfire on you. The biggest challenge is securing a company who have the availability to do your pool installation.
Since everyone and their mom wants a pool, installers have been booked solid – for years. With waitlists up to two years in length, a pool is not a good home improvement idea if you're looking to come to market any time soon. You should also consider that while pools have been very popular over the last few years, not all buyers want one that they'll have to take care of.
5. Anything you don't have the time or money to finish properly
Home updates are great, in theory. But there's nothing worse than starting a home improvement project and not finishing it.
Unfinished paint jobs, missing baseboards or floorboards look messy and unkempt, and will definitely impact the final sales price of your home.
Instead, spend your time and money making small, quick fixes that can be accomplished in a reasonable amount of time for the money you have in the bank. Don't go into significant debt when choosing the best home improvements to complete before selling your home.
Frequently asked questions about home improvements in Canada
What home improvements are tax deductible in Canada?
Home improvements that are currently tax deductible in Canada include the cost of labour, installation services, fixtures, building materials, rental equipment, permits and building materials. The Canada Greener Homes Initiative also provides grants & loans for home improvement retrofits but not new builds. Updates such as home insulation, air-sealing, windows & doors, thermostat, space and water heating & renewable energy are eligible for these grants.
What are the most common do-it-yourself home improvements?
The most common DIY home improvements include painting, landscaping, yard clean-up, updating kitchen cabinets with paint and hardware, replacing lighting fixtures and replacing home appliances. You could also do fun DIY updates to your home, such as installing a shiplap accent wall.
How to build home equity with home improvements?
Be strategic when planning any home improvements. First research the home improvement you want to make and see what the typical return rate is. Build your home's equity over time by focusing on the rooms that will get you the most return on your money. The most profitable rooms to focus on are the kitchen, bathrooms and basement. If you have enough time it's also a great idea to replace outdated flooring or worn-out carpet with hardwood or vinyl plank flooring. Consider painting the front door a fresh new colour to improve your home's curb appeal. You could also add a deck in the backyard as a great way to build equity in your home.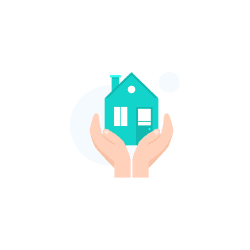 Find the best mortgage for your needs