Nesto Mortgage Review 2023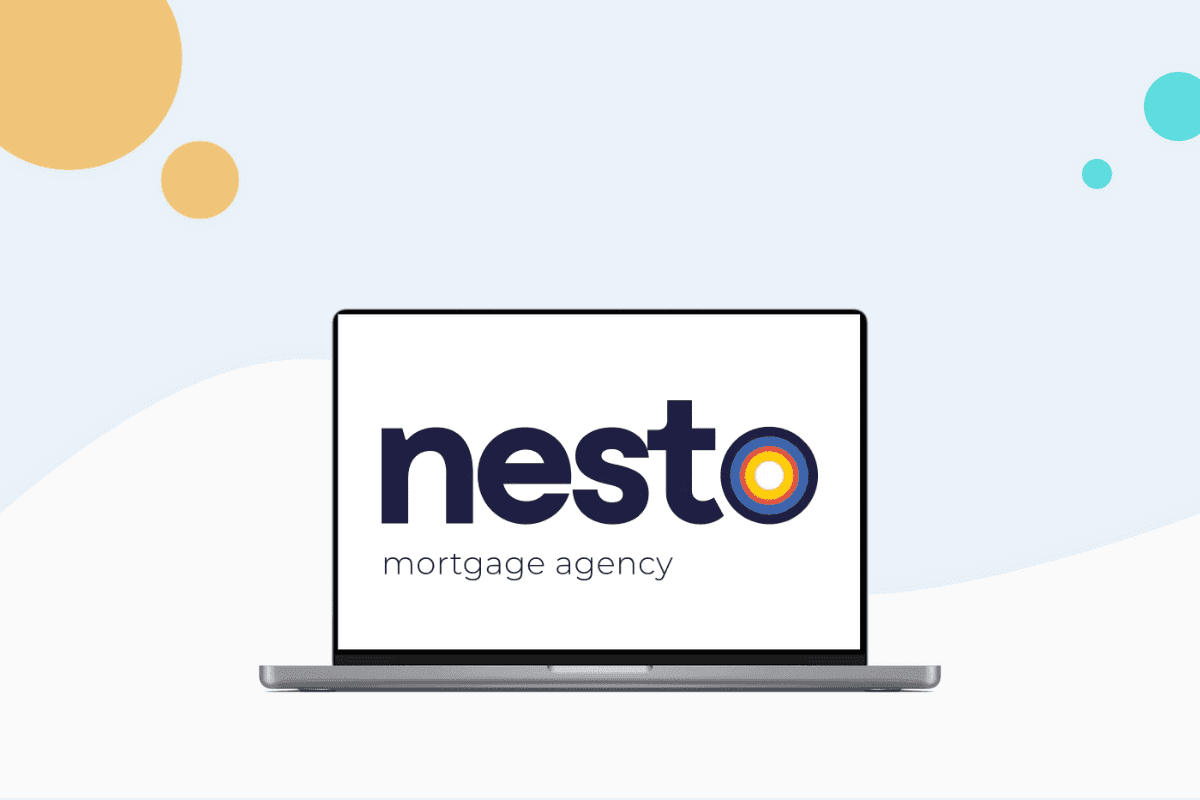 Looking for a fresh take on the mortgage game? Meet the Nesto mortgage platform, a trailblazer that's shaking up the way Canadians get mortgages. Whether you're a first-time homebuyer or a seasoned investor, there's something about Nesto that's catching everyone's attention. What's all the buzz about?
The Nesto mortgage platform helps you quickly find the lowest interest rates and the best deals on mortgage products, 100% online. From their innovative shift from broker to lender, to their customer-first approach, Nesto is doing things differently. Stick around as we dive deep into a comprehensive review of the Nesto mortgage platform that could change the way you finance your next mortgage.
[Offer productType="Mortgage" api_id="61b37e15dc2c4f7766a6cfff" id="143095″]
What is the Nesto mortgage platform?
Nesto is an online-only mortgage brokerage offering some of the lowest mortgage rates in Canada. Most people know Nesto for its dedication to finding the lowest mortgage rates possible.
The Nesto mortgage platform was born out of a desire to change the way people approach mortgages in Canada. It was clear to the founders that the traditional mortgage process was unnecessarily complicated, slow, and disjointed. There was an opportunity to do something fresh and innovative.
So, what did they do? They combined technology with a customer-centric approach to create a digital platform that could simplify the mortgage process. They used modern tools to bring an old-school industry into the 21st century and save you a ton of money in the process.
But, they didn't stop there. In 2022, Nesto achieved something incredible, transitioning from just an online mortgage broker to a bona fide lender. Why?
Because they saw a chance to further enhance the customer experience, making the lending journey even smoother and more personalized. And they weren't wrong.
Nesto quickly made a name for itself, not just for its tech-savvy approach but for its commitment to truly understanding and meeting the needs of Canadian homebuyers, especially first-timers. As of 2022, 53% of Nesto's mortgage deals in Ontario came from millennials.
Let's take a look at what the Nesto mortgage platform has to offer.
How do Nesto mortgages work?
Are you feeling a little confused about Nesto's offerings? Don't worry. This mortgage company is so innovative that it might take a little while to wrap your head around the concept.
Nesto employs mortgage brokers that help their clients find the best rates. The mortgage products and rates that Nesto offers come from banks and other lenders who have partnered with Nesto. And as we mentioned a moment ago, Nesto has started offering its own mortgage products.
People already know Nesto for providing the lowest rates, so Nesto's new mortgage products may give traditional lenders a run for their money. Keep in mind that because Nesto is now offering its own mortgage products, it could be biased and push its own products over other mortgage partners.
Why are Nesto mortgage rates so low?
Mortgage brokers traditionally earn most of their money on commissions. This means that when you apply for a mortgage through a broker, the company pays them an incentive for getting a customer to sign with the lender.
To get you a lower rate, mortgage brokers can use their commission to buy down your mortgage rate. The use of commissions is why you may receive different rates from the same lender depending on your mortgage broker.
Nesto does not pay their mortgage brokers a commission. Instead, Nesto pays its brokers a salary.
So there is never a conflict between a broker's income and finding the lowest rate for a Nesto customer. The Nesto mortgage system ensures that its customers always get the lowest rate and not the rate a mortgage broker gives you.
Applying for a Nesto mortgage
Applying for a Nesto mortgage is easy, thanks to its totally virtual platform. First, you will want to get a quote by going to their website.
Fill out the mortgage survey
Then, fill out a quick survey to help Nesto understand your mortgage needs. Those needs are:
What type of property you are looking to purchase
The price of the house
Your down payment amount, etc.
They will email you a quote with three options. See below for examples of questions included in the survey.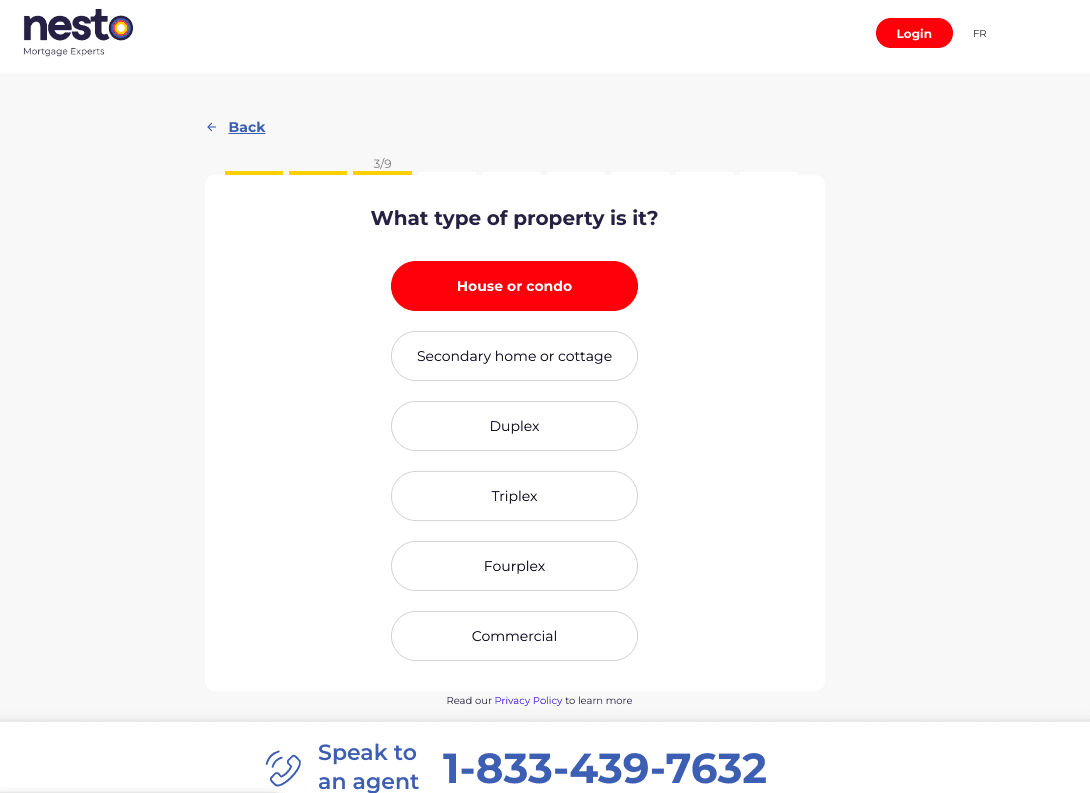 Review the offers
In your quote, the first option will be the absolute lowest rate on the market. The second option will be the best bang for your buck (low rates and flexible terms). The third option is a product from one of the Big Six banks that you will probably have seen before.
From there, you have a few options. If you know which product you'd like, you can accept the offer immediately without needing to speak with an advisor.
Got questions? Speak to an advisor
After seeing the initial quotes, most people will have questions. You can schedule a call with a Nesto advisor to discuss your options and learn more about other product offerings. Ensure you have important personal and financial information (address, employment history, income, assets, liabilities, etc.) on hand during the mortgage application process.
Lowest rate guarantee!
A mortgage comparison tool will show you whether Nesto's claims of having the lowest possible rate are valid or not. If you find a lower rate than what Nesto is offering, they will "match it, beat it, or give you $500".
Nesto mortgage pre-approval
Getting pre-approved for your mortgage can be a huge convenience. Being pre-approved for a mortgage can help you understand your budget.
As well as make you a strong applicant with sellers and quell anxiety. With pre-approval, you will know exactly how much your mortgage will be. Many lenders, especially the Big Six banks, offer pre-approval.
A 150-day locked-in interest rate? That is five months!
Still, Nesto is again upping the game by offering a 150-day rate lock on pre-approved mortgage rates. This is the longest rate-hold ever offered in Canada.
This rate lock is a huge deal, as most banks only provide 90-120 day secured rates. Getting your pre-approved rate locked in for 150 days means your quoted mortgage interest rate will stay the same for five months, even if the prime rate goes up. In this chaotic housing market, locking in your rate can be a huge bonus. It can also help you avoid a higher mortgage payment.
Switching to a Nesto mortgage
Nesto can also help you switch mortgage providers if you want to renew or refinance your mortgage. Changing your provider is also relatively simple and starts with filling out the online application.
Nesto recommends starting this process up to 5 months before your current mortgage term ends. This way you can lock in rates and be ready to switch right away when the time comes.
It is important to remember that switching providers can be pricy. Especially if you get a new lender before your term is over.
If you switch providers at the end of your term, most of Nesto's partners will cover your notary and transfer fees. Breaking a contract with your current lender will result in significant fees that your new lender will not cover.
If you are considering breaking a mortgage contract, Nesto recommends speaking with an advisor. Switching providers for a lower interest rate may still save you more money, even with extra fees.
Can I get a Nesto mortgage if I have a complicated financial history?
Unfortunately, Nesto mortgages have strict application requirements. Like many lenders, Nesto's lowest interest rates are only available to applicants with good credit scores.
For Nesto, this means having a credit score of at least 680. As well as no history of bankruptcy or a consumer proposal. Nesto works with A lender partners who typically only lend to applicants with high credit scores and unblemished financial histories.
Where to go when Nesto says "No"
If you have a low credit score, have filed for bankruptcy, or have a fluctuating income, subprime mortgage lenders (also known as B lenders) may be able to help you with your mortgage needs. B lenders have specialized programs for applicants with more complicated financial histories.
They lend to many Canadians with low credit scores. After the pandemic affected many Canadian households, it is no wonder that subprime mortgages are becoming more popular in Canada.
Some of Nesto's partners, including MCAP, are B lenders with an A lender department. Nesto only works with the A lender departments.
So if a Nesto partner has subprime mortgage offerings, they will not show up in your Nesto quote. Subprime mortgages often come with much higher interest rates. These rates don't align with Nesto's mission of providing the lowest possible mortgage rates.
What makes Nesto mortgages unique?
Aside from being the only mortgage brokerage to get the lowest rates by paying their brokers a salary instead of commission, Nesto also stands out with its completely online services and quick turnaround times. They are revolutionizing the mortgage industry by eliminating trips to stuffy banks and the need to fill out tons of paperwork.
Other lenders are catching up with Nesto's online platform, but Nesto is one of the only lenders in Canada with fully remote offerings. Its streamlined digital process also boasts quicker turnaround times (sometimes even less than 24 hours) for approvals.
That said, Nesto could be a hassle if you have a more difficult mortgage request or a unique situation. For example, if you are looking to buy a property that needs significant work, or you are looking for very specific terms on your mortgage.
In these cases, some prospective Nesto clients have complained about slow turnaround times or not receiving a reply from Nesto at all. Reading online comments with a grain of salt is important, but keeping this in mind could be helpful if you have an atypical request.
Nesto mortgage for new Canadian residents
Many immigrants to Canada look forward to purchasing their first home. Unfortunately, new Canadians often face barriers when receiving approval for a mortgage, like limited Canadian credit history, savings, or Canadian employment history.
Luckily, Nesto has a program specifically dedicated to Canadian newcomers. Given estimates that 1 in 5 new mortgages in Canada are for recent immigrants or newcomers, this program is obviously needed.
Because those new to Canada may have a more challenging time meeting Canadian mortgage application requirements, Nesto has different mortgage qualifications. To apply, you must have at least three months of full-time Canadian work experience.
As well as be able to provide a valid work permit or be a permanent resident. If you are moving to Canada as part of a corporate relocation program, you can bypass the three months of full-time work requirement.
You will need documents such as income confirmation, international credit report or other credit sources like rental or utility payments, and bank statements. You may even qualify for a Nesto mortgage with as little as 5% for a down payment.
Nesto mortgage pros and cons
Pros:
Some of the lowest rates in Canada
Partners with leading Canadian lenders
Quick turnarounds
Completely online process
Mortgage broker is assigned to you
Longest pre-approval rate lock in Canada
Cons:
No options for Canadians with low credit scores
Can't bring your own mortgage broker
Could be biased toward offering its own products
The takeaway
If you want to eliminate trips to the bank, receive approval for a mortgage ASAP, and find the best mortgage deals, Nesto may be the right brokerage for you. Its innovative business model shows dedication to its customers and is revolutionizing the mortgage industry. Whether you want to try Nesto's new mortgage products or stick with them as a broker, Nesto seems to be a reputable choice gaining popularity across the country.
Frequently asked questions about Nesto
Who owns Nesto mortgage?
Nesto is a startup company that has had significant growth in Canada over the last few years. Nesto was founded by Malik Yacoubi, Karim Benabdallah, Chase Belair, and Damien Charbonneau in Montreal as part of the startup incubator Diagram. Although it's impossible to know what stake they still hold in the privately held company, it's fair to assume that its CEO Malik Yacoubi, along with his co-founders, still owns a sizable stake in the company. Diagram, which is backed by Power Corporation, also holds an important stake in the company. Diagram provided the initial capital to start Nesto, but it also reinvested in its 76 million growth round in 2021, along with Portage Ventures, another Power Corporation entity, and other investors including Breyer Capital and Marc Alloul. 
Is Nesto mortgage legit?
Dealing with online businesses can be scary. A company offering great prices with no physical office location or representatives to meet may seem like a potential scam to some. The good news is that Nesto is totally legit. They are a newer company, incorporated in 2004 and only started receiving national attention in recent years, and they are established and licensed in all provinces across the country.
Who is the guy starring in most Nesto commercials?
If you are a fan of quirky commercials, you may have noticed Aaron Takahashi's appearance in the recent Nesto ad campaign. Nesto's commercial advertising its "low from the get-go" rates gained a lot of attention for the main character's unassuming basketball skills. Aaron Takahashi has starred in many commercials, so this may not be the first or last time you'll see him on the screen.
Is Nesto a good mortgage company?
Nesto is a reputable mortgage brokerage that seems to have positive reviews in Canada. Its Nesto-specific mortgage offerings are still very new, so time will tell if Canadians enjoy Nesto products as much as the Nesto platform. It is important to remember that what makes a "good" mortgage company can differ from person to person. Using a mortgage comparison tool and speaking directly with lenders can help you decide which company is right for you.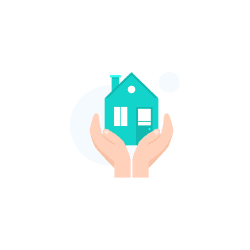 Find the best mortgage for your needs