Indigo's Plum Rewards Program: Here's What to Know in 2023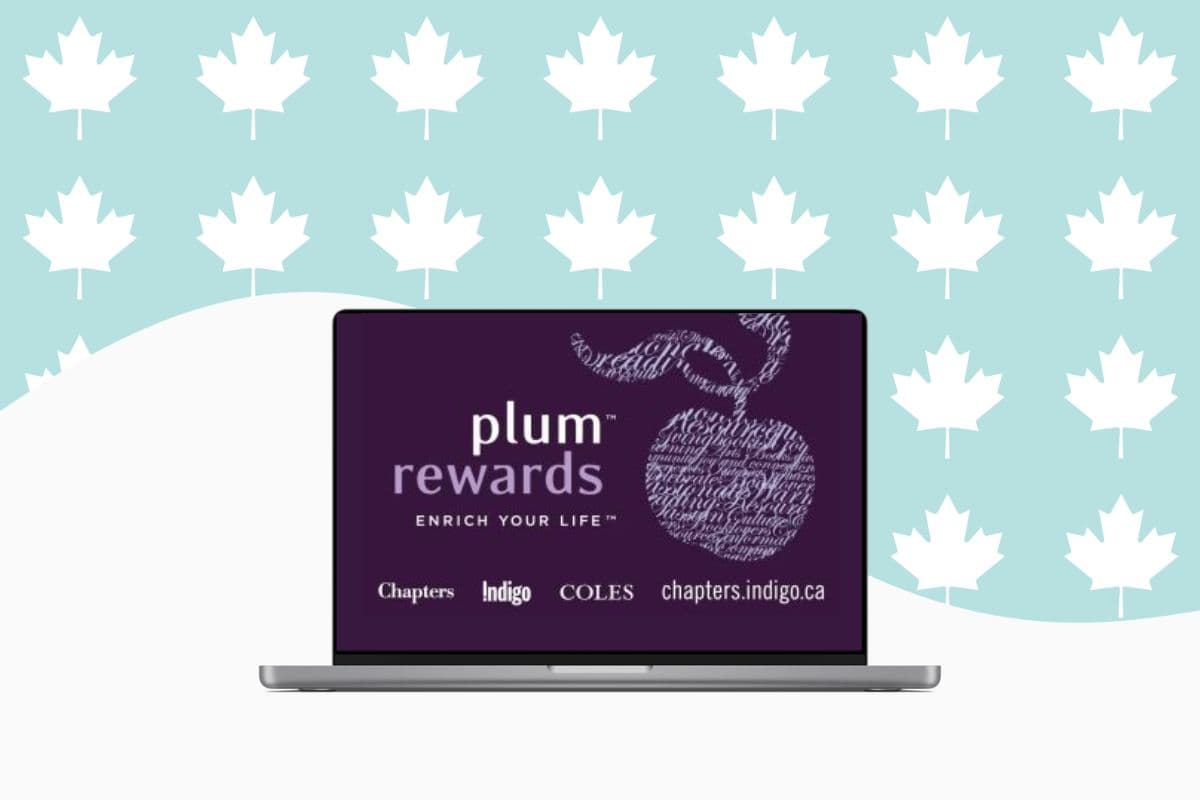 Bookworms love Plum Rewards! Indigo Books & Music is a Canadian company that was launched in 1996. It has since become one of the largest bookstore chains in Canada with 85 stores. Indigo is a very popular store because of its varied inventory and multiple products. In addition to having an extensive adult and youth literary inventory, Indigo offers specialized toys, decorative items, gifts, puzzles, games and baby products. If you're hungry for literature or looking for gifts and toys, visit their website. But the most interesting thing about Indigo is their Plum Rewards loyalty program, which allows you to earn points and save money at the iconic Canadian retailer and several affiliate stores. Here's how to make the most of your Indigo Plum Rewards.
What Is The Plum Rewards Program?
If you haven't heard of the Plum Rewards program, or you have but want to know how to make it work harder for you, let's break it down. It's this super cool loyalty program from Indigo, Canada's biggest book retailer. Every time you buy a book, a cute little trinket, or just about anything else from their stores or online at indigo.ca, you rack up points. You also earn Plum Rewards every time you shop at:
Chapter's
Coles
Indigospirit
The Book Company
Then, you guessed it, those points can be redeemed for free stuff and discounts on future shopping either in-store or online at any of the above-mentioned retailers. The Plum Rewards program is very beneficial whether you prefer to shop in the store or online. Both experiences are engaging and enjoyable for the customer.
If you like to shop online, then one of the best perks of the program is avoiding pricy shipping costs. I strongly recommend taking advantage of this offer, since shipping costs are quite expensive when you spend less than $35. If you only want one item under this amount, have it shipped to the store nearest you and pick it up, as it will save you some unnecessary charges.
Indigo also keeps a discount inventory at all times, so you can buy books or miscellaneous items at lower prices. Indigo also owns Kobo, its eBook platform.
About Plum Rewards: Plum vs Plum Plus
Now back to the nuts n' bolts of the Plum Rewards program. Shopping at Indigo and its affiliate stores becomes interesting when you're a member. There are two membership tiers to choose from:
Plum is the basic rewards program and it's free to join.
Plum Plus is the premium version that comes with more benefits and costs $39 per month.
Whether you frequent this store often or just occasionally, it's worth subscribing to Plum Rewards. No matter what type of membership you choose, you'll earn 5 Plum Points per dollar spent, both in-store and online.
Here's a breakdown of Plum vs Plum Plus:
Plum
Plum Plus
Cost
Free
$39 per year
Shipping charges

Free on orders of $35 or more

Free shipping, no minimum purchase amount necessary. Some conditions apply.

Plum Points

5 points per $1 spent

5 points per $1 spent

Member benefits

Access to events and promotions before non-member customers

VIP access to events and promotions

Discounts

None

Save 10% on

almost any purchase (unless excluded)

Birthday Bonus
None
20% off a purchase + 2,500 bonus points (must be used during birthday month)
Welcome Bonus
None
8,500 bonus Plum Rewards points if you sign up before Dec 31, 2023. Must be redeemed in your first month.
If you're a regular Indigo customer, the Plum Plus membership is the most advantageous because of the welcome bonus and the additional discounts to which you are entitled. As a member, you'll be entitled to exclusive invitations to things like author-attended events, and early book releases, as well as contests to win trips, cinema tickets, access to movie premieres, and more.
And keep an eye out for special promotions. Indigo frequently launches exclusive offers where you can bag extra Plum Points on select items or at specific times throughout the year. Always keep a lookout for these chances to turbocharge your point accumulation, especially on the hottest 'must-have' seasonal items.
Earning Plum Points
At the time of writing, you earn 5 Plum Points per dollar spent on almost every purchase you make online and in-store at Indigo, Chapter's, Coles, Indigospirit, and The Book Company. If you shop in-store, simply present your physical Plum Rewards card to the cashier before the transaction is finalized. If shopping online, sign into your Plum Rewards membership account and shop from there.
However, you will not earn points on the following types of purchases:
eBooks
Electronics & related accessories
American Girl® services
Clek, LEGO® Mindstorms
Purchasing or renewing your Plum Plus membership
Gift cards
Love of Reading products or donations
Shipping costs
The value of the Plum Points redeemed on a transaction
The tax portion of your transaction
Redeeming Plum Rewards & How Much Points Are Worth
When it comes time to redeem your Plum Rewards points, the process is incredibly simple. Want to do it in-store? Just ask to redeem your Plum Rewards at the counter and present your purple Plum Rewards membership card. Prefer to shop online or on the go with the Indigo app? Just enter your Plum Rewards card number on the checkout page, and you're golden.
Now, here's the fun part! Wondering how much those points in your pocket are worth? Check this out: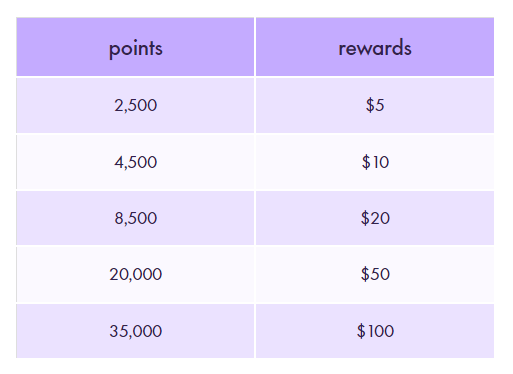 But wait, there's more! We've crunched the numbers to see exactly how much each point is worth, and we discovered something interesting. The more points you redeem in a single transaction, the more each point is worth. That means you get the best bang for your buck if you horde points to redeem as many as possible on large purchases. Here's why:
| | | |
| --- | --- | --- |
| Points | Reward Value | Per Point Value (in Cents) |
| 2,500 | $5 | $0.02 |
| 4,500 | $10 | $0.022 |
| 8,500 | $20 | $0.023 |
| 20,000 | $50 | $0.025 |
| 35,000 | $100 | $0.028 |
This is exactly why those Plum Rewards points come in super handy for holiday gift shopping, especially if you're looking to save money over the holidays. But as always, there are a couple of things to keep in mind:
You can only cash in a max of 35,000 Plum Rewards points in a single transaction.

Those in-store kiosks? Points can't be used for 100% kiosk purchases.

Indigo loves to mix things up, so watch out for special promos that might tweak the points system a bit. This could happen in-store, online, or on the app.

Planning to redeem online? Your points will chip in for the product price and any applicable delivery fees. While your points cannot be used to cover the tax portion of the transaction, they do help lower your tax burden by lowering your total purchase price.


pay attention to your points spending. If you use your points to purchase an item worth less than your current point value, you'll lose your remaining points. Also, Plum points don't cover taxes. So you have to be careful!
Do Plum Rewards Expire?
Yes, they absolutely do. I found this out the hard way, unfortunately. You must earn or redeem your Plum Rewards at least once every 12 months to prevent losing your points, as per this email I received: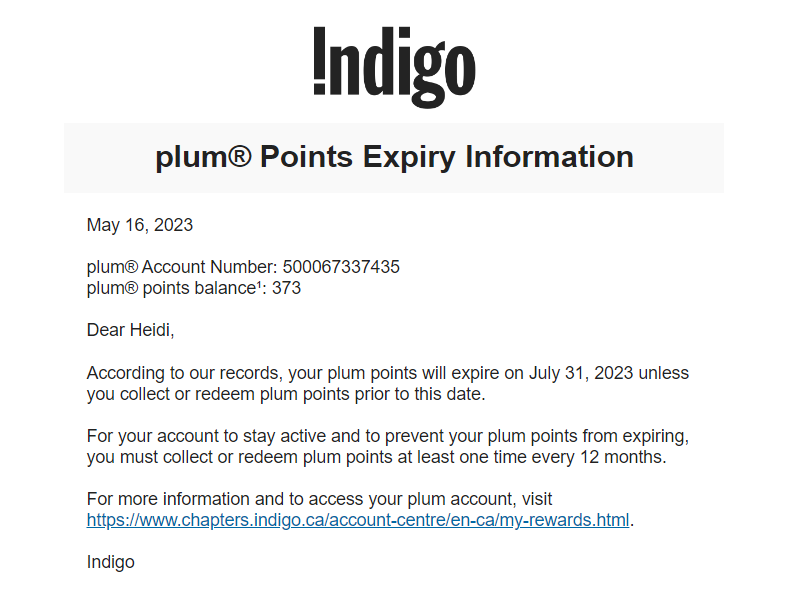 When I tried to sign in recently, I discovered my account had been deleted due to inactivity. Therefore I had to sign up again as a new member and received a new Plum Rewards account number. My old Plum Rewards card is now completely defunct and I have to wait for my new physical card to arrive in the mail.
How to Enjoy The Full Power of Your Plum Rewards Points
Who doesn't love a good deal? And when you're talking about Plum Rewards at Indigo and its affiliate stores, there's a reservoir of untapped savings to unearth! Here's how to get the most bang for every point:
Timing Is Everything
Indigo's sales events are like golden windows of opportunity. Shop during these times, and not only do you get a discount, but you also stack up those Plum Rewards. More shopping, more savings – win-win!
Hunt for the Bonus
Keep your eyes peeled for those special promotions where Indigo lets you earn extra Plum Points on select products. It's like a bonus round in a video game, but instead of extra lives, you get extra savings!
Join the Plum Plus Club
Think of it as the VIP lounge of Indigo shopping. If you frequent Indigo, levelling up to Plum Plus is a no-brainer. You get perks like early bird access to sales, free shipping, and an extra 10% discount on almost everything. The result? More points, more savings.
Save Now, Splurge Later
It's tempting to spend points as soon as they hit your account. But patience, young grasshopper! Save those points for a bigger purchase, and you might just walk away with a high-value item without lightening your wallet. Remember, the more points you redeem in a single transaction, the more each point is actually worth.
Stay in the Loop
Sign up for Indigo's newsletters, and maybe give them a follow on their socials. This way, you're always in the know about the latest opportunities to bag bonus points or score exclusive deals like special discounts.
Sales + Points = Mega Savings
One of the coolest things about Plum Rewards? You can use them alongside some other sales and promotions. So, when there's a sale, whip out those points and see your total drop even further!
Strategize Those Redemptions
Think of redeeming points as an art. Use them for holiday gift shopping, big-ticket items, and special sales if you want to turn a simple purchase into a steal of a deal.
Earn More Plum Rewards With The Right Credit Card
Another way to maximize your Plum points accumulation is to obtain a credit card that is partnered with the Plum program, as you'll save on your purchases at Indigo. And here's a little extra something – these cards will save you money on all your purchases, and not just at Indigo. Brim Mastercards are the best credit cards for Indigo lovers, here's why:
Brim Mastercard Rewards

Probably one of the most advantageous credit card rewards programs on the market, the Brim Mastercard has a points system that applies to ALL your purchases. But when you use it to shop at Indigo, you earn 5% cash back on your purchase. And that's in addition to earning lucrative Plum Rewards. Talk about double-dipping! Once you've accumulated your first dollar in points, you can get rewards.
Brim is partnered with more than 250 stores. In addition to indigo, you can earn points at Lululemon, Frank & Oak, Fossil, and tons of other partners. On average, you'll earn between 3% and 10% back in points on your spending. In some cases, you can earn up to 30% back in points.
Brim provides several other benefits, besides earning points. Your spending in other countries doesn't incur additional foreign transaction fees, unlike other credit cards that typically charge an additional 2.5-3% .
A credit card with no foreign transaction fees is one of the most lucrative benefits if you're a fan of buying internationally or love to travel abroad. You get access to a free Boingo WiFi service when travelling by train, in airports and staying in hotels. You can have 20 users per account. Lastly, you're entitled to enhanced protection of your data.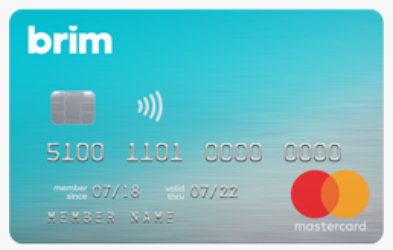 Annual Fee: None
Rate: 19.99%
Rewards: 1 Point/$1
The Brim Mastercard emerges as a strong contender if you're looking for great value without additional fees. Shoppers at Indigo can enjoy bonus points, with a welcome boost on their initial buy. More than that, this card earns 1 point per dollar spent, which makes every purchase more rewarding.
What sets it apart are the zero foreign transaction fees and a robust insurance package. Unlike any other card on the market, the Brim Mastercard comes with impressive Event Ticket Coverage that reimburses you up to $1,000 for concert cancellations. It also comes with a hefty $300,000 travel accident protection, $500 in Mobile Device Insurance, as well as generous Purchase Protection and Extended Warranty coverage. In essence, it's a card that offers cash back, peace of mind, and extra savings for Indigo lovers.
Brim World Elite MasterCard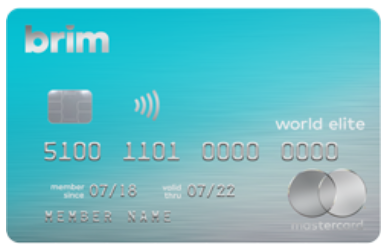 Annual Fee: $199
Rate: 19.99%
Rewards: 2 Points/$1 on up to $25,000 annual spend
The Brim World Elite Mastercard is designed for those seeking an elevated experience with their financial transactions. For an annual fee of $199, you are treated to a generous two points per dollar on spending. Don't forget that you get additional cash back perks when you shop at Indigo and other partner retailers. But it's not just about earning – it's also about protection.
With the World Elite version, you get an extensive insurance package that includes all the same great coverage from the free Mastercard plus more! From an impressive $500,000 in travel accident coverage to ensuring your trips go smoothly with up to $2,500 for trip cancellations and compensations for flight and luggage delays, the card positions itself as a premium choice.
Furthermore, those making purchases abroad can rejoice in the absence of additional foreign transaction fees, making it a true companion for the global traveller. Combined with the foundational benefits of the free Brim Mastercard, the World Elite variant stands out with its advanced protection and rewards that stretch your Plum Rewards experience even further.
Plum Rewards vs. Amazon Prime: Which Membership Saves You More?
Ah, the age-old debate for the modern bookworm: Where do you get the best bang for your buck? Let's dive deep into Plum Rewards and Amazon Prime to see which one really reigns supreme when it comes to savings and perks.
Initial Cost For Membership Program
Plum Rewards: The good news? Plum Rewards is free to join! Yup, you read that right. Zero dollars. Zip. Nada. If you want more perks, then you can upgrade to an annual Plum Plus subscription for just $39 per year before tax.
While Amazon Prime offers many benefits, it does come with an annual or monthly fee. Last I checked, the monthly fee is $9.99 before tax, which is $120 per year. However, you can save some money by paying for the year upfront for just $99 before tax.
Discounts & Savings
For Plum Rewards, this is where things get juicy. If you upgrade to Plum Plus (which, granted, does have a fee), you get a 10% discount on almost everything, free shipping, a birthday freebie, and exclusive access to special deals and promotions. Those savings can add up quite a bit!
Amazon Prime doesn't directly give you discounts on products. However, there are special Prime-only deals, and on Prime Day? Oh boy, the deals can be pretty sweet.
Rewards Points
With Plum Rewards, almost every purchase earns points, and when you hit 8,500 points? Boom, you've got yourself a $20 discount. That's a return of just over 1% on spending, which isn't too shabby for a free rewards program.
Amazon Prime is not a rewards program, therefore does not give you traditional reward points. But if you have an Amazon-friendly credit card, you can redeem your credit card points on Amazon purchases.
Perks & Extras
The Plum Rewards program is mainly about books and specific types of products. But remember that Plum Plus members get free shipping, an extra 10% off most purchases and enjoy exclusive promotions and events for just $39 per year.
Amazon Prime, on the other hand, tries to justify the price with services like faster shipping, Prime Video (hello, movie nights!), Prime Music, and a whole lot more.
Special Categories
With Plum Rewards, Indigo has a stronghold over where you can shop and what you can buy, especially in the baby product and home decor categories. If you've got a baby shower on the horizon, Indigo might just be your saving grace. But if you're looking for a wide variety of goods, you're options are limited.
But Amazon, on the other hand. has a little bit of everything. From electronics to pantry staples, they've got a vast range of goods from merchants all over the world. The choices are almost endless.
Which One Saves You More: Plum Rewards or Amazon Prime?
When we crunch the numbers, Plum Rewards actually saves you more money. Albeit, on specific items, and only at Indigo and its affiliate stores.
If you're a bookworm or planning to buy gifts and baby products, Indigo, with its Plum Rewards and Plum Plus, seems to give you some serious savings. However, if you're looking for a more extensive range of products and are enticed by multimedia offerings, Amazon Prime might be your jam.
The real trick: Maybe keep both memberships in your back pocket for different needs. After all, why limit ourselves in the age of online shopping?
Are Plum Rewards Worth It?
Absolutely! If you frequently shop at Indigo, the Plum Rewards program is a no-brainer. It's free to join, and every purchase nudges you closer to tangible savings. The points add up, and before you know it, you've got discounts ready to use on future purchases.
And if you're considering going the extra mile with a Plum Plus membership, the consistent 10% off can result in significant savings over time, especially if Indigo is your go-to for books, gifts, and other special items. So, in a world where every penny counts, embracing Plum Rewards is a savvy move for the regular Indigo shopper.
Happy saving!