Starbucks Rewards Canada: Everything You Need to Know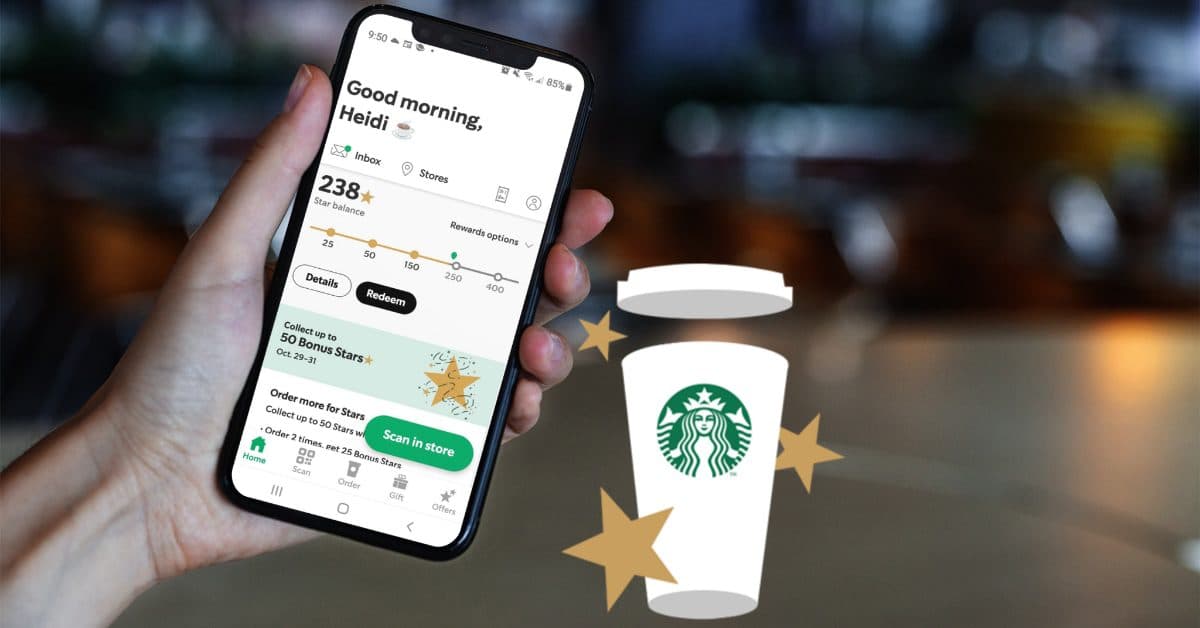 Table of Contents
[ Show ]
Coffee is part of the everyday life of most adults. If you like to make a stop at Starbucks for your caffeine fix, a meal or a snack, you should know that the chain offers an interesting rewards program.
This loyalty program lets you earn Stars (points) every time you buy a Starbucks product. If you earn enough Stars, you can exchange them for a free drink or a free meal. Here's everything you need to know about Starbucks Rewards Canada.
How to sign up for Starbucks Rewards?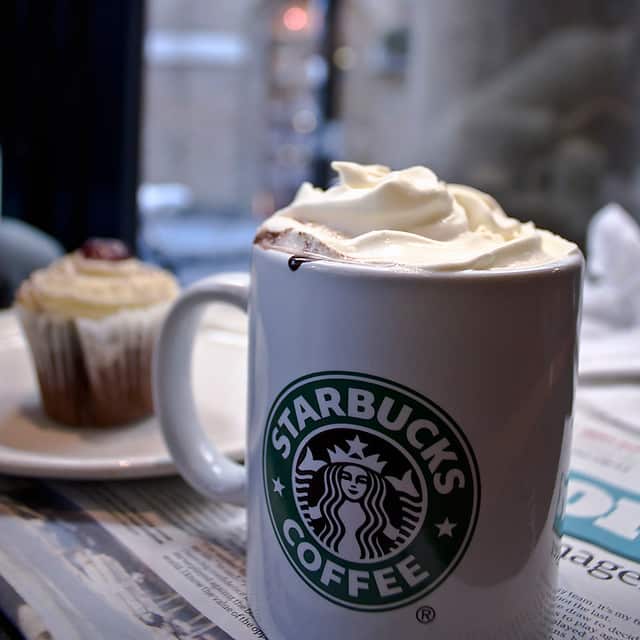 To collect Stars, of course, you first have to register online or directly via the app. Download the app from Google Play or Apple Store. This is also the app you use to earn Stars when making purchases, whether you pay with cash, debit card, credit card or directly through the app. When you sign up, you can choose to receive Starbucks emails, which may give you access to promotional offers.
Once your account is created, you have the option of logging in biometrically on your smartphone (i.e. with your fingerprint) to speed up access to your card.
How to collect Stars?
Visiting coffee shops can be tempting. If you buy coffee too often, you may find that your daily coffee habit might disrupt your budget and cost you a small fortune at the end of the year. Starbucks Rewards may help you take off the edge.
This rewards program is pretty simple: present your QR code in the app when you purchase an item at Starbucks. If you scan your code and pay separately, you earn one Star for every dollar you spend. You can also pay with the app by choosing to save a payment method. Register a credit card, debit card or PayPal account in the app to avoid having to take a card out of your wallet. This will come handy when you've got your hands full with a coffee and a sandwich!
To earn Stars twice as fast, put money on your Starbucks virtual card. Scan and pay in one easy step. The amount of your bill will be deducted from your Starbucks card balance. This way, you earn two Stars for every dollar you spend.
In any case, if you forget to scan your card before paying, you won't be able to get your Stars afterwards. They'll be lost forever in the Starbucks firmament, so don't forget to scan your card when you order.
A registered gift card also lets you earn you two Stars for every dollar spent. If you received a gift card, register it in your account. If you have more than one, their amounts will simply add up. Go to the Starbucks card management tab in the application or on the website to check your balance.
If you buy Starbucks products in a grocery store, like those famous coffee capsules, you can also earn Stars. To collect your points, find the "Stars Code" on the packaging and register it in the app.
In addition, you can earn bonus Stars on Double Your Stars days and by accepting e-mail offers.
What Rewards can you get?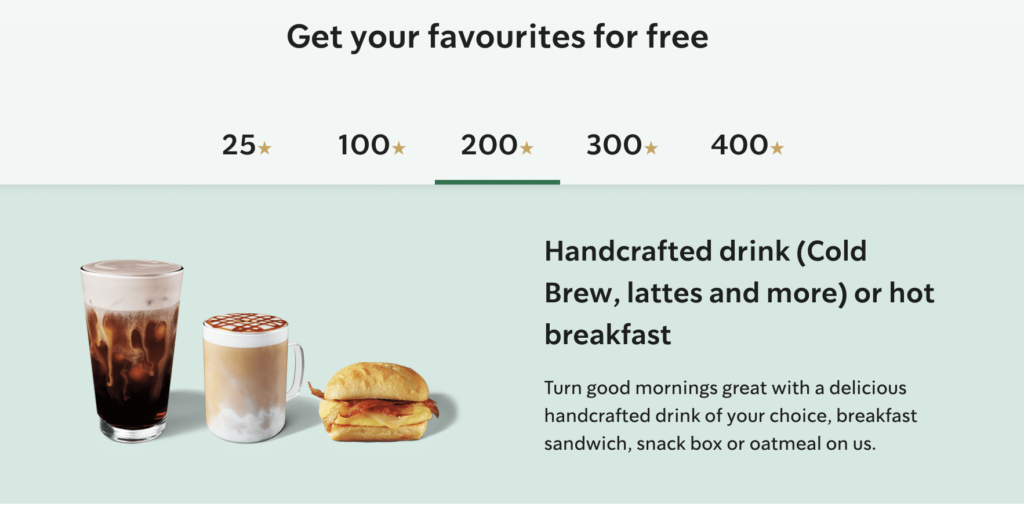 Once you've accumulated enough Stars, you can exchange them for tempting rewards. Once you reach 25 Stars, you can customize your drink. Then, at 100 Stars, you get an item for free, like a coffee or a butter croissant. At 200 Stars, you can have lunch, as long as your appetite isn't too big! With 300 Stars, you get a sandwich for lunch or a bag of coffee to take home. You can also get merchandise with 400 Stars.
In other words, you have to spend $100 (or $50 using the Starbucks virtual card) to get a free coffee.
To redeem Stars, tell your barista when you present your code, and the reward will be applied to the most expensive item in your order – provided you have enough Stars, of course!
| | |
| --- | --- |
| Stars | Rewards |
| 25 Stars | Customize your drink (espresso shot, milk of your choice, syrup) |
| 100 Stars | Brewed coffee or tea, bakery item or packaged snacks |
| 200 Stars | Handcrafted drink (cold-brewed coffee, latte, etc.), hot breakfast |
| 300 Stars | Coffee bag or lunch sandwich |
| 400 Stars | Signature cup or other merch of $20 or less |
Your points expire after six months. For example, if you earn 15 Stars on August 15 and 5 Stars on August 27, all 20 points for that month expire on March 1st. Starbucks automatically deducts the oldest Stars from your rewards, so if you go there often, don't worry!
This rewards program also comes with a free refill of filter coffee and tea. Just ask for it during the same in-store visit.
Can you get exclusive offers?
By adding your birthday to your account, you'll be entitled to a gift that will brighten your day – a free drink or food of your choice. You must redeem your reward on the exact date of your birthday. Starbucks will send you an email or notification two days before your birthday to remind you to redeem your gift.
Note, however, that you must have been a member for at least seven days prior to your birthday, and have made at least one qualifying in-store transaction with your Starbucks card or app. To earn the reward for another year, you must make at least one purchase in the following 12 months.
Keep an eye on your email inbox or notifications for dates of Double Your Stars events. As the name suggests, this event doubles the number of Stars you earn during your visit. You'll earn four Stars for every dollar in eligible purchases paid with your registered Starbucks card, and two Stars for every dollar in purchases paid with cash, credit card, debit card or mobile wallet at participating stores. There are several days like these every year, so stay tuned!
How to collect Stars faster?
Starbucks has teamed up with the Aeroplan rewards program and TD Rewards to offer the chance to earn even more Stars and exclusive benefits. Simply link your Starbucks Rewards account to your Aeroplan or TD account in the application.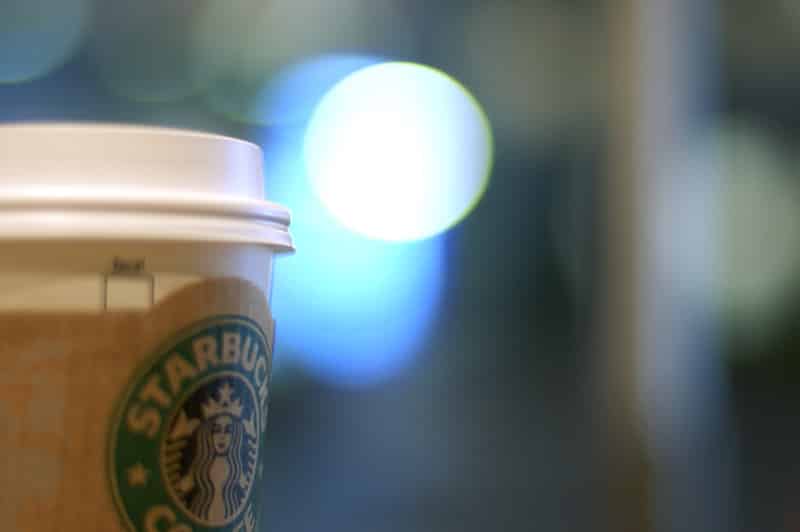 With TD, the welcome offer is 200 points. With Aeroplan, it's 500 points! That's enough to get your Starbucks mug and a free cup of coffee.
Holders of TD Credit Cards and TD Access Cards with Visa Debit earn 50% more Stars at Starbucks (1.5 Stars per dollar spent). Some TD Cards also allow you to redeem TD Rewards points for Stars, for even more flexibility!
With Aeroplan, you earn 100 Aeroplan points for every $75 or more added to your Starbucks card in the application. From $50 to $74.99, you get 25 points. You can then convert your Aeroplan points into Stars, starting at 400 points for 100 Stars.
Can you also get Rewards outside of Canada?
What's interesting about the Starbucks Rewards program is that Canadian members can continue to earn Stars while traveling. This is the case in the U.S., the U.K., Puerto Rico and Ireland. If your drink costs $7 USD, you'll earn seven Stars (or 14 if you pay with a Starbucks card). There is no conversion to Canadian dollars for the number of Stars earned.
The Starbucks Rewards program is very attractive, especially for caffeine addicts!
FAQs about Starbucks Rewards Canada
When does Starbucks Rewards change?
The program changes every once in a while. As of Fall 2022, members using the app can earn Stars by paying directly with credit, debit or cash cards without having to fund a Starbucks card. However, these payment methods earn one Star for every dollar spent on eligible purchases at participating stores, while members paying with a Starbucks card earn two Stars for every dollar spent.
How does Starbucks Rewards work?
First, you need to download the app. You have to register. You'll get a code to scan before paying when you go to Starbucks. Visit the Starbucks Rewards site to check the value of your points, as this is subject to change. You'll then be able to redeem your Stars (the points you earn) for Starbucks food and beverages.
Are Starbucks rewards worth it?
It really depends on how often you go to Starbucks! Depending on how you accumulate points, you'll get a free coffee (worth 100 Stars) after $100 or $50 in purchases. And don't forget that your points expire after 6 months.
Can I redeem multiple Starbucks rewards at once?
In fact, your rewards accumulate and are put together. When you place an order, Starbucks automatically uses the oldest Stars – you have to ask to redeem them. So the answer is yes, you can use Stars accumulated on different occasions to get a free item.
Can I use my Starbucks birthday reward after my birthday?
No, you cannot do this. The app will send you a notification and you may also receive an e-mail to remind you that your reward is coming two days before your birthday. Don't forget to enter your date of birth in the app.
Can I use my Starbucks birthday reward internationally?
Yes, you should be able to redeem your birthday reward even when you're traveling. If you're a fan of rewards programs, you may be traveling with your points. However, to redeem your Starbucks Birthday reward abroad, you must go to a participating store. I also depends on the country you are in. For example, it's perfectly feasible in the United States.
Can you get a Venti with a Starbucks birthday reward?
Yes, as long as this format is offered in the participating store, you can order a Venti-size drink for your birthday. In fact, you can choose from almost any item on the menu, including a drink in one of the standard sizes.
Can you get Starbucks rewards with Uber Eats?
Unfortunately, for the time being, if you order with Uber Eats, you won't be able to collect or redeem Stars.
Can you scan a Starbucks receipt to get rewards?
If you forgot to scan your code before paying, you've unfortunately lost your chance to collect your Stars for that purchase. Only one exception applies. When you buy a Starbucks product in a grocery store, you can then enter the code (found on the package) in the app to collect your Stars after you've paid for your purchase.