The Ultimate Guide to Air Canada Signature Class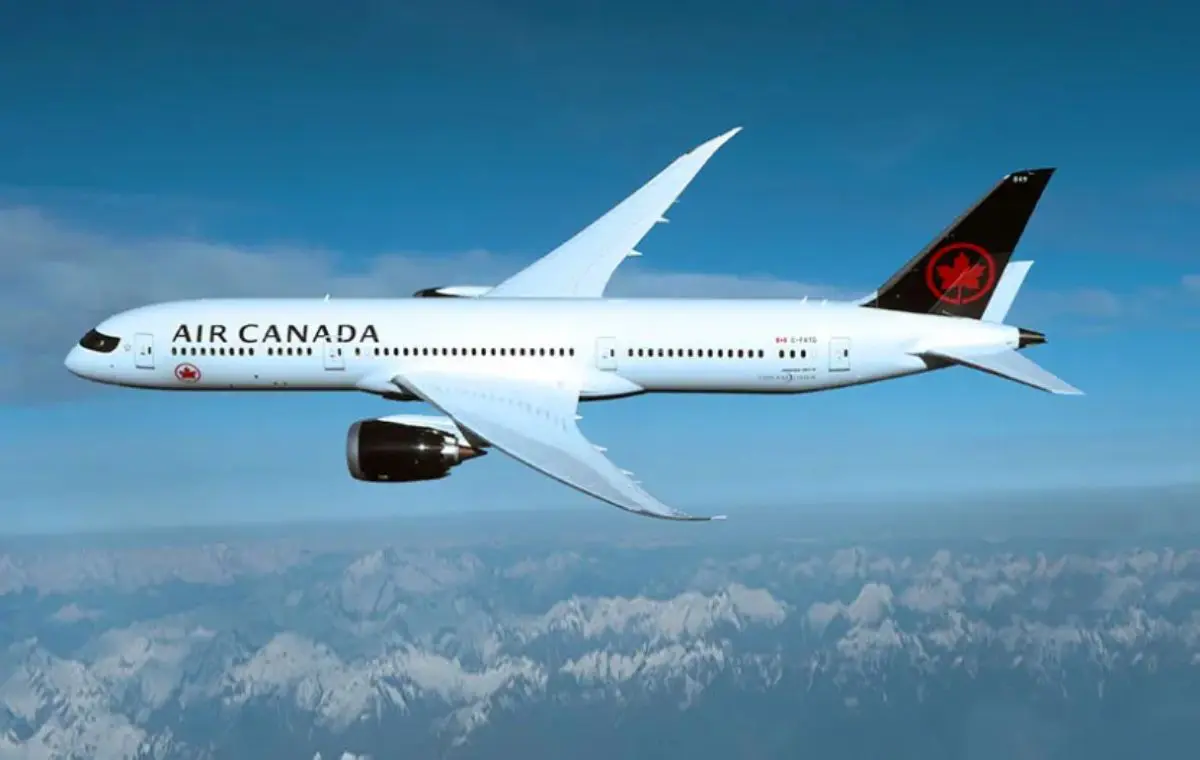 There's nothing like flying in the comfort of first class, especially during a gruelling 10-plus hours in the air. To help, Air Canada has set the standard for luxury travel with their exclusive Air Canada Signature Class.
Known previously as 'International Business Class', what sets Air Canada Signature Class apart from business class isn't just the lie-flat seat. Factor in the top-shelf food and drink options and the ultra-luxurious, personalized service offered to Air Canada passengers from check-in to arrival. Air Canada Signature Class launched in 2018 and offers travellers a more comfortable and arguably better way to travel.
What is Air Canada Signature Class?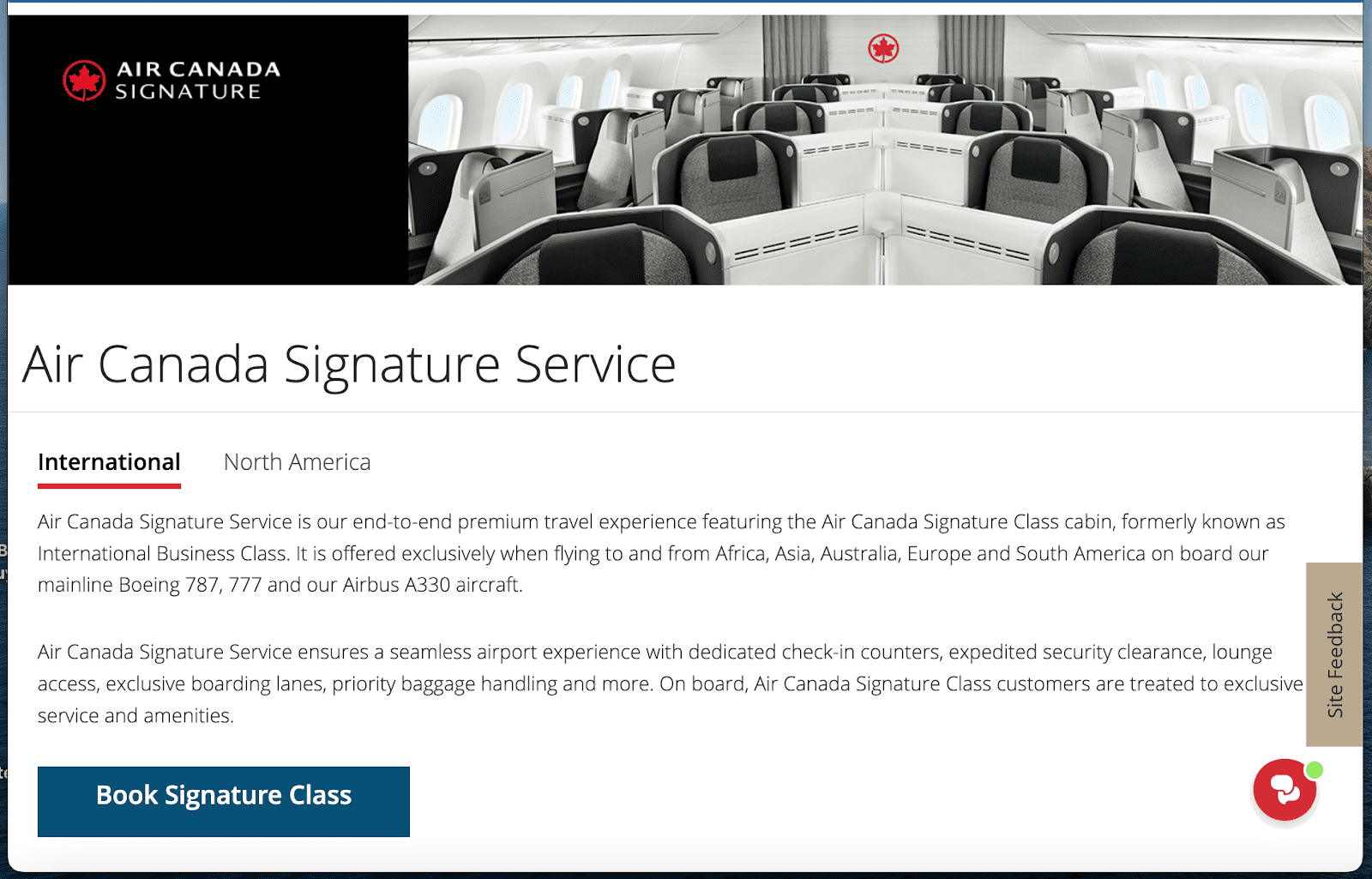 As much as we love to travel, flying can be stressful and hard on the body. It gets worse if you cross multiple time zones or travelling overnight. Starting a holiday deprived of sleep can cost you a full day of your vacation as your body adjusts and recovers. If you travel for business, exhaustion could negatively affect your performance.
Eligible flights
Air Canada kept this in mind when they chose to revamp their International Business Class seats. Now, it offers passengers a way to arrive at their destination fresh and well-rested instead of groggy and stressed. Air Canada Signature Class passengers can enjoy luxury services and a seat that fully reclines to make a lie-flat bed. Enjoy it while travelling transcontinentally to or from Europe, Australia, Asia, South America or Africa
Air Canada Signature Class is an upscale and luxurious class of travel offered to passengers travelling on long-haul international flights. Jump on one out of Air Canada's major hubs, specifically Toronto, Montreal, Calgary and Vancouver. Signature Class is also available for transcontinental overnight flights within Canada and the U.S., the most popular routes being:
Honolulu – Toronto
Honolulu – Vancouver
Kahului – Toronto
Los Angeles – Toronto
Newark – Vancouver
San Francisco – Toronto
Within Canada, flights between Vancouver and Montreal and Vancouver and Toronto also regularly offer Signature Class seats on specific aircraft.
This ultra-luxurious class costs a pretty penny (most tickets cost upwards of $1000 if you're paying cash). However, it comes with plenty of amenities. These include lie-flat beds, delicious food options, an entire entertainment library, personal, expedited services at the gate and more. Plus, you'll discover plenty of other amenities to make your experience just a little bit more enjoyable.
Read on to learn all that Air Canada Signature Class has to offer. Further, learn how to levy your credit card points to score Signature Class seats on your next long-haul flight for next to nothing.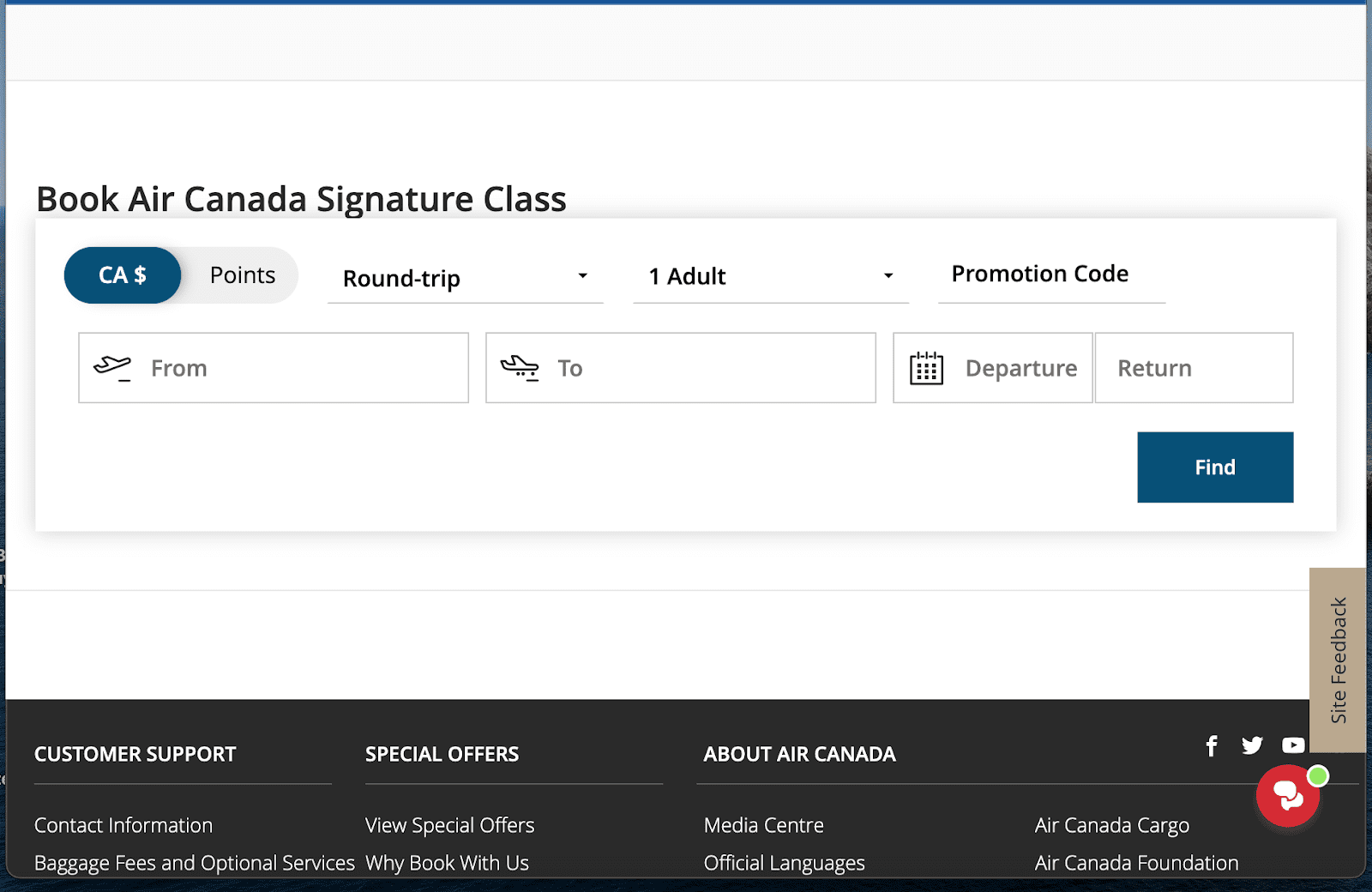 Ground Service
Your Air Canada Signature Class experience begins at check-in with a separate priority check-in line. This takes you to a private room or walled-off area for a faster and more streamlined check-in experience.
In Vancouver, Montreal and Toronto, check-in occurs in a private concierge office with expedited security screenings. Mind you, you can only find this feature at major hubs equipped to offer it. Concierge services also offer assistance with tight connections so you don't need to worry about missing your next flight.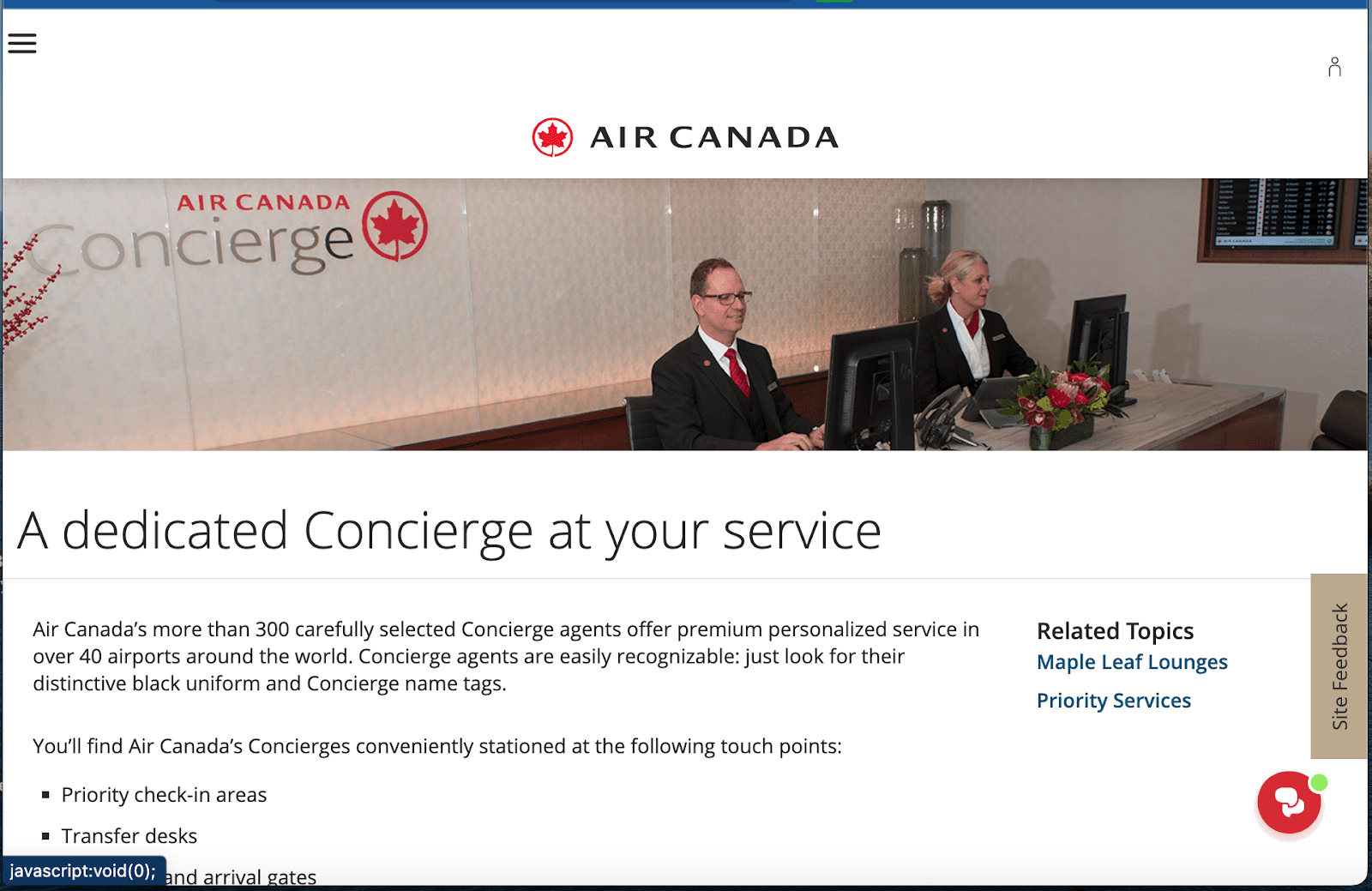 Maple Leaf Lounge
A Signature Class ticket also entitles holders access to Air Canada's Maple Leaf Lounge. In this quiet and relaxing space, you can work, recharge your devices, eat or just relax before take-off. Some Maple Leaf Lounges even have showers available, so you can freshen up in between those exceptionally long layovers.
As nice as the Maple Leaf Lounge is, it pales in comparison to the exclusive the Signature Suite. Access to this lounge is reserved for international travellers travelling with a Signature Class boarding pass. Unfortunately, it is only available at Toronto's Pearson Airport or Vancouver International Airport.
The Air Canada Signature Suite provides passengers with an especially upscale experience. The restaurant features a prepared a la carte menu created by Air Canada's world-class chefs with meals made to order with the freshest ingredients. They offer premium spirits and champagne at the bar, along with wine pairings created by a world-renowned sommelier.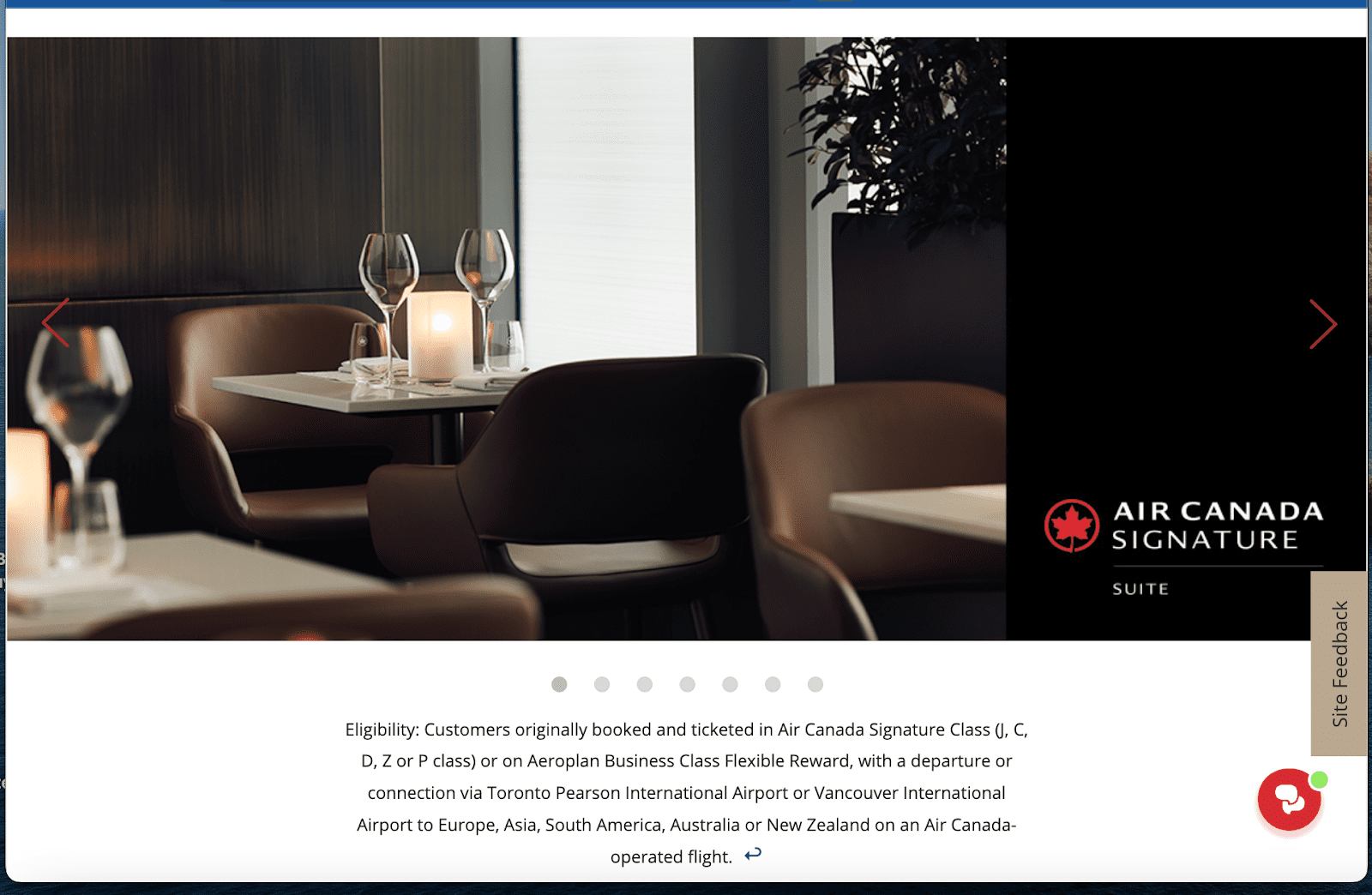 Priority Boarding
When it comes time to board, Signature Class ticket holders receive Zone 1 priority boarding. Immigration and customs lines become separated by designated lanes upon arrival. Yet, Signature Class passengers can also take advantage of priority baggage delivery as an added bonus.
Chauffered Porsche
Last but not least, Air Canada sometimes provides passengers with a chauffeured Porsche. This delivers them straight to the gate, a service that no other airline offers. This relatively new amenity extends to passengers flying from Canada to Asia, South America or Europe.
For the time being, this special perk is only available at Toronto's Pearson Airport. However, Air Canada has announced plans to launch a similar service at Vancouver's International Airport. Unfortunately, due to the nature of this service, you cannot prearrange it. After all, it involves driving on the tarmac which isn't always practical. Yet, if you fly out of Pearson and happen to hold a Signature Class ticket, it doesn't hurt to ask.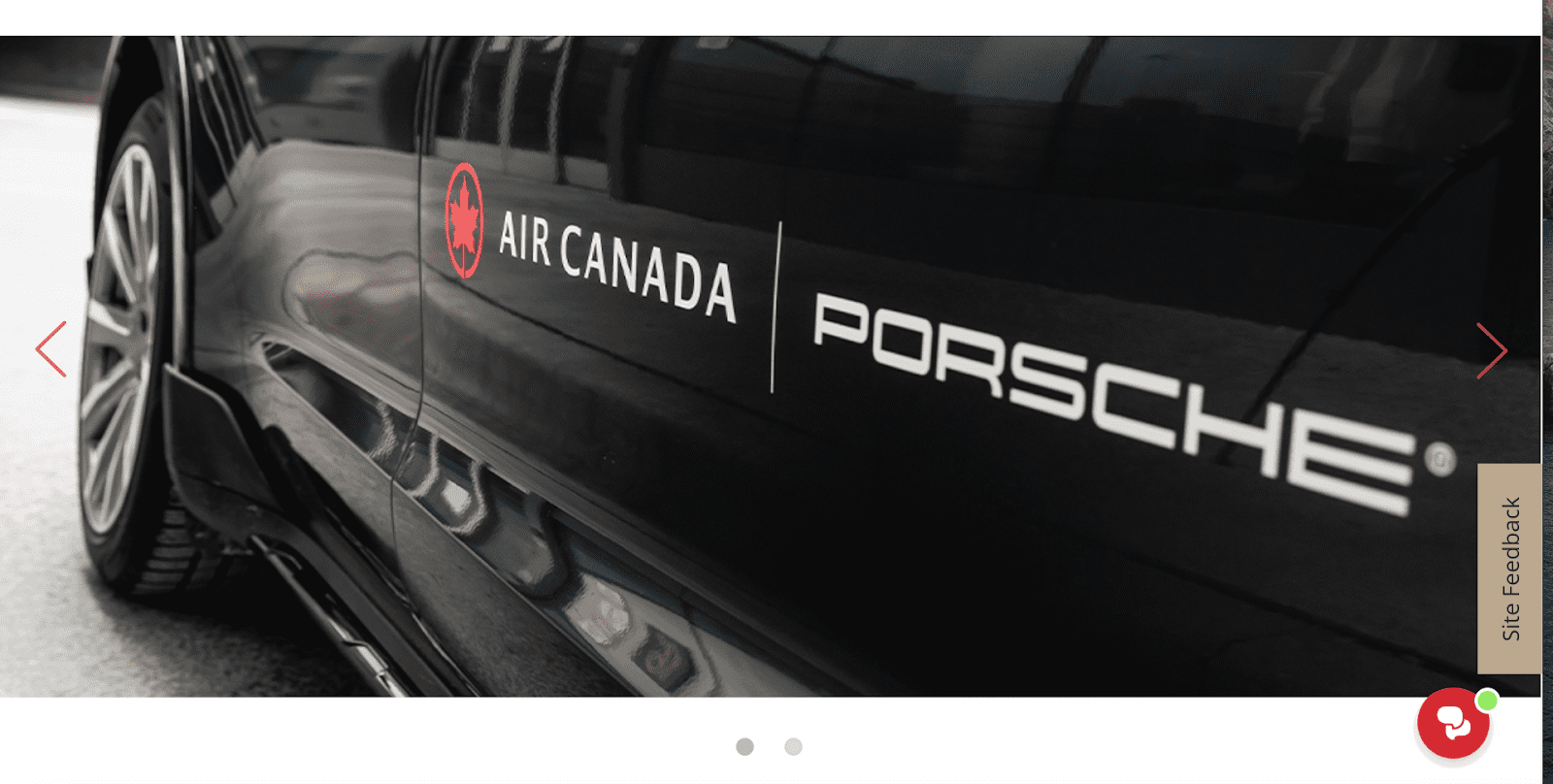 In the Air with Air Canada Signature Class
Signature Class cabins sit in very differently than economy or even first-class cabins. In this luxury business class, the seating allows space for passengers to set up their work station. Seats gather in their own little pods separated by partitions for privacy. Finally, they come with ample desk and storage space, USB and power outlets, and reading lights.

In-flight Amenities
As boarding commences, each passenger will find an amenity kit, pillow, mattress pad and duvet waiting for them, wrapped and sealed for individual use. Each of the pods also comes with its own touchscreen where passengers can track the flight's progress or browse Air Canada's extensive library of music, movies, podcasts and audiobooks. Readers can take their pick of more than 7,000 magazines and newspapers linked to their personal devices through the Pressreader app.
Meals
On-board meals have been curated by Air Canada's 4-star chefs. Each menu includes two 4-course meal options consisting of an appetizer followed by an individually wrapped hot casserole dish, served along with a bread roll, salad, and cheese and crackers. Passengers will also get a dessert choice, usually a fruit cup or a baked good like a Nanaimo bar.
Any dietary restrictions can become accommodated, but you'll have to request a special menu item when you book your ticket. Additionally, passengers get a hot snack midflight and a snack tray throughout the duration of the flight.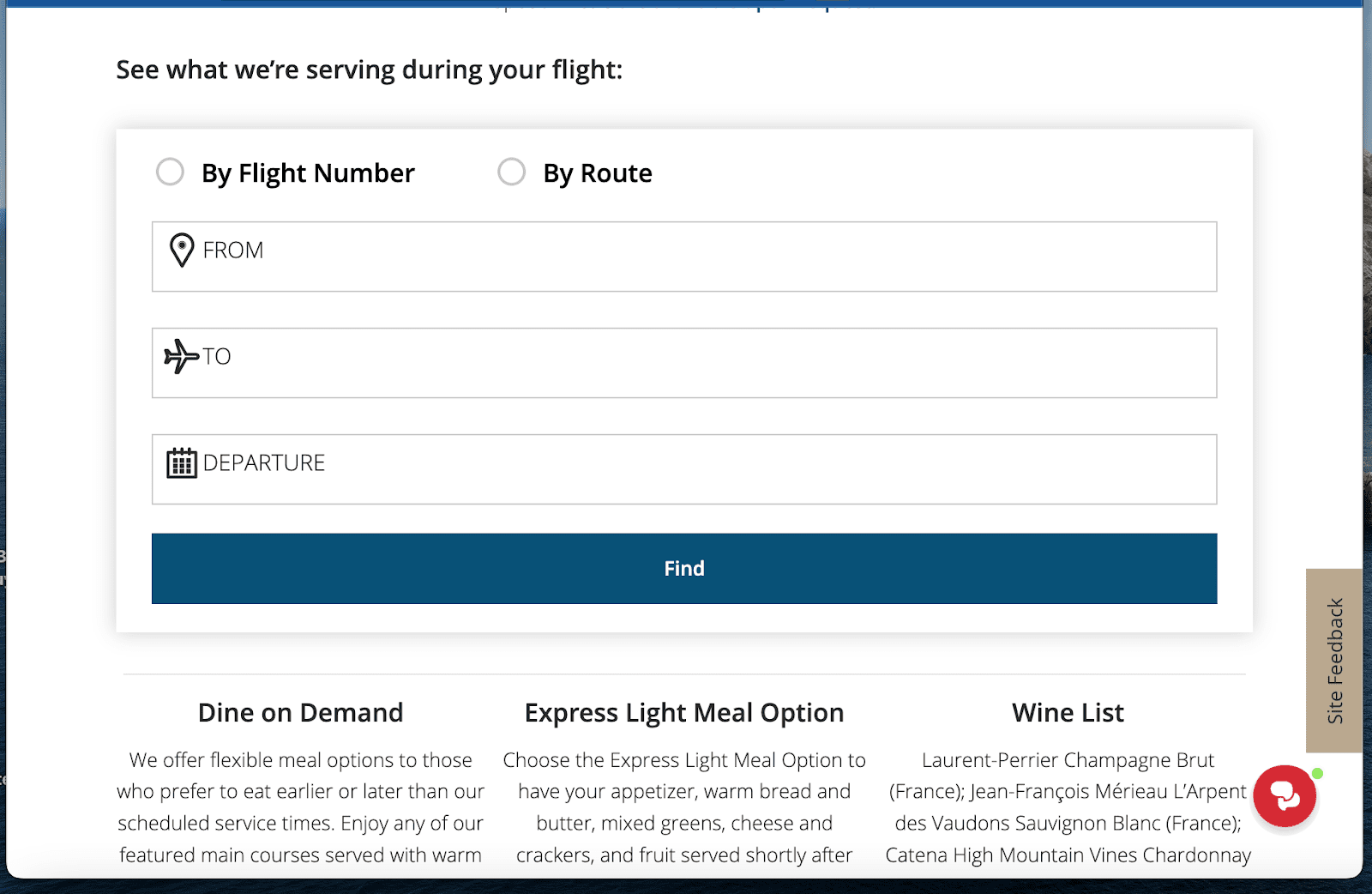 Alcohol
A world-renowned sommelier created the onboard wine list, while other drink options include champagne, premium spirits, and a range of beers. Nonalcoholic drink options include soft drinks, fruit juice, and flat or sparkling water. Additionally, the flight staff will be able to provide fresh coffee or tea on request. You can even ask for a specialty coffee drink like a latte or cappuccino.
Which Aircrafts Offer Air Canada Signature Class Seats?
Not all Air Canada aircrafts offer Signature Class cabins since the pod seats wouldn't fit on their smaller planes. Signature Class cabins are available on 5 of Air Canada's aircraft: the Boeing 777-300ER and the Boeing 777-200LR, both of which offer 40 seats across 10 rows in a 1-2-1 arrangement; the Boeing Dreamliner 787-9, which comes equipped with 30 Signature Class seats across 8 rows arranged in the same 1-2-1 fashion as the 777s; the Boeing Dreamliner 787-8, which has slightly fewer seats, only 20 in a single cabin across 5 rows; and the Airbus A330-300, which has 32 Signature Class seats spread out across 8 rows in the same configuration.
Seat Layout & Location
Since the seats are designed to fully recline, the pods are arranged in a somewhat zig-zag pattern. What this means is that some seats don't face the window, which is fine if you're flying overnight but can be a major bummer if you're flying over the Rocky Mountains or the Swiss Alps, for example. However, you can be assured a reasonable level of privacy, even if your seat faces the aisle or another seat, because of the partition. If you do want a window seat, make sure to choose a seat marked with either an 'A' or a 'K'.
Some seats, particularly towards the back and front of the plane, are stand-alone seats, meaning that there are no seats behind you, so if you're after a bit more privacy and quiet time, it's best to try and select those ones.
If you're travelling with someone
The seat arrangement can also make it somewhat tricky to book seats together if you're not travelling alone. If you're travelling in pairs, it's best to go with seats 'D' and 'G', which are the middle seats. However, since the partition that separates the seats can't come down all the way, some travel companions might prefer to go with the window seats and sit across from each other instead of side by side.
Signature Class vs Business Class: What's the difference?
It's important not to confuse Signature Class with Business class when booking your flight. If the flight is showing 3 class cabins, (economy, premium economy and business class) then that means your flight includes a Signature Class cabin.
If your flight only has two class options available (economy and business class) then a Signature Class cabin is not aboard the aircraft. Knowing which aircraft you're flying can also help you determine whether or not your flight will have a Signature Class cabin, or you can narrow your search results when booking by using the filters to only show aircraft that have a Signature Class cabin.
With the notable exception of Air Canada Red, which does not operate long-haul flights, Air Canada Signature Class is generally offered on most of the company's international flight paths.
How To Get Air Canada Signature Class Tickets
If you want a better experience for your next long-haul flight (and who wouldn't?) there are a few different ways you can get yourself an Air Canada Signature Class ticket.
Obviously, you could pay cash, but Signature Class tickets typically start at around $1000, which is well out of range for budget travellers, so let's explore some ways to score a Signature Class ticket for a fraction of the price, or even for free.
Bid for an upgrade
One way is to make a bid to upgrade your seat. Air Canada lets their passengers make bids to upgrade their seats to a higher class cabin up to 48 hours before the flight. In addition to the seat change, if your bid is accepted, you'll receive all the perks of a higher-class ticket, including extra baggage allowance and priority boarding. Note that not all flights are eligible for upgrades, and you'll have to enter your flight information on Air Canada's website to find out if you can upgrade your seat before making a bid.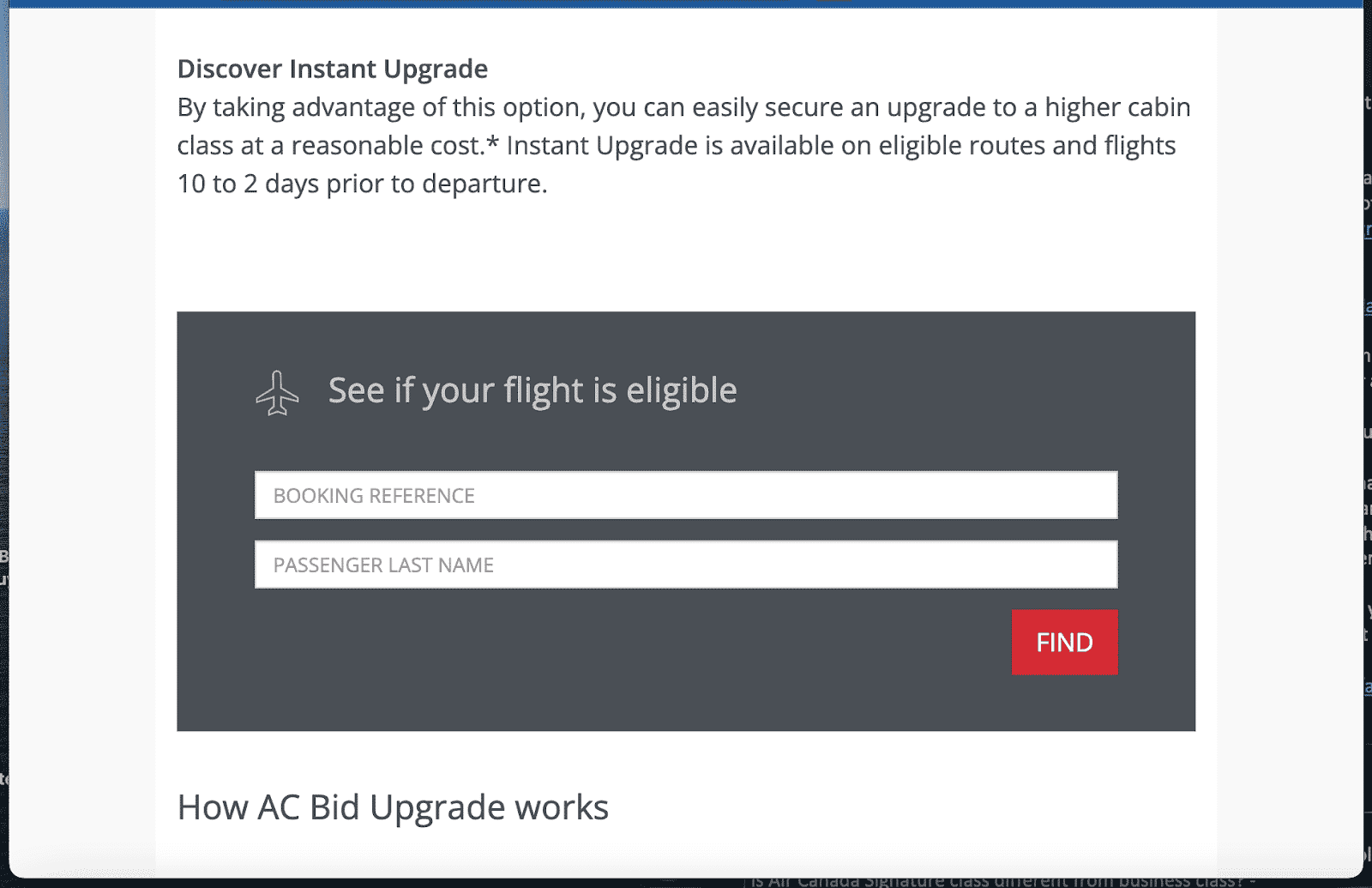 You will receive an email from Air Canada around 48 hours before your flight letting you know if your bid has been accepted and your credit card will be charged the amount you bid. You can cancel your bid at any time, provided it hasn't been accepted yet. Aeroplan members can even use their Aeroplan points to make a bid instead of paying cash.
Make a last-minute upgrade
Another way to get a discounted Signature Class ticket is to make a last-minute upgrade. Each Air Canada flight has a certain number of upgrades permitted and you can request upgrades from an Air Canada agent at the check-in kiosk at the airport or when you check in online. Alternatively, you can even request one at the departure gate. If your flight path has multiple stops, you can request an upgrade for the entire journey or just for one segment.
You will need to use your upgrade credits to upgrade your seat and whether or not you qualify for an upgrade will depend on the number of credits required, which varies depending on a few different factors such as the distance you're travelling and which cabin you want to upgrade to. In some cases, you might be required to pay a supplemental fee along with your upgrade credits. This will largely depend on the fare you originally paid.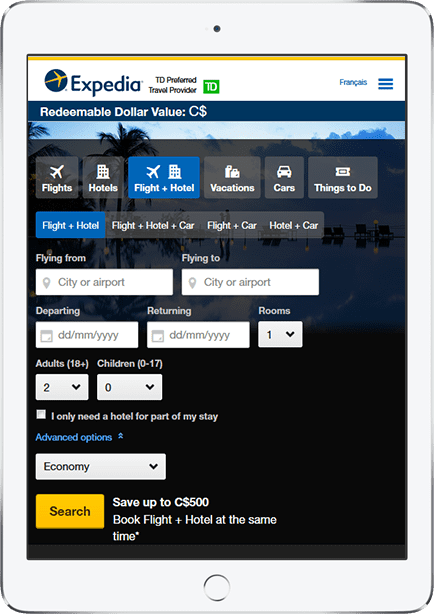 Earn Aeroplan Elite Status
Upgrade eligibility is also influenced by Aeroplan Elite Status. Aeroplan Elite Members get a certain amount of e-upgrade credits per year that can be exchanged for Air Canada products, including upgrades on eligible flights. Members can earn extra credits by making qualifying purchases at one of the eligible retail locations or restaurants, using one of several Aeroplan credit cards or by earning miles travelling with Air Canada.
Redeem Aeroplan Points
Finally, one of the simplest ways to get yourself a seat in Air Canada's Signature Class cabins is by cashing in your Aeroplan points to purchase your seats, but that can be a bit tricky and there are a few catches.
If you want to use your points to buy your seat, it's best that try and do it as early as possible, ideally at least 3 months in advance of your desired departure date. The only way to book a Signature Class flight using reward points is to book a 'Business Class Flexible Reward' ticket.
Tip: The Aeroplan Flight Reward Chart
Be sure to refer to the Aeroplan Flight Reward Chart to determine if the price you see is a good deal or not. The Aeroplan Flight Reward Chart essentially divides the map into 4 separate zones, North American, Atlantic, Pacific and South America.
You can use the chart to help determine when to book to get a deal or points-to-cash ratio. In some cases, you might be better off paying cash, or a combination of cash and points, for your flight, and then using your points to upgrade. This works to your benefit especially if you're paying with an Aeroplan credit card because you're essentially 'rolling over' your Aeroplan points, or buying them back at a discounted rate.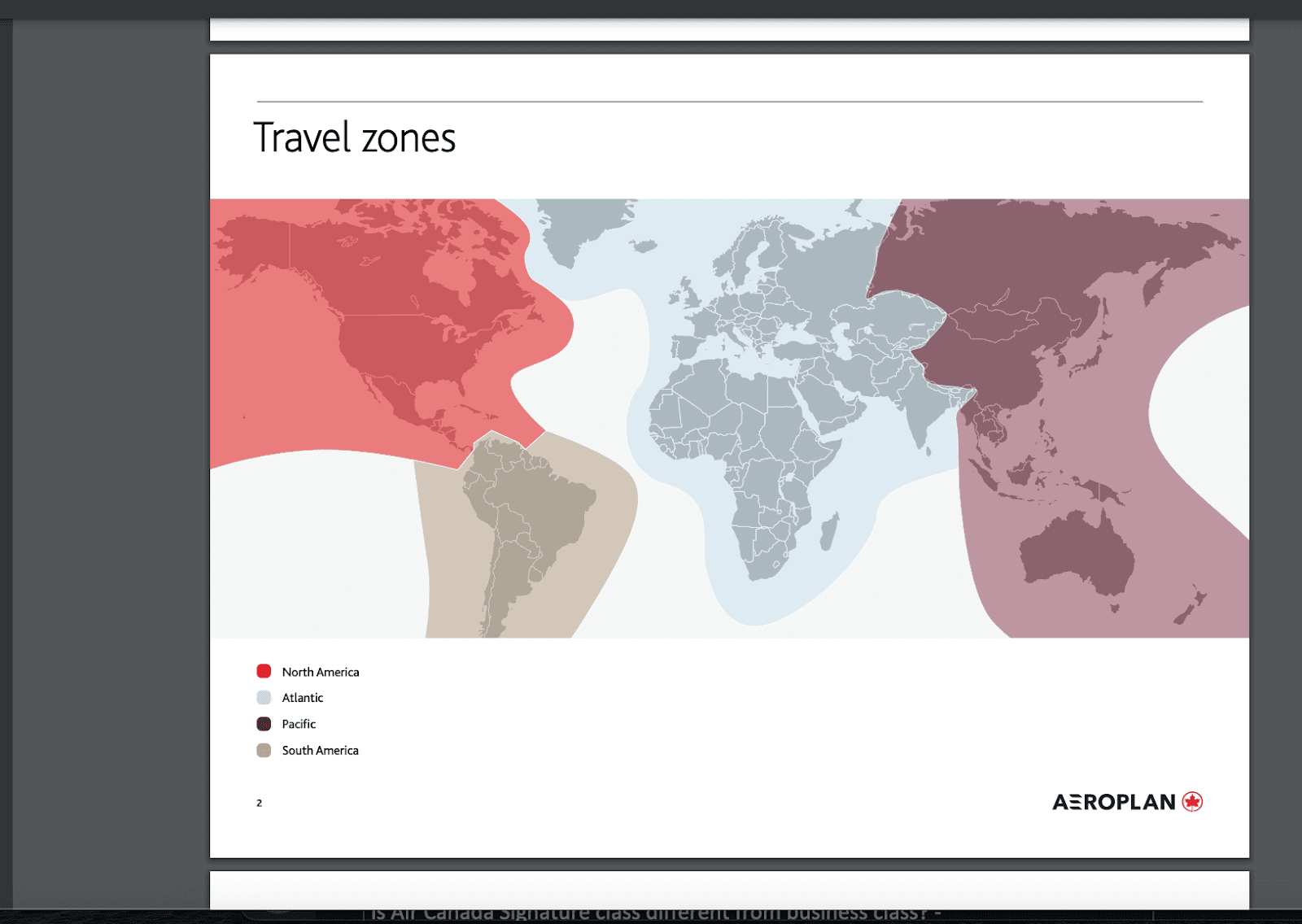 The chart can also tell you how many points you would need to book with Air Canada, which is based on the dynamic pricing model, compared to how many points you would need if you were booking with a partner airline, which is priced at a fixed level. It's also worth noting that Air Canada doesn't offer many reward seats to its partner airlines. If you do manage to find one, consider yourself lucky and jump on the opportunity right away.
Earn Aeroplan Points
Luckily, earning Aeroplan points with qualifying purchases is easy enough, since there are several Aeroplan credit cards to choose from as well as participating retail locations that reward you with points just for spending money, even if you're not using an Aeroplan credit card.
To start collecting Aeroplan points through credit card purchases, Aeroplan has partnered with TD and CIBC to offer Visa and American Express credit cards that earn Aeroplan points on everyday purchases, plus extra points for eligible purchases like groceries and gas.
Aeroplan has also partnered with several stores and restaurants, so you can earn points by shopping at certain locations like Starbucks and LCBO or by using Uber even if you don't have an Aeroplan credit card. All you need to do is present your Aeroplan member card to earn points.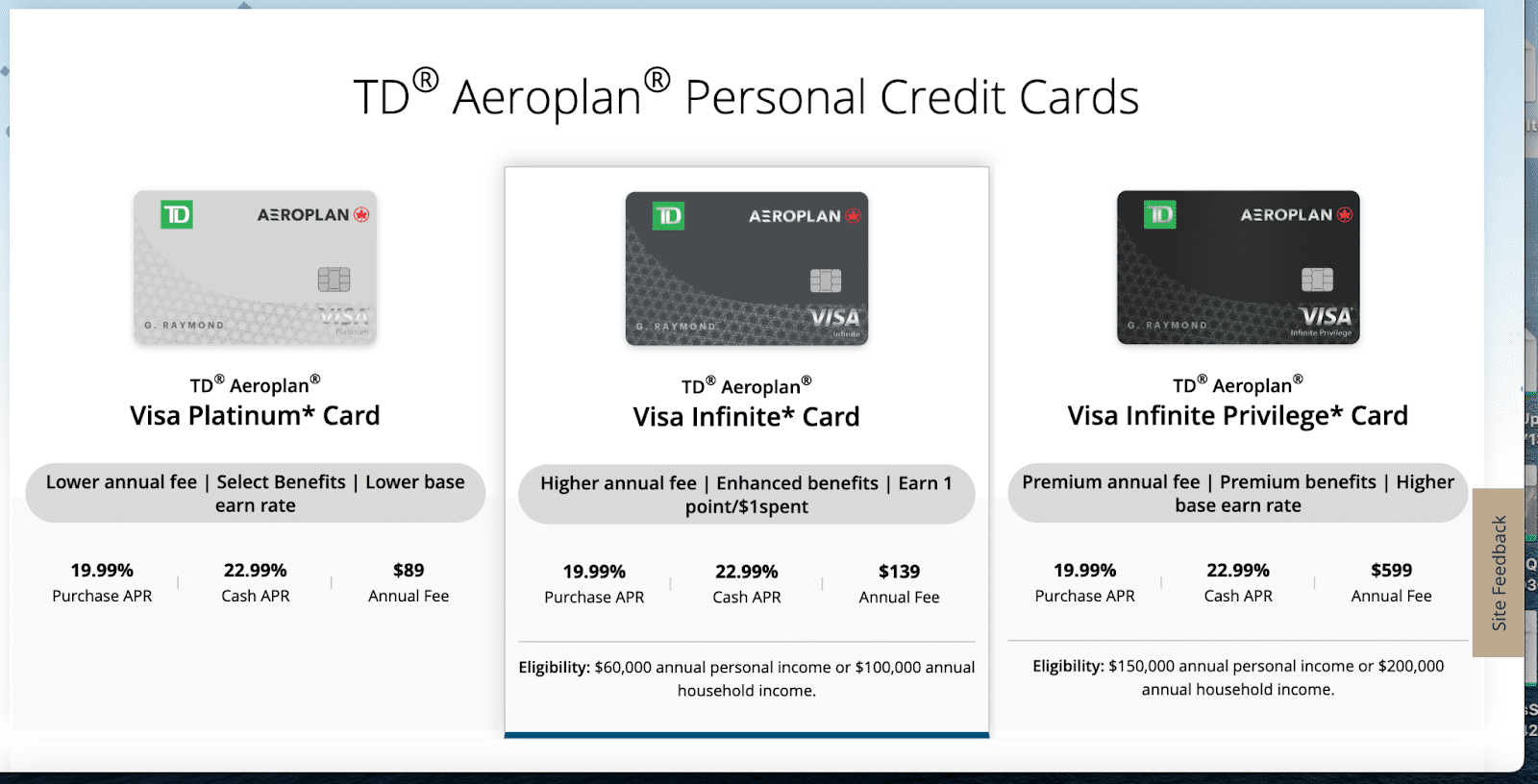 What's more, American Express credit card holders can exchange their Amex Membership Rewards for Aeroplan points at a ratio of 1:1. Points earned through Marriot Bonvoy can also be transferred to Aeroplan, but a less-than-ideal ratio of 3:1.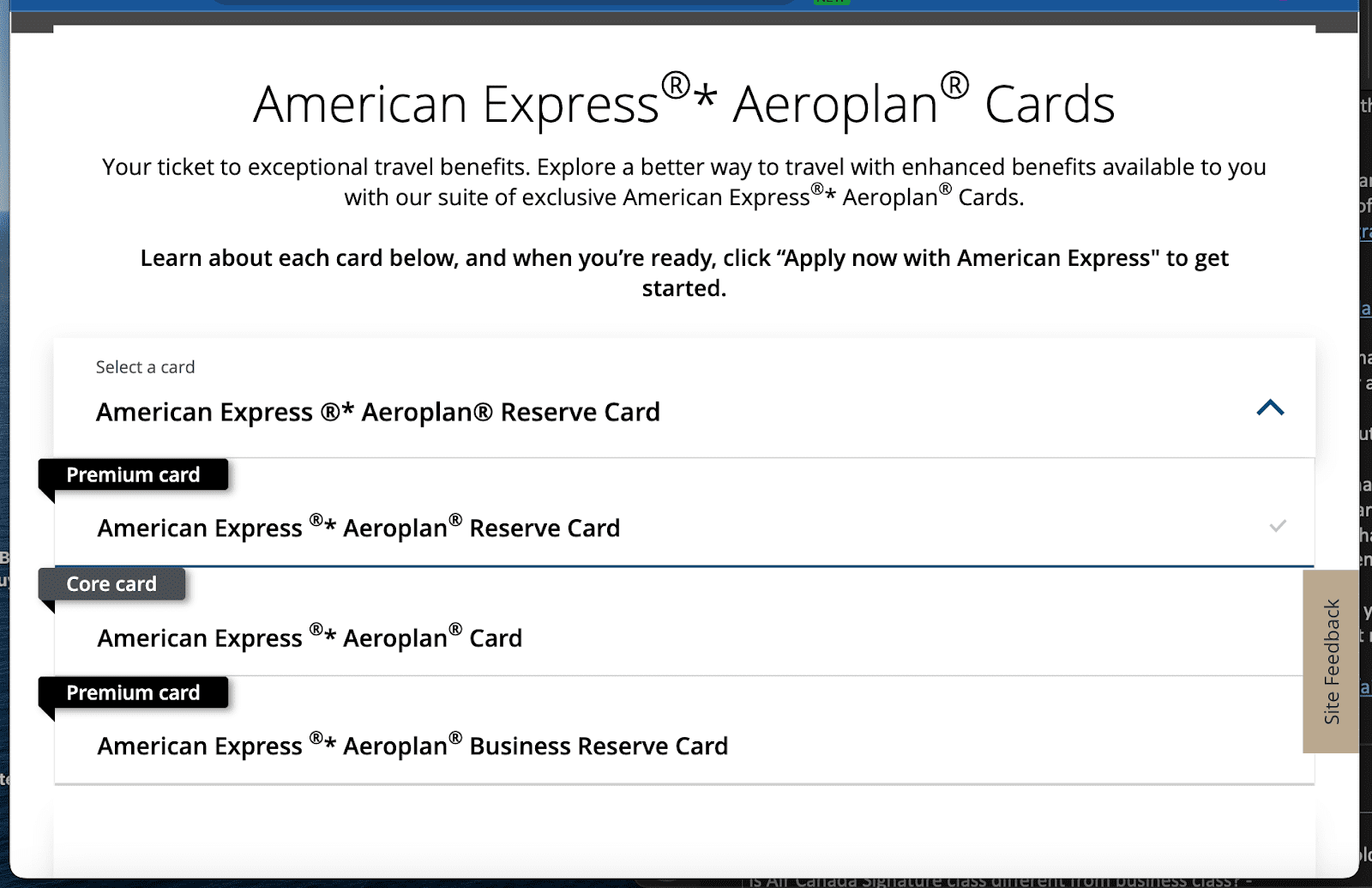 You can also earn Aeroplan points directly from Air Canada itself. If you are an Elite Status member, you earn points from purchasing any Air Canada product, from flights to extra baggage allowance to in-flight entertainment and food or beverages. Signing into the Aeroplan eStore through the online portal can earn you points before you've even spent any money, plus you'll earn points for any purchases made from the Aeroplan store. You can even buy Aeroplan points directly from Air Canada, either at a discount or with a bonus.
Should you fly Air Canada Signature Class?
As airlines all over the world continue along their road to recovery from the pandemic, we can only expect services to improve across the board, and since Signature Class was still relatively new at the onset of the pandemic, it's safe to say that it's really only getting started.
Air Canada offers flights to more destinations around the world than any other Canadian airline. If you want to experience your next flight in comfort and style, Air Canada Signature Class is the way to go.
FAQs About Air Canada Signature Class
What is Air Canada Signature class?
Air Canada Signature Class is Air Canada's most exclusive and luxurious way to travel. They offer premium services, including reclinable seats that convert to a fully lie-flat bed for long-haul and overnight transcontinental flights, as well as some seasonal flight paths such as Vancouver or L.A. to Hawaii.
Does Air Canada provide a car service for signature class flights tickets holders?
Air Canada offers a car service that will deliver you right to your gate in a Porsche if you hold a Signature Class boarding pass. Although it's worth noting that this service is only available at Toronto's Pearson International Airport and cannot be prearranged.
Is Air Canada Signature class different from business class?
Air Canada Signature Class is a remake of Air Canada International Business Class. Regular Business Class is still available on other flights. 
Is Air Canada Signature Class worth it?
Air Canada Signature Class can make your long-haul or overnight flight seem like a walk in the park as it eliminates many of the stressors that can make travelling such a challenge. If you want an easier and more individual experience, Signature Class is definitely worth it. However, tickets can cost thousands, and not everyone can afford to fly Signature Class all the time. If you don't fly very often and want to splurge for Signature Class for your next long flight, it might be worth it to treat yourself, but the better option would be to accumulate points with an Aeroplan credit card and pay for your ticket using your points.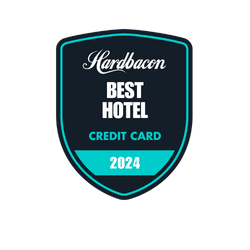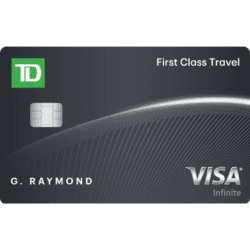 TD First Class Travel® Visa Infinite* Card
22.99% (20.99% for Quebec Residents)
22.99% (20.99% for Quebec Residents)
Special Offer: Earn up to $1,000 in value†, including up to 115,000 TD Rewards Points† and no Annual Fee for the first year†. Conditions Apply. Account must be approved by January 3, 2024.
†Terms and conditions apply.
The Toronto-Dominion Bank (TD) is not responsible for the contents of this site including any editorials or reviews that may appear on this site.
For complete and current information on any TD product, please click the Apply now button..