12 Best Travel Apps That Save Money for Canadians in 2023
Supercharge your savings with the best travel apps. These handy digital that are transforming Canadians into savvy globetrotters!The idea of a vacation is great, but some people may find it daunting to try and plan for one. From Booking flights to finding hotels, we all want the best bang for our buck while taking a vacation that will be enjoyable and memorable.
Sometimes you may just want to find the best way to get from point A to point B in a particular city and there are apps that will assist with that as well. Here are the 12 best travel apps that will save you a ton of money and take the guesswork out of your planning and allow you to find the best vacation or the best route your money can buy.
Steeped in the spirit of adventure and adrenaline, the term 'travel hacking' swirls on the lips of wanderlusters across Canada (and the world!). At its core, travel hacking is the art and science of maximizing your travel experiences while minimizing costs. This savvy strategy makes it possible for Canadians, or anyone for that matter, to crisscross the globe without emptying their piggy banks. It's not about compromising on comfort, but more about outwitting the system and turning every travel obstacle into an opportunity.
The heart of travel hacking beats in time with the rhythmic tapping of fingers on screens. Travel apps are the modern-day equivalent of a compass and map, tools that help globetrotters navigate the vast seas of airlines, hotels, car rentals, and more.
These digital wizards are an indispensable part of the travel hacking toolkit. They weave a tapestry of cost-effective itineraries, track travel point systems, flag flash sales, locate budget accommodations, and, in some cases, even predict price trends!
So, for anyone hoping to catch the travel hacking wave, the key lies in your pocket – inside your smartphone. The best travel apps convert this piece of technology into a treasure trove packed with gold nuggets that can save you more than just a penny on your next adventure.
Without further ado, here are the 12 best travel apps to help you save big on your travel plans.
Best travel apps for saving & spending abroad
When globetrotting on a budget, the right tools make all the difference. Dive into the world of the best travel apps designed for savvy Canadians who want to save for their next vacation or manage their money wisely while abroad. These apps are your trusty sidekicks to make the most of your money at home and afar.
KOHO
[Offer productType="CreditCard" api_id="604aaa18e770040140f2203e" id="220578″]
KOHO is one of the best neobanks in Canada, offering an innovative app that helps Canadians budget, save, build credit, and get rewarded in the process. But not many people know it also offers a smarter way to travel and save money. Accepted anywhere Mastercard is accepted, the KOHO Prepaid Mastercard showers you with cash back on your adventures and regular purchases alike.
From snagging up to 6% cash back with Booking.com and 5% with Contiki.com to earning up to 2% on daily expenses at home and abroad, every swipe adds up. But the perks don't stop there. Every dollar in your KOHO account earns up to 4.5% interest until the moment you spend it.
Plus, you'll enjoy low-to-zero foreign exchange fees and one free international ATM withdrawal per month, depending on your subscription plan. KOHO also equips you with a handy budgeting tool in the app, where you can set your travel goals and let the app handle automatic savings for you.
Bring peace of mind to your pocket by loading the card with only the money you want to spend while keeping the rest of your money safe in a separate account. And the security of Mastercard's Zero Liability Policy means you don't have to worry if your card is stolen or compromised.
With 24/7 support and an easy card-lock feature, travelling with KOHO is more convenient and safer than carrying cash. Step into a world of rewarding adventures with KOHO.
Star rating:
App Store: 4.8
Google Play: 4.6
Hardbacon
Though not specifically a travel app, Hardbacon, which is a financial app that was developed in Canada, can help you plan and save for your next trip. Harbacon has a budgeting feature that can assist users with setting financial goals that will help get you going on your next vacation. Aside from helping to save for the trip, the app has a feature that can be used to monitor your spending while you are away.
Hardbacon can also help you to save on your travel insurance by allowing you to compare insurance options across multiple companies. This will help you find the most competitive prices for the insurance package that suits your needs when you are travelling to another destination.
Star rating:
App Store: 4.2
Google Play: 3.8
Best travel apps for booking an entire trip
Think of orchestrating a symphony of flight bookings, hotel reservations, and local experiences. That's what planning a trip feels like! Luckily, there's a roster of the best travel apps at your service. They're ready to streamline the process, turn the chaos into harmony, and make your trip a perfect melody of budget-friendly experiences.
Hotwire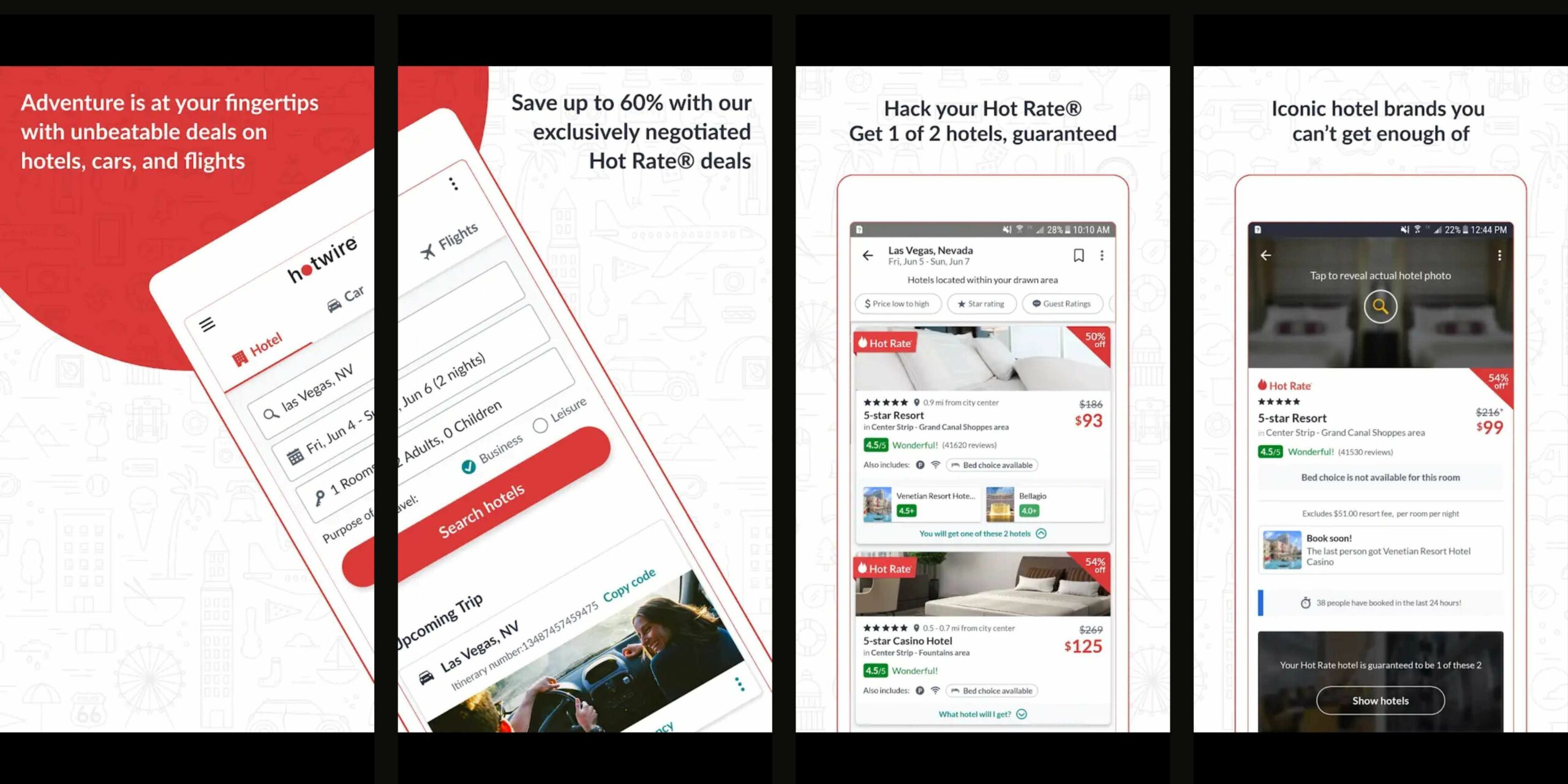 Hotwire is one of the best travel apps beloved for its irresistible deals on travel. The platform prides itself on connecting you to phenomenal bargains on hotel rooms, rental cars, flights, and more. By keeping close ties with leading travel companies worldwide, Hotwire ensures you get premium services at highly discounted rates, making it your trusty sidekick for affordable adventures.
Here's how it works: Travel companies often have unbooked rooms, unrented cars, or unfilled plane seats, which they provide to Hotwire at reduced prices. These, in turn, are offered to you as 'Hot Rates.' Some deals are what's called a 'blind booking,' a model that reveals the specifics about the hotel or flight only after the booking is complete. While it may add a sprinkle of suspense to your travel planning, the surprise is nearly always a pleasant one.
Want to maximize your savings? Start by setting a flexible travel schedule and checking Hotwire for the cheapest travel dates. Hotwire's mystery booking model means prices are slashed drastically. But the tradeoff is that you don't always know the exact details until after you book.
If you don't mind a little suspense, Hotwire can make your travel dreams a reality, without breaking the bank. This travel app is definitely worth a try.
Star rating:
App Store: 4.6
Google Play: 4
Kayak
Kayak is an app that will search hundreds of travel sites to locate the best deal and exactly what you need for your trip. It can search for inexpensive flights, hotel deals, and car rentals.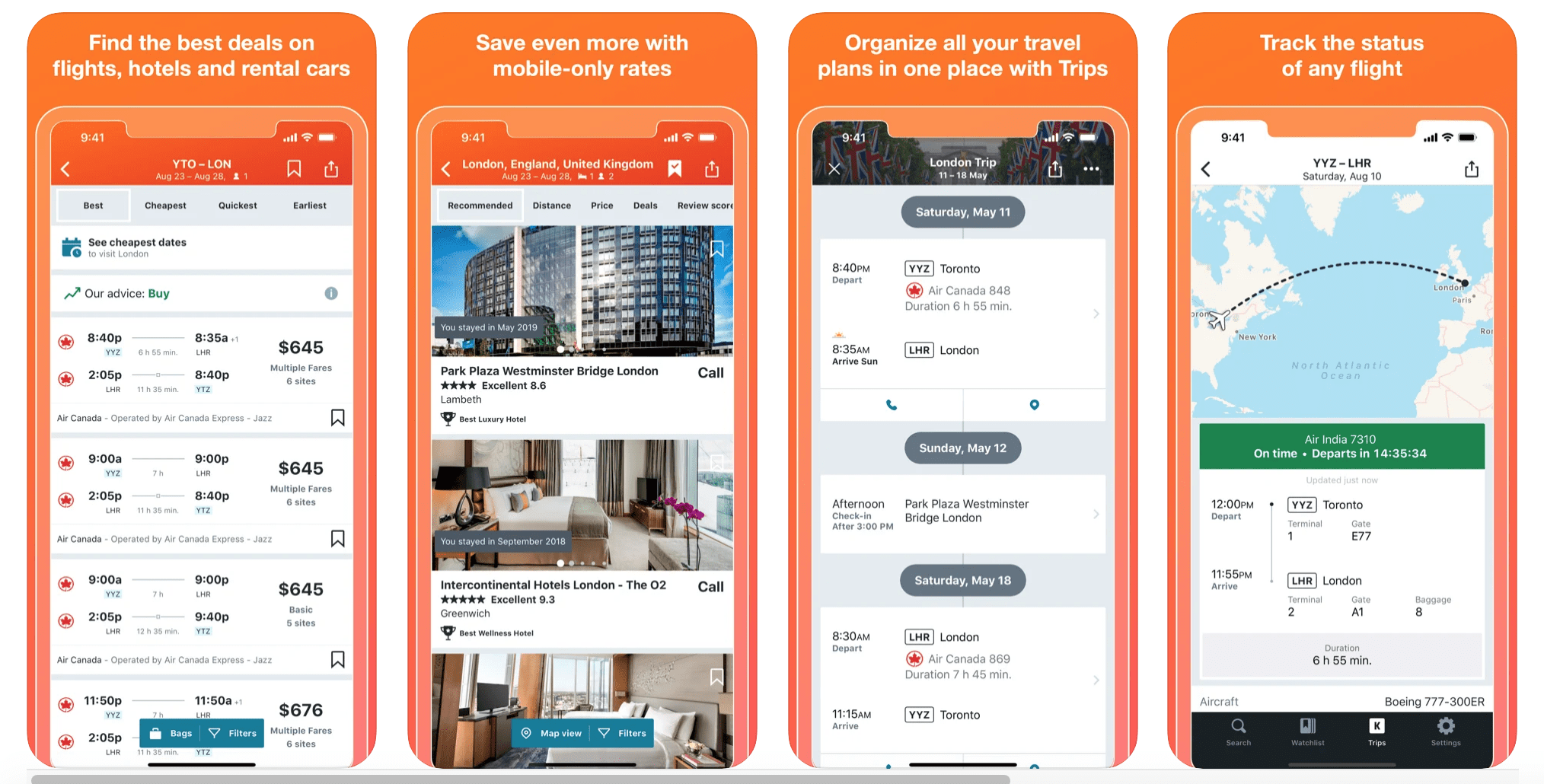 You can also search for specific parameters such as nonstop flights, pet-friendly hotels, and rental of a specific vehicle make and model.
Using the mobile app provides an advantage as they will offer mobile-only deals that you can take advantage of. It also allows you to save deals to your watch list so you can track the prices to see if it drops before you book. You can also set price alerts so that you will be notified if the price drops.
If you are not sure where you can travel on your budget, you can use the Explore feature of the app. Set your budget and the app will search for travel destinations that fall within your price range.
Star rating:
App Store: 4.7
Google Play: 4.6
Best travel apps for cheap flights
I don't know about you, but the thought of finding wallet-friendly airfare sends my heart soaring. The best travel apps for cheap flights are ready to wing their magic, turning your dream destinations into affordable realities. Keep your seat in the upright position as we take you on a journey to discover the best travel apps that make sky-high savings possible.
Skyscanner
Skyscanner allows you to book everything you need for your trip all from one app. The app will help you to find the best value flights for your travel dates and also offer suggestions for the cheapest months and dates to fly.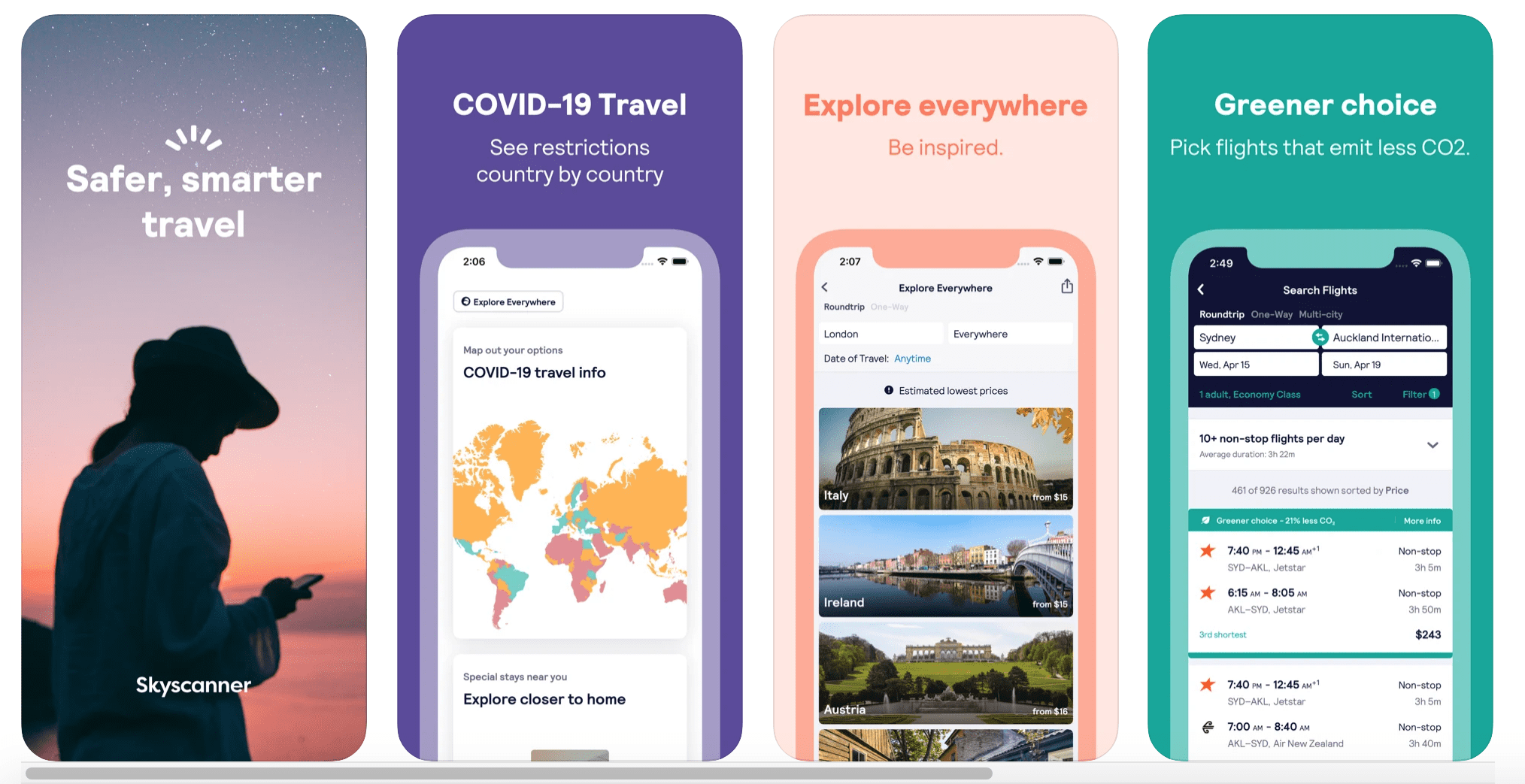 The app also lets you compare hotel deals and deals on rental vehicles. Skyscanner does not charge any booking fees so there are no hidden costs for using the app.
Skyscanner can help you to find seasonal deals and great prices on weekend getaways. If you don't know where you want to go, use the Search Everywhere feature to find top deals on departures from a chosen airport.
Star rating:
App Store: 4.8
Google Play: 4.6
Hopper
Hopper is also among the best travel apps that also happened to be developed in Canada! It is a data-driven app that will help you save money on flights, hotels, and rental cars. Users of the app save an average of $65 per trip.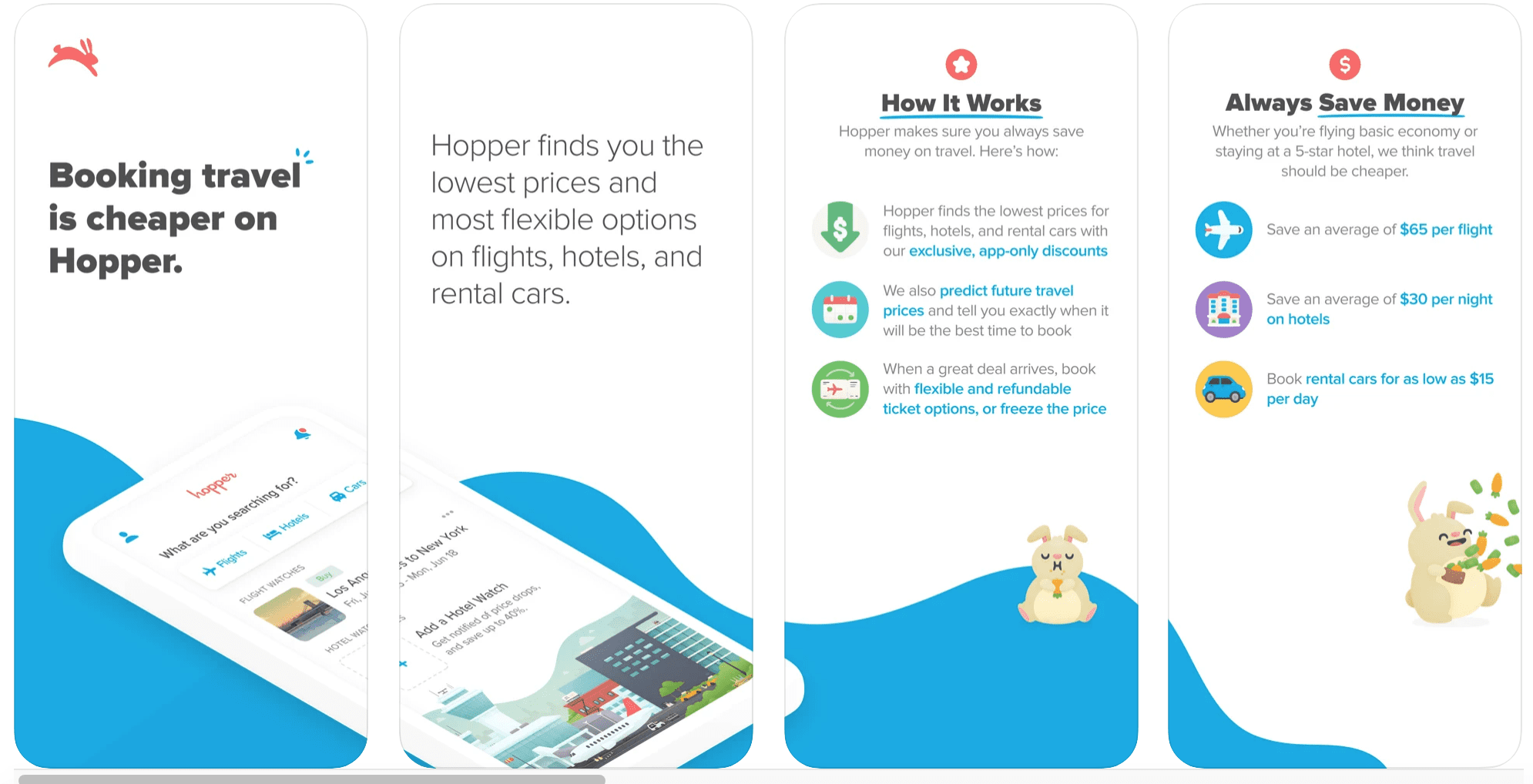 Hopper uses data to predict future flight and hotel prices with 95% accuracy which allows you to plan for the future. The app will also notify you if there is a deal. With the app, you can freeze prices if you need more time to think about it and do more planning.
Trips booked through Hopper are flexible and you can opt for refundable ticket plans. If a flight is delayed or you miss a connection, you can instantly rebook without extra fees by using Hopper's disruption rebooking service.
Star rating:
App Store: 4.7
Google Play: 3.5
Best travel apps for a place to stay
Turning a trip into a home-away-from-home experience starts with finding the perfect place to catch some Zs. Navigate the labyrinth of accommodation options with the best travel apps for a place to stay. These digital companions are your key to unlocking unique homes, luxury suites, or cozy bed-and-breakfasts that suit your travel style.
HotelTonight
HotelTonight is able to offer discounted rooms ensuring you get the best rate available. Hotels give discounts on empty rooms and HotelTonight passes the savings on to you.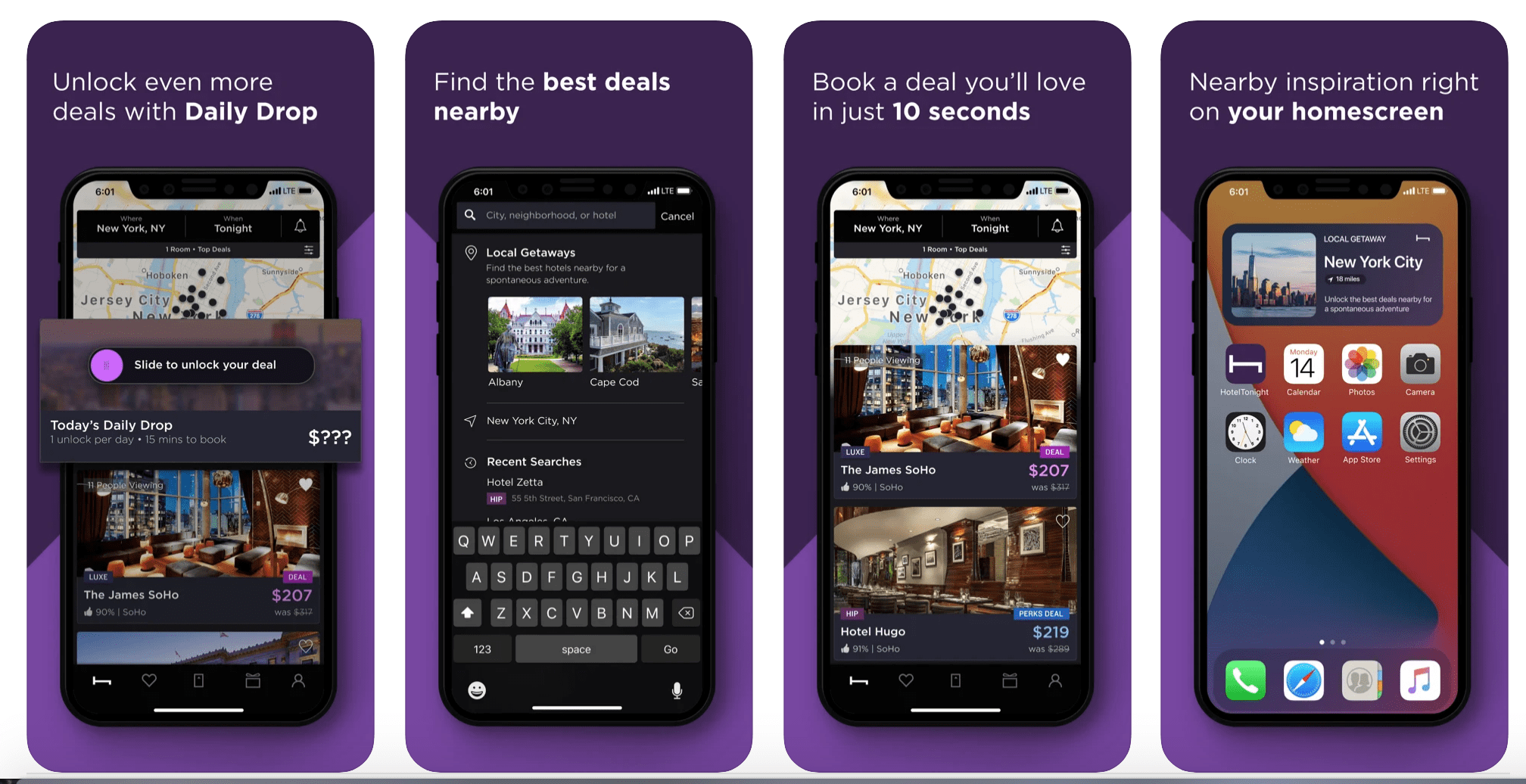 This app is great for planning in advance or finding a great deal on a room for a last-minute stay. You are able to search by city, attraction, or map location to find a hotel that is suited to your needs.
The app also includes customer reviews for hotels along with pictures and ratings.
The more you use the app, the more you can save. The HotelTonight Perks program offers better deals the more you book through them.
Star rating:
App Store: 4.8
Google Play: 4.4
Airbnb
Airbnb allows you to discover millions of places to stay. You can look for a lakeside cottage or an apartment in the heart of a city. You can then book your stay directly in the app. Not only is it one of the best travel apps, but it's probably the most iconic among travel hackers.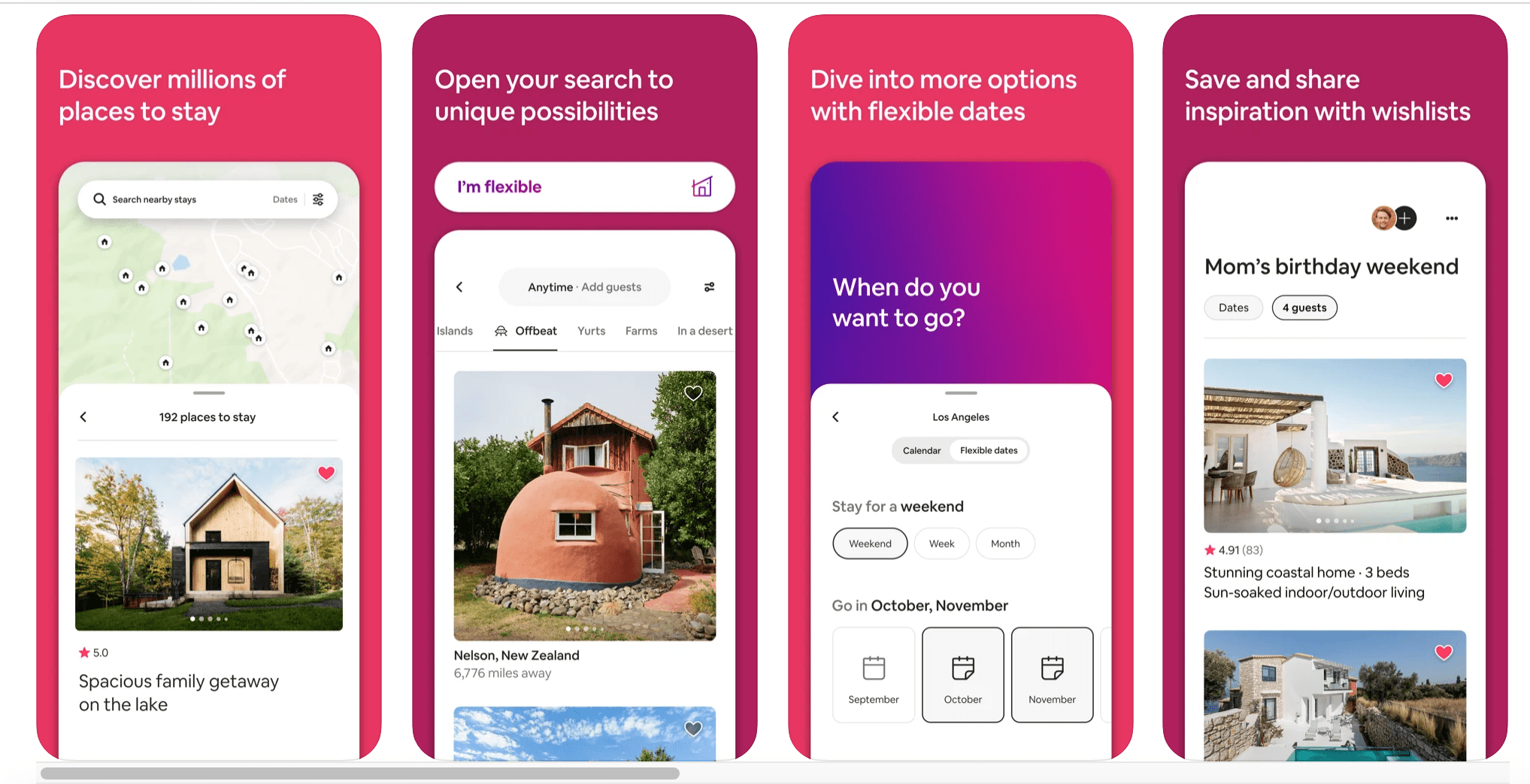 If you are flexible about where you stay, you can let the app find places for you for specific dates or flexible dates up to a year in advance.
If you are a new user, you will get a discount on your first stay which is a great way to save some money. Another way to save money using Airbnb is to contact the host directly. Sometimes, the host will be open to offering a discounted price if you ask! Just remember to be courteous when asking if a lower rate is feasible.
Star rating:
App Store: 4.8
Google Play: 4.5
Star rating:
App Store: 3.7
Google Play: 4.5
Best travel apps for road trips & public transit
For those who live by the motto "the journey is the destination," embarking on a road trip or navigating the intricacies of public transit is where the real adventure lies. Let the best travel apps for road trips and public transit guide your way to unforgettable experiences. They're the compass to your wandering spirit, ensuring you find the most scenic routes, efficient paths, and memorable pit stops.
Gas Buddy
Gas Buddy is an app that is convenient for planning a road trip in Canada or the United States. It helps you find the places with the cheapest gas and best fuel savings along your route.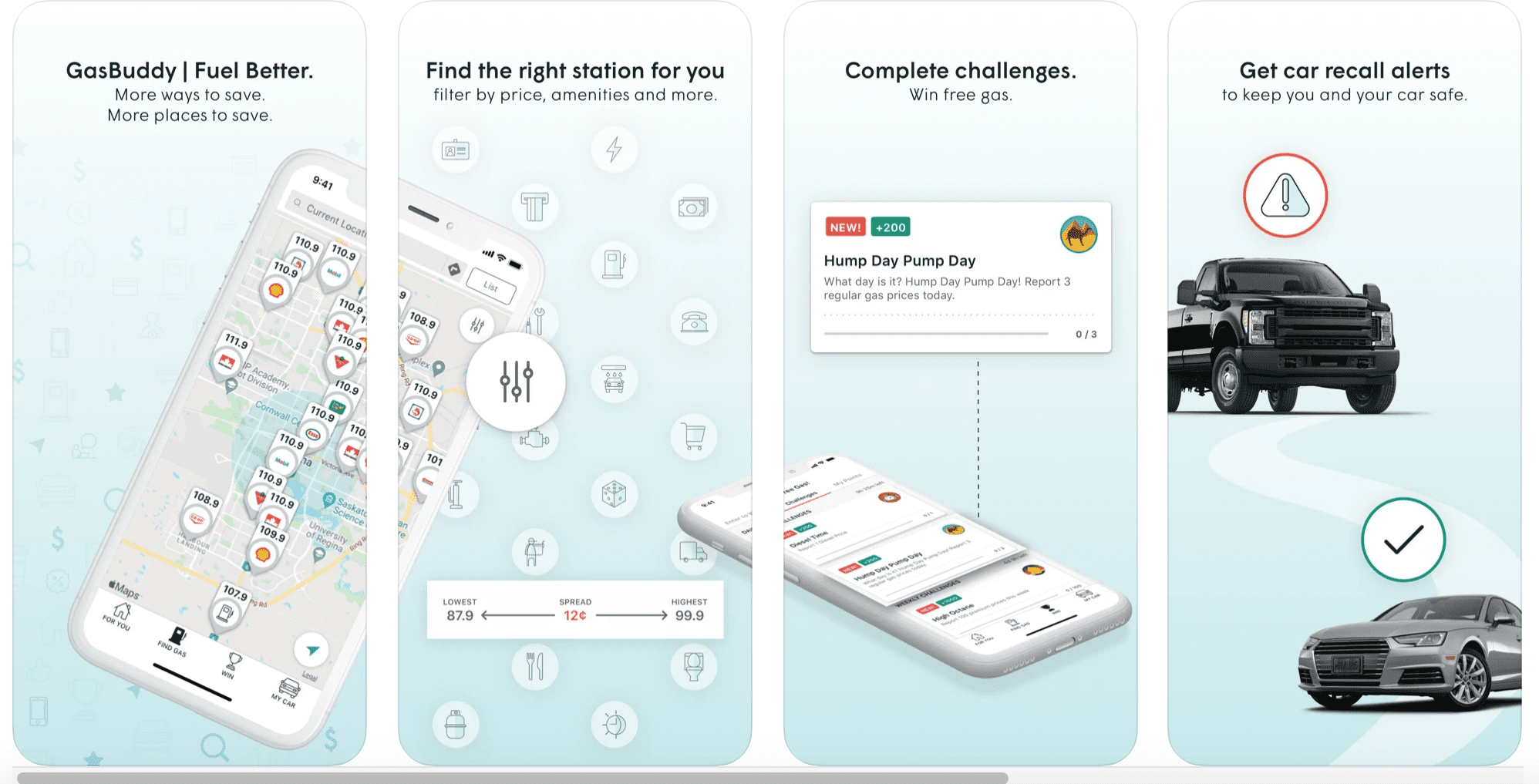 GasBuddy covers over 150,000 gas stations across North America. The app is easy to use. All you have to do is open the app, search for gas stations and you will find the cheapest gas in the vicinity.
GasBuddy also features daily draws for users to win free gas which will help your budget go even farther.
GasBuddy has an in-app Drives program that will help you learn to be more fuel-efficient so that you will waste less fuel. You earn a savings score based on your driving habits. Higher scores will help you to save even more on gas.
You will also receive alerts if fuel prices are on the rise so you can get gas before price increases hit the pumps.
Star rating:
App Store: 4.7
Google Play: 4.4
Transit App
The Transit app is an app that was developed in Canada. It is an app that will help to simplify your commute and it features over 200 cities across the world. They are working hard to expand and support even more regions.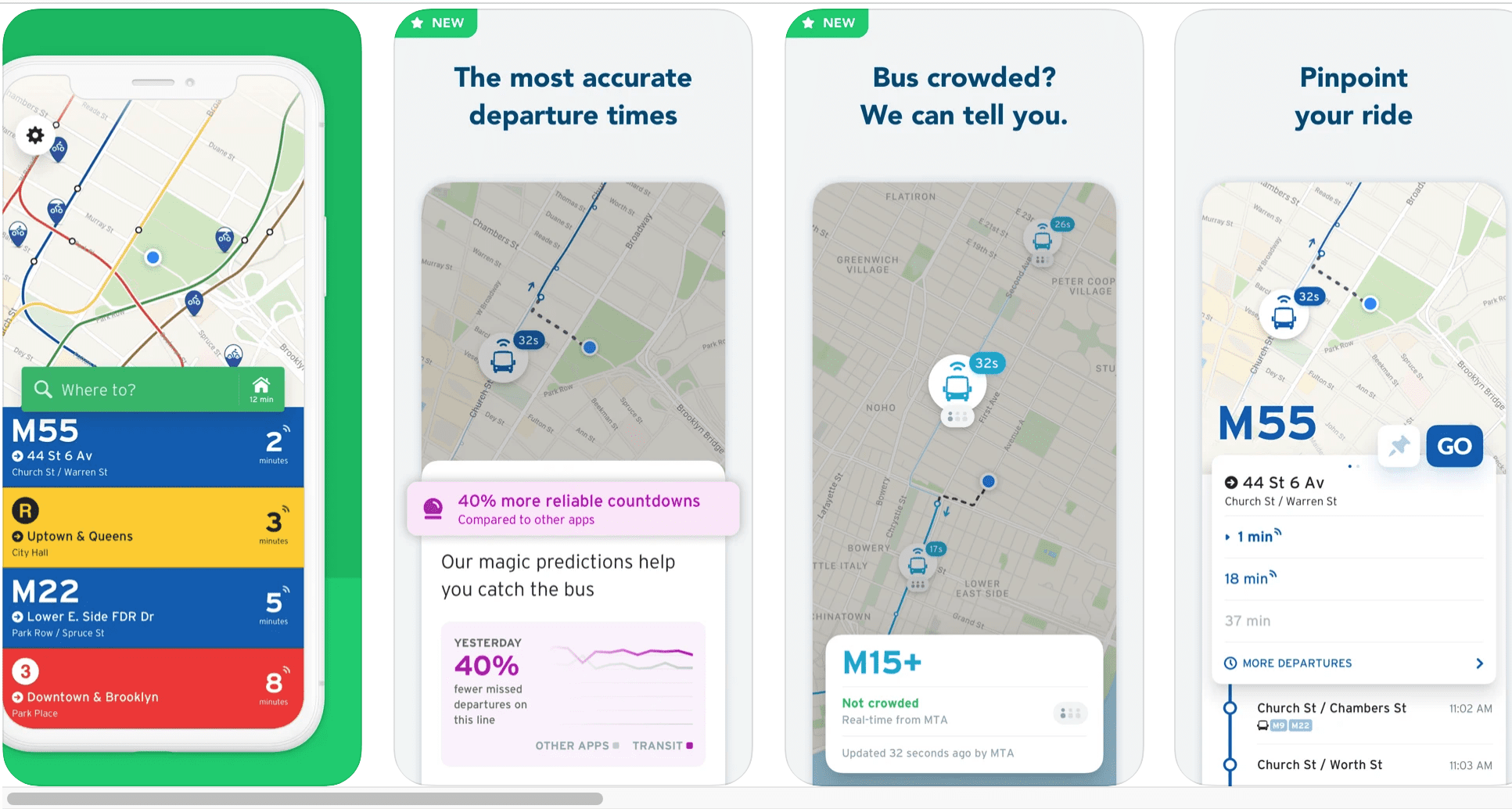 The app allows you to search departure times for public transport to see when the transit will be at your local stop. You can plan your trip using real-time data and the app will even let you know how many minutes you have before you should leave in order to reach your destination on time.
The app allows you to see all of your options at one time so you can decide which is best. It will give details about Uber, Bikeshar, Carshare and more. This allows you to compare the options and make the best and most convenient choice.
Using this app can help you to save money by comparing all of the available options from a single app.
Star rating:
App Store: 4.7
Google Play: 4.1
Best travel apps to find your way around
Globetrotting can seem like a colossal task without the right resources in your pocket. That's where the best travel apps for international travel come into play. They're your digital globetrotting buddies, helping you navigate foreign lands like a local. Keep your travel plans on track no matter where in the world you may be.
Busbud
Busbud is a Canadian app that was developed in Montreal. The app covers bus routes in North America, South America, Europe, Africa, and Southeast Asia making it possible for locals and tourists alike to reach their destination.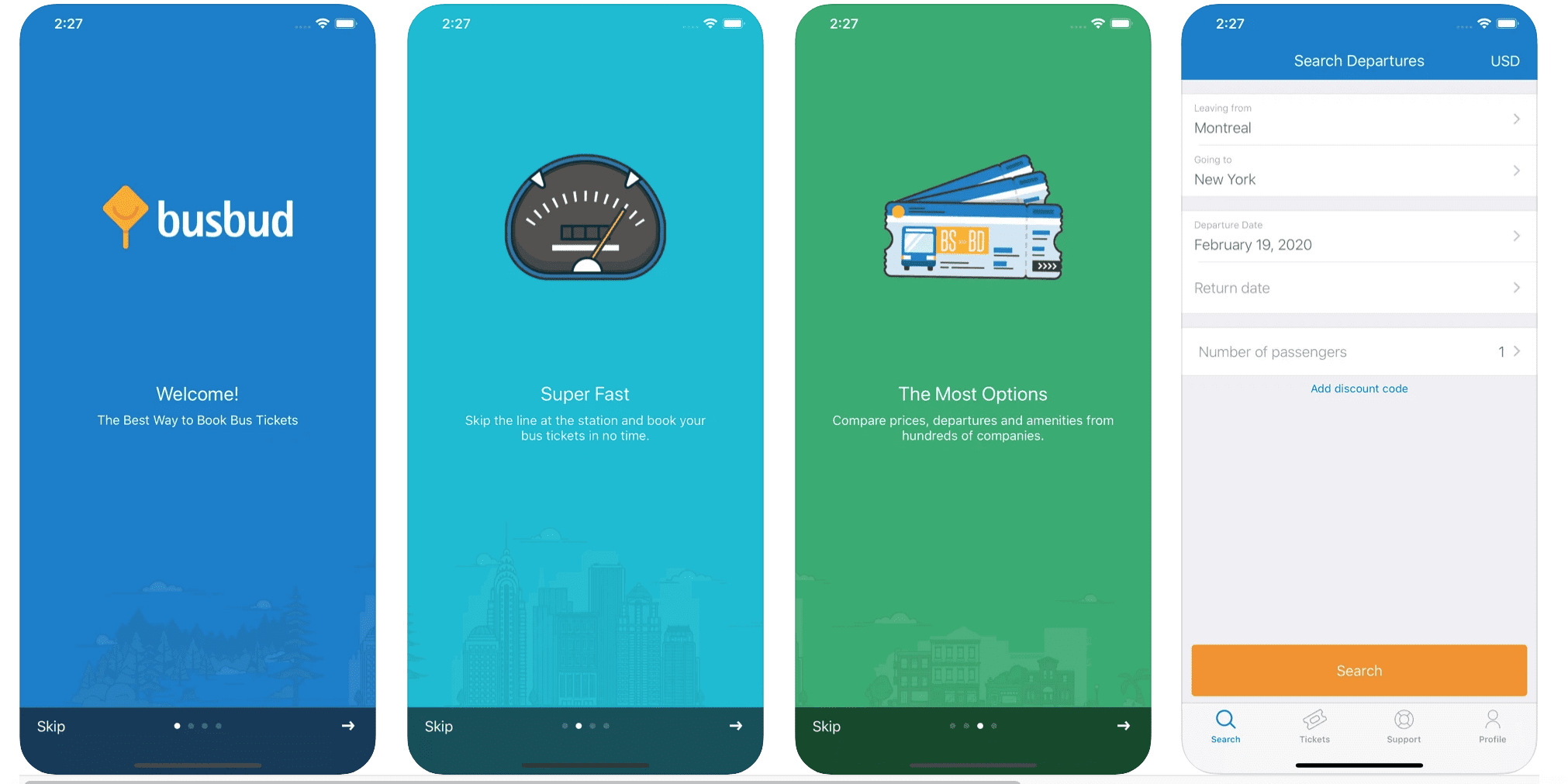 The app partners with more than 4, 500 bus companies providing a search engine and a booking platform to allow for ease of use. The app serves 21, 000 cities that include 3.8 million bus routes in 84 countries across the world.
The app will allow you to search your destination and see which bus routes service the area where you can then compare your options and the prices.
The app also allows you to save money by offering discount codes.
Flush App
If you are travelling out of your local area and are unfamiliar with your new location, the Flush App is a must-have among the best travel apps.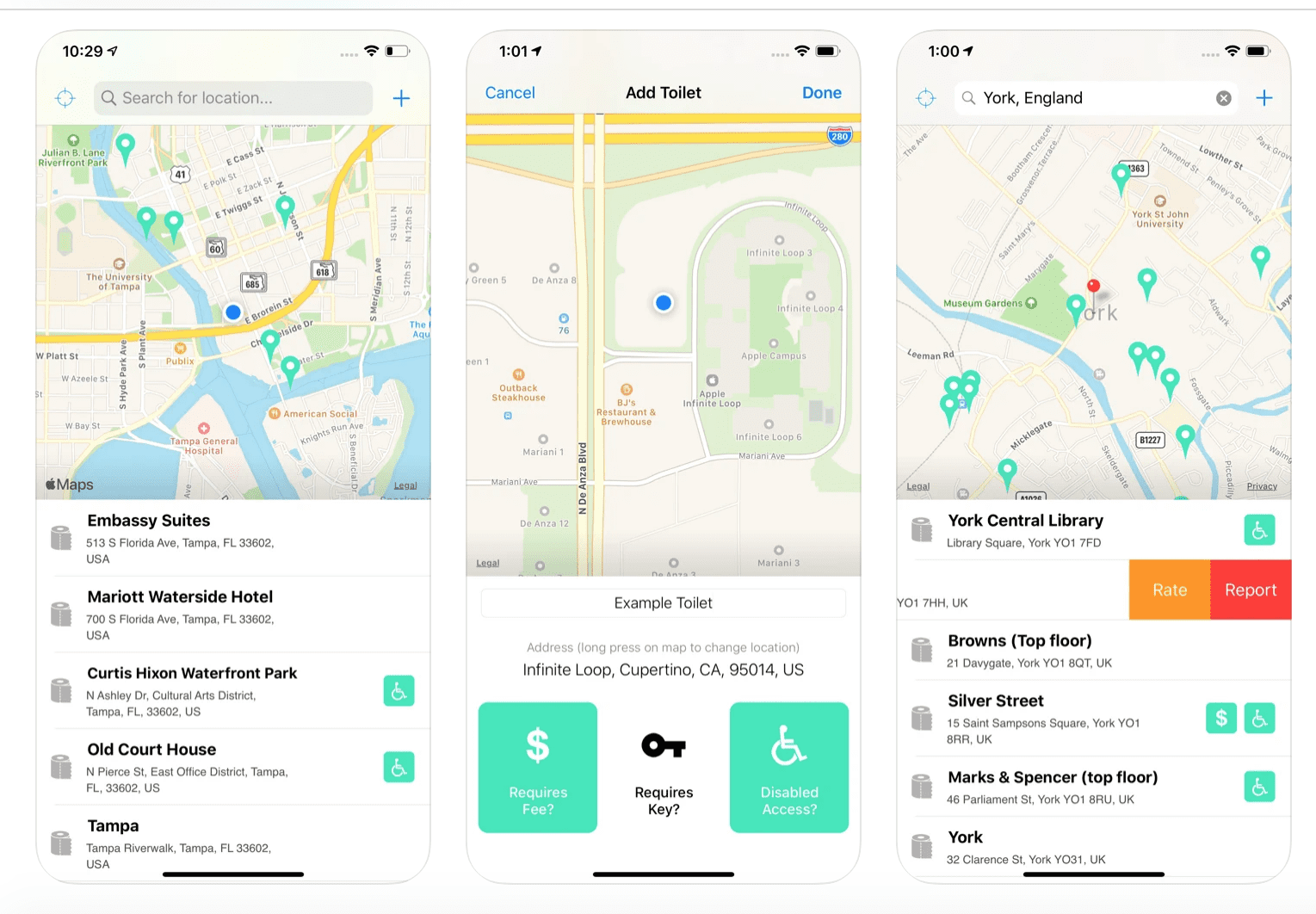 The app can help you find the closest public washrooms. This can also help if you are in countries where you have to pay to use the washroom. The app will help you find the least expensive or free washrooms in the area.
The app has over 200,000 washrooms in its database. You can search a specific location or open the app and pan around the map to see what is near you.
Star rating:
App Store: 4.6
Google Play: 3.7
These best travel apps will not only help you save money, but they will also make travel more convenient and easy to navigate. Bon Voyage!
FAQs about the best travel apps for Canadians
What are the best apps for international travel for Canadians?
The best travel apps for global explorers include Skyscanner and Hopper to help you find the most cost-effective flights, accommodations, and car rentals. For unique accommodation, Airbnb opens the door to local homes in over 191 countries. While Busbud and Flush App help you navigate like a local when you're far from home.
What are the must-have apps for travelling in Europe for Canadians?
Kayak and Skyscanner are your go-to travel gurus for booking affordable flights, hotels, and car rentals. Airbnb amplifies your European experience by providing a variety of unique accommodation options. And when it comes to zipping around European cities, Uber provides convenient and reliable transportation at the touch of a button. These must-have apps streamline your European journey, making travel easier, cheaper, and more enjoyable.
How do travel apps make money?
Advertising is a common route, with brands paying for exposure within the app. Affiliate partnerships with airlines, hotels, and rental companies also add to the kitty, as travel apps earn a commission for every booking made. Premium features and in-app purchases offer additional user benefits, while subscriptions provide an ongoing revenue source. Some apps also monetize data by offering valuable market insights to third parties.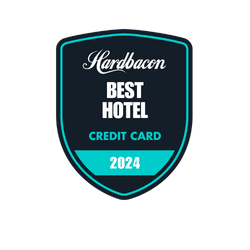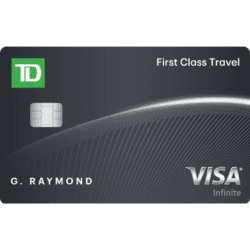 TD First Class Travel® Visa Infinite* Card
22.99% (20.99% for Quebec Residents)
22.99% (20.99% for Quebec Residents)
Special Offer: Earn up to $1,000 in value†, including up to 115,000 TD Rewards Points† and no Annual Fee for the first year†. Conditions Apply. Account must be approved by January 3, 2024.
†Terms and conditions apply.
The Toronto-Dominion Bank (TD) is not responsible for the contents of this site including any editorials or reviews that may appear on this site.
For complete and current information on any TD product, please click the Apply now button..