The 6 Best Neobanks in Canada for 2023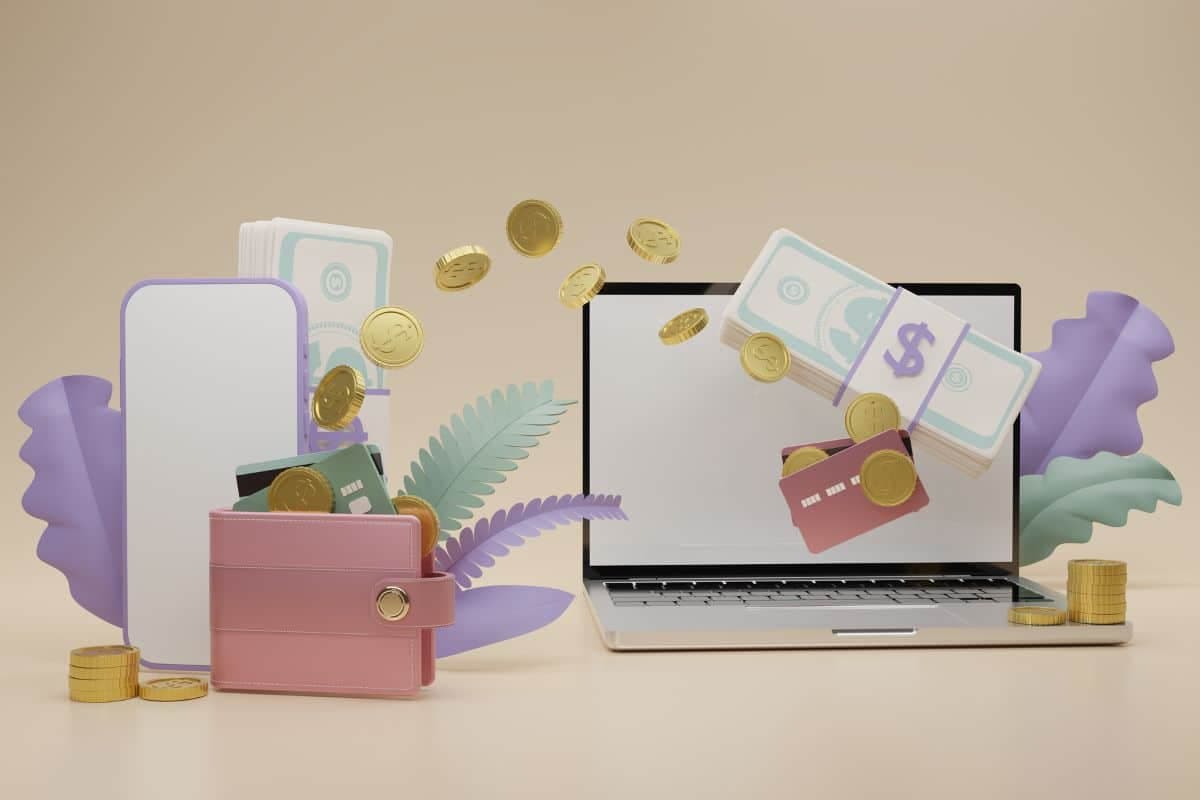 Are you looking for a better way to bank? Neobanks are just what your dollar ordered. But what exactly is a neobank? Well, it's all in the name – neo means new or revived. Neobanks are digital-only banks and financial technology (fintech) companies that offer financial solutions directly to consumers. But there's a catch.
Neobanks exist entirely online which means their services can only be accessed through a device like a computer or a smartphone. Without the expensive operating cost of brick-and-mortar locations, neobanks pass the savings on to us with reduced fees or no fees at all, better rates, and attractive perks.
It's time to break up with your branch. Let's take a look at some of the best neobanks in Canada and what they have to offer.
But first, a nod to Revolut
What is Revolut and what does it have to do with neobanks in Canada? Revolut is what we call a 'digital-only financial services company,' or more commonly, a neobank. To understand what that means, imagine your typical bank, now erase the long queues, grumpy tellers, complicated paperwork, and opening hours. Oh, and the fees. Replace all that with an app that's ready to cater to your banking needs 24/7, from the comfort of, well, anywhere.
The Revolut app has become a beloved financial hub because it allows people to do all the normal banking stuff – like making payments, transferring money, and even setting up recurring payments. You can even buy and sell cryptocurrencies, stocks, and commodities.
Why is it so popular?
People fell head over heels in love with Revolut not just because of the ease of use, but also the way it gives control back to the user. With real-time notifications on spending, monthly analytics, and easy budgeting tools, you are always in the driver's seat of your financial journey. Also, who doesn't love zero fees on international transactions and ATM withdrawals? Travel enthusiasts, I'm looking at you.
Is Revolut available in Canada?
But Revolut never fully delivered all these features to Canadian users, and eventually pulled out of Canada altogether in 2021. Still, Revolut's success story around the world creates an important context for the role of neobanks in the Great White North.
What does it teach us about neobanks in Canada?
It exposed what Canadians really want – an alternative to the Big Banks that delivers on-demand convenience, significant cost-savings, and an intuitive user experience. Revolut's journey in Canada also sheds light on the challenges facing neobanks.
Gaining the trust of Canadians has proven to be a significant hurdle. Traditional banks have been around for ages, and their established reputation gives them an advantage, even when their products and services are subpar.
It takes time and a strong record of customer service and security for neobanks to build a similar level of trust. To help you with that trust, we explain exactly what a neobank is, how it works, and we've rounded up the best ones in Canada.
What is a neobank? Online banks and challenger banks
Finance can be a pretty intimidating place. Neobanks can take many forms, and it can get a little confusing. Here are some key terms to understand so you can choose a neobank like a boss:
A digital-only online bank
An online bank is a type of neobank. An online bank is a financial institution that can only be accessed online because it does not have any physical branches. Financial services are provided digitally and you need reliable access to an internet-connected device like a smartphone or a computer.
Some online banks exist independently, others are owned by a bigger, more traditional financial institution. Either way, you can access all the same essential banking services entirely online. Because online banks don't have branches, the overhead costs are significantly lower. Therefore, most products and services offered by online banks are usually free.
Online bank vs online banking
Online banks should not be confused with online banking. Since online banks are digital-only, naturally all your banking is done online too. However, traditional banks also offer online banking to their customers.
Have you ever signed into your Scotiabank Preferred Chequing Account to pay a bill, send an eTransfer, or check your balance? That's online banking, but Scotia is not an online bank. Online banking is just a verb to describe how you do your banking, not who you do it with.
The challenger: a neobank from a fintech
A challenger bank is a financial technology company (fintech) that exists entirely online and provides creative banking services not typically offered by traditional banks. All your banking is done through an online platform on a device like a computer or a mobile app on your phone. Challenger banks do just that – they challenge the traditional banking model with more creative and flexible financial solutions.
Many services offered by challenger banks come at a fraction of the cost of the big guys, or at no cost at all. Some offer a full suite of banking services similar to a regular bank, while others only offer niched financial products or services. Whatever the case, they are independent entities not owned by a federally regulated institution, like one of Canada's Big 6 Banks for example.
The Challengers: a neobank
A neobank can be an independent financial technology company (fintech) that offers financial services directly to customers. Below is a list of some of our favourite fintechs that are revolutionizing the financial services landscape. These are independent companies not owned by a bigger traditional bank. Instead, many have partnered with other institutions to help provide creative products and insure deposits.
Neo Financial
[Offer productType="SavingsAccount" api_id="60fee79313fd2f260ff90749″ id="173809″]
Neo Financial is a new online-only neobank in Canada that offers a host of financial services including a money account, various credit cards, investment tools, and a killer cash back program. If you're from western Canada, you've probably heard of the popular food delivery app SkipTheDishes. The bright minds that revolutionized take-out are the same ones behind Neo Financial. Here's a look at what Neo Financial has to offer:
Neo Money Account
At its core, Neo Financial is all about making your money work for you. It kicks off with the hybrid chequing-savings account, Neo Money. It's free to use, packed with unlimited transactions, and absent of any monthly fees. It comes with a versatile cash back prepaid Mastercard, giving you instant access to your own money everywhere that Mastercard is accepted.
The real showstopper? A whopper 2.25% interest rate on every dollar in your account, making it one of Canada's top high-interest savings accounts. No monthly fee and free transactions let allow you to easily pay bills, make purchases, send and receive eTransfers, all while your savings are silently growing. Plus, you get to track all your progress through the Neo app. One downside, though? Neo Money is yet to make its debut in Quebec.
Neo Mastercard
The cash back rewards take center stage with the Neo Mastercard. Think 5% average cash back at Neo partner retailers, up to 15% welcome cash back bonus on your first purchase at every Neo partner, and a minimum of 0.5% cash back on everything else. If your average cash back dips below 0.5%, Neo's got your back with a guaranteed top-up.
Neo Secured Card
For those who might have a harder time getting a traditional credit card, Neo offers the Secured Mastercard. With guaranteed approval, no hard credit check, and a tiny $50 security deposit (one of the lowest out there), it's a breeze to get started. Plus, your payment history goes straight to TransUnion, helping you build your credit while racking up those cash back rewards.
Neo Invest
Finally, let's talk about Neo Invest, your doorway to the world of investing. Partnered with CI Investments, you can get started with as little as $1. You can invest within an RRSP, TFSA, or a non-registered account, all tailored to your goals, timeline, and risk appetite. Keep in mind there's a 0.75% fee for assets under management, plus a potential Management Expense Ratio (MER) fee that ranges from 0.4% to 0.5%.
KOHO
[Offer productType="CreditCard" api_id="604aaa18e770040140f2203e" id="144191″]
KOHO is a Canadian financial technology company that provides essential banking services like an online bank, but better because it's not a bank. With KOHO you'll get incredible rewards, and creative financial solutions exclusively online. All your banking is done online through the KOHO mobile app. The KOHO prepaid card is one of the best prepaid cards on the market and the mobile app helps you spend, budget, and save better. Other perks include a program to build your credit score and interest-free overdraft protection.
KOHO accounts
Imagine having a chequing and savings account bundled together, free of charge, with unlimited transactions. It gets better, you can customize your banking experience with monthly subscription plans that unlock advanced features and benefits. Depending on the plan you choose, you'll earn interest between 0.5% and 4.5% on every dollar you deposit.
KOHO Prepaid Mastercard
Next up, your complimentary KOHO Prepaid Card opens the door to a world of cash back and savings. It's accepted pretty much anywhere you'd use a credit card. Sounds like a sweet deal, right? Depending on your KOHO account plan, you'll earn up to 2% cash back on essentials like groceries, dining, and transportation. Fancy up to 5% bonus cash back at KOHO partner retailers? Done! Plus, you can speed up your savings journey by rounding up your purchases.
Credit Building
Building credit can feel like climbing a mountain, but KOHO's got your back. Their Credit Building program helps you either establish a credit history or repair an existing one, all for just $10 a month. No hard credit checks, guaranteed approval, and every monthly payment reports to the credit bureaus. It's a 6-month program that can be renewed whenever you want to keep bolstering your credit score.
Cover
Cashflow got you down? KOHO's Cover feature unlocks up to $50 of overdraft protection. Instead of interest, you pay a flat $5 monthly fee. Plus, you get complimentary access to a KOHO financial coach. Cover is granted on a case-by-case basis using an algorithm. To increase your chances of getting access, set up a direct deposit, keep a balance in your account, pay your bills through the app, and use other KOHO features relevant to you.
EQ Bank
[Offer productType="CreditCard" api_id="63d2cb6a18196b6d2e1928c2″ id="198047″]
EQ Bank is the neobank often referred to as Canada's "original challenger bank." It is a digital-only online bank wholly owned by Equitable Bank, which is Canada's 8th largest independent bank that is federally regulated under the Bank Act.
With this neobank, you get access to personal bank accounts, investment accounts, global money transfers to 160 countries through Wise, and mortgages. It comes with a prepaid Mastercard that earns cash back. But on the downside, this card is not yet available in Quebec. Here are some EQ Bank highlights:
EQ Savings Plus Account
Their Savings Plus Account is a two-in-one deal, a hybrid chequing-savings account. And guess what? It's rocking a competitive 2.5% interest rate on every single dollar you stash away, with no account minimums or fees. It's all about unlimited and fee-free transactions here, whether you're paying bills, transferring funds, or sending eTransfers. And if you fancy sharing the love (and the account benefits), they even offer a Joint Savings Plus Account.
EQ Bank Card
Now let's talk cards. The EQ Bank Card is like your trusty debit card, with a twist. It's a prepaid Mastercard that lets you access your cash, shop online, and in-store. The best part is that they'll reimburse any ATM fees you encounter in Canada, and every purchase will earn you 0.5% cash back! Plus, you ditch foreign transaction fees too, making it a great card to use while travelling or shopping with international retailers.
US Dollar Account
If you deal in USD, EQ Bank's US Dollar Account earns you an impressive 3.00% annual interest on every buck, with no monthly fees. What's more, you'll get one of the market's lowest exchange rates when you need to buy US cash.
Investment products
Investment savvy? EQ Bank has got you covered with a range of options including Guaranteed Investment Certificates (GICs), TFSAs, and RSPs. Their GICs offer high rates and flexible terms, with deposits as low as $100. Meanwhile, the TFSA and RSP accounts boast a 3% interest, no account fees, and an automated recurring deposit feature.
Mortgage Marketplace
EQ Bank has even ventured into the mortgage market. Their Mortgage Marketplace lets you compare over 2,000 mortgage products from various Canadian lenders, and the whole application process can be completed online in just a few minutes. They'll match you with the right mortgage, connect you with a broker, and even help you get pre-approved.
Wealthsimple
[Offer productType="RoboAdvisorAccount" api_id="5f4fb3d6aa6089772c612036″ id="174317″]
Wealthsimple is an investing-centred fintech, and one of Canada's favourite online trading platforms. Established in 2014, the company has now amassed over $8.4 billion in assets under management (AUM). Their revamped Cash Account levelled them up from a beloved robo-advisor to a bonfided neobank. Let's take a look at Wealthsimple's key features:
Cash Account
Let's start with their spending and saving platform, the Wealthsimple Cash Account. Think of it as a Venmo alternative with a twist. This account comes with a free prepaid Mastercard offering unlimited transactions and a rewarding 1% cash back on your purchases. The real kicker? You can receive it as cash, stocks, or crypto! The app also lets you effortlessly send and receive money to and from your contacts in an instant. And every dollar in your account earns up to 4% interest.
Wealthsimple Invest
Investing made simple—that's what the Wealthsimple Invest platform is all about. This robo-advisor uses top-notch technology to craft a personalized investment portfolio that aligns with your goals, risk appetite, and timeline. You can choose to invest in an array of account types including RRSP, TFSA, RESP, RIFF, LIRA, or a personal non-registered account—all for a 0.5% management fee. Once your money is deposited, sit back and relax as Wealthsimple diversifies your portfolio, rebalances it, and reinvests your dividends.
Wealthsimple Trade
For the active investor, there's Wealthsimple Trade, a platform for commission-free stock trading. You can kickstart your journey with as little as $1 and choose between an RRSP, TFSA, or a personal non-registered account. The perks? No minimum account balances, access to fractional shares, instant deposits, real-time price quotes, and unlimited price alerts. Upgrade for $10 a month and you can enjoy no foreign transaction fees on US trades and instant deposits of up to $5,000.
Wealthsimple Trade doubles as a regulated cryptocurrency trading platform. It offers over 50 different coins to trade from, and the fees are built into the spread between the bid and ask prices, and they assure you'll never pay more than a 1.5-2% operational fee per trade. You can let Wealthsimple custody your digital assets for you, or transfer them off the platform to your own private wallet. And with the new crypto staking feature, you can earn up to 4.6% per year of passive income on certain coins.
Wealthsimple Tax
Last but not least is Wealthsimple Tax, a free, user-friendly tax filing service that optimizes your return, connects to your CRA account, and finds credits and deductions. If you find a better refund elsewhere, they'll reimburse you up to $50 of what you paid. It even connects to your crypto trading activity to make those dreaded crypto taxes a breeze too.
The online bank: a neobank owned by a financial institution
A neobank can also be owned outright by a traditional bank. Below are digital-only online banks that do not have any physical branches and are owned by a fully regulated Canadian financial institution. Instead of opening an account in a brick-and-mortar location, account setups and banking services take place on a digital platform through a computer or a mobile app on your phone. Here are some of our favourite neobanks that provide no-fee accounts, unlimited transactions, and other daily banking essentials.
Tangerine
[Offer productType="SavingsAccount" api_id="5f0ede06d87b2e4502530013″ id="173710″]
Tangerine is one of Canada's favourite digital-only banks, combining simplicity with generous benefits. This neobank was originally ING Direct, a Netherlands-based challenger bank that entered the Canadian market in 1997. But in 2012, Scotiabank acquired ING Direct and renamed it Tangerine. Until recently, Tangerine did have a handful of physical branches across Canada, called Tangerine Cafés. Those brick-and-mortar locations meant Tangerine wasn't technically a neobank.
However, the cafés have closed indefinitely, rendering Tangerine a digital-only online bank. It offers all the same essential banking services you're used to but with no monthly fees, better rates, and attractive rewards. Let's take a look:
No-Fee Chequing Account
Their No-Fee Daily Chequing Account is all about freedom and flexibility – think zero monthly fees, a Visa-debit card that's accepted like a credit card pretty much everywhere, and a slew of unlimited, fee-free transactions. Plus, you earn up to 0.10% interest on your balance. Need to use an ATM? No problem! You have free access to all Scotiabank ATMs across the country.
Savings Account
Now, if you're all about saving up for a rainy day, Tangerine's high-interest savings accounts are quite the treat. With a standard rate of 1.00%, no monthly fees, and no minimum balance, they're a no-brainer for those looking to grow their money. Reaching your savings goals becomes effortless with an Automatic Savings Program (ASP) and unique Money Rules features. You can choose from a range of savings accounts, including a basic savings account, TFSA, RSP, RIF, and even a US savings account.
Credit cards
For the spenders out there, Tangerine offers two fantastic cash back credit cards, the Tangerine World Mastercard and the Tangerine Money Back Mastercard. Both are free with no annual fee, and they let you earn a whopping 2% cash back in up to two spending categories of your choice – with no cash back limit! The World Mastercard takes it up a notch with additional perks like Mastercard Travel Rewards, Boingo WiFi access, subscription services, rental car insurance, mobile device insurance, and airport lounge access.
Investing & lending solutions
But Tangerine doesn't stop there. They also offer Guaranteed Investment Certificates (GICs), non-registered investment funds, mortgages, home equity lines of credit, lines of credit, and business accounts.
Simplii Financial
[Offer productType="CreditCard" api_id="61a1344886fe7e29f7ee241c"]
Simplii Financial is a digital-only online bank owned by CIBC. Before venturing into the neobank space, CIBC had previously partnered with Loblaws to provide banking services to customers of President's Choice Financial, commonly known as PC Financial. The partnership ended in 2017 when CIBC and Loblaw's parted ways. CIBC created it's own online-only neobank called Simplii Financial which offers free bank accounts and other financial services. Unfortunately, Simplii Financial is not available in Quebec.
Chequing account
The Simplii Financial No-Fee Chequing Account is a gem, offering you unlimited debit card purchases, bill payments, withdrawals, and Interac eTransfers at no cost. Plus, you get free access to all CIBC ATMs across Canada, making cash withdrawals a breeze.
High interest savings account
Let's head on over to their High Interest Savings Account, which made the Hardbacon list of Canada's best HISAs. Free of monthly fees, this account gives you up to 5.25% interest on every dollar, with no minimum balance to worry about. Now, it's not directly accessible through your debit card or an ATM, but moving money to your Simplii Chequing Account for use is as easy as a few taps on your phone.
Credit card
For those of us who enjoy a bit of spending, the Simplii Financial Cash Back Visa Card is a no-brainer. This no-fee credit card offers a stellar 4% cash back on your dining and coffee shop outings, 1.5% back on gas, groceries, drugstore purchases, and pre-authorized payments, and a solid 0.5% back on all other purchases. And guess what? There's no limit on how much cash back you can earn. Your rewards are paid out annually in December, making it a nice little year-end bonus!
Investing, borrowing, and students
But wait, there's more! Simplii Financial has a roster of additional products, including global money transfers, digital gift cards, foreign cash, and a variety of investment products such as TFSAs, RRSPs, GICs, and Mutual Funds. You can also access loan products, including mortgages, personal lines of credit, secured lines of credit, and personal loans. They also offer a student banking package and a USD savings account.
Neobank pros and cons:
Pros
Free or low-fee banking services
Better interest rates on savings accounts
Lower rates on loan products
Better rewards or cash back rates
Quick access from anywhere
Fast application process
More creative, flexible products & services
Cons
Less personal without branches & tellers
No physical branches if you need assistance
May require a credit check to open an account
Limited ATM access
Limited products and services
Banking requires internet access and a computer or smartphone
FAQs about neobanks in Canada
Got unanswered questions? Find the answers you're looking for right here.
What are neobanks?
Neobanks are digital-only financial institutions that operate without physical branches. They provide banking services entirely online, usually through a mobile app or website. They offer many of the same services as traditional banks, like chequing and savings accounts, money transfers, rewards programs, and sometimes even loans and investment products. They're known for their user-friendly interfaces, lower fees, and innovative features designed to simplify banking and personal finance.
Are neobanks CDIC insured?
Not all neobanks in Canada are insured by the Canada Deposit Insurance Corporation (CDIC). Whether a neobank is insured or not depends on their licensing. If the neobank has a banking license or is affiliated with a CDIC member institution, the funds held there are insured up to $100,000 per account type in the event of a bank failure. It's crucial to check if your chosen neobank is CDIC insured for the protection of your funds, or is partnered with an institution that is.
Are neobanks safe?
Yes, neobanks in Canada are generally safe to use. They utilize high-level encryption and security measures similar to those used by traditional banks to protect your financial data. However, it's always a good idea to ensure that the neobank you choose is licensed and, ideally, insured by the CDIC. Also, make sure they have a robust privacy policy in place to protect your personal information.
How do neobanks work?
Neobanks operate primarily through mobile apps or web platforms, eliminating the need for physical branches. Once you've downloaded the app and opened an account, you can perform banking operations like deposits, withdrawals, transfers, bill payments, and more, right from your device. Many neobanks offer features like spending analytics, automatic savings programs, real-time notifications, and even investment options. They often provide competitive interest rates and lower fees compared to traditional banks, as they have less overhead without physical branches.