The 10 Best Amazon Alternatives in Canada to Save on Your Online Shopping
Yes, there are Amazon alternatives in Canada even though the giant Amazon is so well-known that it is often the first site we think of for a variety of purchases. On Amazon, you can find electronic devices, books, video games, movies, household items, and even promotional offers. Need a new BBQ for entertaining your friends this summer? Amazon is there to outfit your entire yard. Just pull out your favourite credit card and you're set! However, there are a series of other platforms that can sell you the same products or their equivalents, cheaper. These are the 10 best Amazon alternatives in Canada where you can find items at better prices than on Amazon.
1. AliExpress, the Chinese alternative to Amazon that delivers everywhere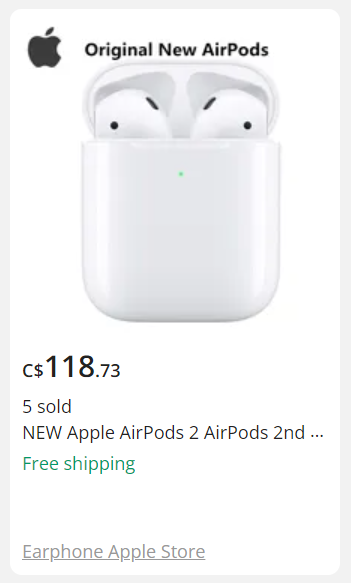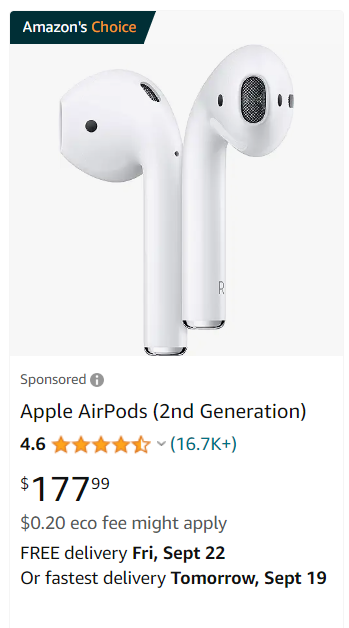 AliExpress is probably the best Amazon alternative in Canada. Like Amazon, it allows you to buy a variety of items, ranging from furniture to children's toys and beauty products. The site belongs to Alibaba, the Chinese retail giant. For comparison purposes, I looked at the price differences of electronic products, since AliExpress is located in China. For example, second-generation Apple Pro earbuds sell for $60 less on AliExpress and delivery fees are minimal. However, you will receive them at the end of May, while Amazon will deliver them in the next few days.
It's not just electronic devices that are usually cheaper on AliExpress. Need to buy a gift for your niece? I found impressive prices on this platform. For example, the house of pop star Livi from LEGO Friends retails for $36.58 (plus shipping costs of $10) while it costs nearly double in stores and all LEGO items are quite expensive on Amazon.
Moreover, AliExpress is full of arts and crafts supplies. I know a person who started their craft business here and orders all their supplies from this site. It's therefore a good way to make purchasing supplies for a small business more cost-effective.
In reality, the two platforms offer few identical products. AliExpress offers many more products from Chinese brands. It can then become more difficult to compare prices. For example, are two sweaters of the same quality, do they have the same value if their look is similar, but they are not the same brand?
What AliExpress lacks is a selection of books, movies, and other cultural products. A search for a popular movie like Spiderman gave me interesting results on AliExpress, but expected results on Amazon. Unless you're keen on a poster or a gadget that "shoots" spider webs, there's no point in shopping on AliExpress for cultural products.
2. Newegg, for the tech-savvy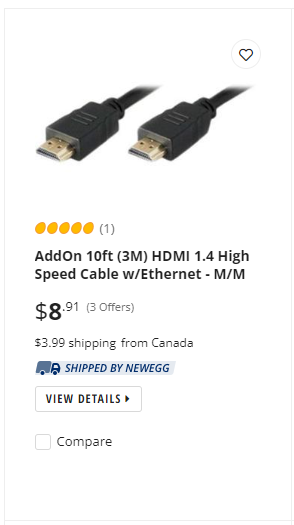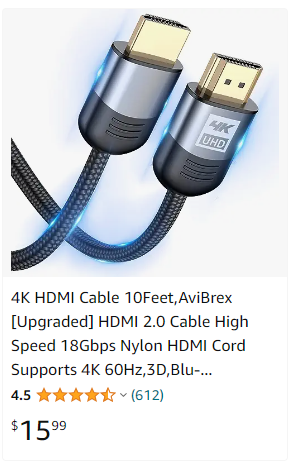 Founded over 20 years ago, Newegg is another top Amazon Alternative in Canada. It started as a retailer of computer components. Initially geared towards DIY enthusiasts, their audience has significantly expanded since then. Today, Newegg offers consumer electronics, smart devices, and games. It's a great alternative to Amazon for these types of products.
I couldn't find AirPods on Newegg to compare them with the prices on Amazon and AliExpress. However, Newegg offered me Beats headphones and other brands. I found a 10-foot long 4K HDMI cable for only $8.91, while Amazon sells it for $15.99.
It's also interesting to compare online products with those you can buy in-store or on a store's transactional website. Many of them have a price match policy that allows you to match the lowest price you found elsewhere. For example, do a search on Newegg and ask BestBuy to match its price for the same item.
Among the ongoing promotions, I could get a blender for about $200 with free shipping. Although it is difficult to get the exact same model on both platforms, the prices are comparable. The advantage of Newegg is that it also sells all possible replacement parts. If you want to repair your blender, you will save with Newegg.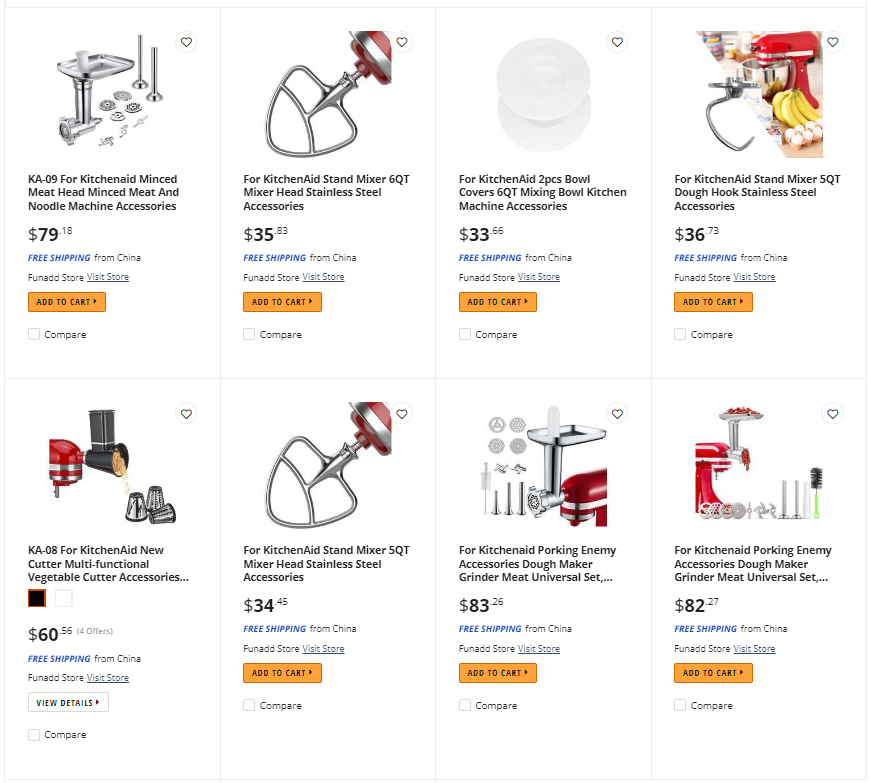 The platform is also affiliated with programs like Affirm (like Amazon) and Zip to offer you monthly payment plans.
3. Temu, the new player to watch
Temu is a new player in online commerce and quickly becoming a favourite among people looking for Amazon alternatives in Canada. This platform allows Chinese manufacturers to directly access the North American market without the need to maintain costly warehouses. On Amazon, you get slightly higher prices in general, but fast and reliable delivery. With Temu, you will sometimes see a lower price, but consumer reviews vary in terms of the quality of items received. Temu also offers free delivery, but it is rather slow, as many items come from China.
Temu is especially interesting when you want to order fashion clothes and accessories or items for the kitchen and home. Interestingly, Temu also sells generators and solar panels, as well as telehealth gadgets.
As a comparison, a vegetable chopper priced at $35 on Amazon sells for only $23 on Temu. The platform also allows you to watch demonstration videos instead of the traditional item photos. I also found shoes priced at $15.08 while a very similar model sells for $46.99 on Amazon. Temu really seems cheaper. However, it is often difficult to clearly see the brand of the items, which can cause confusion.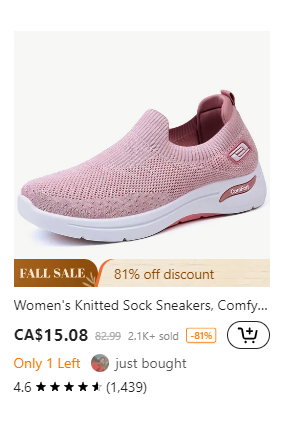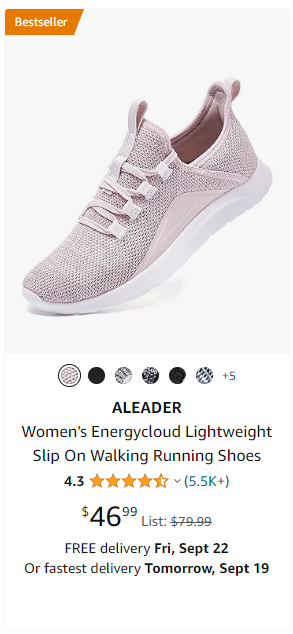 4. Shein, for fashion
Shein specializes in fashion and is a great Amazon alternative in Canada if you like to buy clothes on Amazon. Founded in 2008, the company owns its entire production and distribution chain. You can find sportswear, maternity clothes, and swimsuits here. Its app was widely downloaded during the pandemic, surpassing Amazon.
Shein manages to offer enticing prices by controlling its production chain, from design to manufacturing. You can find bathing suits and sweaters for $10, sometimes less. At that price, it's worth a try. Shipping is not expensive at $3.95 and it's even free if you order more than $39. For express delivery, it's free from $130. On Amazon, it will be hard to find the equivalent at a better price including delivery. It's true that you can find them for less than $1, but delivery will cost you $10, $15 or $20. Shein has its own inclusive brand image, and that's one of the reasons why it's a good alternative to Amazon for clothes.
5. eBay, for auctions
eBay may not be what it was in the public imagination about fifteen years ago, but it remains a key player in online shopping and has earned its spot as one of the best Amazon alternatives in Canada. For example, AirPods sell there between $100 and $200. Like on Amazon, you can choose new or used products.
Originally, eBay was an auction site, where multiple users could place a bid on an item within a given period. It still stands out for this feature. For example, if you click on "Auction Format", you find the same AirPods for prices as low as $70.00. Will you win this auction? That's far from certain! Plus, be careful with shipping costs.

6. Walmart, live better!
At Walmart, you can do a full grocery shop, furnish your home, clothe your kids, and gear up for summer sports, after purchasing a television. This makes it another strong Amazon alternative in Canada. Second-generation AirPods Pro sell for $279.98 online, which is a bit more expensive than Amazon, and shipping can be quite expensive.
Walmart's advantage is that they also have physical stores, so you can choose pickup for certain products, like these headphones, and save on delivery. Like Amazon, this store has its own Walmart cash back credit card. Plus, the choices are wider when you want to do your grocery shopping. For example, Go Go Squeeze compotes are $9.97 on Walmart's website while they are $9.99 on Amazon, but the latter has shipping costs of $5.73.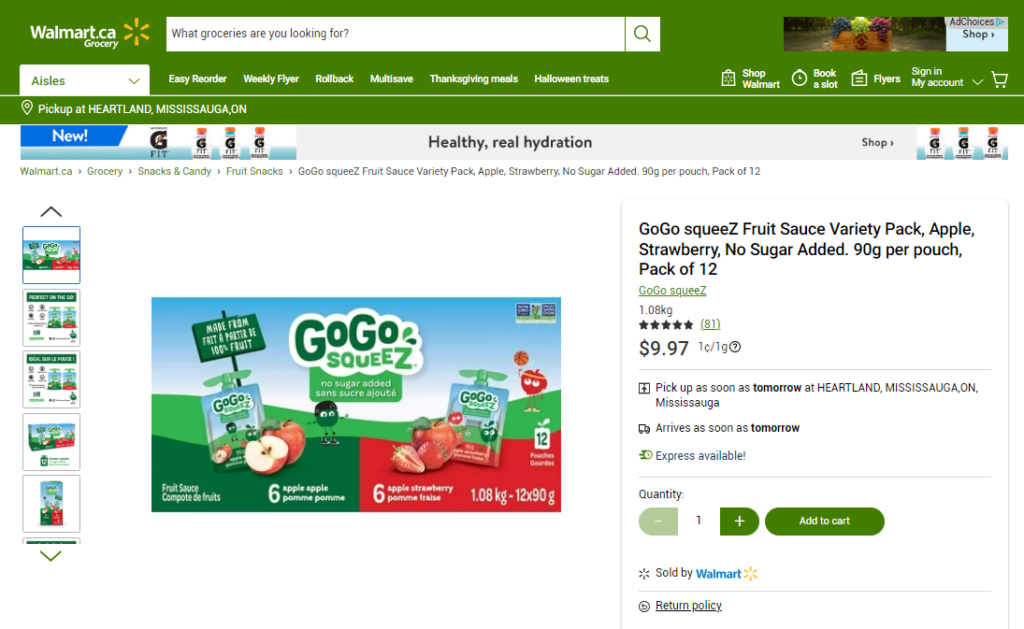 7. Rakuten, coupons and cashback
Rakuten is not an online retailer, but a cash back app that consolidates online sales sites from various brands onto a single platform. Despite this, Rakuten is still a great choice to access a wide range of items that you can also find on Amazon. Rakuten offers a cash back program. You can download the app or add the Rakuten extension to your web browser to take advantage of the offers. However, you must create an account to access the platform. Rakuten has tons of commercial partners. The platform displays the percentage of savings or cash back you can earn and redirects you to its partner's site.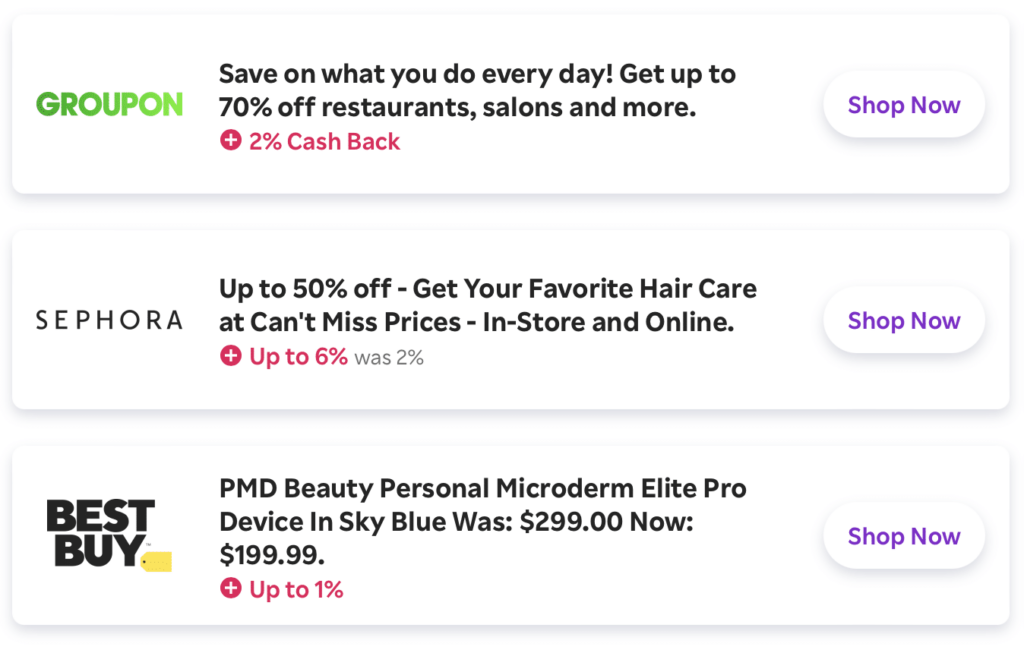 8. Bed Bath & Beyond (Formerly Overstock.ca), Amazon alternative for home
If you love stylish home goods but don't want to pay an arm and a leg, check out this great Amazon alternative in Canada. While Amazon offers furniture, decor accessories, clothing and toys for the family, Bed Bath & Beyond specializes in this sector. Originally known as Overstock.ca, the platform bought Bed Bath & Beyond's brand yet still offers the same great deals. Its membership program is similar to Amazon Prime, for less than $20 a year, which includes free shipping, free returns or credit for many purchases, among other things. For example, for similar sizes of Safavieh rugs, the price difference is quite large.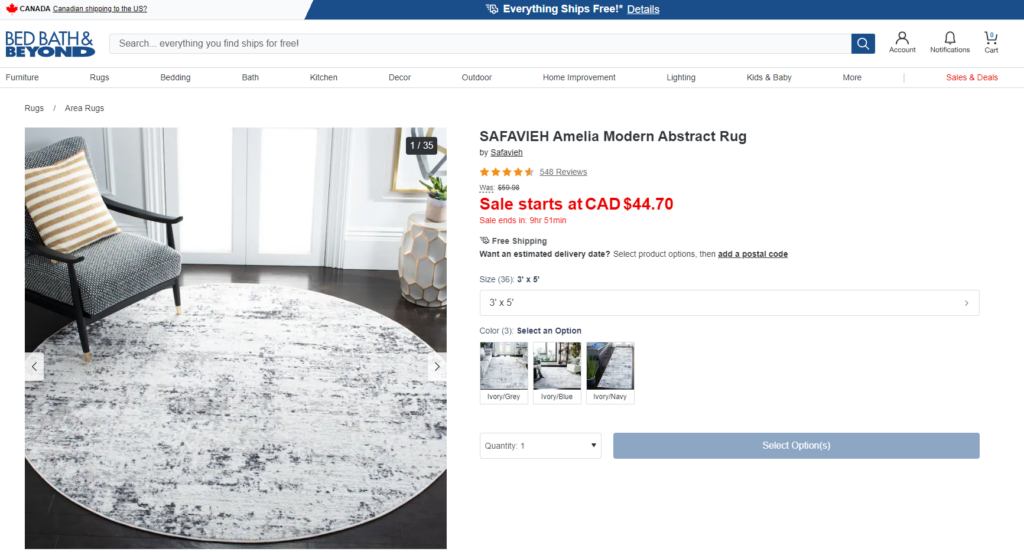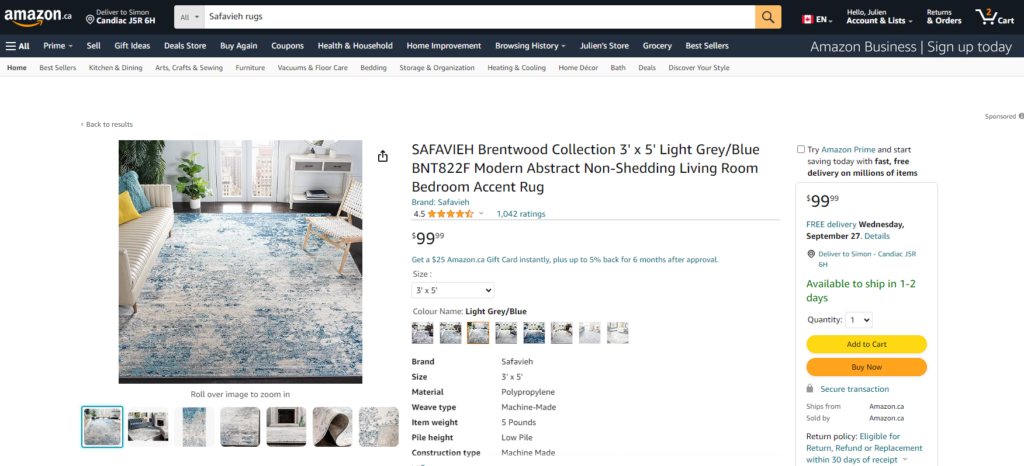 Moreover, I particularly like the easy search on Bed Bath & Beyond. The items are very well categorized. It's a good alternative to Amazon for everything related to the home.
9. Etsy, to support artisans
If you want handmade products, Etsy was and remains the queen in this field. Jewelry, posters, pottery, and other decorative items are sold directly by their creators. It's perfect for gifting your loved ones. And it's just in time for the high holiday season which is fast approaching. Since the items found on Etsy are often unique, it's hard to find the same ones on Amazon. However, comparable ones can be found. For example, a mushroom-shaped lamp is a bit cheaper on Amazon. This seems generalized, but supporting artisans directly is well worth a few extra dollars, making this site the best Amazon alternative in Canda for unique artisanal goods.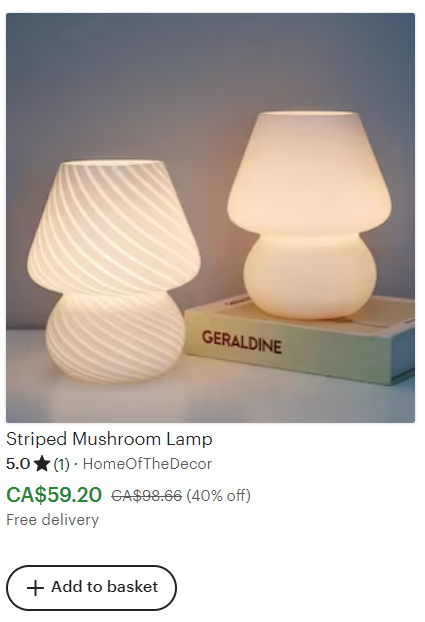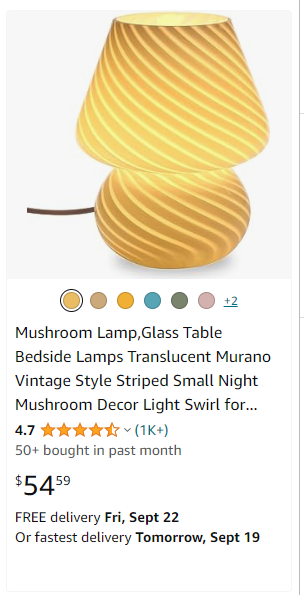 10. Google Shopping, for convenience
Is there anything Google doesn't do? Google Shopping is very convenient as it is accessible directly from the most popular search engine. We don't even need to go to a site and we can see the price of several mushroom-shaped lamps. Ah, Google, always so efficient! However, we end up with a variety of products that are more or less similar. Before you hop on Amazon to search for something specific, check out Google shopping to see where you can get it at the best price – making it another one of the best Amazon alternatives in Canada.
Despite all the advantages of platforms and apps that allow us to buy online at low cost, Amazon is far from losing its place. Its services are constantly expanding. Delivery is not always free, but it's rarely expensive enough to end a purchasing process. We can now buy grocery products on Amazon and Prime is well known for the movies it offers in addition to fast delivery.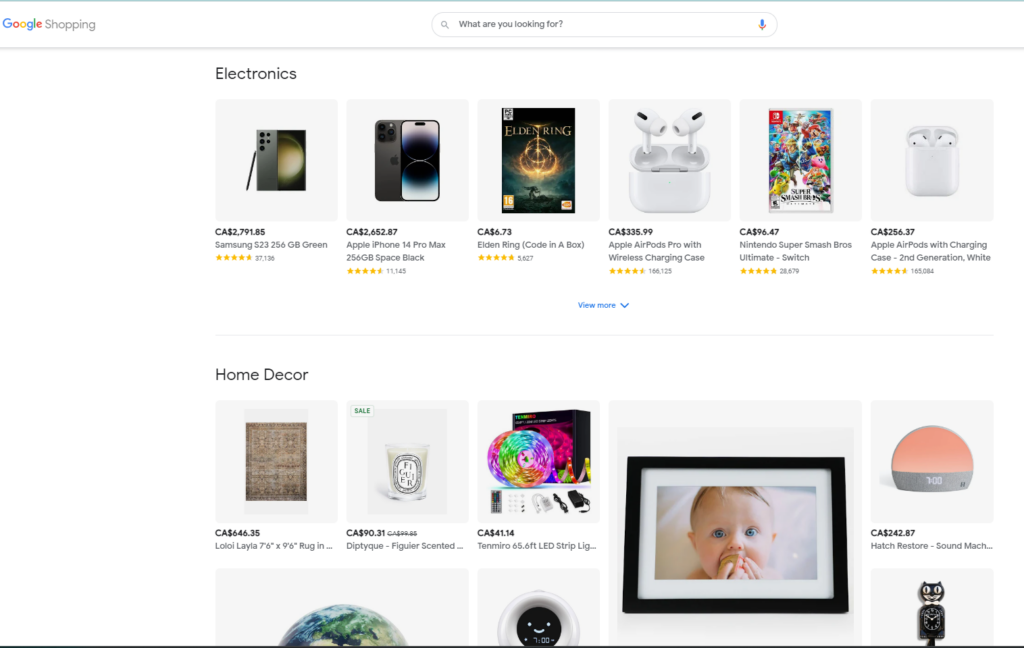 EQ Bank Card
Benefit from 0.5% cash back on purchases
This 100% free prepaid Mastercard also offers free ATM withdrawals in Canada, no FX fees, and up to 3% interest on deposits.
Get 3.00%* on everyday banking with EQ Bank