The 5 Best Daily Deal Sites in Canada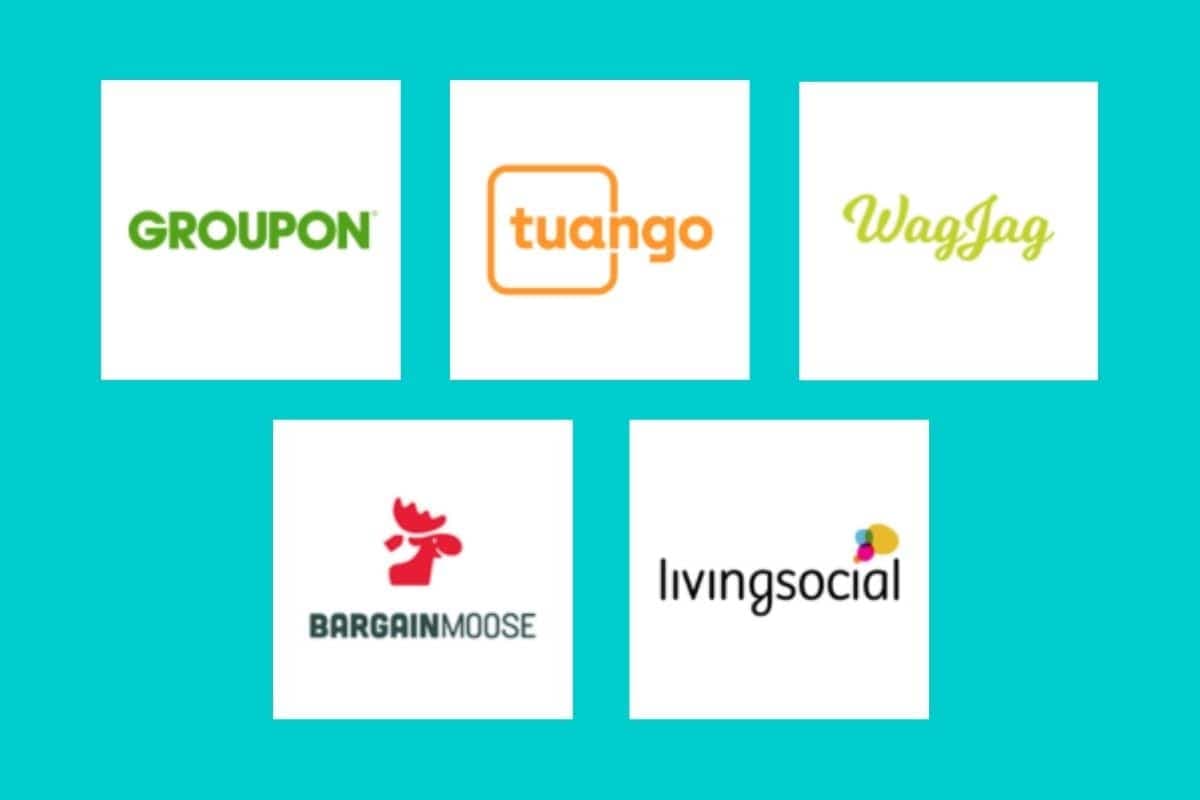 Table of Contents
[ Show ]
Whether you want to book a getaway, enjoy a local outing, or purchase an item, daily deal sites can be a great way to save money. The sites generally allow you to purchase heavily discounted items or vouchers, though they sometimes come with extra fine print (for example, you may only be able to redeem a salon voucher on weekdays). Still, the steep discounts mean that a quick scroll through a daily deal site can make fun outings more affordable.
Different sites may occasionally offer the same deals, but generally, each site will be filled with a variety of unique listings. As a result, if you have the time to do so, we recommend checking a variety of sites to secure the lowest price possible. To help out, we have rounded up our favourite daily deal sites (most of which offer discounts for Canadian businesses). The next time that you want to make a purchase, consider browsing these sites as a first stop.
1. Groupon
Groupon is likely the most well-known daily deal site, and for good reason. The retailer sells consumer goods, outing vouchers, and getaways (heads up though: vacations are processed in USD). Discounts vary by listing, but the site frequently runs promotions that can lower your final bill by an extra 10-20%. To improve deals even further, consider using a credit card with a high rewards rate and using a cashback browser extension such as Rakuten.
When purchasing a Groupon voucher, it is extremely important to understand what is actually being offered and read all of the fine print. For example, if I want to purchase a $19.50 ticket to the Royal Canadian International Circus (which is a respectable deal considering the fact that a ticket usually costs $42.38), I could only pick from 3 of the remaining 11 dates. I would also have to bring a printed copy of the voucher to the show and could not purchase more than 8 tickets from the same account. If I missed my scheduled show, I would not be entitled to a refund.
Discounts make it easier to take a chance on a new, unfamiliar experience, but Groupon's site also makes it easy to see past customers' experiences. When items or local vouchers have a lot of reviews, Groupon allows you to filter comments by keywords. For example, when browsing through the 10,000+ reviews of Woodbine Mall's Fantasy Fair amusement park voucher, Groupon allows you to filter comments that mention "activities", "crowd", "food", "wait time", and more. Groupon's hotel listings also import reviews from Tripadvisor and Google Maps, though these are displayed separately from Groupon's reviews.
2. Tuango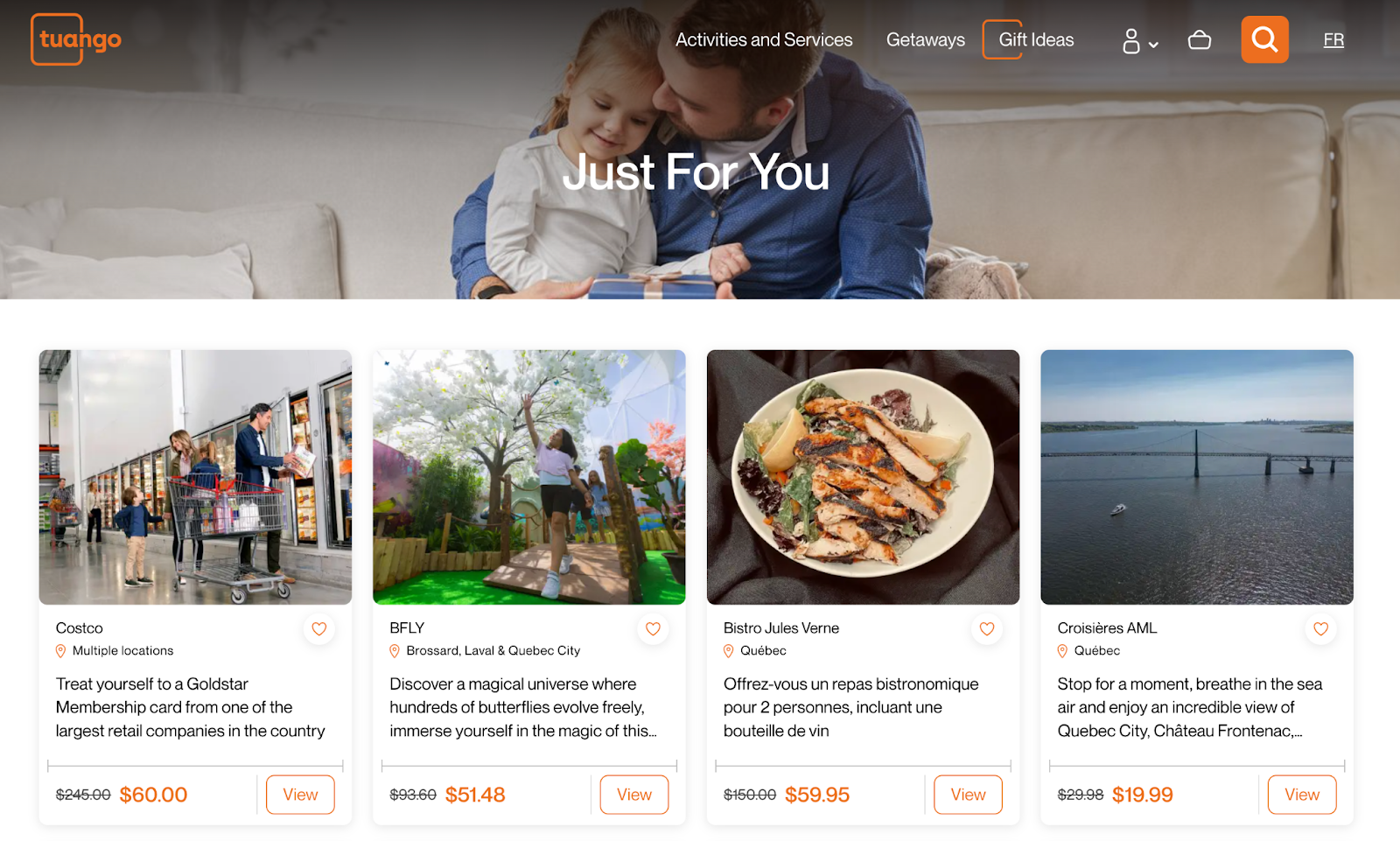 Tuango is a relatively smaller daily deal site that focuses on Quebec-based local vouchers and hotel deals. The company's Instagram account also occasionally advertises discounted excursions that partner companies offer (for example, a recent post promoted a 16 day trip to Italy and Greece for $3998+ that is organized by Wingbuddy).
Neo Credit
None with the standard Neo plan
You can earn 2% cashback at the pump or convenience store locations and 4% cashback on transactions made through the Shell App. This offer is only available in British Colombia, Alberta, Saskatchewan, Manitoba and Ontario.
Although Tuango offers a relatively limited variety of vouchers, it makes up for it with steep discounts. For example, it costs just $11.50 for two people to spend all day painting ceramics at Céramic Café (the outing would normally cost $34.50). Unfortunately though, vouchers may come with strict rules or unintuitive fine print restrictions. The Céramic Café voucher is not eligible at the business' Montreal location and advises customers that each location may set their own reservation requirements. The voucher also does not include any ceramic pieces that will be painted (the fee only covers the paint/brushes/accessories, glaze, and firing fee). Additionally, the fine print states that the offer must be redeemed before September 30, 2023 — although Céramic Café (and other businesses) may legally have to accept the purchase value of Quebec residents' expired vouchers due to legal requirements.
Like most daily deal sites, Tuango allows customers to review their purchases. However, when viewing a listing, reviews can only be sorted by score or recency. Tuango's website does not provide a way to filter or search reviews, making it harder to check reviews for points of concern. 
3. Bargainmoose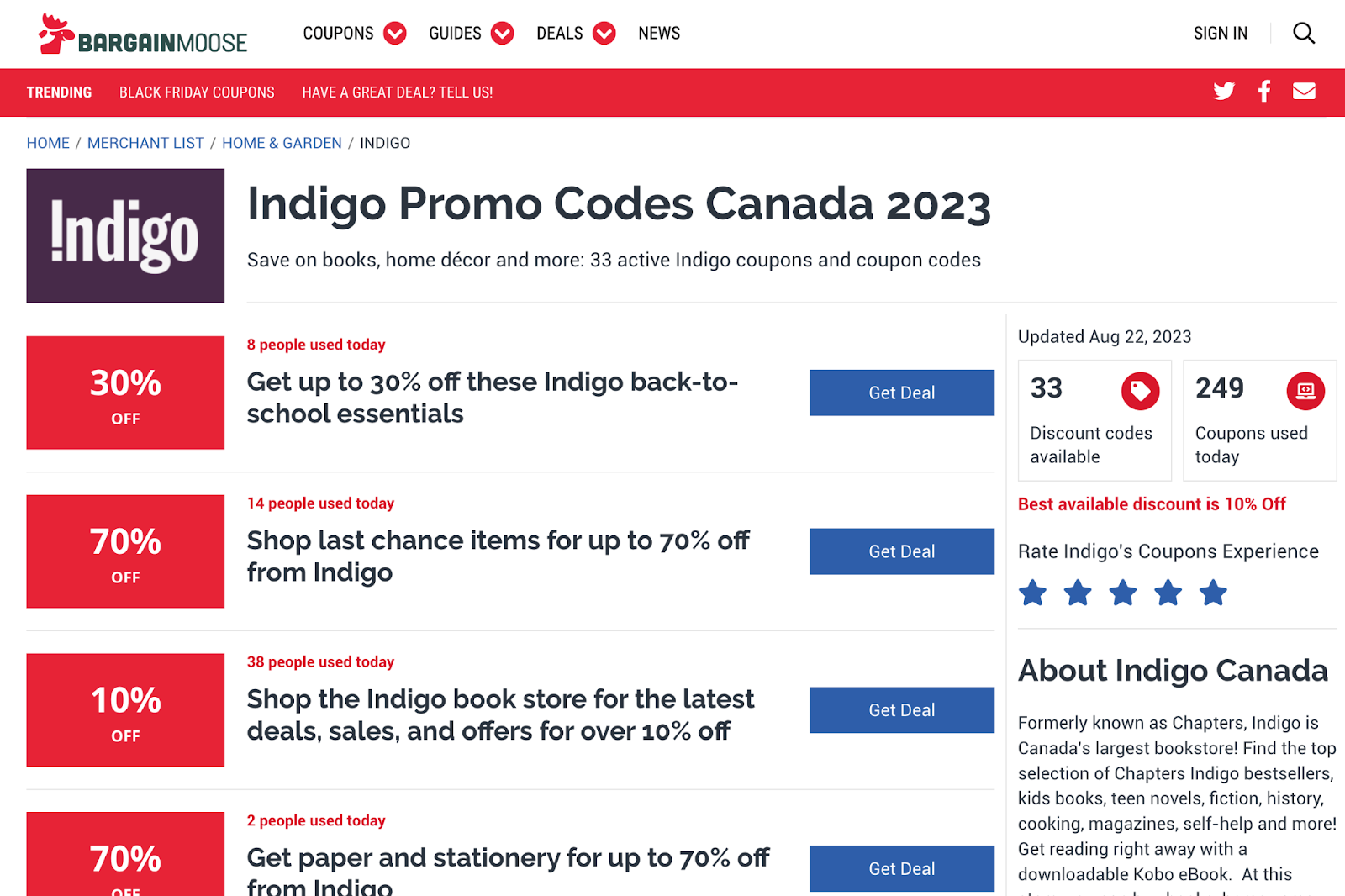 Unlike the other deal sites on this list, Bargainmoose does not offer discounted vouchers for local businesses. Instead, the site is split into four categories: the 'Coupons' section lists various stores' current promotions, 'Guides' is full of general interest articles (topics include recipes, deals, DIYs, and more), 'Deals' contains posts that talk about steeply discounted products, and 'News' shares information about businesses that operate in Canada (though it does not seem to be updated frequently).
Bargainmoose does not make it easy to compare one store (or product) to another — the site does not feature reviews and you must manually select a store to view its relevant discounts. Still, if you want to pick up an item that is sold at several shops, it may be worthwhile to scroll through each site's Bargainmoose page to see if any deals might be relevant. For example, Bargainmoose's Home Hardware page made it easy to see that Radley tools were up to 50% off and shipping is free if you spend more than $99 (even though there is no mention of the promotion's deadline).
4. WagJag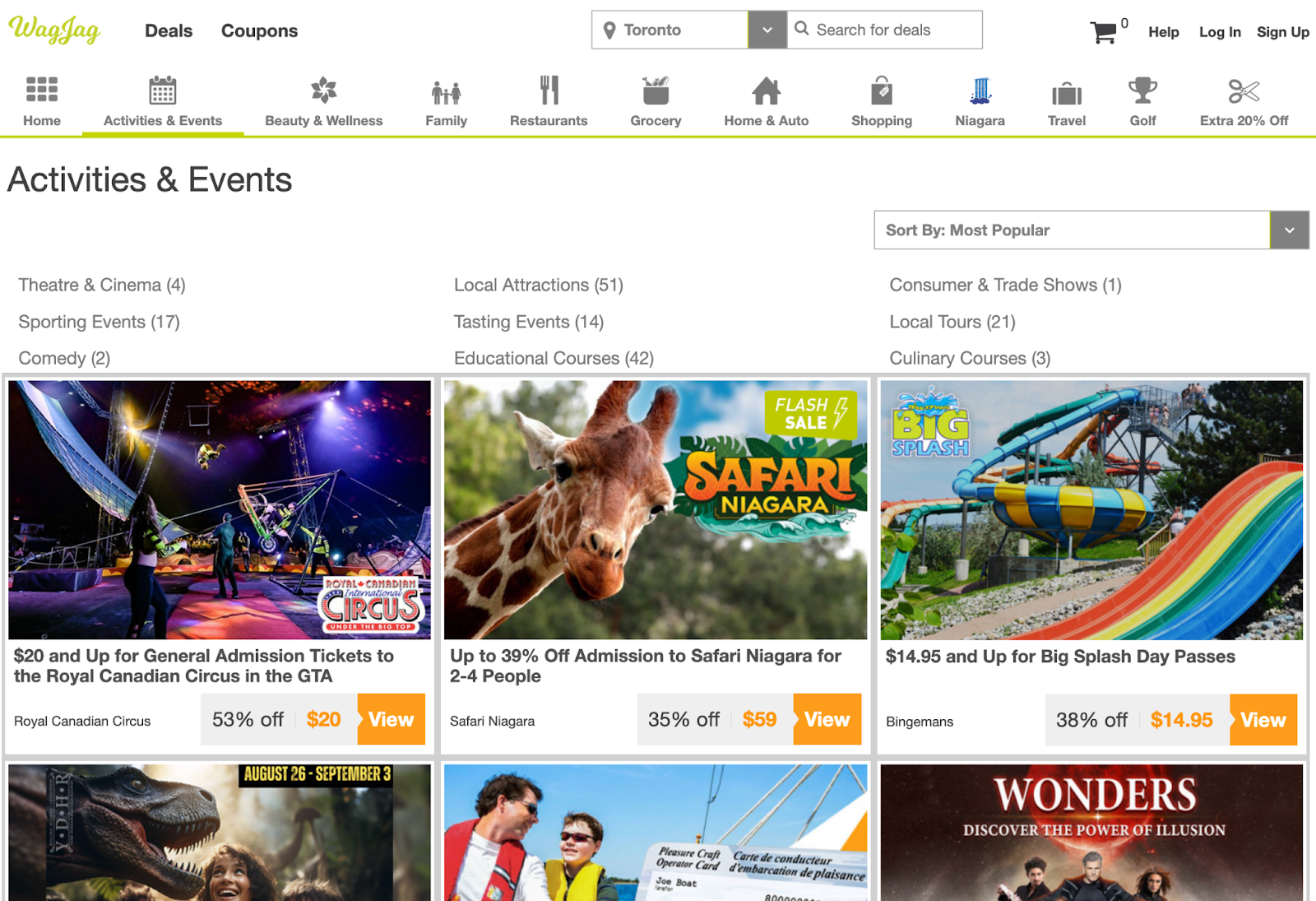 Much like Groupon, WagJag offers discounts on travel accommodations, local business vouchers, and various items. The site also includes a coupon database which allows you to view current promotions by store or purchase category. 
Of course, some WagJag discounts are steeper than others — though you will need to double-check the terms and conditions to avoid extra fees. For example, a voucher for two people to go for afternoon tea at the Windsor Arms hotel costs $90 (a 40% discount from the $150 ticket price), but does not include taxes or a tip. Additionally, the voucher is only good for a 2.5 month window (in this case, May 15 to August 31) and may only be used on weekdays that are not holidays. As per WagJag's policy, if you do not redeem your voucher by the end of its window, you are not eligible for a refund. This is not necessarily an issue if you plan to use a voucher on a specific date before you purchase it, but may cause problems if you buy it for vague 'future use' (personally, I have redeemed two WagJag vouchers close to the end of the specified window because anticipated plans never materialized and I would have otherwise lose the value).
Unfortunately, WagJag's website does not include any reviews. When purchasing vouchers for local experiences, Google Maps reviews can be used as a substitute. It is much harder to tell if physical goods are worthwhile or not — and to make matters worse, assuming that you do not receive a damaged item, physical goods are final sale after 48 hours of your order being placed. Still, some deals may be worth taking a chance on.  
5. LivingSocial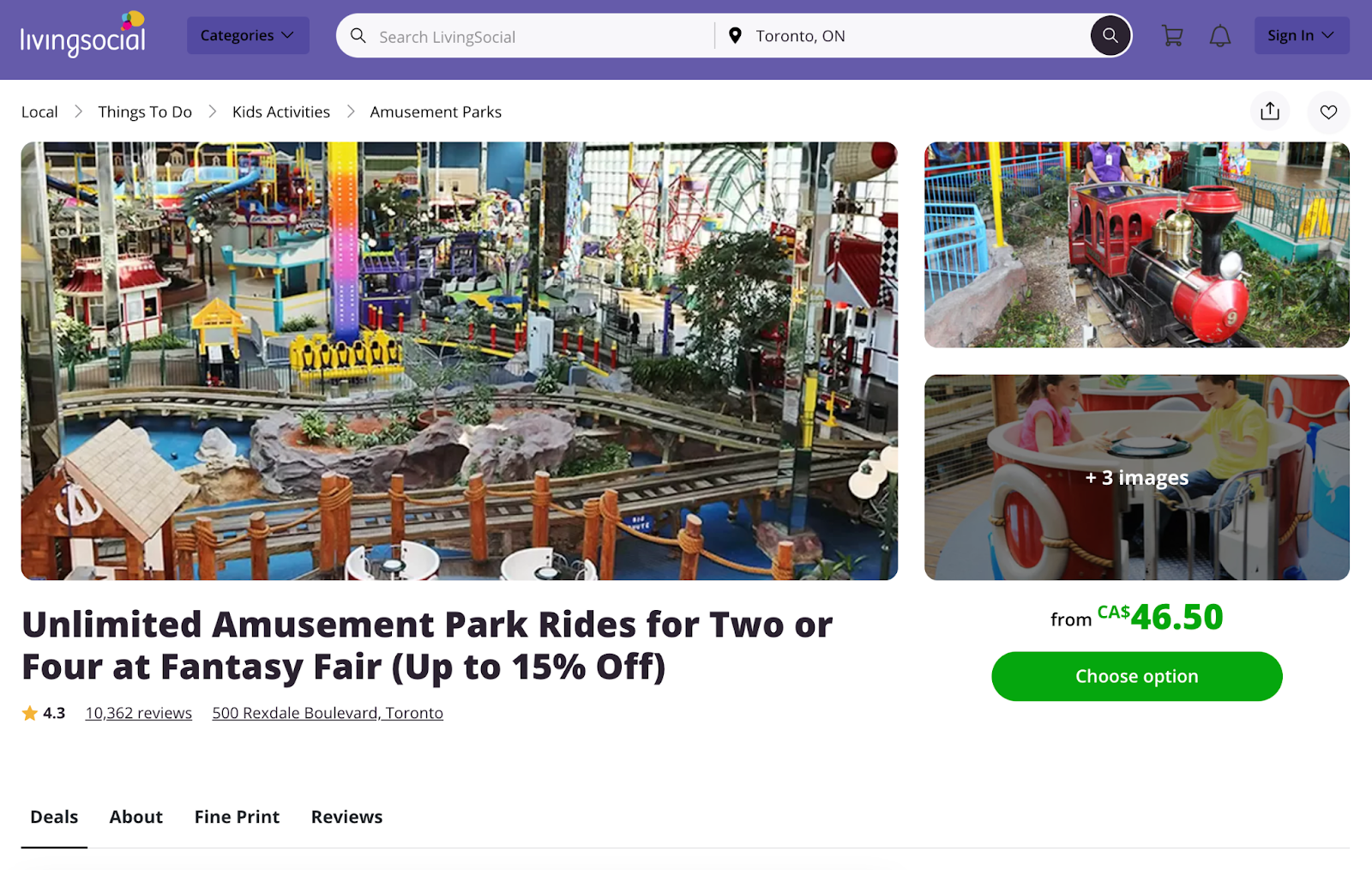 LivingSocial is a subsidiary of Groupon and offers many of the same discounts on local vouchers, goods, and travel purchases. In fact, some of the offer descriptions and fine print details seem to be copied and pasted directly from Groupon's site. For example, the Fantasy Fair Groupon offer that was mentioned above can be found word-for-word on LivingSocial. In fact, the only major difference between the sites' Fantasy Fair vouchers is the return policy — LivingSocial passes are generally eligible for a refund within three days of purchase, whereas Groupon passes can generally be refunded within fourteen days. All Groupon reviews seem to be available on LivingSocial, too, though there is no way to filter by keyword. 
Ultimately, despite the fact that LivingSocial is very similar to Groupon, the site is still worth a visit, especially for travellers. I was able to find deals for hotels on LivingSocial that were not listed on Groupon. However, when you do not have enough time to scroll through both sites, Groupon's more flexible return policy may make it a safer bet to book with.
EQ Bank Card
Benefit from 0.5% cash back on purchases
This 100% free prepaid Mastercard also offers free ATM withdrawals in Canada, no FX fees, and up to 3% interest on deposits.
Get 3.00%* on everyday banking with EQ Bank