Honda vs. Hyundai: An In-Depth Comparison for Canadian Drivers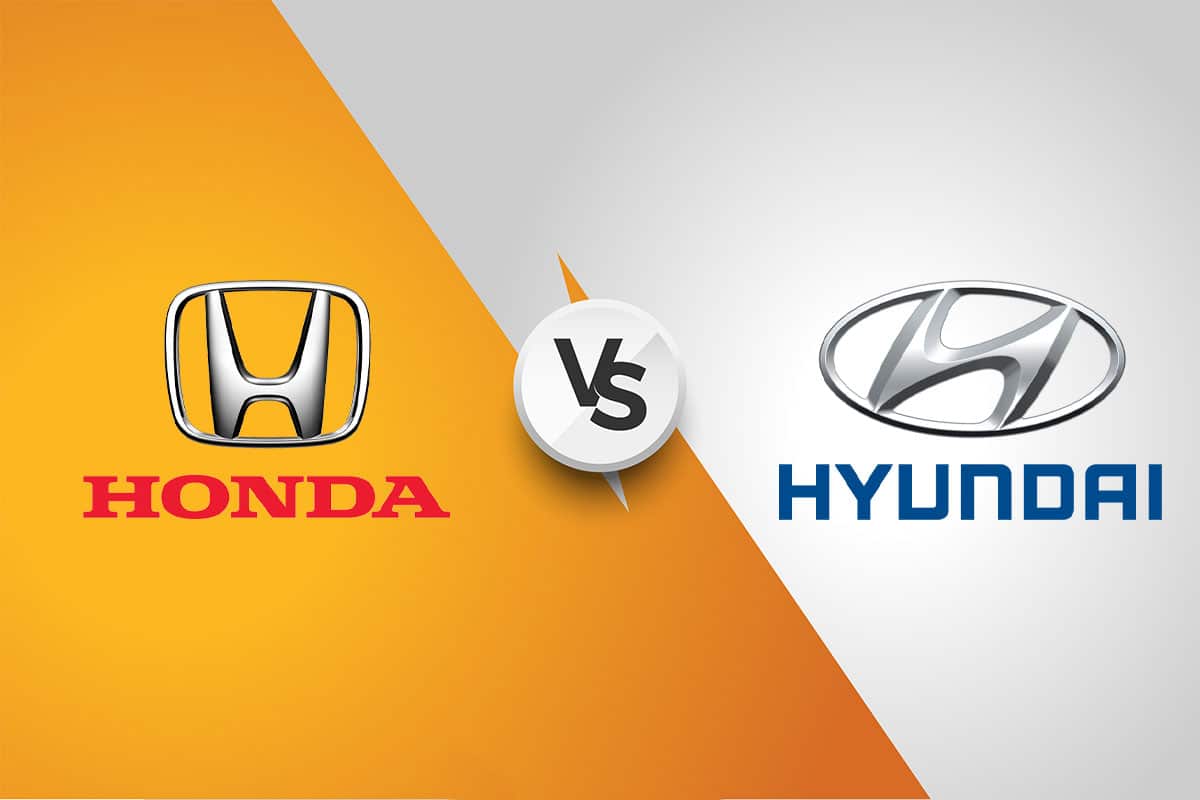 Table of Contents
[ Show ]
Honda and Hyundai are both incredibly popular vehicle manufacturers in Canada for several reasons. Both make affordable cars, making them ideal for those shopping on low- and mid-range levels of the market. But don't let the words "low" or "mid" fool you – Honda and Hyundai offer superb value for money with reliable vehicles that get great mileage.
As a potential buyer of one of these makes, you have a question – who comes out on top in the battle of Honda vs. Hyundai?
Here, that question is answered by looking at some of the most popular models each manufacturer provides. We also look at how Honda and Hyundai stack up in some of the key categories that Canadian drivers consider when making their purchases, with rankings in each category to show you how specific models compare.
Honda vs. Hyundai – Our Rankings Explained
Before we get going, here's a little explanation of how we compared the Honda and Hyundai vehicles.
First, we settled on five categories to test:
Price
Fuel Efficiency
Insurance
Engine Power
Safety
From there, we selected five of the most popular cars from each manufacturer:
Honda – The Honda Civic, Honda CR-V, Honda Accord, Honda Odyssey, and Honda Pilot.
Hyundai – The Hyundai Elantra, Hyundai Kona, Hyundai Sonata, Hyundai Santa Fe, and Hyundai Ioniq 5
Each category kicks off with a pair of tables, one for each manufacturer, demonstrating the raw numbers related to each category. Finally, the categories have an analysis section, where we stack the Honda and Hyundai vehicles against one another to come up with an ultimate brand winner for each category.
Category 1 – Price
Every buying decision starts with the price. Yes, many other factors influence your decision, but the price attached to a vehicle instantly tells you whether it's within your budget. Honda and Hyundai both specialize in affordable vehicles, frequently topping the list of the best cars Canadians can buy on a budget.
But how do they stack up against one another?
Honda Pricing
Hyundai Pricing
Honda vs. Hyundai – The Price Analysis
At first glance, it looks like Hyundai comes out on top in pricing. It has three models in the top five, and its top two (the Elantra and Kona) are about $8,000 and $6,000 cheaper than the Honda Civic. But there are caveats here. Both the Elantra and Kona are compact vehicles, meaning they'll naturally cost less than the Civic, which is a sedan.
The fairer comparison comes between the Civic and Hyundai Sonata, both sedans. There, the Civic comes in as slightly cheaper, though there's only around a $400 difference, and prices may vary slightly depending on where you buy your vehicle and how you outfit it.
The comparison becomes more interesting as you get into the SUV side of the market. Honda's compact CR-V wins there, costing almost $1,500 less than the Hyundai Santa Fe. Honda's Accord isn't much more than the Santa Fe, either, and provides more power and performance.
On the luxury end of the scale, Hyundai's Ioniq 5 weighs in at a touch less than $50,000 and comes with the benefit of being an electric vehicle (EV). The Honda Pilot is the only car on the list to break the $50,000 barrier, though it's marketed as a premium SUV, so that's understandable.
So, it's tough to choose in this part of the Honda vs. Hyundai battle. Hyundai has the cheaper cars in the Kona and Elantra, both being compact vehicles for urban driving. When you start stacking up like-for-like car classes, Honda generally comes out on top, though the difference is minor.
Winner – Tie
Category 2 – Fuel Efficiency
At the time of writing, regular unleaded gasoline costs about $1.59 per litre in Ontario. If you have a real gas guzzler, the cost of filling up your vehicle can eliminate any of the benefits you get from it being a lower price, leaving you with a constantly repeating bill on your hands.
So, fuel efficiency is critical. We checked our 10 vehicles to see how they perform in litres used per 100km.
Honda Fuel Efficiency
| | |
| --- | --- |
| Model | Fuel Performance |
| Honda Civic | 7.8l / 100km |
| Honda CR-V | 7.8l / 100km |
| Honda Accord | 7.3l / 100km |
| Honda Odyssey | 10.6l / 100km |
| Honda Pilot | 11.8l / 100km |
Hyundai Fuel Efficiency
| | |
| --- | --- |
| Model | Fuel Performance |
| Hyundai Elantra | 6.4l / 100km |
| Hyundai Kona | 7.4l / 100km |
| Hyundai Sonata | 7.7l / 100km |
| Hyundai Santa Fe | 10.0l / 100km |
| Hyundai Ioniq 5 | 488km per charge |
Honda vs. Hyundai – The Fuel Efficiency Analysis
Hyundai comes out on top for fuel performance, with the caveat that two of its best performers – the Kona and Elantra – are compact vehicles. Still, given those two models are also the cheapest of the 10, they make a strong case for Hyundai winning the battle of Honda vs. Hyundai in the pure affordability stakes.
The battle of the sedans (Civic and Sonata) is an interesting one, too. They have similar fuel efficiencies, though the base model of the Sonata just about wins. However, the Sonata has the benefit of a hybrid model which pulls its mileage down to 5.0l per 100km. Granted, you'll pay a few thousand dollars extra for that hybrid model, but it's impressive fuel performance for a Sedan nonetheless.
It's also interesting that the Honda Accord outperforms the Hyundai Kona, a smaller vehicle. And it's worth noting that Honda's CR-V is the model of choice if you're looking for the best SUV for fuel efficiency.
Special mention goes to the Hyundai Ioniq 5. As an EV, it doesn't match the fuel efficiency standards of the other models in the list, but its output of 488km per charge is very impressive. However, you're paying a premium for that lower refuelling cost.
Winner – Hyundai
Category 3 – Insurance
Car insurance is an ongoing cost, and it could affect the battle of Honda vs. Hyundai. Our car insurance comparison tool was the tool of choice for this category, and we looked at the lowest monthly quote for each vehicle based on the following criteria:
The vehicle is brand-new and non-leased.
The purchase date was July 17th, 2023.
The car is used for the daily work commute and is driven for 15,200km per year (the Canadian average).
The car isn't driven for winter compensation.
There are no anti-theft devices or snow tires installed.
The car is parked in a parking lot overnight.
As for our driver, we chose to place them at 68 Ravenscroft Cir, North York, M2K 1W9. They're a single 36-year-old male in full-time employment. They are a new driver, though, having earned their license on February 10th, 2020. They also have no training certificate, no previous insurance, and thus, no previous claims.
With those criteria, these are the figures we came up with for the best monthly insurance quote for each of our 10 vehicles.
Honda Car Insurance Costs
| | |
| --- | --- |
| Model | Monthly Insurance Cost |
| Honda Civic | $773 |
| Honda CR-V | $696 |
| Honda Accord | $797 |
| Honda Odyssey | $643 |
| Honda Pilot | $779 |
Hyundai Car Insurance Costs
| | |
| --- | --- |
| Model | Monthly Insurance Cost |
| Hyundai Elantra | $711 |
| Hyundai Kona | $558 |
| Hyundai Sonata | $772 |
| Hyundai Santa Fe | $750 |
| Hyundai Ioniq 5 | $728 |
Honda vs. Hyundai – The Car Insurance Analysis
There are some interesting figures here, but the clear winner is the Hyundai Kona, as its monthly insurance premiums are nearly $90 less than its nearest competition – the Honda Odyssey. The Honda CR-V is a solid performer, too, as the only other model that comes in at less than $700 per month with the criteria we used.
After that, it's Hyundai all the way, with the next four cheapest monthly premiums being for the Elantra, Ioniq 5, Santa Fe, and Sonata. Honda's second-best entry is the Civic, which not only loses in the battle between Civic and Elantra, but also loses to all five of the Hyundai models we've examined. Sadly, Honda's Accord, long one of its most popular vehicles, comes with the highest premiums at nearly $800 per month.
Though the Honda Odyssey and Honda CR-V put up some solid numbers here, there's no denying that Hyundai generally comes out on top. It has the cheapest car to insure of the 10, as well as its other four models beating three of Honda's most popular models.
Note – this insurance information is based on the details provided earlier. Your specific quote will change based on several factors, including where you live, your age, and how long you've been driving. Previous insurance, and any claims you've made, will also affect your quote. So, take these figures as representative of what a fairly new (though older) driver will pay when they have a brand-new car and no previous insurance.
Winner – Hyundai
Category 4 – Engine Power
So far, we've focused primarily on cost, which is the factor that most Canadian drivers will consider first when buying cars from mid-range manufacturers. Hyundai and Honda offer affordable options across the board for compacts, sedans, and SUVs, but now, it's time to turn our focus towards performance.
Which of the 10 cars in our list offers the most powerful engine? We looked at the base engines for each model based on the manufacturers' websites.
Honda Engine Power
Hyundai Engine Power
Honda vs. Hyundai – The Engine Analysis
There's no doubt about it – Honda is the winner when it comes to sheer engine power. Of the 10 models we selected, two of Honda's get into the 280bhp region. There is a caveat here. Both the Pilot and Odyssey are big cars, meaning they need larger engines to push more metal around. But even when you start comparing the Honda Accord to the biggest Hyundais on the list, the Accord just about comes out on top.
Unsurprisingly both the Kona and Elantra arrive at the bottom of the power list, with base engines at 147bhp. They're compact cars, so lower horsepower is to be expected, but it's still an indicator that you're often getting less power with Hyundai. The Ioniq 5's base engine is also disappointingly unpowerful, though it's worth noting that stronger engines are available for that model if you're willing to pay a little more.
Winner – Honda
Category 5 – Safety
Both Honda and Hyundai tend to make vehicles aimed at families, so safety is an obvious concern. You want a car that offers solid protection, both through its bodywork and design features. To weigh up out 10 models on a safety scale, we checked out the overall star rating each achieves from the U.S. National Highway Traffic Safety Administration (NHTSA).
Though it's an American organization, the NHTSA's ratings inform Canada's own New Car Assessment Program (NCAP). Here's how our models stack up:
Honda Engine Power
Hyundai Engine Power
Honda vs. Hyundai – The Safety Analysis
You'll notice two things with these ratings.
First, the NHTSA hasn't rated three of the five Honda vehicles listed, with the Accord and CR-V both being surprising omissions given their popularity. While this means the above results paint a somewhat mismatched picture, you also can't deny the second thing you'll notice – Hyundai has five-star ratings across the board.
It's worth discussing how the NHTSA creates its ratings. It measures each car based on frontal crashes, side crashes, and rollover potential. For frontal crashes, it simulates a head-on collision at 35mph (approx. 56km/h), with side crashes simulated at 38.5mph (approx. 61.9km/h). As for rollovers, it's what it sounds like – a measurement of the possibility that the vehicle may roll over. This is given as a percentage rating.
Hyundai's vehicles score highly across the board in these three categories, with four being the lowest star rating it earns, though where it earns this rating depends on the vehicle. SUVs have a higher rollover potential, whereas compacts are more likely to struggle in the frontal crash category.
Regardless, Hyundai's clean sweep of five-star ratings makes it a clear winner in the safety category, even if that comes with the caveat of most Honda models having not undergone tests.
Winner – Hyundai
Honda vs. Hyundai – Who Wins the Battle?
| | |
| --- | --- |
| Category | Winner |
| Price | Tie |
| Fuel Efficiency | Hyundai |
| Insurance | Hyundai |
| Engine Power | Honda |
| Safety | Hyundai |
There isn't a clear-cut winner in the contest of Honda vs. Hyundai, even if the latter won three of the five categories. Hyundai certainly comes out on top for fuel efficiency, and their cars are generally a touch cheaper to insure than Hondas. It also wins the safety battle, though that's an unfair contest given the lack of NHTSA ratings for some pretty prominent Honda models.
Honda takes the gold for sheer power, though this is as much of an indicator of the types of cars Honda makes compared to Hyundai. Its SUVs pack a horsepower punch, but Hyundai is scuppered somewhat by the fact that it produces several popular compact models. Similarly, with pricing, Hyundai's compacts make it seem a clear winner, especially given that Honda doesn't sell any true compact cars in Canada. But when you start comparing like-for-like vehicle categories, you get a more even picture.
So, which should you choose? For general fuel efficiency, a guarantee of safety, and good insurance rates, Hyundai is the better choice. You'll basically pay less over time and feel safer while doing it. That isn't to say that Honda is a slouch in those areas. But it excels in the power department, making it the better choice for drivers who want a little more oomph on the road.