Why are so many people in love with prepaid cards? Furthermore, why are so many Canadians talking about the Canadian Imperial Bank of Commerce (CIBC) Smart Prepaid Visa Card in particular? It comes with great benefits, which is likely the reason that the card one of the best prepaid cards in Canada. 
So what are the pros and cons of owning a CIBC Smart Prepaid Visa Card? Is it free to use or are there fees and limits? In this review, we'll cover everything. So are you ready? Let's go.
[sc name="cta_koho_en"][/sc]
Introduction to the CIBC Smart Prepaid Visa Card
The CIBC Smart Prepaid Visa Card is designed to make it easy to make online and offline purchases. Moreover, it also comes with the ability to shop online. The card works at all international and local stores that accept Visa.
The CIBC Smart Prepaid Visa Card acts like a traditional credit card but with additional benefits such as low fees. The card works at almost all ATMs in Canada and abroad and can be a great way to manage your finances. You only have to set a budget, add credit to your card to get started. While it is essentially a debit card, it offers the convenience of credit cards without having to worry about paying bills.
What is the Canadian Imperial Bank of Commerce
The Canadian Imperial Bank of Commerce is one of the most reliable banks in Canada with a rich history.  It was formed in 1961 through the merger of two of the oldest Canadian banks then, the Imperial Bank of Canada and the Canadian Bank of Commerce. It is now the fifth-largest commercial bank in the country.
Currently headquartered in Toronto, Canada, the bank offers a variety of services including personal and business banking, commercial banking, and wealth management. The bank is known for offering excellent customer support and operates in not only Canada but abroad as well. Users appear to have a lot of faith in CIBC as it is a publicly-traded company with over 10 million customers. 
CIBC Smart Prepaid Visa Card costs, penalties, and fees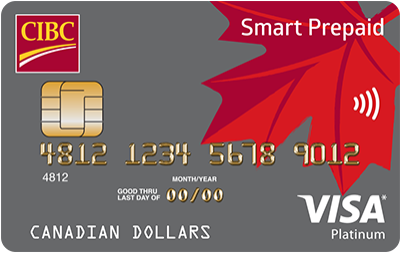 Annual Account Fee: $0 
Cost Per Transaction: $0
Other fees: Yes
The CIBC Smart Prepaid Visa Card is very affordable to own and use. While it is entirely free to apply for, you may have to pay a variety of charges. Depending on your habits, you can keep fees to a minimum or avoid them completely.
The card has no Annual Account Fee and no per-transaction fees to use it. You can use it at a local CIBC bank machine and there would not be a cost to withdraw funds. If you use it a local machine that is not for CIBC, that bank may charge a fee. Even though CIBC has great rewards programs, there are no rewards attached to the Smart Prepaid Card.
Now for the fees that you do have to pay. Naturally, it all comes down to how you use it, so you are in control to some extent. If you lose your card, there is a $14.95 CAD replacement fee, and the fees are different if you have a foreign currency card. For example, if it is for GBP, the replacement fee is £7.95. There is a foreign transaction fee of 2.5%, but that applies to debits or credits done in currencies that are different than that for your card. It should not apply to transactions made in USD using a USD prepaid card. In terms of International automated teller machine (ATM) withdrawals, you get one free withdrawal per month and are charged a fee that changes according to the currency of your card. For instance, if your card is in CAD, your extra foreign ATM withdrawals will cost you $3.50 CAD each.
The bank may revise these charges every year. Check the official website for the latest charges. While the CIBC Smart Prepaid Visa Card might be one of the most affordable choices in Canada, we suggest that you look at other options as well, especially if you are looking for a credit card. Make sure to compare available credit cards to ensure you get the best one.
How does the CIBC Smart Prepaid Visa Card work?
The CIBC Smart Prepaid Visa Card works like any other card with no extra steps or requirements. Consider it a gift card that you can use and reload again and again. It doesn't work differently from other cards and a prepaid card looks exactly like a traditional card.
It will have your name, the date of issue, the date of expiry, bank name, and a CSV code. It works like traditional cards whether you're at a physical store, bank machine, or online store. Simply swipe it or enter the required details to use the card. 
Every time you use this card, the amount will get deducted from your balance until you reach $0, after which you will have to deposit more money to be able to continue using your card. That's why it is sometimes called a reloadable card. You will also not be able to withdraw more money than what your card contains as there is no overdraft option with prepaid cards.
CIBC Smart Prepaid Visa Card features
Fees are only one aspect of a prepaid card. There are other advantages to consider as well.Here are some of the main features of the CIBC Smart Prepaid Visa Card that you might like.
Visa payWave
Visa payWave is a contactless payment technology that makes it possible to use your Visa card to pay for small purchases with ease by just waving the card. It has proven to be useful in these times and can even help you save precious minutes.
No Expiry
The amount you deposit into your card will never expire, however, cards come with an expiry date. Once your card expires, simply request a new one and the bank will transfer your balance at no extra charge. But, you will have to pay renewal charges.
Mobile App
You will be able to keep an eye on transactions using CIBC mobile app. Transactions are updated every hour and the app even provides analytics that can help you understand your spending habits. The app works 24/7 and is available for both iOS and mobile users.
Notifications
You will receive push notifications whenever a purchase is made using your card. This is a great way to keep an eye on your card and ensure there is no unauthorised access.
Security
It has fraud protections! The card is safe and secure as it uses chip technology. Plus, it comes with Zero Liability Policy, which means you will be protected if your card or card details get stolen.
Card Limits:
Like any other card, this one also comes with some limitations. You cannot deposit more than $3,000 in a day. This means it can take four days to deposit $10,000 into your card, which is also the maximum balance a card can have. Moreover, there's a limit on POS purchases per day. It's capped at $3,000. Similarly, the maximum ATM deposit in a 24-hour period is only $1,000. This makes the card a little less liquid than some other cards out there. 
How can I get a CIBC Smart Prepaid Visa Card?
You can get a CIBC prepaid card for free as there are no issuance fees. However, if you choose to have your card couriered to you, you will have to pay charges that are usually around $15 CAD; again the fee changes according to the card currency. Visit any CIBC branch to apply for a card or submit an application online through the CIBC mobile app or online banking facility. Remember that one person can own a single card. 
You'll be asked to submit a form and some identity documents including your proof of identification, like a passport, driver's licence, etc., and a proof of address. Both documents must be valid and address proof must not be older than 90 days. Applications are usually processed immediately unless there are some issues. If there are issues with your application, you may be asked to visit a branch.
In most cases, you will receive your new prepaid card within five business days. No credit check is required and you can apply even if you have a poor credit score. The card will be under your name and you must activate it before you can use it. Your new card will come with instructions on how to activate it. Once done, go ahead, add money to your card, and start using it.
CIBC Smart Prepaid Visa Card: pros and cons
Here are some of the main pros and cons of owning a CIBC Smart Prepaid Visa card:
Pros:
Works like a regular credit card without the disadvantages of a credit card. You use it to shop offline, online, and over the phone.
Comes with Visa payWave functionality for easy purchases
Your money will never expire
One of the safest Visa prepaid cards in Canada
Comes with fraud protection
Cons:
The bank does not offer supplement cards
Limited deposit options
How to add money to the CIBC Smart Prepaid Visa Card
It is easy to add money to CIBC prepaid cards. You can choose to do so online or by visiting a CIBC Banking Centre. You must, however, be an active CIBC member to be able to do it. 
The process is straightforward. Visit your nearest location, provide the required information, and the money will get deposited into your account. Alternatively, login to your online account, provide the required information, and the money will get deposited into your account. We believe that online banking is easier since you can login to your account from anywhere.
As stated earlier, the minimum amount is $20 CAD for the card in Canadian funds and you cannot deposit more than $3,000 CAD in a 24-hour period at a point of sale. You are limited to a daily $1,000 CAD withdrawal limit from an ATM, and that means a 24-hour period. Moreover, your card cannot accept a balance higher than $10,000 CAD.
CIBC Smart Prepaid Visa Card frequently asked questions
This CIBC Smart Prepaid Visa Card review is great but you may still have questions. A review cannot be complete without answering the most commonly asked questions about these cards. Here are some to consider:
What are prepaid cards?
Prepaid cards are cards that work like traditional debit or credit cards and can be used to shop online or offline. Moreover, they also work at ATMs but have to be loaded before use. They're like gift cards and come with a certain amount of money stored in them. 

Every time you use the card, the money gets deducted. You will be able to use your prepaid card if the amount stored in it goes to zero or below your cart value. Many banks and financial institutions offer prepaid cards in Canada. Compare your options and pick one that fits you the best.
Why do I need prepaid cards?
Prepaid cards come with several benefits and can be used by anyone. They are easy to get as you don't need to have a specific credit score to qualify. Also, there are fewer worries since there are no bills to worry about. Card owners can use the card anywhere and deposit money whenever needed.

These cards do not impact credit score and you can get as many as you want. Moreover, they can also be perfect for families. You can get a card for your siblings, children, etc. You can load their pocket money every month into their card with the option to keep an eye on their spending. However, since one person can own a single card, you will need to go for a CIBC Visa* Prepaid Gift Card if you need supplementary cards. Only Aventura cardholders are eligible for these cards.
Is the CIBC Smart Prepaid Visa Card legit?
Yes, the CIBC Smart Prepaid Visa Card is legit and reliable. It comes from a bank that has been in the business for over five decades and is associated with a number of local and international organizations. However, make sure to only order your card from CIBC to ensure you don't fall for scams.
What happens if I lose my card?
Losing your card can be a traumatic experience. Waste no time and get in touch with CIBC if you cannot find your bank. You can call 1-855-887-3888 if you are in the US or Canada and 1-650-432-1298 if you are abroad. The company is known to offer excellent support and will solve the issue in no time.

The bank will block your card and you may choose to request a new card. However, you'll have to pay a replacement fee. We suggest that you have a look at your transactions to ensure there are no surprise movements. If you see any strange transactions then contact CIBC support at 1-800-465-2422. 
Is the CIBC Smart Prepaid Visa Card a virtual card?
No, the CIBC Smart Prepaid Visa Card is not a virtual card. It is a physical card and can be used online or offline just like traditional cards. 
Alternatives to the CIBC Smart Prepaid Visa Card
If you think the KOHO Mastercard® Card is not for you, here are some alternatives that may be better for you. 
KOHO Mastercard® Prepaid Card (formerly KOHO Prepaid Visa)
This reloadable card has many of the same benefits as traditional credit cards and more. It allows you to pay your bills or make a purchase anywhere that accepts Mastercard online or in-store. In addition to its many options, there is a premium version with even more benefits such as best price refund, no foreign conversion fees, and better cashback offers than other cards of the same type. 
STACK Prepaid Mastercard
The STACK Mastercard is a prepaid credit card with no fees and can be used to make purchases and withdraw cash from ATMs. It is perfect for those who want to control their spending but don't want to sacrifice the convenience of having a credit card.
Mogo Visa Platinum Prepaid Card
Use your Mogo Visa Platinum anywhere Visa is accepted. Plus, get access to many benefits like credit score checking, budget automation and even identity theft protection all for free. 
Compare the different prepaid credit cards and choose the one that suits your needs!
---
Frequently Asked Questions
What are the advantages of a reloadable prepaid card? 
A reloadable prepaid card is often a more convenient way to spend money. It's like a debit card  but without the associated bank account. You can combine the benefits of today's most popular payment options – credit cards, debit cards and cash – into one easy-to-use card that lets you reload as often as you like.
Where can I buy prepaid credit cards? 
There are a variety of places to buy prepaid credit cards. The best place to get the right card is online. Check out our list of the best prepaid credit cards.
How do Visa Prepaid cards work? 
Visa Prepaid cards are an easy, convenient and affordable way to pay. You can use them anywhere credit cards are accepted, without needing a bank account or credit card.
Can I withdraw money from a Visa Prepaid card? 
Prepaid cards can be used to withdraw money from certain ATMs. They are subject to a network fee.
How does a prepaid travel card work? 
Prepaid travel cards are a great way to save money on airline tickets and other travel expenses. They are accepted worldwide depending on the network used, for example Visa, Mastercard or Amex.
Can I use a prepaid card on Amazon? 
Yes, you can use a prepaid card on Amazon and most merchants accept Visa or Mastercard.
Does Uber accept prepaid credit cards?
Yes, Uber accepts prepaid credit/debit cards.
Find the best credit card for your needs