Desjardins BONUSDOLLARS Rewards Program: What to Know in 2023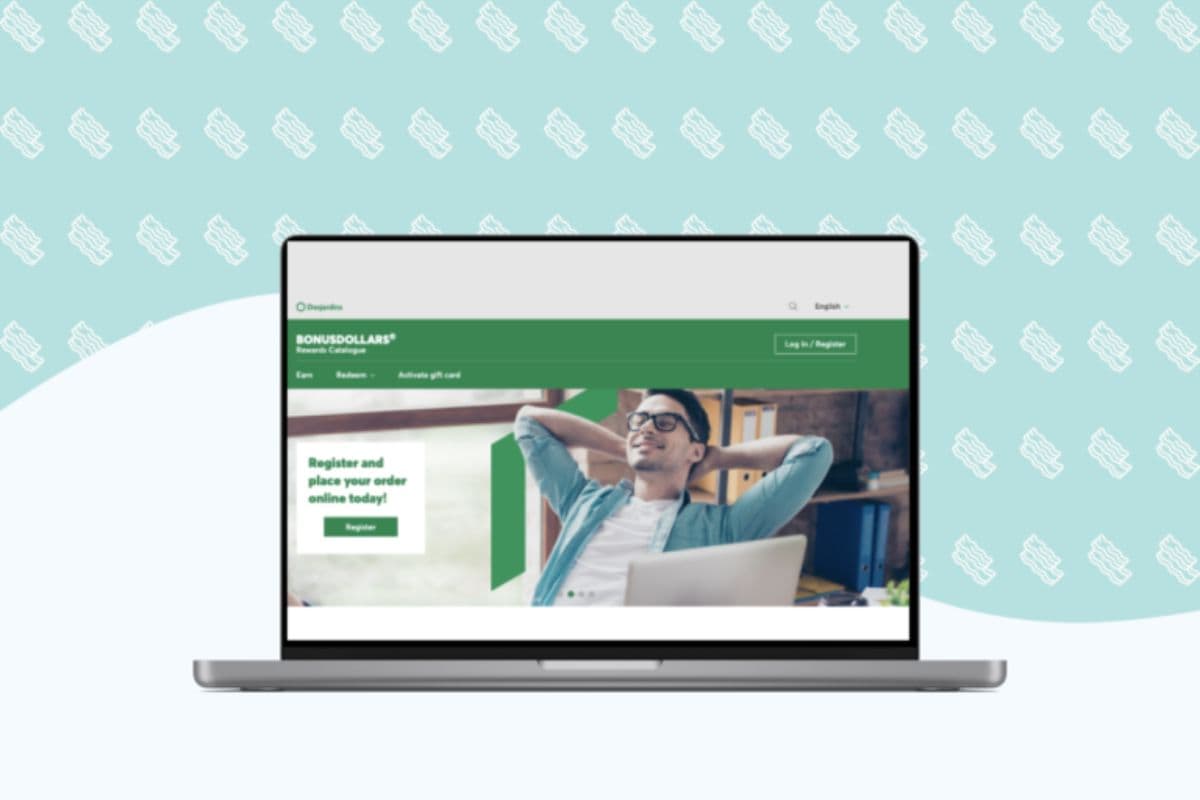 You've probably heard of Desjardins BONUSDOLLARS since it's a well-known credit card rewards program. But do you really know everything about it? Never mind, you will after reading this article!
Desjardins has more than six million members in Canada. The BONUSDOLLARS Rewards Program was created to help retain its members in a competitive environment. If you're thinking of getting one of the program's credit cards, here are some points that may help guide your decision.
How to earn BONUSDOLLARS?
Essentially, the BONUSDOLLARS Rewards Program allows you to accumulate points based on your daily purchases and redeem them for different products and services. As with the NBC rewards program, in order to take advantage of BONUSDOLLARS, you must apply for a credit card that is part of the program. Whether it's paying for your groceries, gas, online purchases, phone bills or other everyday purchases, you'll earn BONUSDOLLARS as soon as you start using your card.
The earn rate varies from 0.5% to 4%, depending on the credit card you have and the purchase category. Each point has a value of one Canadian dollar. One of the great advantages of the BONUSDOLLARS program is its simplicity! For example, if you spend $500 in restaurants and entertainment in one month with a card that offers a rewards rate of 2%, you can recover $10 in exchange value. We will come back to the different credit cards available.
| | | | |
| --- | --- | --- | --- |
| Spendings | Rewards rate | BONUSDOLLARS | Value |
| $100 | 1% | 1 | $1 |
| $100 | 4% | 4 | $4 |
Value of BONUSDOLLARS after a $100 purchase according to rewards rate
Maximize your rewards
In order to accumulate BONUSDOLLARS more quickly, you can, for example, pay for all your current expenses with your credit card, put pre-authorized payments (subscriptions, insurance, telecommunications, etc.) directly on your card and even add your spouse as co-holder. Thus, your family expenses will all be on the same card and you will accumulate BONUSDOLLARS more quickly. Let's state the obvious, just in case: do not make unnecessary purchases in order to get more points.
The main purchase categories are:
Groceries
Travel (including airfare and accommodation)
Restaurant (including fast food)
Entertainment (such as shows, tickets to movies and attractions)
Alternative transport (buses, commuter trains, taxis, subways and public charging stations for electric vehicles)
Pre-authorized payments
Get gift cards with your BONUSDOLLARS
Desjardins offers you several ways to redeem your points. First, you can use the BONUSDOLLARS.ca online catalog. You will find gift cards from several brands including Apple, Rona and Simons. Moreover, to receive your rewards quickly, choose a virtual gift card. The amount of the cards, and therefore the number of BONUSDOLLARS needed, starts at $25. You can send the card to a loved one for their birthday or any other occasion.
Of course, you can decide to take advantage of your BONUSDOLLARS elsewhere than in the online catalogue. To do so, you must redeem your points on ACCÈS D, Desjardins' online transaction service, by phone (1 888 363-3380) or at a branch. In any case, you must redeem a minimum of 20 BONUSDOLLARS.
Get a refund for eligible purchases with BONUSDOLLARS
An easy way to use your points is to redeem them for purchases charged to your card, regardless of whether your card balance has already been paid. In order to avoid unpleasant surprises, you should still know that you have a maximum period of 60 days to redeem your BONUSDOLLARS in this way. If the purchase was made more than 60 days ago, you can no longer use your points to cover the desired expense. Here are the categories where this exchange method applies.
Treat yourself to restaurants
Unlike some rewards programs, you cannot redeem your points by directly reducing your total bill amount. The refund is made after the transaction. Indeed, once the invoice has been paid with your credit card, you must go to your account and redeem your BONUSDOLLARS. Since you pay with your card, you can accumulate points by paying for your meal, then redeem your BONUSDOLLARS afterwards.
Entertainment
Again, it's the same principle. You buy your show tickets or tickets to a touristic attraction with your credit card (with the traditional distributor). Once the expense shows up in your account, you can repay it using your BONUSDOLLARS.
Travel
You can pay, in part or in full, the costs related to your trips with your BONUSDOLLARS. It's always the same principle, you pay with your Desjardins credit card and you redeem your points afterwards. There are no restrictions on destinations, types of accommodation and the like. This benefit is usually appreciated by program members!
Make donations
If you want to support a cause that is dear to you with your points, you can! Simply make a donation to a non-profit organization with your credit card and then redeem with your BONUSDOLLARS.
Pay for transportation
Desjardins also offers the opportunity to exchange your BONUSDOLLARS for public transit tickets. It is, again, the same method of exchange. It's an excellent way to reduce the cost of your travel by train, bus, metro or taxi. This also applies to expenses at a public charging station for an electric vehicle.
Get financial products and services with BONUSDOLLARS
You can use your BONUSDOLLARS to invest in various Desjardins products, including RRSPs, TFSAs, insurance, loans (personal, auto, mortgage) and certain administration or private management fees. This is possible even if you use the Disnat online broker. This is an advantageous way to enjoy your rewards without incurring additional expense.
Best credit cards to earn BONUSDOLLARS
As you understand, in order to take advantage of the Desjardins BONUSDOLLARS rewards program, you must absolutely hold one of the credit cards targeted by the program. You have the choice between four Desjardins cards: Bonus Visa (no annual fee), Odyssey Gold Visa, Odyssey World Elite Mastercard and Odyssey Visa Infinite Privilege.
Look at the image below to learn about the rewards rate associated to each credit card.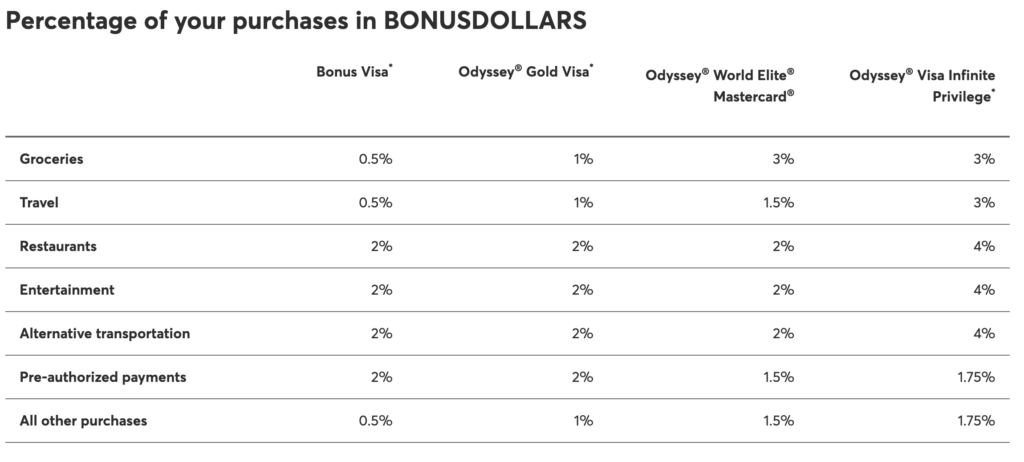 In order to make sure you choose the credit card that has the most advantages for you, we invite you to use a credit card comparison tool. It is a completely free tool that allows you to make an informed decision, based on your consumption habits.
Alternatives to the BONUSDOLLARS Rewards Program
Unlike many loyalty programs, BONUSDOLLARS requires you to have a credit card. However, there are other programs where all you need is a points card that you present when you make purchases at participating businesses.
The moi program
The moi program is designed to allow customers to earn points for their purchases at participating stores: Metro, Jean Coutu, Super C, Brunet and Première Moisson. To start earning points, it is necessary to register for the program by creating an online account or by using the physical membership card available in store. This allows you to accumulate 1 point per dollar of purchase.
It is not mandatory to have a credit card to participate in the me program. However, with the moi RBC Visa credit card, you increase the number of moi points you earn on every purchase.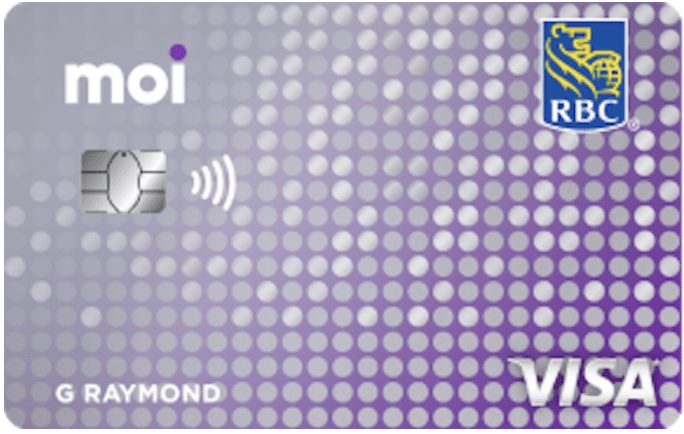 Rewards: Up to 2 moi points per 1$ spent at Metro, Première Moisson, Jean Coutu, Brunet, restaurants, gas and EV charging
The moi RBC Visa is a new credit card offered by Royal Bank of Canada (RBC). You earn 2 moi points on every dollar of eligible purchases made at participating Metro, Première Moisson, Jean Coutu and Brunet stores when you present your moi card and pay with your moi RBC Visa credit card. In addition, you also benefit from 2 moi points per dollar spent on restaurants, gas and electric vehicle charging. For all your other purchases, you get 1 point per dollar spent.
The Scene+ program
The Scene+ program is much more than free movie tickets. If you do your grocery shopping at Sobeys, you already know! This grocery store now allows the accumulation of points. The Scene+ program also allows you to earn 5 points for every dollar spent at Cineplex Entertainment and the Cineplex Boutique. Scene+ also gives you the chance to travel and be rewarded. You earn 3 points for every $1 spent on hotel nights and car rentals with Scene+ Travel by Expedia. In addition, you receive 1 point for every $3 spent when you eat at Harvey's, Swiss Chalet, East Side Mario's and some other restaurants.
[Offer productType="CreditCard" api_id="62c453858e710d4f783b951d" id="147529″]
With Scotia's no fee American Express credit card, you earn Scene+ points faster. It's an easy way to earn 3 points per $1 at select grocery stores (Sobeys, Safeways, etc.), and 2 points on entertainment, dining, streaming, and travel purchases. You can use your points for travel and enjoy unique experiences with American Express Invites.
The Aeroplan program
Perhaps the program best known to travellers, the Aeroplan program lets you earn points when you book trips, and redeem them for more adventures! But it's also so much more than travel rewards. The Aeroplan online store allows you to purchase various products from partner retailers such as Lululemon, Sephora, Best Buy and Amazon. The number of points depends on the article and the partner. You don't need to have an Aeroplan credit card to be a member, although they earn points faster.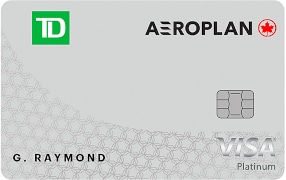 Rewards: 1 point per 1$ spent on groceries, gas and Air Canada purchases; 1 point for every $1.50 on other purchases
The TD Aeroplan Visa Platinum credit card has annual fees, but they are relatively low. In return, you earn 1 Aeroplan point per dollar of eligible purchases of gas, groceries or from Air Canada, then 1 point for every $1.50 on any other purchase. It's not huge. But each point is worth its weight in gold! In fact, when redeemed for travel, one point yields an average of 1.7¢. Under certain conditions, you can also earn 50% more points at Starbucks and double your points when you present your Aeroplan number and pay with your TD Aeroplan Visa Platinum credit card at partner establishments.
This credit card also includes travel insurance (accident, hotel theft, plane delay, lost luggage) and car rental. You can also get discounts if your rent a car at Avis or Budget.
BONUSDOLLARS Rewards Program Summary
How to accumulate BONUSDOLLARS?
Pay for your daily expenses using a Desjardins credit card that is affiliated to the BONUSDOLLARS Rewards Program
Value of BONUSDOLLARS
1 BONUSDOLLARS = $1 CAD in rewards
How to redeem BONUSDOLLARS?
Gift cards
Refund for eligible purchases
Financial products
Credit cards to get BONUSDOLLARS
Bonus Visa
Odyssey Gold Visa
Odyssey World Elite Mastercard
Odyssey Visa Infinite Privilege
The Desjardins BONUSDOLLARS rewards program offers several advantages. Only you can know whether one of the 4 credit cards is perfect for you. Indeed, depending on your spending habits, there may be other cards that are better.
Nothing prevents you from combining the BONUSDOLLARS program with another rewards program. For example, you can pay for purchases made at Shoppers Drug Mart with your Desjardins credit card, while presenting your PC Optimum rewards card. This way, you maximize your rewards!
Since a new credit card application can affect your credit score, make sure it is a program with great benefits for you before applying.
FAQs about BONUSDOLLARS
How to pay my credit card with BONUSDOLLARS?
You cannot pay your credit card balance directly with your BONUSDOLLARS. You must choose a specific purchase that you paid for with the credit card. On Accès D, click on the credit card. At the top of the page, select BONUSDOLLARS, then Redeem BONUSDOLLARS. You will be offered exchange categories and you need to choose Eligible Transactions and then follow the suggested steps.
How to use BONUSDOLLARS?
There are three main ways to use your BONUSDOLLARS. First, you can use them to reimburse yourself for a purchase made with your card. Then, you can buy Desjardins financial products using your points. Finally, you can purchase gift cards from the program catalog.
How do I redeem Desjardins BONUSDOLLARS?
There are three ways to redeem your points: 1- Online, by logging on to AccèsD; 2- By telephone, at 1 888 552-6643 for gift cards and at 1 800 363-3380 for anything else; 3- In person, by going to a Desjardins branch.
How to earn BONUSDOLLARS?
Earning BONUSDOLLARS is very simple. It's a percentage of the expenses you make with your Desjardins credit card. There are 4 cards that give you points: Bonus Visa Desjardins, Odyssey Gold Visa Desjardins, Odyssey World Elite Mastercard Desjardins and Odyssey Visa Infinite Privilege Desjardins. Compare credit cards to make sure you're making the right choice.
How to pay with BONUSDOLLARS?
You cannot directly pay for your purchases with BONUSDOLLARS. It's impossible. Instead, you can get a gift card from the BONUSDOLLARS boutique or pay for your purchases with your card and then go to AccèsD to redeem points.
How do I activate a gift card with my BONUSDOLLARS?
By redeeming your points for a gift card, you can choose to receive it virtually or physically. Gift cards are usually automatically activated when you pay for them. Otherwise, especially for physical cards, specific instructions will be provided.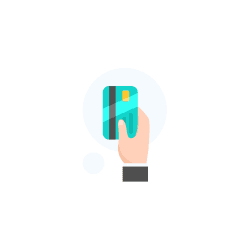 Find the best credit card for your needs