Is an SPC Card Worth it For Students?
Being a student in Canada comes with certain expenses. From the cost of education to everyday expenses escalating, students are constantly looking for ways to stretch each dollar. One popular option is the Student Price Card (SPC), which promises discounts at a variety of retailers across Canada. But is it really worth the investment?
Students under the age of 18 cannot qualify for a credit card on their own. The SPC card is a good alternative to that. Although it doesn't let you make purchases through your card, the SPC Card gives you the option to save big with ongoing discounts on dining, shopping and travelling for a whole year. In this article, we'll examine the pros and cons of the SPC card and help you decide whether it's right for you.
What is an SPC card?
SPC stands for Student Price Card and is perfect for cash-strapped students in Canada who want to save money on their day-to-day expenses. Founded in 1992, this program has impressively expanded to bring rewards to 22 million students over the past 30 years. Today, 1.3 million students are a member of SPC.
With an SPC card, students become part of an exclusive loyalty discount program that offers fantastic deals on common spending categories such as fashion, shoes, fitness, tech, food, travel and more. There are discounts available from both physical stores and online retailers.
SPC cards are available for students in elementary, junior high and high school, college, universities, and special interest schools.
How does an SPC card work?
There are 100s of participating stores within the SPC network. Using the SPC card is easy. All you have to do is show the vendor your card and you will receive a discount which can be up tp 60% off, but most of the time will be ranging from 10-15%. With your digital membership, just download the SPC card app for free to access the deals.
The participating stores will change slightly depending on certain cities because there are plenty of independent businesses that only serve local consumers. That said, with over 450 partners, chances are you will be able to save every time you go out to eat or shop.
SPC card costs $11.99 per person for the digital membership. There are no more physical cards. This fee is non-refundable. If you lose your membership information, you can reach out to SPC customer service. The card stays valid for 12 months from the time of activation. Your SPC card cannot be shared with friends or family.
[Offer productType="OtherProduct" api_id="64e617255c8ee578f32b6e74″]
SPC affiliated credit cards
If you are a college or university student looking for a solid student credit card to start building your credit, but also want to take advantage of SPC's exclusive discounts, then CIBC has a few options for you.
CIBC partnered with SPC in August 2019 to give its students and youth account holders access to exclusive contests, deals and promotions. That said, if you are a student who has an eligible CIBC product, or are planning to get one, you will receive an SPC membership– for free–along with CIBC's own perks and benefits associated with student accounts.
CIBC has three low-fee credit cards available for students– CIBC Aventura Visa Card for Students, CIBC Dividend Visa Card for Students, and CIBC Aeroplan Visa Card for Students.
All of them will give you a free SPC membership along with reward points, cash back rewards on groceries, books, movies, food and more. Also, these 3 CIBC credit cards are free with no annual fee, and all three have no minimum income requirement.
Where To Apply For An SPC card?
There are two methods to apply for an SPC card. For a digital membership, visit their website to fill out the form. You can also buy your virtual SPC membership at retailers including Journeys, Little Burgundy, American Outfitters, Pantorama, Samsung, Shoppers Drugmart and Running Room. The membership costs $11.99.
Keep in mind that SPC memberships are non-refundable. So, before buying a card, check out their list of participating stores and make sure the locations you frequently visit are included in that list. Participating brands within the SPC network span across categories including accessories, gym, beauty, essentials, fashion and fitness. Go back regularly to check for new participating brands.
If you have a CIBC Student and Youth account, you can go to CIBC.com/SPC to apply for an SPC Membership number for free. CIBC SPC members won't have to renew their memberships annually.
So is an SPC card worth it for students?
SPC is popular among students for a reason. It gives you amazing discounts at over 400 stores that you're probably shopping at anyway. This includes H&M, Adidas, Urban Outfitters, Burger King, Taco Bell and plenty of local stores in Canada.
You can even save when you go out to get ice-cream or frozen yogurt with friends. There aren't many options for students, especially those under 18 to save money. The SPC card is unique in that it rewards students just for being students. You can save on textbooks, gym memberships, makeup, eating and even healthcare with your SPC card– all for just $11.99.
Although not very prominent, SPC card has another advantage— It helps students understand how money works and how far a dollar can go. By enabling them to aggregate savings on almost all purchases they make, the SPC card can teach them about how small savings can add up and be used to fund bigger purchases in the future. This knowledge can help young people develop healthy financial habits and skills they can utilize in the future when dealing with the financial complexities of the "real world".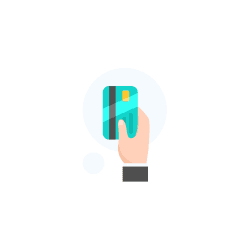 Find the best credit card for your needs