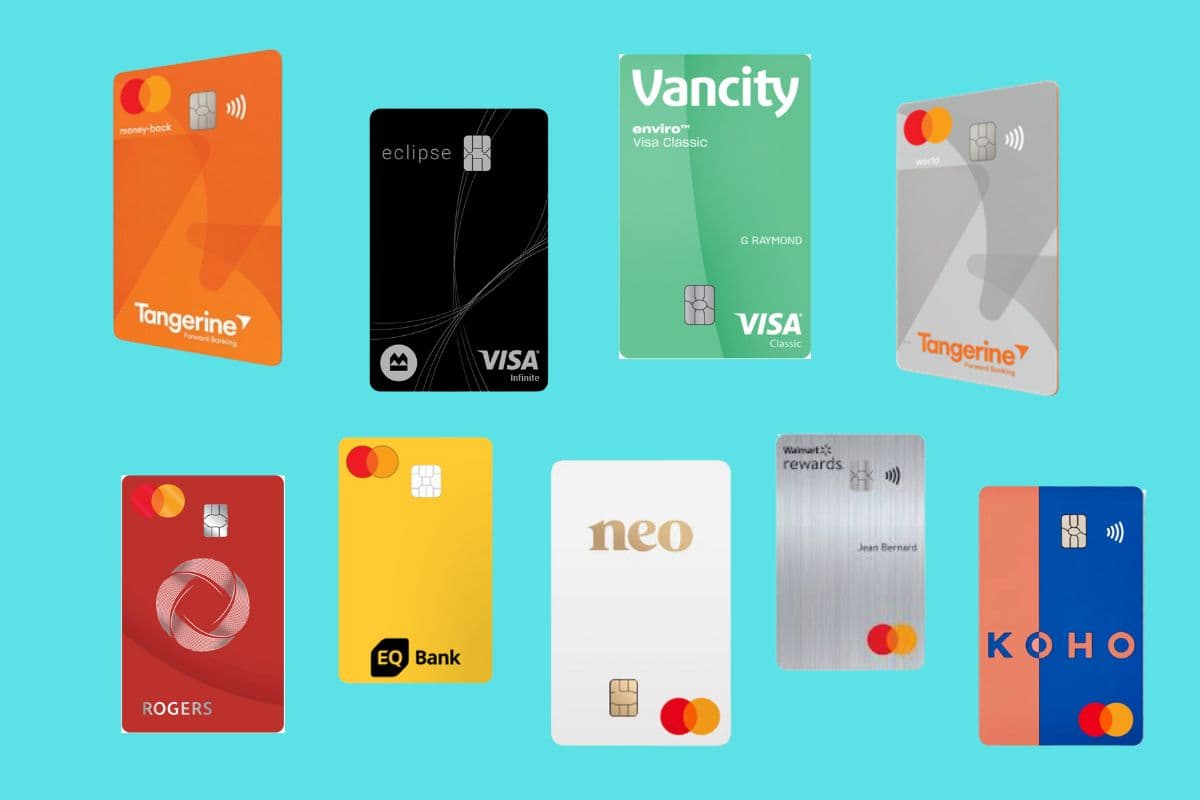 What's up with vertical credit cards? By 2024, Mastercard will forego the magnetic stripe in favour of tap-to-pay technology, but that's not the only big change coming to credit cards. For the last 60 years, credit cards have maintained the same horizontal landscape design, but vertical credit cards are about to completely revolutionize the industry. Many card issuers offer both horizontal and vertical designs, but the move towards the vertical is undeniable. So, why the change? Keep reading to find out why vertical credit cards in Canada are the next big thing.
What are Vertical Credit Cards?
The popularity of tap-to-pay technology exploded during the pandemic as businesses started implementing systems like Apple Pay in order to prevent customers from touching shared surfaces. Tap-to-pay systems also facilitated social distancing. Three years later, most of us have continued to tap our cards instead of inserting them into card reader machines. That explains why the "old" technology's days are numbered.
Vertical credit cards are newly designed to make using credit cards easier and more comfortable. A study showed that consumers with tap-to-pay cards tend to use them 25% more than other cardholders. Most of us hold our cards vertically when we tap to pay, and even those of us who are still using PINs insert cards vertically into the machine.
1. Tangerine Money-Back Mastercard – Best Cash Back Free Credit Card
[Offer productType="CreditCard" api_id="5f34494292ec22115033b302″]
The Tangerine Money-Back credit card is a vertical card that earns 2% cash back on purchases in 2 categories of your choice, plus 0.5% cash back on other everyday purchases. For instance, you could pick groceries and public transportation to get the highest level of cash back, or restaurants and entertainment if you like going out a lot.
Rewards can be deposited directly into a Tangerine Savings account once per month or you can use them to pay off your balance. There are no limits to the amount you can earn. Given you choose a deposit in your Tangerine Savings account, you can unlock a third category at 2%.
2. BMO eclipse Visa Infinite – Best Vertical Credit Card for Travellers
[Offer productType="CreditCard" api_id="5ff3e0a918430b1206c2fae4″]
The BMO eclipse Visa Infinite is a great travel credit card. It is a must-have for folks who like to travel comfortably thanks to Visa Infinite benefits like the Luxury Hotel Collection and Dining Series. Cardholders earn 5 points for every dollar spent on groceries, dining, gas/transit and 1 point on every dollar spent on all other qualifying expenses. Your BMO Rewards points can be redeemed for merchandise, purchases or travel-related charges like flights and vacation packages. Best of all, the card comes with a $50 annual lifestyle credit to spend however you wish.
Since this is a premium card, you will need a minimum $60,000 individual or $100,000 household annual income to be able to get it, or declare a minimum of $15,000 in annual spend.
3. Neo Credit – Best for Cash Back at Partners
[Offer productType="CreditCard" api_id="60fed96813fd2f260ff90748″]
The Neo Credit card offers one of the highest cash back rates in Canada with an average of 5% at participating partner stores, and up to 15% for every first purchase you make at a partner retailer. Plus, you'll earn a minimum of 0.5% cash back every month. Your cash back payments can be deposited whenever you want into a Neo savings account that makes 2.25% interest or used towards a statement credit.
This vertical credit card is instantly available upon approval and is accepted anywhere that takes Mastercard. The virtual card will be loaded into your digital wallet so you can start using it immediately while the vertical credit card is in the mail.
Perks (rewards) are bundled together, and you can choose the bundle that makes the most sense for you. For example, the Everyday Essentials Bundle earns cash back on groceries and gas, while the Travel Bundle earns 2% cash back on foreign purchases and offers access to airport lounges and travel insurance. If your spending habits change, you can 'redesign' your card whenever you want.
4. Tangerine World Mastercard – Best Free Mastercard World Credit Card
[Offer productType="CreditCard" api_id="5f344d1b92ec22115033b303″]
Another no-fee vertical credit card with great cash back rates, the Tangerine World Mastercard works just like the Tangerine Money-Back card. Additionally, the Tangerine World Mastercard gives you access to Mastercard Travel Rewards and Travel Pass, as well as car rental and mobile device insurance. That makes it one of the best credit cards in Canada. For most new purchases made with this card, you may receive up to $60,000 for purchase protection and extended warranty (lifetime maximum).
This card is slightly less accessible. To be eligible for a Tangerine World Mastercard, you will need to meet the minimum income requirement of $60,000 (personal) or $100,000 (household) or have total balances of $250,000 or more in Tangerine accounts.
5. Vancity enviro Visa Classic card – Best Vertical Credit Card for the Environment
[Offer productType="CreditCard" api_id="64a83c39b7345f4322629de4″]
Vancity is a credit union that offers credit cards to British Columbia (BC) residents. Consider comparing other credit cards if you don't live in BC. A generous 5% of profits on every purchase you make on an enviro Visa credit card goes to the Vancity enviroFund program. It helps fund businesses and organizations to develop climate-friendly projects and products.
The Vancity enviro Visa Classic credit card earns 1 point for every $2 spent. If you love travelling, use your card to make travel-related bookings through Vancity Rewards and earn 1 point for every $1 spent.
6. BMO eclipse Visa Infinite Privilege – Best Premium Vertical Credit Card
[Offer productType="CreditCard" api_id="5ff3cef15b6ac16a9cdc8c6a"]
The BMO eclipse Visa Infinite Privilege card offers unique perks. This credit card is not accessible to people whose personal annual income is less than $150,000 because it is one the best premium cards.
A premium card will reward you with travel perks. Cardholders have access to participating lounges within the Visa Airport Companion Program. You will get 6 free lounge visits per membership year. This card earns 5 points per $1 spent on travel-related purchases, groceries, gas, drugstore purchases, restaurants, and meal delivery. For all other expenses, you'll still get 1 point per dollar. You'll also enjoy an annual $200 credit that partly offsets the card's annual fees.
7. Rogers Mastercard (Rogers Red Card) – Best for Rogers customers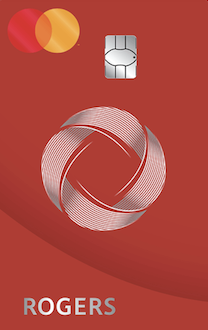 The Rogers Mastercard, known as the Rogers Red Card, is a vertical credit card designed to offer both simplicity and generous rewards. For those already connected with Rogers, Fido, or Shaw through one qualifying service, the rewards get even sweeter with a flat 2% unlimited cash back rate on all eligible purchases. If not, cardholders still benefit from 2% cash back on U.S. dollar purchases and 1% on all other eligible spends.
Plus, redeeming rewards with Rogers boosts the redemption value by 30%. For travel lovers, this card comes equipped with the added perk of 5 Roam Like Home days every year for Rogers mobile plan users, translating to savings of up to $75.
8. KOHO Mastercard – Best Prepaid Vertical Card
[Offer productType="CreditCard" api_id="604aaa18e770040140f2203e"]
The KOHO Mastercard offers 4 different plans to suit every need. Most importantly, it is not a traditional credit card and as a prepaid card, it will not impact your credit score. The Easy plan is free and has a 0.5% interest rate on balances and a 1% cash back earning rate on eligible groceries and transportation. All plans have different interest-earning rates, annual fees and associated benefits and perks, and customers can easily switch between the four plans at any time.
For example, the KOHO Extra plan costs $84 per year, but you'll earn 2% interest on your balance, get 2% cash back on groceries, transportation and restaurants (including takeout), plus 0.5% on everything else. There are no foreign exchange fees and 1 free international withdrawal per month, so this is a good card to have in your wallet if you travel frequently to the U.S. but don't have a USD credit card. KOHO Mastercards also offer access to credit-building and budget-assisting tools.
9. Neo Money Card – Best Prepaid Vertical Card for Restaurants and Bars
[Offer productType="SavingsAccount" api_id="60fee79313fd2f260ff90749″]
The Neo Money card is a prepaid vertical credit card linked to your Neo Money Account and seamlessly integrates with the Neo app. This card offers a unique approach to spending and saving, blending traditional card benefits with enhanced digital features. The card offers similar cash back rates as Neo's credit card and you can personalize your card with subscription reward bundles. It earns an average of 5% cash back at restaurants and bars, 1% on gas and groceries and 3% on streaming, rideshares and food delivery.
With the Neo Money Account, you get free and unlimited daily banking transactions with no monthly fees. Your balance earns 2.25% interest until the moment you spend it. Real-time notifications keep you informed of your transactions, ensuring transparency and security.
10. EQ Bank Card – Best Prepaid Vertical Card for Savings
[Offer productType="CreditCard" api_id="63d2cb6a18196b6d2e1928c2″]
The EQ Bank Card is a pre-loaded no-fee vertical card that offers free withdrawals from any Canadian ATM (if you get charged for a withdrawal, EQ will refund you), and 0.5% cash back on every single purchase. Cashback rewards are deposited every month.
The EQ Bank Card also helps your money grow by offering up to a 3% interest rate on your balance. You get 2.5% interest on everyday banking plus an additional 0.5% when you direct deposit your pay or set up recurring pre-authorized debits.
This card is free to use and anyone can qualify provided they opened a Personal account. EQ doesn't take any fees when you're making a purchase online, in-store, or paying a bill. They do not charge foreign transaction fees so you can spend in the currency of your choicice.
11. Walmart Rewards Mastercard – Best Store Vertical Credit Card
[Offer productType="CreditCard" api_id="5f71f34736a168616a45e125″]
Walmart Rewards Mastercard helps you earn rewards every time you use the card at Walmart or any other store. Shopping online at walmart.ca or at a physical Walmart store in Canada will earn 1.25% cash back in Walmart Rewards dollars. This rate goes down to 1% for all other stores. To redeem your points, however, you will need to make a purchase at Walmart. The card has an excellent points-to-dollar conversion ratio of 1:1, which means 1 Walmart Rewards Dollar is worth $1.
More Reasons to Love Vertical Credit Cards
The vertical orientation of these cards is a rather brilliant marketing gimmick. If you've seen any of these cards on social media, you might have noticed that the 16-digit credit card number is absent from vertical credit cards. Just like virtual credit cards, vertical cards are safer than traditional hortizontal ones. Not only does this protect user accounts from wandering eyes, but it makes it safe for photos of these cards to be circulated online. Gen Z shoppers can safely share photos of their vertical credit cards on social media.