Mogo Credit Score Review: How to Get your Credit Score for Free Using Mogo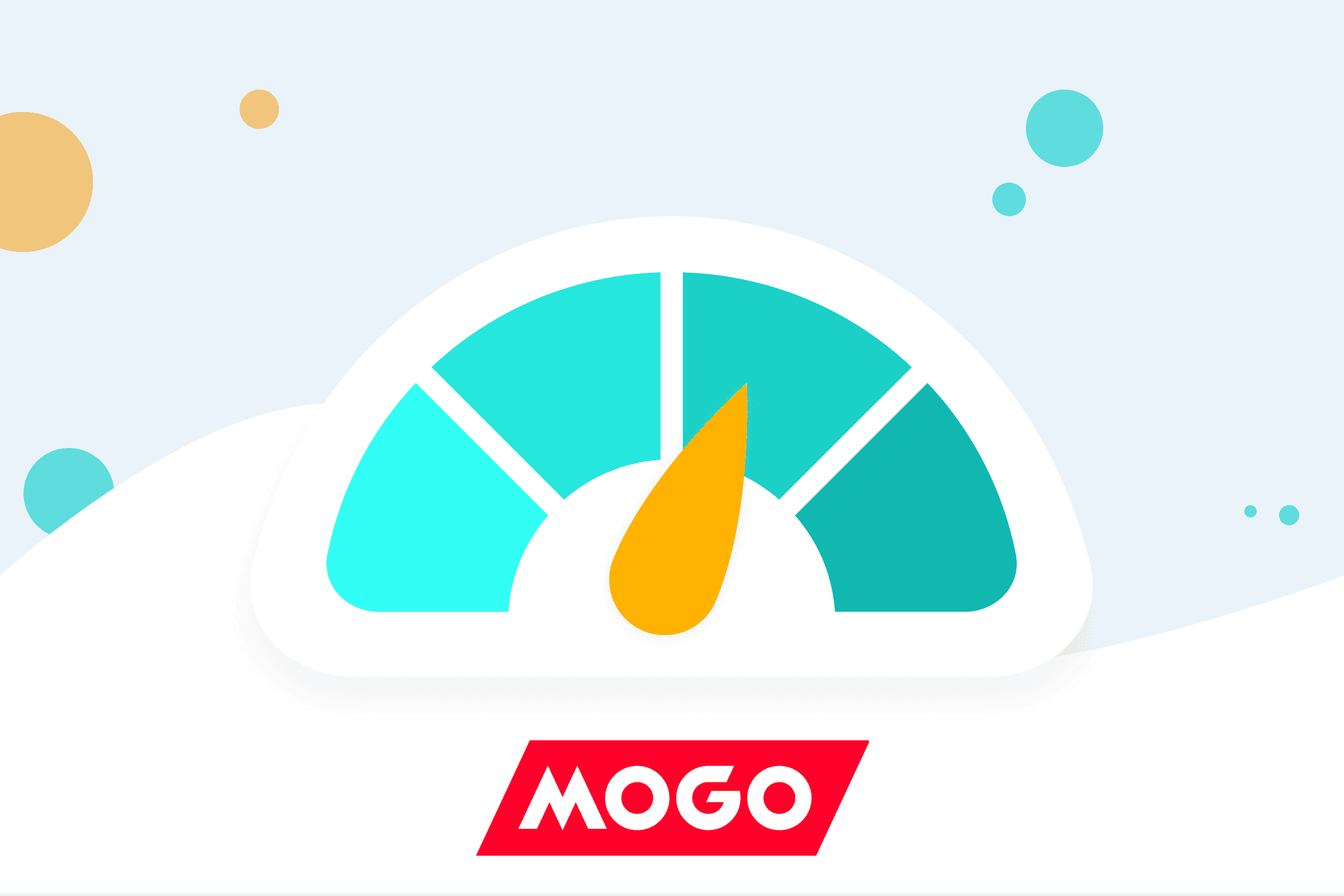 If you're looking to improve your credit score but are new to personal finance or feel overwhelmed by numbers, Mogo's credit score checker may be for you. Although it doesn't provide an in-depth analysis of your credit history, Mogo makes it easy to check your score and provides incentives for improvement. While the platform may not be as useful for those who are more familiar with the intricacies of credit score, its simplicity can minimize intimidation and help to alleviate users' financial anxiety.
Checking your score
Using Mogo to check your credit score is relatively easy. First, you'll need to create a Mogo account with the site. Unlike some websites that can be used to check credit scores, you won't need to input your social insurance number when registering. Instead, you'll provide your name and address.
Mogo will then ask you a series of multiple-choice questions regarding your credit history. For example, I was provided with several financial institutions and then asked to identify which I opened a credit card with in May 2020. Considering the risk of data breaches, I greatly appreciate Mogo's privacy-oriented approach. The approval process is fast, too: as soon as you answer a couple of questions to verify your financial profile, you'll have immediate access to your credit score.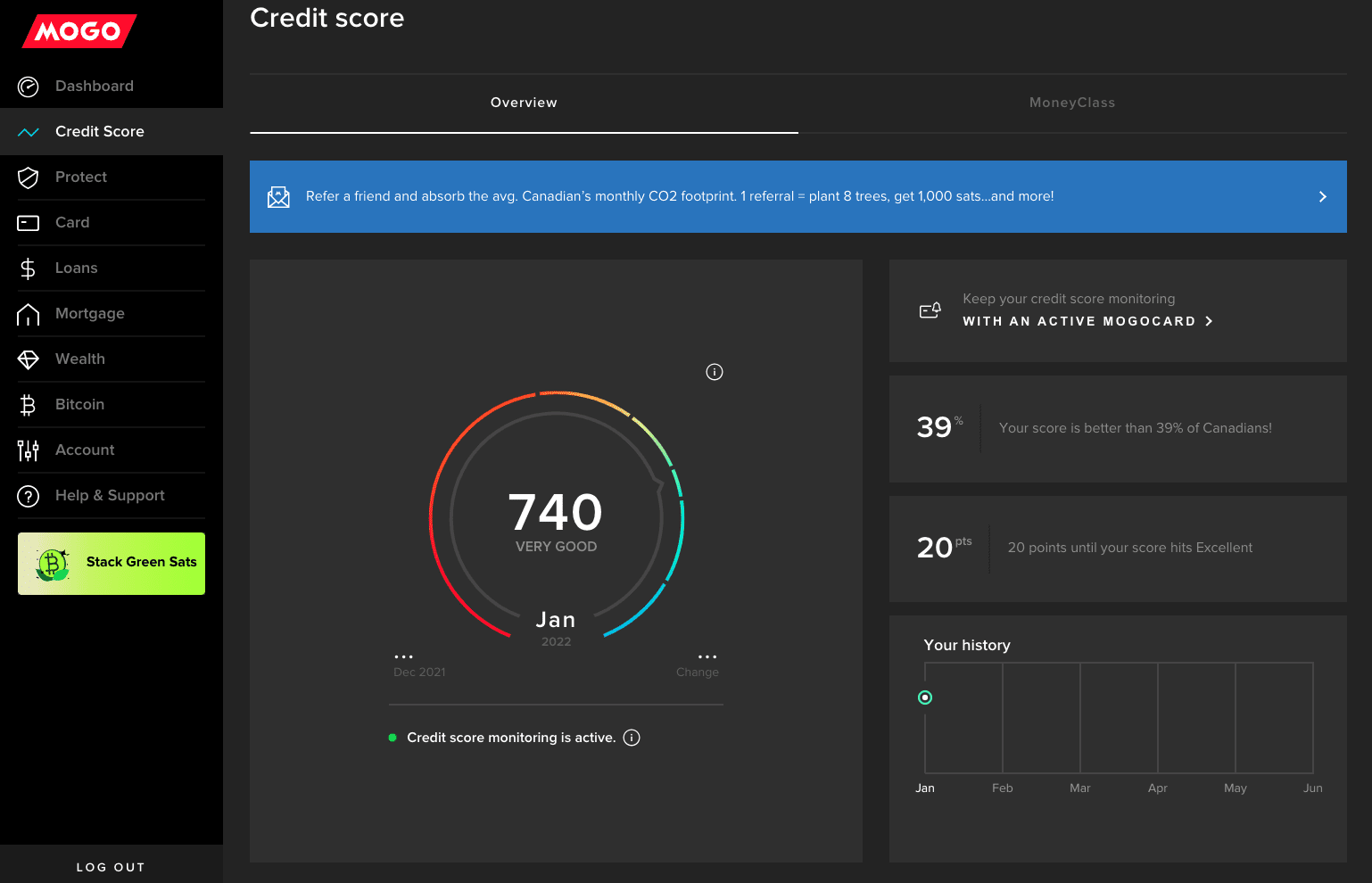 Once you are logged in, head over to the credit score tab on the left-hand side. A large gauge will display your Equifax credit score, along with your credit score tier. If you have previously checked your score through another site, you may notice a discrepancy here. However, this is not necessarily cause for alarm. It's important to remember that in Canada, there are two companies that calculate credit scores: Equifax and TransUnion. Each company uses their own formula to determine your score. If you previously checked your credit score through a site that uses TransUnion's data, it will not necessarily match the Equifax score displayed by Mogo. Discrepancies can be significant, too: although my TransUnion credit score is 791, Equifax calculated my credit score to be 740. Nevertheless, this doesn't necessarily indicate a problem with your account.
Beside your credit score, you'll find information about your credit score percentile, how close you are to the next credit score tier, and a graph that charts your credit score. It's incredibly satisfying to watch these metrics improve as you work towards a higher credit score. By regularly checking in, you can gain motivation to increase your score. Plus, since the information is so easily accessible, it's more likely that you'll see it and strive for improvement.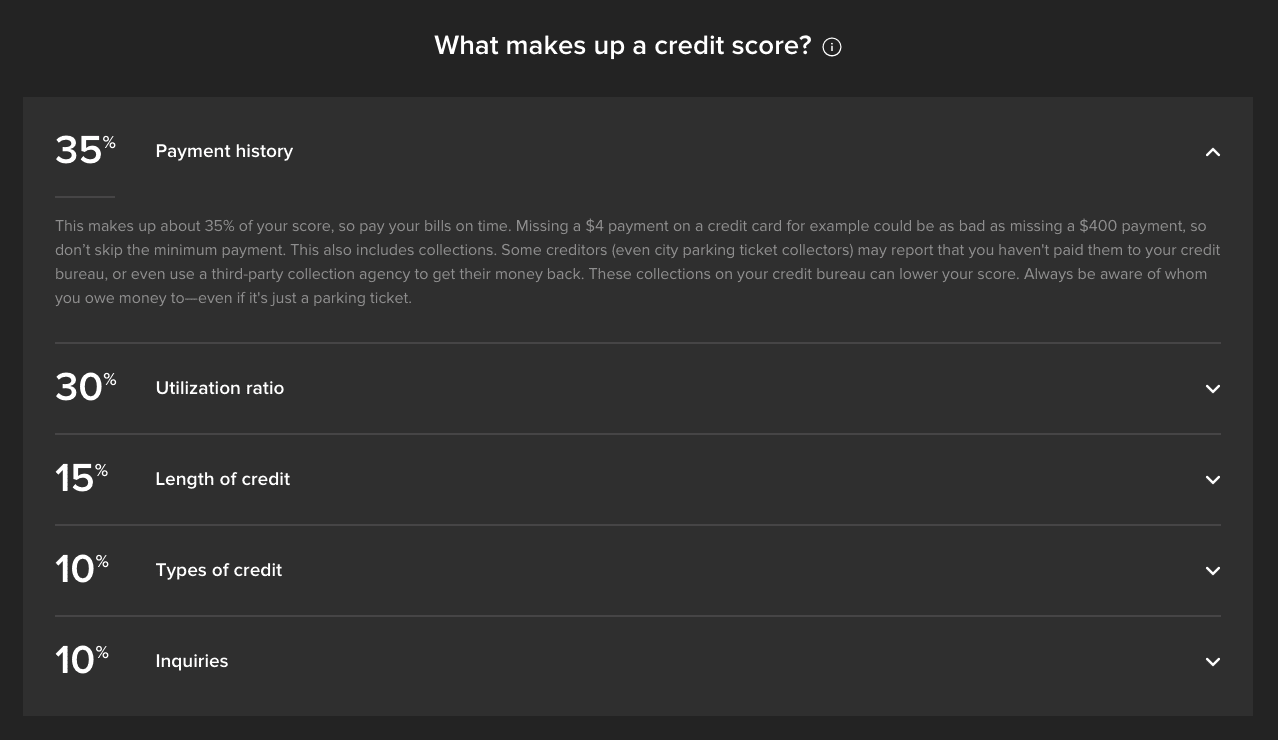 Underneath your credit score and metrics, you'll find a breakdown of the elements that affect your score. If you're new to the world of personal finance, this information can be very helpful. After all, it's important to understand how your score is calculated. However, Mogo only explains each element in generic terms; they do not highlight which elements are actively dragging your score down or identify strategies for improvement. Instead, each user must figure out how to improve their score on their own. Given the platform's emphasis on improving your score, the educational resources are helpful but would be significantly more impactful if they were personalized to each individual's credit history.
MoneyClass: bite-size lessons to increase financial literacy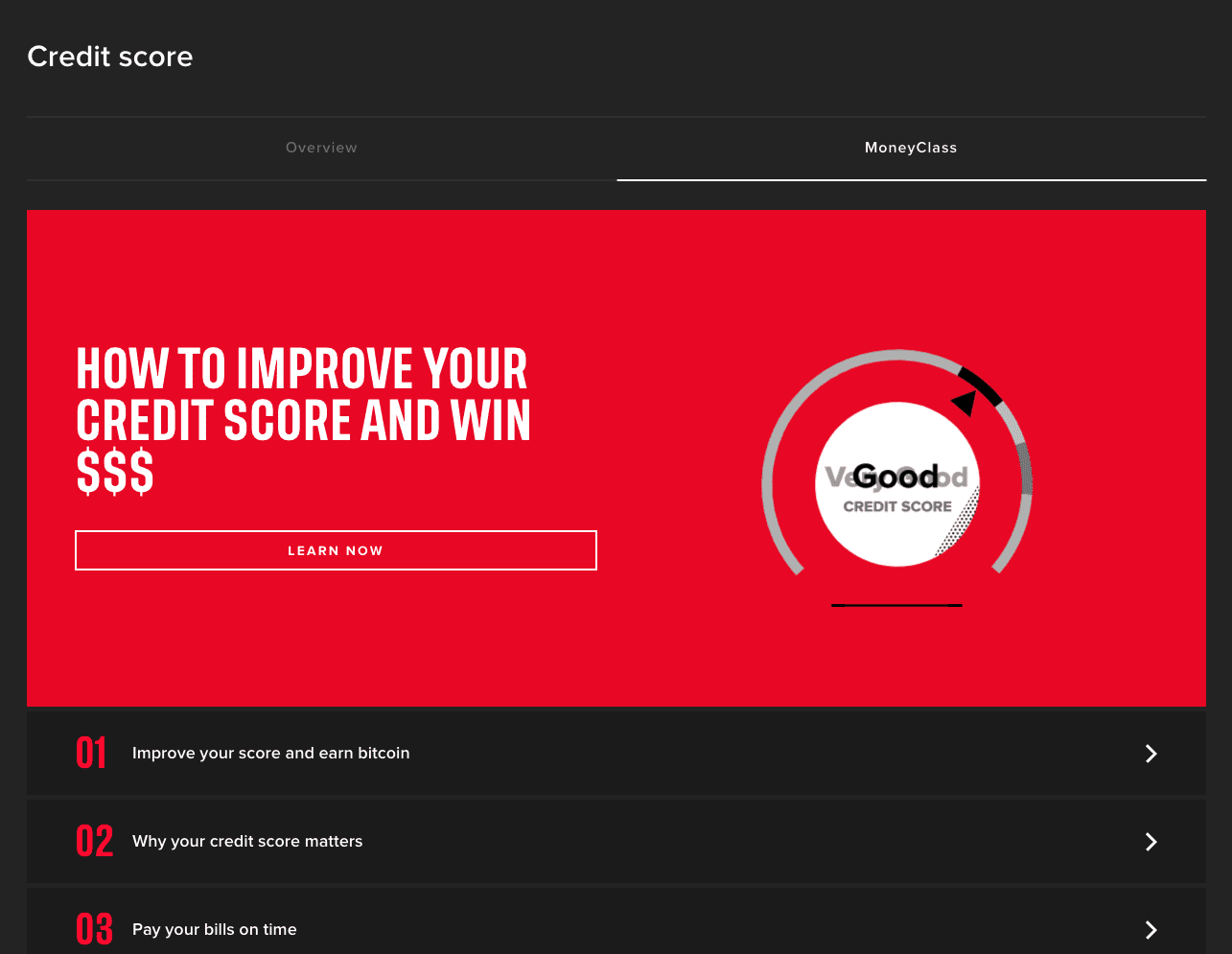 Since one of Mogo's primary goals is enabling users to make better financial decisions, they have also created a series of mini articles that educate and motivate readers to improve their credit score. By clicking on the MoneyClass tab at the top of the page, you can find easy-to-understand posts that talk about the importance of your credit score and methods to improve it. Since these articles are short and relatively simple, they are best suited to those who feel intimidated by or are new to personal finance. Users with existing knowledge of credit scores may appreciate the reminder but likely won't discover any new information.
In the spirit of increasing financial literacy, users can share the articles on social media. Hopefully, this feature will encourage friends and family to also consider personal finance. However, it is disappointing to see that as of January 2022, there are only 7 MoneyClass articles: one that outlines Mogo's rewards for increasing your credit score, one that explains the importance of your credit score, and five that contain different tips to increase your score. Since these articles present helpful information without intimidating readers, it would be nice to see more strategies outlined in the future.
Additional motivation to improve your credit score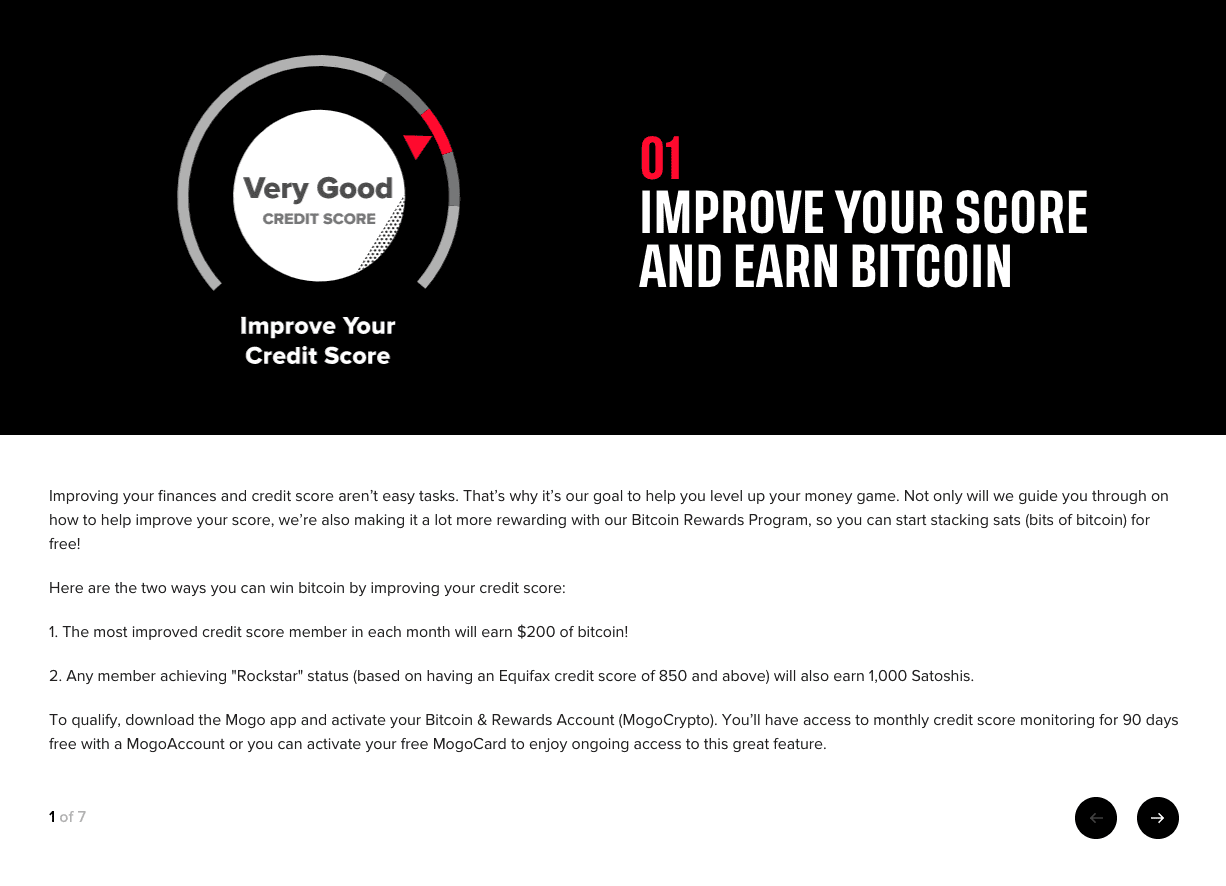 Since it can be difficult to find the motivation to improve your credit score, Mogo provides two financial incentives. First, the user whose credit score improves the most each month is rewarded with $200 worth of Bitcoin. Additionally, users that achieve a credit score of 850 or higher are rewarded with 1,000 satoshis. A satoshi is the smallest unit of Bitcoin; 100 million satoshis equal one Bitcoin. In order to be eligible for these rewards, users must download the Mogo app and activate their Bitcoin & Rewards Account.
While these financial incentives might be motivating at first, it's difficult to know exactly how you stack up to other users, and how many users you'll have to beat, making the first reward more of a fun bonus than a goal to strive towards. Similarly, the satoshis seem exciting at first but do not have much financial value at the moment; as of January 24, 2022, 1000 satoshis are equivalent to about $0.44 CAD. With that being said, Mogo's crypto account is simple, easy to use, and full of explanations, just like their credit score viewer. By encouraging users to sign up for it, Mogo again provides a low-stakes opportunity to increase financial literacy. Although the $200 worth of Bitcoin is difficult to earn and the 1000 satoshis have little monetary value at the moment, the benefit of a welcoming financial education makes the platform's reward system incredibly valuable.
Overall thoughts about Mogo's credit score checker
Mogo's lack of excessive details and emphasis on educating users makes the website perfect for beginners, although those who have previously explored personal finance or their credit score may find the platform too simple. The clean layout is visually appealing and the lack of clutter keeps the site from being too overwhelming. This is especially ideal for those who avoid personal finance because they feel that the myriad of numbers will be overwhelming. Although the rewards are not particularly compelling, they do provide some motivation to improve one's credit score and offer a gentle introduction to the world of cryptocurrency. Overall, the platform would be very useful for those who are new to personal finance and want to improve their credit score.
Unfortunately though, Mogo's simplicity works against it at times. Although the lack of information about one's credit history makes the platform accessible, it also keeps users from understanding why their score is low. As budding personal finance enthusiasts learn more about credit scores and wish to take concrete steps to increase their own rating, they'll be forced to switch platforms. But until then, Mogo's credit score platform is an excellent learning environment.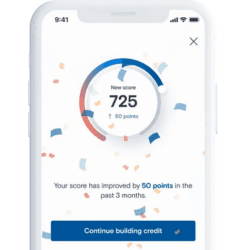 Credit Building by KOHO
Take out a line of credit, pay it off on time and build your credit history. We'll be with you every step of the way.
Only $10/month for 6 months