NDAX Review 2023: Pros, Cons, and Hidden Costs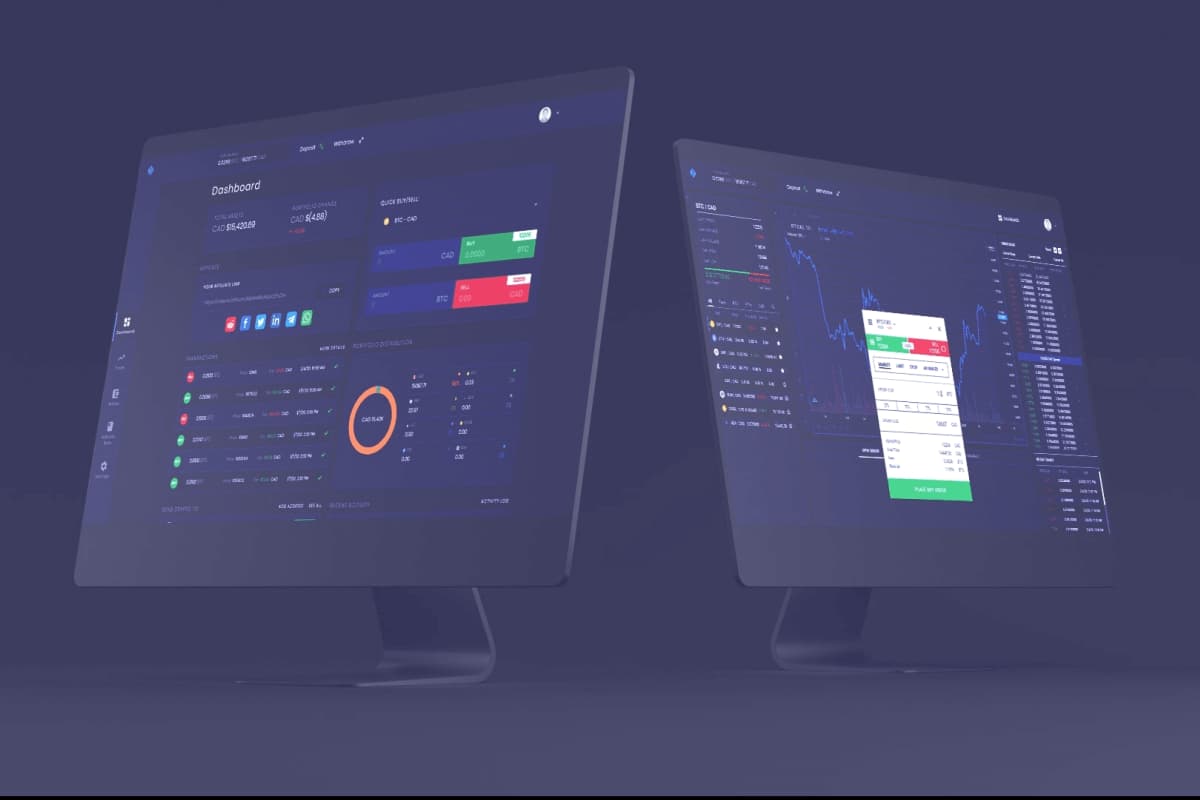 NDAX is a Calgary-based cryptocurrency exchange platform known for having the lowest trading fees in Canada. But is that really true? I opened an account and tested the platform for myself. NDAX has simplified the buying and selling process for crypto-enthusiasts of all experience levels. For the newbies, you get quick access to 32 different cryptocurrencies on an easy-to-use platform. Veteran crypto-traders can take advantage of more advanced features and sophisticated trading tools. But when it came to calculating my fees, things got a little murky. While NDAX is considered one of the best crypto exchange platforms in Canada, here's what to know before signing up.
Trading Fees
Markup/down: 0.6% (approx.)
Trading Fee: 0.2%
Like most platforms, NDAX charges two fees on a trade:
A markup on the price of crypto when you buy, and a markdown on the price when you sell.

A trading fee
Based on my trades, the markup was a small 0.6% above Bitcoin's live market price. When I sold, there was no markdown. In fact, I sold for a higher price on NDAX than Bitcoin's live market price, which offset the cost of my trading fee by half!
One of the best features of the NDAX platform is the exceptionally low trading fees. As one of the least expensive cryptocurrency exchanges in Canada, it charges only a 0.2% transaction fee to buy or sell crypto. That's great news for beginners and those with less capital. 
However, while NDAX promises no hidden fees, that's not what I experienced when I tested the platform.
I noticed an undisclosed discrepancy that my co-worker aptly named the "ghost fee". I discuss this in more detail in the section How to Buy Crypto on NDAX, where I carefully crunch the numbers.
Even with the ghost fee, the total trading cost on NDAX is significantly cheaper than massive exchanges like Kraken and Coinbase. Rest assured, NDAX really is one of the cheapest crypto trading platforms in Canada, even if the fees aren't exactly transparent.
Funding Methods & Fees
eTransfers: Free
Wire Transfers: Free
Crypto: Free
Besides the super cheap trading fees and markups, NDAX also offers free funding methods. Plus, NDAX does not impose any deposit limits, which are determined by your own financial institution. Free deposits are such a refreshing change from some other platforms that lure you in with cheap trading but nail you on deposit fees.
Having said that, there are only two ways to fund your account: Interac eTransfer or wire transfer. Other platforms offer various ways to fund your account, like Kraken and Bitbuy – for example. But eTransfer is easy and relatively fast. It can take up to 30 min for the money to hit your NDAX account, but I received it within 2-3 minutes.
Another stand-out feature is that you do not have to dig through your settings to set up payment methods in advance. You can easily fund your account by clicking Deposit at the top of your dashboard, selecting your preferred funding method, and then following the prompts.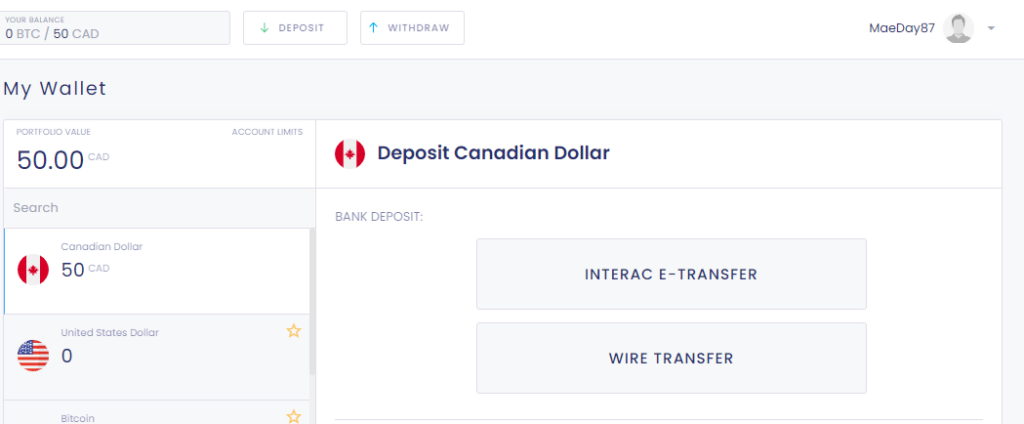 You can also deposit crypto to your NDAX account by transferring it in from an external crypto wallet. While NDAX does not charge fees for this, the transaction is still subject to blockchain fees, which are outside NDAX's control and vary based on the coin and how congested the network is.
Withdrawal Methods & Fees
EFT: $4.99
Crypto: Fee varies by coin
On the downside, you can only withdraw money from NDAX by having the money directly deposited in your Canadian bank account by Electronic Funds Transfer (EFT) for a flat fee of $4.99. Other platforms offer several withdrawal methods to choose from, and usually one of those methods are free. While I personally prefer the EFT withdrawals, I'm not crazy about the fee. I typically choose the free method, even if it means waiting longer to receive the cash.
Withdrawing your cash is just as easy as depositing. Click on Withdraw at the top of your dashboard, enter your banking information, and then follow the prompts.
Of course, you can also withdraw your crypto off the platform by sending it to an external wallet. NDAX does charge a fee for this, which varies my coin. The transaction may also be subject to blockchain network fees outside of NDAX's control.
How to Buy Crypto on NDAX
NDAX has one of the most user-friendly platforms I've come across, and I appreciate the intuitive layout. If you are brand new to crypto, you will have no problem navigating the dashboard and executing trades.
To buy crypto on NDAX, you can use the Quick Buy/Sell block on the right side of your dashboard. Select your desired coin from the dropdown menu, enter the amount you'd like to purchase, click BUY and follow the prompts. NDAX will give you a preview of the transaction and disclose the fees.
This is where you need to be vigilant and pull out that trusty calculator. Make sure everything adds up, that your trading fee is no more than 0.2%, and that you are not being shorted on the trade like I was.
If everything looks good, click Confirm Buying to execute the trade.
The good news is that NDAX is true to its word about the flat 0.2% fee on every trade. Was the lowest if experienced so far at just 0.47% higher than BTC's live market price. This markup is about half of what Coinbase and Kraken charge, which means you get more bang for your buck on NDAX compared to the big guys.
But here's where the problematic ghost fee comes in. NDAX shorted some sort of fee or deduction that is not disclosed in the preview. I only caught it because the fees were displayed in units of BTC instead of CAD and I wanted to make sure the math was mathing. Let's break it down: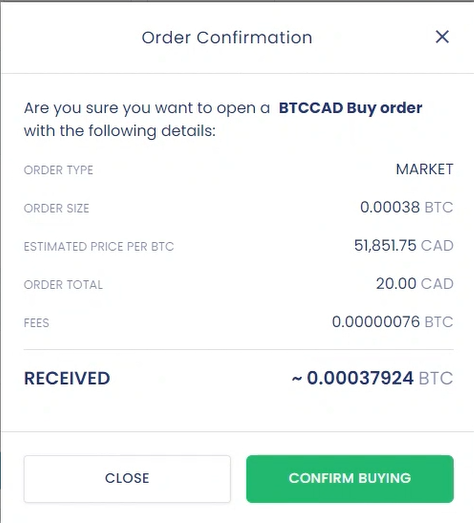 BTC quoted price:
$51,851.75
Order Total: $20.00
Order Size:
0.00038 x $51,851.75 = $19.70
Discrepancy:
$20.00 – $19.70 = $0.30
Trading Fee:
0.00000076 x $51,851.75 = $0.039
Net:
$20.00 – $0.30 – $0.039 = $19.66
$19.66 = 0.00037924 units of BTC
I wanted to buy $20 worth of BTC. The quoted price on NDAX was $51,851.75. According to the size of my order, I'm only getting $19.70 BEFORE the trading fee is deducted. That missing $0.30 represents 1.5% of my trade.
When you add the markup and the trading fee to the mix, this purchase cost me a total of 1.70%, and the majority of that cost is attributed to the missing $0.30. For perspective, if that $0.30 had not been deducted, my trade would have only cost me 0.67% in total.
What's going on here? I've reached out to the NDAX help desk to ask about these mystery charges. I will update this article once I hear back.
Having said that, NDAX is still the cheapest platform I've tried so far, with a total trading cost of 1.70% including the ghost fee. That same trade cost me 8.54% on Coinbase, and 2.54% on Kraken.
How to Sell Crypto on NDAX
Selling is just as easy. From your dashboard, navigate to the Quick Buy/Sell block, click on Sell, enter an amount, preview the transaction AND CRUNCH THOSE NUMBERS. If all is well, execute the trade by clicking on Confirm Selling.
My selling experience was much better. There was no mystery discrepancy, the fee was a consistent 0.198%, lower than the advertised fee of 0.2%. And the best part? There was no markdown. I actually fetched a better price on my sale because NDAX quoted a BTC price that was 0.4% HIGHER than its live market price.
I sold $19.16 worth of BTC. After the fee, which was just under 0.2%, I ended up with $19.12 CAD. That means the trade only cost me 0.1% in fees thanks to the fact I sold my BTC at a higher price on NDAX than what it was trading for on the live market. For perspective, my total trading cost was 50% CHEAPER than what I was expecting. I'll take that as a win!
What Coins Are Available on NDAX?
Unfortunately, another downside is that NDAX has an extremely limited selection of coins. At the time of writing, there are only 32 to choose from. But at least you get access to the important ones like Bitcoin (BTC), Ethereum (ETH), Chainlink (LINK), Cardano (ADA), Dogecoin (DOGE), and other popular coins.
There are some great altcoins available. One that surprised me was Vechain (VET). I hold a small bag of this, but it's another one that's hard to find on the major exchanges in Canada.
Advanced Trading on NDAX
While the Quick Buy/Sell feature on the main dashboard certainly is convenient, it won't meet the needs of more advanced traders. If you need more sophisticated tools, navigate to the menu panel on the left of your screen and click Trading.
Here, you'll appreciate real-time charts courtesy of TradingView.  TradingView lets you use technical analysis tools like measurements, trendlines, and timeframes, to name a few. You can watch the performance of coins, make price predictions, and execute trades based on your analysis, all in one place. 
The charting options are decent but not amazing compared to platforms like Coinbase and Kraken. The customization is limited along with the charting indicators available. But you still have access to popular and effective tools like Moving Averages, Relative Strength Index (RSI), Bollinger Bands, and more.
Overall, NDAX offers you the chance to dial in on specific elements of a trading period, short ranges, long-term, or other options. You can set up the following trades: 
Limit order
Stop limit
Trailing stop market
Trailing stop limit
Fill or kill
IOC
Reserve order
Major Downside to Advanced Trading
From the 32 options available, each coin is paired with CAD. This is the only trading option available, so if you want to swap directly between crypto pairs, you're out of luck on NDAX. You will always have to trade back into CAD and then re-trade your CAD with the new token you want.
The NDAX registration process
Opening an account on NDAX is incredibly easy and super fast. It took me about 5 minutes to sign up and get my account verified. First, select your country of residence, then include your first and last name, username, email address and password.
Once you have agreed to the terms and conditions, you can begin your access to the main exchange platform. Of course, you must be over 18. Once you click the Sign-Up button, you will receive an activation email to complete the registration process. Click on the link to open an email that confirms your membership along with a message to verify your identity.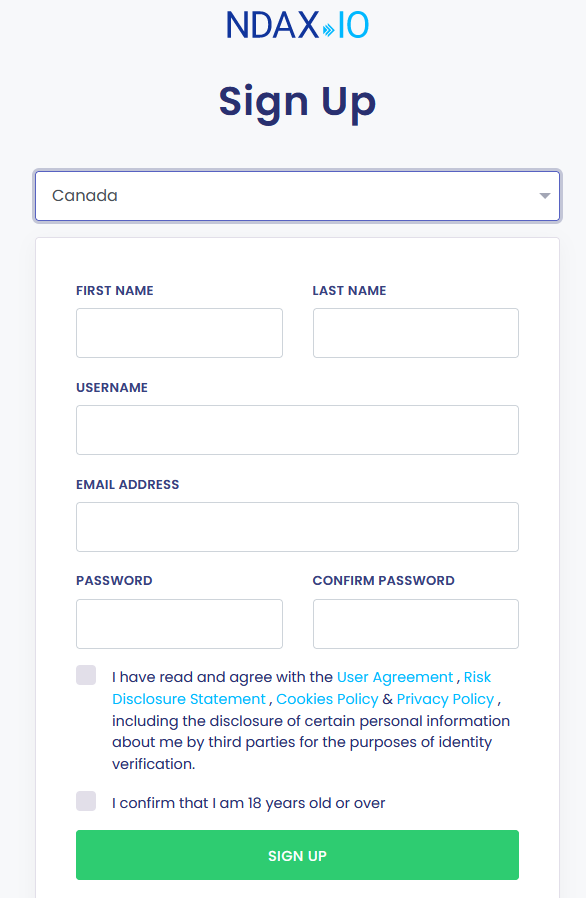 Verifying your NDAX account and Know Your Customer (KYC) information
One of the first things you will have to do once you have registered and logged in is to complete the identification verification step. This involves completing the necessary information that is required in order to open an account with NDAX. It is both normal and expected for regulated cryptocurrency exchanges to collect personal information about you, your employment, and employment, and shouldn't be cause for alarm.
It's called Know Your Customer (KYC) information and is required in order for them to be compliant with Canadian financial regulations. However, NDAX is the first exchange I've used that asked for my Social Insurance Number (SIN). Providing your SIN is optional, but it definitely weirded me out a little bit because other major exchanges have not asked for my SIN.
Be prepared to provide the following:
Name
Date of Birth
Government-issued photo ID
Physical address
SIN 
A Note About Signing Into Your Account
NDAX uses 2-factor authentication (2FA) every time you sign into your account. I recommend using the Google Authenticator app for this. When you attempt to sign into your NDAX account, it will prompt the Authenticator app to generate a unique 6-digit number. NDAX will require you to enter that number in order to access your account.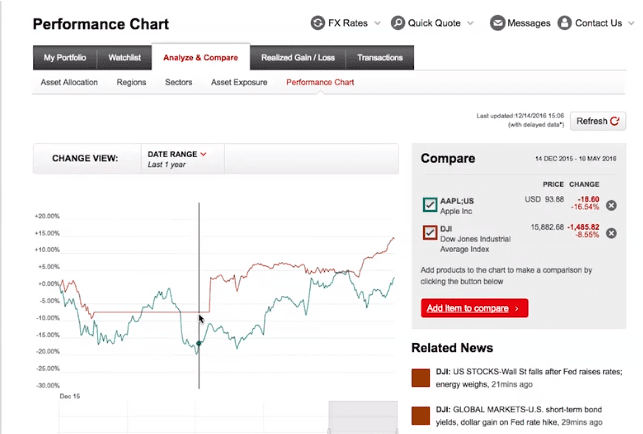 Is NDAX Secure?
NDAX is a custodial platform, which means they take care of storing and securing your coins for you. That's a great feature for beginners since managing your own private keys can be complicated and overwhelming.
NDAX has partnered with Ledger Vault to secure your digital assets in cold storage. Ledger Vault is a third-party cold storage provider for individuals and institutions. Digital assets in their custody are insured against fraud, hack, internal theft, and hardware malfunction. 
Assets that remain on the exchange in a hot wallet are similarly insured and secured with advanced technology called Multi-Party Computation. Multi-Party Computation (MPC) is an industry-recognized form of security that protects cryptocurrency stored in hot wallets from internal and external bad actors.
NDAX has also implemented a Distributed Denial-of-Service-Protection (DDoS) that protects the platform against hacks and other malicious attacks. That platform is run over multiple servers isolated from each other which are monitored around the clock. If one server is attacked, the entire network shuts down to protect the user's digital assets.
My Thoughts on NDAX: A Mixed Bag for Canadian Crypto Traders
After diving into the NDAX platform to see if it lived up to its promise as a user-friendly and cost-effective trading platform, here's my take on its pros and cons:
| Pros | Cons |
| --- | --- |
| ✅ Low Trading Fees: NDAX boasts some of the lowest trading fees in Canada, charging a flat 0.2% fee per trade, a boon for both novice and experienced traders operating on different capital scales​​. | ❌Price Discrepancy Issues: I encountered discrepancies between the size and value of my trade, raising concerns about hidden costs​​. |
| ✅User-Friendly Interface: The platform is intuitive, making it easy for newcomers to navigate and execute trades​​. | ❌Limited Crypto Selection: With only 32 cryptocurrencies available, NDAX's selection is relatively limited, which may be a drawback for traders looking for a wider range of altcoins​​. |
| ✅Free Funding Methods: With no fees for deposits via eTransfer, wire transfer, or crypto, NDAX stands out for its cost-effective funding options​​. | ❌Withdrawal Fees & Limitations: The platform charges a flat fee for EFT withdrawals and lacks diversity in withdrawal methods, which could be a downside for some users​​. |
| ✅Good Selling Experience: My selling process on NDAX was seamless, with fees accurately reflected and no hidden markdowns, resulting in a cost-effective transaction​​. | ❌Complex Fee Calculation: The fees are disclosed in units of BTC rather than CAD, which can be confusing and less transparent, especially for beginners. |
| ✅Quick & Easy Registration: The sign-up and verification process is straightforward and fast, enhancing the user experience from the get-go​​. | ❌Limitations for Advanced Trading: While NDAX offers advanced trading tools, its options are somewhat limited compared to platforms like Coinbase and Kraken. Additionally, the lack of direct crypto-to-crypto trading pairs could be a deterrent for some traders​​. |
| ✅Advanced Trading Tools: For seasoned traders, NDAX offers advanced features and real-time charts via TradingView, and an OTC service for high-volume trades​​. | |
Who is NDAX Best Suited For?
NDAX is well-suited for Canadian crypto traders on the hunt for the lowest trading fees, a user-friendly interface, and are primarily focused on popular cryptocurrencies. I love this platform for beginners thanks to its straightforward dashboard and low fees, which are particularly beneficial for anyone making smaller trades.
However, experienced traders might find the advanced trading platform a bit restrictive, especially if you're interested in a broader range of cryptocurrencies or direct crypto-to-crypto trading.
While NDAX has its perks, the fee discrepancy is problematic. But even with the hidden cost, the fees really are the lowest I've encountered since Binance.